Why Pay Retail? Call us or click for a quick quote and save money!
Overview
Call or submit a quote to get our Low Prices!
Tour Itinerary
Three countries graced with rich local cultures, sweeping desert scenes and fascinating ancient histories - uncover it all on a 22-day Peregrine adventure through Egypt, Jordan and Oman. Experience chaotic Cairo and bliss out on a premium cruise along the Nile, passing Luxor and Aswan. Continue to the rock formations of Wadi Rum, hand-hewn facades of mighty Petra and ancient Roman ruins in Jerash, learning the stories of Jordan. As you travel to Muscat, take a journey through bustling fishing villages, vast Wahiba Sands, rugged interior and mountain villages of Oman. With local experiences, home-cooked meals, Bedouin and Nubian hospitality, knowledgeable local leaders and plenty of time for independent exploration, you will discover the best of this region, all with a touch of class.
Day 1: Cairo
Welcome to Cairo! On arrival at the airport, take an included transfer to your hotel. You are free to arrive at any time today before an important welcome meeting, held at 6 pm. If you do arrive early, perhaps get out and explore the busy streets, finding a hole-in-the-wall eatery for a snack like ta'ameya – Egypt's take on falafel. After your welcome meeting, where you will meet your local leader and fellow travellers, perhaps enjoy an optional dinner with the group. While your hotel may not serve alcohol, there are a number of great options for food and drink in the surrounding Zamalek area.
Day 2: Cairo – Overnight Train
This morning, tour the mighty Pyramids of Giza and the Sphinx with your small group. Seeing these structures up close is captivating, and for an additional charge, you may be able to go inside the Great Pyramid of Khufu (or Cheops). After stopping to purchase some lunch, continue to the Egyptian Museum – home to an incredible array of artefacts and antiquities. Your expert leader, who is a trained Egyptologist, will take you through some of Egypt's dynastic history, and will have plenty of time to explore on your own – perhaps purchasing a pass into the Royal Mummy Room. Afterwards, return to your hotel to freshen up before transferring to the railway station for a comfortable overnight sleeper train to Luxor.
Day 3: Luxor
After an early breakfast on board, arrive into Luxor. It's a vibrant place with an excellent bazaar, situated close to some of ancient Egypt's most important sites. Travel to Karnak – one of the world's most celebrated temple complexes built over a period of some 200 years, and some of it dating back to 2055 BC. Your guided tour of the temple reveals its finest sections. Later today, transfer to your Nile cruise boat, which will be your home for the next four nights. You can relax by the pool on the boat or explore the town. For the rest of the afternoon and evening, you are free to relax, shop in the bazaar or perhaps experience the atmosphere of a local tea house.
Day 4: Valley of the Kings – Luxor – Nile Cruise
Rise early this morning and head into the Valley of the Kings. Buried under the arid hills here are over 60 tombs of pharaohs, many richly decorated with reliefs and paintings. Tutankhamun's final resting place is also located here, and you'll have free time to visit it. Your guide will explain the funerary rites of the ancient Egyptians and significance of the many paintings and hieroglyphics. You will visit three royal tombs and then continue to the Temple of Queen Hatshepsut, set in a spectacular natural amphitheatre. Your final stop is the Colossi of Memnon – giant statues that were once part of an impressive colonnade. Enjoy lunch on return to the boat and relax on deck as you set sail from Luxor to Edfu, taking most of the afternoon and evening (approximately 1 pm to 11 pm), and passing through Esna Lock on the way.
Day 5: Nile Cruise
This morning, you will be moored near Edfu and may have the option to venture independently into town to see the nearby temple. Continue along the river, relaxing in the sun on deck and taking in the desert hills forming a backdrop over the lush riverbanks. This afternoon, arrive at Kom Ombo Temple, sitting spectacularly on the river's edge. The temple was built in approximately 181 BC and is dedicated to two gods – Horus (god of protection) and Sobek (god of fertility, linked to the Nile's water). Each god has a dedicated section – north or south – and there have been recent discoveries of mummified crocodiles in the Sobek section. Afterwards, board your boat around 6 pm and continue to Aswan, arriving at around 9.30 pm.
Day 6: Aswan
Explore Aswan today – Egypt's southernmost city. Its relaxed charm is due in no small part to its large Nubian population. Depending on time, you might visit the beautiful Temple of Isis – the goddess of health, marriage and wisdom – rescued from the rising waters of the Nile and relocated on Philae Island. It's a marvel of decorative pylons featuring some of Egypt's finest carvings – definitely one of the real gems of Upper Egypt. The rest of your day will be free to wander, and Aswan is a great place for it. The Nubian Bazaar and the Nubian Museum are both recommended. The waterfront promenade, or Aswan's 'corniche', runs alongside one of Nile's most appealing stretches and is the perfect place to stop for a mint tea. Watch the waterfront come alive at dusk, with people strolling and socialising all evening.
Day 7: Aswan
Depart early this morning and visit the iconic Abu Simbel by plane. With four gargantuan statues of Ramses guarding the Great Temple, this is one of Egypt's most memorable sights. After your return, the rest of the day is free for you to make your own discoveries. A popular option in Aswan is a sailboat ride around the islands in a traditional felucca, stopping off at the botanical gardens on Kitchener's Island. Alternatively, travel to the Monastery of St Simeon – an abandoned seventh-century fortress monastery located in the desert on the Nile's west bank. You might even prefer to simply relax by the hotel pool or do some shopping in the local bazaar. Your group leader will be on hand to help you arrange any excursions. In the evening, visit a Nubian village with your group and enjoy the warm hospitality and cuisine of this local community. After dinner, watch some traditional Nubian dancing, perhaps attempting some moves yourself!
Day 8: Cairo
After breakfast, transfer to Aswan Airport for a short flight back to Cairo (approximately 1.5 hours) where you will be met and taken to your hotel. Drop your luggage and head with your group to the Al-Azhar neighbourhood to visit Khan al-Khalili Bazaar – a sprawling maze of alleyways with myriad products on sale, including the gold market, cloth market, 'perfume street' and the spice market. Continue to the ninth-century Ibn Tulun Mosque – one of the oldest and largest in Egypt. Its perfectly proportioned courtyard and distinctive minaret make it a masterpiece of Islamic architecture. Nearby stands the Gayer-Anderson Museum, housed in two fine old villas with a fascinating collection of Arabic artefacts, furniture and memorabilia. Stop off for an Arabic coffee or mint tea, and in the evening, share a meal with a family, gaining an insight into local Egyptian life.
Day 9: Amman
This morning you will be transferred to the airport for your unaccompanied flight to Amman. On arrival, you will be met at the airport and taken to your hotel in Amman. Cosmopolitan and contemporary, yet steeped in biblical history, Amman has served as both the modern and ancient capital of Jordan. It is one of the oldest continuously inhabited cities in the world, with a 1994 excavation uncovering homes and towers believed to have been built around 7000 BC. Enjoy a free afternoon to maybe head to the Old Town's Roman Amphitheatre, find fine culture at the Jordan National Gallery of Fine Arts or look down on the city from the hilltop Temple of Hercules. Meet your new leader and group tonight at a welcome meeting at 6 pm.
Day 10: Wadi Rum
After breakfast, drive from Amman to Wadi Rum (approximately 4.5 hours). Enjoy some lunch in the small village of Rum and browse the informative visitor's centre. Afterwards, jump into a local jeep and journey into Wadi Rum with your Bedouin hosts. This region is probably best known for its connection with the British officer T E Lawrence, who was based here during the Great Arab Revolt of 1917 and 1918. Much of David Lean's movie on his exploits, 'Lawrence of Arabia', was actually filmed in Wadi Rum. Visit several of the area's distinctive rock formations and appreciate the vast silence and spectacular desert landscapes. These landscapes are home to Bedouin communities that live in scattered camps. You will enjoy an evening with them at one of their camps, set in an amazing location deep in the desert.
Day 11: Wadi Rum – Petra
After waking up in the unique surrounds of your Bedouin camp this morning, take a walk around the area – the length of which depends on the group's desires – before scaling one of the large dunes to enjoy panoramic views of your surrounds. Afterwards, head in 4WDs back to the main entrance opposite the Seven Pillars of Wisdom – the mountain named after Lawrence of Arabia's book. The visitor's centre here is also a great spot to buy some jewellery and handicrafts, mostly made by a women's co-operative dedicated to supporting local industries. Continue your journey to the fabled city of Petra (approximately 2.5 hours). On arrival, there is time to check out the town that has grown around the site and to relax, ready for a big day of exploring Petra tomorrow.
Day 12: Petra
Petra, dating back to the sixth century BC, is the jewel of Jordan, the lost city of the biblical Nabateans, an impressive series of tombs and dwellings carved directly into the rock. The iconic view – the Treasury's glorious facade, glimpsed from a narrow cleft known as the Siq – is perhaps the single-most striking sight of the entire region. The Siq leads through the rock and is sometimes only a few metres wide, with walls soaring up to 180 metres on either side. With your guide, explore the old Roman road, amphitheatre and several old tombs. You will also climb up to see the Monastery, providing a magnificent view of the entire site. There is a cafeteria on the site, where you can enjoy your own light lunch. The rest of the day will be at your leisure. This evening, perhaps take the chance to witness Petra by night if your dates align. Seeing the Treasury plaza lit up by candlelight while Bedouin music plays is a truly memorable experience.
Day 13: Petra – Dead Sea
For another glimpse at Petra, rise very early for an unguided morning visit, if you wish. Afterwards, drive to the ancient Crusader castle at Shobak – originally built to protect the eastern flank of the Latin Kingdom and its trade routes to the sea before it fell to Saladin in 1189. Enjoy superb scenery and stop off at the viewpoint overlooking the Dana Nature Reserve before arriving in the late afternoon at your Dead Sea premium accommodation. Named for the lack of life in its waters, this lake is so intensely salty that the water density makes swimming and getting underneath the surface very difficult.
Day 14: Dead Sea – Madaba – Amman
Enjoy a relaxing morning spent at the Dead Sea, perhaps heading back to the lake shores for a swim. The warm, highly saline waters make bobbing on the water's surface a unique experience. After lunch, leave the Dead Sea for Mount Nebo, considered to be where Moses saw the Promised Landed before he died. The modest church here with foundations dating back to the fourth century houses some of the best mosaics in Jordan. Continue to Madaba – or the City of Mosaics – and stop at St Georges Church, best known for its Byzantine mosaic depicting a map of the Holy Land. Head back to Amman and spend the evening here.
Day 15: Amman
This morning, leave Amman for a short drive north to Jerash (approximately 1 hour) – once one of the grandest ancient Roman cities in the world. These are some of the best ruins Greco-Roman ruins around. Reaching its peak as a favourite of the emperor Hadrian, it has a striking collection of archways and theatres, baths, public buildings and colonnaded streets, and is a beautiful place to spend the morning exploring. Grand columns encircle the city's centrepiece of the Oval Plaza – an atmospheric place to linger after exploring Jerash's riches. Afterwards, return to Amman for the evening (approximately 1 hour). Perhaps spend your night at one of the many bars and restaurants in West Amman, or speak with your group leader about the traditional cafes dotted around the city where locals spend their evenings.
Day 16: Muscat
Take your own flight from Amman to Muscat today. On arrival at Muscat Airport (formerly Seeb Airport), you will be met and transferred to your hotel by a Peregrine representative. This is simply a connection day, so you may arrive in Muscat at any time. Keep in mind that there will be an important meeting in the evening, usually at around 5 pm, where you will discuss the next stage of your Middle Eastern adventure. Note that hotel rooms are generally only available after 3 pm, so if you are arriving much earlier, it is recommended to pre-book an additional night's accommodation.
Day 17: Muscat
Be met by your guide at the hotel this morning, ahead of a full day tour of Muscat City. The skyline of this ancient settlement is quite different to its glitzy Gulf neighbours, with the Sultan ordering all modern construction to fit with classical Arabic architecture styles. You'll see this in the dazzling Indian sandstone of the Sultan Qaboos Grand Mosque, the third largest mosque in the world, and home the second largest carpet in the world, a vast weave covering the prayer hall. Continue on to the relatively new Mohammed Al Ameen Mosque and appreciate its architecture. Set high on a hill in the valley of Boushar Sands, its beautiful domes have become an essential part of the Muscat skyline. Afterwards, drive to Old Muscat, the walled part of the city, and enjoy lunch at a local restaurant. Dig into the exhibits about Oman's cultural history at the Bait Zubair Musuem, then drive along the picturesque Corniche, stopping to see the residence of his Majesty Sultan Qaboos, the Al Alam Palace, which is flanked by the 16th-century Portuguese forts Mirani and Jalali. Pass the busy fishing harbour at Muttrah, with its quaint wooden dhows and fishing boats, then stop into the bazaar. There you can mingle with the locals and browse the silver and spice shops. Return to your hotel afterwards.
Day 18: Barka – Nakhal – Al Hazm – Muscat
Leaving Muscat, you'll head north along the coast to the fishing village of Barka. Here you'll see the daily catch being hauled onto the sands from tiny fishing boats. Afterwards, continue to the Bait Al Na'aman for a visit to the beautiful old fortified houses. The tall, narrow houses alternating with square and round towers are thought to have been built in 1691-92 by Iman Bil'arab bin Sultan. The house was restored in 1991 with a lavish selection of traditional fittings and furnishings to give visitors an insight into the domestic livelihood of its former inhabitants. Continue then to the splendid fort at Nakhal, which sits atop a rocky spur and vaunts commanding views of the surrounding countryside. This is the best-preserved of all Oman's forts, and the interior is still furnished, giving visitors an excellent feel for period life. A little further on is the fort of Al Hazm, situated on the northern slopes of the Jebel Akhdar, with its elaborate carved doors. There will be time to explore the various rooms and chambers before returning to Muscat.
Day 19: Wadi Bani Khalid – Wahiba Sands
From Muscat you'll head southward, travelling through rugged landscape, before arriving at the Wadi Bani Khalid. With turquoise waters, lush vegetation and palm trees, this is a slice of paradise. You'll follow a well-worn path into the heart of this rocky oasis and discover a large pool fed by a natural mountain spring. Stop on the edge of the extensive Wahiba Sands and enjoy a traditional lunch with a local Bedouin family. Continue your 4WD journey and arrive at the edge of the extensive Wahiba Sands. After deflating the tyres you'll follow an amazing route across the sand dunes to a desert camp. Watch sunset over the sand dunes of our desert camp and feature stay in Wahiba Sands. Enjoy an evening of traditional food and music (seasonal) this evening, sitting around an open fire under the stars. Drift off to sleep tonight in your simple tent among the desert ambience. Your accommodation this evening is our Feature Stay Property; you will stay in the Sheikh Tents in the desert camp with private bathroom facilities including hot showers adjoining each tent.
Day 20: Ibra – Jabrin – Bahla – Nizwa
Heading north today, you will drive to Ibra, one of the oldest cities in Oman. This charming, traditional old town was once a centre of trade, religion, education and art. Stop in at Bahla and witness the ruins of the immense fort there. With its walls and towers of unbaked brick and its stone foundations, this is a remarkable example of fortification. It's easy to find a metal worker toiling next to a red-hot furnace in this place, or a weaver assembling a cloak of goat hair. But the king of craft in Bahla is pottery. This exceptional art is famous throughout the Sultanate and beyond. You will also head to Jabrin Fort, the palace of Imam Bil 'Arub Bin Sultan who built it in 1675. This may well be the finest and most eye-catching of Oman's forts. See its elegantly carved wooden doors, and the delicate and ornate lattice work of the windows. Drive through the narrow roads to see ancient houses and various mosques. Later on you will drive to Nizwa, an oasis enclosed by a series of mountains. Among these mountains is the famous green mountain (Jabal Akhdar). Its grand mosque was formerly a centre for Islamic learning. We'll stop here for a short break. Unfortunately we are not permitted inside. The central fort is surrounded by ancient traditional souqs where the locals trade in traditional and imported merchandise. Here you can browse for some of Nizwa's famous silver jewellery, or simply watch expert craftsmen in action as they fashion exquisite silverware and other artefacts.
Day 21: Misfah – Al Harma – Jabal Shams – Muscat
Today you'll journey back to Muscat via some marvellous forts and villages, not to mention some lovely mountain scenery. Continue to the villages of Misfah and Al Hamra (photo stop), nestled in the cool foothills of Oman's highest peak, Jabal Shams. You'll have time to explore these beautiful historic townships before returning to Muscat for your final evening.
Day 22: Muscat
Your trip comes to an today after breakfast. Check-out time is usually around 12 noon, and you are free to leave at any time. If you have arranged a private airport transfer you will be advised of the pick-up time. Additional accommodation can be pre-booked if you wish to spend more time exploring Muscat.
Cairo - The Egyptian Museum headset
Cairo - Pyramids and Sphinx
Cairo - Egyptian Museum
Luxor - Karnak Temple
Luxor - Valley of the Kings (3 tombs)
Luxor - Tut Ank Amon Tomb
Luxor - Hatshepsut Temple
Aswan - Kom Ombo Temple
Aswan - Felucca Ride
Aswan - Philae Temple
Abu Simbel - Abu Simbel temples
Abu Simbel - Flights to and from Abu Simbel
Cairo - Gayer Anderson
Cairo - Home Cooked Meal
Cairo - Khan al-Khalili Bazaar
Cairo - Ibn Tulun Mosque
Wadi Rum - Desert Jeep tour
Petra - Petra second day visit (unguided)
Shobak - Shobak Castle
Dana - Ancient Village Visit
Dead Sea - Visit Including Dinner
Madaba - St Georges Church
Mt Nebo - Mt Nebo visit
Jerash - Roman ruins
Muscat - Sultan Qaboos Grand Mosque
Muscat - Jalali & Mirani Fort visit
Muscat - Muttrah Souq visit
Muscat - Bait Zubair Museum
Muscat - Sidab Womens Corporation with Coffee
Al Hazm - Fort visit
Nakhal - Fort visit
Misfat Al Abriyeen - Village visit
Jebel Shams - Grand Canyon visit
Al Hamra - Village Walk
Jabrin - Fort visit
Nizwa - Fort visit - Entry Fee
Wahiba Sands - included Dinner
Nizwa - Souq visit
Wadi Bani Khalid - traditional lunch with Bedouin Family
Wadi Bani Khalid Excursion
Meals
19 Breakfast(s) Included
5 Lunch(es) Included
12 Dinner(s) Included

Style: Peregrine

Hotel (11 nights), Desert Camp (2 nights Feature Stay Jordan and Oman
Question: How many suitcases can I take with me on my trip?
Each person is allowed one "check-in," and one "carry-on." Remember to take all valuables with you as "carry-on", because electronic equipment, cameras, laptops, jewelry, business documents and money are not covered by the airlines' liability, so always carry them aboard with you.
Question: Is Airfare Included in the Price?
Airfare from your point of origin to and from the trip is not included in the land price.
Similar Tours Other Travelers Liked
AffordableTours.com® does not itself offer, service or administer the Travel Packages, and the ultimate terms and conditions of any Travel Package made available via the Site Offerings (including the prices quoted in connection with same) will be determined by the applicable Third-Party Travel Service Provider. AffordableTours.com® does not represent or warrant that the Price Quotes are accurate, up-to-date or free of error, or that same will be honored by the applicable Third-Party Travel Service Providers. All Price Quotes, Travel Package availability, Travel Package details/itinerary and other Content are subject to change without notice. All travel details published by and through the Site Offerings should be confirmed directly with the applicable Third-Party Travel Service Provider prior to making any travel plans. Reliance on any information made available to you by and through the Site Offerings is solely at your own risk.
How It Works
Vacationing has never been easier or cheaper with the help of a dedicated travel consultant from AffordableTours.com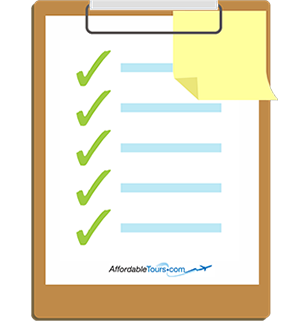 Find your perfect trip on our website and simply request a free quote. Need to speak to a live person? Call us 7 days a week at 1-800-935-2620. No robots here!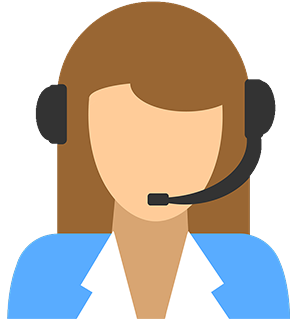 Your personal travel consultant will reach out and be your point of contact for your entire travel experience from start to finish. Did we mention you'll be working with an award winning team? Sweet!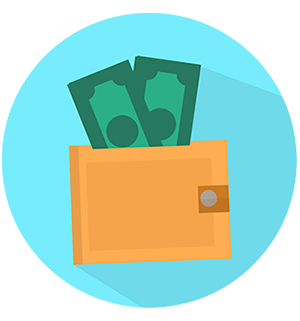 Because we're one of the largest sellers of travel, we're able to give you a discount on your vacation package. No one beats our prices!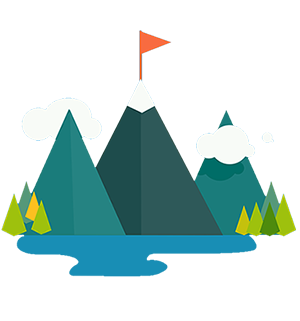 Knowing you got the best deal, all that's left is for you to pack your bags and enjoy your vacation!