Why Pay Retail? Call us or click for a quick quote and save money!
Overview
Dates & Prices
Start Date
End Date
Offers
Brochure
Land Price
Our Price
Quote
Apr 16, 2021
Apr 27, 2021
Bonus

$3,398

Get Lower Price
Get Quote
Apr 30, 2021
May 11, 2021
Bonus

$3,398

Get Lower Price
Get Quote
May 28, 2021
Jun 08, 2021
Bonus

$3,398

Get Lower Price
Get Quote
Jun 11, 2021
Jun 22, 2021
Bonus

$3,398

Get Lower Price
Get Quote
Jun 25, 2021
Jul 06, 2021
Bonus

$3,173

Get Lower Price
Get Quote
Jul 09, 2021
Jul 20, 2021
Bonus

$3,146

Get Lower Price
Get Quote
Aug 06, 2021
Aug 17, 2021
Bonus

$3,128

Get Lower Price
Get Quote
Sep 03, 2021
Sep 14, 2021
Bonus

$3,398

Get Lower Price
Get Quote
Oct 01, 2021
Oct 12, 2021
Bonus

$3,398

Get Lower Price
Get Quote
LOW UNPUBLISHED PRICES ON INSIGHT VACATIONS TOURS
Why pay full price? Call us or click above for a quick quote and save money on Insight Vacations Tours.
$99 Deposits on Worldwide Vacations
$99 Deposits on Worldwide Vacations
Promotion Details
For a limited time, enjoy a reduced deposit of $99 per person (regularly $200) and a 30-day refund guarantee on guided trips with Insight Vacations, plus receive our 10% AffordableTours.com everyday savings.
Must Book By Tue, Sep 15, 2020
View Promotion Terms & Conditions ›
*Terms & Conditions: $99 per person deposit valid for new bookings only made between June 15, 2020 – September 15, 2020. Deposit due at time of booking. Applicable for travel September 1, 2020 – October 31, 2021. $99 Deposit is combinable with Early Payment Discount, Early Booking Discount, Last Minute Deals, year-round savings and exclusive partner offers. An additional deposit is required at 120 days for select Europe, USA/Canada, Asia and Africa trips that include internal segments. Offer is not applicable to group deposit but can be applied for travelers booking within the group block. $99 per person deposit qualifies for 30-day refund guarantee – cancel for any reason within 30 days of deposit and receive a full refund. Offer based on availability and may be withdrawn at any time without notice. CST No. 20687545-20. Temporary changes to standard terms and conditions apply to new bookings until further notice. This penalty waiver allows you to change the destination and/or trip you are traveling on. If you choose a trip or departure that is more expensive than the original, you are responsible for the difference in price; if the trip or departure is less expensive than the original, a future travel credit will be issued for the difference. Normal penalties apply for full cancellation without rebooking or cancellations within 30 days of departure. Please note, airlines may impose different change policies, and if you declined travel insurance, you are responsible for any airline cancellation penalties. Other conditions apply.

Young Travelers Save up to 10%
Young Travelers Save up to 10%
Promotion Details
Young travelers between the ages of 5 through 17 yrs of age save up to 10%, plus receive our AffordableTours.com 10% extra savings!
Must Book By Thu, Dec 31, 2020
View Promotion Terms & Conditions ›
Young Travelers must be under the age of 18 years old on the tour departure date and accompanied by an adult (limit of one Young Traveler Discount per room). Children under 5 years old are not accepted on any escorted tour. This discount cannot be combined with our Milestone Celebrations offers.
Take Two or More Trips and Save up to $212
Take Two or More Trips and Save up to $212
Promotion Details
Save up to $212 when you book two Insight vacations of 7 days or longer or take three tours and save on two. Plus receive our AffordableTours.com 10% extra savings!
Combine with Club Bon Voyage past traveler savings.
Must Book By Thu, Dec 31, 2020
View Promotion Terms & Conditions ›
Does not apply to additional accommodations, stopovers, airfares of flight supplements, Independent City Breaks, Egypt, Israel, Jordan, Greece, trips with included cruises or cruise extensions. All trips must be booked at the same time to qualify. Additional details may apply.
Triple Room Share Reduction
Triple Room Share Reduction
Promotion Details
Travel with three people sharing one room and each of you will receive a reduction on the land-only portion of your trip's price. As always receive our AffordableTours.com 10% extra savings.
Must Book By Thu, Dec 31, 2020
View Promotion Terms & Conditions ›
Offer may not be available on all vacations. Note the third bed may be a foldaway. Cannot be combined with our Small Group Discount. Discount varies by package. Additional restrictions may apply.

5% Club Bon Voyage Savings
5% Club Bon Voyage Savings
Promotion Details
If you have traveled with Insight, Luxury Gold, Trafalgar, Brendan, African Travel, Contiki or Uniworld in the past you may be eligible for up to a 5% discount on the land portion of your next trip, plus receive our 10% AffordableTours.com additional everyday savings. Contact your Travel Consultant for applicable vacations, not all vacations will qualify.
Combinable with most other offers, exceptions may apply.
Must Book By Thu, Dec 31, 2020
View Promotion Terms & Conditions ›
Discounts and savings only apply to the land portion of your vacation and are not applicable to extra nights' accommodations, optional extensions, airfares, taxes and fees, flight supplements, surcharges and airport transfers. Sometimes more than one discount can apply. Eastern Mediterranean trips may have additional restrictions. 5% savings is not valid on all itineraries and/or departure dates. Savings may be withdrawn at any time without notice. Offer is capacity controlled and applies to new bookings only. Additional restrictions may apply.

5% Savings on Group Vacations
5% Savings on Group Vacations
Promotion Details
Travel together and save money. Family, friends, club members or colleagues, gather 9 or more people and earn a 5% discount. Plus as always receive our AffordableTours.com 10% extra savings!
Discount is combinable with Early Payment savings as well as Past Guest discount and second trip savings.
Must Book By Thu, Dec 31, 2020
View Promotion Terms & Conditions ›
Group vacations may not be offered on all dates and/or itineraries. Discount is combinable with Early Payment savings as well as Past Guest discount and second trip savings. Offer applies to new bookings only. Additional restrictions may apply.
Authentic Dining

Rothenburg ob der Tauber: With an artisan baker, enjoy a demonstration and learn the history of the traditional pastry Schneeballen (snowball), followed by a tasting.
Prague: An artisan baker shows you the secrets behind Trdelník or traditional Czech chimney cakes. Enjoy a demonstration and delicious tasting.
Salzburg: Relish in the authentic experience of Farm-to-Table dining.
Veneto: Visit a local winery and delight in a tasting of their magnificent prosecco. Meet the vignerons and learn how to make the perfect Bellini.
Dining Summary: 11 Breakfasts (B), 1 Morning Tea (MT) and 4 Dinners with Wine (DW) all with tea or coffee.
Insight Experiences

Rhine Valley: The beautiful scenery of the Rhine River is supplemented by the many castles dotted along its banks. Delight in a private estate viewing at one of the Rhineland castles and learn more about these living cultural monuments upon the Middle Rhine.
Venice: Witness the ancient skill of glassblowing as you watch artisans create delicate works of art.
Venice: Learn how the Venetian gondola is made on a visit to a traditional arts centre.
Vatican City: Enjoy VIP fast-track entry into the Vatican Museums and Sistine Chapel, as well as exclusive access to the Bramante Staircase that is usually not open to the public. During your visit to St Peter's Basilica, see Michelangelo's 'Pieta' and Bernini's intricately carved Papal Altar.
Top Rated Highlights

Eurostar: Relax on the smooth, high-speed Eurostar train from London via the historic Channel Tunnel.
Amsterdam: Cruise in a glass-topped boat through the historic waterways, where wealthy merchants built mansions during the Golden Age of the 17th century.
Würzburg: See the Residenz Palace as you explore the old town with your Travel Director. Stand on the statue-lined Alte Mainbrucke and see the Marienburg fortress.
Rothenburg ob der Tauber: Explore Rothenburg ob der Tauber, the most well-preserved town on the Romantic Road.
Prague: Bewitched by the gargoyles of St. Vitus Cathedral and ghosts of Bohemian Kings, experience a private guided tour through the courtyards of Prague Castle with a Local Expert.
Salzburg: Join your Local Expert to visit the formal gardens of Mirabell Palace and Residence Square - both locations used in 'The Sound of Music.' You will also see the imposing fortress, the immense cathedral and Mozart's birthplace on the lively Getreidegasse.
Venice: With your Travel Director cruise to St. Mark's Square and see the Doge's Palace, Bridge of Sighs and St. Mark's Basilica.
Rome: See the mighty Colosseum and Roman Forum as well as other medieval buildings, Renaissance palaces and Baroque churches, scattered through the city.
Rome: Experience Rome through the eyes of a local, as a passionate Roman guides you through vibrant backstreets, showing you how modern life takes place around ancient treasures.
Scenic Drives: Throughout your journey, enjoy the scenery as you travel part of the Romantic Road and later pass the areas of the Tauern Mountains, Veneto, Apennine Mountains, Tuscany and Umbria.
Included Insight Services

Our highly-skilled Travel Director will ensure your journey is seamless, serving as your expert guide, consummate organiser, and friend overseas.
Enjoy the comfort of Insight's luxury, air-conditioned, 40-seat coach with double the standard legroom and onboard washroom.
Personal radio headsets give you the freedom to wander during visits to famous highlights, without missing any of your Local Expert's fascinating commentary.
We carry your bags for you and promptly deliver them to your hotel door.
Hotel and restaurant tips are included - you'll never have to worry about how much to give, nor search for foreign currency. We also include all taxes and porterage charges at hotels.
Stay connected with friends and family with our complimentary coach and hotel Wi-Fi (where available).
From time to time, your Travel Director will enchant you with an Insight Flourish, which is a local specialty representing the destination.
You may purchase arrival transfers from London Heathrow and Gatwick airports on arrival days, or when additional nights accommodation has been booked through Insight Vacations. If your departure flights are as per the itinerary end dates, departure transfers are available at scheduled times. If your flights are outside these times or you have booked additional nights accommodation with Insight Vacations, you may purchase transfers or make your own way to the airport. Alternatively, please make your own way from/to the airport.
Hygiene and Safety Protocols for Insight Vacations Tours
Insight Vacations has introduced these enhanced hygiene protocols – for you and team members.
You can travel with Insight Vacations and be assured that their team has put numerous new measures in place to elevate their hygiene standards and protocols. The well-being of guests and team has always been, and always will be, their primary concern.
In this new, fast changing Covid-19 era, Insight Vacations is doing all they can to adapt to new requirements and expectations. Here are some important new steps and procedures that they have implemented to enhance hygiene protocols, to comply with physical distancing requirements by relevant government authorities and to give you the peace of mind when you are traveling during these new times.
Expertly Trained Travel Directors
Travel Director training equips them with enhanced hygiene and physical distancing procedures. During your trip, they will operate with a duty of care and monitor the hygiene etiquette of the guests, reacting and advising as needed, to ensure high standards are maintained. Before you travel, Insight Vacations will also keep you well informed about new protocols required in these areas, and ask that you cooperate with and heed the advice and direction of Travel Directors while on your trip. The Travel Directors have preventative measures in place to try and ensure your well-being and in the event that any unexpected issues arise on trip, they will activate additional protocols.
Stringent On-the-Road Protocols
The customized luxury coaches are sanitised before the start of your trip and have always been kept to very high standards. Following the outbreak of COVID-19, Insight Vacations have taken additional measures to elevate hygiene and sanitary practices in accordance with guidance from the World Health Organisation (WHO) and as required, applicable government regulations. The Driver training provides them with the latest hygiene protocols. They will clean and disinfect all surfaces including handrails, door handles, tables, seats, air-conditioning filters and overhead lockers on a daily basis. All the guests are asked to follow hygiene practices recommended by the World Health Organisation including the thorough and regular washing of hands and sanitising when required. Hand sanitiser is freely available on board for your use throughout the day. Please bring your own washable face mask and gloves with you, and additional hand sanitiser to make you feel comfortable, as these will be required to be worn in public in some countries. Should an unexpected situation arise, additional face masks, rubber gloves, antiviral sprays and wipes will be available for guest distribution on all trips.
A Full Team of Support 24/7
It's not just your Travel Director and Driver who will be taking care of you. Behind the scenes, the operations and guest support teams are in contact with them and on call 24/7, so you can rest assured that you're in good hands.
Physical Distancing
Adapting to the right size groups, based on government distancing requirements, you can rest assured that you will travel with the comfort of your own personal space. Have peace of mind that all of the experiences, hotels and restaurants you'll enjoy on your trip have been vetted to ensure they adhere to physical distancing and hygiene guidelines.
Trusted Partners, Exceptional Standards
Insight Vacations is very selective in who they work with and choose to only use hotels, restaurants, ground handlers and venues that take the well-being of the guests as seriously as Insight Vacations does and agrees to meet expected guidelines and specifications. Insight Vacations only works with establishments that they are confident will consistently adhere to their high standards.
Always in the Know
As part of The Travel Corporation (TTC) , Insight Vacations is kept up to date with all government advisories and travel alerts on a daily basis and is continually in touch with all of the partners on the ground in each destination. Also, rest assured that during your trip, the teams work to ensure the supplier partners (hotels, restaurants, museums and other venues) are also applying the same standard to these new hygiene and distancing protocols, to the extent possible.
Question: How many suitcases can I take with me on my trip?
Each person is allowed one "check-in," and one "carry-on." Remember to take all valuables with you as "carry-on", because electronic equipment, cameras, laptops, jewelry, business documents and money are not covered by the airlines' liability, so always carry them aboard with you.
Question: Is Airfare Included in the Price?
Airfare from your point of origin to and from the trip is not included in the land price.
Similar Tours Other Travelers Liked
This trip was one of my best. The itinerary was just right. Everything went to perfection
This was my third trip with Insight Tours. It was a very good tour. I chose Insight because of their itinerary for this particular tour.
The best of the trip, definitely the staff! Thanks!
Best price for the tour when you book with Affordable Tours
Insight took wonderful care of us
We had a wonderful experience, as always. We are excited to plan our next trip with Rachel. We love Insight Tours. They are consistently wonderful, as is Rachel
We love Insight Vacations! This was our 12th tour!
It was a wonderful trip of a lifetime
Great trip, Affordable Tours did an outstanding in booking this trip and was one of the best we have taken. The person that we worked with (Tamara) was very courteous, professional and knowledgeable in getting us get the best price available for the tour.
Nina was very helpful and made great recommendations based on her experience as a travel agent. I will highly recommend her to my friends when they are ready to make travel plans! Excellent!!!
Our Insight tour was excellent in every way. The accommodations, meals, bus, were all very high quality. The tour director and bus driver were experienced and friendly. The tour itself was fascinating as were many of the optionals.
Everything about this Insight tour was excellent. Great hotels/locations, wonderful choices for the included dinners and the included excursions were all great. Little or no options needed for this trip. Best of all was the Tour Manager, Keith McKenzie. His time management, knowledge of the areas where the hotels were located and the sites we visited were above and beyond our expectations. He was very knowledgeable and especially entertaining and his love for his job was evident at all times.
Loved my trip with Insight Tours. Absolutely wonderful.
Excellent tour director and driver. Nice hotels that were clean and offered excellent food.
This was my first experience with a tour package. I was very pleased with my experience. I will use this company again in the future and recommend it to others.
AffordableTours.com® does not itself offer, service or administer the Travel Packages, and the ultimate terms and conditions of any Travel Package made available via the Site Offerings (including the prices quoted in connection with same) will be determined by the applicable Third-Party Travel Service Provider. AffordableTours.com® does not represent or warrant that the Price Quotes are accurate, up-to-date or free of error, or that same will be honored by the applicable Third-Party Travel Service Providers. All Price Quotes, Travel Package availability, Travel Package details/itinerary and other Content are subject to change without notice. All travel details published by and through the Site Offerings should be confirmed directly with the applicable Third-Party Travel Service Provider prior to making any travel plans. Reliance on any information made available to you by and through the Site Offerings is solely at your own risk.
How It Works
Vacationing has never been easier or cheaper with the help of a dedicated travel consultant from AffordableTours.com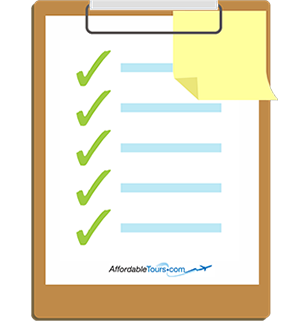 Find your perfect trip on our website and simply request a free quote. Need to speak to a live person? Call us 7 days a week at 1-800-935-2620. No robots here!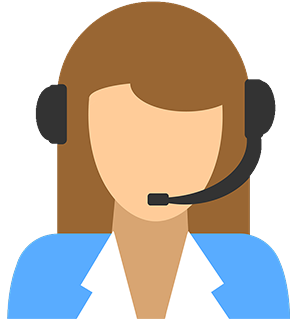 Your personal travel consultant will reach out and be your point of contact for your entire travel experience from start to finish. Did we mention you'll be working with an award winning team? Sweet!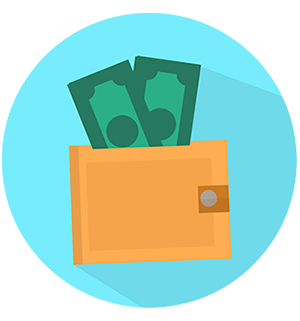 Because we're one of the largest sellers of travel, we're able to give you a discount on your vacation package. No one beats our prices!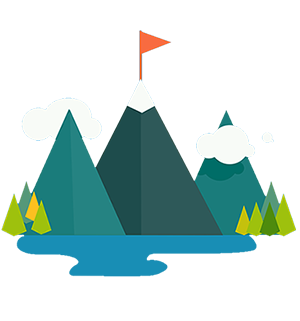 Knowing you got the best deal, all that's left is for you to pack your bags and enjoy your vacation!