Why Pay Retail? Call us or click for a quick quote and save money!
Overview
Dates & Prices
Start Date
End Date
Offers
Brochure
Land Price
Our Price
Quote
May 07, 2021
May 18, 2021
Deals

$1,849

Get Lower Price
Get Quote
May 21, 2021
Jun 01, 2021
Deals

$1,779

Get Lower Price
Get Quote
Jun 04, 2021
Jun 15, 2021
Deals

$1,729

Get Lower Price
Get Quote
Jun 18, 2021
Jun 29, 2021
Deals

$1,729

Get Lower Price
Get Quote
Jul 02, 2021
Jul 13, 2021
Deals

$1,699

Get Lower Price
Get Quote
Jul 16, 2021
Jul 27, 2021
Deals

$1,699

Get Lower Price
Get Quote
Jul 30, 2021
Aug 10, 2021
Deals

$1,699

Get Lower Price
Get Quote
Aug 13, 2021
Aug 24, 2021
Deals

$1,699

Get Lower Price
Get Quote
Aug 27, 2021
Sep 07, 2021
Deals

$1,739

Get Lower Price
Get Quote
Sep 10, 2021
Sep 21, 2021
Deals

$1,999

Get Lower Price
Get Quote
Sep 17, 2021
Sep 28, 2021
Deals

$2,099

Get Lower Price
Get Quote
Sep 24, 2021
Oct 05, 2021
Deals

$1,969

Get Lower Price
Get Quote
Oct 01, 2021
Oct 12, 2021
Deals

$1,729

Get Lower Price
Get Quote
Nov 26, 2021
Dec 07, 2021
Deals

$1,599

Get Lower Price
Get Quote
Dec 03, 2021
Dec 14, 2021
Deals

$1,599

Get Lower Price
Get Quote
LOW UNPUBLISHED PRICES ON COSMOS TOURS
Why pay full price? Call us or click above for a quick quote and save money on Cosmos Tours.
Save up to $200 on 2021 Europe and North America Budget Vacations
Save up to $200 on 2021 Europe and North America Budget Vacations
Promotion Details
Book a select Europe or North America 2021 Cosmos vacation to receive the $200 per couple ($100 per person) discount on the land price. Plus receive our AffordableTours.com everyday savings.
Must Book By Mon, Nov 09, 2020
View Promotion Terms & Conditions ›
Booking must be made, under deposit and discount applied between June 9, 2020 - November 9, 2020 for travel in 2021. Discount will apply to individual members of groups adding a name and non-refundable per person deposit WITHIN the promo window. Not applicable on TBA space. Not applicable to custom tours. Combinable with all other applicable promotions. Applies to new bookings only and offer will not be applied to pre-existing bookings. Offer reliant on space availability. Full cancellation penalties will apply. Additional restrictions may apply; see Travel Terms & Conditions for details. May be withdrawn at any time.

Young Travelers Save 10%
Young Travelers Save 10%
Promotion Details
Young travelers ages 8-17 receive a 10% discount on the land only portion of their vacation, plus as always receive our AffordableTours.com extra savings.
Must Book By Thu, Dec 31, 2020
View Promotion Terms & Conditions ›
To receive the Young Traveler discount, the age of the traveler must qualify at start date of the vacation. Does not apply to custom groups. Discount is applicable to any accommodation. Additional restrictions may apply.

Up to $500 Welcome Back Credit for Repeat Travelers
Up to $500 Welcome Back Credit for Repeat Travelers
Promotion Details
Each time you travel on a Globus family of brands vacation (Cosmos, Globus, Avalon or Monograms) from 2019 onward you can earn up to $250 per person ($500 per couple) Welcome Back Credit to use towards your next vacation, plus as always our AffordableTours.com additional savings. There will be some select exceptions to the credit, including Escapes by Globus, Oberammergau, Monograms City Get-a-ways, Private Touring and any heavily discounted programs like Avalon Suite Rewards. Please see the list below for your potential credit amount listed per person.
Spend $2499 or less and receive $100 credit
Spend $2500 - $3499 and receive $150 credit
Spend $3500 - $4499 and receive $200 credit
Spend $4500 & Over and receive $250 credit
Combinable with all applicable consumer promotions except those with any Globus family of brands special discount programs of the vacation price.
Must Book By Thu, Dec 31, 2020
View Promotion Terms & Conditions ›
The Welcome Back Credit will be awarded upon completion in 2019 onward of Globus family of brands vacations. Credit amount can only be applied to the land/cruise or cruise only portion of a new Globus family of brands vacation (excluding Escapes by Globus, 2020 Oberammergau, select Cosmos tours, Monograms City Getaways, and Custom/Charter vacations). Credit amount is per person and must be redeemed for a future vacation with a deposit within 2 years from date of credit issue. Bookings can be made by contacting your preferred travel agent. Passenger name or past invoice number is required to redeem the credit. Combinable with all applicable consumer promotions except those with any Globus family of brands special discount programs of the vacation price. Credit is not redeemable for cash, non-refundable deposit, airfare, transfers, travel insurance, prepaid gratuities, pre/post nights, or optional excursions and is non-transferrable. All federal, state and local laws and regulations apply. Valid for all participating Globus family of brands offices. Additional restrictions may apply.
September 11, 13, 18, 20 & 25 Departures – Oktoberfest
November 27 & December 4 Departure – include visits to Cologne, Lübeck, Dresden, Nuremberg, Rothenburg, and Munich Christmas markets.
Sightseeing & Activities:
RHINE CRUISE

COLOGNE
Visit
HAMELIN
Visit
HAMBURG
Orientation drive
LÜBECK
Visit
BERLIN
Guided sightseeing
DRESDEN
Guided sightseeing
LEIPZIG
Orientation
WEIMAR
Visit
COBURG CASTLE

visit
NUREMBERG
Visit
ROMANTIC ROAD
Rothenburg visit
MUNICH
Guided sightseeing
NEUSCHWANSTEIN
Visit King Ludwig's castle
BLACK FOREST
Scenic drive
HEIDELBERG
VisitTouring by private, first-class, air-conditioned motorcoach with free Wi-Fi; Rhine cruise
Meals:
Buffet breakfasts daily; 5 dinners
Hygiene and Safety Protocols for Cosmos Tours
Today's world has changed, but what remains certain is Cosmos' commitment to guest safety, comfort and peace-of-mind while traveling with us. To that end, Cosmos has established a worldwide Assurance program, with enhanced on-trip protocols and procedures, to ensure the health – and happiness – of guests throughout their travels with us.
It all starts with Cosmos' Global Health & Safety Team, dedicated to ensuring that cleanliness of all operations exceeds today's travel standards—from start to finish. The following areas address Cosmos' commitment to providing a safe and clean environment for guests.
A SAFE & WARM WELCOME
Cosmos will enact new tour check-in procedures and pre-trip health screenings to offer guests a safe start to their journey, including adherence to social distancing requirements.
BLENDING CULTURAL PROXIMITY WITH SOCIAL DISTANCE
Cosmos will ensure safe distances for guests throughout the journey, on coach and during excursions. This includes providing masks for guests use at any time where social proximity could be an issue as well as the possibility of reducing group sizes, if required. And wireless listening technology – including Cosmos' Go Beyond Devices in Europe – enables safe distances between guests and other travelers on excursions.
FOCUS ON GUEST AND TEAM MEMBER HEALTH
To ensure a healthy environment for team and guests, Cosmos will conduct regular temperature checks for both guests and team, and when necessary, masks will be worn by Cosmos' team members when with guests.
TOUCHING HEARTS, NOT HANDS
Traveling with Cosmos removes many of the "touch points" of travel, including luggage handling, check in/out, expedited entry into attractions and more. Cosmos are further reducing risk with hands-free service, meaning all self-services replaced by staff, including buffet meals replaced with table service. Cosmos will also ensure hand sanitizing is available throughout each trip, on coach and in hotels.
COMMITMENT TO CLEAN
As a part of Cosmos' commitment to clean, Cosmos is requiring enhanced cleaning procedures with hotel partners, on motorcoaches, vehicles and throughout every trip, including additional daily disinfecting procedures that go above-and-beyond already strict health and safety procedures.
PARTNERS IN DISCOVERY AND IN HEALTH
Cosmos has strict health and safety protocols, which have been in place for years, focused on ensuring all aspects of operation- from vehicles and equipment used on trip to excursions and hotel procedures. This process will continue with new, elevated health and safety checks, to maintain their promise that each touch-point on tours and cruises are considered in their commitment to guest and team member well-being.
Prices are per person based on double room occupancy.

Single room supplement:
$490, $690 (departure September 11 & 25)

No triple room reduction.

Additional accommodations before or after your tour may be available.
Question: I see part of the tour is a cruise ship. Is part of the tour by train? I assume there is a daily tour guide, is it the same one each day?
There is a mid-afternoon excursion on a river cruise ship on the Rhine but there are no train portions on the tour. You will have one tour director with you throughout the entire escorted tour.
Question: How many people are allowed on this tour? Large or small group?
The amount of people on tours vary. Passenger numbers on a Cosmos tour are limited to 51. Often, group sizes are well below 50 people.
Question: How many suitcases can I take with me on my trip?
Each person is allowed one "check-in," and one "carry-on." Remember to take all valuables with you as "carry-on", because electronic equipment, cameras, laptops, jewelry, business documents and money are not covered by the airlines' liability, so always carry them aboard with you.
Question: Is Airfare Included in the Price?
Airfare from your point of origin to and from the trip is not included in the land price.
Similar Tours Other Travelers Liked
While we knew we would be visiting Christmas markets, we didn't realize that the markets would be part of every stop. It would have been nice to have another choice of the markets weren't something you were interested in.
The optional dinners were overpriced.
Dinner excursions especially the Munich Bavarian dinner was very very disappointing and really put a damper on my experience with your tour. I would not recommend anyone to do a dinner excursion the value and experience is not there at all- I would of had a better Bavarian evening at the local Munich McDonalds for less then a third the cost. I made a horrible mistake signing up for that excursion but I did so because everything up till that point was good to excellent so I expected that to be good too but boy was I wrong.
Travel with cosmos was great. The driver, Tom and , tour director, Anita were wonderful.
Great trip... I booked extra days at the end and my shuttle came right on time..
This tour should be advertised as strong on shopping and weak on history. More time was given to exploring the shopping area at the sites than to information.
Excellent tour. I have stopped counting the number of tours I've booked with Cosmos thru Affordabletours. Have never been disappointed. Highly recommended.
It was my first experience in traveling with Cosmos. Except for three hotels, most accommodations were either substandard or below any criticism, especially the hotel in Friedrichsdorf whose room 214 I occupied twice. The soiled furniture, stench in the room, towels which were used by ancient Roman soldiers, disgusting dinner and the general atmosphere of the run-down sixties were far from the promised conditions. The same reaction concerns the terrible food in the Munich hotel. The very fact that the company accommodated tourists in the first hotel in the rural area, over 40 km from the Frankfurt airport, made them spend a pretty penny on transportation to the hotel speaks for the selfish concerns of Cosmos, but never about the interests of its clients. I will not travel with this company again because the traveling conditions it provided were far from what was expected. In the hotel in Berlin, from May 17 to May 18, I had to spend a sleepless night due to the drunk feast of the guests who occupied the room over mine. Twice during the night I turned to the hotel security system to restore order. It did not help. The next day, I received a promissory letter from the hotel front desk manager Tanja in which the hotel guarantees a refund for one day. My letter to Cosmos and a copy of the hotel manager's letter were sent to Cosmos by the Tour Director Maja on May 19, 2018. I have not received a response or confirmation of the receipt of my letter from Cosmos so far.
Well organized!!! Great tour director and bus driver... very educational as well as enjoyable!
Two hotels were nasty, but the rest was nice.
This tour Highlights of Germany gives a great overview of the country of Germany. Choosing to go during the Octoberfest weeks was a bonus of great fun. The food, the accomodations and the people were all wonderful. Thank you Affordable Tours for making this trip cost-effective and helping us book and get ready for our trip!!
I've always enjoyed all the tours I've taken with Globus and Cosmos.
The Highlights of Germany Tour by Cosmos provided a quick overview of Germany and was not meant to be fully immersive and in-depth. The overall experience was positive but there were some issues that arose from our trip. In two occasions, the two hotels did not have porter service for luggage and we had to carry our own luggage when we arrived at the hotel and when we left the following morning. The hotel selection was poor. They are far from the city center, the rooms were small, air-conditioning was inadequate, 1 hotel did not have air-conditioning at all, and the buffet breakfast was inconsistent when it comes to quality. There were buffet breakfasts that were great and there were ones that were poor. Lastly, the tour director did not seem personable and was not able to provide more information about destinations, significance of the area we are visiting, and as well as what to expect. The tour director was friendly but needs improvement as far as providing information (city orientation tour, etc.).
We spent too much time on the autobahn. Perhaps a more geographically narrow tour would be better. One or two of the hotels were hot and the air conditioning insufficient. Had to open window to the noisy outside to sleep.
Trip covered many towns and cities in Germany so this was a good introduction to this country. Not much time in any one place to really discover more and much time spent on the road. Overall a good value and enjoyable tour
Excellent trip with very professional tour guide and driver...two (2) of the optional excursions were less than our expectations.
We were happy with our trip. We liked the itineraries. One or two hotels/breakfasts were not that great.
Our experience with our travel consultant was excellent. She was very helpful with everything that we dealt with. Our tour with Cosmos was extremely enjoyable and exceeded our expectations. Our guide and driver were the best of the best and we enjoyed the total experience.
The Germany trip was an outstanding value for the price. I will highly recommend it to my friends. The agent was very easy to work with and extremely competent.
Agent handled all arrangements beautifully and everything went off without a single hitch! The tour was even better than expected, the hotels were excellent, the meals were sub-par when compared to all of the others provided. We had a brand new Mercedes coach to ride in with an excellent driver and the tour guide was exceptional. This is my third Cosmos tour, booked through Affordable, and I will be back again next year!! Thank you to Affordable Tours and Cosmos.
Our trip to Germany was everything that we hoped it would be. Our tour guide was awesome! Thanks affordable tours! We will see you again soon!
Most of the rooms in Germany's hotels didn't have coffee and tea machines.
happy with the trip overall. Acouple of the optional tours were not up to expectation. No problems encountered. Thank you for all your help!
All went well, enjoyed the trip and will take another! The hotels were all very nice and we enjoyed all the good food they provided also. Fun, good memories!
This Cosmos tour exceeded our expectations and we would therefore book another tour with your company.
AffordableTours.com® does not itself offer, service or administer the Travel Packages, and the ultimate terms and conditions of any Travel Package made available via the Site Offerings (including the prices quoted in connection with same) will be determined by the applicable Third-Party Travel Service Provider. AffordableTours.com® does not represent or warrant that the Price Quotes are accurate, up-to-date or free of error, or that same will be honored by the applicable Third-Party Travel Service Providers. All Price Quotes, Travel Package availability, Travel Package details/itinerary and other Content are subject to change without notice. All travel details published by and through the Site Offerings should be confirmed directly with the applicable Third-Party Travel Service Provider prior to making any travel plans. Reliance on any information made available to you by and through the Site Offerings is solely at your own risk.
How It Works
Vacationing has never been easier or cheaper with the help of a dedicated travel consultant from AffordableTours.com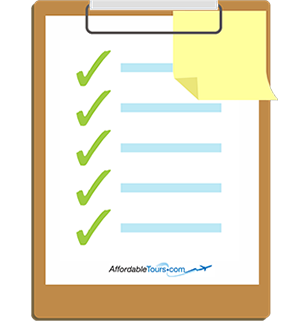 Find your perfect trip on our website and simply request a free quote. Need to speak to a live person? Call us 7 days a week at 1-800-935-2620. No robots here!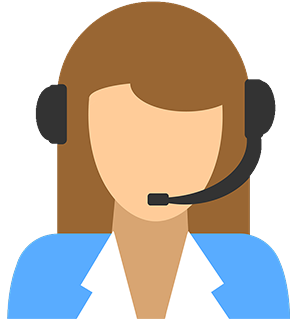 Your personal travel consultant will reach out and be your point of contact for your entire travel experience from start to finish. Did we mention you'll be working with an award winning team? Sweet!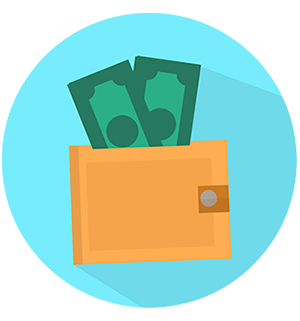 Because we're one of the largest sellers of travel, we're able to give you a discount on your vacation package. No one beats our prices!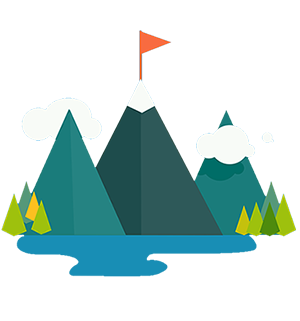 Knowing you got the best deal, all that's left is for you to pack your bags and enjoy your vacation!