2021 The Northeast Passage: Across the Russian Arctic with Geoffrey Kent
From Oslo to Nome, AK
Call or submit a quote for award-winning value and service!
Countries Visited
Cities Visited
Book With Flexibility
Peace of Mind
Complimentary "Peace of Mind" Travel Plan. Change your travel plans until 30 days before your trip
Change Destination / Vacation
Change to a different destination or vacation.
Change Dates
Choose new departure dates if your plans change.
Great Service
Award-winning service, low prices, client satisfaction
Tour Itinerary
Join A&K founder Geoffrey Kent on a celebratory voyage through the Northeast Passage alongside our award-winning Expedition Team, which includes a National Geographic photographer and a Russian Far East expert. Navigate from Tromso, Norway, to Nome, Alaska, visiting remote, legendary settlements strewn across the Russian High Arctic, seldom-seen Siberian islands, isolated wildlife habitats and Arctic nature reserves along the way.
AUG 27: Arrive Oslo, Norway

Arrive in Oslo, Norway's capital city and your gatewayto the Russian Arctic. On arrival, you are met andescorted to your hotel. This evening, meet fellow guestsfor a welcome reception and dinner in anticipation of the adventure tocome.
(Dinner)
Hotel:
Radisson Blu Airport Hotel, Oslo Gardermoen
AUG 28: Tromso

This morning, board your charter flight to Tromso,a colorful cultural hub above the Arctic Circle. Prepare for thejourney ahead with a visit to the Polar Museum that highlightsthe heroics of great explorers Fridtjof Nansen and RoaldAmundsen. Enjoy a visit to the striking Arctic Cathedral.Time permitting, you may also have the opportunity to visitplayful seals Bella and Mai San at Polaria, the northernmostaquarium in the world. After lunch, board your all-balconyexpedition cruiser.
(Breakfast, Lunch, Dinner)
Hotel:
'Le Boreal'
AUG 29: Knivskjellodden

Your adventure gets underway with an expeditionary visit to what many consider to be the northernmost point inEurope: Knivskjellodden, Norway. This rocky peninsulacannot be reached by car or bike, making it an idealdestination for 'Le Boreal's' Zodiacs and your first landing.Your visit to this far-flung promontory includes a hike,taking in rugged boulders and sheer cliffs as well as aspectacular view of the sea across wild, grass-coveredopen spaces.
(Breakfast, Lunch, Dinner)
Hotel:
'Le Boreal'
AUG 30: Murmansk, Russia

Towering icebreakers and cargo ships line the docks ofMurmansk, the world's biggest city north of the ArcticCircle. Warm Gulf Stream waters keep this famous portice-free. The home of Russia's first navy, Murmansk isrich in World War II and Cold War history, so you maychoose to visit the Museum of the Northern Fleet or opt tosee the world's first nuclear-powered icebreaker, 'Lenin,'decommissioned in 1989 and open to visitors. Learn aboutthe raw power of an icebreaker and soak up maritime loreas you begin your own adventure into the vast, rawlandscapes of the Russian Arctic.
(Breakfast, Lunch, Dinner)
Hotel:
'Le Boreal'
AUG 31-SEP 1: Crossing the Barents Sea

The Barents Sea, relatively undisturbed by humanactivities, contains one of Europe's largest, cleanest andmost reasonably undisturbed ecosystems. Home to polar cod, capelin from the smelt family, and seabirdsknown as little auk, the nutrient-rich waters continue tosupport abundant wildlife. Join your naturalists on deckas you keep an eye out for white dolphins, beluga whales,orcas and the fabled narwhal, among other species.
(Breakfast, Lunch, Dinner)
Hotel:
'Le Boreal'
SEP 2-3: Franz Josef Land

This archipelago consists of 192 islands, many of which offerarresting landscapes. You may take a Zodiac cruise pastHooker Island's Rubini Rock, home to thousands of nestingseabirds like kittiwakes, glaucous gulls and Brünnich'sguillemots. You might set foot on eerie Champ Island,where striking stone spheres ranging from several inchesto several yards in circumference are strewn across the terrain.You may reach Hall Island, where Pacific walruses loungeby the sea, resting from their long migrations, or you mayexplore Cape Tegetthoff, with its breathtaking scenery andremains of a small camp built by Austro-Hungarian explorers in1898 hoping to reach the North Pole.
(Breakfast, Lunch, Dinner)
Hotel:
'Le Boreal'
SEP 4: Novaya Zemlya

Among the first Europeans to visit this region, Dutchexplorer Willem Barents overwintered on the icynortheastern coast of Novaya Zemlya in 1596. The Russiansknew of this remote archipelago as early as the 11th century,when hunters from Novograd visited the area. With its majesticglaciers and mountainous terrain, Novaya Zemlya servedas a dramatic backdrop for World War II convoy shipsescaping capture and clandestine Cold War activities. Youmight make a landing on Severny Island, site of Europe'slargest glacier as measured by area and volume.
(Breakfast, Lunch, Dinner)
Hotel:
'Le Boreal'
SEP 5-8: Great Arctic State Nature Reserve

One of the largest wildernesses on earth, the Great ArcticReserve covers nearly 16,000 square miles. Polar bears,Arctic foxes, reindeer, snowy owls and beluga whales areamong the many species carefully protected within Russia's greatest zapovednik, or conservation area. Some of thelanding sites in this area might include:
Uyedineniya Island: Compared to other Arctic islands,Uyedineniya is flat and low-lying. In summer, you might seeevidence of Arctic vegetation, even wetlands and small lakes.
Isachenko Island: One of the Kirov Islands, Isachenko ishome to the research station Polyarnaya Stantsiya.
Komsomolets Island: Nearly covered by the Academy ofSciences Glacier, Komsomolets is a vast expanse of whitetundra desert scattered with lichens and mosses.
Akhmatov Fjord: In the southernmost island of SevernayaZemlya, Akhmatov Fjord features smooth mountains onboth sides, mirror-like waters and breathtaking, multi-huedblue ice.
(Breakfast, Lunch, Dinner)
Hotel:
'Le Boreal'
SEP 9-13: East Siberian Sea

The remote archipelago known as the New Siberian Islandswas first located by Cossacks as recently as the early 18thcentury. For nearly 100 years, the region seemed mythicuntil a cartographic expedition led by Yakov Sannikovand Matvei Gedenschtrom arrived in 1809. The islands arecomposed of alternating permafrost and soil, and the risingtemperatures of the last few decades have led to the meltingof ice and contraction of firm ground, resulting in dramaticlandscapes. You might also visit Ayon Island, home to theChukchi people, who use the tundra as pasture for theirreindeer herds.
(Breakfast, Lunch, Dinner)
Hotel:
'Le Boreal'
SEP 14-16: Wrangel Island

Join your expedition staff on deck and in Zodiacs asyou cruise the wildlife-rich waters and coastal areas surrounding this biodiverse region. Designated a UNESCOWorld Heritage Site, Wrangel Island is home to the world'slargest population of Pacific walruses, the highest densityof ancestral polar bear dens and the nesting grounds ofover 100 species of migratory birds, to name a few of itssuperlatives. Over 400 species of plants have been identifiedhere, double that of any other Arctic tundra region.
(Breakfast, Lunch, Dinner)
Hotel:
'Le Boreal'
SEP 17-19: Chukotka

Explore the vast coastal wildernesses of Eastern Siberiawith your seasoned Expedition Team as they introduce youto the human and animal populations of this singularlyremote place. Brown bears, Russian foxes and over 200 birdspecies, including the endangered spoon-billed sandpiper,are among the animals you may encounter as you hike therocky terrain along Kolyuchin Bay. Russia's most sparselypopulated region, Chukotka, is home to tiny villages likeUelen and Larino, where you may be offered a skin boatand dogsled demonstration or be invited to sample cariboumeat, local roots or seaweed dishes. At the Captain'sFarewell Dinner, bid farewell to your new friends, to yourinspiring expedition team and to the unforgettable vastnessof this region.
(Breakfast, Lunch, Dinner)
Hotel:
'Le Boreal'
SEP 20: Provideniya

Ease your way back into civilization with a visit toProvideniya the administrative center of Chukotka with apopulation of just under 2,500. A former Soviet militaryport, Provideniya suffered from the sudden departureof the military from the area. Local tourism has boostedthe economy, and you are welcomed warmly with a ceremony and a village concert. A significant portion ofthe population is Yupik, indigenous to both Siberia andsouthwestern and central Alaska.
(Breakfast, Lunch, Dinner)
Hotel:
'Le Boreal'
SEP 21: Depart Nome, Alaska

Disembark in Nome, Alaska, among the wildest reaches of mainland America and the final destination for the Iditarod dogsled competition. Gold can still be mined here, and you may try gold panning firsthand. You may also experience a dogsled demonstration or a stop in to the Bering Sea Land Bridge National Preserve visitor's center. After lunch at Old St. Joe's Hall, enjoy time at leisure in downtown Nome. Transfer to the airport for your chartered internal flight to Anchorage, and then either continue home or join the Alaska post-tour extension.
(Breakfast, Lunch)
Hotel:
'Le Boreal'
Question: How many suitcases can I take with me on my trip?
Each person is allowed one "check-in," and one "carry-on." Remember to take all valuables with you as "carry-on", because electronic equipment, cameras, laptops, jewelry, business documents and money are not covered by the airlines' liability, so always carry them aboard with you.
Question: Is Airfare Included in the Price?
Airfare from your point of origin to and from the trip is not included in the land price.
Similar Tours Other Travelers Liked
Fabulous, most memorable trip!
AffordableTours.com® does not itself offer, service or administer the Travel Packages, and the ultimate terms and conditions of any Travel Package made available via the Site Offerings (including the prices quoted in connection with same) will be determined by the applicable Third-Party Travel Service Provider. AffordableTours.com® does not represent or warrant that the Price Quotes are accurate, up-to-date or free of error, or that same will be honored by the applicable Third-Party Travel Service Providers. All Price Quotes, Travel Package availability, Travel Package details/itinerary and other Content are subject to change without notice. All travel details published by and through the Site Offerings should be confirmed directly with the applicable Third-Party Travel Service Provider prior to making any travel plans. Reliance on any information made available to you by and through the Site Offerings is solely at your own risk.
How It Works
Vacationing has never been easier or cheaper with the help of a dedicated travel consultant from AffordableTours.com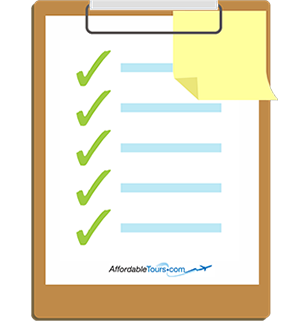 Find your perfect trip on our website and simply request a free quote. Need to speak to a live person? Call us 7 days a week at 1-800-935-2620. No robots here!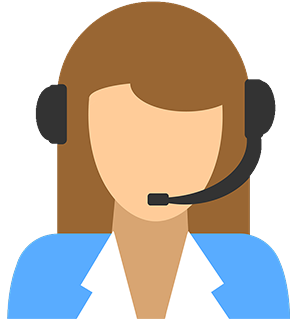 Your personal travel consultant will reach out and be your point of contact for your entire travel experience from start to finish. Did we mention you'll be working with an award winning team? Sweet!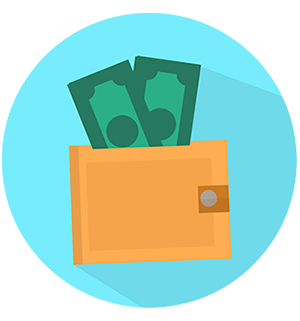 Because we're one of the largest sellers of travel, we're able to give you a discount on your vacation package. No one beats our prices!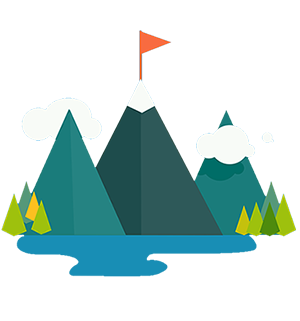 Knowing you got the best deal, all that's left is for you to pack your bags and enjoy your vacation!