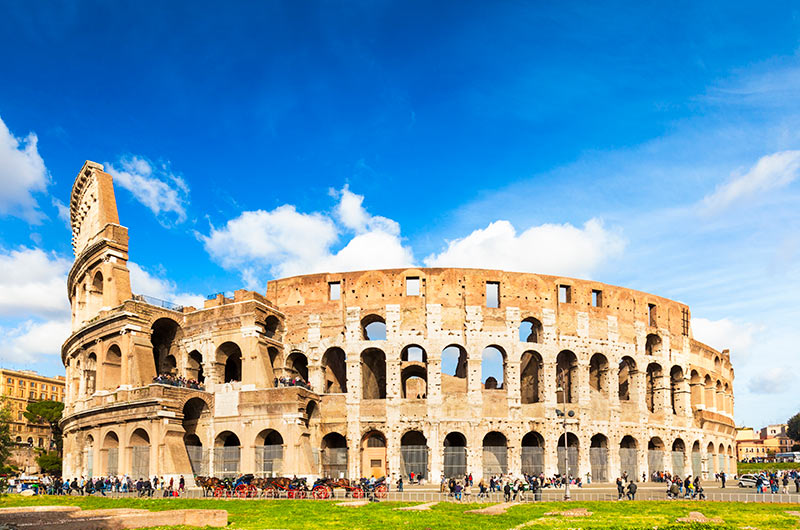 12 Day The Heart of Italy - 12 Day The Heart of Italy
Why Pay Retail?
Call us for a quick quote!
Dates & Prices
Please Note: Land Price does not include airfare, departure or arrival transfers, airline taxes and fuel surcharges.
Start Date
End Date
Offers
Brochure
Land Price
Brochure
Land & Air Price
Quote
Sep 05, 2021
Sep 16, 2021
Deals
$4,519
$5,379
Get Quote
Sep 19, 2021
Sep 30, 2021
Deals
$4,519
$5,379
Get Quote
Sep 26, 2021
Oct 07, 2021
Deals
$4,519
$5,399
Get Quote
Oct 10, 2021
Oct 21, 2021
Deals
$4,479
$5,419
Get Quote
Call or submit a quote to get our Low Prices!
Black Friday Sale, Save 15% on Worldwide Vacations
Black Friday Sale, Save 15% on Worldwide Vacations
Promotion Details
Book now during our Black Friday sale to save 15% on select 2021 and 2022 tours. Plus, Gate1's Flexible Booking Policy makes it easier to book with confidence. If you are not comfortable traveling as your departure date approaches, you are able to change your plans before final payment.
Must Book By Thu, Dec 10, 2020
View Promotion Terms & Conditions ›
Offer applies to new bookings only. Must book before December 10, 2020 to receive discounted rate. Blackout dates/packages may apply. Discount is removed from the land price and does not apply to extra packages, air, surcharges or government taxes. Additional restrictions apply.
Save 5% - Cash Payment Discount
Save 5% - Cash Payment Discount
Promotion Details
Gate 1 offers the flexibility of paying for your vacation by check. Save 5% off of your remaining balance when the final payment is made by check.
Must Book By Thu, Dec 31, 2020
View Promotion Terms & Conditions ›
Gate 1 offers the flexibility of paying for your vacation by credit card or check. Choose check for your final payment to save 5% off of your remaining balance. Full details will be sent with your invoice.

Travel Free with Friends & Family
Travel Free with Friends & Family
Promotion Details
Traveling with friends and family is rewarding - and Gate1 is making it even more rewarding with their Friends & Family program. Start earning cash rewards when 7 friends or family join your escorted tour or river cruise and with only 10 companions, earn yourself a free land tour!

7 traveling / paying passengers: $100 discount to the group leader
8 traveling / paying passengers: $200 discount to the group leader
9 traveling / paying passengers: $300 discount to the group leader
10 traveling / paying passengers: $400 discount to the group leader
11 or more traveling / 10 paying passengers: Earn 1 free place twin/double occupancy
Must Book By Thu, Dec 31, 2020
View Promotion Terms & Conditions ›
FFP reservations apply to select Escorted Tours, European River Cruises and Escorted Tour & Sea Cruises. Eligible products will display the Friends and Family icon. Additional restrictions may apply.

Refer A Friend & Earn Travel Credits
Refer A Friend & Earn Travel Credits
Promotion Details
As a past customer, when you refer a friend you both benefit. Not only will your friend receive $50 off their first escorted tour or river cruise booking, but when you book your next new tour or cruise you will also receive $50 off.
Must Book By Thu, Dec 31, 2020
View Promotion Terms & Conditions ›
To be eligible for this incentive, the referring customer must have previously traveled with Gate1, and the passenger receiving the referral must be a new client. Only valid on escorted tours and river cruises. Only one person per room may earn a credit. The new traveling passenger must be booking their first reservation with Gate 1 Travel or Discovery Tours. The referrer's next trip must be booked within 24 months of earning the credit. Not valid on independent vacations, voucher bookings or Group reservations. Additional restrictions may apply.
Book With Flexibility
Peace of Mind
Complimentary "Peace of Mind" Travel Plan. Change your travel plans before final payment.
Change Destination / Vacation
Change to a different destination or vacation.
Change Dates
Choose new departure dates if your plans change.
Great Service
Award-winning service, low prices, client satisfaction
Tour Itinerary
DAY 1, Sunday - Depart for Italy
Depart for Italy
DAY 2, Monday - Arrive in Venice
Benvenuti! Welcome to Italy! Arrive in magical Venice and transfer to your hotel. The remainder of the day is at leisure in the city built over a hundred small islands and connected by 400 bridges. Venice is truly an artistic masterpiece. Tonight, attend an orientation meeting at approximately 6 pm (exact time will be advised on tour arrival day) with your Tour Manager to discuss the upcoming journey that awaits you in Italy, followed by a Welcome Dinner with your fellow travelers
Overnight: Venice
Meals: Dinner
DAY 3, Tuesday - Discover Venice
Your discovery of the endlessly fascinating Venice begins with a boat ride on the Grand Canal. View the Rialto Bridge with its busy market area, pass sumptuous palaces and hidden gardens before flowing into the Venetian Lagoon to the island of Murano. The island has been known for centuries for its famous Murano glass. Visit one of the glass blowing factories to witness this intricate art firsthand. Afterward, experience an insider's Venice walking tour that will take you "off the beaten path." Walk the small alleys to Campo Santi Giovanni e Paolo, one of the largest open spaces in the city, then onto Santa Maria dei Miracoli, the "marble church," a lasting example of early Venetian Renaissance. End your visit at St. Mark's Square, where you will view the beautiful Basilica of San Marco, the pink marble Doge's Palace and the Bridge of Sighs, with its famed arched profile that makes one of the most famous scenes of this Romantic city. Don't miss the optional Gondola Ride, definitely a different perspective of this unique city built on water
Optional: Gondola Ride (PM)
Overnight: Venice
Meals: Breakfast
DAY 4, Wednesday - Lucca & San Giuliano Terme
Magnificent panoramas await you today. Travel through the rolling Tuscany countryside to Lucca, a perfectly preserved jewel of medieval architecture, with its winding streets showing layers of history on every turn; the massive 17th-century walls completely surround the city. Start with a tasting of local products in a historical shop before walking the narrow streets of the original Roman grid to the Church of San Michele and its beautiful piazza, which occupies the site of the ancient Roman Forum. After the tour, spend time on your own to discover this charming town. Continue to San Giuliano Terme for dinner and overnight
Overnight: San Giuliano Terme
Meals: Breakfast, Lunch, Dinner
DAY 5, Thursday - Cinque Terre
Today explore the spectacular Cinque Terre*, one of the most beautiful areas of the Liguria region. Here, five small villages, nestled in the cliffs overlooking the sea and the surrounding hillsides, are all part of the Cinque Terre National Park and a UNESCO World Heritage Site. Marvel at the scenic coastline while exploring the villages and the beautiful vistas. This active walking tour covers a fair amount of ground and includes uneven surfaces, stairs, steps and significant slopes. Trains and/or boats will be the means of transportation between the towns. Return to your hotel in the afternoon and spend the balance of your day at leisure* Exact tour itinerary & operation of the tour is subject to weather conditions and will be advised locally
Overnight: San Giuliano Terme
Meals: Breakfast
DAY 6, Friday - Tuscan Cooking Class
Food! Glorious Italian Food! Begin this fabulous day at the local market. Here, you'll shop like a native, following your chef's instructions to buy the fresh produce needed to prepare the most delicious Italian meal. Then, take your ingredients out to a farmhouse in the countryside. After a welcome drink, the chef begins the morning of cooking lessons. The basics include homemade pasta, local soups, homemade sauces, and the recipe for the famous Panzanella. All of the Tuscan secrets will be revealed, and using fresh Tuscan olive oil makes a huge difference in taste. Afterward, sit back, relax, sip a glass of great wine and enjoy your own creation! Continue to your hotel in the afternoon. The rest of the day is at your leisure, perhaps head to the lively center of Florence and immerse yourself in its priceless Renaissance art and architecture
Overnight: Florence
Meals: Breakfast, Lunch
DAY 7, Saturday - Florence City Tour
Today, take a guided walking tour through the heart of Florence. View the magnificent Duomo, with its Brunelleschi-designed dome, the renowned "Gates of Paradise" of the Baptistery by Ghiberti and Giotto's Bell Tower. You'll be enchanted as you walk through the open-air art museum of Signoria Square, with its Palazzo Vecchio, first residence of the Medici family and today the seat of the city government. Continue to the splendid Ponte Vecchio, also known as the "Old Bridge". Florence is indeed the center of the world's finest art and architecture. During the optional tour of the Accademia Gallery* your guide will reveal the secrets of Michelangelo's world-famous masterpieces, such as the original version of David, I Prigioni, and San Matteo. Tour participation guarantees immediate entry to the Gallery, with no lengthy wait times. The remainder of the day is at leisure in Florence to visit museums, shop for gold and quality leather, or just enjoy the fabulous ambiance*Optional Accademia Gallery Tour AM, US $45 - Available for purchase only in Italy from your Tour Manager and subject to availability.
Overnight: Florence
Meals: Breakfast, Dinner
DAY 8, Sunday - Siena & Tavernelle di Panicale
Delight in the scenery as you drive through the Chianti area to Siena, a step back to medieval Tuscany. The heart of the city, Il Campo, was declared by UNESCO as a World Heritage Site. It is also the location of the centuries-old Palio horse race that takes place twice every Summer, during which the participants ride bareback around the spectator-packed square. Take a walking orientation tour of the town before spending time on your own. Later depart for Tavernelle di Panicale in the Umbria region. Tonight, dinner is at your hotel
Overnight: Tavernelle di Panicale
Meals: Breakfast, Dinner
DAY 9, Monday - Medieval Assisi, Umbria Winery
This morning, travel to the small medieval town of Assisi perched high on a hill in the Umbria region with its rugged, winding medieval streets and sacred shrines. Participate in a walking tour of Assisi, designated a UNESCO World Heritage Site for its significant art and architecture and best known as the birthplace of St. Francis of Assisi - patron saint of Italy. Its main attraction is the 13th-century Basilica of San Francesco, which contains the sacred relics of St. Francis and Giotto's astonishing frescoes; one of the artistic highlights of medieval Europe. Afterward, visit a winery in Umbria. Linger in the vineyards and visit the cellars before sipping the most famous Sagrantino wines while tasting the homemade local dishes. Travel through the green landscapes of Umbria, dotted with small villages before approaching the Eternal City of Rome
Overnight: Rome
Meals: Breakfast, Lunch
DAY 10, Tuesday - Vatican Museum, Sistine Chapel, Piazzas of Rome
Today, visit the Vatican Museums and Michelangelo's masterpiece, the Sistine Chapel, undoubtedly one of the highlights of the tour! Your local guide will lead you into the museums, where you will explore part of one of the most important art collections in the world. Admire the Gallery of Tapestries and the Geographical Maps before arriving at the Sistine Chapel, with its great frescoes by Michelangelo. Stroll through St. Peter's Square, passing Bernini's famous colonnade to view St. Peter's Basilica*, built on the burial site of Saint Peter. Then, a change of pace as you stroll through the characteristic "piazzas and vias" of Rome with your tour guide. Admire the baroque Piazza Navona, built on the site of the 1st-century Stadium of Domitian, where great chariot races were once held. Leisure time for lunch on your own before reaching the monumental Pantheon, home of the largest unreinforced concrete dome in the world, and one of the most imitated of all ancient works. Continue to savor the grandeur of the iconic Trevi Fountain, and of course, toss in some coins! Then, on to the majestic Spanish Steps on the Piazza di Spagna, the longest and widest decorative steps in Europe. Spend the balance of your day at leisure, perhaps grab a cappuccino or gelato and indulge in the national pastime of people-watching*Due to Religious events, the opening times of St. Peter Basilica are subject to change without notice. In these events, clients will visit the Vatican Library instead of the Basilica
Overnight: Rome
Meals: Breakfast
DAY 11, Wednesday - Ancient Rome & Palazzo Colonna
This morning visit the mighty Colosseum, the largest amphitheater built in the Roman Empire that once seated over 50,000 spectators. Here deadly contests between gladiators and sometimes wild animals were attended frequently by the rich, the poor, and the Emperor himself. Continue on to the legendary Roman Forum, the central area of the city from which ancient Rome developed. Next, view the triumphal Arch of Constantine, erected by the Roman Senate to commemorate his tenth year of leadership over the Eternal City. This afternoon, visit Palazzo Colonna, one of the oldest and largest private palaces of Rome. Its construction began in the 14th century by the Colonna family, who still reside there after eight centuries. The Galleria Colonna is a true jewel of the Roman Baroque style the construction of which required the expertise of Antonio del Grande, Gian Lorenzo Bernini, Paolo Schor, and Carlo Fontana. During the visit, you will admire the works of Bronzino, Ghirlandaio, Tintoretto, Salvator Rosa, Guido Reni, along with many others. Visit the Apartment of Princess Isabelle, located on the ground floor of the palace which was built upon the foundations of the ancient Temple of Serapis. Here, the Colonna Princess preserves the apartment formally used by Princess Isabelle exactly as it was when she was still alive. To conclude the evening, enjoy a dinner together to bid farewell to your Tour Manager and newfound friends
Overnight: Rome
Meals: Breakfast, Dinner
DAY 12, Thursday - Depart Italy
Arrivederci Roma! Transfer to the airport for your departure flight
Meals: Breakfast
Please Note: Land Price does not include airfare, departure or arrival transfers, airline taxes and fuel surcharges.
Countries Visited
Cities Visited
Please Note: Land Price does not include airfare, departure or arrival transfers, airline taxes and fuel surcharges.
Package Includes

Small groups of maximum 22 travelers guaranteed
Flights New York-Venice, Rome-New York
Other departure cities available.
Airline taxes & fuel surcharges
10 nights First Class accommodations
2 nights Venice
2 nights San Giuliano Terme
2 nights Florence
1 night Tavernelle di Panicale
3 nights Rome
Italian city hotel taxes, fees & service charges
Hotel porterage
All transfers included only with airfare purchase on package arrival & departure dates†
18 meals: 10 breakfasts, 3 lunches, 5 dinners (including welcome & farewell dinners)
Coffee and tea with all meals
Wine is included with lunch and dinner
Sightseeing per itinerary in modern air-conditioned vehicles
Services of English-speaking tour manager throughout
Comprehensive, guided sightseeing and entrance fees per itinerary
Comfortable wireless earphones for enhanced touring
Active itinerary with unique cultural features
Tour Highlights
Thanks to our small group size, we can get to the heart of our destination and visit places that other tours miss.
Discover the island of Murano with its famous glassblowing factories
Experience an Insider's Venice Walking Tour that will take you "off the beaten path"
Walking tour of St. Mark's Square in Venice, with its extraordinary treasures and architectural wonders
Enjoy a walking tour of Lucca with tasting of local specialties
Marvel at the cliffside villages of Cinque Terre, "five towns" that seem suspended over the Ligurian Sea
Learn to shop like a native at the local market, and then travel to the countryside with your chef to prepare an authentic, home-cooked Italian meal
Celebrate the beauty of Florence with a walking tour through the historical city center
Stop in Siena, a lovely medieval city, known for its famous Palio horse race
Tour a vineyard and wine cellar in Umbria and sample some of the local specialties
Visit the Vatican Museum and Michelangelo's incomparable Sistine Chapel
Explore the grand piazzas of the Eternal City of Rome, jewels of Baroque and Renaissance architecture
Experience the monumental grandeur of this ancient city built on seven hills: the legendary Roman Forum & the mighty Colosseum
Visit the Palazzo Colonna, one of the oldest and largest private palaces of Rome, and the preserved Apartment of Princess Isabelle
†Transfers are available for purchase for land only or on alternative flight dates
Not Included:
Optional tours and gratuities.

Additional Information:
Land only prices do not include arrival/departure transfers.
Health and Safety Protocols for Gate1 Tours
At Gate 1 we take your safety and security very seriously. We have a strong network of tour managers, local offices, ground operators and colleagues which help us stay informed in all the destinations that we operate. We closely monitor local situations which enable us to make the operational decisions necessary to keep our tours running safely. Millions of people travel the world each year and experience enjoyable and safe trips but crimes against people and property are sadly a fact of life. It is very important to be aware of your surroundings and avoid drawing attention to yourself. Please remember that you have the same responsibility for your personal safety and possessions as you do at home. It is essential to prepare for a safe and healthy travel abroad. Therefore before you travel, we strongly recommend that you visit the website of the US Department of State at https://travel.state.gov/content/travel.html for up-to-date travel advice on the countries that you are visiting. The website provides useful information on subjects such as safety and security information, health precautions and medications, health insurance and additional tips for traveling abroad. If you do not reside in the United States, we recommend you check your government's travel advisory website for any country you will be visiting. We recommend that you review the safety guidance that may be provided by us, our agents or suppliers, either before you go or when you arrive in your destination. You can also find helpful tips on our website in the "Trip Preparation" tab of each of our tour packages. We do know that in-spite of careful planning, things can sometimes still go wrong, so rest assured, we will be there to help and support you.
Palace Bonvecchiati
This superior first class hotel is located in the heart of the city, a short walk from St. Mark's square.
Bagni di Pisa Hotel
This superior first class hotel is located in San Giuliano Terme.
Villa Olmi Firenze
This first class hotel is located about a twenty minute drive from the historic center of Florence.
Relais Villa Monte Solare
This first class hotel is situated in the beautiful Umbrian countryside.
Hotel La Griffe Roma MGallery by Sofitel
This superior first class hotel is located nearby the Teatro dell'Opera di Roma.
Question: How many suitcases can I take with me on my trip?
Each person is allowed one "check-in," and one "carry-on." Remember to take all valuables with you as "carry-on", because electronic equipment, cameras, laptops, jewelry, business documents and money are not covered by the airlines' liability, so always carry them aboard with you.
Question: Is Airfare Included in the Price?
Airfare from your point of origin to and from the trip is not included in the land price.
Overall, the trip was exceptional. The tour guide Riccardo was outstanding...very friendly, caring and knowledgeable about the areas visiting. The accommodations in Bari and Napoli were disappointing. In Bari, the room at Grande Albergo delle Nazario was extremely small which made it difficult to manage suitcases for 2 people. In Napoli, the room at Hotel Royal Continental certainly needed updating. The overall appearance of the room looked worn and a little shabby. However, the condition of these 2 rooms did not affect the great time we had. Will definitely travel with Gate 1 again.
Awesome experience... knowledgeable and helpful tour guide (Hend), as well as all other employees.
As always, everything went very smoothly.
This trip was fantastic. It was packed with lots of activities and places to see. Unfortunately, weather plays a big role in what you see and don't see. We weren't able to visit Robben Island due to choppy water and couldn't see much of Victoria Falls due to rain/fog. But I'm not complaining, that's just how things go. Other than that, the itinerary was very fast paced and we got to see a lot, which was desired. The tour was very organized and our group leader, Ahmet, was very knowledgable of the places we visited. I would recommend the game drive in Botswana over the game drive in South Africa. The food and drink was quite good from the included meals. Ahmet did his best to accomodate everyone. I'd recommend this tour to anyone wanting to see as much as possible in such a short time frame. The schedule is strict but well worth the sights.
Very interesting itinerary
Wonderful experience, with well informed tour managers. Everything went according to plan, no big surprises or changes on this trip. Good job.
My group and I had a wonderful time visiting Iceland, none of us wanted to leave. The hotel, although basic, was clean and very comfortable. The sights and excursions were breathtaking. Tour guides were pleasant and knowledgeable.
Great trip, loved the hotels and the service provided..
Fabulous trip. Great value
Prompt, courteous, and professional service at a fair cost.
We had a wonderful trip and we especially appreciated our tour guide in Vietnam, Tom. We're now looking into booking another trip with Gate1
Gate 1 is really good at what it does.. Highly recommend.
The trip and the experience exceeded our expectations. Both Affordable Tours and Gate 1 were outstanding.
Gate 1 did a wonderful job of planning all the details so we could enjoy our experience. Well worth the money.
AffordableTours.com® does not itself offer, service or administer the Travel Packages, and the ultimate terms and conditions of any Travel Package made available via the Site Offerings (including the prices quoted in connection with same) will be determined by the applicable Third-Party Travel Service Provider. AffordableTours.com® does not represent or warrant that the Price Quotes are accurate, up-to-date or free of error, or that same will be honored by the applicable Third-Party Travel Service Providers. All Price Quotes, Travel Package availability, Travel Package details/itinerary and other Content are subject to change without notice. All travel details published by and through the Site Offerings should be confirmed directly with the applicable Third-Party Travel Service Provider prior to making any travel plans. Reliance on any information made available to you by and through the Site Offerings is solely at your own risk.
How It Works
Vacationing has never been easier or cheaper with the help of a dedicated travel consultant from AffordableTours.com
1. Free Quote
Find your perfect trip on our website and simply request a free quote. Need to speak to a live person? Call us 7 days a week at 1-800-935-2620. No robots here!
2. Dedicated Travel Consultant
Your personal travel consultant will reach out and be your point of contact for your entire travel experience from start to finish. Did we mention you'll be working with an award winning team? Sweet!
3. Lowest Price Guaranteed
Because we're one of the largest sellers of travel, we're able to give you a discount on your vacation package. No one beats our prices!
4. Stress Free Travel
Knowing you got the best deal, all that's left is for you to pack your bags and enjoy your vacation!