Icons of Southern Africa 2021

From Cape Town to Johannesburg
Why Pay Retail?
Call us for a quick quote!
Dates & Prices
Start Date
End Date
Offers
Brochure
Land Price
Our Price
Quote
Jan 08, 2021
Jan 16, 2021
Deals

$3,250

Get Lower Price
Get Quote
Jan 22, 2021
Jan 30, 2021
Deals

$3,250

Get Lower Price
Get Quote
Feb 12, 2021
Feb 20, 2021
Deals

$3,250

Get Lower Price
Get Quote
Feb 19, 2021
Feb 27, 2021
Deals

$3,250

Get Lower Price
Get Quote
Mar 05, 2021
Mar 13, 2021
Deals

$3,250

Get Lower Price
Get Quote
Mar 19, 2021
Mar 27, 2021
Deals

$3,250

Get Lower Price
Get Quote
Apr 02, 2021
Apr 10, 2021
Deals

$3,295

Get Lower Price
Get Quote
Apr 16, 2021
Apr 24, 2021
Deals

$3,295

Get Lower Price
Get Quote
May 07, 2021
May 15, 2021
Deals

$3,075

Get Lower Price
Get Quote
May 21, 2021
May 29, 2021
Deals

$3,075

Get Lower Price
Get Quote
Jun 04, 2021
Jun 12, 2021
Deals

$3,025

Get Lower Price
Get Quote
Jun 18, 2021
Jun 26, 2021
Deals

$2,995

Get Lower Price
Get Quote
Jul 02, 2021
Jul 10, 2021
Deals

$3,025

Get Lower Price
Get Quote
Jul 16, 2021
Jul 24, 2021
Deals

$3,025

Get Lower Price
Get Quote
Aug 06, 2021
Aug 14, 2021
Deals

$3,150

Get Lower Price
Get Quote
Aug 20, 2021
Aug 28, 2021
Deals

$3,150

Get Lower Price
Get Quote
Sep 03, 2021
Sep 11, 2021
Deals

$3,150

Get Lower Price
Get Quote
Sep 17, 2021
Sep 25, 2021
Deals

$3,150

Get Lower Price
Get Quote
Oct 01, 2021
Oct 09, 2021
Deals

$3,350

Get Lower Price
Get Quote
Oct 15, 2021
Oct 23, 2021
Deals

$3,350

Get Lower Price
Get Quote
Nov 05, 2021
Nov 13, 2021
Deals

$3,250

Get Lower Price
Get Quote
Nov 19, 2021
Nov 27, 2021
Deals

$3,250

Get Lower Price
Get Quote
Dec 03, 2021
Dec 11, 2021
Deals

$3,250

Get Lower Price
Get Quote
Dec 18, 2021
Dec 26, 2021
Deals

$3,250

Get Lower Price
Get Quote
LOW UNPUBLISHED PRICES ON COSTSAVER TOURS
Why pay full price? Call us or click above for a quick quote and save money on Costsaver Tours.
5% Savings on Group Vacations!
5% Savings on Group Vacations!
Promotion Details
Travel together and save money. Family, friends, club members or colleagues, gather 9 to 15 people and earn a 5% discount. Plus as always receive our AffordableTours.com 10% extra savings!
Discount is combinable with Triple room and Young Traveler discounts.
Must Book By Tue, Dec 15, 2020
View Promotion Terms & Conditions ›
Not applicable to Hidden Journeys, Israel, vacations with trains, Greek Island Hopper, Solo Traveler Discount and extra nights' accommodations. Discount limited to one group per coach.
Second Trip Discount - Save up to 2.5% When You Book Two Trips
Second Trip Discount - Save up to 2.5% When You Book Two Trips
Promotion Details
Book two trips - both seven days or longer - and save up to 2.5% on the land-only portion of your shortest vacation, plus receive our AffordableTours.com 10% extra savings!
Must Book By Wed, Jan 15, 2020
View Promotion Terms & Conditions ›
Please note that vacations must be booked at the same time. The discount is per person only and does not apply to City Breaks, extra nights' accommodation, extensions and airfares, taxes and fees, and airport transfers. Europe – excludes all Eastern Mediterranean vacations except the Greek Island Hopper. Additional restrictions may apply.
Up to 10% Off for Young Travelers
Up to 10% Off for Young Travelers
Promotion Details
If you're travelling with a child between the age of five and 17, we'll give you a discount of up to 10% on the land-only portion of their vacation. Plus always receive our AffordableTours.com 10% extra savings.
Must Book By Thu, Dec 31, 2020
View Promotion Terms & Conditions ›
Young travelers must be under the age of 18 years on the date of departure, and must be accompanied by an adult (limit of one Young Traveler Discount per room). Discounts may vary and may not be available on all vacations. Additional restrictions may apply.
Book With Flexibility
Peace of Mind
Complimentary "Peace of Mind" Travel Plan. Change your travel plans until 30 days before your trip
Change Destination / Vacation
Change to a different destination or vacation with the Travcorp Family of Brands.
Change Dates
Choose new departure dates if your plans change.
Great Service
Award-winning service, low prices, client satisfaction
Tour Itinerary
Take in the contrasts of Cape Town and Table Mountain before heading out on safari and visiting Victoria Falls. You'll get your fill of adventure as you explore the Golden Triangle, spot the Big 5 and feast on traditional meals during this Icons of Southern Africa trip.
Day 1

Arrive Cape Town (3 Nights)

Nothing can quite prepare you for what awaits in Cape Town! Table Mountain, endless beaches, and big city scenes, all this and much more are ready to welcome you today. On arrival, transfer to your hotel set in the heart of the city then head out to get a first-hand feel of this cosmopolitan buzz, before starting the trip off right, with your Travel Director and the group, where excitement will be riding high.Accommodation: Protea Victoria Junction
Meals: Dinner

Day 2

Cape Town Orientation and Free Time

In what the locals call the 'Mother City', we'll waste no time getting started. For us, there's no better way to do it than an essential morning orientation tour to really get your bearings. Your Travel Director will paint a vivid picture of each and every spot, from the colourful facades and houses in Bo-Kaap to the lush Company Gardens and the 17th-century Castle of Good Hope. You'll soon feel like you're a part of history itself. Standing tall, the main event of today sees us hitting all new heights at you guessed it, Table Mountain via the iconic aerial cable way. As we pause to take in the 360-degree views stretching down the City Bowl, Atlantic Seaboard and beyond you're sure to hear a collective 'ahhhh'. With Table Mountain checked off, tailoring your afternoon is up next, with options that are just as iconic as the sights. Choose to take a relaxed e-bike ride along the beach before feeling the sand in your toes at a sunset beach braai (barbeque), or jam your way through a djembe drumming session, re-fuelling over a feast of traditional African treats.
Meals: Breakfast

Day 3

Cape Town Free Day

Today is about taking in Cape Town and surrounds, your way, and you'll have options galore. Wine lovers could choose to pop the cork and sip their way through the day in the Cape Winelands, via the Franschhoek Wine Tram. Lovers of all things cars could feel the thrills at Franschhoek Motor Museum, home to many specialized cars and motorbikes created over the past century, followed by wine tastings and a picnic lunch. Other options for those whose perfect day is the great outdoors, lace your boots up for a guided hike to the top of Table Mountain, or take it up a notch on a thrilling mountain-biking trail.
Meals: Breakfast

Day 4

Cape Town - Johannesburg - Pilanesberg National Park (2 Nights)

Farewell Cape Town, it's been a dream. But as they say, all good things must come to an end. We've got exciting news though, as another adventure in the form of a safari, awaits today! We board our included flight and say a quick hello to Johannesburg, before hopping straight to it as we make tracks to Pilanesberg National Park, home to the main event...South Africa's 'Big 5'. Surrounded by scenes that feel like a real-life film set, the fantasy of coming to Africa will really set in. Wild, open and magical, in our 4x4 vehicle, it will be all eyes peeled as the sun sets over the bushveld and the animals begin to emerge.Accommodation: Ivory Tree Game Lodge
Meals: Breakfast, Lunch, Dinner

Day 5

Pilanesberg National Park Safari Game Drives

You'll be rising early today as we go in search of lion, leopard, rhino, elephant, and buffalo that make up the magnificent Big 5, and there's no better way to do it than with our Local Specialist Guide leading the charge. Feel like a true explorer as we navigate the dusty tracks in pursuit of spotting animals in both the vegetation and sparse open spaces while learning all about the area under our Guide's expert knowledge of the area. Whether you spot the Big 5 or not, there's no doubt you'll enjoy this truly magical experience. So take a moment to put your camera down and soak up sights, sounds, and smells of Africa.
Meals: Breakfast, Lunch, Dinner

Day 6

Pilanesberg National Park - Johannesburg (1 Night)

This morning's final game drive with a Local Specialist will see us seeking out the elusive wild dog, leopard and colourful flash of a Lilac-breasted roller flitting from tree to tree on our final drive. We'll bid a fond farewell to the bushveld, tucking into a tasty breakfast, and just like that it's time to head back to civilisation to our next city stop, Johannesburg. Johannesburg is hard to resist, and we'll get our bearings first up with an orientation of its sights and sounds with your Travel Director. With an afternoon to explore your way take the opportunity to get a history fix at Soweto, delving into the infamous history of South Africa's oldest township and once home to two Nobel Peace Prize winners. For a slice of adventure, consider donning a helmet to explore the Sterkfontein Caves and wander the Maropeng Visitor Centre, where humanity's origin story comes to life through interactive exhibits.However you choose to explore this afternoon, you'll be sure to have taken away a piece of why people fall in love with the people and energy in this vibrant city.Accommodation: Protea Balalaika
Meals: Breakfast, Dinner

Day 7

Johannesburg - Victoria Falls (2 Nights)

The 'smoke that thunders', otherwise known as Victoria Falls, awaits today. After an included morning flight, you'll be feeling like a VIP at our accommodation, located right on the banks of the mighty Zambezi River. This river is the lifeblood of Victoria Falls and home to hippos, crocodiles and playful elephants. You'll get a chance to spot these water-loving creatures as you end the day with a blissful sunset cruise.Accommodation: A'Zambezi River Lodge
Meals: Breakfast, Dinner

Day 8

Victoria Falls Sightseeing and Free Time

For those who feel the draw of the great outdoors, you could opt to pull on your shoes for an early start, a guided sunrise walk that will fill your camera with spectacular snaps and stories from our Local Specialist. One of the Seven Natural Wonders of the World, the main event is up next, a guided tour with your Local Specialist of Victoria Falls. It will be hard to pull your jaw from the floor today because these thunderous falls, standing at 108m (354ft), make up the world's largest sheet of falling water that show Mother Nature at her best. Later, take time to explore life in the slow lane. Whether you want to wander little galleries or open air markets, there's no shortage of ways to end the day.
Meals: Breakfast

Day 9

Victoria Falls - Depart Johannesburg

With fond memories of animals, waterfalls, and friendly locals fresh in your mind, your trip around South Africa's icons will come to an end this morning. You'll tuck into breakfast, then transfer to Victoria Falls Airport for your included flight to Johannesburg and connecting international flight, just make sure to depart after 19:30.
Meals: Breakfast
Countries Visited
Cities Visited
Sightseeing Highlights

Cape Town City orientation tour and Table Mountain visit
Johannesburg Orientation tour
Pilanesberg National Park Three game drives in safari vehicles
Victoria Falls Guided tour of the falls with a Local Specialist
Dining Highlights

8 Breakfasts
2 Lunches
5 Dinners
First class travel Highlights

Audio Headsets Provided throughout your holiday to enhance your included sightseeing experiences
Luxury air-conditioned coach
A Costsaver bonus - all Intra-Air Flights: Cape Town to Johannesburg, Johannesburg to Victoria Falls and Victoria Falls to Johannesburg, including porter service at all airports.
Cherry-picked hotels, all tried and trusted
Variety of Optional Experiences
City orientation tours
An expert Travel Director and separate driver
All hotel service charges and tips, baggage handling fees and local taxes
Hygiene and Safety Protocols for Costsaver Tours
Costsaver has introduced these enhanced hygiene protocols – for you and team members.
Costsaver asks that you please take personal responsibility for your wellbeing. This begins with packing any personal protective equipment and sanitizers you require. Please adopt physical distancing and hygiene practises throughout your pre-trip travel arrangements and follow all health instruction whether physical signage, or requests from the professional staff once you are vacationing.
Expertly Trained Travel Directors
Travel Director training equips them with enhanced hygiene and physical distancing procedures. During your trip, they will operate with a duty of care and monitor the hygiene etiquette of the guests, reacting and advising as needed, to ensure high standards are maintained. Before you travel, Costsaver will also keep you well informed about new protocols required in these areas, and ask that you cooperate with and heed the advice and direction of Travel Directors while on your trip. The Travel Directors have preventative measures in place to try and ensure your well-being and in the event that any unexpected issues arise on trip, they will activate additional protocols.
Stringent On-the-Road Protocols
The customized luxury coaches are sanitised before the start of your trip and have always been kept to very high standards. Following the outbreak of COVID-19, Costsaver have taken additional measures to elevate hygiene and sanitary practices in accordance with guidance from the World Health Organisation (WHO) and as required, applicable government regulations. The Driver training provides them with the latest hygiene protocols. They will clean and disinfect all surfaces including handrails, door handles, tables, seats, air-conditioning filters and overhead lockers on a daily basis. All the guests are asked to follow hygiene practices recommended by the World Health Organisation including the thorough and regular washing of hands and sanitising when required. Hand sanitiser is freely available on board for your use throughout the day. Please bring your own washable face mask and gloves with you, and additional hand sanitiser to make you feel comfortable, as these will be required to be worn in public in some countries. Should an unexpected situation arise, additional face masks, rubber gloves, antiviral sprays and wipes will be available for guest distribution on all trips.
A Full Team of Support 24/7
It's not just your Travel Director and Driver who will be taking care of you. Behind the scenes, the operations and guest support teams are in contact with them and on call 24/7, so you can rest assured that you're in good hands.
Physical Distancing
Adapting to the right size groups, based on government distancing requirements, you can rest assured that you will travel with the comfort of your own personal space. Have peace of mind that all of the experiences, hotels and restaurants you'll enjoy on your trip have been vetted to ensure they adhere to physical distancing and hygiene guidelines.
Trusted Partners, Exceptional Standards
Costsaver is very selective in who they work with and choose to only use hotels, restaurants, ground handlers and venues that take the well-being of the guests as seriously as Costsaver does and agrees to meet expected guidelines and specifications. Costsaver only works with establishments that they are confident will consistently adhere to their high standards.
Always in the Know
As part of The Travel Corporation (TTC) , Costsaver is kept up to date with all government advisories and travel alerts on a daily basis and is continually in touch with all of the partners on the ground in each destination. Also, rest assured that during your trip, the teams work to ensure the supplier partners (hotels, restaurants, museums and other venues) are also applying the same standard to these new hygiene and distancing protocols, to the extent possible.
Question: How many suitcases can I take with me on my trip?
Each person is allowed one "check-in," and one "carry-on." Remember to take all valuables with you as "carry-on", because electronic equipment, cameras, laptops, jewelry, business documents and money are not covered by the airlines' liability, so always carry them aboard with you.
Question: Is Airfare Included in the Price?
Airfare from your point of origin to and from the trip is not included in the land price.
Similar Tours Other Travelers Liked
This was a great trip. It included things that I never would have chosen on my own that I really enjoyed. The tour director was great. I would use CostSaver again. Great value.
I will strongly refer your company to my friends and relatives
Steve our travel director is excellent! He went above & beyond to give us a trip of a Lifetime. Very well organized and had some fun activities while on the road to make our ride time less boring. Very professional and courteous but treat everyone like Family. Very knowledgeable about geography & history of the places we were visiting. Our driver Giuseppe has a top knotch driving skills and very professional and courteous. Keeping us all safe on the road as well as helping everybody while getting off the bus. And looking out for our luggage's safety. I would definitely recommend to my friends & Family and I will book a trip with Costsaver again.
Hotels were even better than expectrd. We saw do many and wonderful attractions.
The trip itinerary was very detailed. From the booking to the end of my trip I was totally satisfied. It was my second trip, but I think I will book my future trips again. The trip director and all local guides were very knowledgeable and had great sense of humor, never boring. The optional excursions were excellent.
If people would ask me if I got my money's worth, I would reply that I got much much more than my money's worth. My trip was beyond wonderful, beyond amazing, beyond breathtaking.... Trent Plaine gave great background history of every country we visited; he took us to places morning noon and night... if there were places on the way out of a country he'd have us visit them and stop for great views. He was knowledgeable on flavors, food... the road trip was fantabulous!
The trip was well organized,the director Annarika is excellent in all aspects .our driver Marco is excellent too.They are both highly recommended in the fields they chose.In my next travel I wish I will be with them again.
Another excellent trip from start to finish. I am looking forward to my next trip already!!
We had a great experience with this company on this tour and would recommend this trip to anyone.
This was my first Costsaver tour and it was amazing. Our consultant, Maureen and tour guide Rose were top notch, extremely knowledgeable, and true professionals. I will definitely use Costsaver again!
Novotel Hotel was disappointing.
The trip to Italy was beyond my expectations! Our tour guide Amedeus was knowledgeable, kind, intuitive and made sure each one of us felt like royalty!
Our tour director Gianmarco was enthusiastic, informative and engaging. If I could pick him as my personal tour director to with me as I travel the world I would. The locations and sites were awe inspiring, but Gianmarco made this a very memorable experience. One I will cherish for a long time.
This was my 6th trip with Costsaver/Trafalgar, and I look forward to my next.
AffordableTours.com® does not itself offer, service or administer the Travel Packages, and the ultimate terms and conditions of any Travel Package made available via the Site Offerings (including the prices quoted in connection with same) will be determined by the applicable Third-Party Travel Service Provider. AffordableTours.com® does not represent or warrant that the Price Quotes are accurate, up-to-date or free of error, or that same will be honored by the applicable Third-Party Travel Service Providers. All Price Quotes, Travel Package availability, Travel Package details/itinerary and other Content are subject to change without notice. All travel details published by and through the Site Offerings should be confirmed directly with the applicable Third-Party Travel Service Provider prior to making any travel plans. Reliance on any information made available to you by and through the Site Offerings is solely at your own risk.
How It Works
Vacationing has never been easier or cheaper with the help of a dedicated travel consultant from AffordableTours.com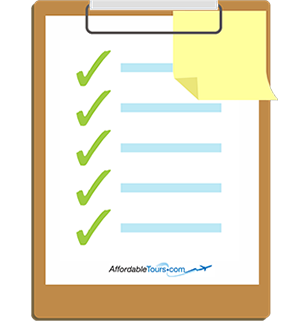 Find your perfect trip on our website and simply request a free quote. Need to speak to a live person? Call us 7 days a week at 1-800-935-2620. No robots here!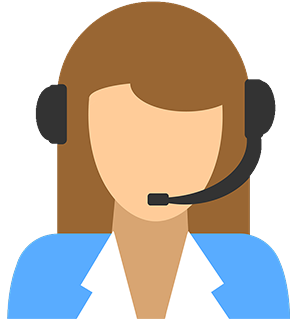 Your personal travel consultant will reach out and be your point of contact for your entire travel experience from start to finish. Did we mention you'll be working with an award winning team? Sweet!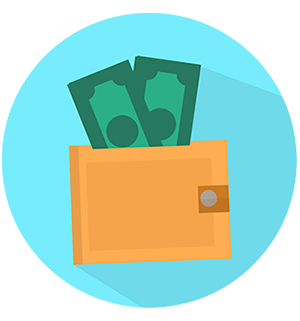 Because we're one of the largest sellers of travel, we're able to give you a discount on your vacation package. No one beats our prices!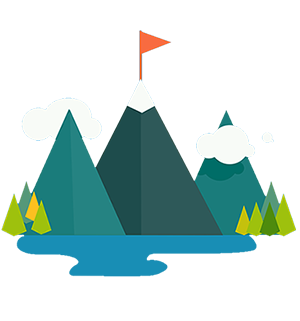 Knowing you got the best deal, all that's left is for you to pack your bags and enjoy your vacation!