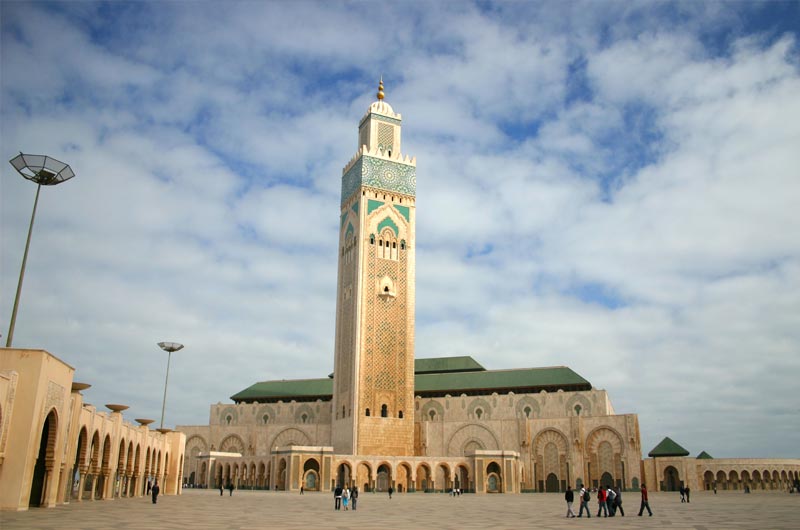 15 Day Moroccan Allure - Friday Departure
Why Pay Retail?
Call us for a quick quote!
Dates & Prices
Please Note: Land Price does not include airfare, departure or arrival transfers, airline taxes and fuel surcharges.
Start Date
End Date
Offers
Brochure
Land Price
Brochure
Land & Air Price
Quote
Jan 28, 2022
Feb 11, 2022
Deals
$2,489
$3,149
Get Quote
Feb 11, 2022
Feb 25, 2022
Deals
$2,689
$3,349
Get Quote
Feb 25, 2022
Mar 11, 2022
Deals
$2,689
$3,419
Get Quote
Mar 04, 2022
Mar 18, 2022
Deals
$2,689
$3,489
Get Quote
Mar 25, 2022
Apr 08, 2022
Deals
$2,749
$3,549
Get Quote
Apr 01, 2022
Apr 15, 2022
Deals
$2,749
$3,609
Get Quote
Apr 08, 2022
Apr 22, 2022
Deals
$2,749
$3,609
Get Quote
Sep 02, 2022
Sep 16, 2022
Deals
$2,829
$3,779
Get Quote
Nov 18, 2022
Dec 02, 2022
Deals
$2,689
$3,639
Get Quote
Dec 02, 2022
Dec 16, 2022
Deals
$2,489
$3,389
Get Quote
Call or submit a quote to get our Low Prices!
Save 5% - Cash Payment Discount
Save 5% - Cash Payment Discount
Promotion Details
Gate 1 offers the flexibility of paying for your vacation by check. Save 5% off of your remaining balance when the final payment is made by check.
Must Book By Fri, Dec 31, 2021
View Promotion Terms & Conditions ›
Gate 1 offers the flexibility of paying for your vacation by credit card or check. Choose check for your final payment to save 5% off of your remaining balance. Full details will be sent with your invoice.

Travel Free with Friends & Family
Travel Free with Friends & Family
Promotion Details
Traveling with friends and family is rewarding - and Gate1 is making it even more rewarding with their Friends & Family program. Start earning cash rewards when 7 friends or family join your escorted tour or river cruise and with only 10 companions, earn yourself a free land tour!

7 traveling / paying passengers: $100 discount to the group leader
8 traveling / paying passengers: $200 discount to the group leader
9 traveling / paying passengers: $300 discount to the group leader
10 traveling / paying passengers: $400 discount to the group leader
11 or more traveling / 10 paying passengers: Earn 1 free place twin/double occupancy
Must Book By Fri, Dec 31, 2021
View Promotion Terms & Conditions ›
FFP reservations apply to select Escorted Tours, European River Cruises and Escorted Tour & Sea Cruises. Eligible products will display the Friends and Family icon. Applies to new bookings only. Additional restrictions may apply.

Refer A Friend & Earn Travel Credits
Refer A Friend & Earn Travel Credits
Promotion Details
As a past customer, when you refer a friend you both benefit. Not only will your friend receive $50 off their first escorted tour or river cruise booking, but when you book your next new tour or cruise you will also receive $50 off.
Must Book By Fri, Dec 31, 2021
View Promotion Terms & Conditions ›
To be eligible for this incentive, the referring customer must have previously traveled with Gate1, and the passenger receiving the referral must be a new client. Only valid on escorted tours and river cruises. Only one person per room may earn a credit. The new traveling passenger must be booking their first reservation with Gate 1 Travel or Discovery Tours. The referrer's next trip must be booked within 24 months of earning the credit. Not valid on independent vacations, voucher bookings or Group reservations. Additional restrictions may apply.
Book With Flexibility
Peace of Mind
Complimentary "Peace of Mind" Travel Plan. Change your travel plans before final payment.
Change Destination / Vacation
Change to a different destination or vacation.
Change Dates
Choose new departure dates if your plans change.
Great Service
Award-winning service, low prices, client satisfaction
Tour Itinerary
Countries Visited
Cities Visited
Ait Benhaddou , Casablanca , Erfoud , Essaouira , Fez , Marrakesh , Meknes , Merzouga , Rabat , Todra Gorge , Volubilis
DAY 1, Friday - Depart for Morocco
Depart for Morocco
DAY 2, Saturday - Arrive in Casablanca, Transfer to Rabat
Arrive in Casablanca this morning and transfer to Rabat, a heady swirl of color, culture, and history. Arrive at your hotel and spend the afternoon at leisure. Tonight, your tour will begin with an orientation meeting lead by your Tour Manager at approximately 6 PM, followed by a Welcome Dinner. We recommend that you select flights which arrive in your destination no later than 4 PM on day 2 of the itinerary or earlier, if possible
Overnight: Rabat
Meals: Dinner
DAY 3, Sunday - Rabat City Tour
After breakfast, tour the capital. Begin with a drive past the beautifully tiled entrance to the Royal Palace, followed by a stop at Bab Rouah, or the city's "Gate of the Winds," so called because it's been battered by Atlantic winds since its construction in 1197. Visit Hassan Tower, part of an unfinished mosque started by a 12th-century caliph. At the incredibly preserved Kasbah of the Udayas, explore the fortress and take a stroll in the French-colonial Andalusian gardens. End the day at Chellah, the necropolis and ruins of an ancient Roman outpost. Balance of the day is at leisure
Overnight: Rabat
Meals: Breakfast, Lunch
DAY 4, Monday - Explore Volubilis & Meknes, Overland to Fez
This morning, drive inland to Fez. Along the way, stop to explore the UNESCO World Heritage Site of Volubilis, the once-bustling city and African administrative center of the Roman Empire. The site also has vestiges of the Berber civilization that took the city from Rome in AD 270. Continue to Meknes and view the Bab Mansour gate, beautifully patterned with zellij mosaics. This evening, you're the guests of a local Fez family for dinner. Over typical Moroccan, home-prepared food, you'll connect with your hosts
Overnight: Fez
Meals: Breakfast, Dinner
DAY 5, Tuesday - Tour Fez
Explore the sprawling medina of Fez on foot this morning. It's said that this is the world's largest car-free urban area; undistracted by traffic, you're sure to agree that strolling here is a feast for the senses. You'll enter via the Bab Boujloud, or "Blue Gate" and visit the famed Al-Bou Inania Madrasa. Afterward, you will have an opportunity to shop for authentic Moroccan carpets. Then, stop at the Chouara Tannery to see how leather is cut and dyed using traditional techniques. At the Nejjarine Museum, browse the collection of wooden arts and crafts, then view copper craftsmen at work in Seffarine Square. The tour ends outside the Karaouine Mosque and University, the oldest continuously functioning university in the world, founded in the year 859 AD. After lunch in the medina, your guide leads you through the Jewish Quarter, or mellah, built in 1438. By the end of the walk, you'll be at the King's Palace. Enjoy dinner at the hotel later this evening
Overnight: Fez
Meals: Breakfast, Lunch, Dinner
DAY 6, Wednesday - Cross Middle Atlas Mountains, Drive to Erfoud
Today, experience a thrilling adventure into Morocco's Middle Atlas Mountains. Begin with a stop in Ifran, a Moroccan ski resort. Then, ascend scenic roads past pine groves and giant cedar trees. Midmorning, you cross the 6,000-foot pass and continue west toward the great Sahara. Next, stop for lunch in the village of Midelt. As you approach Erfoud, admire views of the remarkable Ziz Gorges and vast valleys. Continue to Erfoud for dinner and overnight
Overnight: Erfoud
Meals: Breakfast, Lunch, Dinner
DAY 7, Thursday - Experience Rissani, Sahara Camp
This morning, explore the small city of Rissani on the edge of the Sahara. En route, stop at a fossil factory to learn more about this unique activity which is famous in the region. Then, wander its lively souk, and visit a 17th-century ksar. Afterward, pass by the ancient ruins of Sijilmasa on the River Ziz, once a bustling Berber city and medieval trade depot. You'll pause to visit a local bread shop, where you'll witness and sample an ancient culinary art. After lunch at the hotel, you journey into the Sahara Desert, stopping en route to share tea with some welcoming locals in a Berber tent. Later, settle into your Sahara camp, where dunes rise and fall around you and feel the adventuresome spirit of explorers of old. You'll even have the opportunity to enjoy a short camel ride. Witness an incredible sunset, while listening to traditional music under a canopy of stars
Overnight: Sahara Tented Camps
Meals: Breakfast, Lunch, Dinner
DAY 8, Friday - Explore Desert & Todra Gorge, Travel to Ait Benhaddou
Awake amidst the silence of the desert this morning, as Morocco's natural beauty continues to astound you. After breakfast, leave the camp and make your way to the lovely oasis of Tinghir for lunch. The real attraction here is the spectacular Todra Gorge, a deep ravine carved by the Todra River over millennia. There'll be time to marvel at this sight before you continue to the Dades Valley, where roses bloom in profusion in springtime. The locals make good use of the prolific flower by producing rose water here. Dinner tonight is at your hotel
Overnight: Ait Benhaddou (Ouarzazate Region)
Meals: Breakfast, Lunch, Dinner
DAY 9, Saturday - Visit Ait Benhaddou, Travel to Marrakesh
After breakfast at the hotel, take time to visit the UNESCO World Heritage Site of Ait Benhaddou, a ksar - or fortified city - along a former caravan route. This is the true Morocco: a village that seems to rise from the sands. Its desert-dusted Kasbahs and maze-like warrens are sure to enthrall you. Next, make your way to the magical city of Marrakesh. Dinner tonight is at your hotel
Overnight: Marrakesh
Meals: Breakfast, Dinner
DAY 10, Sunday - City Tour of Marrakesh, Bahia Palace, Majorelle Gardens
Discover historic and exotic Marrakesh today. Begin at Majorelle Gardens, a botanical marvel set in the heart of Marrakesh. Next visit Koutoubia, a 12th-century Mosque and minaret, still topped with four copper globes. Then, explore Bahia Palace, where 360 rooms were once adorned with Italian marble and Sudanese gold. For a more recent archaeological find, you'll see the richly decorated tombs of the Saadi Dynasty. End your thrilling morning in the famed Djemaa el Fna square, a dazzling display of acrobats, story tellers, and snake charmers. Take your time and absorb this vibrant kaleidoscope of culture, torn from the pages of Ali Baba. Balance of the day is at leisure
Overnight: Marrakesh
Meals: Breakfast
DAY 11, Monday - Full Day in Marrakesh
Spend the day at leisure or participate in the optional tour to the scenic Ourika Valley where typical Moroccan villages are scattered amidst the towering Atlas Mountains. Here, discover the area's natural herbs and their many uses. Before lunch at the gardens enjoy, a "Berber foot bath". Afterward, return to the hotel
Optional: Ourika Valley and Botanical Gardens with Lunch (AM)
Overnight: Marrakesh
Meals: Breakfast
DAY 12, Tuesday - Cooking Class, Travel to Essaouira
This morning, head to the Medina to attend a half day cooking class in an authentic Riad. Learn from one of the best "Dada chefs" in town how to successfully prepare traditional Moroccan tajine and salads, as well as delicious Moroccan flatbread. After lunch, depart Marrakesh for Essaouira. Stop at the Argan Oil Women's Cooperative to learn how this skin-nutrifying elixir is extracted from the argan nut, rich in nutrients and antioxidants beneficial to skin and hair. Arrive in Essaouira in time for dinner on your own
Overnight: Essaouira
Meals: Breakfast, Lunch
DAY 13, Wednesday - Discover Essaouira, Gnawa Performance
Seaside Essaouira has grown into an artist's enclave over the years, and this makes for a fascinating mix of ancient and modern sensibilities. You'll be introduced to its culture with a stroll through the vibrant medina and its bustling fish market. Visit a jewelry shop, renowned for its quality and design. Browse the extensive collection of uniquely handcrafted silver jewelry and watch artisans create beautiful silver pieces. The rest of the afternoon is yours to explore its inviting ancient streets. This evening, learn about traditional music during a talk with a local expert. Get the details about henna painting along with a demonstration. Enjoy a refreshing cocktail while viewing a Gnawa performance and dance**Gnawa performance will sometimes operate on Day 12
Overnight: Essaouira
Meals: Breakfast
DAY 14, Thursday - Travel to Casablanca & City Tour
Transfer to Casablanca today, stopping en route for lunch in a local restaurant. Upon arrival, see the fabled city's important sights, including the Mohammed V Square, the city's administrative seat. Next, marvel at the massive Hassan II Mosque*, dramatically perched on a promontory on the Atlantic. Its indoor and outdoor space can accommodate 105,000 worshippers. In the Habous district, peruse the market and admire the exterior of the Royal Palace. Tonight, enjoy a Farewell Dinner*Hassan II Mosque is subject to unexpected closures for local religious observances. Details will be provided locally by your Tour Manager
Overnight: Casablanca
Meals: Breakfast, Lunch, Dinner
DAY 15, Friday - Depart Morocco
After breakfast, transfer to the airport for your departure flight
Meals: Breakfast
Please Note: Land Price does not include airfare, departure or arrival transfers, airline taxes and fuel surcharges.
Please Note: Land Price does not include airfare, departure or arrival transfers, airline taxes and fuel surcharges.
Package Includes

Small groups of maximum 22 travelers guaranteed
Round trip flights New York-Casablanca, Casablanca-New York
Other departure cities available.
Airline taxes & fuel surcharges
13 nights accommodations
2 nights Rabat
2 nights Fez
1 night Erfoud
1 night Sahara Tented Camps
1 night Ait Benhaddou (Ouarzazate Region)
3 nights Marrakesh
2 nights Essaouira
1 night Casablanca
Hotel taxes, fees & service charges
Hotel porterage
All transfers included only with airfare purchase on package arrival & departure dates†
28 meals: 13 breakfasts, 7 lunches & 8 dinners (including a home hosted dinner, and welcome & farewell dinners)
Sightseeing per itinerary in modern air-conditioned vehicles
Services of local English-speaking tour manager throughout
Comprehensive, guided sightseeing and entrance fees per itinerary
Active itinerary with unique cultural features
Tour Highlights
Thanks to our small group size, we can get to the heart of our destination, visit places that other tours miss, and get to know the locals.
Explore the remarkably preserved Volubilis, once a major African outpost of the Roman Empire
Join a Fez family for dinner of home-cooked fare in their home
Camp in the Sahara under an endless canopy of desert stars
Explore Ait Benhaddou, an ancient desert village on an old caravan route
Marvel at the circus atmosphere of Marrakesh's Djemaa el Fna Square, bustling with acrobats, performers, and snake charmers
Meet the women of the Argan Oil Cooperative and see how they extract nutritive oil from this nut
Stroll the inviting medina in seaside Essaouira, bustling with crafts shops and fishmongers
†Transfers are available for purchase for land only or on alternative flight dates
Not Included:
Optional tours and gratuities.

Additional Information:
Land only price does not include arrival/departure transfers.
Passengers arriving to Casablanca on Day 2 should select flights that arrive no later than 4 PM. Rabat is approximately a 1.5 hour drive from the Casablanca airport.
Due to limited space on the small jeeps used to travel from Erfoud to the desert for your overnight stay, only one small piece of luggage per passenger is permitted. Additional luggage will be stored overnight at the Erfoud hotel and returned back on Day 8. Luggage should be locked and valuables left overnight in the hotel safe. Please pack a small overnight bag.
During Ramadan (Apr 2 - May 1, 2022), historic and cultural sites may close early and operate with minimal staff. The order of sightseeing may be changed to accommodate the holiday observance. Many hotels, restaurants, and bars may not serve alcoholic beverages and some local restaurants may not be open. Entertainment may be limited to be respectful of the holiday observance. Modest dress is suggested during Ramadan (no shorts, short skirts, or sleeveless tops). Use discretion when drinking, eating, and smoking in public between sunrise and sunset.
Health and Safety Protocols for Gate1 Tours
At Gate 1 we take your safety and security very seriously. We have a strong network of tour managers, local offices, ground operators and colleagues which help us stay informed in all the destinations that we operate. We closely monitor local situations which enable us to make the operational decisions necessary to keep our tours running safely. Millions of people travel the world each year and experience enjoyable and safe trips but crimes against people and property are sadly a fact of life. It is very important to be aware of your surroundings and avoid drawing attention to yourself. Please remember that you have the same responsibility for your personal safety and possessions as you do at home. It is essential to prepare for a safe and healthy travel abroad. Therefore before you travel, we strongly recommend that you visit the website of the US Department of State at https://travel.state.gov/content/travel.html for up-to-date travel advice on the countries that you are visiting. The website provides useful information on subjects such as safety and security information, health precautions and medications, health insurance and additional tips for traveling abroad. If you do not reside in the United States, we recommend you check your government's travel advisory website for any country you will be visiting. We recommend that you review the safety guidance that may be provided by us, our agents or suppliers, either before you go or when you arrive in your destination. You can also find helpful tips on our website in the "Trip Preparation" tab of each of our tour packages. We do know that in-spite of careful planning, things can sometimes still go wrong, so rest assured, we will be there to help and support you.
Onomo Hotel Rabat Terminus
This first class hotel is located in the city center of Rabat nearby the Rabat Ville railway station.
Villa Mandarine
This first class hotel is located on over three acres of orange groves in Rabat.
Villa Mandarine
This first class hotel is located on over three acres of orange groves in Rabat.
Riad Salam Fes
This first class hotel is a short walk away from the Medina of Fez.
Kasbah Xaluca Maadid
This first class hotel is a Kasbah-style property located on the edge of the desert near to Erfoud and its many attractions.
Bivouac La Belle Etoile
This superior tourist class bivouac, or tented campground, is located in the Erg Chebbi Desert.
Riad Ksar Ighnda
This first class hotel is located on the edge of the desert at Ouarzazate.
Boutique Hotel 2 Ciels
This first class hotel is located nearby the Royal Tennis Club in Marrakesh.
Hotel Dar L'Oussia
This superior tourist class hotel is located by the beach in Essaouira.
Hotel Dar L'Oussia
This superior tourist class hotel is located by the beach in Essaouira.
Hotel Atlas Essaouira & Spa
This deluxe hotel is located on the beachfront in Essaouira.
Kenzi Tower Hotel
This deluxe hotel, soaring far above any other structure, is located in the beautiful city of Casablanca.
Question: How many suitcases can I take with me on my trip?
Each person is allowed one "check-in," and one "carry-on." Remember to take all valuables with you as "carry-on", because electronic equipment, cameras, laptops, jewelry, business documents and money are not covered by the airlines' liability, so always carry them aboard with you.
Question: Is Airfare Included in the Price?
Airfare from your point of origin to and from the trip is not included in the land price.
Overall, the trip was exceptional. The tour guide Riccardo was outstanding...very friendly, caring and knowledgeable about the areas visiting. The accommodations in Bari and Napoli were disappointing. In Bari, the room at Grande Albergo delle Nazario was extremely small which made it difficult to manage suitcases for 2 people. In Napoli, the room at Hotel Royal Continental certainly needed updating. The overall appearance of the room looked worn and a little shabby. However, the condition of these 2 rooms did not affect the great time we had. Will definitely travel with Gate 1 again.
Awesome experience... knowledgeable and helpful tour guide (Hend), as well as all other employees.
As always, everything went very smoothly.
This trip was fantastic. It was packed with lots of activities and places to see. Unfortunately, weather plays a big role in what you see and don't see. We weren't able to visit Robben Island due to choppy water and couldn't see much of Victoria Falls due to rain/fog. But I'm not complaining, that's just how things go. Other than that, the itinerary was very fast paced and we got to see a lot, which was desired. The tour was very organized and our group leader, Ahmet, was very knowledgable of the places we visited. I would recommend the game drive in Botswana over the game drive in South Africa. The food and drink was quite good from the included meals. Ahmet did his best to accomodate everyone. I'd recommend this tour to anyone wanting to see as much as possible in such a short time frame. The schedule is strict but well worth the sights.
Very interesting itinerary
Wonderful experience, with well informed tour managers. Everything went according to plan, no big surprises or changes on this trip. Good job.
My group and I had a wonderful time visiting Iceland, none of us wanted to leave. The hotel, although basic, was clean and very comfortable. The sights and excursions were breathtaking. Tour guides were pleasant and knowledgeable.
Great trip, loved the hotels and the service provided..
Fabulous trip. Great value
Prompt, courteous, and professional service at a fair cost.
We had a wonderful trip and we especially appreciated our tour guide in Vietnam, Tom. We're now looking into booking another trip with Gate1
Gate 1 is really good at what it does.. Highly recommend.
The trip and the experience exceeded our expectations. Both Affordable Tours and Gate 1 were outstanding.
Gate 1 did a wonderful job of planning all the details so we could enjoy our experience. Well worth the money.
AffordableTours.com® does not itself offer, service or administer the Travel Packages, and the ultimate terms and conditions of any Travel Package made available via the Site Offerings (including the prices quoted in connection with same) will be determined by the applicable Third-Party Travel Service Provider. AffordableTours.com® does not represent or warrant that the Price Quotes are accurate, up-to-date or free of error, or that same will be honored by the applicable Third-Party Travel Service Providers. All Price Quotes, Travel Package availability, Travel Package details/itinerary and other Content are subject to change without notice. All travel details published by and through the Site Offerings should be confirmed directly with the applicable Third-Party Travel Service Provider prior to making any travel plans. Reliance on any information made available to you by and through the Site Offerings is solely at your own risk.
How It Works
Vacationing has never been easier or cheaper with the help of a dedicated travel consultant from AffordableTours.com
1. Free Quote
Find your perfect trip on our website and simply request a free quote. Need to speak to a live person? Call us 7 days a week at 1-800-935-2620. No robots here!
2. Dedicated Travel Consultant
Your personal travel consultant will reach out and be your point of contact for your entire travel experience from start to finish. Did we mention you'll be working with an award winning team? Sweet!
3. Lowest Price Guaranteed
Because we're one of the largest sellers of travel, we're able to give you a discount on your vacation package. No one beats our prices!
4. Stress Free Travel
Knowing you got the best deal, all that's left is for you to pack your bags and enjoy your vacation!