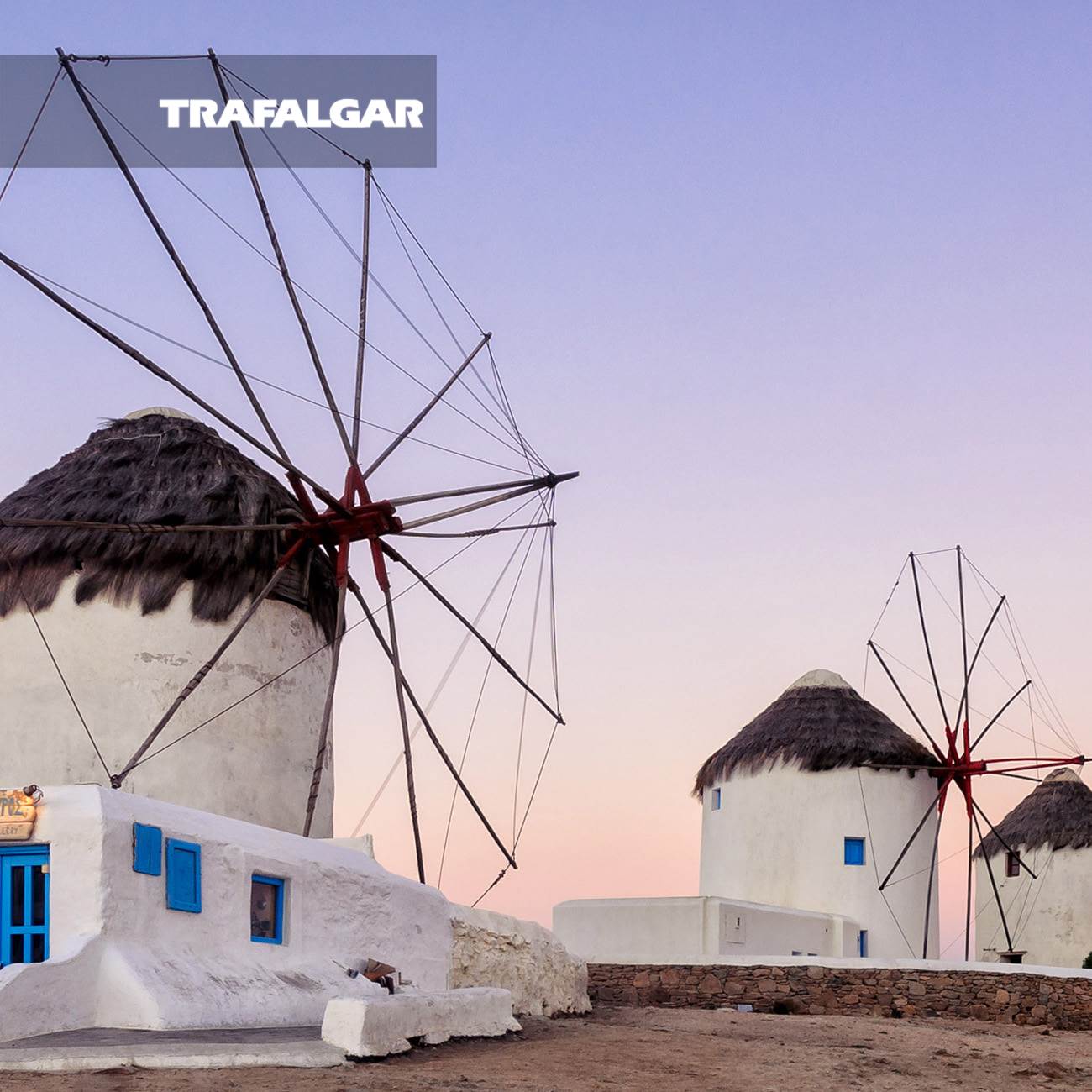 European Discoverer End Amsterdam With 3-Day Aegean Cruise Moderate B 2021
Why Pay Retail?
Call us for a quick quote!
LOW UNPUBLISHED PRICES ON COSTSAVER TOURS
Why pay full price? Call us or click above for a quick quote and save money on Costsaver Tours.
Second Trip Discount - Save up to 2.5% When You Book Two Trips
Second Trip Discount - Save up to 2.5% When You Book Two Trips
Promotion Details
Book two trips - both seven days or longer - and save up to 2.5% on the land-only portion of your shortest vacation, plus receive our AffordableTours.com 10% extra savings!
Must Book By Fri, Dec 31, 2021
View Promotion Terms & Conditions ›
Please note that vacations must be booked at the same time. The discount is per person only and does not apply to City Breaks, extra nights' accommodation, extensions and airfares, taxes and fees, and airport transfers. Europe – excludes all Eastern Mediterranean vacations except the Greek Island Hopper. Additional restrictions may apply.
Up to 10% Off for Young Travelers
Up to 10% Off for Young Travelers
Promotion Details
If you're travelling with a child between the age of five and 17, we'll give you a discount of up to 10% on the land-only portion of their vacation. Plus always receive our AffordableTours.com 10% extra savings.
Must Book By Fri, Dec 31, 2021
View Promotion Terms & Conditions ›
Young travelers must be under the age of 18 years on the date of departure, and must be accompanied by an adult (limit of one Young Traveler Discount per room). Discounts may vary and may not be available on all vacations. Additional restrictions may apply.
Book With Flexibility
Peace of Mind
Complimentary "Peace of Mind" Travel Plan. Change your travel plans until 30 days before your trip
Change Destination / Vacation
Change to a different destination or vacation with the Travcorp Family of Brands.
Change Dates
Choose new departure dates if your plans change.
Great Service
Award-winning service, low prices, client satisfaction
Tour Itinerary
This A to Z of Europe will reveal a feast of flavours, culture and history, from medieval monuments, myths and legends and ancient history to the glittering capitals of Paris, Athens, Rome and Madrid. You'll come full circle on this extravaganza across the continent - 13 countries on one bucket-list trip. Board a 3-day cruise to the Greek Isles on board Celestyal Cruise. When you're not exploring the ancient glories of the Aegean, you can relax and enjoy the on-board facilities.
Cities Visited
Amsterdam , Ancona , Arles , Athens , Barcelona , Bay of Naples , Bologna , Bordeaux , Florence , French Riviera , Heidelberg , Heraklion , Innsbruck , Kusadasi , London , Lucerne , Madrid , Monaco , Monte Carlo , Mykonos , Pamplona , Patmos , Patras , Pisa , Rhineland , Rome , Santorini , Vaduz , Vatican City , Venice
Day 1

Arrive London (2 Nights)

Keep it real on the vibrant streets of London, where old meets new and best of British icons jostle for your attention. Don't resist the urge to hit the streets straight out of the starting gate after checking in. There's something for everyone as you'll come to discover exploring the capital's culture, history and scenic spaces. Delve into London's royal heritage, stroll along the Thames or admire treasures from across the globe in one of its museums before retiring to your neighbourhood 'local' for a pint or two.Accommodation: Ibis Earls Court

Day 2

London Free Day

What a treat! A full free day in London to do as you please. The British capital wears its diversity with pride - an epicentre attracting people from all over the world who are helping to shape its vibrant cosmopolitan spirit. Dive right in and visit all the iconic sights and some hidden surprises, from the British Museum to the London Dungeon. When night falls, head to the bright lights of Soho or pop in to Brick Lane for a curry. You won't be left empty handed when it comes to grabbing a plate of what London is serving up.
Meals: Breakfast

Day 3

London – Paris (2 Nights)

Greetings from your Travel Director this morning. For now, London bids you safe travels as you continue south through the Kent countryside to Dover and then on by ferry to Calais. Next stop is Paris, another capital that doesn't hold back and doesn't expect you to either. Take a walk through its grand past, dynamic present and exciting future, from the maze of streets that once nurtured great artists in Montmartre to the Eiffel Tower. You could choose to join an Optional Experience cruise on the Seine, admiring the illuminated skyline at night.Accommodation: Novotel Pont de Sèvres
Meals: Breakfast

Day 4

Paris sightseeing and free time

Put the joy in joie de vivre and embrace the beauty and elegance of Paris on a sightseeing tour with your Travel Director. See the Arc de Triomphe and Champs Élysées, then spend the rest of the day discovering the city on your terms. There's time to take a leisurely stroll down the Seine or hit the shops. Tonight, the colourful Can-Can dancers entice you with their remarkable outfits should you choose to join an Optional Experience cabaret show.
Meals: Breakfast

Day 5

Paris – Tours – Bordeaux (1 Night)

Wind your way through the French countryside to the city of Tours, the gateway to the Loire Valley. In its car-free centre you'll discover a fascinating medieval heart, reflected in its timber-framed houses and Renaissance mansions. Your next stop is the wine capital of Bordeaux, whose stunning Garonne riverfront and Age of Enlightenment history and architecture have made it one of France's most visited cities. Join your travel companions for dinner at your hotel.Accommodation: Ibis Centre Meriadeck
Meals: Breakfast Dinner

Day 6

Bordeaux – Biarritz – Pamplona (1 Night)

Lather up, the beach is back on the agenda today at the resort town of Biarritz on the Atlantic coast, where European royals once sunned themselves. Watch surfers catch the perfect wave then travel to Pamplona, the capital of the old Kingdom of Navarre. The city is famous for the San Fermín festival, commonly known as the Running of the Bulls. Join a Local Specialist on an Optional Experience and see the city's ancient walls and Plaza del Castillo, the heart of the city where markets and tournaments have taken place. A special treat will see you savour tapas and sangria at Hemingway's favourite watering hole.Accommodation: Abba Reino de Navarra
Meals: Breakfast

Day 7

Pamplona – Madrid Sightseeing (2 Nights)

Traverse the splendid landscapes to Madrid, Europe's highest capital. It won't take long for Madrid to get under your skin. This graceful capital was spruced up several centuries ago thanks to King Charles III and it remains an elegant city to this day. Your Local Specialist will reveal all the sights, including the Royal Palace and Retiro Park, originally built as a retreat for the royal family. When the sun sets, head out onto the streets to watch this football-mad metropolis come to life. You'll soon discover why the city's vibrant nightlife keeps its hot-blooded residents up all hours of the night.Accommodation: Melia Avenida America
Meals: Breakfast

Day 8

Madrid Free Time

The legacy of 'Madrid's Best Mayor' can be seen on the city's streets: The Cibeles Fountain, imposing Puerto de Alcalá and even the forerunner of the Prado Museum, which today houses one of the greatest collections of European art, featuring such masters as Velázquez, Rubens, Goya and El Bosco. You'll have a full free day to uncover his many gifts or consider joining an Optional Experience to Toledo, the 'City of Three Cultures'. Explore the influences of Christians, Muslims and Jews when you join a Local Specialist for a captivating walking tour. Then return to Madrid for a second chance to discover the city's vibrant nightlife, with an optional dinner and discover an old and new Madrid.
Meals: Breakfast

Day 9

Madrid – Barcelona sightseeing (2 Nights)

Wind your way through Catalonia's sprawling vineyards to the sun-kissed shores of Barcelona. Your Local Specialist will reveal some of the city's key highlights this afternoon including Gaudí's ornate La Sagrada Família and the Plaça de Catalunya. See street performers, artists and shoppers line the lively La Rambla and soak up the most inspiring panoramas of the city from the top of Montjuïc. The effervescent capital of Catalunya lights up at night, so resist the urge to retire early and hit the town with your new friends.Accommodation: Campanile Sud - Cornella
Meals: Breakfast

Day 10

Barcelona Free Time

This is your chance to get fully acquainted with Barcelona. You'll have a free day to see the fanciful façades of Spanish Art Nouveau architect Antoni Gaudí, stroll through the shadowy lanes of the Gothic quarter or perhaps join an Optional Experience to the monastery in the mountains of Montserrat to see the beloved Black Madonna. After a busy day of sightseeing, maybe join an Optional Experience to see the whirling skirts and fiery passion of a flamenco show with dinner. This foot-tapping extravaganza is not to be missed.
Meals: Breakfast

Day 11

Barcelona – Arles – French Riviera (2 Nights)

The shimmering Mediterranean coastline stretches ahead. Keep your cameras at the ready as you drive along elegant boulevards and attempt to capture the sophistication that seems to ooze from every corner. You'll stop in Arles with its honey-coloured façades, Roman ruins and Camargue culture. See first-hand where Van Gogh sought inspiration for his masterpieces, then continue to the French Riviera.Accommodation: Amarante Cannes
Meals: Breakfast

Day 12

French Riviera Free Time

Oh là là! A full free day on the French Riviera. There's no shame in spending the day sprawled out on a sun lounger with a cocktail, but if you can pull yourself away from the sun you'll want to join your fellow travellers for an Optional Experience to Saint-Paul-de-Vence. Life is rather idyllic in this enchanting walled hill-town and, like some of its famous residents, you'll want to linger here a little longer, but the sun-kissed promenades of Nice beckon. You never know who you might spot seated in those sleek Ferraris and private yachts that dot the French Riviera.
Meals: Breakfast

Day 13

French Riviera – Monaco – Pisa – Florence (1 Night)

Follow the French Riveira to the glamorous Principality of Monaco. Your next stop is Pisa where you'll be tempted to snap a few photos featuring you and its Leaning Tower. Admire the Romanesque Square of Miracles in all its striped marble glory. Its structures are said to symbolise the three main stages of human life - the Baptistery (birth), the Cathedral (life) and the Camposanto (death). Then continue to Florence, the birthplace of the Renaissance where you'll enjoy dinner at your hotel.Accommodation: Miro
Meals: Breakfast Dinner

Day 14

Florence – Rome (2 Nights)

See how Florence has paved its way to a modern age when you embark on an orientation tour through its historic centre. Learn about the quality and workmanship of one of this city's historic industries at a demonstration of Florentine leathercraft. Perhaps, savour views of the façades of Ponte Vecchio, the Cathedral of Santa Maria del Fiore, Giotto's Bell Tower and the Baptistery. On your own, maybe visit the Piazza della Signoria, the city's main square where many of the political and artistic treasures of the city can be seen, then head to Rome, the 'Eternal City'. You could choose to join a Local Specialist for a guided stroll through Rome's piazze. Linger at a piazza enjoying a scoop or three of the local gelato and soak up the effervescent energy of a city that knows how to enjoy life.Accommodation: Ergife Palace
Meals: Breakfast

Day 15

Rome Sightseeing and Free Time

With so much to see and do, you could explore Rome for an eternity without getting bored. Join an Optional Experience to Michelangelo's famous Sistine Chapel and the Vatican Museums or start your day the Italian way - slow and relaxed. Join a Local Specialist and stand in St. Peter's Square, sharing your space with devoted pilgrims and pigeons. Visit St. Peter's Basilica and view Michelangelo's greatest work, the sorrowful Pietà. Cross the Tiber next, to view the mighty Colosseum and the countless other ancient sites which featured prominently in the days of the powerful Roman Empire. Later you'll have some time to explore on your own or join a light-hearted Optional Experience revealing all the flavours that would make any Italian mamma proud.
Meals: Breakfast

Day 16

Rome – Bay Of Naples (1 Night)

The Bay of Naples beckons and you'll head south past the Abbey of Monte Cassino, the site of fierce battles during World War II, to Napoli. Arrive just in time to spend the afternoon taking an optional drive along the picture-perfect Amalfi Coast, with a visit to the artist hub of Positano and its pastel-hued houses that seem to tumble into the Tyrrhenian Sea. Alternatively, spend the rest of your day rubbing shoulders with the feisty Neopolitans in search of the city's best Margherita pizza. Its ingredients reflect the red, white and green of Italy's flag - could there be anything more patriotic?Accommodation: La Panoramica
Meals: Breakfast Dinner

Day 17

Bay Of Naples – Ancona – At Sea (1 Night)

Make the most of your stay in the Bay of Naples and join an expert for an Optional Experience to the excavations of Pompeii. See how this Roman town was frozen in time when Mount Vesuvius erupted. Later, travel to the port of Ancona where you'll board your overnight ferry to Greece.
Meals: Breakfast Dinner

Day 18

At Sea – Patras – Athens (4 Nights)

Touch Greek soil for the first time in Patras, continuing by coach to Athens. The Greek capital was once the centre of the world and for several days it will be yours. Evidence of the city's former status as the 'Cradle of Western Civilisation' can be seen around every turn, so lace up your walking shoes and pound the pavements in search of the artistry, architecture and archaeological treasures that have made Athens a popular stop for history lovers. Perhaps, join your new friends for an Optional Experience at a taverna evening including dancing and drinks.Accommodation: Novotel
Meals: Breakfast Lunch

Day 19

Embark Piraeus – Mykonos

It's time to take to the high seas and cruise to your heart's content through the Aegean. You'll board your ship in Piraeus harbour and set sail for stylish Mykonos. Put the 'oh' into opa and get lost in its cobbled lanes, lined by whitewashed houses and tumbling cerise bougainvillea. Feast on gyros or shop up a storm in a charming boutique before boarding your cruise for your onward journey.
Meals: Breakfast Lunch Dinner

Day 20

Kusadasi – Patmos

You'll arrive just in time on Turkish shores this morning to enjoy an included Shore Experience to the 10th-century remains of Ephesus. Walk down the pillar-lined Curetes Street towards the Library of Celsus and view what remains of the Temple of Artemis, one of the World's Seven Ancient Wonders. Your next stop is Patmos, most famously the location where the disciple John wrote the Book of Revelation in the New Testament.
Meals: Breakfast Lunch Dinner

Day 21

Heraklion – Santorini

Europe's oldest city comes to life on your visit to the Palace of Knossos in Heraklion on the island of Crete. You'll gain insights into Minoan civilisation, several thousand years before Christ, before heading to the dramatic volcanic landscape of Santorini. Take some time to join an Optional Experience to some of the island's villages which cling to the volcanic cliffs, including Oia with its distinctive white buildings and blue-domed churches which vie for the best views over the caldera.
Meals: Breakfast Lunch Dinner

Day 22

Return Athens (Piraeus)

Your Aegean adventure has come to an end, but there's plenty more highlights ahead so disembark and rejoin the trip for a memorable day in Athens.
Meals: Breakfast Dinner

Day 23

At Sea – Ancona – Bologna (1 Night)

Cross the Adriatic bound for Italy. After lunch onboard you'll arrive in Ancona and travel to Bologna, where you'll spend the night before travelling on to Venice.Accommodation: NH Villanova
Meals: Breakfast Lunch

Day 24

Bologna – Venice (1 Night)

Journey to the charismatic calle of Venice, once a maritime powerhouse and republic whose influences can be seen across the Eastern Mediterranean. The exquisite art of glassblowing for which Venice is justifiably famous is your introduction to the 'Queen of the Adriatic'. You'll see master craftsmen engaged in the centuries-old craft that their forefathers passed down from generation to generation. Later, maybe choose an optional Gondola ride - grand palazzi, churches and ornate bridges lining your journey. There's a further opportunity later to visit the colourful fisherman's island of Burano for an optional meal with drinks.Accommodation: Best Western Airvenice
Meals: Breakfast

Day 25

Venice – Innsbruck (1 Night)

Journey through alpine landscapes, crossing the Brenner Pass into Innsbruck, the capital of the Tyrol. Marvel at Hofburg Palace and Golden Roof, gilded in the 16th century by Emperor Maximilian to mark his wedding. Admire the fascinating crystal installations and browse for precious gifts and souvenirs at the Swarovski Crystal Worlds Store.Accommodation: Bon Alpina
Meals: Breakfast Dinner

Day 26

Innsbruck – Vaduz – Lake Lucerne (2 Nights)

Cross the Austrian border to Liechtenstein for a brief stop in its tiny capital, Vaduz. Earn your bragging rights by visiting one of the world's smallest countries before continuing into Switzerland. Head to its heart, the Lucerne Region where your very own 'Grand Tour' of Europe will see you savouring the Swiss countryside should you choose to join an Optional Experience including a horse-drawn carriage to a local working farm. This evening, perfect your yodelling skills at an optional folklore show, including a traditional Swiss fondue.Accommodation: City Brunnen
Meals: Breakfast

Day 27

Lucerne Orientation and Free Time

Travel into Lucerne where your orientation will reveal the Chapel Bridge and Lion Monument, hewn from rock to commemorate the sacrifice made by the Swiss Guard who died defending Louis XVI during the French Revolution. You'll have some time to explore the city your way, perhaps with some retail therapy.
Meals: Breakfast Dinner

Day 28

Lake Lucerne – Heidelberg – Rhineland (1 Night)

Marvel at the mighty Rhine Falls at Schaffhausen before crossing the border into Germany. Pass through the Black Forest, straight out of a Brothers Grimm fairy tale, then continue to Heidelberg with its red sandstone castle, one of the most important Renaissance structures north of the Alps. The soul-stirring landscapes of the Rhineland is your final stop for the day.Accommodation: NH Bingen
Meals: Breakfast Dinner

Day 29

Rhineland – Rhine Cruise – Amsterdam (1 Night)

You'd be forgiven for wanting to jump ship and stay forever as you cruise down the Rhine River, passing medieval villages on its shores, steep vineyards and storybook castles. The Rhine Valley has enchanted painters and writers for centuries and you'll see it in all its glory on board your leisurely river cruise. Your journey culminates in the free-thinking Dutch capital of Amsterdam where tonight you could choose to explore the cityscape from its labyrinthine waterways on an optional canal cruise after enjoying a delicious meal in a historic Dutch house.Accommodation: Ibis Schiphol
Meals: Breakfast

Day 30

Depart Amsterdam

After breakfast say goodbye to Amsterdam, your Travel Director and companions at the end of your memorable European holiday. Find out more about your free airport transfer at costsavertour.com/freetransfers.
Meals: Breakfast
Sightseeing Highlights

Amsterdam See the historic city centre
Arles View the Roman Amphitheatre
Athens City tour with a Local Specialist. Visit the ancient Acropolis, Parthenon and the Temple of Zeus
Barcelona City tour with a Local Specialist. See Sagrada Familia Cathedral
Biarritz Visit the seaside resort
Black Forest See this beautiful forested region
Dover See the White Cliffs
Florence Visit the Renaissance city
Heidelberg View the castle
Innsbruck See the Golden Roof and Hofburg Palace
Liechtenstein Visit the capital, Vaduz
Lucerne Visit the Lion Monument
Madrid City tour with a Local Specialist. See the Royal Palace
Monaco Visit the Principality
Pamplona Orientation of this famous city
Paris Sightseeing with views of the Arc de Triomphe, Eiffel Tower and Champs Élysées
Pisa View the Leaning Tower
Rhine Valley Cruise the romantic Rhine
Rome City tour with a Local Specialist. View St. Peter's Basilica, the Colosseum and the ancient sites
Schaffhausen Stop to view the Rhine Falls
South of France Drive through Provence
Tours View the cathedral
Venice Cruise by private boat to St. Mark's Square. Visit a glassblowing workshop
Dining Highlights

29 Breakfasts
5 Lunches
12 Dinners
First class travel Highlights

Audio Headsets provided throughout your holiday to enhance your included sightseeing experiences
Luxury air-conditioned coach
Cherry-picked hotels, all tried and trusted
Variety of Optional Experiences
City orientation tours
An expert Travel Director and professional Driver
All hotel service charges and tips, baggage handling fees and local taxes
Overnight mini cruise - Ancona to Patras and Patras to Ancona
The services of a Local Host if you stay at Costsaver's recommended London hotel
Ferry from Dover to Calais
Pick-up if you stay at the Costsaver recommended London Hotel booked through Costsaver or from the London Reception Centre
Health and Safety Protocols for Costsaver Tours
Costsaver has introduced these enhanced hygiene protocols – for you and team members.
Costsaver asks that you please take personal responsibility for your wellbeing. This begins with packing any personal protective equipment and sanitizers you require. Please adopt physical distancing and hygiene practises throughout your pre-trip travel arrangements and follow all health instruction whether physical signage, or requests from the professional staff once you are vacationing.
Expertly Trained Travel Directors
Travel Director training equips them with enhanced hygiene and physical distancing procedures. During your trip, they will operate with a duty of care and monitor the hygiene etiquette of the guests, reacting and advising as needed, to ensure high standards are maintained. Before you travel, Costsaver will also keep you well informed about new protocols required in these areas, and ask that you cooperate with and heed the advice and direction of Travel Directors while on your trip. The Travel Directors have preventative measures in place to try and ensure your well-being and in the event that any unexpected issues arise on trip, they will activate additional protocols.
Stringent On-the-Road Protocols
The customized luxury coaches are sanitised before the start of your trip and have always been kept to very high standards. Following the outbreak of COVID-19, Costsaver have taken additional measures to elevate hygiene and sanitary practices in accordance with guidance from the World Health Organisation (WHO) and as required, applicable government regulations. The Driver training provides them with the latest hygiene protocols. They will clean and disinfect all surfaces including handrails, door handles, tables, seats, air-conditioning filters and overhead lockers on a daily basis. All the guests are asked to follow hygiene practices recommended by the World Health Organisation including the thorough and regular washing of hands and sanitising when required. Hand sanitiser is freely available on board for your use throughout the day. Please bring your own washable face mask and gloves with you, and additional hand sanitiser to make you feel comfortable, as these will be required to be worn in public in some countries. Should an unexpected situation arise, additional face masks, rubber gloves, antiviral sprays and wipes will be available for guest distribution on all trips.
A Full Team of Support 24/7
It's not just your Travel Director and Driver who will be taking care of you. Behind the scenes, the operations and guest support teams are in contact with them and on call 24/7, so you can rest assured that you're in good hands.
Physical Distancing
Adapting to the right size groups, based on government distancing requirements, you can rest assured that you will travel with the comfort of your own personal space. Have peace of mind that all of the experiences, hotels and restaurants you'll enjoy on your trip have been vetted to ensure they adhere to physical distancing and hygiene guidelines.
Trusted Partners, Exceptional Standards
Costsaver is very selective in who they work with and choose to only use hotels, restaurants, ground handlers and venues that take the well-being of the guests as seriously as Costsaver does and agrees to meet expected guidelines and specifications. Costsaver only works with establishments that they are confident will consistently adhere to their high standards.
Always in the Know
As part of The Travel Corporation (TTC) , Costsaver is kept up to date with all government advisories and travel alerts on a daily basis and is continually in touch with all of the partners on the ground in each destination. Also, rest assured that during your trip, the teams work to ensure the supplier partners (hotels, restaurants, museums and other venues) are also applying the same standard to these new hygiene and distancing protocols, to the extent possible.
Question: How many suitcases can I take with me on my trip?
Each person is allowed one "check-in," and one "carry-on." Remember to take all valuables with you as "carry-on", because electronic equipment, cameras, laptops, jewelry, business documents and money are not covered by the airlines' liability, so always carry them aboard with you.
Question: Is Airfare Included in the Price?
Airfare from your point of origin to and from the trip is not included in the land price.
This was a great trip. It included things that I never would have chosen on my own that I really enjoyed. The tour director was great. I would use CostSaver again. Great value.
I will strongly refer your company to my friends and relatives
Steve our travel director is excellent! He went above & beyond to give us a trip of a Lifetime. Very well organized and had some fun activities while on the road to make our ride time less boring. Very professional and courteous but treat everyone like Family. Very knowledgeable about geography & history of the places we were visiting. Our driver Giuseppe has a top knotch driving skills and very professional and courteous. Keeping us all safe on the road as well as helping everybody while getting off the bus. And looking out for our luggage's safety. I would definitely recommend to my friends & Family and I will book a trip with Costsaver again.
Hotels were even better than expectrd. We saw do many and wonderful attractions.
The trip itinerary was very detailed. From the booking to the end of my trip I was totally satisfied. It was my second trip, but I think I will book my future trips again. The trip director and all local guides were very knowledgeable and had great sense of humor, never boring. The optional excursions were excellent.
If people would ask me if I got my money's worth, I would reply that I got much much more than my money's worth. My trip was beyond wonderful, beyond amazing, beyond breathtaking.... Trent Plaine gave great background history of every country we visited; he took us to places morning noon and night... if there were places on the way out of a country he'd have us visit them and stop for great views. He was knowledgeable on flavors, food... the road trip was fantabulous!
The trip was well organized,the director Annarika is excellent in all aspects .our driver Marco is excellent too.They are both highly recommended in the fields they chose.In my next travel I wish I will be with them again.
Another excellent trip from start to finish. I am looking forward to my next trip already!!
We had a great experience with this company on this tour and would recommend this trip to anyone.
This was my first Costsaver tour and it was amazing. Our consultant, Maureen and tour guide Rose were top notch, extremely knowledgeable, and true professionals. I will definitely use Costsaver again!
Novotel Hotel was disappointing.
The trip to Italy was beyond my expectations! Our tour guide Amedeus was knowledgeable, kind, intuitive and made sure each one of us felt like royalty!
Our tour director Gianmarco was enthusiastic, informative and engaging. If I could pick him as my personal tour director to with me as I travel the world I would. The locations and sites were awe inspiring, but Gianmarco made this a very memorable experience. One I will cherish for a long time.
This was my 6th trip with Costsaver/Trafalgar, and I look forward to my next.
AffordableTours.com® does not itself offer, service or administer the Travel Packages, and the ultimate terms and conditions of any Travel Package made available via the Site Offerings (including the prices quoted in connection with same) will be determined by the applicable Third-Party Travel Service Provider. AffordableTours.com® does not represent or warrant that the Price Quotes are accurate, up-to-date or free of error, or that same will be honored by the applicable Third-Party Travel Service Providers. All Price Quotes, Travel Package availability, Travel Package details/itinerary and other Content are subject to change without notice. All travel details published by and through the Site Offerings should be confirmed directly with the applicable Third-Party Travel Service Provider prior to making any travel plans. Reliance on any information made available to you by and through the Site Offerings is solely at your own risk.
How It Works
Vacationing has never been easier or cheaper with the help of a dedicated travel consultant from AffordableTours.com
1. Free Quote
Find your perfect trip on our website and simply request a free quote. Need to speak to a live person? Call us 7 days a week at 1-800-935-2620. No robots here!
2. Dedicated Travel Consultant
Your personal travel consultant will reach out and be your point of contact for your entire travel experience from start to finish. Did we mention you'll be working with an award winning team? Sweet!
3. Lowest Price Guaranteed
Because we're one of the largest sellers of travel, we're able to give you a discount on your vacation package. No one beats our prices!
4. Stress Free Travel
Knowing you got the best deal, all that's left is for you to pack your bags and enjoy your vacation!