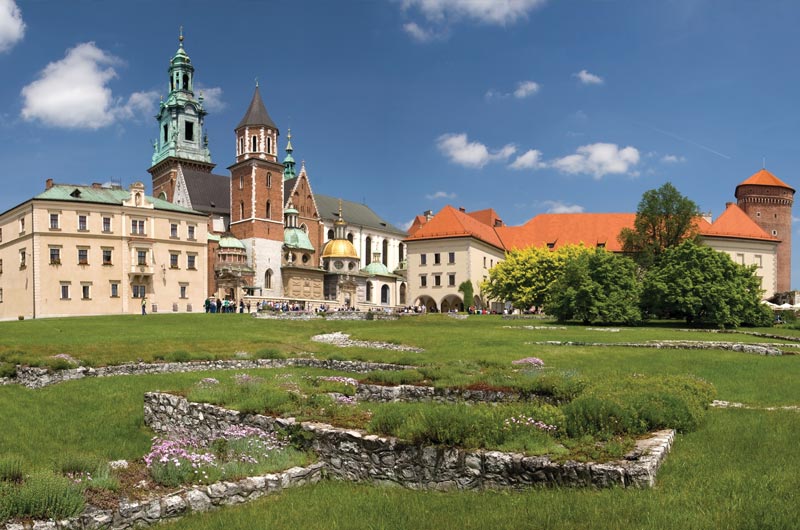 12 Day Classic Baltics with Krakow - Wednesday Departure
Why Pay Retail?
Call us for a quick quote!
Dates & Prices
Please Note: Land Price does not include airfare, departure or arrival transfers, airline taxes and fuel surcharges.
Start Date
End Date
Offers
Brochure
Land Price
Brochure
Land & Air Price
Quote
Wednesday,
Aug 24, 2022
Sunday,
Sep 04, 2022
Deals
$1,749
$2,809
Get Quote
Wednesday,
Sep 07, 2022
Sunday,
Sep 18, 2022
Deals
$1,799
$2,629
Get Quote
Wednesday,
Sep 14, 2022
Sunday,
Sep 25, 2022
Deals
$1,699
$2,459
Get Quote
Call or submit a quote to get our Low Prices!
Save 5% - Cash Payment Discount
Save 5% - Cash Payment Discount
Promotion Details
Gate 1 offers the flexibility of paying for your vacation by check. Save 5% off of your remaining balance when the final payment is made by check.
Must Book By Sat, Dec 31, 2022
View Promotion Terms & Conditions ›
Gate 1 offers the flexibility of paying for your vacation by credit card or check. Choose check for your final payment to save 5% off of your remaining balance. Full details will be sent with your invoice.

Travel Free with Friends & Family
Travel Free with Friends & Family
Promotion Details
Traveling with friends and family is rewarding - and Gate1 is making it even more rewarding with their Friends & Family program. Start earning cash rewards when 7 friends or family join your escorted tour or river cruise and with only 10 companions, earn yourself a free land tour!

7 traveling / paying passengers: $100 discount to the group leader
8 traveling / paying passengers: $200 discount to the group leader
9 traveling / paying passengers: $300 discount to the group leader
10 traveling / paying passengers: $400 discount to the group leader
11 or more traveling / 10 paying passengers: Earn 1 free place twin/double occupancy
Must Book By Sat, Dec 31, 2022
View Promotion Terms & Conditions ›
FFP reservations apply to select Escorted Tours, European River Cruises and Escorted Tour & Sea Cruises. Eligible products will display the Friends and Family icon. Applies to new bookings only. Additional restrictions may apply.

Refer A Friend & Earn Travel Credits
Refer A Friend & Earn Travel Credits
Promotion Details
As a past customer, when you refer a friend you both benefit. Not only will your friend receive $50 off their first escorted tour or river cruise booking, but when you book your next new tour or cruise you will also receive $50 off.
Must Book By Sat, Dec 31, 2022
View Promotion Terms & Conditions ›
To be eligible for this incentive, the referring customer must have previously traveled with Gate1, and the passenger receiving the referral must be a new client. Only valid on escorted tours and river cruises. Only one person per room may earn a credit. The new traveling passenger must be booking their first reservation with Gate 1 Travel or Discovery Tours. The referrer's next trip must be booked within 24 months of earning the credit. Not valid on independent vacations, voucher bookings or Group reservations. Additional restrictions may apply.
Book With Flexibility
Peace of Mind
Complimentary "Peace of Mind" Travel Plan. Change your travel plans before final payment.
Change Destination / Vacation
Change to a different destination or vacation.
Change Dates
Choose new departure dates if your plans change.
Great Service
Award-winning service, low prices, client satisfaction
Tour Itinerary
DAY 1, Wednesday - Depart for Estonia
Depart for Estonia
DAY 2, Thursday - Arrive in Tallinn
Arrive in Tallinn and transfer to your hotel. The remainder of the day is at leisure. Your tour will begin with an orientation meeting with your Tour Manager at approximately 6 PM, followed by a light dinner. We recommend that you select flights which arrive no later than 4 PM
Overnight: Tallinn
Meals: Dinner
DAY 3, Friday - Tallinn City Tour
Discover this World Heritage city today with cobbled streets set beneath spires of 14th-century churches. Tallinn, the northernmost Baltic capital, was a favored port location coveted by its more powerful neighbors, starting centuries of war until it finally achieved its own independence. You can see layers of Tallinn's history at Peter the Great's Kadriorg Palace with its splendid Royal Gardens, and the private cottage he occupied on his visits. Continue to the Song Festival grounds, and the spectacular ruins of the 15th century St. Bridget's Convent rising along the banks of the Pirita River. Then, a walking tour of the upper part of the Old Town and view the pink Baroque-style Toompea Castle, Estonia's traditional seat of power, and the Gothic Town Hall. Visit the still active Alexander Nevsky Russian Orthodox Cathedral built in the style of a 17th century Moscow church. The rest of the day is at leisure to visit some of Tallinn's markets or stop at a lovely cafe or boutiques within the carved stone walls of the Old City. Dinner together tonight
Overnight: Tallinn
Meals: Breakfast, Dinner
DAY 4, Saturday - Travel to Riga
Morning drive to the Latvian capital of Riga situated at the mouth of the Daugava River. This sophisticated and beautiful historic city on the Baltic coast was named the "Little Paris of the North." The afternoon is at leisure to get acquainted with this charming city's delightful Old Town designated a UNESCO World Heritage Site. You'll enjoy finding treasures here and exploring the narrow medieval streets, Gothic and Baroque churches and 19th-century buildings. Be sure to visit Riga's lively Central Market, with its abundant displays from all over the Baltics ranging from smoked fish and fresh produce to handmade souvenirs - it's one of the most famous markets in Europe. Tonight, have dinner together and share some of the day's highlights
Overnight: Riga
Meals: Breakfast, Dinner
DAY 5, Sunday - Riga City Tour
Today, explore Riga's impressive architecture encompassing Romanesque, Gothic, Renaissance, Baroque and Neoclassical facades. On your tour, view Riga Castle, dating back to the 1440s, St. Jacobs Cathedral and St. Peter's Church, one of the oldest and most valuable monuments of medieval architecture in the Baltic States, among the UNESCO World Heritage sites. Stop at the impressive and very popular Freedom (Liberty) Monument honoring soldiers killed during the War of Independence, bearing a symbolic female holding aloft three stars representing the 3 regions of Latvia during the first republic. The rest of the day is on your own. Or, participate in the optional tour to the open-air Ethnographic Museum* that depicts 18th-century farm life. The over 72 historic structures re-create a proper village preserved from this era. Craftsmen demonstrate various tasks - you'll feel as if you've gone back in time
Optional: Open Air Ethnographic Museum
Overnight: Riga
Meals: Breakfast
DAY 6, Monday - Scenic Drive to Vilnius
Depart Riga for Vilnius, the capital of Lithuania. Along the way. stop to visit the Hill of Crosses, a pilgrimage center. View the many thousands of crosses covering the famous Jurgaiciai Hill, and learn about the events that made this hill sacred. Upon arrival in Vilnius, check into your hotel. Balance of the day is at leisure. Then, a riveting optional tour to the infamous KGB Museum, located in the heart of Vilnius. The extensive photo exhibits and intact secret KGB spying equipment aids you in envisioning imprisonment in these cold, damp and narrow cells. For Lithuanians, this museum symbolizes the 50-year Soviet occupation, site of the Gestapo headquarters and later the control of the KGB. Tonight dinner is at the hotel*The KGB Museum optional tour will not be available for the Jul 1 departure due to local events
Optional: KGB Museum
Overnight: Vilnius
Meals: Breakfast, Dinner
DAY 7, Tuesday - Vilnius City Tour
Tour Vilnius, a vivacious university city, and one of the most beautiful "Old Towns" in Eastern Europe. Declared a UNESCO World Heritage site, the city's architectural landmarks are a striking mix of Gothic, Renaissance, Baroque and Neoclassical. Visit the Baroque Church of St. Peter and St. Paul with its extraordinary sculptural decorations and view St. Anne's Church, a superb example of Gothic architecture. View Vilnius University, Gediminas Tower and Vilnius Castle in the Upper Town. Time on your own to wander along the charming lanes of the town with its quaint shops and enjoy lunch on your own at a local café. Don't miss the optional afternoon tour to red brick Trakai Castle on Galve Lake, regally standing on an island by itself completely surrounded by water. This is truly such a beautiful sight and one you'll always remember. Trakai Castle is one of the most photographed places in Europe. This historic and world-famous Gothic Palace was built by Lithuanian Dukes and once served as their residence. Time to stroll the grounds and visit the Palace Museum to see the extensive display of medieval exhibits before returning to Vilnius
Optional: Excursion to Trakai Castle
Overnight: Vilnius
Meals: Breakfast
DAY 8, Wednesday - Scenic Drive to Warsaw
Depart Lithuania and cross the border into Poland. After lunch en route, arrive in Warsaw, Poland's cosmopolitan capital and cultural center of the country on the banks of the Vistula River. The balance of the day is at leisure to get acquainted with this city on your own. Enjoy dinner together tonight
Overnight: Warsaw
Meals: Breakfast, Lunch, Dinner
DAY 9, Thursday - City Tour of Warsaw
Today's introduction to bustling Warsaw includes glorious Lazienki Park one of the jewels of the city. Here, stand before the striking bronze monument to Frederic Chopin, the famed Polish composer and virtuoso pianist of the Romantic era, born in a small village west of Warsaw. Continue along the Royal Route with its historic monuments and residences to the site of the former Warsaw Ghetto; stop at the inspiring Memorial that commemorates the Warsaw Ghetto Uprising. Walk through the Old Town with its cobbled streets to Market Square. Visit the Cathedral of St. John and see the Royal Castle, the former residence of Polish kings, lovingly restored after its destruction during World War II. The remainder of the day is at leisure or, perhaps, join the optional tour to Wilanow Palace*. This former summer residence of the Polish kings was built at the end of the 17th century for King Jan Sobieski III and is situated just outside of Warsaw. The tour of the palace makes Polish history come alive. Later in the afternoon, attend an optional Chopin concert, a highlight of the day. A piano recital of Chopin's most favorite works is performed in a stunning setting. Enjoy a glass of champagne during intermission*If booking both Wilanow Palace & Chopin Concert optional tours, please keep in mind that you may have limited time in between for dinner
Optional: Wilanow Palace
Optional: Chopin Concert
Overnight: Warsaw
Meals: Breakfast
DAY 10, Friday - Czestochowa & Auschwitz Memorial Museum
Depart Warsaw and travel south to Czestochowa, known for the famous Pauline monastery of Jasna Gora, home of the Black Madonna painting. Every year millions of pilgrims from all over the world come to Czestochowa to visit the Shrine to the Virgin Mary as it is said to have miraculous powers. Then, continue on a journey to the town of Oswiecim where the Nazis built Auschwitz, their largest concentration and death camp. The stories of those who were sent there, and who perished in this place, emphasize the scope of Hitler's extermination efforts. The solemn visit includes a guided tour of the Auschwitz Concentration Camp Museum. After the visit, arrive in Krakow, former residence of the Polish kings for overnight
Overnight: Krakow
Meals: Breakfast
DAY 11, Saturday - Krakow City Tour
Begin the day in medieval Krakow with a visit to historic 16th century Wawel Hill; view the Royal Castle and visit the Cathedral. A walking tour then takes you to the Old Town with its lively Market Square. Stop at stately St. Mary's Church with its tall brick tower overlooking the square and the Renaissance Cloth Hall where traders offer a variety of wares as their predecessors did many generations ago. The afternoon is at leisure or, participate in the interesting optional tour to the Wieliczka Salt Mines, one of the oldest in Europe. The mine's historical importance, as well as the amazing works of art carved into the walls by miners, have earned the Wieliczka Salt Mine a place on the UNESCO World Cultural Heritage list. In the evening, return to Krakow in time for dinner
Optional: Wieliczka Salt Mine
Overnight: Krakow
Meals: Breakfast, Dinner
DAY 12, Sunday - Depart Poland
Transfer to the Krakow airport for your departure flight
Meals: Breakfast
Please Note: Land Price does not include airfare, departure or arrival transfers, airline taxes and fuel surcharges.
Please Note: Land Price does not include airfare, departure or arrival transfers, airline taxes and fuel surcharges.
Escorted Package Includes

Flights New York-Tallinn, Krakow-New York
Other departure cities available.
Airline taxes & fuel surcharges
10 nights First Class accommodations
2 nights Tallinn
2 nights Riga
2 nights Vilnius
2 nights Warsaw
2 nights Krakow
Hotel taxes, fees & service charges
Hotel porterage
All transfers included only with airfare purchase on package arrival & departure dates†
17 meals: 10 breakfasts, 1 lunch, 6 dinners
Sightseeing per itinerary in modern air-conditioned motor coach
Services of English-speaking tour manager throughout
Services of local guides in all major cities
Entrance fees per itinerary
Comfortable wireless earphones for enhanced touring
Special Features
Discover centuries-old folklore, historic towns and diverse cultures in the Baltics
Marvel at the medieval architecture and history in Tallinn, Riga and Vilnius
View Toompea Castle and visit Alexander Nevsky Cathedral in Tallinn
In Riga, view the Liberty Monument, St. Jacob's Cathedral and Riga Castle
Visit the St. Peter and Paul Church, view Gediminas Tower and the Castle in Vilnius
View Warsaw's Lazienki Park, Old Town, Market Square and visit St. John's Cathedral
Visit the Shrine to the Virgin Mary at the Jasna Gora Monastery in Czestochowa
Solemn visit to the Auschwitz Concentration Camp Museum in Krakow
In medieval Krakow, visit St. Mary's Church; view historic 16th century Wawel Hill Royal Castle and visit the Royal Cathedral
†Transfers are available for purchase for land only or on alternative flight dates
Not Included:
Optional tours and gratuities.

Additional Information:
Land only price does not include arrival/departure transfers.
Health and Safety Protocols for Gate1 Tours
At Gate 1 we take your safety and security very seriously. We have a strong network of tour managers, local offices, ground operators and colleagues which help us stay informed in all the destinations that we operate. We closely monitor local situations which enable us to make the operational decisions necessary to keep our tours running safely. Millions of people travel the world each year and experience enjoyable and safe trips but crimes against people and property are sadly a fact of life. It is very important to be aware of your surroundings and avoid drawing attention to yourself. Please remember that you have the same responsibility for your personal safety and possessions as you do at home. It is essential to prepare for a safe and healthy travel abroad. Therefore before you travel, we strongly recommend that you visit the website of the US Department of State at https://travel.state.gov/content/travel.html for up-to-date travel advice on the countries that you are visiting. The website provides useful information on subjects such as safety and security information, health precautions and medications, health insurance and additional tips for traveling abroad. If you do not reside in the United States, we recommend you check your government's travel advisory website for any country you will be visiting. We recommend that you review the safety guidance that may be provided by us, our agents or suppliers, either before you go or when you arrive in your destination. You can also find helpful tips on our website in the "Trip Preparation" tab of each of our tour packages. We do know that in-spite of careful planning, things can sometimes still go wrong, so rest assured, we will be there to help and support you.
Radisson Blu Olumpia
This first class hotel is ideally located in the heart of Tallinn's city center.
Radisson Blu Hotel Latvia
This first class hotel is situated in the very heart of Riga.
Radisson Blu Hotel Lietuva
This first class hotel is situated near the River Neris in the business district of Vilnius.
Sofitel Warsaw Victoria
This deluxe hotel is located in the city center of Warsaw nearby Pilsudski Square.
Mercure Krakow Stare Miasto
This first class hotel is located in the heart of Krakow, just a short walk from the Old Town.
Question: How many suitcases can I take with me on my trip?
Each person is allowed one "check-in," and one "carry-on." Remember to take all valuables with you as "carry-on", because electronic equipment, cameras, laptops, jewelry, business documents and money are not covered by the airlines' liability, so always carry them aboard with you.
Question: Is Airfare Included in the Price?
Airfare from your point of origin to and from the trip is not included in the land price.
Wonderful trip and had so much fun
I have always liked Affordable tours and will continue to use this agency for future travels. Thank you very much
Overall, the tour manager was very organized . Greatly appreciate providing COVID testing in the hotel.
We had a great time in Egypt and a great time with Gate 1. The tour manager was wonderful - professional, organized, knowledgeable and caring. The trip itself covered all the things we wanted to see and the services provided by Gate 1 were handled really well. The one weakness for us was the Nile cruise on the Esplanade. It was fine, but not what I'd call "top-notch". The ship was clean and the staff pleasant, which was the most important part of the cruise to us. However, we found the food was pretty unappealing. The restaurant meals provided by Gate 1 were consistently good- interesting places and good food. The hotels provided by Gate 1 were also nice and in good locations. I would definitely take another trip with Gate 1 and would recommend it to others.
Everything was good. The mountain location of the Monteverde hotel was good for an excellent Sunset, but very difficult to move around.
We have travel world with 21 cruise tours. We were skeptical about traveling with Gate1, but with friends recommendation, we travel 1st time With Gate1 on 13 Egypt with 7 day Nile cruise Dec28-Jan9 2022. We were in total surprise. The Hotels, Itinerary, safety concerns were fabulous. Our tour manager was God sent and was always concerned for safety, detail oriented, knowledgeable and always enthusiastic and bend backward to help. He is best asset to Gate1 and deserves recognition. The way he was praising Gate 1, I thought he owned it. We are already planning for other Gate 1 trip. You can share my comments with Gate1
This was my first time traveling with Gate 1 through Affordable Tours and everything thing went like clockwork. My trip took me to Ireland and I had a fantastic time! There were hardly any glitches but when there was our tour guide did everything in his power to accommodate.
This was our 6th Gate1 trip and as always we were not disappointed. We enjoyed all aspects of the tour and had a wonderful trip with no problems. Gate1 does an excellent job and we will continue to use them for future travels.
Our tour director was the best tour director. She's funny and witty. She accommodated our needs. Our driver is a superb driver. He kept us safe from any accident.
All the points of interest were there,very knowledgeable guide Anna was amazing. Absolutely loved it
Overall, the trip was exceptional. The tour guide Riccardo was outstanding...very friendly, caring and knowledgeable about the areas visiting. The accommodations in Bari and Napoli were disappointing. In Bari, the room at Grande Albergo delle Nazario was extremely small which made it difficult to manage suitcases for 2 people. In Napoli, the room at Hotel Royal Continental certainly needed updating. The overall appearance of the room looked worn and a little shabby. However, the condition of these 2 rooms did not affect the great time we had. Will definitely travel with Gate 1 again.
Awesome experience... knowledgeable and helpful tour guide (Hend), as well as all other employees.
As always, everything went very smoothly.
This trip was fantastic. It was packed with lots of activities and places to see. Unfortunately, weather plays a big role in what you see and don't see. We weren't able to visit Robben Island due to choppy water and couldn't see much of Victoria Falls due to rain/fog. But I'm not complaining, that's just how things go. Other than that, the itinerary was very fast paced and we got to see a lot, which was desired. The tour was very organized and our group leader, Ahmet, was very knowledgable of the places we visited. I would recommend the game drive in Botswana over the game drive in South Africa. The food and drink was quite good from the included meals. Ahmet did his best to accomodate everyone. I'd recommend this tour to anyone wanting to see as much as possible in such a short time frame. The schedule is strict but well worth the sights.
Very interesting itinerary
AffordableTours.com® does not itself offer, service or administer the Travel Packages, and the ultimate terms and conditions of any Travel Package made available via the Site Offerings (including the prices quoted in connection with same) will be determined by the applicable Third-Party Travel Service Provider. AffordableTours.com® does not represent or warrant that the Price Quotes are accurate, up-to-date or free of error, or that same will be honored by the applicable Third-Party Travel Service Providers. All Price Quotes, Travel Package availability, Travel Package details/itinerary and other Content are subject to change without notice. All travel details published by and through the Site Offerings should be confirmed directly with the applicable Third-Party Travel Service Provider prior to making any travel plans. Reliance on any information made available to you by and through the Site Offerings is solely at your own risk.
How It Works
Vacationing has never been easier or cheaper with the help of a dedicated travel consultant from AffordableTours.com
1. Free Quote
Find your perfect trip on our website and simply request a free quote. Need to speak to a live person? Call us 7 days a week at 1-800-935-2620. No robots here!
2. Dedicated Travel Consultant
Your personal travel consultant will reach out and be your point of contact for your entire travel experience from start to finish. Did we mention you'll be working with an award winning team? Sweet!
3. Lowest Price Guaranteed
Because we're one of the largest sellers of travel, we're able to give you a discount on your vacation package. No one beats our prices!
4. Stress Free Travel
Knowing you got the best deal, all that's left is for you to pack your bags and enjoy your vacation!