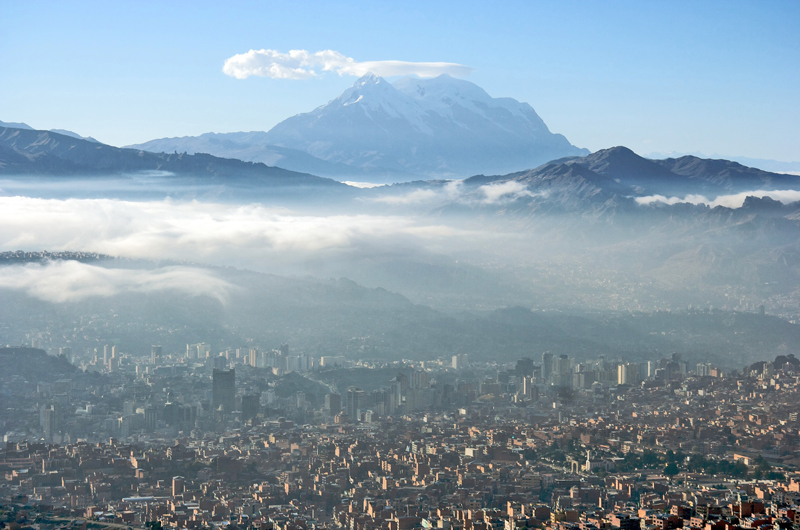 11 Day Classic Peru & Bolivia
Why Pay Retail?
Call us for a quick quote!
Dates & Prices
Please Note: Land Price does not include airfare, departure or arrival transfers, airline taxes and fuel surcharges.
Start Date
End Date
Offers
Brochure
Land Price
Brochure
Land & Air Price
Quote
Sunday,
Aug 06, 2023
Wednesday,
Aug 16, 2023
Deals
$2,249
$3,059
Get Quote
Sunday,
Sep 03, 2023
Wednesday,
Sep 13, 2023
Deals
$2,159
$2,879
Get Quote
Sunday,
Sep 24, 2023
Wednesday,
Oct 04, 2023
Deals
$2,109
$2,779
Get Quote
Sunday,
Oct 08, 2023
Wednesday,
Oct 18, 2023
Deals
$2,109
$2,779
Get Quote
Sunday,
Nov 05, 2023
Wednesday,
Nov 15, 2023
Deals
$2,109
$2,829
Get Quote
Sunday,
Dec 10, 2023
Wednesday,
Dec 20, 2023
Deals
$2,109
$2,779
Get Quote
Call or submit a quote to get our Low Prices!
Save 5% - Cash Payment Discount
Save 5% - Cash Payment Discount
Promotion Details
Gate 1 offers the flexibility of paying for your vacation by check. Save 5% off of your remaining balance when the final payment is made by check.
Must Book By Sun, Dec 31, 2023
View Promotion Terms & Conditions ›
Gate 1 offers the flexibility of paying for your vacation by credit card or check. Choose check for your final payment to save 5% off of your remaining balance. Full details will be sent with your invoice.
Tour Itinerary
DAY 1, Sunday - Depart for Peru
Depart for Lima, Peru; arrival and transfer to your hotel. The rest of the day is at leisure with time to rest, relax and acquaint yourself with Peru's vibrant capital, founded in 1535 by the conquistador Francisco Pizarro
Overnight: Lima
DAY 2, Monday - Lima City Tour
This morning's tour of Lima, with its 2000 years of history, begins at the colonial center of the city, declared a UNESCO World Heritage Site, with its historic buildings surrounding the splendid Plaza Mayor. View the impressive Palace of the Archbishop with its fine carved balcony, the opulent Government Palace, official residence of the President, and the 16th century Cathedral of Lima whose first stone was laid by Pizarro. Continue to the 17th century Monasterio de San Francisco complex with its magnificent tiles, ornate carved ceilings, exceptional paintings and world-renowned library. Spend the remainder of the day at leisure or perhaps attend the optional Evening Larco Herrera Museum with dinner. Experience one of Lima's most magnificent museums by night on this tour, that also includes a light supper. Admire the world's largest collection of pre-Columbian masterpieces and a stunning exhibition of gold and priceless jewels
Optional: Larco Herrera Museum with dinner
Overnight: Lima
Meals: Breakfast
DAY 3, Tuesday - Fly to Cuzco, Chinchero Weaving Demonstration
Depart Lima this morning by flight to Cuzco, ancient capital of the Inca Empire and the oldest continuously inhabited city in South America. Upon arrival, drive through the rugged mountainous region with its magnificent panoramas, along roads with farms and small villages to the Sacred Valley of the Incas. En route, stop in Chinchero. Here, enjoy an authentic Peruvian lunch followed by a demonstration of the ancient Andean tradition of making textiles from naturally dyed handwoven alpaca wool. Remarkably, the source for the vibrant colors are dyes that come from plants, minerals, and insects. Wander around the complex and shop for souvenirs among the fine textiles and other local treasures. Time permitting, meet children at a local school before continuing to your hotel in the Urubamba Sacred Valley. This evening, dinner together with music at a lovely restaurant
Overnight: Urubamba Sacred Valley
Meals: Breakfast, Lunch, Dinner
DAY 4, Wednesday - Sacred Valley & Ollantaytambo Ruins
Enjoy this morning at leisure in the Sacred Valley to explore some of the ancient ruins independently or, join the optional tour to Maras and Moray. The excursion begins in Moray, a remarkable agricultural center that demonstrates the ancient Incan's mastery of high-altitude crop growing. You'll be astounded by the large complex of perfectly circular depressions in the earth that historians believe were used to study climatic conditions. Next, travel to the colonial town of Maras, known for its nearby salt evaporation ponds in use since the time of the Incas. This afternoon, visit the impressive Inca fortress of Ollantaytambo, an ancient complex of temples and terraces towering high over the valley, the last stand of the Incas in their defense against the Spanish conquistadors. Marvel at the architecture of the Incas in this well preserved settlement, considered a living museum of 15th century life. Tonight, join the optional traditional dinner with a Peruvian family in their countryside home. Sample delectable home-cooked Peruvian specialties along with a warm and friendly cultural exchange
Optional: Maras and Moray Tour
Optional: Dinner with a Local Peruvian Family
Overnight: Urubamba Sacred Valley
Meals: Breakfast
DAY 5, Thursday - Discover Machu Picchu
Early morning transfer to the Sacred Valley's Ollanta Station to board the Expedition Train that travels through misty peaks to the astonishing ancient citadel of Machu Picchu*, the "Lost City of the Incas", designated by UNESCO as one of the New Seven Wonders of the World. Machu Picchu was virtually unknown to the western world until Hiram Bingham's re-discovery in 1911. Spend the morning viewing the unforgettable wonders of this 15th century retreat, abandoned nearly 100 years later with the arrival of the conquistadors. See the highlights of the site including the imposing Temple of the Sun, the House of the Priest, the Sacred Plaza and the intricately carved rock likely used as a sundial by the ancient Incas. The images of this significant archaeological site will be a long-lasting memory. Return to the Sacred Valley in the early evening and transfer to your hotel in Cuzco for overnight *Approximate time spent at the ruins of Machu Picchu is 3 hours
Overnight: Cuzco
Meals: Breakfast
DAY 6, Friday - Full Day in Cuzco
Spend today independently discovering the "Imperial City" of Cuzco, once capital of the Inca Empire and a UNESCO World Heritage Site. This lively city, rich in history, reveals remains of both the Incan and the Spanish presence. Take time to explore some of the city's stunning sights, or, shop for some of the finest handicrafts and textiles in all of Peru. Participate in the optional Cuzco "Behind the Scenes" tour, offering a glimpse into the other side of life in Cuzco. On this tour, visit a local market and taste fresh-baked Chuta bread. Stop at the Cuzco cemetery to learn more about Andean life and death and meet with a local "shaman" (holy man). After the cooking demonstration, enjoy a delicious meal. In the afternoon, join the optional Highlights of Cuzco excursion that takes you to the impressive Colonial Cathedral with its collection of over 400 paintings, the Temple of the Sun and the fortress of Sacsayhuaman, which took over seven decades to complete. Tonight, join your fellow travelers for dinner
Optional: Half Day Cuzco Behind the Scenes (AM)
Optional: Half Day Highlights of Cuzco (PM)
Overnight: Cuzco
Meals: Breakfast, Dinner
DAY 7, Saturday - Raqchi & Puno
Depart Cuzco early in the morning on a long drive today. Enjoy spectacular scenery as you drive through the Andes mountain range and the Andean plains to Puno on the Peruvian side of Lake Titicaca. In this area, South American camelids (llamas and alpacas) graze on the immense plateaus and plains. En route visit the 15th century Temple of Wiracocha, with its elaborate stonework, the largest Inca temple ever discovered. Today, Raqchi remains home to many farmers, ranchers and artisans. Then, you arrive at pristine Lake Titicaca sitting majestically at 12,500 feet above sea level, backed by the snowcapped peaks of Bolivia's Cordillera Real range. This is the highest navigable lake in the world and South America's largest fresh water lake. A box lunch will be provided en route before arriving in Puno for your overnight
Overnight: Puno
Meals: Breakfast, Lunch
DAY 8, Sunday - Excursion to Uros Islands on Lake Titicaca
This morning, an excursion by boat transports you from Puno to the fascinating Uros Floating Islands where the indigenous people of the area, the Uros, live on islands that dot the lake. The Uros live very much the same as their ancestors did and still follow the ancient customs and traditions. These islands are completely man-made structures, using the totora reeds from the lake to build the islands and houses. Return to Puno for the remainder of the day at leisure. Or, take the optional tour to the Sillustani Tombs, the pre-Incan burial ground on the shores of Lake Umayo. The tombs here are built above the ground in tower-like structures called chullpas, vestiges of the Colla people before they were conquered by the Incas in the 15th century. Evening is at leisure in Puno
Optional Half Day Sillustani Tombs (PM)
Overnight: Puno
Meals: Breakfast
DAY 9, Monday - Tiwanaku Archaeological Site; La Paz, Bolivia
Drive south from Puno to Desaguadero where you will cross the border into Bolivia*. Then continue to the impressive Bolivian ruins at Tiwanaku, built by a pre-Inca society, thought to be the largest city in the ancient world lasting for over 28 centuries. During this time some of the most impressive stone monoliths in the world were created along with a sophisticated irrigation system and a society that understood astronomy and the workings of the sun. When you see these impressive structures, you'll stand in awe of their amazing achievements. Highlights of the site include the Gate of the Sun, Temple of Kalasasaya and the Pyramid of Akapana; all examples of a glorious past. After lunch, continue driving on the high plateau to reach La Paz, spectacularly set against the magnificent snowcapped peaks of Mt. Illimani*The border crossing may take up to 3 hours due to local conditions. After clearing Border Control, you will have to walk a half mile to board your Bolivian bus
Overnight: La Paz
Meals: Breakfast, Lunch
DAY 10, Tuesday - Tour La Paz, Moon Valley
Explore La Paz, the largest city in Bolivia, and its surroundings. Walk along the narrow streets of Rosario, San Jorge and San Miguel, some of the city's most lively neighborhoods. Arrive at the sprawling open-air Witch Doctor's Market, where women in bowler hats sell medicinal herbs and spices and other superstitious artifacts. See the San Francisco Cathedral, Presidential Palace and other important colonial-era buildings before ascending to the Mirador Killi Killi lookout point for a panoramic view of the entire city accented by snowcapped peaks. Afterwards, on to Valle de la Luna (Moon Valley) with its moon-like terrain and impressive views of the Andes Mountains. Enjoy a typical lunch and walk around the valley with its rugged landscape before returning to La Paz
Overnight: La Paz
Meals: Breakfast, Lunch
DAY 11, Wednesday - Depart Bolivia
Transfer from the hotel to the airport for your departure flight**Some flights depart shortly after midnight in the very early morning of Day 11 and will require a transfer on Day 10. Transfers depart the hotel approximately 4 hours prior to flight time.
Meals: Breakfast
Due to the high elevation, travel in the Peruvian highlands and Bolivian Andes may cause some passengers to experience the temporary effects of altitude sickness. If you have any concerns about traveling to higher than your accustomed elevation, please consult your healthcare provider.
Please Note: Land Price does not include airfare, departure or arrival transfers, airline taxes and fuel surcharges.
Please Note: Land Price does not include airfare, departure or arrival transfers, airline taxes and fuel surcharges.
Escorted Package Includes

Flights Miami-Lima, La Paz-Miami
Some departure dates may be offered from an alternate nearby airport. Check flight itinerary options when booking.
Other departure cities available.
Airline taxes & fuel surcharges
Intra-flight Lima-Cuzco
10 nights accommodations
2 nights Lima
2 nights Urubamba Sacred Valley
2 nights Cuzco
2 nights Puno
2 nights La Paz
Hotel taxes, fees & service charges
Hotel porterage
All transfers included only with airfare purchase on package arrival & departure dates†
16 meals: 10 breakfasts, 4 lunches, 2 dinners
Sightseeing per itinerary in modern motor coach
Services of English-speaking tour manager throughout
Services of English-speaking local guides
Entrance fees per itinerary
Special Features
City Tour of Lima with its 2000 years of history
Visit the impressive Inca fortress of Ollantaytambo
Discover the astonishing ancient citadel of Machu Picchu via
Excursion by boat to the fascinating Uros Floating Islands
Visit the impressive ruins at Bolivia's archaeological site of Tiwanaku
Tour La Paz and Valle de la Luna with its unusual moon-like terrain
†Transfers are available for purchase for land only or on alternative flight dates
Not Included:
Optional tours and gratuities.

Additional Information:
Land only price does not include arrival/departure transfers, but does include flight Lima-Cuzco.
Passport numbers for all passengers must be submitted before documents can be issued.
Please note that proof of yellow fever vaccine is recommended, but not required to enter Bolivia.

Accommodation Details:
Triples at the Hotel Europa in La Paz will be accommodated in a twin and single room.
Health and Safety Protocols for Gate1 Tours
At Gate 1 we take your safety and security very seriously. We have a strong network of tour managers, local offices, ground operators and colleagues which help us stay informed in all the destinations that we operate. We closely monitor local situations which enable us to make the operational decisions necessary to keep our tours running safely. Millions of people travel the world each year and experience enjoyable and safe trips but crimes against people and property are sadly a fact of life. It is very important to be aware of your surroundings and avoid drawing attention to yourself. Please remember that you have the same responsibility for your personal safety and possessions as you do at home. It is essential to prepare for a safe and healthy travel abroad. Therefore before you travel, we strongly recommend that you visit the website of the US Department of State at https://travel.state.gov/content/travel.html for up-to-date travel advice on the countries that you are visiting. The website provides useful information on subjects such as safety and security information, health precautions and medications, health insurance and additional tips for traveling abroad. If you do not reside in the United States, we recommend you check your government's travel advisory website for any country you will be visiting. We recommend that you review the safety guidance that may be provided by us, our agents or suppliers, either before you go or when you arrive in your destination. You can also find helpful tips on our website in the "Trip Preparation" tab of each of our tour packages. We do know that in-spite of careful planning, things can sometimes still go wrong, so rest assured, we will be there to help and support you.
Jose Antonio Hotel
This first class hotel is situated in the modern district of Miraflores.
San Agustin Urubamba Hotel
This tourist class hotel provides a peaceful base point for exploring the close by ruins and appreciating the breathtaking views of the Sacred Valley and surrounding mountains.
Jose Antonio Cuzco Hotel
This superior tourist class hotel is located in Cuzco, just a fifteen minute walk from the Cusco Cathedral.
Hotel Royal Inn Puno
This tourist class hotel is centrally located in the city center and nearby the Puno Plaza de Armas.
Hotel Europa
This first class hotel is located in the center of downtown La Paz and overlooks the Illimani mountains.
Question: How many suitcases can I take with me on my trip?
Each person is allowed one "check-in," and one "carry-on." Remember to take all valuables with you as "carry-on", because electronic equipment, cameras, laptops, jewelry, business documents and money are not covered by the airlines' liability, so always carry them aboard with you.
Question: Is Airfare Included in the Price?
Airfare from your point of origin to and from the trip is not included in the land price.
Great value for the money!
Excellent value for the money paid. Excellent guide! Great accommodations!
Affordable tour nice jobs!
Absolutely the best trip I have ever taken. Gate one discovery tours more than covered everything I could expect. Will tour with them again.
I had a wonderful time on the tour. The itinerary was busy but we were able to see so much of Spain. Our tour manager was wonderful. She kept us on schedule and took great care of us. She was very helpful with an issues that came up. She really made the experience great! The local tour guides were all excellent. We learned so much about the history and culture of the areas we visited.
Well organised and well planned Tour with a knowledgeable Tour director. I highly recommend Gate-1 Travels. .
Gate1 tours is the best. Our tour manager was exceptional and the us driver was outstanding
Excellent itineraries and very well organized
Gate1 one does a great job, this tour exceeded our expectations, mainly because of our tour manager who made sure everyone stayed happy, he truly loves his job!
Wonderful trip and had so much fun
I have always liked Affordable tours and will continue to use this agency for future travels. Thank you very much
Overall, the tour manager was very organized . Greatly appreciate providing COVID testing in the hotel.
We had a great time in Egypt and a great time with Gate 1. The tour manager was wonderful - professional, organized, knowledgeable and caring. The trip itself covered all the things we wanted to see and the services provided by Gate 1 were handled really well. The one weakness for us was the Nile cruise on the Esplanade. It was fine, but not what I'd call "top-notch". The ship was clean and the staff pleasant, which was the most important part of the cruise to us. However, we found the food was pretty unappealing. The restaurant meals provided by Gate 1 were consistently good- interesting places and good food. The hotels provided by Gate 1 were also nice and in good locations. I would definitely take another trip with Gate 1 and would recommend it to others.
AffordableTours.com® does not itself offer, service or administer the Travel Packages, and the ultimate terms and conditions of any Travel Package made available via the Site Offerings (including the prices quoted in connection with same) will be determined by the applicable Third-Party Travel Service Provider. AffordableTours.com® does not represent or warrant that the Price Quotes are accurate, up-to-date or free of error, or that same will be honored by the applicable Third-Party Travel Service Providers. All Price Quotes, Travel Package availability, Travel Package details/itinerary and other Content are subject to change without notice. All travel details published by and through the Site Offerings should be confirmed directly with the applicable Third-Party Travel Service Provider prior to making any travel plans. Reliance on any information made available to you by and through the Site Offerings is solely at your own risk.
How It Works
Vacationing has never been easier or cheaper with the help of a dedicated travel consultant from AffordableTours.com
1. Free Quote
Find your perfect trip on our website and simply request a free quote. Need to speak to a live person? Call us 7 days a week at 1-800-935-2620. No robots here!
2. Dedicated Travel Consultant
Your personal travel consultant will reach out and be your point of contact for your entire travel experience from start to finish. Did we mention you'll be working with an award winning team? Sweet!
3. Lowest Price Guaranteed
Because we're one of the largest sellers of travel, we're able to give you a discount on your vacation package. No one beats our prices!
4. Stress Free Travel
Knowing you got the best deal, all that's left is for you to pack your bags and enjoy your vacation!