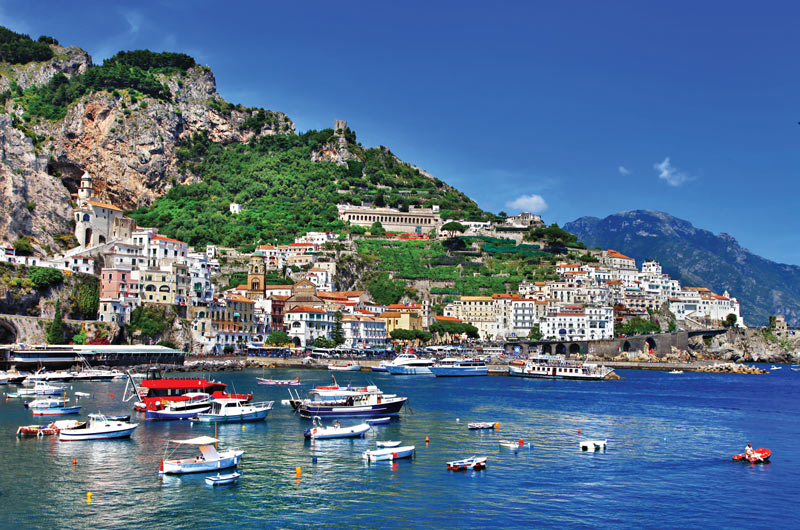 14 Day Romantic Italy with Amalfi - Monday Departure
Why Pay Retail?
Call us for a quick quote!
Dates & Prices
Please Note: Land Price does not include airfare, departure or arrival transfers, airline taxes and fuel surcharges.
Start Date
End Date
Offers
Brochure
Land Price
Brochure
Land & Air Price
Quote
Monday,
Jul 10, 2023
Sunday,
Jul 23, 2023
Bonus
$3,799
$5,279
Get Quote
Monday,
Jul 17, 2023
Sunday,
Jul 30, 2023
Bonus
$3,749
$5,239
Get Quote
Call or submit a quote to get our Low Prices!
Save 5% - Cash Payment Discount
Save 5% - Cash Payment Discount
Promotion Details
Gate 1 offers the flexibility of paying for your vacation by check. Save 5% off of your remaining balance when the final payment is made by check.
Must Book By Sun, Dec 31, 2023
View Promotion Terms & Conditions ›
Gate 1 offers the flexibility of paying for your vacation by credit card or check. Choose check for your final payment to save 5% off of your remaining balance. Full details will be sent with your invoice.
Tour Itinerary
DAY 1, Monday - Depart for Italy
Depart for Italy
DAY 2, Tuesday - Arrive in Milan, Transfer to Como
Arrive in Milan and then transfer to your hotel in the town of Como, home to exquisite Lake Como, one of Italy's most romantic destinations. The rest of the day is at leisure to enjoy the beautiful surroundings. Tonight, attend an orientation meeting at approximately 6 PM (exact time will be advised on tour arrival day) with your Tour Manager to discuss the upcoming journey that awaits you in Italy. We recommend you to select flights that arrive no later than 4 PM. The meeting will be followed by a dinner with your fellow travelers
Overnight: Como
Meals: Dinner
DAY 3, Wednesday - Cross Lake Como to the Village of Bellagio
Today embark on a scenic morning cruise of the lake to the charming village of Bellagio, termed one of the most beautiful towns in Italy and "The Pearl" of Lake Como. Nestled amidst cypress groves, its earthy-colored buildings climb up from the lakeside promenade. Wander along the narrow streets and alleyways, lined with craft shops, boutiques and cafés. Or, visit some of the gorgeous gardens with manicured lawns and fountains at Villa Melzi or Villa Serbelloni. Sail back to Como with time to experience the delights of this lakeside town with its spectacular mountain views, wonderful restaurants, and boutiques
Overnight: Como
Meals: Breakfast
DAY 4, Thursday - Verona Walking Tour, Travel to Venice
After breakfast, set out for Verona, a UNESCO World Heritage Site and one of the richest cities in Roman remains, representing today one of the best examples of a fortified city. Its urban structure developed progressively and without interruption over the last 2000 years. Verona is also known worldwide as the setting of Shakespeare's famous play Romeo and Juliet. Participate in an orientation walking tour followed by free time to savor the atmosphere of this unique city. Continue to Venice and enjoy dinner together
Overnight: Venice
Meals: Breakfast, Dinner
DAY 5, Friday - Boat Ride to Murano, Tour of Venice
The discovery of Venice begins with a boat ride to the Island of Murano, known for its artistic and colorful glassware. While here, visit a local factory to witness the art of glass blowing. Afterward, continue to the main Venice Island and take a walking tour with your local guide through the maze of narrow alleyways and bridges before reaching St. Mark's Square. Upon reaching the square, stop to view its most prominent monuments, the pink marble Doge's Palace, Bridge of Sighs, and golden Basilica of San Marco. The Doge's Palace was the official residence of the Venetian ruler. The Bridge of Sighs offers one of the most notable scenes of this Romantic city. Marvel at the golden Basilica of San Marco, that is one of the city's most recognizable landmarks. It was built over several centuries in a fusion of Byzantine, Roman and Venetian architecture. The rest of the day is yours to explore Venice independently, or participate in this afternoon's optional Gondola Ride, offering a different perspective of this unique city built on water
Optional: Gondola Ride (PM)
Overnight: Venice
Meals: Breakfast
DAY 6, Saturday - Tuscany & Pisa en route to Florence
Depart Venice and travel through the stunning golden landscape of Tuscany, dotted with olive and fig trees. Visit a local Tuscan farm in the countryside for a wine tasting coupled with delectable local specialties. On to Pisa to view the famous Piazza dei Miracoli with its Baptistery, the Duomo, the Monumental Cemetery, and its famous Leaning Tower, among the most instantly recognizable structures on earth. The four monuments on the extraordinary Piazza create a unique architectural blend of Romanesque and Gothic styles. Then, travel to the lively Renaissance city of Florence, with its priceless art and architecture for overnight
Overnight: Florence
Meals: Breakfast
DAY 7, Sunday - Tour of Florence
Today, take a guided walking tour through the heart of Florence. View the magnificent Duomo, with its Brunelleschi-designed dome, the renowned "Gates of Paradise" of the Baptistery by Ghiberti and Giotto's Bell Tower. You'll be enchanted as you walk through the open-air art museum of Signoria Square, with its Palazzo Vecchio, first residence of the Medici family that today houses the seat of the city government. Continue to the splendid Ponte Vecchio, also known as the "Old Bridge". Florence is indeed the center of the world's finest art and architecture. Spend the afternoon at leisure in this spectacular Renaissance city. This evening, travel through the Tuscan hills, where a sumptuous dinner with unlimited wine and entertainment awaits
Overnight: Florence
Meals: Breakfast, Dinner
DAY 8, Monday - Medieval Assisi City Tour en route to Rome
This morning, depart Florence and travel to the small medieval town of Assisi perched high on a hill in the Umbria region with its rugged, winding streets and sacred shrines. Participate in a walking tour of Assisi, designated a UNESCO World Heritage Site for its significant art and architecture and best known as the birthplace of St. Francis of Assisi - patron saint of Italy. Its main attraction is the 13th-century Basilica di San Francesco, one of the artistic highlights of medieval Europe which contains the sacred relics of St. Francis and Giotto's amazing frescoes. Afterward, continue to Rome, the astonishing city built on seven hills. Tonight, savor dinner together
Overnight: Rome
Meals: Breakfast, Dinner
DAY 9, Tuesday - Vatican Museums & Michelangelo's Sistine Chapel
Today, visit the Vatican Museums and Michelangelo's masterpiece, the Sistine Chapel. Stroll through one of the most important art collections of the world. Admire the Gallery of Tapestries and the Geographical Maps before arriving to the Sistine Chapel, with its great frescoes by Michelangelo. Continue to St. Peter's Square, passing Bernini's famous colonnade to view St. Peter's Basilica, built on the burial site of Saint Peter. Spend the afternoon at leisure or join the optional walking tour of the Eternal City's grand piazzas that includes the Spanish Steps, the legendary Trevi Fountain, view of the Pantheon, and the baroque Piazza Navona. Tonight, explore on your own and choose one of the numerous restaurants offering delicious local cuisine
Optional: Piazzas of Rome (PM)
Overnight: Rome
Meals: Breakfast
DAY 10, Wednesday - Tour Ancient Rome
The historic tour of ancient Rome begins with a walk along the uneven and irregular paths of the Roman Forum, the original central plaza of the city from which ancient Rome developed. Next, view the triumphal Arch of Constantine, erected by the Roman Senate to commemorate Constantine's tenth year of leadership over the Eternal City. On to the mighty Colosseum*, the largest amphitheater built in the Roman Empire that seated over 50,000, where gladiatorial contests and public events were attended by the rich, the poor and by the Emperor himself. Discover the delights of Rome this afternoon on your own. Tonight, embark on a scenic drive through the city before stopping for dinner in a local restaurant with wine and music*In the event the Colosseum visit is not possible, due to unforeseen circumstances, you will visit the Palatine Hill.
Overnight: Rome
Meals: Breakfast, Dinner
DAY 11, Thursday - Pompeii Tour en route to Sorrento
Traveling south to Sorrento, at a distance, you can view the magnificent Abbey of Montecassino perched high on the mountaintop (weather permitting). This was the scene of a huge battle near the end of World War II in which the Abbey was completely destroyed, but has since been lovingly restored. As you pass the Bay of Naples, majestic Mt. Vesuvius marks your way to Pompeii. Visit the city that was frozen in time under a thick carpet of volcanic ash almost 2,000 years ago. Walk through the original sloping streets of Pompeii and view the tragic fossils of people attempting to escape beside their children and dogs, along with the preserved ruins of the Temples of Apollo and Jupiter, and the Forum. Spectacular panoramic views and the sapphire blue waters of the Gulf of Naples welcome you to Sorrento. Tonight, a lovely dinner together highlights your arrival in Sorrento
Overnight: Sorrento
Meals: Breakfast, Dinner
DAY 12, Friday - Full Day in Sorrento
Spend the day at leisure in picturesque Sorrento, strikingly beautiful with its seaside setting and soaring cliffs plunging into the sea. As you stroll along the coastal road and through the charming town, you will understand why this town has long been loved by poets and artists. Don't miss the optional full day tour to the enchanting and picturesque Isle of Capri by boat - it will be a highlight! Here, you'll walk through the narrow lanes of Anacapri, with its chic boutiques and shops offering tastings of the island's famous limoncello. Then continue on to La Piazzetta, where everyone gathers to socialize, and to the Gardens of Augustus a natural paradise from where you can see splendid views of the sea and the famous Faraglioni rock formations, one of the island's natural wonders. After a lovely day in Capri, return to Sorrento. Tonight savor dinner together
Optional: Full Day Capri
Overnight: Sorrento
Meals: Breakfast, Dinner
DAY 13, Saturday - The Gorgeous Amalfi Drive
The rugged Amalfi Coast, with its dramatic landscapes and amazing panoramas, is one of the most spectacular drives in the world. Along the road, famous for its narrow curves and hairpin bends, you'll see enchanting villages, cliffs terraced with lemon groves, whitewashed villas and sparkling turquoise seas. Drive by Positano and stop in Amalfi, named a UNESCO World Heritage Site, to spend time at leisure in town. Return to your hotel in the late afternoon
Overnight: Sorrento
Meals: Breakfast
DAY 14, Sunday - Depart Italy
Transfer to the airport in Naples for your departure flight
Meals: Breakfast
Please Note: Land Price does not include airfare, departure or arrival transfers, airline taxes and fuel surcharges.
Please Note: Land Price does not include airfare, departure or arrival transfers, airline taxes and fuel surcharges.
Escorted Package Includes

Flights New York-Milan, Naples-New York
Other departure cities available.
Airline taxes & fuel surcharges
12 nights First Class accommodations
2 nights Lake Region
2 nights Venice
2 nights Florence
3 nights Rome
3 nights Sorrento Coast or Naples
Italian city hotel taxes, fees & service charges
Hotel porterage
All transfers included only with airfare purchase on package arrival & departure dates†
19 meals: 12 breakfasts, 7 dinners with wine
Sightseeing per itinerary in modern, air-conditioned motor coach
Services of English-speaking tour manager throughout
Services of local guides in all major cities
Entrance fees per itinerary
Comfortable wireless earphones for enhanced touring
Special Features
Discover the Lake Region with a scenic cruise
Stop in the town of Verona, a UNESCO World Heritage Site
Walking tour of Venice including St. Mark's Square, with its extraordinary treasures and architectural wonders
Visit a local farm in the Tuscan countryside for wine tasting and local specialties
See Pisa's Piazza dei Miracoli with its famous Leaning Tower
Explore the Renaissance city of Florence with a guided walking tour
Visit the 13th century Basilica di San Francesco in Assisi
Tour of the Vatican Museums and Michelangelo's incomparable Sistine Chapel
Historic tour of Ancient Rome including the Roman Forum and the Colosseum or Palatine Hill
Travel past the Bay of Naples and Mt. Vesuvius to visit Pompeii, the city frozen in time
Experience the alluring Amalfi Coast, adorned with whitewashed villas, cliffs terraced with lemon groves, and sparkling turquoise waters
†Transfers are available for purchase for land only or on alternative flight dates
Not Included:
Optional tours and gratuities.

Additional Information:
Land only price does not include arrival/departure transfers.
Milan Linate Airport to Como or Baveno transfer available at an additional cost.
Your tour will begin with an orientation meeting with your Tour Manager at approximately 6 PM. We recommend you to select flights that arrive no later than 4 PM.

Accommodation Details:
Some departures may stay at the Grand Hotel Dino in Baveno or Grand Hotel Bristol in Stresa instead of the Hotel Simplon in Baveno, Amadeus Hotel in Venice instead of the Grand Hotel Principe, the Rivoli Boutique Hotel in Florence instead of the Grand Hotel Adriatico, and the Cristina Hotel in Sorrento instead of the Hotel Central. In case Grand Hotel Adriatico in Florence is unable to accommodate triple rooms, two rooms will be confirmed based on hotel's availability.
Health and Safety Protocols for Gate1 Tours
At Gate 1 we take your safety and security very seriously. We have a strong network of tour managers, local offices, ground operators and colleagues which help us stay informed in all the destinations that we operate. We closely monitor local situations which enable us to make the operational decisions necessary to keep our tours running safely. Millions of people travel the world each year and experience enjoyable and safe trips but crimes against people and property are sadly a fact of life. It is very important to be aware of your surroundings and avoid drawing attention to yourself. Please remember that you have the same responsibility for your personal safety and possessions as you do at home. It is essential to prepare for a safe and healthy travel abroad. Therefore before you travel, we strongly recommend that you visit the website of the US Department of State at https://travel.state.gov/content/travel.html for up-to-date travel advice on the countries that you are visiting. The website provides useful information on subjects such as safety and security information, health precautions and medications, health insurance and additional tips for traveling abroad. If you do not reside in the United States, we recommend you check your government's travel advisory website for any country you will be visiting. We recommend that you review the safety guidance that may be provided by us, our agents or suppliers, either before you go or when you arrive in your destination. You can also find helpful tips on our website in the "Trip Preparation" tab of each of our tour packages. We do know that in-spite of careful planning, things can sometimes still go wrong, so rest assured, we will be there to help and support you.
Hotel Metropole Suisse
This first class hotel is located in the center of town, on the waterfront piazza.
NH Venezia Santa Lucia
This first class hotel is ideally located on the Grand Canal of Venice, in the city's Cannaregio district.
Grand Hotel Adriatico
This modern and elegant first class hotel is located in the historical centre of Florence near to the most important monuments of Florence.
Hotel Mediterraneo
This first class hotel is located in the historic center of Rome atop the Esquilino, the highest of Rome's seven hills.
Grand Hotel Vesuvio
This first class hotel overlooks the Bay of Naples.
Question: How many suitcases can I take with me on my trip?
Each person is allowed one "check-in," and one "carry-on." Remember to take all valuables with you as "carry-on", because electronic equipment, cameras, laptops, jewelry, business documents and money are not covered by the airlines' liability, so always carry them aboard with you.
Question: Is Airfare Included in the Price?
Airfare from your point of origin to and from the trip is not included in the land price.
Guide was great. Group was rather large (40 people) Rooms in Venice were WAY WAY UNCOMFORTABLY SMALL. Great experience on a great trip with a brand new tour bus!
This was an outstanding trip. It was well organized and we had a great tour guide who was very knowledgeable, friendly and accommodating to our needs. We would recommend this trip to others without hesitation.
Gate 1 is the best for the price!
AffordableTours.com® does not itself offer, service or administer the Travel Packages, and the ultimate terms and conditions of any Travel Package made available via the Site Offerings (including the prices quoted in connection with same) will be determined by the applicable Third-Party Travel Service Provider. AffordableTours.com® does not represent or warrant that the Price Quotes are accurate, up-to-date or free of error, or that same will be honored by the applicable Third-Party Travel Service Providers. All Price Quotes, Travel Package availability, Travel Package details/itinerary and other Content are subject to change without notice. All travel details published by and through the Site Offerings should be confirmed directly with the applicable Third-Party Travel Service Provider prior to making any travel plans. Reliance on any information made available to you by and through the Site Offerings is solely at your own risk.
How It Works
Vacationing has never been easier or cheaper with the help of a dedicated travel consultant from AffordableTours.com
1. Free Quote
Find your perfect trip on our website and simply request a free quote. Need to speak to a live person? Call us 7 days a week at 1-800-935-2620. No robots here!
2. Dedicated Travel Consultant
Your personal travel consultant will reach out and be your point of contact for your entire travel experience from start to finish. Did we mention you'll be working with an award winning team? Sweet!
3. Lowest Price Guaranteed
Because we're one of the largest sellers of travel, we're able to give you a discount on your vacation package. No one beats our prices!
4. Stress Free Travel
Knowing you got the best deal, all that's left is for you to pack your bags and enjoy your vacation!