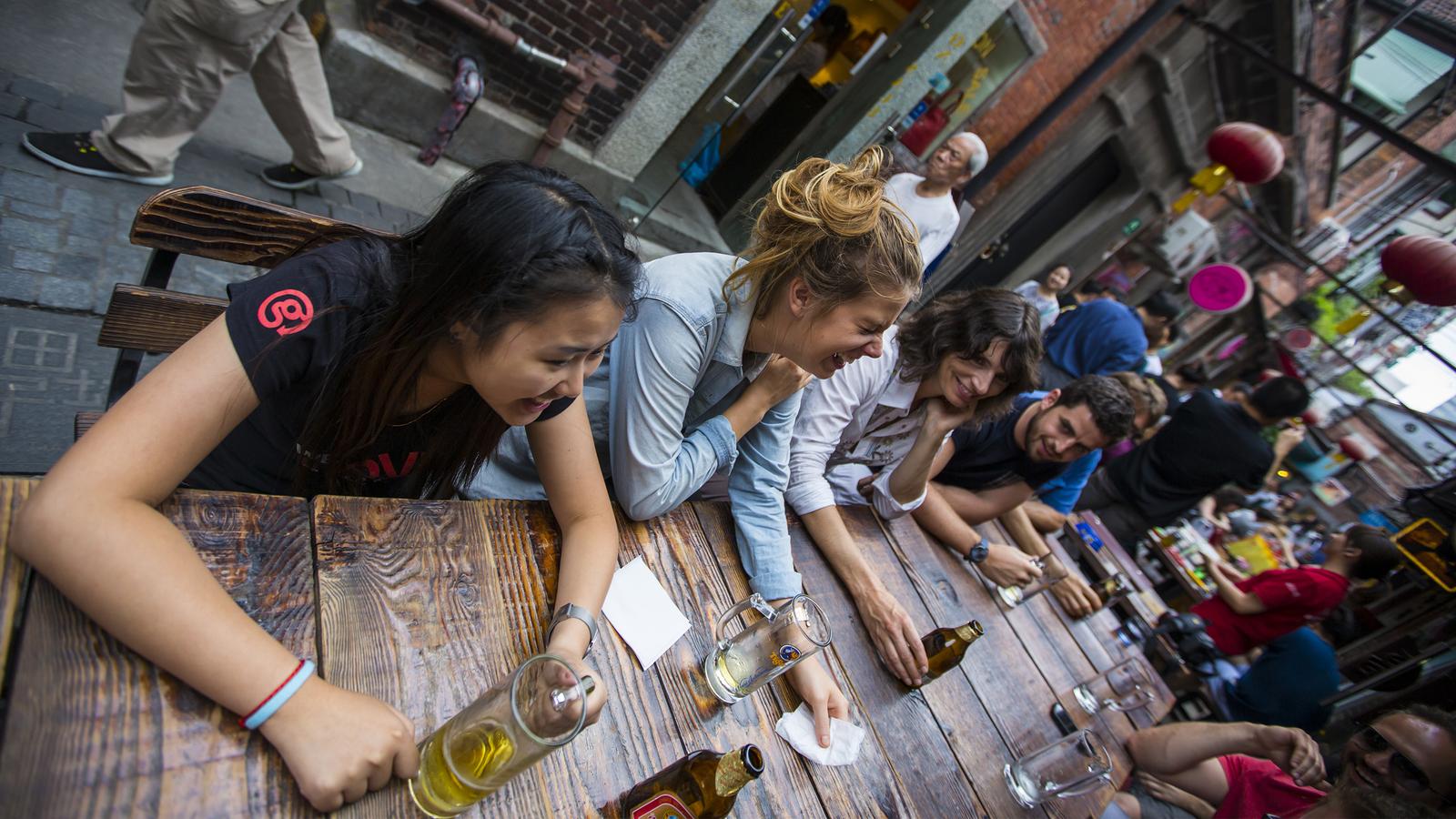 Shanghai to Hong Kong: Bustling Cities & Bamboo Rafts
Why Pay Retail?
Call us for a quick quote!
Dates & Prices
Start Date
End Date
Offers
Brochure
Land Price
Our Price
Quote
Saturday,
Feb 26, 2022
Sunday,
Mar 06, 2022
Call Us

$999

Get Lower Price
Get Quote
Saturday,
Apr 30, 2022
Sunday,
May 08, 2022
Call Us

$1,099

Get Lower Price
Get Quote
Saturday,
May 28, 2022
Sunday,
Jun 05, 2022
Call Us

$1,049

Get Lower Price
Get Quote
Saturday,
Jun 25, 2022
Sunday,
Jul 03, 2022
Call Us

$1,049

Get Lower Price
Get Quote
Saturday,
Jul 23, 2022
Sunday,
Jul 31, 2022
Call Us

$1,049

Get Lower Price
Get Quote
Saturday,
Aug 20, 2022
Sunday,
Aug 28, 2022
Call Us

$1,049

Get Lower Price
Get Quote
Saturday,
Sep 17, 2022
Sunday,
Sep 25, 2022
Call Us

$1,049

Get Lower Price
Get Quote
Saturday,
Oct 22, 2022
Sunday,
Oct 30, 2022
Call Us

$999

Get Lower Price
Get Quote
Saturday,
Nov 19, 2022
Sunday,
Nov 27, 2022
Call Us

$999

Get Lower Price
Get Quote
Saturday,
Dec 31, 2022
Sunday,
Jan 08, 2023
Call Us

$999

Get Lower Price
Get Quote
Call or submit a quote to get our Low Prices!
Book With Flexibility
Peace of Mind
Book by December 31, 2021 for travel through December 31, 2022, and you may change or rebook up to 14 days before your trip.
Change Destination / Vacation
Change to a different destination or vacation.
Change Dates
Choose new departure dates if your plans change.
Great Service
Award-winning service, low prices, client satisfaction
Tour Itinerary
Soak up traditional Chinese culture with an overnight tulou stay, explore China's cities with like-minded travellers, photograph the purple-brown rock and rich vegetation of Wuyishan, let loose in a university town
Day 1

Shanghai

Arrive at any time and welcome to the coastal metropolis of Shanghai, China's largest city. After getting to know your fellow travellers over dinner, venture with your CEO to the famous Bund - a bustling promenade along the Huangpu River. This neon architectural haven provides the perfect backdrop for your first night out with new friends. Choose from the many bars, restaurants, shops, and settle in with a Shanghai cocktail or tea to cheers to new adventures!
Activity: Your opportunity to meet your CEO and fellow travellers, and learn more about your tour. Opt to join the group for a local meal afterwards. Don't forget to see the notice in the lobby (or ask reception) for the official time and place to meet up with the group.
Activity: Connect with new friends on your first night out in a new destination. Only available on 18-to-Thirtysomethings tours.
Accommodation: Phoenix Hostel (or similar)


Day 2

Shanghai/Wuyishan

Spend the morning and early afternoon getting to know more of Shanghai. Visit the Bund for a daytime perspective of the many historical buildings and city view. Wander through picturesque Old Town or visit the lush scenery of People's Park. Later, board a bullet train to Wuyishan in the Fujian providence.
Free Time: Get out and explore Shanghai.
Transport: Get to your next destination faster than the speed of light (ok maybe not that fast) aboard a high-speed train.
Transport: Get around underground via public transit.
Accommodation: Yilan Hotel (or similar)


Day 3

Wuyishan

Wake up and take in the breathtaking serenity of the UNESCO Wuyishan Biosphere Reserve. Hike up towering peaks into the clouds for an encompassing valley view through the fog and mist, then climb down into the valley for an incredible view upward. After, opt for a bamboo raft ride down the Nine Bend Stream.
Activity: Visit beautiful Wuyishan Reserve, a UNESCO Biosphere Reserve, and hit the trails. You'll find breathtaking lookouts, stone peaks, tea fields, interesting rock formations, and a winding river down below.
Transport: Get around underground via public transit.
Activity: Head out on a hike of the Wuyishan Nature Reserve. Take 1000 steps up into the clouds to Tiyanou Peak for some incredible valley views through the fog and mist. Hike into the deep valley to the One-Line-Sky scenic area which is known for its view of the sky looking straight up from the valley. All around you are jagged mountain peaks that blend together like a forest of trees. Last stop will be to Tiger Hissing Peak which is a mountain in the formation of a tiger and when the wind whistles through the trees around the sound it makes resemble tigers hissing.
Accommodation: Yilan Hotel (or similar)


Day 4

Wuyishan/Xiamen

Catch a bullet train to the coastal colonial city of Xiamen. Embark on an orientation walk through the modern architecture, then opt to take a ferry to Gulangyu Island, a pedestrian-only UNESCO World Heritage Site. Climb Sunlight Rock for a 360-degree view or relax in Shuzhuang Garden.
Transport: Get to your next destination faster than the speed of light (ok maybe not that fast) aboard a high-speed train.
Transport: Get around underground via public transit.
Activity: Enjoy a brief walk with your CEO. He/she will give you some tips on finding things like supermarkets, main squares, and ATMs. For more specific or in-depth information, an official guided tour is recommended.


Day 5

Xiamen/Hongkeng Village

Jump on a local bus — always an adventure in itself — and enjoy the ride to Hongkeng Village, a UNESCO World Heritage Site in Yongding County. Take in the mountainous views and stroll down to Hongchuan Creek. Spend the night in an authentic Hakka tulou, a massive, multi-story fortified roundhouse built for communal living. This will definitely be an experience you'll never forget.
Transport: Climb aboard, grab a seat, and enjoy the ride.
Free Time: Get out and explore!
Activity: Spend two nights in an authentic Hakka tulou for a once-in-a-lifetime cultural immersion experience. These rural Chinese dwellings, also known as earthen houses, are circular or rectangular fortified structures up to five stories high with an open-air centre. Settle in and make yourself at home.
Accommodation: Yuchenglou Guesthouse (or similar)


Day 6

Hongkeng Village

Discover Hongkeng on a village walk, then experience rural day-to-day life by immersing yourself in the community. Learn of this unique regions history and traditional Chinese culture by mingling with the Hakka people.
Activity: Experience the Hakka culture and their way of life. Alongside your CEO, learn more about Hongkeng village and its people who have lived here for hundreds of years.
Accommodation: Yuchenglou Guesthouse (or similar)


Day 7

Hongkeng Village/Xiamen

Say farewell to the beautiful Hongkeng Village, catch the bus back to Xiamen, and get ready for your big night out. Venture to Zhongshan Road, indulge in local delicacies, and immerse yourself in the lively nightlife. Grab a drink on our tab and cheers to the life-changing adventures you've just shared with newfound friends!
Transport: Climb aboard, grab a seat, and enjoy the ride.
Transport: Get around underground via public transit.
Activity: Follow your CEO to the best spots for street food and local delicacies on the pedestrian-only Zhongshan Road. Pick the best looking place and enjoy a drink on us to celebrate new adventures with new friends!


Day 8

Xiamen/Hong Kong

Hop on a bullet train and cross the border into famous Hong Kong. Spend the evening exploring this bustling and towering metropolis on the sea. Stroll along Pearl River and capture the neon city at night.
Transport: Get to your next destination faster than the speed of light (ok maybe not that fast) aboard a high-speed train.
Activity: Ready for a little more ink in your passport? Grab your bags and get ready to check another country off your bucket list.
Transport: Get around underground via public transit.
Accommodation: Harbour Plaza North Point (or similar)


Day 9

Hong Kong

Today is departure day, but don't fret! There is no such thing as goodbye, only until next time. Share last laughs and exchange social medias with your newfound friends before heading on your way. Depart at any time.
Activity: Not ready to leave? Your CEO can help with travel arrangements to extend your adventure.

Meals:
No meals included
Transportation:
Train, local bus, walking.
Inclusions
Your Welcome Moment: Meet Your CEO and Group Your First Night Out Moment: Connect With New Friends Your Local Living Moment: Hakka Tulou, Hongkeng Village Your Big Night Out Moment: Zhongshan Road, Xiamen. Wuyishan entrance ticket, including hiking. Orientation walks in Shanghai and Xiamen. Tour of a traditional tulou. All transport between destinations and to/from included activities.
Health and Safety Protocols for G Adventures Tours
Travel with Confidence
Your safety, as well as the safety of employees and partners, has always been G Adventures top priority, which is why new physical distancing and cleaning measures have been put in place on all of the tours. New Travel with Confidence policy features new health and safety procedures from the moment you arrive to the moment you leave, without taking away from having the time of your life. The policy will evolve as time goes on and as G Adventures continues to monitor local public health recommendations, but what won't change is the commitment to keeping you safe as you explore big, beautiful world.
Before you join us
Global Connection Officers
GCOs (the people who answer when you call us) are available 24/7 to help with any questions you have prior to your trip, so you can feel confident and safe before leaving. No matter what time of day, they're there to respond to you — even at 3AM. They'll be up to date on local regulations and restrictions and can guide you through your travel process as smoothly as possible. And if you don't feel well before travelling, there's the Book with Confidence policy that helps you reschedule your trip for when you do, which they can help you with too (terms & conditions apply). If you book flights with us and there are any changes, rest assured that the team will support you by making new arrangements on your behalf.
Smaller groups
Groups have always been small. This offers security, access, camaraderie, and a connection with your destination you won't get by travelling on bus tours or on your own. The average group size is 12, ensuring travellers can engage with each other without being squeezed together like sardines — and that was before physical distancing became a reality. Plus, if you have 8 or more friends you'd like to adventure with, you can reserve the entire trip!
My own room
If you're joining one of the small group tours on your own, good on ya! If you are a solo traveller sharing a room with someone, G Adventures will do their best to ensure they will be your roommate for the entire journey to support distancing efforts. G Adventures has 'My Own Rooms' available as an extra option for tours (pending availability), and they'll be offering more of these at more affordable prices to make it even easier to have a bit more space.
When you arrive
Chief Experience Officers
CEOs are responsible for ensuring you have the time of your life while keeping you as safe as possible. Here's how they're ready to do that:
They're trained in First Aid, CPR, and other safety protocols
They're supported 24/7 by the field staff in offices around the world who are well-equipped to handle emergencies
They can help you find local clinics if you're feeling sick
They'll receive new training to ensure they are up to date on all health and safety policies during these evolving times
They have extensive local knowledge to proactively help you navigate wherever you're travelling
Their local knowledge allows for greater flexibility when it comes to knowing the best time to visit certain highlights to avoid crowds whenever possible and suggesting the restaurants with the strictest hygiene practices or those where you can reserve your own table or room in advance
They'll wear face masks when necessary based on local guidelines and recommendations
You & your fellow travellers
Travellers' safety and wellbeing is G Adventures biggest concern. If you're not feeling well before your departure, G Adventures has a Book with Confidence policy that provides you with flexibility and freedom to delay leaving until you're back to 100% healthy (terms & conditions apply). If you have a fever or any other symptoms on tour, you may be required to have a doctor clear you before rejoining us. All travellers are requested to bring face coverings, whether they're buffs, face masks or bandanas (extra style points encouraged). G Adventures makes every effort to have hand sanitizer available, but recommend bringing your own.
While on tour
Planes, trains, automobiles and more
Small private transport vehicles
Every surface in G Adventures well-kept fleet of private vehicles will get at least one daily deep cleaning
Each traveller will have a daily assigned seat
Hand-sanitizer will be required every time you board the vehicle
Facial coverings will be recommended while on-board
Boats
Every surface will get at least one daily deep cleaning
High-traffic areas will receive more frequent cleaning
Hand-sanitizer or hand washing will be required every time you board the boat, as well as before and after meals
To support physical distancing, meals may have assigned seating and there will be assigned slots for activities and rooming
Facial coverings will be recommended and welcomed on-board
Your crew is trained in health and safety measures (including food handling) and all cooking staff will follow up-to-date advice from health authorities
Local transportation
Use of local transportation will be limited wherever possible. Please reference the Trip Details for each individual tour for specifics
If local transportation is used, precautions will be followed in adherence to local health and safety regulations to keep travellers safe and sound.
Where you'll be staying safe
G Adventures has always carefully selected accommodation partners for high standards and local roots. Travelling in small groups means that the stay is in smaller hotels too, with fewer guests — which means less daily contact with others outside your group in public spaces. Now G Adventures is working with accommodation partners to optimize their health, safety and cleanliness procedures, as well as creating additional measures for physical distancing. Here are some of the things G Adventures is working on to help keep you safe:
Daily deep cleaning and disinfecting of all surface areas inside your room with extra cleaning on light switches, door handles, TV remotes, and thermostats
No hotel staff will enter your room after it has been cleaned
Increased frequency of cleaning and disinfecting of all public restrooms and all surfaces in public areas. This might include the closure of public spaces such as gyms, bars, restaurants, and meeting rooms for periods throughout the day
Wherever possible, groups will stay on the lower floors to limit elevator use
Hotels will implement social distancing protocols in line with local regulations
This is just the beginning of commitments to keeping you sleeping safe and sound. G Adventures will continue to evolve and roll-out these and additional policies as needed.
A good & safe place to eat
G Adventures has always carefully selected food service partners and worked closely with them to ensure they are meeting health, safety, and cleanliness standards with their facilities, staff training, and food preparation and delivery. Wherever possible, G Adventures will reserve separate tables or private rooms at the restaurants visited on the trip, opt for more "al fresco" opportunities when it is possible (gotta love that fresh air!), and ensure breakfasts can be "grab and go" boxes, while avoiding family style or self-serve buffets for meals. G Adventures wants you to feel comfortable and safe as you savour every last bite.
Activities
You've always had freedom and flexibility to do your own thing on tours with optional activities and experiences. Now, you'll still have those options with added measures to keep you healthy and safe. All equipment for activities on tour, including hiking poles, camping supplies, life jackets, snorkels, etc., will be cleaned thoroughly at least once a day and disinfected between use. When travellers are responsible for putting up their own tents on camping itineraries, you will be given the supplies required to disinfect your gear. G Adventures will also do their best to make activities and highlights stops happen during non-peak hours, so you can have fun and feel safe no matter what you're doing.
Before you leave
A healthy goodbye
If you're not feeling well at the end of your tour for any reason, let your CEO know and they can help get you access to medical care and support. Because we want you to head home after a life-changing experience feeling just as good (let's be honest, way better) than when you left.
Hotels (5 nts), Hostel (standard twin/single) (1 nt), guesthouse (standard twin/single) (2 nts).
Question: What are the optional activity on this trip and the tip for the tour guide.
Please keep in mind these are subject to change: Bamboo Rafting - Wuyishan 180CNY per person Board a traditional bamboo raft for and enjoy a ride through some the beautiful Wuyishan scenery. Gulangyu Island Visit 110CNY per person Ferry over to Gulangyu Island and explore this car-free island with lovely gardens, museums, and other attractions. Head up to Sunlight Rock for great views of the surrounding areas, visit a Buddhist temple, and take a cable car ride. Tipping: Recommendations for tipping drivers and local guides would range from 1 to 3 USD per person per day depending on the quality and length of the service; ask your CEO for specific recommendations based on the circumstances and culture. A suggestion would be for each group member to contribute anonymously by putting their tip into an envelope. This often works the best and the group as a whole should gather to present the gift to the recipient(s), offering their thanks and showing their appreciation. This method brings the action out into the open, allowing for a friendly and appreciative interaction between the group and the recipient(s). Also at the end of each trip if you felt your G Adventures CEO did an outstanding job tipping is appreciated. The amount is entirely a personal preference, however as a guideline $5 USD per person per day can be used.
Question: Bid for one person with shared room
Please request a free quote on our website for accurate, discounted pricing.
Question: Is airfare included
All of our prices are based on land only, double occupancy. However, we always have air specials available that we cannot publish. I would suggest you request a free quote for the date you interested in and one of our travel consultants will provide you with the lowest guaranteed prices!
Question: How many suitcases can I take with me on my trip?
Each person is allowed one "check-in," and one "carry-on." Remember to take all valuables with you as "carry-on", because electronic equipment, cameras, laptops, jewelry, business documents and money are not covered by the airlines' liability, so always carry them aboard with you.
Question: Is Airfare Included in the Price?
Airfare from your point of origin to and from the trip is not included in the land price.
This was my 8th tour with this operator and I have a 9th scheduled. Obviously I am happy with this operator.
It was a great tour and are guides were very knowledgeable.
A Gadventures tour is a great affordable way to see the country and get the opportunity to meet and interact with the local people
It was a dream vacation.Thank you.
The G-Adventures travel guides were excellent
All 100% perfect, nothing to be done better
The G Adventures tour was fantastic.
Very satisfied with tour, enjoyed it very much.
I liked the variety of activities and the chance to opt out without undue pressure. I met some really fun people on this tour.
Everyone connected with the tour went above and beyond. The tour was more than I ever dreamt!
Our CEO Solofo for this trip is fantastic. He is patient and very nice. He went extra ways to help me and other members. I really enjoy this trip because of him! He is an excellent CEO. I definitely will recommend to other friends about him. Pls let him know that we really enjoy his introduction. He is also very informative and knowledgeable. In a word, he is excellent!
Great trip at a reasonable price.
Awesome trip in a great country. Our CEO was professional and fun!!!
G adventures offers hands down some of the best tour packages out there!
The Japan vacation was better than I expected!!!! It was an active "moving" trip, which I truly enjoyed. I've done "coach tours" where you sit on the bus and they take you -- this experience was "hands on" riding the buses, trains and running through the streets -- it was amazing !!!!! We got the full feel of Japan and the people. This trip is not for the weak or slow pace crowd - you drag your luggage through the streets, up and down stairs --- it was truly exciting and exhilarating. G adventures has a fan for life. The instructions and assistance was outstanding -- Great job - Steve (AffordableTours.com) was outstanding !
AffordableTours.com® does not itself offer, service or administer the Travel Packages, and the ultimate terms and conditions of any Travel Package made available via the Site Offerings (including the prices quoted in connection with same) will be determined by the applicable Third-Party Travel Service Provider. AffordableTours.com® does not represent or warrant that the Price Quotes are accurate, up-to-date or free of error, or that same will be honored by the applicable Third-Party Travel Service Providers. All Price Quotes, Travel Package availability, Travel Package details/itinerary and other Content are subject to change without notice. All travel details published by and through the Site Offerings should be confirmed directly with the applicable Third-Party Travel Service Provider prior to making any travel plans. Reliance on any information made available to you by and through the Site Offerings is solely at your own risk.
How It Works
Vacationing has never been easier or cheaper with the help of a dedicated travel consultant from AffordableTours.com
1. Free Quote
Find your perfect trip on our website and simply request a free quote. Need to speak to a live person? Call us 7 days a week at 1-800-935-2620. No robots here!
2. Dedicated Travel Consultant
Your personal travel consultant will reach out and be your point of contact for your entire travel experience from start to finish. Did we mention you'll be working with an award winning team? Sweet!
3. Lowest Price Guaranteed
Because we're one of the largest sellers of travel, we're able to give you a discount on your vacation package. No one beats our prices!
4. Stress Free Travel
Knowing you got the best deal, all that's left is for you to pack your bags and enjoy your vacation!