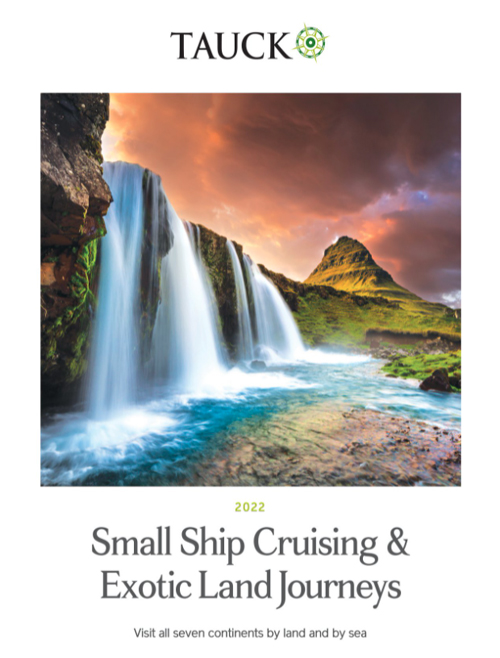 Call Us For Award-winning Value and Service on Tauck Vacations - Small Ship Cruising
NEW! Now Open for Sale! Tauck's Small Ship cruising introduces you to a more intimate cruise experience. Sail aboard a yacht with a small group and travel into hidden harbors were larger cruise ships can not venture. Enjoy the legendary Tauck professional service on cruises to Iceland, Antarctica, Galapagos and the Mediterranean.
Small Ship Cruising
Small ship cruises take travelers to destinations that big ships cannot visit due to size restrictions, such as to the exotic Galapagos Islands, small ports along the Mediterranean and Adriatic and island hopping in Greece to name a few. Small ships are able to maneuver in small coves and channels, and can dock at more intimate ports, making for a fascinating travel experience. Small ship cruising is also perfect for travelers who want to visit bigger destinations, but want more personalized, one on one service onboard. While small ships might not feature the same activities on board, they do offer a relaxed and intimate experience for cruisers.
Tour Itinerary
Days
Operator
Quality
Style
Starts
Ends
Price

Iceland

08

Days

Tauck

Deluxe

Small Ship Cruising
Reykjavik
Reykjavik
Iceland
$8,290View Tour

Book With Flexibility




Cruising the Galápagos Islands 2022

09

Days

Tauck

Deluxe

Small Ship Cruising
Guayaquil
Guayaquil
Ecuador
$7,690View Tour

Book With Flexibility




Venice & the Dalmatian Coast 2022

2 reviews
10

Days

Tauck

Deluxe

Small Ship Cruising
Venice
Venice
Croatia, Italy, Montenegro
$8,290View Tour

Book With Flexibility




Treasures of the Aegean 2022

1 reviews
10

Days

Tauck

Deluxe

Small Ship Cruising
Athens
Athens
Greece, Turkey
$8,990View Tour

Book With Flexibility




Norwegian Fjords & Coastal Treasures - Eastbound 2022

10

Days

Tauck

Deluxe

Small Ship Cruising
Bergen
Oslo
Norway, Sweden
$8,990View Tour

Book With Flexibility




Alaska's Inside Passage - Southbound 2022

10

Days

Tauck

Deluxe

Small Ship Cruising
Vancouver
Vancouver
Canada, United States
$7,290View Tour

Book With Flexibility




Alaska's Inside Passage - Northbound 2022

10

Days

Tauck

Deluxe

Small Ship Cruising
Vancouver
Juneau, AK
Canada, United States
$7,290View Tour

Book With Flexibility




Treasures of Spain and Portugal - Eastbound 2022

1 reviews
13

Days

Tauck

Deluxe

Small Ship Cruising
Lisbon
Barcelona
Portugal, Spain
$8,990View Tour

Book With Flexibility




Antarctica 2022

2 reviews
13

Days

Tauck

Deluxe

Small Ship Cruising
Buenos Aires
Buenos Aires
Argentina
$11,990View Tour

Book With Flexibility




Cruising the Land of the Rising Sun - Northbound 2022

14

Days

Tauck

Deluxe

Small Ship Cruising
Osaka
Tokyo
Japan
$13,890View Tour

Book With Flexibility




Peru and the Galápagos Islands 2022

15

Days

Tauck

Deluxe

Small Ship Cruising
Lima
Guayaquil
Ecuador, Peru
$11,590View Tour

Book With Flexibility




Hidden Galápagos & Peru 2022

16

Days

Tauck

Deluxe

Small Ship Cruising
Lima
Guayaquil
Ecuador, Peru
$15,690View Tour

Book With Flexibility