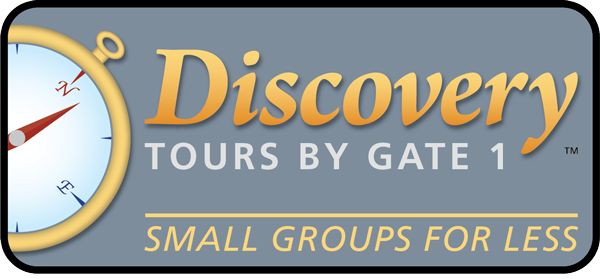 Refer A Friend & Earn Travel Credits
Promotion Details
As a past customer, when you refer a friend you both benefit. Not only will your friend receive $50 off their first escorted tour or river cruise booking, but when you book your next new escorted tour or river cruise you will also receive $50 off. To be eligible for this incentive the referring customer must have previously traveled with Discovery By Gate1, and the passenger receiving the referral must be a new customer.
Must Book By Sun, Dec 31, 2023
View Promotion Terms & Conditions ›
Must be a past customer who has completed travel, with Gate 1 Travel or Discovery Tours to refer a friend. Only valid on escorted tours and river cruises. Only one person per room may earn a credit. The new traveling passenger must be booking their first reservation with Gate 1 Travel or Discovery Tours. The referrer's next trip must be booked within 24 months of earning the credit. Not valid on independent vacations, voucher bookings or Group reservations. Only new passengers can request referral credits at the time of booking, so be sure to give your friends your Discovery By Gate1 Travel account number.
Hurry. Call 1-800-935-2620 today and mention promo code
PT5431
Tour Itinerary
Days
Operator
Quality
Style
Starts
Ends
Price

13 Day France & Spain: History, Culture & Wine - Tuesday Departure

13

Days

Discovery By Gate1

First Class

Escorted
22
Barcelona
Madrid
France, Spain
$3,899View Tour

Best Price Guaranteed

Book With Flexibility

14 Day Dalmatian Isles, Croatia & Slovenia - Tuesday Departure

30 reviews
14

Days

Discovery By Gate1

First Class

Escorted
1 - Light

22
Dubrovnik
Venice
Croatia, Italy, Slovenia
$3,649View Tour

Best Price Guaranteed

Book With Flexibility

14 Day Turkish Odyssey - Thursday Departure

4 reviews
14

Days

Discovery By Gate1

First Class

Escorted
2 - Classic

22
Istanbul
Istanbul
Turkey
$3,469View Tour

Best Price Guaranteed

Book With Flexibility

12 Day Swiss Alpine Jewels - Monday Departure

12

Days

Discovery By Gate1

First Class

Escorted
2 - Classic

8+ years old
22
Geneva
Zurich
Switzerland
$4,499View Tour

Best Price Guaranteed

Book With Flexibility

12 Day Japan, Then & Now - Tuesday Departure

4 reviews
12

Days

Discovery By Gate1

First Class

Escorted
Tokyo
Kyoto
Japan
$4,549View Tour

Best Price Guaranteed

Book With Flexibility

12 Day Israel, Ancient & Modern Culture - Thursday Departure

12

Days

Discovery By Gate1

First Class

Escorted
Tel Aviv
Jerusalem
Israel
$3,619View Tour

Best Price Guaranteed

Book With Flexibility

10 Day Uganda Wildlife Exploration

10

Days

Discovery By Gate1

First Class

Escorted
2 - Classic

22
Entebbe
Entebbe
Uganda
$6,199View Tour

Best Price Guaranteed

Book With Flexibility

14 Day Treasures of Sri Lanka - Monday Departure

14

Days

Discovery By Gate1

First Class

Escorted
22
Colombo
Colombo
Sri Lanka
$2,689View Tour

Best Price Guaranteed

Book With Flexibility

14 Day Peruvian Legends - Sunday Departure

10 reviews
14

Days

Discovery By Gate1

First Class

Escorted
2 - Classic

20
Lima
Lima
Peru
$3,719View Tour

Best Price Guaranteed

Book With Flexibility




15 Day Moroccan Allure - Saturday Departure

75 reviews
15

Days

Discovery By Gate1

First Class

Escorted
2 - Classic

22
Casablanca
Casablanca
Morocco
$2,499View Tour

Best Price Guaranteed

Book With Flexibility

15 Day Moroccan Allure - Saturday Departure

75 reviews
15

Days

Discovery By Gate1

First Class

Escorted
1 - Light

22
Casablanca
Casablanca
Morocco
$2,429View Tour

Best Price Guaranteed

Book With Flexibility

12 Day Swiss Alpine Jewels - Wednesday Departure

12

Days

Discovery By Gate1

First Class

Escorted
2 - Classic

22
Geneva
Zurich
Switzerland
$4,599View Tour

Best Price Guaranteed

Book With Flexibility

14 Day Japan with Hiroshima - Friday Departure

14

Days

Discovery By Gate1

First Class

Escorted
22
Tokyo
Hiroshima
Japan
$6,049View Tour

Best Price Guaranteed

Book With Flexibility

13 Day Galapagos, Ecuador, Andes & Amazon

6 reviews
13

Days

Discovery By Gate1

First Class

Escorted
2 - Classic

22
Guayaquil
Quito
Ecuador, Galapagos
$4,449View Tour

Best Price Guaranteed

Book With Flexibility




14 Day Wonders of New Zealand - Wednesday Departure

2 reviews
14

Days

Discovery By Gate1

First Class

Escorted
Auckland
Te Anau
New Zealand
$4,999View Tour

Best Price Guaranteed

Book With Flexibility

14 Day Japan with Hiroshima - Wednesday Departure

14

Days

Discovery By Gate1

First Class

Escorted
22
Tokyo
Hiroshima
Japan
$5,369View Tour

Best Price Guaranteed

Book With Flexibility

12 Day Life & Culture of South Korea - Monday Departure

12

Days

Discovery By Gate1

First Class

Escorted
Seoul
Seoul
South Korea
$4,349View Tour

Best Price Guaranteed

Book With Flexibility

12 Day Explore Oman & Dubai

1 reviews
12

Days

Discovery By Gate1

First Class

Escorted
2 - Classic

22
Muscat
Dubai
Oman, United Arab Emirates
$3,189View Tour

Best Price Guaranteed

Book With Flexibility

14 Day Discover Sicily & Malta - Thursday Departure

14

Days

Discovery By Gate1

First Class

Escorted
2 - Classic

8+ years old
22
Palermo
Luqa
Italy, Malta
$4,999View Tour

Best Price Guaranteed

Book With Flexibility

14 Day Turkish Odyssey - Monday Departure

4 reviews
14

Days

Discovery By Gate1

First Class

Escorted
1 - Light

22
Istanbul
Istanbul
Turkey
$3,529View Tour

Best Price Guaranteed

Book With Flexibility