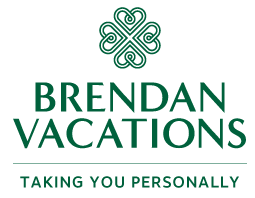 Guided Vacation Sale, 10% Off
Promotion Details
Celtic doors are open and 100 thousand welcomes are waiting for you in Ireland and Scotland this summer. To make getting back to travel even easier, we're giving you 10% off all guided vacations departing in September. Also, receive our AffordableTours.com 10% extra savings.
Must Book By Thu, Jul 28, 2022
View Promotion Terms & Conditions ›
Save 10% per person on the land portion of Brendan Vacations Ireland and Scotland guided vacations departing in September 2022. Valid for new bookings only made between May 12, 2022 and July 28, 2022. Full payment is required by July 28, 2022, or by the full payment date as indicated in the standard booking conditions, whichever comes first. If guests change to another trip or date that is not on sale, they are responsible to pay the difference and adhere to different payment conditions. Savings are subject to availability and may be withdrawn at any time without notice. May be combined with 5% Past Guest discount only, not combinable with any other discount or promotion. Other conditions may apply.
Hurry. Call 1-800-935-2620 today and mention promo code
PT8956
Tour Itinerary
Days
Operator
Quality
Style
Starts
Ends
Price

Best of Scotland Summer 2022

16 reviews
07

Days

Brendan

First Class

Escorted
Edinburgh
Glasgow
England, Scotland
$1,950View Tour

Best Price Guaranteed

Book With Flexibility

Treasures of Ireland End Dublin Summer 2022

2 reviews
06

Days

Brendan

First Class

Escorted
Dublin
Dublin
Ireland
$1,552View Tour

Best Price Guaranteed

Book With Flexibility

Highlights of Ireland and Scotland Summer 2022

11

Days

Brendan

First Class

Escorted
2 - Classic

5+ years old
50
Dublin
Edinburgh
England, Ireland, North Ireland, Scotland
$3,325View Tour

Best Price Guaranteed

Book With Flexibility

Scotland's Highlands Islands and Cities Summer 2022

13

Days

Brendan

First Class

Escorted
Edinburgh
Glasgow
England, Scotland
$3,867View Tour

Best Price Guaranteed

Book With Flexibility

Best of Ireland Summer 2022

12 reviews
10

Days

Brendan

First Class

Escorted
Dublin
Dublin
Ireland
$2,574View Tour

Best Price Guaranteed

Book With Flexibility

Best of Ireland and Scotland Summer 2022

16 reviews
15

Days

Brendan

First Class

Escorted
Dublin
Edinburgh
England, Ireland, North Ireland, Scotland
$4,185View Tour

Best Price Guaranteed

Book With Flexibility

Iconic Ireland and Ashford Castle Summer 2022

10

Days

Brendan

First Class

Escorted
Dublin
Dublin
Ireland
$3,195View Tour

Best Price Guaranteed

Book With Flexibility

Irish Highlights Summer 2022

32 reviews
07

Days

Brendan

First Class

Escorted
Dublin
Dublin
Ireland
$1,777View Tour

Best Price Guaranteed

Book With Flexibility

Enchanting Emerald Isle Summer 2022

10 reviews
08

Days

Brendan

First Class

Escorted
Dublin
Dublin
Ireland
$2,115View Tour

Best Price Guaranteed

Book With Flexibility

Irish Experience Summer 22

24 reviews
11

Days

Brendan

First Class

Escorted
Dublin
Dublin
England, Ireland, North Ireland
$2,812View Tour

Best Price Guaranteed

Book With Flexibility

Amazing Ireland Summer 2022

4 reviews
14

Days

Brendan

First Class

Escorted
Dublin
Dublin
England, Ireland, North Ireland
$3,415View Tour

Best Price Guaranteed

Book With Flexibility

Britain and Ireland Highlights Summer 2022

4 reviews
10

Days

Brendan

First Class

Escorted
London
London
England, Ireland, North Ireland, Scotland, Wales
$2,497View Tour

Best Price Guaranteed

Book With Flexibility

Treasures of Ireland End Shannon Summer 2022

06

Days

Brendan

First Class

Escorted
Dublin
Shannon
Ireland
$1,552View Tour

Best Price Guaranteed

Book With Flexibility

Castles and Manors Summer 2022

2 reviews
08

Days

Brendan

First Class

Escorted
Dublin
Dublin
Ireland
$3,145View Tour

Best Price Guaranteed

Book With Flexibility

Wonders of Britain and Ireland Summer 2022

15

Days

Brendan

First Class

Escorted
London
London
England, Ireland, Scotland, Wales
$3,685View Tour

Best Price Guaranteed

Book With Flexibility

Britain and Ireland Panorama Summer 2022

19

Days

Brendan

First Class

Escorted
London
London
England, Ireland, Scotland, Wales
$4,455View Tour

Best Price Guaranteed

Book With Flexibility

Ireland's Legendary North Summer 2022

07

Days

Brendan

First Class

Escorted
1 - Light

5+ years old
50
Dublin
Dublin
England, Ireland, North Ireland
$2,002View Tour

Best Price Guaranteed

Book With Flexibility

Highland Trail inspired by Outlander Summer 2022

2 reviews
13

Days

Brendan

First Class

Escorted
Edinburgh
Glasgow
England, Scotland
$3,735View Tour

Best Price Guaranteed

Book With Flexibility

Britain and Ireland Grandeur Summer 2022

3 reviews
23

Days

Brendan

First Class

Escorted
London
London
England, Ireland, North Ireland, Scotland, Wales
$4,815View Tour

Best Price Guaranteed

Book With Flexibility