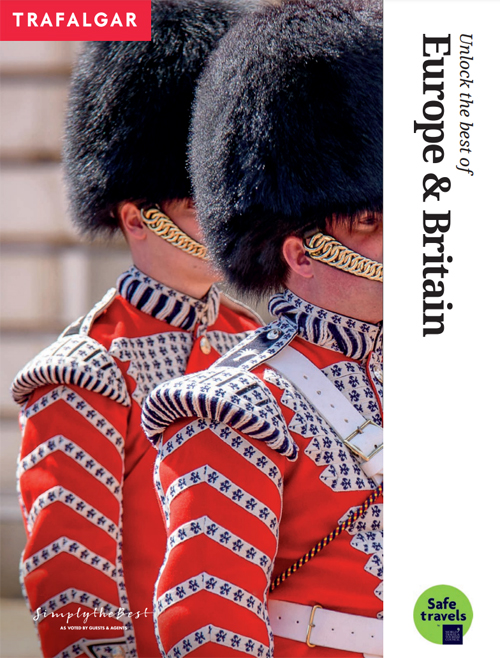 Guaranteed Low Prices on Trafalgar Vacations - Europe and Britain
NEW! 2022 Now Open for Sale! Europe is a sheer smorgasbord for the senses, brimming with spices, sounds and aromas, which Trafalgar brings to life. They transform the essence of any destination into bite-sized experiences. Explore this diversity in depth with Trafalgar. Sample the secret contrasts and quirks of each destination together.
Escorted Tour
AffordableTours.com offers escorted tours to all of your favorite countries around the world. Escorted tours normally include hotel stays, transportation, most meals, sightseeing and cultural activities. They are led by a tour director who will be with your group from the beginning to end of the tour and they handle all of the logistics, check ins, attraction tickets and local guides that are included on your trip. People that enjoy escorted tours are travelers who don't have time or the knowhow to plan an all-encompassing, multiday overseas trip, people who travel in luxury or like to save money, and people who like to see the must-see sites while also experiencing the local culture. Escorted tours range in group size, pace, and age, so there is an escorted tour for every type of traveler. From solo travelers to groups of friends, to multi-generational families and adventure seekers, we have the escorted tour for you!
Tour Itinerary
Days
Operator
Quality
Style
Starts
Ends
Price

Treasures of Ireland End Shannon 2023

2 reviews
06

Days

Trafalgar

First Class

Escorted
2 - Classic

Blarney
Shannon
Ireland
$1,705View Tour

Best Price Guaranteed

Book With Flexibility

Treasures of Ireland End Shannon 2022

2 reviews
06

Days

Trafalgar

First Class

Escorted
Dublin
Shannon
Ireland
$1,552View Tour

Best Price Guaranteed

Book With Flexibility

Treasures of Ireland End Dublin 2023

16 reviews
06

Days

Trafalgar

First Class

Escorted
2 - Classic

Dublin
Dublin
Ireland
$1,705View Tour

Best Price Guaranteed

Book With Flexibility

Treasures of Ireland End Dublin 2022

16 reviews
06

Days

Trafalgar

First Class

Escorted
Dublin
Dublin
Ireland
$1,552View Tour

Best Price Guaranteed

Book With Flexibility

Jordan Experience 2023/2024

06

Days

Trafalgar

First Class

Escorted
1 - Light

Amman
Amman
Jordan
$1,850View Tour

Best Price Guaranteed

Book With Flexibility

Jordan Experience 2023/2024

06

Days

Trafalgar

First Class

Escorted
1 - Light

Amman
Amman
Jordan
$1,725View Tour

Best Price Guaranteed

Book With Flexibility

Jordan Experience 2023/2024

06

Days

Trafalgar

First Class

Escorted
1 - Light

Amman
Amman
Jordan
$1,676View Tour

Best Price Guaranteed

Book With Flexibility

Jordan Experience 2023/2024

06

Days

Trafalgar

First Class

Escorted
1 - Light

Amman
Amman
Jordan
$1,675View Tour

Best Price Guaranteed

Book With Flexibility

Jordan Experience (Women Only) 2022

06

Days

Trafalgar

First Class

Escorted
1 - Light

5+ years old
50
Amman
Amman
Jordan
$1,725View Tour

Best Price Guaranteed

Book With Flexibility

Iceland including the Blue Lagoon 2023/2024

06

Days

Trafalgar

First Class

Escorted
1 - Light

5+ years old
50
Reykjavik
Reykjavik
Iceland
$3,350View Tour

Best Price Guaranteed

Book With Flexibility

Iceland including the Blue Lagoon 2023/2024

06

Days

Trafalgar

First Class

Escorted
1 - Light

5+ years old
50
Reykjavik
Reykjavik
Iceland
$3,095View Tour

Best Price Guaranteed

Book With Flexibility

Iceland including the Blue Lagoon 2023/2024

06

Days

Trafalgar

First Class

Escorted
1 - Light

5+ years old
50
Reykjavik
Reykjavik
Iceland
$2,895View Tour

Best Price Guaranteed

Book With Flexibility

Iceland including the Blue Lagoon 2023/2024

06

Days

Trafalgar

First Class

Escorted
1 - Light

5+ years old
50
Reykjavik
Reykjavik
Iceland
$2,750View Tour

Best Price Guaranteed

Book With Flexibility

European Highlights End Paris 2022

12 reviews
06

Days

Trafalgar

First Class

Escorted
Amsterdam
Paris
France, Germany, Netherlands, Switzerland
$1,925View Tour

Best Price Guaranteed

Book With Flexibility

Amsterdam Explorer 2023

6 reviews
06

Days

Trafalgar

First Class

Escorted
1 - Light

5+ years old
50
Amsterdam
Amsterdam
Netherlands
$2,250View Tour

Best Price Guaranteed

Book With Flexibility

Jordan Experience with Dead Sea Extension 2023/2024

07

Days

Trafalgar

First Class

Escorted
1 - Light

Amman
Amman
Jordan
$2,125View Tour

Best Price Guaranteed

Book With Flexibility

Jordan Experience with Dead Sea Extension 2023/2024

07

Days

Trafalgar

First Class

Escorted
1 - Light

Amman
Amman
Jordan
$2,025View Tour

Best Price Guaranteed

Book With Flexibility

Jordan Experience with Dead Sea Extension 2023

07

Days

Trafalgar

First Class

Escorted
1 - Light

Amman
Amman
Jordan
$2,025View Tour

Best Price Guaranteed

Book With Flexibility

Jordan Experience with Dead Sea Extension 2022

07

Days

Trafalgar

First Class

Escorted
1 - Light

Amman
Amman
Jordan
$2,061View Tour

Best Price Guaranteed

Book With Flexibility

Jordan Experience with Dead Sea Extension (Women Only) 2022

07

Days

Trafalgar

First Class

Escorted
1 - Light

5+ years old
50
Amman
Amman
Jordan
$2,120View Tour

Best Price Guaranteed

Book With Flexibility

Italian Holiday 2023/2024

128 reviews
07

Days

Trafalgar

First Class

Escorted
Rome
Rome
Italy
$2,150View Tour

Best Price Guaranteed

Book With Flexibility

Italian Holiday 2023/2024

128 reviews
07

Days

Trafalgar

First Class

Escorted
Rome
Rome
Italy
$1,895View Tour

Best Price Guaranteed

Book With Flexibility

Italian Holiday 2023/2024

128 reviews
07

Days

Trafalgar

First Class

Escorted
Rome
Rome
Italy
$1,867View Tour

Best Price Guaranteed

Book With Flexibility

Italian Holiday 2023/2024

128 reviews
07

Days

Trafalgar

First Class

Escorted
Rome
Rome
Italy
$1,625View Tour

Best Price Guaranteed

Book With Flexibility

Irish Highlights 2023/2024

172 reviews
07

Days

Trafalgar

First Class

Escorted
Dublin
Dublin
Ireland
$1,495View Tour

Best Price Guaranteed

Book With Flexibility

Irish Highlights 2023/2024

172 reviews
07

Days

Trafalgar

First Class

Escorted
Dublin
Dublin
Ireland
$1,425View Tour

Best Price Guaranteed

Book With Flexibility

Irish Highlights 2023

172 reviews
07

Days

Trafalgar

First Class

Escorted
Dublin
Dublin
Ireland
$1,875View Tour

Best Price Guaranteed

Book With Flexibility

Irish Highlights 2022

172 reviews
07

Days

Trafalgar

First Class

Escorted
Dublin
Dublin
Ireland
$1,777View Tour

Best Price Guaranteed

Book With Flexibility

Ireland's Legendary North 2023

07

Days

Trafalgar

First Class

Escorted
1 - Light

5+ years old
50
Dublin
Dublin
England, Ireland, North Ireland
$2,195View Tour

Best Price Guaranteed

Book With Flexibility

Ireland's Legendary North 2022

07

Days

Trafalgar

First Class

Escorted
1 - Light

5+ years old
50
Dublin
Dublin
England, Ireland, North Ireland
$2,002View Tour

Best Price Guaranteed

Book With Flexibility

European Highlights End Paris 2023/2024

12 reviews
07

Days

Trafalgar

First Class

Escorted
Amsterdam
Paris
France, Germany, Netherlands, Switzerland
$2,025View Tour

Best Price Guaranteed

Book With Flexibility

European Highlights End Paris 2023

12 reviews
07

Days

Trafalgar

First Class

Escorted
Amsterdam
Paris
England, France, Germany, Netherlands, Switzerland
$2,325View Tour

Best Price Guaranteed

Book With Flexibility

European Highlights End Paris 2022

12 reviews
07

Days

Trafalgar

First Class

Escorted
Amsterdam
Paris
England, France, Germany, Netherlands, Switzerland
$2,137View Tour

Best Price Guaranteed

Book With Flexibility

Best of Scotland 2023/2024

128 reviews
07

Days

Trafalgar

First Class

Escorted
Edinburgh
Glasgow
Scotland
$1,706View Tour

Best Price Guaranteed

Book With Flexibility

Best of Scotland 2023/2024

128 reviews
07

Days

Trafalgar

First Class

Escorted
Edinburgh
Glasgow
England, Scotland
$1,550View Tour

Best Price Guaranteed

Book With Flexibility

Best of Scotland 2023

128 reviews
07

Days

Trafalgar

First Class

Escorted
Edinburgh
Glasgow
England, Scotland
$1,950View Tour

Best Price Guaranteed

Book With Flexibility

Best of Scotland 2022

128 reviews
07

Days

Trafalgar

First Class

Escorted
Edinburgh
Glasgow
Scotland
$1,950View Tour

Best Price Guaranteed

Book With Flexibility

Best of Holland 2023

7 reviews
07

Days

Trafalgar

First Class

Escorted
Amsterdam
Amsterdam
Netherlands
$2,375View Tour

Best Price Guaranteed

Book With Flexibility

Treasures of France including Normandy 2023

3 reviews
08

Days

Trafalgar

First Class

Escorted
5+ years old
50
Paris
Paris
France
$2,867View Tour

Best Price Guaranteed

Book With Flexibility

Treasures of France including Normandy 2023

3 reviews
08

Days

Trafalgar

First Class

Escorted
5+ years old
50
Paris
Paris
France
$2,425View Tour

Best Price Guaranteed

Book With Flexibility

Treasures of France including Normandy 2022

3 reviews
08

Days

Trafalgar

First Class

Escorted
5+ years old
50
Paris
Paris
France
$2,385View Tour

Best Price Guaranteed

Book With Flexibility

Riviera Explorer 2023

08

Days

Trafalgar

First Class

Escorted
1 - Light

5+ years old
50
Nice
Nice
France, Italy, Monaco
$2,425View Tour

Best Price Guaranteed

Book With Flexibility

Paris Explorer 2023/2024

12 reviews
08

Days

Trafalgar

First Class

Escorted
Paris
Paris
France
$2,825View Tour

Best Price Guaranteed

Book With Flexibility

Paris Explorer 2023/2024

12 reviews
08

Days

Trafalgar

First Class

Escorted
Paris
Paris
France
$2,542View Tour

Best Price Guaranteed

Book With Flexibility

Paris Explorer 2023/2024

12 reviews
08

Days

Trafalgar

First Class

Escorted
Paris
Paris
France
$2,450View Tour

Best Price Guaranteed

Book With Flexibility

Paris Explorer 2023/2024

12 reviews
08

Days

Trafalgar

First Class

Escorted
1 - Light

Paris
Paris
France
$2,325View Tour

Best Price Guaranteed

Book With Flexibility

Northern Italy Including Cinque Terre 2023

69 reviews
08

Days

Trafalgar

First Class

Escorted
Milan
Milan
Italy
$2,115View Tour

Best Price Guaranteed

Book With Flexibility

Northern Italy Including Cinque Terre 2022

69 reviews
08

Days

Trafalgar

First Class

Escorted
Milan
Milan
Italy
$2,329View Tour

Best Price Guaranteed

Book With Flexibility

Northern Italy Including Cinque Terre 2022

69 reviews
08

Days

Trafalgar

First Class

Escorted
Milan
Milan
Italy
$2,272View Tour

Best Price Guaranteed

Book With Flexibility

Northern Italy Including Cinque Terre (Women Only) 2022

08

Days

Trafalgar

First Class

Escorted
5+ years old
50
Milan
Milan
Italy
$2,272View Tour

Best Price Guaranteed

Book With Flexibility

London Explorer 2023/2024

12 reviews
08

Days

Trafalgar

First Class

Escorted
London
London
England
$2,250View Tour

Best Price Guaranteed

Book With Flexibility

London Explorer 2023/2024

12 reviews
08

Days

Trafalgar

First Class

Escorted
London
London
England
$2,150View Tour

Best Price Guaranteed

Book With Flexibility

London Explorer 2023

12 reviews
08

Days

Trafalgar

First Class

Escorted
London
London
England
$2,895View Tour

Best Price Guaranteed

Book With Flexibility

London Explorer 2022

12 reviews
08

Days

Trafalgar

First Class

Escorted
London
London
England
$2,695View Tour

Best Price Guaranteed

Book With Flexibility

German Christmas Markets 2023/2024

14 reviews
08

Days

Trafalgar

First Class

Escorted
Frankfurt
Berlin
Germany
$1,975View Tour

Best Price Guaranteed

Book With Flexibility

German Christmas Markets 2023/2024

14 reviews
08

Days

Trafalgar

First Class

Escorted
Frankfurt
Berlin
Germany
$1,975View Tour

Best Price Guaranteed

Book With Flexibility

European Highlights With Eurostar™ Extension 2023/2024

15 reviews
08

Days

Trafalgar

First Class

Escorted
Amsterdam
London
England, France, Germany, Netherlands, Switzerland
$2,350View Tour

Best Price Guaranteed

Book With Flexibility

European Highlights With Eurostar™ Extension 2023/2024

15 reviews
08

Days

Trafalgar

First Class

Escorted
Amsterdam
London
England, France, Germany, Netherlands, Switzerland
$2,250View Tour

Best Price Guaranteed

Book With Flexibility

European Highlights With Eurostar™ Extension 2022

15 reviews
08

Days

Trafalgar

First Class

Escorted
Amsterdam
London
England, France, Germany, Netherlands, Switzerland
$2,452View Tour

Best Price Guaranteed

Book With Flexibility

Enchanting Emerald Isle 2023

10 reviews
08

Days

Trafalgar

First Class

Escorted
Dublin
Dublin
Ireland
$2,002View Tour

Best Price Guaranteed

Book With Flexibility

Enchanting Emerald Isle 2022

10 reviews
08

Days

Trafalgar

First Class

Escorted
Dublin
Dublin
Ireland
$2,115View Tour

Best Price Guaranteed

Book With Flexibility

Enchanting Emerald Isle (Women Only) 2022

08

Days

Trafalgar

First Class

Escorted
5+ years old
50
Dublin
Dublin
Ireland
$2,350View Tour

Best Price Guaranteed

Book With Flexibility

Christmas Markets of Austria, Germany and Switzerland 2023/2024

32 reviews
08

Days

Trafalgar

First Class

Escorted
Vienna
Zurich
Austria, Germany, Switzerland
$2,250View Tour

Best Price Guaranteed

Book With Flexibility

Christmas Markets of Austria, Germany and Switzerland 2023/2024

32 reviews
08

Days

Trafalgar

First Class

Escorted
Vienna
Zurich
Austria, Germany, Switzerland
$2,225View Tour

Best Price Guaranteed

Book With Flexibility

Castles and Manors 2023

2 reviews
08

Days

Trafalgar

First Class

Escorted
Dublin
Dublin
Ireland
$3,225View Tour

Best Price Guaranteed

Book With Flexibility

Castles and Manors 2022

2 reviews
08

Days

Trafalgar

First Class

Escorted
Dublin
Dublin
Ireland
$3,145View Tour

Best Price Guaranteed

Book With Flexibility

Best of Greece Reverse 2023/2024

08

Days

Trafalgar

First Class

Escorted
Athens
Athens
Greece
$2,125View Tour

Best Price Guaranteed

Book With Flexibility

Best of Greece Reverse 2023/2024

08

Days

Trafalgar

First Class

Escorted
Athens
Athens
Greece, Turkey
$1,950View Tour

Best Price Guaranteed

Book With Flexibility

Best of Greece Reverse 2022/2023

08

Days

Trafalgar

First Class

Escorted
Athens
Athens
Greece, Turkey
$1,950View Tour

Best Price Guaranteed

Book With Flexibility

Best of Greece 2023/2024

208 reviews
08

Days

Trafalgar

First Class

Escorted
Athens
Athens
Greece
$2,050View Tour

Best Price Guaranteed

Book With Flexibility

Best of Greece 2023/2024

208 reviews
08

Days

Trafalgar

First Class

Escorted
Athens
Athens
Greece
$1,950View Tour

Best Price Guaranteed

Book With Flexibility

Best of Greece 2023

208 reviews
08

Days

Trafalgar

First Class

Escorted
Athens
Athens
Greece
$2,350View Tour

Best Price Guaranteed

Book With Flexibility

Best of Greece 2022

208 reviews
08

Days

Trafalgar

First Class

Escorted
Athens
Athens
Greece
$2,295View Tour

Best Price Guaranteed

Book With Flexibility

Best of Devon and Cornwall 2023

32 reviews
08

Days

Trafalgar

Budget

Escorted
London
London
England
$2,050View Tour

Best Price Guaranteed

Book With Flexibility

Best of Devon and Cornwall 2022

32 reviews
08

Days

Trafalgar

Budget

Escorted
London
London
England
$1,892View Tour

Best Price Guaranteed

Book With Flexibility

Wonderful France 2023

93 reviews
09

Days

Trafalgar

First Class

Escorted
1 - Light

5+ years old
50
Paris
Paris
France
$2,993View Tour

Best Price Guaranteed

Book With Flexibility

Wonderful France 2022

93 reviews
09

Days

Trafalgar

First Class

Escorted
Paris
Paris
France, Monaco
$3,078View Tour

Best Price Guaranteed

Book With Flexibility

Wonderful France 2022

93 reviews
09

Days

Trafalgar

First Class

Escorted
Paris
Paris
France, Monaco
$2,945View Tour

Best Price Guaranteed

Book With Flexibility

Wonderful France (Women Only) 2022

09

Days

Trafalgar

First Class

Escorted
5+ years old
50
Paris
Paris
France, Monaco
$2,891View Tour

Best Price Guaranteed

Book With Flexibility

Swiss Delight 2023/2024

3 reviews
09

Days

Trafalgar

First Class

Escorted
Geneva
Zurich
Switzerland
$2,975View Tour

Best Price Guaranteed

Book With Flexibility

Swiss Delight 2023/2024

3 reviews
09

Days

Trafalgar

First Class

Escorted
Geneva
Zurich
Switzerland
$2,975View Tour

Best Price Guaranteed

Book With Flexibility

Swiss Delight 2023/2024

3 reviews
09

Days

Trafalgar

First Class

Escorted
Geneva
Zurich
Switzerland
$2,825View Tour

Best Price Guaranteed

Book With Flexibility

Spanish Wonder End Madrid 2023/2024

12 reviews
09

Days

Trafalgar

First Class

Escorted
Madrid
Madrid
Spain
$1,950View Tour

Best Price Guaranteed

Book With Flexibility

Spanish Wonder End Madrid 2023/2024

12 reviews
09

Days

Trafalgar

First Class

Escorted
1 - Light

Madrid
Madrid
Spain
$1,850View Tour

Best Price Guaranteed

Book With Flexibility

Spanish Wonder End Madrid 2023

12 reviews
09

Days

Trafalgar

First Class

Escorted
Madrid
Madrid
Spain
$2,375View Tour

Best Price Guaranteed

Book With Flexibility

Spanish Wonder End Madrid 2022

12 reviews
09

Days

Trafalgar

First Class

Escorted
Madrid
Madrid
Spain
$2,047View Tour

Best Price Guaranteed

Book With Flexibility

Spanish Wonder End Barcelona 2023/2024

24 reviews
09

Days

Trafalgar

First Class

Escorted
5+ years old
50
Madrid
Barcelona
Spain
$1,950View Tour

Best Price Guaranteed

Book With Flexibility

Spanish Wonder End Barcelona 2023/2024

24 reviews
09

Days

Trafalgar

First Class

Escorted
5+ years old
50
Madrid
Barcelona
Spain
$1,850View Tour

Best Price Guaranteed

Book With Flexibility

Spanish Wonder End Barcelona 2023

24 reviews
09

Days

Trafalgar

First Class

Escorted
5+ years old
50
Madrid
Barcelona
Spain
$2,375View Tour

Best Price Guaranteed

Book With Flexibility

Spanish Wonder End Barcelona 2022

24 reviews
09

Days

Trafalgar

First Class

Escorted
5+ years old
50
Madrid
Barcelona
Spain
$2,047View Tour

Best Price Guaranteed

Book With Flexibility




Sound of Music with Oberammergau 2022

09

Days

Trafalgar

First Class

Escorted
Munich
Vienna
Austria, Germany
$3,695View Tour

Best Price Guaranteed

Book With Flexibility

Sound of Music 2023

34 reviews
09

Days

Trafalgar

First Class

Escorted
Munich
Vienna
Austria, Germany
$2,895View Tour

Best Price Guaranteed

Book With Flexibility




Sound of Music 2022

34 reviews
09

Days

Trafalgar

First Class

Escorted
Munich
Vienna
Austria, Germany
$2,763View Tour

Best Price Guaranteed

Book With Flexibility

Scandinavian Northern Lights 2023/2024

09

Days

Trafalgar

First Class

Escorted
5+ years old
50
Helsinki
Stockholm
Finland, Sweden
$3,485View Tour

Best Price Guaranteed

Book With Flexibility

Scandinavian Northern Lights 2023/2024

09

Days

Trafalgar

First Class

Escorted
5+ years old
50
Helsinki
Stockholm
Finland, Sweden
$2,750View Tour

Best Price Guaranteed

Book With Flexibility

Rome and Tuscan Highlights 2023

12 reviews
09

Days

Trafalgar

First Class

Escorted
Rome
Rome
Italy
$2,362View Tour

Best Price Guaranteed

Book With Flexibility

Rome and Tuscan Highlights 2022

11 reviews
09

Days

Trafalgar

First Class

Escorted
Rome
Rome
Italy
$2,182View Tour

Best Price Guaranteed

Book With Flexibility

Real Britain 2023/2024

68 reviews
09

Days

Trafalgar

First Class

Escorted
London
London
England, Scotland, Wales
$1,950View Tour

Best Price Guaranteed

Book With Flexibility

Real Britain 2023

68 reviews
09

Days

Trafalgar

First Class

Escorted
1 - Light

5+ years old
50
London
London
England, Scotland, Wales
$2,075View Tour

Best Price Guaranteed

Book With Flexibility

Real Britain 2022

68 reviews
09

Days

Trafalgar

First Class

Escorted
1 - Light

5+ years old
50
London
London
England, Scotland, Wales
$2,065View Tour

Best Price Guaranteed

Book With Flexibility

Real Britain 2022

68 reviews
09

Days

Trafalgar

First Class

Escorted
1 - Light

5+ years old
50
London
London
England, Scotland, Wales
$1,850View Tour

Best Price Guaranteed

Book With Flexibility

Pearls of the Adriatic Southbound Main Deck 2022

09

Days

Trafalgar

First Class

Escorted
Zagreb
Dubrovnik
Croatia
$2,753View Tour

Best Price Guaranteed

Book With Flexibility

Pearls of the Adriatic Southbound Lower Deck 2022

09

Days

Trafalgar

First Class

Escorted
Zagreb
Dubrovnik
Croatia
$2,314View Tour

Best Price Guaranteed

Book With Flexibility

Pearls of the Adriatic Northbound Lower Deck 2022

09

Days

Trafalgar

First Class

Escorted
Dubrovnik
Zagreb
Croatia
$2,505View Tour

Best Price Guaranteed

Book With Flexibility

London and Paris Explorer 2023/2024

8 reviews
09

Days

Trafalgar

First Class

Escorted
2 - Classic

5+ years old
50
London
Paris
England, France
$2,850View Tour

Best Price Guaranteed

Book With Flexibility

London and Paris Explorer 2023/2024

8 reviews
09

Days

Trafalgar

First Class

Escorted
2 - Classic

5+ years old
50
London
Paris
England, France
$2,725View Tour

Best Price Guaranteed

Book With Flexibility

London and Paris Explorer 2023

8 reviews
09

Days

Trafalgar

First Class

Escorted
2 - Classic

5+ years old
50
London
Paris
England, France
$3,275View Tour

Best Price Guaranteed

Book With Flexibility

London and Paris Explorer 2022

8 reviews
09

Days

Trafalgar

First Class

Escorted
2 - Classic

5+ years old
50
London
Paris
England, France
$3,235View Tour

Best Price Guaranteed

Book With Flexibility

Great Iberian Cities 2023

6 reviews
09

Days

Trafalgar

First Class

Escorted
Barcelona
Lisbon
Portugal, Spain
$2,425View Tour

Best Price Guaranteed

Book With Flexibility

Great Iberian Cities 2022

6 reviews
09

Days

Trafalgar

First Class

Escorted
Barcelona
Lisbon
Portugal, Spain
$2,227View Tour

Best Price Guaranteed

Book With Flexibility

Great Iberian Cities (Women Only) 2022

09

Days

Trafalgar

First Class

Escorted
5+ years old
50
Barcelona
Lisbon
Portugal, Spain
$2,475View Tour

Best Price Guaranteed

Book With Flexibility

Colors of Sicily 2023

09

Days

Trafalgar

First Class

Escorted
1 - Light

5+ years old
50
Palermo
Catania
Italy
$2,295View Tour

Best Price Guaranteed

Book With Flexibility

Colors of Sicily 2022

09

Days

Trafalgar

First Class

Escorted
1 - Light

5+ years old
50
Palermo
Catania
Italy
$2,155View Tour

Best Price Guaranteed

Book With Flexibility

Capitals of Scandinavia 2023

09

Days

Trafalgar

First Class

Escorted
2 - Classic

5+ years old
50
Copenhagen
Helsinki
Denmark, Finland, Norway, Sweden
$3,025View Tour

Best Price Guaranteed

Book With Flexibility

Capitals of Scandinavia 2022

09

Days

Trafalgar

First Class

Escorted
2 - Classic

5+ years old
50
Copenhagen
Helsinki
Denmark, Finland, Norway, Sweden
$2,706View Tour

Best Price Guaranteed

Book With Flexibility

Best of the Italian Lakes 2022

12 reviews
09

Days

Trafalgar

First Class

Escorted
2 - Classic

Milan
Milan
Italy
$2,425View Tour

Best Price Guaranteed

Book With Flexibility

Best of Switzerland 2023

64 reviews
09

Days

Trafalgar

First Class

Escorted
Zurich
Zurich
Italy, Switzerland
$3,125View Tour

Best Price Guaranteed

Book With Flexibility

Best of Switzerland 2022

64 reviews
09

Days

Trafalgar

First Class

Escorted
Zurich
Zurich
Italy, Switzerland
$2,785View Tour

Best Price Guaranteed

Book With Flexibility

Best of Norway 2023

4 reviews
09

Days

Trafalgar

First Class

Escorted
Oslo
Oslo
Norway
$2,998View Tour

Best Price Guaranteed

Book With Flexibility

Best of Norway 2022

4 reviews
09

Days

Trafalgar

First Class

Escorted
1 - Light

5+ years old
50
Oslo
Oslo
Norway
$2,698View Tour

Best Price Guaranteed

Book With Flexibility

Best of Greece with One Day 3 Island Cruise 2023/2024

1 reviews
09

Days

Trafalgar

First Class

Escorted
Athens
Athens
Greece
$2,250View Tour

Best Price Guaranteed

Book With Flexibility

Best of Greece with One Day 3 Island Cruise 2023/2024

09

Days

Trafalgar

First Class

Escorted
5+ years old
50
Athens
Athens
Greece
$2,150View Tour

Best Price Guaranteed

Book With Flexibility

Best of Greece Reverse with One Day 3 Island Cruise 2023/2024

09

Days

Trafalgar

First Class

Escorted
Athens
Athens
Greece
$2,350View Tour

Best Price Guaranteed

Book With Flexibility

Best of Greece Reverse with One Day 3 Island Cruise 2022/2023

09

Days

Trafalgar

First Class

Escorted
5+ years old
50
Athens
Athens
Greece
$2,150View Tour

Best Price Guaranteed

Book With Flexibility

Southern Italy and Sicily 2023

50 reviews
10

Days

Trafalgar

First Class

Escorted
Rome
Palermo
Italy
$2,677View Tour

Best Price Guaranteed

Book With Flexibility

Southern Italy and Sicily 2022

50 reviews
10

Days

Trafalgar

First Class

Escorted
Rome
Palermo
Italy
$2,875View Tour

Best Price Guaranteed

Book With Flexibility

Shamrocks and Leprechauns 2023

10

Days

Trafalgar

First Class

Escorted
Dublin
Dublin
England, France, Ireland, North Ireland
$2,750View Tour

Best Price Guaranteed

Book With Flexibility

Shamrocks and Leprechauns 2022

10

Days

Trafalgar

First Class

Escorted
Dublin
Dublin
England, France, Ireland, North Ireland
$2,850View Tour

Best Price Guaranteed

Book With Flexibility

Prague, Vienna and Budapest 2023/2024

208 reviews
10

Days

Trafalgar

First Class

Escorted
Prague
Budapest
Austria, Czech Republic, Hungary, Slovakia
$2,025View Tour

Best Price Guaranteed

Book With Flexibility

Prague, Vienna and Budapest 2023/2024

208 reviews
10

Days

Trafalgar

First Class

Escorted
Prague
Budapest
Austria, Czech Republic, Hungary, Slovakia
$1,925View Tour

Best Price Guaranteed

Book With Flexibility

Prague, Vienna and Budapest 2023

208 reviews
10

Days

Trafalgar

First Class

Escorted
Prague
Budapest
Austria, Czech Republic, Hungary, Slovakia
$2,375View Tour

Best Price Guaranteed

Book With Flexibility

Prague, Vienna and Budapest 2022

208 reviews
10

Days

Trafalgar

First Class

Escorted
Prague
Budapest
Austria, Czech Republic, Hungary, Slovakia
$2,272View Tour

Best Price Guaranteed

Book With Flexibility

Italian Discovery 2023

28 reviews
10

Days

Trafalgar

First Class

Escorted
Rome
Rome
Italy
$3,095View Tour

Best Price Guaranteed

Book With Flexibility

Italian Discovery 2022

28 reviews
10

Days

Trafalgar

First Class

Escorted
Rome
Rome
Italy
$2,925View Tour

Best Price Guaranteed

Book With Flexibility

Imperial Europe 2023/2024

192 reviews
10

Days

Trafalgar

First Class

Escorted
Munich
Munich
Austria, Czech Republic, Germany, Hungary, Slovakia
$2,225View Tour

Best Price Guaranteed

Book With Flexibility

Imperial Europe 2023/2024

192 reviews
10

Days

Trafalgar

First Class

Escorted
2 - Classic

Munich
Munich
Austria, Czech Republic, Germany, Hungary, Slovakia
$2,125View Tour

Best Price Guaranteed

Book With Flexibility




Imperial Europe 2022

192 reviews
10

Days

Trafalgar

First Class

Escorted
Munich
Munich
Austria, Czech Republic, Germany, Hungary, Slovakia
$2,745View Tour

Best Price Guaranteed

Book With Flexibility

Iconic Ireland and Ashford Castle 2023/2024

25 reviews
10

Days

Trafalgar

First Class

Escorted
Dublin
Dublin
Ireland
$3,595View Tour

Best Price Guaranteed

Book With Flexibility

Iconic Ireland and Ashford Castle 2023/2024

25 reviews
10

Days

Trafalgar

First Class

Escorted
Dublin
Dublin
Ireland
$3,195View Tour

Best Price Guaranteed

Book With Flexibility

Iconic Ireland and Ashford Castle 2023/2024

25 reviews
10

Days

Trafalgar

First Class

Escorted
Dublin
Dublin
Ireland
$2,675View Tour

Best Price Guaranteed

Book With Flexibility

Iconic Ireland and Ashford Castle 2023/2024

25 reviews
10

Days

Trafalgar

First Class

Escorted
Dublin
Dublin
Ireland
$2,675View Tour

Best Price Guaranteed

Book With Flexibility

Iconic Ireland and Ashford Castle 2023/2024

25 reviews
10

Days

Trafalgar

First Class

Escorted
Dublin
Dublin
Ireland
$2,550View Tour

Best Price Guaranteed

Book With Flexibility

Highlights of France and Barcelona 2023

48 reviews
10

Days

Trafalgar

First Class

Escorted
Paris
Barcelona
France, Monaco, Spain
$3,025View Tour

Best Price Guaranteed

Book With Flexibility

Highlights of France and Barcelona 2022

48 reviews
10

Days

Trafalgar

First Class

Escorted
Paris
Barcelona
France, Monaco, Spain
$2,812View Tour

Best Price Guaranteed

Book With Flexibility

Greek Island Hopper 2023

52 reviews
10

Days

Trafalgar

First Class

Escorted
Athens
Athens
Greece
$3,405View Tour

Best Price Guaranteed

Book With Flexibility

Greek Island Hopper 2022

52 reviews
10

Days

Trafalgar

First Class

Escorted
Athens
Athens
Greece
$3,415View Tour

Best Price Guaranteed

Book With Flexibility

Great Italian Cities 2023/2024

175 reviews
10

Days

Trafalgar

First Class

Escorted
Rome
Venice
Italy
$2,625View Tour

Best Price Guaranteed

Book With Flexibility

Great Italian Cities 2023/2024

175 reviews
10

Days

Trafalgar

First Class

Escorted
Rome
Venice
Italy
$2,295View Tour

Best Price Guaranteed

Book With Flexibility

Great Italian Cities 2023

175 reviews
10

Days

Trafalgar

First Class

Escorted
Rome
Venice
Italy
$2,695View Tour

Best Price Guaranteed

Book With Flexibility




Great Italian Cities 2022

175 reviews
10

Days

Trafalgar

First Class

Escorted
Rome
Venice
Italy
$3,093View Tour

Best Price Guaranteed

Book With Flexibility




Great Italian Cities 2022

175 reviews
10

Days

Trafalgar

First Class

Escorted
Rome
Venice
Italy
$3,093View Tour

Best Price Guaranteed

Book With Flexibility

Gladiators Gondolas and Gold 2023

10 reviews
10

Days

Trafalgar

First Class

Escorted
Rome
Venice
Italy
$2,925View Tour

Best Price Guaranteed

Book With Flexibility

Gladiators Gondolas and Gold 2022

10 reviews
10

Days

Trafalgar

First Class

Escorted
Rome
Venice
Italy
$2,975View Tour

Best Price Guaranteed

Book With Flexibility

European Traveler 2023/2024

76 reviews
10

Days

Trafalgar

First Class

Escorted
London
Rome
France, Italy, Switzerland
$2,925View Tour

Best Price Guaranteed

Book With Flexibility

European Traveler 2023/2024

76 reviews
10

Days

Trafalgar

First Class

Escorted
London
Rome
France, Italy, Switzerland
$2,695View Tour

Best Price Guaranteed

Book With Flexibility

European Traveler 2023/2024

76 reviews
10

Days

Trafalgar

First Class

Escorted
London
Rome
England, France, Italy, Switzerland
$2,575View Tour

Best Price Guaranteed

Book With Flexibility

European Traveler 2023/2024

76 reviews
10

Days

Trafalgar

First Class

Escorted
London
Rome
England, France, Italy, Switzerland
$2,385View Tour

Best Price Guaranteed

Book With Flexibility

European Dream 2023/2024

124 reviews
10

Days

Trafalgar

First Class

Escorted
Rome
London
England, France, Italy, Switzerland
$3,075View Tour

Best Price Guaranteed

Book With Flexibility

European Dream 2023/2024

124 reviews
10

Days

Trafalgar

First Class

Escorted
Rome
London
England, France, Italy, Switzerland
$2,785View Tour

Best Price Guaranteed

Book With Flexibility

European Dream 2023/2024

124 reviews
10

Days

Trafalgar

First Class

Escorted
Rome
London
England, France, Italy, Switzerland
$2,675View Tour

Best Price Guaranteed

Book With Flexibility

European Dream 2023/2024

124 reviews
10

Days

Trafalgar

First Class

Escorted
Rome
London
England, France, Italy, Switzerland
$2,550View Tour

Best Price Guaranteed

Book With Flexibility

Castles And Kilts 2023

6 reviews
10

Days

Trafalgar

First Class

Escorted
London
Edinburgh
England, Scotland
$3,125View Tour

Best Price Guaranteed

Book With Flexibility

Castles And Kilts 2022

6 reviews
10

Days

Trafalgar

First Class

Escorted
London
Edinburgh
England, Scotland
$2,812View Tour

Best Price Guaranteed

Book With Flexibility

Britain and Ireland Highlights 2023

106 reviews
10

Days

Trafalgar

First Class

Escorted
London
London
England, Ireland, North Ireland, Scotland, Wales
$2,875View Tour

Best Price Guaranteed

Book With Flexibility

Britain and Ireland Highlights 2022

106 reviews
10

Days

Trafalgar

First Class

Escorted
London
London
England, Ireland, North Ireland, Scotland, Wales
$2,497View Tour

Best Price Guaranteed

Book With Flexibility

Best of Italy and Greece 2023

12 reviews
10

Days

Trafalgar

First Class

Escorted
Rome
Athens
Greece, Italy
$3,250View Tour

Best Price Guaranteed

Book With Flexibility

Best of Italy and Greece 2022

12 reviews
10

Days

Trafalgar

First Class

Escorted
Rome
Athens
Greece, Italy
$3,195View Tour

Best Price Guaranteed

Book With Flexibility

Best of Ireland 2023

58 reviews
10

Days

Trafalgar

First Class

Escorted
Dublin
Dublin
Ireland
$2,825View Tour

Best Price Guaranteed

Book With Flexibility

Best of Ireland 2022

58 reviews
10

Days

Trafalgar

First Class

Escorted
Dublin
Dublin
Ireland
$2,574View Tour

Best Price Guaranteed

Book With Flexibility

Best of Holland Belgium and Luxembourg end Brussels 2023

2 reviews
10

Days

Trafalgar

First Class

Escorted
5+ years old
50
Amsterdam
Brussels
Belgium, Luxembourg, Netherlands
$2,850View Tour

Best Price Guaranteed

Book With Flexibility

Best of Holland Belgium and Luxembourg end Brussels 2022

2 reviews
10

Days

Trafalgar

First Class

Escorted
5+ years old
50
Amsterdam
Brussels
Belgium, Luxembourg, Netherlands
$2,857View Tour

Best Price Guaranteed

Book With Flexibility

Best of Holland Belgium and Luxembourg end Amsterdam 2023

10

Days

Trafalgar

First Class

Escorted
Amsterdam
Amsterdam
Belgium, Luxembourg, Netherlands
$2,850View Tour

Best Price Guaranteed

Book With Flexibility

Best of Holland Belgium and Luxembourg end Amsterdam 2022

10

Days

Trafalgar

First Class

Escorted
Amsterdam
Amsterdam
Belgium, Luxembourg, Netherlands
$2,857View Tour

Best Price Guaranteed

Book With Flexibility

Amazing Britain 2023

72 reviews
10

Days

Trafalgar

First Class

Escorted
1 - Light

5+ years old
50
London
London
England, Scotland
$2,475View Tour

Best Price Guaranteed

Book With Flexibility

Amazing Britain 2022

72 reviews
10

Days

Trafalgar

First Class

Escorted
London
London
England, Scotland
$2,984View Tour

Best Price Guaranteed

Book With Flexibility

Amazing Britain 2022

72 reviews
10

Days

Trafalgar

First Class

Escorted
1 - Light

5+ years old
50
London
London
England, Scotland
$2,335View Tour

Best Price Guaranteed

Book With Flexibility

3 Continents Cruise Superior 2022/2023

10

Days

Trafalgar

First Class

Escorted
5+ years old
50
Athens
Athens
Cyprus, Egypt, Greece, Israel, Turkey
$2,999View Tour

Best Price Guaranteed

Book With Flexibility

3 Continents Cruise Premium 2022/2023

10

Days

Trafalgar

First Class

Escorted
5+ years old
50
Athens
Athens
Cyprus, Egypt, Greece, Israel, Turkey
$3,154View Tour

Best Price Guaranteed

Book With Flexibility

3 Continents Cruise Premier 2022/2023

10

Days

Trafalgar

First Class

Escorted
5+ years old
50
Athens
Athens
Cyprus, Egypt, Greece, Israel, Turkey
$3,054View Tour

Best Price Guaranteed

Book With Flexibility

3 Continents Cruise Moderate C 2022/2023

10

Days

Trafalgar

First Class

Escorted
5+ years old
50
Athens
Athens
Cyprus, Egypt, Greece, Israel, Turkey
$2,979View Tour

Best Price Guaranteed

Book With Flexibility

3 Continents Cruise Deluxe 2022/2023

10

Days

Trafalgar

Deluxe

Escorted
2 - Classic

5+ years old
50
Athens
Athens
Cyprus, Egypt, Greece, Israel, Turkey
$3,254View Tour

Best Price Guaranteed

Book With Flexibility

Wonders of Italy 2023/2024

20 reviews
11

Days

Trafalgar

First Class

Escorted
Rome
Rome
Italy
$2,895View Tour

Best Price Guaranteed

Book With Flexibility

Secrets of Greece including Corfu 2023

11

Days

Trafalgar

First Class

Escorted
Athens
Athens
Greece
$3,925View Tour

Best Price Guaranteed

Book With Flexibility

Secrets of Greece including Corfu 2022

11

Days

Trafalgar

First Class

Escorted
Athens
Athens
Greece
$3,532View Tour

Best Price Guaranteed

Book With Flexibility

Northern Spain 2023

28 reviews
11

Days

Trafalgar

First Class

Escorted
Barcelona
Madrid
Spain
$2,725View Tour

Best Price Guaranteed

Book With Flexibility

Northern Spain 2022

28 reviews
11

Days

Trafalgar

First Class

Escorted
1 - Light

5+ years old
50
Barcelona
Madrid
Spain
$2,452View Tour

Best Price Guaranteed

Book With Flexibility

Italy Bellissimo 2023/2024

188 reviews
11

Days

Trafalgar

First Class

Escorted
Rome
Rome
Italy
$3,525View Tour

Best Price Guaranteed

Book With Flexibility

Italy Bellissimo 2023/2024

188 reviews
11

Days

Trafalgar

First Class

Escorted
Rome
Rome
Italy
$3,172View Tour

Best Price Guaranteed

Book With Flexibility

Italy Bellissimo 2023/2024

188 reviews
11

Days

Trafalgar

First Class

Escorted
Rome
Rome
Italy
$2,850View Tour

Best Price Guaranteed

Book With Flexibility

Italy Bellissimo 2023/2024

188 reviews
11

Days

Trafalgar

First Class

Escorted
Rome
Rome
Italy
$2,775View Tour

Best Price Guaranteed

Book With Flexibility

Italy Bellissimo (Women Only) 2022

11

Days

Trafalgar

First Class

Escorted
5+ years old
50
Rome
Rome
Italy
$3,350View Tour

Best Price Guaranteed

Book With Flexibility

Italian Concerto 2023

54 reviews
11

Days

Trafalgar

First Class

Escorted
Rome
Venice
Italy
$3,145View Tour

Best Price Guaranteed

Book With Flexibility

Italian Concerto 2022

54 reviews
11

Days

Trafalgar

First Class

Escorted
Rome
Venice
Italy
$3,375View Tour

Best Price Guaranteed

Book With Flexibility

Irish Experience 2023

48 reviews
11

Days

Trafalgar

First Class

Escorted
Dublin
Dublin
England, Ireland, North Ireland
$3,242View Tour

Best Price Guaranteed

Book With Flexibility

Irish Experience 2023

48 reviews
11

Days

Trafalgar

First Class

Escorted
Dublin
Dublin
England, Ireland, North Ireland
$3,192View Tour

Best Price Guaranteed

Book With Flexibility

Irish Experience 2022

48 reviews
11

Days

Trafalgar

First Class

Escorted
Dublin
Dublin
England, Ireland, North Ireland
$2,662View Tour

Best Price Guaranteed

Book With Flexibility

Highlights of Ireland and Scotland 2023

11

Days

Trafalgar

First Class

Escorted
2 - Classic

5+ years old
50
Dublin
Edinburgh
England, Ireland, North Ireland, Scotland
$3,425View Tour

Best Price Guaranteed

Book With Flexibility

Highlights of Ireland and Scotland 2022

11

Days

Trafalgar

First Class

Escorted
2 - Classic

5+ years old
50
Dublin
Edinburgh
England, Ireland, North Ireland, Scotland
$3,325View Tour

Best Price Guaranteed

Book With Flexibility

Georgia and Armenia Uncovered 2023

11

Days

Trafalgar

First Class

Escorted
Tbilisi
Yerevan
Armenia, Georgia
$2,595View Tour

Best Price Guaranteed

Book With Flexibility

Georgia and Armenia Uncovered 2022

11

Days

Trafalgar

First Class

Escorted
Tbilisi
Yerevan
Armenia, Georgia
$2,362View Tour

Best Price Guaranteed

Book With Flexibility

European Wonderland End Paris 2023

11

Days

Trafalgar

First Class

Escorted
5+ years old
50
Rome
Paris
France, Italy, Switzerland
$3,495View Tour

Best Price Guaranteed

Book With Flexibility

European Wonderland End Paris 2022

11

Days

Trafalgar

First Class

Escorted
5+ years old
50
Rome
Paris
France, Italy, Switzerland
$3,525View Tour

Best Price Guaranteed

Book With Flexibility

European Splendor End Paris 2023

11

Days

Trafalgar

First Class

Escorted
5+ years old
50
Rome
Paris
England, France, Italy, Switzerland
$3,450View Tour

Best Price Guaranteed

Book With Flexibility

European Splendor End Paris 2022

11

Days

Trafalgar

First Class

Escorted
5+ years old
50
Rome
Paris
England, France, Italy, Switzerland
$3,235View Tour

Best Price Guaranteed

Book With Flexibility

Best of Portugal 2023/2024

265 reviews
11

Days

Trafalgar

First Class

Escorted
Lisbon
Lisbon
Portugal
$3,125View Tour

Best Price Guaranteed

Book With Flexibility

Best of Portugal 2023/2024

265 reviews
11

Days

Trafalgar

First Class

Escorted
Lisbon
Lisbon
Portugal
$2,587View Tour

Best Price Guaranteed

Book With Flexibility

Best of Portugal 2023/2024

265 reviews
11

Days

Trafalgar

First Class

Escorted
Lisbon
Lisbon
Portugal
$2,425View Tour

Best Price Guaranteed

Book With Flexibility

Best of Portugal 2023/2024

265 reviews
11

Days

Trafalgar

First Class

Escorted
Lisbon
Lisbon
Portugal
$2,095View Tour

Best Price Guaranteed

Book With Flexibility

Best of Portugal 2023/2024

265 reviews
11

Days

Trafalgar

First Class

Escorted
Lisbon
Lisbon
Portugal
$2,025View Tour

Best Price Guaranteed

Book With Flexibility

Best of Poland 2023

6 reviews
11

Days

Trafalgar

First Class

Escorted
Warsaw
Warsaw
Poland
$2,525View Tour

Best Price Guaranteed

Book With Flexibility

Best of Poland 2022

6 reviews
11

Days

Trafalgar

First Class

Escorted
Warsaw
Warsaw
Poland
$2,358View Tour

Best Price Guaranteed

Book With Flexibility

Best of Greece with Santorini Extension 2023

6 reviews
11

Days

Trafalgar

First Class

Escorted
Athens
Athens
Greece
$3,695View Tour

Best Price Guaranteed

Book With Flexibility

Best of Greece with Santorini Extension 2022

6 reviews
11

Days

Trafalgar

First Class

Escorted
Athens
Athens
Greece
$3,533View Tour

Best Price Guaranteed

Book With Flexibility

Best of Croatia and Slovenia 2023/2024

12 reviews
11

Days

Trafalgar

First Class

Escorted
Zagreb
Dubrovnik
Croatia, Slovenia
$2,875View Tour

Best Price Guaranteed

Book With Flexibility

Best of Croatia and Slovenia 2023/2024

12 reviews
11

Days

Trafalgar

First Class

Escorted
Zagreb
Dubrovnik
Croatia, Slovenia
$2,785View Tour

Best Price Guaranteed

Book With Flexibility

Best of Croatia and Slovenia 2023/2024

12 reviews
11

Days

Trafalgar

First Class

Escorted
Zagreb
Dubrovnik
Croatia, Slovenia
$2,475View Tour

Best Price Guaranteed

Book With Flexibility

Best of Croatia and Slovenia 2023/2024

12 reviews
11

Days

Trafalgar

First Class

Escorted
Zagreb
Dubrovnik
Croatia, Slovenia
$2,350View Tour

Best Price Guaranteed

Book With Flexibility

WWI and WWII Battlefields 2023

10 reviews
12

Days

Trafalgar

First Class

Escorted
1 - Light

5+ years old
50
London
Amsterdam
Belgium, England, France, Netherlands
$3,595View Tour

Best Price Guaranteed

Book With Flexibility

WWI and WWII Battlefields 2022

10 reviews
12

Days

Trafalgar

First Class

Escorted
1 - Light

5+ years old
50
London
Amsterdam
Belgium, England, France, Netherlands
$3,415View Tour

Best Price Guaranteed

Book With Flexibility




Imperial Europe with Oberammergau 2022

1 reviews
12

Days

Trafalgar

First Class

Escorted
Munich
Munich
Austria, Czech Republic, Germany, Hungary, Slovakia
$3,850View Tour

Best Price Guaranteed

Book With Flexibility

Highlights of France and Barcelona with Madrid Extension 2023

12

Days

Trafalgar

First Class

Escorted
Paris
Madrid
France, Monaco, Spain
$3,725View Tour

Best Price Guaranteed

Book With Flexibility

Highlights of France and Barcelona with Madrid Extension 2022

12

Days

Trafalgar

First Class

Escorted
Paris
Madrid
France, Monaco, Spain
$3,442View Tour

Best Price Guaranteed

Book With Flexibility

European Wonderland with Eurostar™ Extension 2023

12

Days

Trafalgar

First Class

Escorted
5+ years old
50
Rome
London
England, France, Italy, Switzerland
$3,795View Tour

Best Price Guaranteed

Book With Flexibility

European Wonderland with Eurostar™ Extension 2022

12

Days

Trafalgar

First Class

Escorted
5+ years old
50
Rome
London
England, France, Italy, Switzerland
$3,825View Tour

Best Price Guaranteed

Book With Flexibility

European Splendor With Eurostar™ Extension 2023

12

Days

Trafalgar

First Class

Escorted
5+ years old
50
Rome
London
England, France, Italy, Switzerland
$3,775View Tour

Best Price Guaranteed

Book With Flexibility

European Splendor With Eurostar™ Extension 2022

12

Days

Trafalgar

First Class

Escorted
5+ years old
50
Rome
London
England, France, Italy, Switzerland
$3,555View Tour

Best Price Guaranteed

Book With Flexibility

Days of Devotion 2023

12

Days

Trafalgar

First Class

Escorted
2 - Classic

5+ years old
50
Barcelona
Lisbon
France, Portugal, Spain
$2,795View Tour

Best Price Guaranteed

Book With Flexibility

Days of Devotion 2022

12

Days

Trafalgar

First Class

Escorted
1 - Light

5+ years old
50
Barcelona
Lisbon
France, Portugal, Spain
$2,565View Tour

Best Price Guaranteed

Book With Flexibility

Best of Greece Reverse with 3-Day Aegean Cruise Superior 2022/2023

12

Days

Trafalgar

First Class

Escorted
Athens
Athens
Greece, Turkey
$3,544View Tour

Best Price Guaranteed

Book With Flexibility

Best of Greece Reverse with 3-Day Aegean Cruise Premium 2022/2023

12

Days

Trafalgar

First Class

Escorted
Athens
Athens
Greece, Turkey
$3,699View Tour

Best Price Guaranteed

Book With Flexibility

Best of Greece Reverse with 3-Day Aegean Cruise Premier 2022/2023

12

Days

Trafalgar

First Class

Escorted
Athens
Athens
Greece, Turkey
$3,644View Tour

Best Price Guaranteed

Book With Flexibility




Best of Germany with Oberammergau 2022

1 reviews
12

Days

Trafalgar

First Class

Escorted
Frankfurt
Frankfurt
Germany
$4,350View Tour

Best Price Guaranteed

Book With Flexibility

Best of Germany 2023

98 reviews
12

Days

Trafalgar

First Class

Escorted
Frankfurt
Frankfurt
Germany
$3,375View Tour

Best Price Guaranteed

Book With Flexibility




Best of Germany 2022

98 reviews
12

Days

Trafalgar

First Class

Escorted
Frankfurt
Frankfurt
Germany
$3,307View Tour

Best Price Guaranteed

Book With Flexibility

Balkan Delight 2023

14 reviews
12

Days

Trafalgar

First Class

Escorted
1 - Light

5+ years old
50
Zagreb
Zagreb
Bosnia, Croatia, Montenegro
$3,095View Tour

Best Price Guaranteed

Book With Flexibility

Balkan Delight 2022

14 reviews
12

Days

Trafalgar

First Class

Escorted
1 - Light

5+ years old
50
Zagreb
Zagreb
Bosnia, Croatia, Montenegro
$3,082View Tour

Best Price Guaranteed

Book With Flexibility




Switzerland and Austria with Oberammergau 2022

1 reviews
13

Days

Trafalgar

First Class

Escorted
Zurich
Zurich
Austria, Germany, Italy, Switzerland
$4,925View Tour

Best Price Guaranteed

Book With Flexibility

Switzerland and Austria 2023

48 reviews
13

Days

Trafalgar

First Class

Escorted
Zurich
Zurich
Austria, Italy, Switzerland
$3,925View Tour

Best Price Guaranteed

Book With Flexibility




Switzerland and Austria 2022

48 reviews
13

Days

Trafalgar

First Class

Escorted
Zurich
Zurich
Austria, Germany, Switzerland
$3,612View Tour

Best Price Guaranteed

Book With Flexibility

Scotland's Highlands, Islands and Cities Reverse 2023

13

Days

Trafalgar

First Class

Escorted
Glasgow
Edinburgh
England, Scotland
$4,450View Tour

Best Price Guaranteed

Book With Flexibility

Scotland's Highlands, Islands and Cities Reverse 2022

13

Days

Trafalgar

First Class

Escorted
Glasgow
Edinburgh
England, Scotland
$4,131View Tour

Best Price Guaranteed

Book With Flexibility

Scotland's Highlands Islands and Cities 2023

42 reviews
13

Days

Trafalgar

First Class

Escorted
2 - Classic

5+ years old
50
Edinburgh
Glasgow
Scotland
$4,175View Tour

Best Price Guaranteed

Book With Flexibility

Scotland's Highlands Islands and Cities 2022

42 reviews
13

Days

Trafalgar

First Class

Escorted
1 - Light

5+ years old
50
Edinburgh
Glasgow
Scotland
$3,867View Tour

Best Price Guaranteed

Book With Flexibility

Mediterranean Highlights 2023

13

Days

Trafalgar

First Class

Escorted
2 - Classic

5+ years old
50
Madrid
Rome
France, Italy, Monaco, Spain
$3,625View Tour

Best Price Guaranteed

Book With Flexibility

Mediterranean Highlights 2022

13

Days

Trafalgar

First Class

Escorted
2 - Classic

5+ years old
50
Madrid
Rome
France, Italy, Monaco, Spain
$3,415View Tour

Best Price Guaranteed

Book With Flexibility

Italian Glory 2023

20 reviews
13

Days

Trafalgar

First Class

Escorted
Milan
Rome
Italy
$4,075View Tour

Best Price Guaranteed

Book With Flexibility

Italian Glory 2022

20 reviews
13

Days

Trafalgar

First Class

Escorted
Milan
Rome
Italy
$3,775View Tour

Best Price Guaranteed

Book With Flexibility

Highlights of Spain and Portugal 2023/2024

168 reviews
13

Days

Trafalgar

First Class

Escorted
Madrid
Madrid
Portugal, Spain
$2,625View Tour

Best Price Guaranteed

Book With Flexibility

Highlights of Spain and Portugal 2023/2024

168 reviews
13

Days

Trafalgar

First Class

Escorted
Madrid
Madrid
Portugal, Spain
$2,495View Tour

Best Price Guaranteed

Book With Flexibility

Highlights of Spain and Portugal 2023

168 reviews
13

Days

Trafalgar

First Class

Escorted
Madrid
Madrid
Portugal, Spain
$2,850View Tour

Best Price Guaranteed

Book With Flexibility

Highlights of Spain and Portugal 2022

168 reviews
13

Days

Trafalgar

First Class

Escorted
Madrid
Madrid
Portugal, Spain
$2,767View Tour

Best Price Guaranteed

Book With Flexibility

Highland Trail inspired by Outlander 2023

4 reviews
13

Days

Trafalgar

First Class

Escorted
Edinburgh
Glasgow
England, Scotland
$4,025View Tour

Best Price Guaranteed

Book With Flexibility

Highland Trail inspired by Outlander 2022

4 reviews
13

Days

Trafalgar

First Class

Escorted
Edinburgh
Glasgow
England, Scotland
$3,735View Tour

Best Price Guaranteed

Book With Flexibility




Great Italian Cities with Oberammergau 2022

1 reviews
13

Days

Trafalgar

First Class

Escorted
Rome
Munich
Austria, Germany, Italy
$4,575View Tour

Best Price Guaranteed

Book With Flexibility

Best of Italy 2023/2024

600 reviews
13

Days

Trafalgar

First Class

Escorted
Rome
Rome
Italy
$3,475View Tour

Best Price Guaranteed

Book With Flexibility

Best of Italy 2023/2024

600 reviews
13

Days

Trafalgar

First Class

Escorted
Rome
Rome
Italy
$3,225View Tour

Best Price Guaranteed

Book With Flexibility

Best of Italy 2023

600 reviews
13

Days

Trafalgar

First Class

Escorted
Rome
Rome
Italy
$3,735View Tour

Best Price Guaranteed

Book With Flexibility

Best of Italy 2022

600 reviews
13

Days

Trafalgar

First Class

Escorted
Rome
Rome
Italy
$3,775View Tour

Best Price Guaranteed

Book With Flexibility

Best of Israel and Jordan 2023/2024

3 reviews
13

Days

Trafalgar

First Class

Escorted
2 - Classic

5+ years old
50
Tel Aviv
Amman
Israel, Jordan
$4,850View Tour

Best Price Guaranteed

Book With Flexibility

Best of Israel and Jordan 2023/2024

3 reviews
13

Days

Trafalgar

First Class

Escorted
2 - Classic

5+ years old
50
Tel Aviv
Amman
Israel, Jordan
$4,661View Tour

Best Price Guaranteed

Book With Flexibility

Best of Israel and Jordan 2023/2024

3 reviews
13

Days

Trafalgar

First Class

Escorted
2 - Classic

5+ years old
50
Tel Aviv
Amman
Israel, Jordan
$4,625View Tour

Best Price Guaranteed

Book With Flexibility

Best of Germany and Austria 2023

42 reviews
13

Days

Trafalgar

First Class

Escorted
Frankfurt
Vienna
Austria, Germany
$4,575View Tour

Best Price Guaranteed

Book With Flexibility

Best of Germany and Austria 2023

42 reviews
13

Days

Trafalgar

First Class

Escorted
Frankfurt
Vienna
Austria, Germany
$3,825View Tour

Best Price Guaranteed

Book With Flexibility

Best of Germany and Austria 2022

42 reviews
13

Days

Trafalgar

First Class

Escorted
Frankfurt
Vienna
Austria, Germany
$3,415View Tour

Best Price Guaranteed

Book With Flexibility

Best of France 2023

138 reviews
13

Days

Trafalgar

First Class

Escorted
Paris
Paris
France, Monaco
$3,895View Tour

Best Price Guaranteed

Book With Flexibility

Best of France 2022

138 reviews
13

Days

Trafalgar

First Class

Escorted
Paris
Paris
France, Monaco
$3,532View Tour

Best Price Guaranteed

Book With Flexibility

Treasures of Spain and Portugal End Madrid 2023

12 reviews
14

Days

Trafalgar

First Class

Escorted
1 - Light

5+ years old
50
Madrid
Madrid
Portugal, Spain
$3,825View Tour

Best Price Guaranteed

Book With Flexibility

Treasures of Spain and Portugal End Madrid 2023

14

Days

Trafalgar

First Class

Escorted
Madrid
Madrid
Portugal, Spain
$3,425View Tour

Best Price Guaranteed

Book With Flexibility

Treasures of Spain and Portugal End Madrid 2022

12 reviews
14

Days

Trafalgar

First Class

Escorted
1 - Light

5+ years old
50
Madrid
Madrid
Portugal, Spain
$3,397View Tour

Best Price Guaranteed

Book With Flexibility

Treasures of Spain and Portugal End Barcelona 2023

14

Days

Trafalgar

First Class

Escorted
5+ years old
50
Madrid
Barcelona
Portugal, Spain
$3,825View Tour

Best Price Guaranteed

Book With Flexibility

Treasures of Spain and Portugal End Barcelona 2023

14

Days

Trafalgar

First Class

Escorted
5+ years old
50
Madrid
Barcelona
Portugal, Spain
$3,425View Tour

Best Price Guaranteed

Book With Flexibility

Treasures of Spain and Portugal End Barcelona 2022

14

Days

Trafalgar

First Class

Escorted
5+ years old
50
Madrid
Barcelona
Portugal, Spain
$3,397View Tour

Best Price Guaranteed

Book With Flexibility

Secrets of Greece including Corfu with Santorini Extension 2023

14

Days

Trafalgar

First Class

Escorted
Athens
Athens
Greece
$5,450View Tour

Best Price Guaranteed

Book With Flexibility

Secrets of Greece including Corfu with Santorini Extension 2022

14

Days

Trafalgar

First Class

Escorted
Athens
Athens
Greece
$4,933View Tour

Best Price Guaranteed

Book With Flexibility

Scenic Scandinavia and its Fjords 2023

159 reviews
14

Days

Trafalgar

First Class

Escorted
Copenhagen
Stockholm
Denmark, Norway, Sweden
$4,495View Tour

Best Price Guaranteed

Book With Flexibility

Scenic Scandinavia and its Fjords 2022

159 reviews
14

Days

Trafalgar

First Class

Escorted
Copenhagen
Stockholm
Denmark, Norway, Sweden
$5,250View Tour

Best Price Guaranteed

Book With Flexibility

Scenic Scandinavia and its Fjords 2022

159 reviews
14

Days

Trafalgar

First Class

Escorted
Copenhagen
Stockholm
Denmark, Norway, Sweden
$4,005View Tour

Best Price Guaranteed

Book With Flexibility

Highlights of Austria, Slovenia and Croatia End Zagreb 2023

14

Days

Trafalgar

First Class

Escorted
5+ years old
50
Vienna
Zagreb
Austria, Croatia, Slovenia
$3,875View Tour

Best Price Guaranteed

Book With Flexibility

Highlights of Austria, Slovenia and Croatia End Zagreb 2022

14

Days

Trafalgar

First Class

Escorted
5+ years old
50
Vienna
Zagreb
Austria, Croatia, Slovenia
$4,117View Tour

Best Price Guaranteed

Book With Flexibility

Highlights of Austria, Slovenia and Croatia End Vienna 2023

14

Days

Trafalgar

First Class

Escorted
Vienna
Vienna
Austria, Croatia, Slovenia
$3,875View Tour

Best Price Guaranteed

Book With Flexibility

Highlights of Austria, Slovenia and Croatia End Vienna 2022

14

Days

Trafalgar

First Class

Escorted
Vienna
Vienna
Austria, Croatia, Slovenia
$4,117View Tour

Best Price Guaranteed

Book With Flexibility




European Whirl with Oberammergau End Paris 2022

14

Days

Trafalgar

First Class

Escorted
London
Paris
Belgium, England, France, Germany, Italy, Netherlands, Switzerland
$4,545View Tour

Best Price Guaranteed

Book With Flexibility

European Whirl End Paris 2023/2024

12 reviews
14

Days

Trafalgar

First Class

Escorted
London
Paris
Austria, Belgium, England, France, Germany, Italy, Netherlands, Switzerland
$3,695View Tour

Best Price Guaranteed

Book With Flexibility

European Whirl End Paris 2023/2024

12 reviews
14

Days

Trafalgar

First Class

Escorted
London
Paris
Austria, Belgium, England, France, Germany, Italy, Netherlands, Switzerland
$3,675View Tour

Best Price Guaranteed

Book With Flexibility

European Whirl End Paris 2023

12 reviews
14

Days

Trafalgar

First Class

Escorted
London
Paris
Austria, England, France, Germany, Italy, Netherlands, Switzerland
$4,175View Tour

Best Price Guaranteed

Book With Flexibility




European Whirl End Paris 2022

34 reviews
14

Days

Trafalgar

First Class

Escorted
London
Paris
Austria, Belgium, England, France, Germany, Italy, Netherlands, Switzerland
$4,054View Tour

Best Price Guaranteed

Book With Flexibility

Bohemian Highlights 2023

66 reviews
14

Days

Trafalgar

First Class

Escorted
Berlin
Frankfurt
Austria, Czech Republic, Germany, Hungary, Poland, Slovakia
$3,275View Tour

Best Price Guaranteed

Book With Flexibility

Bohemian Highlights 2023