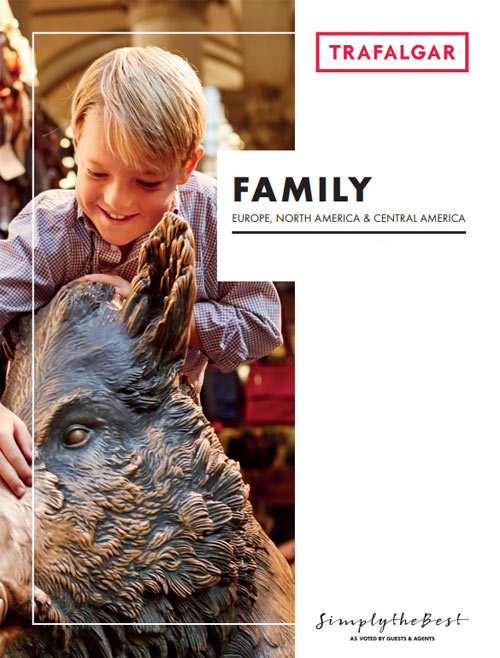 Guaranteed Low Prices on Trafalgar Vacations - Family Experiences
NEW! 2023 Now Open for Sale! Trafalgar Family Experience are exactly that: designed for families. So you get vacations that are not only fun and enriching, but eye-opening and educational. For all. Create family tales and memories to share and laugh over, for generations to come. Watch your children broaden their horizons, as they develop a sense of wonder at the big wide world.
Escorted Tour
AffordableTours.com offers escorted tours to all of your favorite countries around the world. Escorted tours normally include hotel stays, transportation, most meals, sightseeing and cultural activities. They are led by a tour director who will be with your group from the beginning to end of the tour and they handle all of the logistics, check ins, attraction tickets and local guides that are included on your trip. People that enjoy escorted tours are travelers who don't have time or the knowhow to plan an all-encompassing, multiday overseas trip, people who travel in luxury or like to save money, and people who like to see the must-see sites while also experiencing the local culture. Escorted tours range in group size, pace, and age, so there is an escorted tour for every type of traveler. From solo travelers to groups of friends, to multi-generational families and adventure seekers, we have the escorted tour for you!
Tour Itinerary
Days
Operator
Quality
Style
Starts
Ends
Price

Wild West, Cowboys and Buffalos End Rapid City

36 reviews
03

Days

Trafalgar

First Class

Escorted
Salt Lake City, UT
Rapid City, SD
United States
$3,880View Tour

Best Price Guaranteed

Book With Flexibility

Wild West Cowboys and Buffalos End Denver

5 reviews
03

Days

Trafalgar

First Class

Escorted
Salt Lake City, UT
Denver, CO
United States
$3,880View Tour

Best Price Guaranteed

Book With Flexibility

Pioneer Adventures of the Old West

12 reviews
08

Days

Trafalgar

First Class

Escorted
Phoenix, AZ
Las Vegas, NV
United States
$2,587View Tour

Best Price Guaranteed

Book With Flexibility

Monkeys, Jungles and Volcanoes

45 reviews
08

Days

Trafalgar

First Class

Escorted
San Jose
San Jose
Costa Rica
$2,595View Tour

Best Price Guaranteed

Book With Flexibility

Monkeys, Jungles and Volcanoes

45 reviews
08

Days

Trafalgar

First Class

Escorted
San Jose
San Jose
Costa Rica
$2,545View Tour

Best Price Guaranteed

Book With Flexibility

Monkeys, Jungles and Volcanoes

45 reviews
08

Days

Trafalgar

First Class

Escorted
San Jose
San Jose
Costa Rica
$1,975View Tour

Best Price Guaranteed

Book With Flexibility

Wild West, Cowboys and Buffalos End Rapid City

36 reviews
09

Days

Trafalgar

First Class

Escorted
Salt Lake City, UT
Rapid City, SD
United States
$3,235View Tour

Best Price Guaranteed

Book With Flexibility

Wild West Cowboys and Buffalos End Denver

36 reviews
09

Days

Trafalgar

First Class

Escorted
Salt Lake City, UT
Denver, CO
United States
$3,235View Tour

Best Price Guaranteed

Book With Flexibility

Shamrocks and Leprechauns

10

Days

Trafalgar

First Class

Escorted
Dublin
Dublin
Ireland, North Ireland
$3,082View Tour

Best Price Guaranteed

Book With Flexibility

Greek Island Hopper

32 reviews
10

Days

Trafalgar

First Class

Escorted
Athens
Athens
Greece
$4,713View Tour

Best Price Guaranteed

Book With Flexibility

Gladiators, Gondolas and Gold

5 reviews
10

Days

Trafalgar

First Class

Escorted
Rome
Venice
Italy
$3,425View Tour

Best Price Guaranteed

Book With Flexibility

Castles and Kilts

3 reviews
10

Days

Trafalgar

First Class

Escorted
London
Edinburgh
England, Scotland
$2,992View Tour

Best Price Guaranteed

Book With Flexibility

European Wonderland

4 reviews
11

Days

Trafalgar

First Class

Escorted
Rome
Paris
France, Italy, Switzerland
$4,275View Tour

Best Price Guaranteed

Book With Flexibility