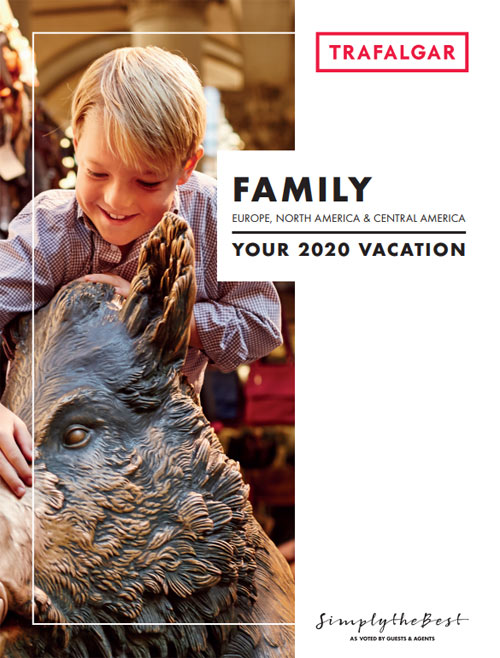 Guaranteed Low Prices on Trafalgar Vacations - Family Experiences
NEW! 2020 Now Open for Sale! Trafalgar Family Experience are exactly that: designed for families. So you get vacations that are not only fun and enriching, but eye-opening and educational. For all. Create family tales and memories to share and laugh over, for generations to come. Watch your children broaden their horizons, as they develop a sense of wonder at the big wide world.
Escorted Tour
Escorted Tours are our most popular product. Escorted tours are normally conducted by a tour director who takes care of all services from beginning to end of the tour. Escorted tours normally include flights, hotels, transportation, transfers to the airport/hotel, most meals and sightseeing. Escorted Tours are conducted by motor-coach and usually no more than 2 nights are spent in each location visited. Escorted Tours are usually fast-paced and prices include much of the sightseeing.
Tour Itinerary
Days
Operator
Quality
Style
Starts
Ends
Price

11 reviews

Pioneer Adventures of the Old West Summer 2020

08

Days

Trafalgar

First Class

Escorted
2 - Classic

5+ years old
50
Phoenix, AZ
Las Vegas, NV
United States
$2,081View Tour

13 reviews

Monkeys Jungles and Volcanoes Summer 2020

08

Days

Trafalgar

First Class

Escorted
1 - Light

5+ years old
50
San Jose
San Jose
Costa Rica
$1,660View Tour

20 reviews

Wild West Cowboys and Buffalos end Denver Summer 2020

09

Days

Trafalgar

First Class

Escorted
3 - Explorer

5+ years old
50
Salt Lake City, UT
Denver, CO
United States
$2,543View Tour

20 reviews

Wild West Cowboys and Buffalos End Rapid City Summer 2020

09

Days

Trafalgar

First Class

Escorted
3 - Explorer

5+ years old
50
Salt Lake City, UT
Rapid City, SD
United States
$2,543View Tour

1 reviews

Greek Island Hopper Family Summer 2020

10

Days

Trafalgar

First Class

Escorted
1 - Light

5+ years old
50
Athens
Athens
Greece
$2,850View Tour

5 reviews

Gladiators Gondolas and Gold Summer 2020

10

Days

Trafalgar

First Class

Escorted
1 - Light

5+ years old
50
Rome
Venice
Italy
$2,571View Tour

Shamrocks and Leprechauns Summer 2020

10

Days

Trafalgar

First Class

Escorted
1 - Light

5+ years old
50
Dublin
Dublin
Ireland, North Ireland
$2,400View Tour

3 reviews

Castles And Kilts Summer 2020

10

Days

Trafalgar

First Class

Escorted
2 - Classic

5+ years old
50
London
Edinburgh
England, Scotland, Wales
$2,290View Tour

4 reviews

European Wonderland Summer 2020

13

Days

Trafalgar

First Class

Escorted
2 - Classic

5+ years old
50
Rome
London
England, France, Italy, Switzerland
$3,166View Tour