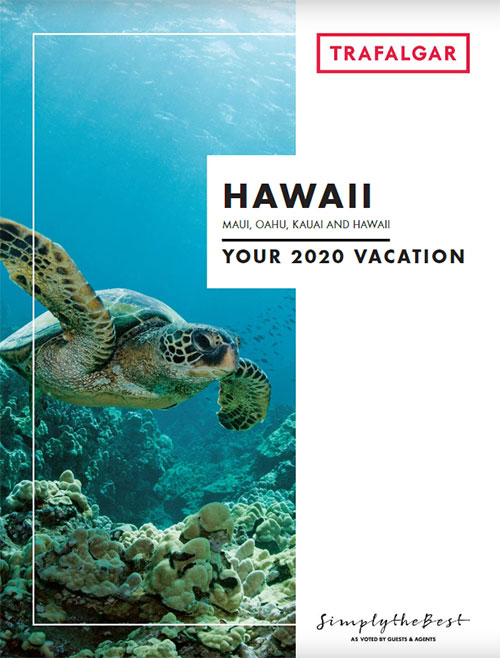 Guaranteed Low Prices on Trafalgar Vacations - Hawaii
NEW! 2020 Now Open for Sale! Trust Trafalgar to bring Hawaii to life. Ensuring you discover this breathtakingly beautiful chain of Pacific Islands is what Trafalgar does best as they take you on adventures from pristine coastlines to jungle-clad hills, through fascinating cultural melting pots and where warm welcomes are always waiting.
Escorted Tour
Escorted Tours are our most popular product. Escorted tours are normally conducted by a tour director who takes care of all services from beginning to end of the tour. Escorted tours normally include flights, hotels, transportation, transfers to the airport/hotel, most meals and sightseeing. Escorted Tours are conducted by motor-coach and usually no more than 2 nights are spent in each location visited. Escorted Tours are usually fast-paced and prices include much of the sightseeing.
Tour Itinerary
Days
Operator
Quality
Style
Starts
Ends
Price

6 reviews

Hawaiian Explorer Premium Summer 2020

08

Days

Trafalgar

First Class

Escorted
1 - Light

5+ years old
50
Honolulu, HI
Maui, HI
United States
$2,974View Tour

6 reviews

Hawaiian Explorer First Class Summer 2020

08

Days

Trafalgar

First Class

Escorted
1 - Light

5+ years old
50
Honolulu, HI
Maui, HI
United States
$2,789View Tour

6 reviews

Hawaiian Explorer Moderate Summer 2020

08

Days

Trafalgar

First Class

Escorted
1 - Light

5+ years old
50
Honolulu, HI
Maui, HI
United States
$2,604View Tour

4 reviews

Best of Hawaii Premier

10

Days

Trafalgar

First Class

Escorted
1 - Light

5+ years old
50
Honolulu, HI
Kahului, HI
United States
$3,529View Tour

2 reviews

Best of Hawaii First Class Summer 2020

10

Days

Trafalgar

First Class

Escorted
1 - Light

5+ years old
50
Honolulu, HI
Kahului, HI
United States
$3,297View Tour

2 reviews

Best of Hawaii Moderate Summer 2020

10

Days

Trafalgar

First Class

Escorted
1 - Light

5+ years old
50
Honolulu, HI
Kahului, HI
United States
$3,085View Tour

Hawaiian Discovery Premium Summer 2020

11

Days

Trafalgar

Deluxe

Escorted
1 - Light

5+ years old
50
Honolulu, HI
Kauai, HI
United States
$3,813View Tour

Hawaiian Discovery First Class Summer 2020

11

Days

Trafalgar

First Class

Escorted
1 - Light

5+ years old
50
Honolulu, HI
Kauai, HI
United States
$3,549View Tour

Hawaiian Discovery Moderate Summer 2020

11

Days

Trafalgar

First Class

Escorted
1 - Light

5+ years old
50
Honolulu, HI
Kauai, HI
United States
$3,290View Tour

Hawaii Four Island Adventure Premier Summer 2020

13

Days

Trafalgar

Deluxe

Escorted
1 - Light

5+ years old
50
Honolulu, HI
Kauai, HI
United States
$4,303View Tour

Hawaii Four Island Adventure First Class Summer 2020

13

Days

Trafalgar

First Class

Escorted
1 - Light

5+ years old
50
Honolulu, HI
Kauai, HI
United States
$4,090View Tour

Hawaii Four Island Adventure Moderate Summer 2020

13

Days

Trafalgar

First Class

Escorted
1 - Light

5+ years old
50
Honolulu, HI
Kauai, HI
United States
$3,905View Tour