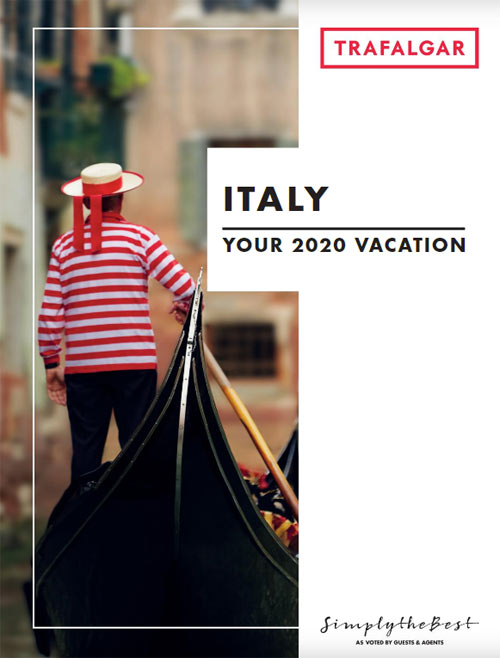 Guaranteed Low Prices on Trafalgar Vacations - Italy
NEW! 2020 Now Open for Sale! From top to toe, the boot-shaped nation is bursting with sounds, sights, and culinary aromas. It is a sheer feast for the senses. There are more than 300 types of pasta to choose from, alone. All this, Trafalgar offers you, transforming the bounty of Italy into bite-sized experiences.
Escorted Tour
Escorted Tours are our most popular product. Escorted tours are normally conducted by a tour director who takes care of all services from beginning to end of the tour. Escorted tours normally include flights, hotels, transportation, transfers to the airport/hotel, most meals and sightseeing. Escorted Tours are conducted by motor-coach and usually no more than 2 nights are spent in each location visited. Escorted Tours are usually fast-paced and prices include much of the sightseeing.
Tour Itinerary
Days
Operator
Quality
Style
Starts
Ends
Price

62 reviews

Italian Holiday Summer 2020

07

Days

Trafalgar

First Class

Escorted
1 - Light

5+ years old
50
Rome
Rome
Italy
$1,870View Tour

Rome Explorer Winter 2019 2020

08

Days

Trafalgar

First Class

Escorted
1 - Light

5+ years old
50
Rome
Rome
Italy
$1,775View Tour

24 reviews

Simply Italy Winter 2019 2020

08

Days

Trafalgar

First Class

Escorted
1 - Light

5+ years old
50
Rome
Rome
Italy
$1,675View Tour

28 reviews

Best of Switzerland Summer 2020

09

Days

Trafalgar

First Class

Escorted
1 - Light

5+ years old
50
Zurich
Zurich
Italy, Switzerland
$2,337View Tour

22 reviews

Northern Italy Including Cinque Terre Summer 2020

09

Days

Trafalgar

First Class

Escorted
1 - Light

5+ years old
50
Milan
Milan
Italy
$2,122View Tour

11 reviews

Rome and Tuscan Highlights Summer 2020

09

Days

Trafalgar

First Class

Escorted
1 - Light

5+ years old
50
Rome
Rome
Italy
$2,120View Tour

6 reviews

Best of the Italian Lakes Summer 2020

09

Days

Trafalgar

First Class

Escorted
1 - Light

5+ years old
50
Milan
Milan
Italy
$1,976View Tour

Colors of Sicily Summer 2020

09

Days

Trafalgar

First Class

Escorted
1 - Light

5+ years old
50
Catania
Palermo
Italy
$1,848View Tour

10 reviews

Best of Italy and Greece Summer 2020

10

Days

Trafalgar

First Class

Escorted
2 - Classic

5+ years old
50
Rome
Athens
Greece, Italy
$2,983View Tour

27 reviews

Contrasts of Italy Summer 2020

10

Days

Trafalgar

First Class

Escorted
1 - Light

5+ years old
50
Rome
Venice
Italy
$2,844View Tour

170 reviews

Great Italian Cities Summer 2020

10

Days

Trafalgar

First Class

Escorted
1 - Light

5+ years old
50
Rome
Venice
Italy
$2,762View Tour

5 reviews

Gladiators Gondolas and Gold Summer 2020

10

Days

Trafalgar

First Class

Escorted
1 - Light

5+ years old
50
Rome
Venice
Italy
$2,571View Tour

14 reviews

Italian Discovery Summer 2020

10

Days

Trafalgar

First Class

Escorted
1 - Light

5+ years old
50
Rome
Rome
Italy
$2,545View Tour

170 reviews

Great Italian Cities Summer 2020

10

Days

Trafalgar

First Class

Escorted
1 - Light

5+ years old
50
Rome
Venice
Italy
$2,443View Tour

24 reviews

Southern Italy and Sicily Summer 2020

10

Days

Trafalgar

First Class

Escorted
1 - Light

5+ years old
50
Rome
Palermo
Italy
$2,316View Tour

170 reviews

Great Italian Cities Summer 2020

10

Days

Trafalgar

First Class

Escorted
1 - Light

5+ years old
50
Rome
Venice
Italy
$2,104View Tour

170 reviews

Great Italian Cities Winter 2019 2020

10

Days

Trafalgar

First Class

Escorted
1 - Light

5+ years old
50
Rome
Venice
Italy
$2,025View Tour

Holy Italian Pilgrimage Summer 2020

11

Days

Trafalgar

First Class

Escorted
1 - Light

5+ years old
50
Rome
Venice
Italy
$2,955View Tour

27 reviews

Italian Concerto Summer 2020

11

Days

Trafalgar

First Class

Escorted
1 - Light

5+ years old
50
Rome
Venice
Italy
$2,847View Tour

90 reviews

Italy Bellissimo Summer 2020

11

Days

Trafalgar

First Class

Escorted
1 - Light

5+ years old
50
Rome
Rome
Italy
$2,741View Tour

12 reviews

Wonders of Italy Summer 2020

11

Days

Trafalgar

First Class

Escorted
1 - Light

5+ years old
50
Rome
Rome
Italy
$2,571View Tour

12 reviews

Wonders of Italy Summer 2020

11

Days

Trafalgar

First Class

Escorted
1 - Light

5+ years old
50
Rome
Rome
Italy
$2,215View Tour

12 reviews

Wonders of Italy Winter 2019 2020

11

Days

Trafalgar

First Class

Escorted
1 - Light

5+ years old
50
Rome
Rome
Italy
$2,146View Tour

10 reviews

Italian Glory Summer 2020

13

Days

Trafalgar

First Class

Escorted
1 - Light

5+ years old
50
Milan
Rome
Italy
$3,293View Tour

411 reviews

Best of Italy Summer 2020

13

Days

Trafalgar

First Class

Escorted
1 - Light

5+ years old
50
Rome
Rome
Italy
$3,272View Tour

411 reviews

Best of Italy Summer 2020

13

Days

Trafalgar

First Class

Escorted
1 - Light

5+ years old
50
Rome
Rome
Italy
$2,821View Tour

411 reviews

Best of Italy Winter 2019 2020

13

Days

Trafalgar

First Class

Escorted
1 - Light

5+ years old
50
Rome
Rome
Italy
$2,695View Tour

6 reviews

European Spotlight Summer 2020

14

Days

Trafalgar

First Class

Escorted
2 - Classic

5+ years old
50
London
Rome
England, France, Italy, Switzerland
$3,140View Tour

22 reviews

Best of Italy and Sicily Summer 2020

15

Days

Trafalgar

First Class

Escorted
1 - Light

5+ years old
50
Palermo
Venice
Italy
$3,548View Tour

8 reviews

Grand Italian Experience Summer 2020

17

Days

Trafalgar

First Class

Escorted
1 - Light

5+ years old
50
Rome
Rome
Italy
$3,973View Tour

4 reviews

European Supreme with 3 Day Aegean Cruise Premier with Eurostar Summer 2020

30

Days

Trafalgar

First Class

Escorted
3 - Explorer

5+ years old
50
London
London
Austria, Belgium, Croatia, England, France, Germany, Greece, Italy, Netherlands, Slovenia, Switzerland, Turkey
$8,855View Tour