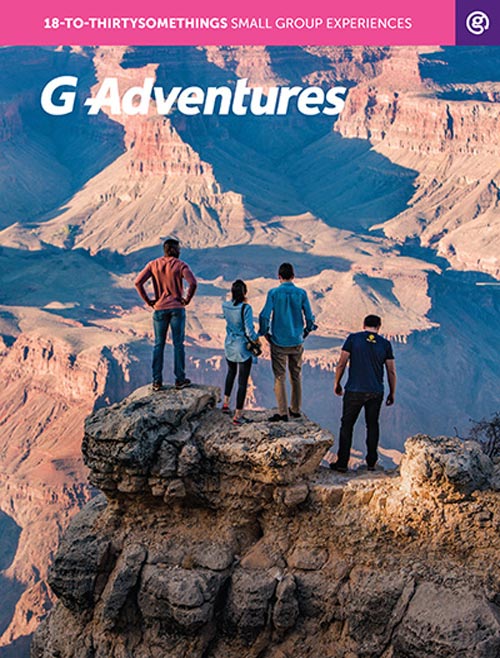 Guaranteed Low Prices on G Adventures Vacations - 18 to Thirtysomethings
NEW! 2020 Now Open for Sale! Designed for young, budget-minded travelers, 18-to-Thirtysomethings trips maximize time and money by squeezing the most out of a destination. Small groups, insider access and personal freedom to follow the whim of the moment are the order of the day every day.
Escorted Tour
Escorted Tours are our most popular product. Escorted tours are normally conducted by a tour director who takes care of all services from beginning to end of the tour. Escorted tours normally include flights, hotels, transportation, transfers to the airport/hotel, most meals and sightseeing. Escorted Tours are conducted by motor-coach and usually no more than 2 nights are spent in each location visited. Escorted Tours are usually fast-paced and prices include much of the sightseeing.
Tour Itinerary
Days
Operator
Quality
Style
Starts
Ends
Price

Queensland Adventure: Rainforests & Waterfalls

03

Days

G Adventures

Budget

Escorted
1 - Light

18 - 39 years old
17
Cairns
Cairns
Australia
$339View Tour

La Tomatina: Food Fights & Delights

04

Days

G Adventures

Budget

Escorted
1 - Light

18 - 39 years old
20
Valencia
Valencia
Spain
$499View Tour

Great Ocean Road East–Adelaide to Melbourne

04

Days

G Adventures

Budget

Escorted
3 - Explorer

18 - 39 years old
20
Adelaide
Melbourne
Australia
$415View Tour

New Zealand–The Bay of Islands

04

Days

G Adventures

Budget

Escorted
1 - Light

18 - 39 years old
20
Auckland
Auckland
New Zealand
$384View Tour

Bolivia Express: Salt Flats & Desert Landscapes

05

Days

G Adventures

Budget

Escorted
3 - Explorer

18 - 39 years old
16
La Paz
La Paz
Bolivia
$899View Tour

Coastal Morocco

05

Days

G Adventures

Budget

Escorted
2 - Classic

18 - 39 years old
14
Marrakesh
Marrakesh
Morocco
$529View Tour

Great Ocean Road West–Melbourne to Adelaide

05

Days

G Adventures

Budget

Escorted
3 - Explorer

18 - 39 years old
20
Melbourne
Adelaide
Australia
$524View Tour

Rio Carnival: Sequins & the Sambadrome (Hostel Experience)

06

Days

G Adventures

Budget

Escorted
1 - Light

18 - 39 years old
80
Rio de Janeiro
Rio de Janeiro
Brazil
$1,399View Tour

Alaska Camping: Kenai Peninsula

06

Days

G Adventures

Budget

Escorted
2 - Classic

18 - 39 years old
13
Anchorage, AK
Anchorage, AK
United States
$1,299View Tour

Japan: Ramen & Railways

06

Days

G Adventures

Budget

Escorted
1 - Light

18 - 39 years old
16
Tokyo
Kyoto
Japan
$1,231View Tour

Berlin to London: Bikes & Beer Gardens

06

Days

G Adventures

Budget

Escorted
2 - Classic

18 - 39 years old
16
Berlin
London
Belgium, England, Germany, Netherlands
$1,149View Tour

Alice Springs to Kakadu

06

Days

G Adventures

Budget

Escorted
2 - Classic

18 - 39 years old
20
Alice Springs
Darwin
Australia
$1,119View Tour

Japan: Castles & Cuisine

06

Days

G Adventures

Budget

Escorted
1 - Light

18 - 39 years old
16
Kyoto
Osaka
Japan
$1,103View Tour

1 reviews

Kenya Overland: Rhinos & National Reserves

06

Days

G Adventures

Budget

Escorted
4 - Active

18 - 39 years old
22
Nairobi
Kampala
Kenya, Uganda
$936View Tour

Galápagos Express Adventure

07

Days

G Adventures

Budget

Escorted
2 - Classic

18 - 39 years old
16
San Cristobal
Puerto Ayora
Ecuador, Galapagos
$1,549View Tour

London to Rome: Picnics & Pizza

07

Days

G Adventures

Budget

Escorted
2 - Classic

18 - 39 years old
16
London
Rome
England, France, Italy, Switzerland
$1,549View Tour

Mediterranean Express

07

Days

G Adventures

Budget

Escorted
1 - Light

18 - 39 years old
16
Rome
Barcelona
France, Italy, Spain
$1,349View Tour

USA Road Trip: Music City to the Magic Kingdom

07

Days

G Adventures

Budget

Escorted
4 - Active

18 - 39 years old
22
Nashville, TN
Orlando, FL
United States
$1,299View Tour

USA Road Trip: California Sierras and the Coast

07

Days

G Adventures

Budget

Escorted
4 - Active

18 - 39 years old
22
San Francisco, CA
Los Angeles, CA
United States
$1,249View Tour

Budapest to Berlin: Graffiti Walls & Market Halls

07

Days

G Adventures

Budget

Escorted
2 - Classic

18 - 39 years old
16
Budapest
Berlin
Czech Republic, Germany, Hungary, Poland
$1,199View Tour

USA Road Trip: Atlantic Coast

07

Days

G Adventures

Budget

Escorted
2 - Classic

18 - 39 years old
22
Orlando, FL
New York, NY
United States
$1,199View Tour

USA Road Trip: Los Angeles to San Francisco Adventure

07

Days

G Adventures

Budget

Escorted
4 - Active

18 - 39 years old
22
Los Angeles, CA
San Francisco, CA
United States
$1,159View Tour

USA Road Trip: San Francisco to LA Adventure

07

Days

G Adventures

Budget

Escorted
4 - Active

18 - 39 years old
22
San Francisco, CA
Los Angeles, CA
United States
$1,079View Tour

USA Road Trip: New York to Nashville

07

Days

G Adventures

Budget

Escorted
4 - Active

18 - 39 years old
22
New York, NY
Nashville, TN
United States
$1,039View Tour

USA Road Trip: Pacific Northwest

07

Days

G Adventures

Budget

Escorted
4 - Active

18 - 39 years old
22
Seattle, WA
San Francisco, CA
United States
$959View Tour

Peru: Inca Jungle & Rainbow Mountain Trek

07

Days

G Adventures

Budget

Escorted
5 - Challenging

18 - 39 years old
16
Cusco
Cusco
Peru
$949View Tour

1 reviews

Zagreb to Dubrovnik: Parties & Plitvice Lakes

07

Days

G Adventures

Budget

Escorted
2 - Classic

18 - 39 years old
16
Zagreb
Dubrovnik
Croatia
$949View Tour

Sydney to Brisbane Experience

07

Days

G Adventures

Budget

Escorted
4 - Active

18 - 39 years old
20
Sydney
Brisbane
Australia
$936View Tour

USA Road Trip: San Diego, Grand Canyon & Vegas

07

Days

G Adventures

Budget

Escorted
4 - Active

18 - 39 years old
22
Los Angeles, CA
Las Vegas, NV
United States
$879View Tour

The Red Centre to Adelaide

07

Days

G Adventures

Budget

Escorted
1 - Light

18 - 39 years old
20
Alice Springs
Adelaide
Australia
$799View Tour

Moroccan Desert Adventure

07

Days

G Adventures

Budget

Escorted
1 - Light

18 - 39 years old
14
Marrakesh
Marrakesh
Morocco
$729View Tour

Northern Morocco: Blue Cities & Seas

07

Days

G Adventures

Budget

Escorted
1 - Light

18 - 39 years old
14
Casablanca
Marrakesh
Morocco
$699View Tour

Oaxaca to Puerto Escondido: Day of the Dead

07

Days

G Adventures

Budget

Escorted
1 - Light

18 - 39 years old
Oaxaca
Puerto Escondido
Mexico
$649View Tour

New Zealand-Best of the North Island

07

Days

G Adventures

Budget

Escorted
4 - Active

18 - 39 years old
20
Auckland
Wellington
New Zealand
$584View Tour

Yucatan Discovery

07

Days

G Adventures

Budget

Escorted
1 - Light

18 - 39 years old
18
Merida
Playa del Carmen
Mexico
$583View Tour

Kerala Beaches & Backwaters

07

Days

G Adventures

Budget

Escorted
1 - Light

18 - 39 years old
18
Kochi
Kochi
India
$519View Tour

Israel & Jordan: Party Nights & Ancient Sites

08

Days

G Adventures

Budget

Escorted
2 - Classic

18 - 39 years old
15
Jerusalem
Tel Aviv
Israel, Jordan
$1,499View Tour

USA Road Trip: Sin, Surf & Sierras

08

Days

G Adventures

Budget

Escorted
4 - Active

18 - 39 years old
22
Las Vegas, NV
Los Angeles, CA
United States
$1,239View Tour

2 reviews

Kruger, Falls & Zimbabwe

08

Days

G Adventures

Budget

Escorted
4 - Active

18 - 39 years old
22
Victoria Falls
Johannesburg
South Africa, Zambia, Zimbabwe
$974View Tour

Botswana & Falls Overland

08

Days

G Adventures

Budget

Escorted
3 - Explorer

18 - 39 years old
22
Johannesburg
Victoria Falls
Botswana, South Africa, Zambia, Zimbabwe
$944View Tour

Delta & Falls Westbound

08

Days

G Adventures

Budget

Escorted
3 - Explorer

18 - 39 years old
22
Victoria Falls
Windhoek
Botswana, Namibia, Zimbabwe
$909View Tour

Essential Jordan

08

Days

G Adventures

Budget

Escorted
3 - Explorer

12+ years old
15
Amman
Amman
Jordan
$899View Tour

Highlights of Brazil

08

Days

G Adventures

Budget

Escorted
3 - Explorer

18 - 39 years old
18
Rio de Janeiro
Rio de Janeiro
Brazil
$849View Tour

Egypt: Boats & Bazaars

08

Days

G Adventures

Budget

Escorted
3 - Explorer

18 - 39 years old
16
Cairo
Cairo
Egypt
$799View Tour

2 reviews

Beijing to Shanghai Adventure - From June 15 2020

08

Days

G Adventures

Budget

Escorted
2 - Classic

18 - 39 years old
18
Beijing
Shanghai
China
$749View Tour

2 reviews

Beijing to Shanghai Adventure - Until June 14 2020

08

Days

G Adventures

Budget

Escorted
2 - Classic

18 - 39 years old
18
Beijing
Shanghai
China
$749View Tour

Thailand Full Moon Party

08

Days

G Adventures

Budget

Escorted
2 - Classic

18 - 39 years old
18
Bangkok
Koh Pha Ngan
Thailand
$599View Tour

Southern Thailand Sojourn

08

Days

G Adventures

Budget

Escorted
2 - Classic

18 - 39 years old
18
Bangkok
Koh Tao
Thailand
$599View Tour

Northern Thailand: Hilltribes & Villages

08

Days

G Adventures

Budget

Escorted
3 - Explorer

18 - 39 years old
18
Bangkok
Bangkok
Thailand
$599View Tour

66 reviews

Costa Rica: Ocean Waves & sunsets

08

Days

G Adventures

Budget

Escorted
2 - Classic

18 - 39 years old
18
San Jose
San Jose
Costa Rica
$543View Tour

Uganda Overland: Gorillas & Chimps

09

Days

G Adventures

Budget

Escorted
5 - Challenging

18 - 39 years old
22
Kampala
Kampala
Uganda
$2,081View Tour

205 reviews

Galápagos Adventure

09

Days

G Adventures

Budget

Escorted
2 - Classic

18 - 39 years old
16
Quito
Quito
Ecuador, Galapagos
$2,049View Tour

Alaska and Denali Camping: Wilderness & Wildlife

09

Days

G Adventures

Budget

Escorted
2 - Classic

18 - 39 years old
13
Anchorage, AK
Anchorage, AK
United States
$1,899View Tour

Rome to Budapest: Canals & Capitals

09

Days

G Adventures

Budget

Escorted
2 - Classic

18 - 39 years old
16
Rome
Budapest
Austria, Hungary, Italy, Slovenia
$1,549View Tour

Tanzania & Zanzibar: White Sands & the Wilderness

09

Days

G Adventures

Budget

Escorted
1 - Light

18 - 39 years old
20
Arusha
Stone Town
Tanzania
$1,519View Tour

Dubrovnik to Athens: Ouzo & Old Towns

09

Days

G Adventures

Budget

Escorted
1 - Light

18 - 39 years old
16
Dubrovnik
Athens
Albania, Croatia, Greece, Montenegro
$1,299View Tour

Outback to the Red Centre: Adelaide to Alice Springs

09

Days

G Adventures

Budget

Escorted
1 - Light

18 - 39 years old
20
Adelaide
Alice Springs
Australia
$1,199View Tour

Delta & Falls Eastbound

09

Days

G Adventures

Budget

Escorted
3 - Explorer

18 - 39 years old
22
Windhoek
Victoria Falls
Botswana, Namibia, Zimbabwe
$1,064View Tour

Kruger and Swazi Overland

09

Days

G Adventures

Budget

Escorted
4 - Active

18 - 39 years old
22
Johannesburg
Durban
Eswatini, South Africa
$1,011View Tour

Shanghai to Hong Kong: Bustling Cities & Bamboo Rafts

09

Days

G Adventures

Budget

Escorted
1 - Light

18 - 39 years old
18
Shanghai
Hong Kong
China, Hong Kong
$891View Tour

Laos: Sunrises & Street Food

09

Days

G Adventures

Budget

Escorted
2 - Classic

18 - 39 years old
18
Vientiane
Chiang Mai
Laos, Thailand
$759View Tour

Bali: Beaches & Boat Rides

09

Days

G Adventures

Budget

Escorted
2 - Classic

18 - 39 years old
16
Kuta
Gili Trawangan
Indonesia
$699View Tour

Central Mexico Sojourn: Mezcal & Mineral Pools

09

Days

G Adventures

Budget

Escorted
2 - Classic

18+ years old
39
Mexico City
Oaxaca
Mexico
$639View Tour

Brisbane to Cairns Experience

10

Days

G Adventures

Budget

Escorted
3 - Explorer

18 - 39 years old
20
Brisbane
Cairns
Australia
$1,639View Tour

Nairobi to Zanzibar: Serengeti & Sunsets

10

Days

G Adventures

Budget

Escorted
1 - Light

18 - 39 years old
20
Nairobi
Stone Town
Kenya, Tanzania
$1,599View Tour

Spain & Portugal: Flamenco & Tapas

10

Days

G Adventures

Budget

Escorted
1 - Light

18 - 39 years old
16
Barcelona
Lisbon
Portugal, Spain
$1,349View Tour

The Red Centre to Melbourne

10

Days

G Adventures

Budget

Escorted
1 - Light

18 - 39 years old
20
Alice Springs
Melbourne
Australia
$1,183View Tour

South Africa Overland

10

Days

G Adventures

Budget

Escorted
4 - Active

18 - 39 years old
22
Durban
Cape Town
South Africa
$1,146View Tour

New Zealand–North Island Encompassed

10

Days

G Adventures

Budget

Escorted
4 - Active

18 - 39 years old
20
Auckland
Wellington
New Zealand
$1,049View Tour

Epic Japan

11

Days

G Adventures

Budget

Escorted
2 - Classic

18 - 39 years old
16
Tokyo
Osaka
Japan
$2,119View Tour

Inca Jungle: Rainbow Mountain & Salt Flats

11

Days

G Adventures

Budget

Escorted
3 - Explorer

18 - 39 years old
16
Cusco
La Paz
Bolivia, Peru
$1,849View Tour

Myanmar Islands: Snorkelling & Village Hikes

11

Days

G Adventures

Budget

Escorted
3 - Explorer

18 - 39 years old
18
Bangkok
Bangkok
Burma, Myanmar, Thailand
$1,109View Tour

Morocco Deserts & Beaches

11

Days

G Adventures

Budget

Escorted
1 - Light

18 - 39 years old
14
Marrakesh
Marrakesh
Morocco
$919View Tour

Laos & Thailand: Tuk-Tuks & Thai Curry

11

Days

G Adventures

Budget

Escorted
2 - Classic

18 - 39 years old
18
Vientiane
Bangkok
Laos, Thailand
$819View Tour

Budapest to London: Bike Tours & Belgian Waffles

12

Days

G Adventures

Budget

Escorted
2 - Classic

18 - 39 years old
16
Budapest
London
Belgium, Czech Republic, England, Germany, Hungary, Netherlands, Poland
$2,249View Tour

Queensland: Sand & Sailing

12

Days

G Adventures

Budget

Escorted
2 - Classic

18 - 39 years old
20
Brisbane
Cairns
Australia
$2,249View Tour

Caribbean Adventure: The Lost City Trek & Medellin

12

Days

G Adventures

Budget

Escorted
5 - Challenging

18 - 39 years old
16
Cartagena
Medellín
Colombia
$1,519View Tour

Sri Lanka: Spice Gardens & Seasides

12

Days

G Adventures

Budget

Escorted
1 - Light

18 - 39 years old
18
Negombo
Hikkaduwa Beach
Sri Lanka
$1,149View Tour

Medellin to Bogota Adventure

12

Days

G Adventures

Budget

Escorted
4 - Active

18 - 39 years old
16
Medellín
Bogota
Colombia, Ecuador
$1,149View Tour

London to Barcelona: Tapas & Train Rides

13

Days

G Adventures

Budget

Escorted
3 - Explorer

18 - 39 years old
16
London
Barcelona
England, France, Italy, Monaco, Spain, Switzerland
$2,699View Tour

Australia North to South – Darwin to Adelaide

13

Days

G Adventures

Budget

Escorted
2 - Classic

18 - 39 years old
20
Darwin
Adelaide
Australia
$2,119View Tour

Philippines Island Hopping: Clear Skies & Blue Waters

13

Days

G Adventures

Budget

Escorted
2 - Classic

18 - 39 years old
18
Manila
El Nido
Philippines
$1,999View Tour

Melbourne to the Red Centre

13

Days

G Adventures

Budget

Escorted
4 - Active

18 - 39 years old
20
Melbourne
Alice Springs
Australia
$1,711View Tour

Cape & Dunes Northbound:

13

Days

G Adventures

Budget

Escorted
3 - Explorer

18 - 39 years old
22
Cape Town
Windhoek
Namibia, South Africa
$1,386View Tour

Hong Kong to Beijing on a Shoestring

13

Days

G Adventures

Budget

Escorted
3 - Explorer

18 - 39 years old
18
Hong Kong
Beijing
China
$1,011View Tour

Morocco: Markets & Mountains

13

Days

G Adventures

Budget

Escorted
1 - Light

18 - 39 years old
14
Casablanca
Marrakesh
Morocco
$999View Tour

Alaska Camping: Glaciers & Mountains

14

Days

G Adventures

Budget

Escorted
1 - Light

18 - 39 years old
13
Anchorage, AK
Anchorage, AK
United States
$3,149View Tour

USA Road Trip: Best of Nashville to San Francisco

14

Days

G Adventures

Budget

Escorted
3 - Explorer

18 - 39 years old
22
Nashville, TN
San Francisco, CA
United States
$2,999View Tour

Canadian Rockies: National Parks Westbound

14

Days

G Adventures

Budget

Escorted
1 - Light

18 - 39 years old
12
Calgary
Vancouver
Canada
$2,549View Tour

Canadian Rockies: National Parks Eastbound

14

Days

G Adventures

Budget

Escorted
1 - Light

18 - 39 years old
12
Vancouver
Calgary
Canada
$2,549View Tour

USA Road Trip: Music City to The Big Apple

14

Days

G Adventures

Budget

Escorted
4 - Active

18 - 39 years old
22
Nashville, TN
New York, NY
United States
$2,399View Tour

USA Road Trip: Pacific Coastal – Seattle to LA

14

Days

G Adventures

Budget

Escorted
4 - Active

18 - 39 years old
22
Seattle, WA
Los Angeles, CA
United States
$2,349View Tour

USA Road Trip Express: New York to Los Angeles

14

Days

G Adventures

Budget

Escorted
3 - Explorer

18 - 39 years old
22
New York, NY
Los Angeles, CA
United States
$2,319View Tour

USA Road Trip: New York to Orlando

14

Days

G Adventures

Budget

Escorted
4 - Active

18 - 39 years old
22
New York, NY
Orlando, FL
United States
$2,039View Tour

USA & Canada Road Trip: Eastern Highlights

14

Days

G Adventures

Budget

Escorted
2 - Classic

18 - 39 years old
22
New York, NY
New York, NY
Canada, United States
$1,679View Tour

USA Road Trip: Northwest National Parks

14

Days

G Adventures

Budget

Escorted
4 - Active

18 - 39 years old
22
Las Vegas, NV
Seattle, WA
United States
$1,639View Tour

Indonesia: Hammocks & Hikes

14

Days

G Adventures

Budget

Escorted
3 - Explorer

18 - 39 years old
18
Jakarta
Kuta
Indonesia
$1,599View Tour

11 reviews

Peru on a Shoestring - Cusco Stay

14

Days

G Adventures

Budget

Escorted
5 - Challenging

18 - 39 years old
18
Lima
Cusco
Peru
$1,519View Tour

11 reviews

Peru on a Shoestring - Inca Trail

14

Days

G Adventures

Budget

Escorted
5 - Challenging

18 - 39 years old
18
Lima
Cusco
Peru
$1,519View Tour

11 reviews

Peru on a Shoestring - Lares Trek

14

Days

G Adventures

Budget

Escorted
5 - Challenging

18 - 39 years old
18
Lima
Cusco
Peru
$1,519View Tour

Myanmar: Hilltribes & Sunrises

14

Days

G Adventures

Budget

Escorted
3 - Explorer

18 - 39 years old
18
Chiang Mai
Bangkok
Burma, Myanmar, Thailand
$1,499View Tour

Hong Kong to Beijing: Food Stalls & Waterfalls

14

Days

G Adventures

Budget

Escorted
3 - Explorer

18 - 39 years old
18
Hong Kong
Beijing
China
$1,449View Tour

Cape & Dunes Southbound

14

Days

G Adventures

Budget

Escorted
3 - Explorer

18 - 39 years old
22
Windhoek
Cape Town
Namibia, South Africa
$1,386View Tour

Bangkok to Singapore: Markets & Pad Thai

14

Days

G Adventures

Budget

Escorted
2 - Classic

18 - 39 years old
18
Bangkok
Singapore
Malaysia, Singapore, Thailand
$1,299View Tour

Highlights of Sumatra

14

Days

G Adventures

Budget

Escorted
3 - Explorer

18 - 39 years old
18
Medan
Padang
Indonesia
$1,249View Tour

Laos to Northern Thailand: Treks & Trails

14

Days

G Adventures

Budget

Escorted
3 - Explorer

18 - 39 years old
18
Vientiane
Bangkok
Laos, Thailand
$1,249View Tour

1 reviews

Basic Costa Rica

14

Days

G Adventures

Budget

Escorted
1 - Light

18 - 39 years old
18
San Jose
San Jose
Costa Rica
$1,199View Tour

Panama Experience

14

Days

G Adventures

Budget

Escorted
2 - Classic

18 - 39 years old
18
San Jose
Panama City
Costa Rica, Panama
$999View Tour

London to Budapest: Waterways, Wine & Bohemian Vibes

15

Days

G Adventures

Budget

Escorted
3 - Explorer

18 - 39 years old
16
London
Budapest
Austria, England, France, Hungary, Italy, Slovenia, Switzerland
$2,999View Tour

Kenya & Uganda Gorilla Overland

15

Days

G Adventures

Budget

Escorted
5 - Challenging

18 - 39 years old
22
Nairobi
Nairobi
Kenya, Uganda
$2,804View Tour

Rome to Berlin: Piazzas, Pilsners & the Past

15

Days

G Adventures

Budget

Escorted
3 - Explorer

18 - 39 years old
16
Rome
Berlin
Austria, Czech Republic, Germany, Hungary, Italy, Poland, Slovenia
$2,699View Tour

Outback to the Top End–Adelaide to Darwin

15

Days

G Adventures

Budget

Escorted
2 - Classic

18 - 39 years old
20
Adelaide
Darwin
Australia
$2,439View Tour

Zagreb to Athens: Adriatic & Ancient Capitals

15

Days

G Adventures

Budget

Escorted
1 - Light

18 - 39 years old
16
Zagreb
Athens
Albania, Croatia, Greece, Montenegro
$2,229View Tour

USA Road Trip: Best of the West

15

Days

G Adventures

Budget

Escorted
3 - Explorer

18 - 39 years old
22
Los Angeles, CA
Los Angeles, CA
United States
$1,919View Tour

Buenos Aires to La Paz

15

Days

G Adventures

Budget

Escorted
2 - Classic

18 - 39 years old
18
Buenos Aires
La Paz
Argentina, Bolivia, Chile
$1,899View Tour

Southern Africa Encompassed

15

Days

G Adventures

Budget

Escorted
4 - Active

18 - 39 years old
22
Johannesburg
Johannesburg
Botswana, South Africa, Zimbabwe
$1,874View Tour

Southern Africa Overland

15

Days

G Adventures

Budget

Escorted
4 - Active

18 - 39 years old
22
Victoria Falls
Victoria Falls
Botswana, South Africa, Zimbabwe
$1,836View Tour

1 reviews

La Paz to Buenos Aires

15

Days

G Adventures

Budget

Escorted
2 - Classic

18 - 39 years old
18
La Paz
Buenos Aires
Argentina, Bolivia, Chile
$1,519View Tour

Thailand: Forest Treks & Full Moon Party

15

Days

G Adventures

Budget

Escorted
3 - Explorer

18 - 39 years old
18
Bangkok
Koh Pha Ngan
Thailand
$1,339View Tour

Mexico: Cities, Cuisine & Ruins

15

Days

G Adventures

Budget

Escorted
2 - Classic

18+ years old
39
Mexico City
Playa del Carmen
Mexico
$1,279View Tour

Quito to Lima - 2020

15

Days

G Adventures

Budget

Escorted
1 - Light

18 - 39 years old
18
Quito
Lima
Ecuador, Peru
$1,159View Tour

Thailand: Night Markets & Blue Waters

15

Days

G Adventures

Budget

Escorted
3 - Explorer

18 - 39 years old
18
Bangkok
Koh Tao
Thailand
$1,119View Tour

Turkey: Coastlines & Kebabs

15

Days

G Adventures

Budget

Escorted
1 - Light

18 - 39 years old
18
Istanbul
Istanbul
Turkey
$1,069View Tour

Uncover India

15

Days

G Adventures

Budget

Escorted
1 - Light

18 - 39 years old
18
New Delhi
Goa
India
$1,039View Tour

Delhi to Kathmandu: Mountain Scenes & the Ganges

15

Days

G Adventures

Budget

Escorted
1 - Light

18 - 39 years old
18
New Delhi
Kathmandu
India, Nepal
$983View Tour

Most of the Coast: Sydney to Cairns

16

Days

G Adventures

Budget

Escorted
1 - Light

18 - 39 years old
20
Sydney
Cairns
Australia
$2,519View Tour

Rome to Lisbon: Coasts & Countryside

16

Days

G Adventures

Budget

Escorted
3 - Explorer

18 - 39 years old
16
Rome
Lisbon
France, Italy, Portugal, Spain
$2,499View Tour

Australia North to South – Darwin to Melbourne

16

Days

G Adventures

Budget

Escorted
2 - Classic

18 - 39 years old
20
Darwin
Melbourne
Australia
$2,399View Tour

2 reviews

Spain, Portugal and Morocco

16

Days

G Adventures

Budget

Escorted
1 - Light

18 - 39 years old
16
Barcelona
Marrakesh
Morocco, Portugal, Spain
$1,999View Tour

New Zealand–South Island Encompassed

16

Days

G Adventures

Budget

Escorted
4 - Active

18 - 39 years old
20
Wellington
Wellington
New Zealand
$1,839View Tour

Beijing to Hong Kong: Great Wall & Warriors - 2020 Onward Itinerary

16

Days

G Adventures

Budget

Escorted
2 - Classic

18 - 39 years old
18
Beijing
Hong Kong
China
$1,649View Tour

Beijing to Hong Kong: Great Wall & Warriors

16

Days

G Adventures

Budget

Escorted
2 - Classic

18 - 39 years old
18
Beijing
Hong Kong
China
$1,486View Tour

Mayan Sun–Northbound

16

Days

G Adventures

Budget

Escorted
1 - Light

18 - 39 years old
18
Antigua
Playa del Carmen
Belize, Guatemala, Mexico
$1,159View Tour

Mayan Sun–Southbound

16

Days

G Adventures

Budget

Escorted
1 - Light

18 - 39 years old
18
Playa del Carmen
Antigua
Belize, Guatemala, Mexico
$1,159View Tour

Buenos Aires to Rio De Janeiro: Falls & Footy

17

Days

G Adventures

Budget

Escorted
3 - Explorer

18 - 39 years old
18
Buenos Aires
Rio de Janeiro
Argentina, Brazil, Uruguay
$2,799View Tour

Rio De Janeiro to Buenos Aires: Waterfalls & White Sands

17

Days

G Adventures

Budget

Escorted
3 - Explorer

18 - 39 years old
18
Rio de Janeiro
Buenos Aires
Argentina, Brazil, Uruguay
$2,649View Tour

South Africa & Swazi Overland

17

Days

G Adventures

Budget

Escorted
4 - Active

18 - 39 years old
22
Johannesburg
Cape Town
Eswatini, South Africa
$2,159View Tour

Morocco Adventure

17

Days

G Adventures

Budget

Escorted
2 - Classic

18 - 39 years old
Casablanca
Marrakesh
Morocco
$1,529View Tour

East Coast Encompassed–Sydney to Cairns

18

Days

G Adventures

Budget

Escorted
3 - Explorer

18 - 39 years old
20
Sydney
Cairns
Australia
$3,299View Tour

Discover Kerala and Sri Lanka

18

Days

G Adventures

Budget

Escorted
5 - Challenging

12+ years old
15
Kochi
Hikkaduwa Beach
India, Sri Lanka
$1,949View Tour

Backroads of Central America

18

Days

G Adventures

Budget

Escorted
3 - Explorer

18 - 39 years old
18
San Jose
Antigua
Costa Rica, El Salvador, Guatemala, Honduras, Nicaragua
$1,439View Tour

East Africa Overland

19

Days

G Adventures

Budget

Escorted
5 - Challenging

18 - 39 years old
22
Kampala
Stone Town
Kenya, Tanzania, Uganda
$3,866View Tour

Australia South to North–Melbourne to Darwin

19

Days

G Adventures

Budget

Escorted
2 - Classic

18 - 39 years old
20
Melbourne
Darwin
Australia
$2,703View Tour

1 reviews

Hong Kong to Shanghai on a Shoestring

19

Days

G Adventures

Budget

Escorted
3 - Explorer

18 - 39 years old
18
Hong Kong
Shanghai
China
$1,699View Tour

Rome to London: Cobblestone & Cuisine

20

Days

G Adventures

Budget

Escorted
3 - Explorer

18 - 39 years old
16
Rome
London
Austria, Belgium, Czech Republic, England, Germany, Hungary, Italy, Netherlands, Poland, Slovenia
$3,599View Tour

Victoria Falls and Serengeti Overland

20

Days

G Adventures

Budget

Escorted
4 - Active

18 - 39 years old
22
Victoria Falls
Nairobi
Kenya, Malawi, Tanzania, Zambia, Zimbabwe
$2,799View Tour

Serengeti to Victoria Falls Overland

20

Days

G Adventures

Budget

Escorted
4 - Active

18 - 39 years old
22
Nairobi
Victoria Falls
Kenya, Malawi, Tanzania, Zambia, Zimbabwe
$2,736View Tour

Vietnam & Laos: Homestays & Houseboats

20

Days

G Adventures

Budget

Escorted
2 - Classic

18 - 39 years old
18
Ho Chi Minh
Chiang Mai
Laos, Thailand, Vietnam
$1,699View Tour

Cambodia & Vietnam: Bonfires & Banh Mi

20

Days

G Adventures

Budget

Escorted
3 - Explorer

18 - 39 years old
18
Bangkok
Hanoi
Cambodia, Thailand, Vietnam
$1,499View Tour

Rajasthan and Varanasi: Trains & the Taj

20

Days

G Adventures

Budget

Escorted
1 - Light

18 - 39 years old
18
New Delhi
New Delhi
India
$879View Tour

USA & Canada Road Trip: West Coast Discovery

21

Days

G Adventures

Budget

Escorted
3 - Explorer

18 - 39 years old
22
Los Angeles, CA
Vancouver
Canada, United States
$4,299View Tour

London to Berlin: Art & the Alps

21

Days

G Adventures

Budget

Escorted
3 - Explorer

18 - 39 years old
16
London
Berlin
Austria, Czech Republic, England, France, Germany, Hungary, Italy, Poland, Slovenia, Switzerland
$4,079View Tour

USA Road Trip: Coast to Coast Highlights

21

Days

G Adventures

Budget

Escorted
3 - Explorer

18 - 39 years old
22
Seattle, WA
New York, NY
United States
$3,699View Tour

USA Road Trip: Pacific Coast to Las Vegas

21

Days

G Adventures

Budget

Escorted
4 - Active

18 - 39 years old
22
Seattle, WA
Las Vegas, NV
United States
$3,339View Tour

USA Road Trip: Epic East Coast

21

Days

G Adventures

Budget

Escorted
3 - Explorer

18 - 39 years old
22
New York, NY
New York, NY
United States
$2,879View Tour

Cartagena to Bogota

21

Days

G Adventures

Budget

Escorted
4 - Active

18 - 39 years old
16
Cartagena
Bogota
Colombia, Ecuador
$2,649View Tour

1 reviews

Best of New Zealand

21

Days

G Adventures

Budget

Escorted
3 - Explorer

18 - 39 years old
20
Auckland
Wellington
New Zealand
$2,479View Tour

USA Road Trip: Los Angeles to Seattle

21

Days

G Adventures

Budget

Escorted
4 - Active

18 - 39 years old
22
Los Angeles, CA
Seattle, WA
United States
$2,319View Tour

Southern Africa Northbound

21

Days

G Adventures

Budget

Escorted
3 - Explorer

18 - 39 years old
22
Cape Town
Victoria Falls
Botswana, Namibia, South Africa, Zimbabwe
$2,249View Tour

Indonesia Adventure – Java & Bali

21

Days

G Adventures

Budget

Escorted
3 - Explorer

18 - 39 years old
16
Jakarta
Gili Trawangan
Indonesia
$2,249View Tour

Andean Discovery (Northbound) - Cusco Stay 2020

21

Days

G Adventures

Budget

Escorted
5 - Challenging

18 - 39 years old
18
La Paz
Lima
Bolivia, Peru
$2,239View Tour

Andean Discovery (Northbound) - Inca Trail 2020

21

Days

G Adventures

Budget

Escorted
5 - Challenging

18 - 39 years old
18
La Paz
Lima
Bolivia, Peru
$2,239View Tour

Andean Discovery (Northbound) - Lares Trek 2020

21

Days

G Adventures

Budget

Escorted
5 - Challenging

18 - 39 years old
18
La Paz
Lima
Bolivia, Peru
$2,239View Tour

Andean Discovery (Southbound) - Cusco Stay 2020

21

Days

G Adventures

Budget

Escorted
5 - Challenging

18 - 39 years old
18
Lima
La Paz
Bolivia, Peru
$2,239View Tour

Andean Discovery (Southbound) - Inca Trail 2020

21

Days

G Adventures

Budget

Escorted
5 - Challenging

18 - 39 years old
18
Lima
La Paz
Bolivia, Peru
$2,239View Tour

Andean Discovery (Southbound) - Lares Trek 2020

21

Days

G Adventures

Budget

Escorted
5 - Challenging

18 - 39 years old
18
Lima
La Paz
Bolivia, Peru
$2,239View Tour

North to South India: Colours & Curry

21

Days

G Adventures

Budget

Escorted
1 - Light

18 - 39 years old
18
New Delhi
Kochi
India
$2,149View Tour

Southern Africa Southbound

21

Days

G Adventures

Budget

Escorted
3 - Explorer

18 - 39 years old
22
Victoria Falls
Cape Town
Botswana, Namibia, South Africa, Zimbabwe
$2,099View Tour

Southeast Asia: Hilltribes & Street Food

21

Days

G Adventures

Budget

Escorted
3 - Explorer

18 - 39 years old
18
Bangkok
Singapore
Malaysia, Singapore, Thailand
$1,879View Tour

London to the Mediterranean: Coasts & Cafes

22

Days

G Adventures

Budget

Escorted
3 - Explorer

18 - 39 years old
16
London
Lisbon
England, France, Italy, Monaco, Portugal, Spain, Switzerland
$3,999View Tour

Vietnam, Laos & Thailand: Riversides & Railways

22

Days

G Adventures

Budget

Escorted
2 - Classic

18 - 39 years old
18
Ho Chi Minh
Bangkok
Laos, Thailand, Vietnam
$1,779View Tour

1 reviews

Ultimate East Africa

24

Days

G Adventures

Budget

Escorted
4 - Active

18 - 39 years old
22
Nairobi
Stone Town
Kenya, Tanzania, Uganda
$4,546View Tour

New Zealand Encompassed

24

Days

G Adventures

Budget

Escorted
4 - Active

18 - 39 years old
20
Auckland
Wellington
New Zealand
$2,959View Tour

China: Cafes & Karst Mountains

24

Days

G Adventures

Budget

Escorted
1 - Light

18 - 39 years old
18
Hong Kong
Hong Kong
China
$2,449View Tour

1 reviews

Australia Encompassed

25

Days

G Adventures

Budget

Escorted
2 - Classic

12+ years old
16
Sydney
Melbourne
Australia
$3,759View Tour

European Trail

26

Days

G Adventures

Budget

Escorted
2 - Classic

18 - 39 years old
16
London
London
Austria, Belgium, Czech Republic, England, France, Germany, Hungary, Italy, Netherlands, Poland, Slovenia, Switzerland
$4,899View Tour

Johannesburg to Nairobi Overland: Waterfalls & Beaches

27

Days

G Adventures

Budget

Escorted
3 - Explorer

18 - 39 years old
22
Johannesburg
Nairobi
Botswana, Kenya, Malawi, South Africa, Tanzania, Zambia, Zimbabwe
$3,781View Tour

1 reviews

Nairobi to Joburg Overland: Craters & Camping

27

Days

G Adventures

Budget

Escorted
3 - Explorer

18 - 39 years old
22
Nairobi
Johannesburg
Kenya, Malawi, South Africa, Tanzania, Zambia, Zimbabwe
$3,559View Tour

Bangkok to Kuta: Summits & Sunsets

27

Days

G Adventures

Budget

Escorted
2 - Classic

18 - 39 years old
18
Bangkok
Singapore
Malaysia, Singapore, Thailand
$2,949View Tour

Indonesia: Volcanoes & Floating Villages

27

Days

G Adventures

Budget

Escorted
3 - Explorer

18 - 39 years old
18
Medan
Kuta
Indonesia
$2,949View Tour

Ultimate China on a Shoestring - Hong Kong to Hong Kong

27

Days

G Adventures

Budget

Escorted
1 - Light

18 - 39 years old
18
Hong Kong
Hong Kong
China
$2,336View Tour

Complete Australia

28

Days

G Adventures

Budget

Escorted
3 - Explorer

18 - 39 years old
20
Melbourne
Cairns
Australia
$4,239View Tour

USA Road Trip: Vegas to LA

28

Days

G Adventures

Budget

Escorted
4 - Active

18 - 39 years old
22
Las Vegas, NV
Los Angeles, CA
United States
$3,479View Tour

Southern Africa Overland: Cape Town, Falls & Kruger

28

Days

G Adventures

Budget

Escorted
3 - Explorer

18 - 39 years old
22
Cape Town
Johannesburg
Botswana, Namibia, South Africa, Zimbabwe
$3,036View Tour

USA Road Trip: Highlights of America

29

Days

G Adventures

Budget

Escorted
3 - Explorer

18 - 39 years old
22
New York, NY
Los Angeles, CA
United States
$4,199View Tour

Indochina Discovery: Seasides and Street Food

30

Days

G Adventures

Budget

Escorted
2 - Classic

18+ years old
39
Bangkok
Bangkok
Cambodia, Laos, Thailand, Vietnam
$2,519View Tour

Bolivia to Brazil: Highlands & Coastlines

31

Days

G Adventures

Budget

Escorted
2 - Classic

18 - 39 years old
18
La Paz
Rio de Janeiro
Argentina, Bolivia, Brazil, Chile, Uruguay
$4,599View Tour

Discover India and Sri Lanka

32

Days

G Adventures

Budget

Escorted
3 - Explorer

18 - 39 years old
18
New Delhi
Hikkaduwa Beach
India, Sri Lanka
$3,349View Tour

Vietnam, Laos & Myanmar: Beaches & Bliss

33

Days

G Adventures

Budget

Escorted
2 - Classic

18 - 39 years old
18
Ho Chi Minh
Bangkok
Burma, Laos, Myanmar, Thailand, Vietnam
$2,999View Tour

Indochina: Northern Hilltribe Trekking & Beach Vibes

33

Days

G Adventures

Budget

Escorted
3 - Explorer

18 - 39 years old
18
Bangkok
Bangkok
Cambodia, Laos, Thailand, Vietnam
$2,899View Tour

Best of Central America

33

Days

G Adventures

Budget

Escorted
3 - Explorer

18 - 39 years old
18
San Jose
Playa del Carmen
Belize, Costa Rica, El Salvador, Guatemala, Honduras, Mexico, Nicaragua
$2,559View Tour

Indonesia Adventure – Sumatra, Java & Bali

34

Days

G Adventures

Budget

Escorted
3 - Explorer

18 - 39 years old
16
Medan
Gili Trawangan
Indonesia
$3,629View Tour

Bangkok to Bali Adventure

34

Days

G Adventures

Budget

Escorted
3 - Explorer

18 - 39 years old
16
Bangkok
Gili Trawangan
Indonesia, Malaysia, Singapore, Thailand
$3,499View Tour

USA Road Trip: Epic West Coast

35

Days

G Adventures

Budget

Escorted
3 - Explorer

18 - 39 years old
22
Los Angeles, CA
Los Angeles, CA
United States
$4,383View Tour

Buenos Aires to Lima Adventure - Cusco Stay 2020

35

Days

G Adventures

Budget

Escorted
5 - Challenging

18 - 39 years old
18
Buenos Aires
Lima
Argentina, Bolivia, Chile, Peru
$4,199View Tour

Buenos Aires to Lima Adventure - Inca Trail 2020

35

Days

G Adventures

Budget

Escorted
5 - Challenging

18 - 39 years old
18
Buenos Aires
Lima
Argentina, Bolivia, Chile, Peru
$4,199View Tour

Buenos Aires to Lima Adventure - Lares Trek 2020

35

Days

G Adventures

Budget

Escorted
5 - Challenging

18 - 39 years old
18
Buenos Aires
Lima
Argentina, Bolivia, Chile, Peru
$4,199View Tour

Lima to Buenos Aires - Cusco Stay 2020

35

Days

G Adventures

Budget

Escorted
5 - Challenging

18 - 39 years old
18
Lima
Buenos Aires
Argentina, Bolivia, Chile, Peru
$2,959View Tour

Lima to Buenos Aires - Inca Trail 2020

35

Days

G Adventures

Budget

Escorted
5 - Challenging

18 - 39 years old
18
Lima
Buenos Aires
Argentina, Bolivia, Chile, Peru
$2,959View Tour

Lima to Buenos Aires - Lares Trek 2020

35

Days

G Adventures

Budget

Escorted
5 - Challenging

18 - 39 years old
18
Lima
Buenos Aires
Argentina, Bolivia, Chile, Peru
$2,959View Tour

Quito to La Paz - Cusco Stay 2020

35

Days

G Adventures

Budget

Escorted
5 - Challenging

18 - 39 years old
18
Quito
La Paz
Bolivia, Ecuador, Peru
$2,919View Tour

Quito to La Paz - Inca Trail 2020

35

Days

G Adventures

Budget

Escorted
5 - Challenging

18 - 39 years old
18
Quito
La Paz
Bolivia, Ecuador, Peru
$2,919View Tour

Quito to La Paz - Lares Trek 2020

35

Days

G Adventures

Budget

Escorted
5 - Challenging

18 - 39 years old
18
Quito
La Paz
Bolivia, Ecuador, Peru
$2,919View Tour

Cape Town to the Serengeti

40

Days

G Adventures

Budget

Escorted
3 - Explorer

18 - 39 years old
22
Cape Town
Nairobi
Botswana, Kenya, Malawi, Namibia, South Africa, Tanzania, Zambia, Zimbabwe
$4,929View Tour

Serengeti, Falls & Cape Town Overland

40

Days

G Adventures

Budget

Escorted
4 - Active

18 - 39 years old
22
Nairobi
Cape Town
Botswana, Kenya, Malawi, Namibia, South Africa, Tanzania, Zambia, Zimbabwe
$4,559View Tour

Epic Bangkok to Kuta

40

Days

G Adventures

Budget

Escorted
3 - Explorer

18 - 39 years old
18
Bangkok
Kuta
Indonesia, Malaysia, Singapore, Thailand
$4,149View Tour

Epic Indochina

40

Days

G Adventures

Budget

Escorted
3 - Explorer

18 - 39 years old
18
Bangkok
Koh Tao
Cambodia, Laos, Thailand, Vietnam
$3,349View Tour

Indochina: Hilltribes, Thai Islands & Full Moon Party

40

Days

G Adventures

Budget

Escorted
3 - Explorer

18 - 39 years old
18
Bangkok
Koh Pha Ngan
Cambodia, Laos, Thailand, Vietnam
$3,329View Tour

Indochina In-Depth: Temples & Teal Water

41

Days

G Adventures

Budget

Escorted
2 - Classic

18+ years old
39
Bangkok
Bangkok
Burma, Cambodia, Laos, Myanmar, Thailand, Vietnam
$3,749View Tour

Lima to Rio - Cusco Stay 2020

51

Days

G Adventures

Budget

Escorted
5 - Challenging

18 - 39 years old
18
Lima
Rio de Janeiro
Argentina, Bolivia, Brazil, Chile, Peru, Uruguay
$5,999View Tour

Lima to Rio - Inca Trail 2020

51

Days

G Adventures

Budget

Escorted
5 - Challenging

18 - 39 years old
18
Lima
Rio de Janeiro
Argentina, Bolivia, Brazil, Chile, Peru, Uruguay
$5,999View Tour

Lima to Rio - Lares Trek 2020

51

Days

G Adventures

Budget

Escorted
5 - Challenging

18 - 39 years old
18
Lima
Rio de Janeiro
Argentina, Bolivia, Brazil, Chile, Peru, Uruguay
$5,999View Tour

Rio to Lima - Cusco Stay 2020

51

Days

G Adventures

Budget

Escorted
5 - Challenging

18 - 39 years old
18
Rio de Janeiro
Lima
Argentina, Bolivia, Brazil, Chile, Peru, Uruguay
$5,999View Tour

Rio to Lima - Inca Trail 2020

51

Days

G Adventures

Budget

Escorted
5 - Challenging

18 - 39 years old
18
Rio de Janeiro
Lima
Argentina, Bolivia, Brazil, Chile, Peru, Uruguay
$5,999View Tour

Rio to Lima - Lares Trek 2020

51

Days

G Adventures

Budget

Escorted
5 - Challenging

18 - 39 years old
18
Rio de Janeiro
Lima
Argentina, Bolivia, Brazil, Chile, Peru, Uruguay
$5,999View Tour

1 reviews

Ultimate Africa

55

Days

G Adventures

Budget

Escorted
5 - Challenging

18 - 39 years old
22
Cape Town
Nairobi
Botswana, Kenya, Malawi, Namibia, South Africa, Tanzania, Uganda, Zambia, Zimbabwe
$7,479View Tour

USA Road Trip: LA to New York

56

Days

G Adventures

Budget

Escorted
4 - Active

18 - 39 years old
22
Los Angeles, CA
New York, NY
United States
$6,999View Tour

USA Road Trip: New York to LA

56

Days

G Adventures

Budget

Escorted
4 - Active

18 - 39 years old
22
New York, NY
Los Angeles, CA
United States
$6,999View Tour

The Great South American Journey–Quito to Rio Adventure - Lares Trek 2020

65

Days

G Adventures

Budget

Escorted
5 - Challenging

18 - 39 years old
18
Quito
Rio de Janeiro
Argentina, Bolivia, Brazil, Chile, Ecuador, Peru, Uruguay
$7,749View Tour

The Great South American Journey–Quito to Rio Adventure - Inca Trail 2020

65

Days

G Adventures

Budget

Escorted
5 - Challenging

18 - 39 years old
18
Quito
Rio de Janeiro
Argentina, Bolivia, Brazil, Chile, Ecuador, Peru, Uruguay
$7,749View Tour

The Great South American Journey–Quito to Rio Adventure - Cusco Stay 2020

65

Days

G Adventures

Budget

Escorted
5 - Challenging

18 - 39 years old
18
Quito
Rio de Janeiro
Argentina, Bolivia, Brazil, Chile, Ecuador, Peru, Uruguay
$7,749View Tour