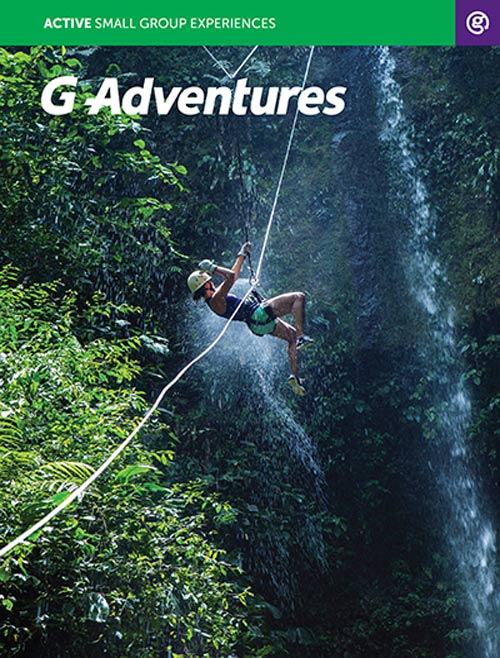 Guaranteed Low Prices on G Adventures Vacations - Active
NEW! 2020 Now Open for Sale! Hiking, biking and kayaking journeys across the world! Hungry to walk, hike, trek, bike, raft and kayak your way across the world's greatest destinations? No sweat. (Well, maybe a little.) You don't have to be a decathlete to take an Active trip, just someone with a healthy love for getting active and the outdoors.
Escorted Tour
Escorted Tours are our most popular product. Escorted tours are normally conducted by a tour director who takes care of all services from beginning to end of the tour. Escorted tours normally include flights, hotels, transportation, transfers to the airport/hotel, most meals and sightseeing. Escorted Tours are conducted by motor-coach and usually no more than 2 nights are spent in each location visited. Escorted Tours are usually fast-paced and prices include much of the sightseeing.
Tour Itinerary
Days
Operator
Quality
Style
Starts
Ends
Price

Trekking the Inca Trail: 4D/3N - Inca Trail

04

Days

G Adventures

Budget

Escorted
5 - Challenging

12+ years old
16
Cusco
Cusco
Peru
$689View Tour

Trekking the Inca Trail: 4D/3N - Lares Trek

04

Days

G Adventures

Budget

Escorted
5 - Challenging

12+ years old
16
Cusco
Cusco
Peru
$689View Tour

Trek Mt Kinabalu

05

Days

G Adventures

Budget

Escorted
5 - Challenging

12+ years old
15
Kota Kinabalu
Kota Kinabalu
Borneo
$874View Tour

Trekking the Inca Trail: 5D/4N - Lares Trek

05

Days

G Adventures

Budget

Escorted
5 - Challenging

12+ years old
16
Cusco
Cusco
Peru
$663View Tour

Trekking the Inca Trail: 5D/4N - Inca Trail

05

Days

G Adventures

Budget

Escorted
5 - Challenging

12+ years old
16
Cusco
Cusco
Peru
$663View Tour

Northern Thailand Hilltribes Trek

05

Days

G Adventures

Budget

Escorted
4 - Active

12+ years old
15
Chiang Mai
Chiang Mai
Thailand
$369View Tour

Torres del Paine - The W Trek

06

Days

G Adventures

Budget

Escorted
5 - Challenging

12+ years old
16
Puerto Natales
Puerto Natales
Chile
$1,849View Tour

Choquequirao to Machu Picchu Express

06

Days

G Adventures

Budget

Escorted
5 - Challenging

12+ years old
16
Cusco
Cusco
Peru
$687View Tour

1 reviews

Trekking in Iceland - The Laugavegur Trail

07

Days

G Adventures

Budget

Escorted
5 - Challenging

15+ years old
14
Reykjavik
Reykjavik
Iceland
$2,294View Tour

Norway Fjord Trekking

07

Days

G Adventures

Budget

Escorted
5 - Challenging

15+ years old
10
Bergen
Bergen
Norway
$1,996View Tour

2 reviews

Cycling in Tuscany

07

Days

G Adventures

Budget

Escorted
5 - Challenging

12+ years old
12
Rome
Chianciano Terme
Italy
$1,359View Tour

The Lares Trek - Lares Trek

07

Days

G Adventures

Budget

Escorted
5 - Challenging

12+ years old
16
Cusco
Cusco
Peru
$895View Tour

The Lares Trek - Cusco Stay

07

Days

G Adventures

Budget

Escorted
5 - Challenging

12+ years old
16
Cusco
Cusco
Peru
$895View Tour

6 reviews

The Inca Trail - Cusco Stay

07

Days

G Adventures

Budget

Escorted
5 - Challenging

12+ years old
16
Cusco
Cusco
Peru
$895View Tour

6 reviews

The Inca Trail - Inca Trail

07

Days

G Adventures

Budget

Escorted
5 - Challenging

12+ years old
16
Cusco
Cusco
Peru
$895View Tour

6 reviews

The Inca Trail - Lares Trek

07

Days

G Adventures

Budget

Escorted
5 - Challenging

12+ years old
16
Cusco
Cusco
Peru
$895View Tour

Colombia - Lost City Trekking

07

Days

G Adventures

Budget

Escorted
5 - Challenging

12+ years old
16
Santa Marta
Santa Marta
Colombia
$764View Tour

Climb Mt Toubkal

07

Days

G Adventures

Budget

Escorted
5 - Challenging

12+ years old
14
Marrakesh
Marrakesh
Morocco
$619View Tour

Culture & Wildlife of Uganda & Rwanda

08

Days

G Adventures

Budget

Escorted
5 - Challenging

15+ years old
12
Kampala
Kigali
Rwanda, Uganda
$3,144View Tour

Mt Kilimanjaro Trek - Machame Route (8 Days)

08

Days

G Adventures

Budget

Escorted
5 - Challenging

12+ years old
12
Moshi
Moshi
Tanzania
$2,319View Tour

Tanzania Active Safari

08

Days

G Adventures

Budget

Escorted
4 - Active

12+ years old
12
Arusha
Arusha
Tanzania
$2,239View Tour

205 reviews

Galápagos Multisport

08

Days

G Adventures

Budget

Escorted
4 - Active

12+ years old
15
Santa Cruz Island
Santa Cruz Island
Galapagos
$2,209View Tour

1 reviews

Mont Blanc Explorer

08

Days

G Adventures

Budget

Escorted
5 - Challenging

12+ years old
12
Chamonix
Chamonix
France, Italy
$1,749View Tour

Hiking Sequoia, Kings Canyon, and Yosemite

08

Days

G Adventures

Budget

Escorted
4 - Active

12+ years old
14
Las Vegas, NV
San Francisco, CA
United States
$1,549View Tour

New Zealand – North Island Multisport

08

Days

G Adventures

Budget

Escorted
4 - Active

12+ years old
16
Auckland
Auckland
New Zealand
$1,461View Tour

2 reviews

Jordan Multisport

08

Days

G Adventures

Budget

Escorted
5 - Challenging

12+ years old
15
Amman
Amman
Jordan
$1,304View Tour

Loire Valley Cycling

08

Days

G Adventures

Budget

Escorted
5 - Challenging

12+ years old
12
Paris
Angers
France
$1,274View Tour

Walk the Camino de Santiago

08

Days

G Adventures

Budget

Escorted
4 - Active

12+ years old
16
Sarria
Santiago de Compostela
Spain
$1,249View Tour

6 reviews

Inca Discovery - Cusco Stay

08

Days

G Adventures

Budget

Escorted
5 - Challenging

12+ years old
16
Lima
Cusco
Peru
$1,103View Tour

6 reviews

Inca Discovery - Inca Trail

08

Days

G Adventures

Budget

Escorted
5 - Challenging

12+ years old
16
Lima
Cusco
Peru
$1,103View Tour

6 reviews

Inca Discovery - Lares Trek

08

Days

G Adventures

Budget

Escorted
5 - Challenging

12+ years old
16
Lima
Cusco
Peru
$1,103View Tour

The Lares Trek with One-Day Inca Trail - Lares Trek

08

Days

G Adventures

Budget

Escorted
4 - Active

12+ years old
16
Cusco
Cusco
Peru
$1,095View Tour

Patagonia Hiking

09

Days

G Adventures

Budget

Escorted
5 - Challenging

12+ years old
16
Buenos Aires
Buenos Aires
Argentina
$2,699View Tour

HIking Utah's Big 5

09

Days

G Adventures

Budget

Escorted
4 - Active

12+ years old
14
Las Vegas, NV
Las Vegas, NV
United States
$1,799View Tour

66 reviews

Costa Rica Volcanoes & Surfing

09

Days

G Adventures

Budget

Escorted
2 - Classic

12+ years old
16
San Jose
San Jose
Costa Rica
$1,274View Tour

6 reviews

Inca Discovery Plus - Cusco Stay

09

Days

G Adventures

Budget

Escorted
5 - Challenging

12+ years old
16
Lima
Lima
Peru
$1,223View Tour

6 reviews

Inca Discovery Plus - Inca Trail

09

Days

G Adventures

Budget

Escorted
5 - Challenging

12+ years old
16
Lima
Lima
Peru
$1,223View Tour

6 reviews

Inca Discovery Plus - Lares Trek

09

Days

G Adventures

Budget

Escorted
5 - Challenging

12+ years old
16
Lima
Lima
Peru
$1,223View Tour

1 reviews

Ecuador Multisport

09

Days

G Adventures

Budget

Escorted
5 - Challenging

12+ years old
16
Quito
Quito
Ecuador
$1,099View Tour

66 reviews

Costa Rica Kayaking Adventure

09

Days

G Adventures

Budget

Escorted
3 - Explorer

12+ years old
16
San Jose
San Jose
Costa Rica
$919View Tour

205 reviews

Galápagos Multisport with Quito

10

Days

G Adventures

Budget

Escorted
4 - Active

12+ years old
15
Quito
Quito
Ecuador, Galapagos
$2,634View Tour

Trekking Mont Blanc

10

Days

G Adventures

Budget

Escorted
5 - Challenging

12+ years old
12
Chamonix
Chamonix
France, Italy, Switzerland
$1,849View Tour

Cycle Indochina: Ho Chi Minh City to Siem Reap

10

Days

G Adventures

Budget

Escorted
3 - Explorer

18 - 39 years old
15
Ho Chi Minh
Siem Reap
Cambodia, Vietnam
$1,599View Tour

Camino de Santiago Encompassed

10

Days

G Adventures

Budget

Escorted
3 - Explorer

12+ years old
16
Madrid
Santiago de Compostela
Spain
$1,549View Tour

Vietnam Hike, Bike & Kayak

10

Days

G Adventures

Budget

Escorted
4 - Active

12+ years old
15
Ho Chi Minh
Hanoi
Vietnam
$1,401View Tour

Walk the Great Wall of China

10

Days

G Adventures

Budget

Escorted
5 - Challenging

12+ years old
16
Beijing
Beijing
China
$1,399View Tour

1 reviews

Turkey Multisport

10

Days

G Adventures

Budget

Escorted
4 - Active

12+ years old
15
Istanbul
Goreme
Turkey
$1,016View Tour

Torres Del Paine - Full Circuit Trek

11

Days

G Adventures

Budget

Escorted
5 - Challenging

12+ years old
16
Puerto Natales
Puerto Natales
Chile
$3,549View Tour

Kilimanjaro - Marangu Route & Zanzibar Adventure

11

Days

G Adventures

Budget

Escorted
5 - Challenging

12+ years old
14
Moshi
Stone Town
Tanzania
$3,399View Tour

Bhutan Trekking - The Druk Path

11

Days

G Adventures

Budget

Escorted
5 - Challenging

12+ years old
15
Paro
Paro
Bhutan
$2,799View Tour

Colombia Multisport

11

Days

G Adventures

Budget

Escorted
3 - Explorer

12+ years old
16
Bogota
Cartagena
Colombia
$1,919View Tour

Kilimanjaro - Machame Route & Zanzibar Adventure

12

Days

G Adventures

Budget

Escorted
5 - Challenging

12+ years old
14
Moshi
Stone Town
Tanzania
$3,549View Tour

Choquequirao to Machu Picchu Trekking

12

Days

G Adventures

Budget

Escorted
5 - Challenging

12+ years old
16
Cusco
Cusco
Peru
$1,519View Tour

Trek Hidden Costa Rica

12

Days

G Adventures

Budget

Escorted
5 - Challenging

12+ years old
16
San Jose
San Jose
Costa Rica
$1,439View Tour

Active Bali and Java

12

Days

G Adventures

Budget

Escorted
4 - Active

12+ years old
15
Ubud
Sanur
Indonesia
$999View Tour

Japan Hike, Bike & Kayak

13

Days

G Adventures

Budget

Escorted
3 - Explorer

12+ years old
Osaka
Tokyo
Japan
$3,999View Tour

Active Safari & Zanzibar Experience

13

Days

G Adventures

Budget

Escorted
4 - Active

12+ years old
14
Arusha
Stone Town
Tanzania
$3,199View Tour

Trekking the Huayhuash Circuit

13

Days

G Adventures

Budget

Escorted
5 - Challenging

12+ years old
16
Lima
Lima
Peru
$2,249View Tour

66 reviews

Costa Rica Active Adventure

13

Days

G Adventures

Budget

Escorted
3 - Explorer

12+ years old
16
San Jose
San Jose
Costa Rica
$1,439View Tour

Kilimanjaro - Lemosho Route & Zanzibar Adventure

14

Days

G Adventures

Budget

Escorted
5 - Challenging

12+ years old
14
Moshi
Stone Town
Tanzania
$4,679View Tour

1 reviews

Hike Patagonia In Depth

14

Days

G Adventures

Budget

Escorted
5 - Challenging

12+ years old
16
Buenos Aires
Buenos Aires
Argentina, Chile
$4,399View Tour

Cycle Vietnam's Back Roads

14

Days

G Adventures

Budget

Escorted
5 - Challenging

12+ years old
15
Hanoi
Ho Chi Minh
Vietnam
$1,999View Tour

Thailand Hike, Bike & Kayak

14

Days

G Adventures

Budget

Escorted
4 - Active

12+ years old
15
Bangkok
Bangkok
Thailand
$1,486View Tour

New Zealand – South Island Multisport

15

Days

G Adventures

Budget

Escorted
4 - Active

12+ years old
16
Christchurch
Christchurch
New Zealand
$2,399View Tour

11 reviews

Peru Multisport - Cusco Stay

15

Days

G Adventures

Budget

Escorted
5 - Challenging

12+ years old
16
Lima
Lima
Peru
$2,279View Tour

11 reviews

Peru Multisport - Inca Trail

15

Days

G Adventures

Budget

Escorted
5 - Challenging

12+ years old
16
Lima
Lima
Peru
$2,279View Tour

11 reviews

Peru Multisport - Lares Trek

15

Days

G Adventures

Budget

Escorted
5 - Challenging

12+ years old
16
Lima
Lima
Peru
$2,279View Tour

1 reviews

China Active Adventure

15

Days

G Adventures

Budget

Escorted
2 - Classic

12+ years old
16
Beijing
Hong Kong
China
$1,899View Tour

Everest Base Camp Trek

15

Days

G Adventures

Budget

Escorted
5 - Challenging

12+ years old
15
Kathmandu
Kathmandu
Nepal
$1,199View Tour

Trekking Langtang

15

Days

G Adventures

Budget

Escorted
5 - Challenging

12+ years old
16
Kathmandu
Kathmandu
Nepal
$1,039View Tour

1 reviews

Annapurna Sanctuary

15

Days

G Adventures

Budget

Escorted
5 - Challenging

12+ years old
15
Kathmandu
Kathmandu
Nepal
$879View Tour

Hiking the Best of the West's National Parks

16

Days

G Adventures

Budget

Escorted
4 - Active

12+ years old
14
Las Vegas, NV
San Francisco, CA
United States
$3,249View Tour

Active Ecuador & Peru - Cusco Stay

16

Days

G Adventures

Budget

Escorted
5 - Challenging

12+ years old
16
Quito
Cusco
Ecuador, Peru
$2,449View Tour

Active Ecuador & Peru - Inca Trail

16

Days

G Adventures

Budget

Escorted
5 - Challenging

12+ years old
16
Quito
Cusco
Ecuador, Peru
$2,449View Tour

Active Ecuador & Peru - Lares Trek

16

Days

G Adventures

Budget

Escorted
5 - Challenging

12+ years old
16
Quito
Cusco
Ecuador, Peru
$2,449View Tour

Colombia Multisport & Lost City Trek

17

Days

G Adventures

Budget

Escorted
5 - Challenging

12+ years old
16
Bogota
Santa Marta
Colombia
$2,787View Tour

Hiking South Africa

17

Days

G Adventures

Budget

Escorted
3 - Explorer

12+ years old
18
Cape Town
Johannesburg
Eswatini, Lesotho, South Africa
$2,169View Tour

Annapurna Circuit Trek

18

Days

G Adventures

Budget

Escorted
5 - Challenging

12+ years old
15
Kathmandu
Kathmandu
Nepal
$1,199View Tour

New Zealand Multisport

22

Days

G Adventures

Budget

Escorted
4 - Active

12+ years old
16
Auckland
Christchurch
New Zealand
$4,119View Tour