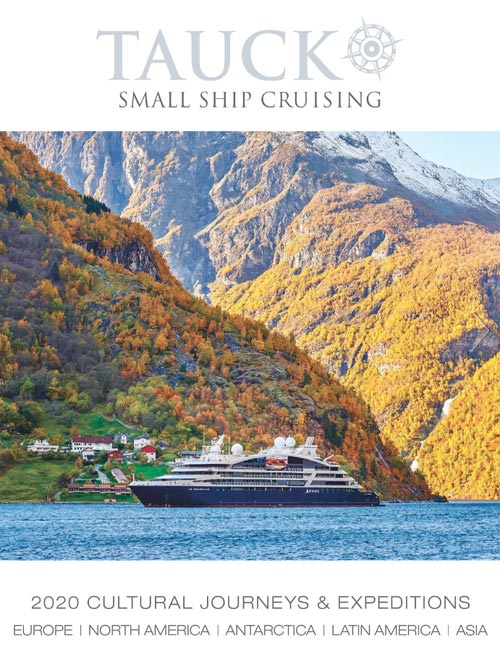 Call Us For Award-winning Value and Service on Tauck Vacations - Small Ship Cruising
NEW! 2020 Now Open for Sale! Tauck's Small Ship cruising introduces you to a more intimate cruise experience. Sail aboard a yacht with a small group and travel into hidden harbors were larger cruise ships can not venture. Enjoy the legendary Tauck professional service on cruises to Iceland, Antarctica, Galapagos and the Mediterranean.
Small Ship Cruising
Small ship cruises take travelers where big ships simply cannot, such as to the exotic Galapagos Islands, where colorful birds and reptiles make their home in this remote location. Small ships also visit "mainstream" locales, such as the Caribbean, Alaska, Hawaii and the Mediterranean¦ but because the ships are able to maneuver in small coves and channels, they can dock at more intimate ports, making for a fascinating travel experience.
| Tour Itinerary | Days | Operator | Quality | Style | Starts | Ends | Price |
| --- | --- | --- | --- | --- | --- | --- | --- |
| Iceland: Land of Fire and Ice 2020 | 08 | Tauck | | Small Ship Cruising | Reykjavik | Reykjavik | $7,990 |
| Alaska's Inside Passage - Northbound 2020 | 08 | Tauck | | Small Ship Cruising | Vancouver | Juneau, AK | $6,990 |
| Alaska's Inside Passage - Southbound 2020 | 08 | Tauck | | Small Ship Cruising | Juneau, AK | Vancouver | $6,990 |
| Cruising the Galápagos Islands 2020 | 09 | Tauck | | Small Ship Cruising | Guayaquil | Guayaquil | $7,190 |
| Norway's Arctic Adventure 2020 | 10 | Tauck | | Small Ship Cruising | Oslo | Oslo | $10,690 |
| Norwegian Fjords & Coastal Treasures - Westbound 2020 | 10 | Tauck | | Small Ship Cruising | Oslo | Bergen | $8,690 |
| Norwegian Fjords & Coastal Treasures - Eastbound 2020 | 10 | Tauck | | Small Ship Cruising | Bergen | Oslo | $8,690 |
| Treasures of the Aegean 2020 | 10 | Tauck | | Small Ship Cruising | Athens | Athens | $8,590 |
| Mayan Culture & Natural Wonders 2020 | 10 | Tauck | | Small Ship Cruising | Cancun | Puerto Morelos | $8,490 |
| Venice & the Dalmatian Coast 2020 | 10 | Tauck | | Small Ship Cruising | Venice | Venice | $7,990 |
| Sicily, the Amalfi Coast & Rome - Southbound 2020 | 11 | Tauck | | Small Ship Cruising | Rome | Valletta | $9,690 |
| Treasures of the Mediterranean - Northbound 2020 | 11 | Tauck | | Small Ship Cruising | Malta | Nice | $8,990 |
| St. Petersburg & the Baltic Sea - Southbound 2020 | 12 | Tauck | | Small Ship Cruising | Stockholm | Copenhagen | $9,590 |
| St. Petersburg & the Baltic Sea - Northbound 2020 | 12 | Tauck | | Small Ship Cruising | Copenhagen | Stockholm | $9,590 |
| Treasures of the British / Irish Isles - Westbound 2020 | 12 | Tauck | | Small Ship Cruising | London | Dublin | $8,990 |
| Treasures of the British / Irish Isles - Eastbound 2020 | 12 | Tauck | | Small Ship Cruising | Dublin | London | $8,990 |
| Cruising the Great Lakes: Chicago to Toronto - Eastbound 2020 | 12 | Tauck | | Small Ship Cruising | Chicago, IL | Toronto | $8,390 |
| The Panama Canal & Costa Rica - Westbound 2020 | 12 | Tauck | | Small Ship Cruising | Panama City | San Jose | $7,990 |
| The Panama Canal & Costa Rica - Eastbound 2020 | 12 | Tauck | | Small Ship Cruising | San Jose | Panama City | $7,890 |
| The Panama Canal & Costa Rica - Westbound 2019 | 12 | Tauck | | Small Ship Cruising | Panama City | San Jose | $6,990 |
| Antarctica 2020 | 13 | Tauck | | Small Ship Cruising | Buenos Aires | Buenos Aires | $11,990 |
| London, Bordeaux & Iberian Charms - Southbound 2020 | 13 | Tauck | | Small Ship Cruising | London | Lisbon | $8,990 |
| London, Bordeaux & Iberian Charms - Northbound 2020 | 13 | Tauck | | Small Ship Cruising | Lisbon | London | $8,990 |
| Treasures of Spain and Portugal - Westbound 2020 | 13 | Tauck | | Small Ship Cruising | Barcelona | Lisbon | $8,590 |
| Cruising the Land of the Rising Sun - Southbound 2020 | 14 | Tauck | | Small Ship Cruising | Osaka | Tokyo | $12,790 |
| Peru and the Galápagos Islands 2020 | 15 | Tauck | | Small Ship Cruising | Lima | Guayaquil | $10,990 |
| Peru and the Galápagos Islands 2019 | 15 | Tauck | | Small Ship Cruising | Lima | Guayaquil | $10,490 |
| Hidden Galápagos & Peru 2020 | 16 | Tauck | | Small Ship Cruising | Lima | Guayaquil | $13,940 |
| Cruising Down Under - Westbound 2020 | 20 | Tauck | | Small Ship Cruising | Auckland | Sydney | $14,990 |
| Cruising Down Under - Eastbound 2020 | 20 | Tauck | | Small Ship Cruising | Melbourne | Auckland | $14,990 |