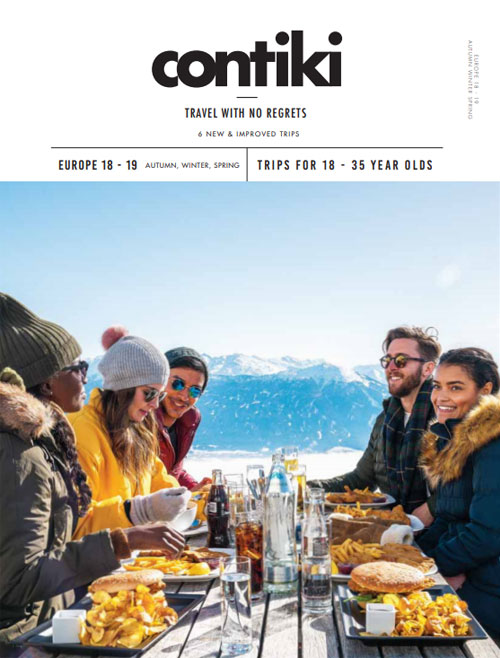 Guaranteed Low Prices on Contiki Vacations - Europe Winter
NEW! 2019/20 Now Open for Sale! There is so much to see in Europe, so beat the crowds and explore in winter. When you travel Contiki style in winter it is all skiing, events, festivals, snowboarding, and truly authentic European nightlife. FOR 18-35 YEAR OLDS!
Escorted Tour
AffordableTours.com offers escorted tours to all of your favorite countries around the world. Escorted tours normally include hotel stays, transportation, most meals, sightseeing and cultural activities. They are led by a tour director who will be with your group from the beginning to end of the tour and they handle all of the logistics, check ins, attraction tickets and local guides that are included on your trip. People that enjoy escorted tours are travelers who don't have time or the knowhow to plan an all-encompassing, multiday overseas trip, people who travel in luxury or like to save money, and people who like to see the must-see sites while also experiencing the local culture. Escorted tours range in group size, pace, and age, so there is an escorted tour for every type of traveler. From solo travelers to groups of friends, to multi-generational families and adventure seekers, we have the escorted tour for you!
Tour Itinerary
Days
Operator
Quality
Style
Starts
Ends
Price



European Magic

09

Days

Contiki

Budget

Escorted
3 - Explorer

18 - 35 years old
52
London
London
Austria, Belgium, England, France, Germany, Italy, Netherlands, Switzerland
$1,466View Tour

Best Price Guaranteed

Book With Flexibility




Vienna to Rome Trail

09

Days

Contiki

Budget

Escorted
3 - Explorer

18 - 35 years old
52
Vienna
Rome
Austria, Czech Republic, Hungary, Italy, Poland, Slovakia, Slovenia
$1,192View Tour

Best Price Guaranteed

Book With Flexibility




Rome to London Quest(Multi Share,Start Rome, End Amsterdam)

10

Days

Contiki

Budget

Escorted
3 - Explorer

18 - 35 years old
52
Rome
Amsterdam
Austria, Czech Republic, France, Germany, Italy, Netherlands
$1,369View Tour

Best Price Guaranteed

Book With Flexibility




Rome to London Quest(Multi Share,Start Rome, End London)

10

Days

Contiki

Budget

Escorted
3 - Explorer

18 - 35 years old
52
Rome
London
Austria, Czech Republic, England, France, Germany, Italy, Netherlands
$1,369View Tour

Best Price Guaranteed

Book With Flexibility




European Discovery (Winter - From Oct 2020)

16 reviews
12

Days

Contiki

Budget

Escorted
3 - Explorer

18 - 35 years old
52
London
London
Austria, Belgium, England, France, Germany, Italy, Netherlands, Switzerland
$1,916View Tour

Best Price Guaranteed

Book With Flexibility




European Discovery (Winter - From Oct 2020)

16 reviews
12

Days

Contiki

Budget

Escorted
3 - Explorer

18 - 35 years old
45
London
Paris
Austria, Belgium, England, France, Germany, Italy, Netherlands, Switzerland
$1,916View Tour

Best Price Guaranteed

Book With Flexibility




Spanish Spree (Winter - From Oct 2021)

13

Days

Contiki

Budget

Escorted
18 - 35 years old
Madrid
Madrid
Spain
$1,704View Tour

Best Price Guaranteed

Book With Flexibility




Spanish Spree (Winter)

2 reviews
14

Days

Contiki

Budget

Escorted
1 - Light

18 - 35 years old
52
Madrid
Madrid
Spain
$1,678View Tour

Best Price Guaranteed

Book With Flexibility




Barcelona to London Quest(Multi Share,Start Barcelona, End Amsterdam)

18

Days

Contiki

Budget

Escorted
3 - Explorer

18 - 35 years old
52
Barcelona
Amsterdam
Austria, Czech Republic, France, Germany, Italy, Monaco, Netherlands, Spain
$2,447View Tour

Best Price Guaranteed

Book With Flexibility




Iberian Peninsula and Morocco (Winter - From Oct 2021)

20

Days

Contiki

Budget

Escorted
18 - 35 years old
Madrid
Madrid
Morocco, Portugal, Spain
$2,579View Tour

Best Price Guaranteed

Book With Flexibility

Iberian Peninsula and Morocco (Winter)

20

Days

Contiki

Budget

Escorted
2 - Classic

18 - 35 years old
45
Madrid
Madrid
Morocco, Portugal, Spain
$2,579View Tour

Best Price Guaranteed

Book With Flexibility

European Vistas (Winter - From Oct 2020)

23

Days

Contiki

First Class

Escorted
18 - 35 years old
London
London
Austria, Czech Republic, England, France, Germany, Italy, Netherlands, Poland, Switzerland
$3,353View Tour

Best Price Guaranteed

Book With Flexibility

European Vistas (Winter - From Oct 2020)

23

Days

Contiki

First Class

Escorted
18 - 35 years old
London
Amsterdam
Austria, Czech Republic, England, France, Germany, Italy, Netherlands, Poland, Switzerland
$3,353View Tour

Best Price Guaranteed

Book With Flexibility

European Vistas (Winter - From Oct 2020)

23

Days

Contiki

Budget

Escorted
3 - Explorer

18 - 35 years old
45
London
London
Austria, Czech Republic, England, France, Germany, Italy, Netherlands, Poland, Switzerland
$3,115View Tour

Best Price Guaranteed

Book With Flexibility




European Trail(Multi Share,Start London, End London)

23

Days

Contiki

Budget

Escorted
3 - Explorer

18 - 35 years old
52
London
London
Austria, Belgium, Czech Republic, England, France, Germany, Hungary, Italy, Netherlands, Poland, Slovakia, Slovenia, Switzerland
$3,023View Tour

Best Price Guaranteed

Book With Flexibility




European Trail(Multi Share,Start London, End Paris)

23

Days

Contiki

Budget

Escorted
3 - Explorer

18 - 35 years old
52
London
Paris
Austria, Czech Republic, England, France, Germany, Hungary, Italy, Netherlands, Poland, Slovenia, Switzerland
$3,023View Tour

Best Price Guaranteed

Book With Flexibility




Winter Wanderer

24

Days

Contiki

First Class

Escorted
18 - 35 years old
London
London
Austria, Czech Republic, England, France, Germany, Italy, Netherlands, Spain, Switzerland
$3,412View Tour

Best Price Guaranteed

Book With Flexibility




Winter Wanderer

24

Days

Contiki

First Class

Escorted
18 - 35 years old
London
Amsterdam
Austria, Czech Republic, England, France, Germany, Italy, Netherlands, Spain, Switzerland
$3,412View Tour

Best Price Guaranteed

Book With Flexibility




Winter Wanderer

24

Days

Contiki

Budget

Escorted
3 - Explorer

18 - 35 years old
52
London
London
Austria, Belgium, Czech Republic, England, France, Germany, Italy, Monaco, Netherlands, Spain, Switzerland
$3,276View Tour

Best Price Guaranteed

Book With Flexibility




European Quest(Multi Share,Start London, End London)

25

Days

Contiki

Budget

Escorted
3 - Explorer

18 - 35 years old
52
London
London
Austria, Belgium, Czech Republic, England, France, Germany, Italy, Monaco, Netherlands, Spain
$3,339View Tour

Best Price Guaranteed

Book With Flexibility




European Quest(Multi Share,Start London, End Amsterdam)

25

Days

Contiki

Budget

Escorted
3 - Explorer

18 - 35 years old
52
London
Amsterdam
Austria, Czech Republic, England, France, Germany, Italy, Netherlands, Spain
$3,339View Tour

Best Price Guaranteed

Book With Flexibility