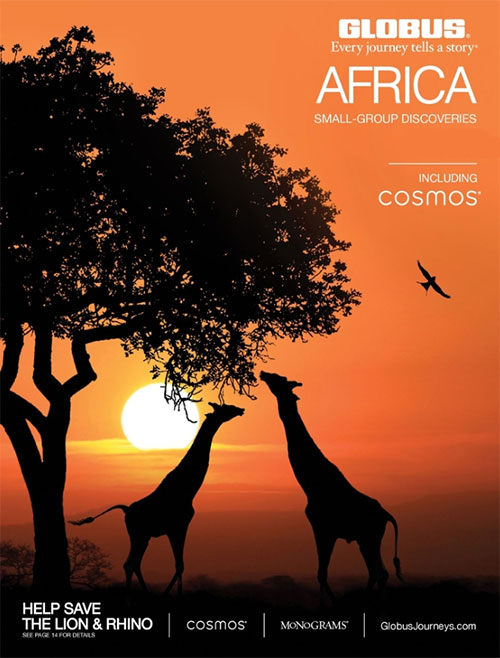 Guaranteed Low Prices on Cosmos Vacations - Africa
NEW! 2023 - 2024 Now Open for Sale! When you embark on a tour of Africa with Cosmos, you get insights and cultural interactions that turn your once-in-a-lifetime Africa tour into a truly one-of-a-kind vacation experience. On your escorted tour, you can explore captivating Africa and its rich history and culture, historical sites and authentic cuisine. See Africa the way it's meant to be seen - with Cosmos.
Escorted Tour
AffordableTours.com offers escorted tours to all of your favorite countries around the world. Escorted tours normally include hotel stays, transportation, most meals, sightseeing and cultural activities. They are led by a tour director who will be with your group from the beginning to end of the tour and they handle all of the logistics, check ins, attraction tickets and local guides that are included on your trip. People that enjoy escorted tours are travelers who don't have time or the knowhow to plan an all-encompassing, multiday overseas trip, people who travel in luxury or like to save money, and people who like to see the must-see sites while also experiencing the local culture. Escorted tours range in group size, pace, and age, so there is an escorted tour for every type of traveler. From solo travelers to groups of friends, to multi-generational families and adventure seekers, we have the escorted tour for you!
Tour Itinerary
Days
Operator
Quality
Style
Starts
Ends
Price

Highlights of South Africa 2025 - Small Group

09

Days

Cosmos

Budget

Escorted
2 - Classic

20
Cape Town
Johannesburg
South Africa
$2,866View Tour

Best Price Guaranteed

Book With Flexibility

Highlights of South Africa 2024 - Small Group

09

Days

Cosmos

Budget

Escorted
2 - Classic

20
Cape Town
Johannesburg
South Africa
$2,691View Tour

Best Price Guaranteed

Book With Flexibility

On Safari in Kenya 2025 - Small Group

10

Days

Cosmos

Budget

Escorted
1 - Light

20
Nairobi
Nairobi
Kenya
$3,889View Tour

Best Price Guaranteed

Book With Flexibility

On Safari in Kenya 2024 - Small Group

4 reviews
10

Days

Cosmos

Budget

Escorted
1 - Light

20
Nairobi
Nairobi
Kenya
$3,709View Tour

Best Price Guaranteed

Book With Flexibility

Highlights of Morocco 2025

81 reviews
10

Days

Cosmos

Budget

Escorted
3 - Explorer

Casablanca
Casablanca
Morocco
$999View Tour

Best Price Guaranteed

Book With Flexibility

Highlights of Morocco 2024

81 reviews
10

Days

Cosmos

Budget

Escorted
3 - Explorer

Casablanca
Casablanca
Morocco
$999View Tour

Best Price Guaranteed

Book With Flexibility




Highlights of Morocco 2023

81 reviews
10

Days

Cosmos

Budget

Escorted
3 - Explorer

Casablanca
Casablanca
Morocco
$1,099View Tour

Best Price Guaranteed

Book With Flexibility

On Safari in Kenya with Nairobi 2025 - Small Group

11

Days

Cosmos

Budget

Escorted
2 - Classic

20
Nairobi
Nairobi
Kenya
$4,269View Tour

Best Price Guaranteed

Book With Flexibility

On Safari in Kenya with Nairobi 2024 - Small Group

11

Days

Cosmos

Budget

Escorted
2 - Classic

20
Nairobi
Nairobi
Kenya
$4,059View Tour

Best Price Guaranteed

Book With Flexibility

On Safari in Kenya & Tanzania 2025 - Small Group

2 reviews
11

Days

Cosmos

Budget

Escorted
3 - Explorer

20
Nairobi
Arusha
Kenya, Tanzania
$4,979View Tour

Best Price Guaranteed

Book With Flexibility

On Safari in Kenya & Tanzania 2024 - Small Group

2 reviews
11

Days

Cosmos

Budget

Escorted
3 - Explorer

20
Nairobi
Arusha
Kenya, Tanzania
$4,589View Tour

Best Price Guaranteed

Book With Flexibility

On Safari in Kenya & Tanzania with Nairobi 2025 - Small Group

12

Days

Cosmos

Budget

Escorted
3 - Explorer

20
Nairobi
Arusha
Kenya, Tanzania
$5,359View Tour

Best Price Guaranteed

Book With Flexibility

On Safari in Kenya & Tanzania with Nairobi 2024 - Small Group

12

Days

Cosmos

Budget

Escorted
3 - Explorer

20
Nairobi
Arusha
Kenya, Tanzania
$5,349View Tour

Best Price Guaranteed

Book With Flexibility

Highlights of South Africa with Victoria Falls 2025 - Small Group

12

Days

Cosmos

Budget

Escorted
2 - Classic

20
Cape Town
Johannesburg
South Africa, Zimbabwe
$4,240View Tour

Best Price Guaranteed

Book With Flexibility

Highlights of South Africa with Victoria Falls 2024 - Small Group

12

Days

Cosmos

Budget

Escorted
2 - Classic

20
Cape Town
Johannesburg
South Africa, Zimbabwe
$3,985View Tour

Best Price Guaranteed

Book With Flexibility

South Africa: From the Cape to Kruger 2025 - Small Group

13

Days

Cosmos

Budget

Escorted
3 - Explorer

20
Cape Town
Johannesburg
Eswatini, South Africa
$3,805View Tour

Best Price Guaranteed

Book With Flexibility

South Africa: From the Cape to Kruger 2024 - Small Group

13

Days

Cosmos

Budget

Escorted
3 - Explorer

20
Cape Town
Johannesburg
Eswatini, South Africa
$3,535View Tour

Best Price Guaranteed

Book With Flexibility

Spain, Portugal & Morocco 2025

345 reviews
16

Days

Cosmos

Budget

Escorted
3 - Explorer

Madrid
Madrid
Morocco, Portugal, Spain
$2,599View Tour

Best Price Guaranteed

Book With Flexibility

Spain, Portugal & Morocco 2024

345 reviews
16

Days

Cosmos

Budget

Escorted
3 - Explorer

Madrid
Madrid
Morocco, Portugal, Spain
$2,599View Tour

Best Price Guaranteed

Book With Flexibility




Spain, Portugal & Morocco 2023

345 reviews
16

Days

Cosmos

Budget

Escorted
3 - Explorer

Madrid
Madrid
Morocco, Portugal, Spain
$2,399View Tour

Best Price Guaranteed

Book With Flexibility

South Africa: From the Cape to Kruger with Victoria Falls 2025 - Small Group

16

Days

Cosmos

Budget

Escorted
3 - Explorer

20
Cape Town
Johannesburg
Eswatini, South Africa, Zimbabwe
$5,120View Tour

Best Price Guaranteed

Book With Flexibility

South Africa: From the Cape to Kruger with Victoria Falls 2024 - Small Group

2 reviews
16

Days

Cosmos

Budget

Escorted
3 - Explorer

20
Cape Town
Johannesburg
Eswatini, South Africa, Zimbabwe
$4,765View Tour

Best Price Guaranteed

Book With Flexibility