Cuba is a must-visit country filled with fantastic food, beaches, landscapes, music, and culture. Visiting this country is truly an unforgettable experience that will stick with you forever. Going on a Cuba tour is the absolute best way to see this country so that you'll be able to hit all of the highlights. With tour operator volume buys plus our low everyday prices you can save up to 40% versus assembling the same itinerary on your own! Book your Cuba tour today with AffordableTours.com, your discounted tour headquarters. View Cuba Tour Deals and Discounts
Cuba Travel Guide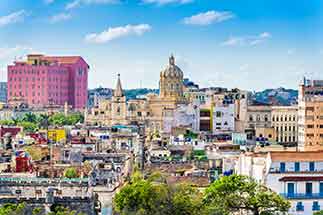 Showing 1 - 20 Tours
Sorry, we were unable to find a tour for you.
If you've not chosen a criteria, then please do so; otherwise you need to broaden your search criteria to find matches.
Cuba Travel Guide
Cuba Tours Highlights
Visit the hidden gem of Fusterlandia.
Swim at the tranquil and gorgeous Cayo Coco.
Walk around Plaza de la Catedral.
Learn history at the Museum of the Revolution.
Boat in the Parque Josone.
See artwork at the Museo Nacional de Bellas Artes.
Relax at the beautiful white sand beach of Cayo Jutias.
Hike through the Sierra Maestra.
Explore Vinales Valley.
Head to the Tropicana Club for a cabaret.
Walk around Plaza Mayor.
See the Christ of Havana.
Cuba Tours Travel Tips
Learn some of the local Spanish language before traveling. Though most people will speak the language, it's still a nicety for you to learn a few phrases in the local language.
People in Cuba dress very casually, so don't plan on dressing up too much. Bring your comfy and casual clothing to fit in the best you can while traveling.
Make sure that you travel with some of the local currency. Note that there are two types of money in Cuba. There's the CUC, which is usually what tourists will receive when exchanging currency, and the CUP, which most locals use.
Bring a hat and sunscreen on your trip to Cuba. The sun can be very powerful here, and you want to protect your skin!
Don't drink any of the tap water in Cuba because it isn't the safest for those who aren't used to it. It's not that it's dangerous, but it can give you an upset stomach if you aren't from Cuba. Buy bottled water or consider purchasing a filter that you can travel with throughout your vacation in Cuba.
Cuba Tours Things To Do
Visit Fusterlandia

Fusterlandia is an extraordinarily unique and unforgettable spot to add to your Cuba itinerary if you have the time. It's essentially a whole area filled with public art installations, including statues, paintings, street art, mosaics, and more. Everything is very colorful. All of Fusterlandia is created by an artist named Jose Fuster, who called the attraction after himself. He grew up in this neighborhood in Cuba and wanted to make it a bit more colorful and bright, so he made this area very dreamy instead.

You Should Know

This attraction is free to visit, but you can leave donations or purchase any of the art on display if you wish.

Swim at Cayo Coco

Cayo Coco is a beautiful island located off of one of Cuba's coastlines. It's an island that's most well-known for its fantastic beaches, coral reefs, and soft sand. There truly is no better place to swim in all of Cuba. This area is lovely and even has some of its own resorts that are top places to stay when visiting Cuba. Be sure to be on the lookout for local wildlife, including the pink flamingos, who have lived on this island for hundreds of years.

You Should Know

If you come across any animals on the island, be nice. They do live here and aren't there to just have pictures taken of them and should be treated with respect.

Walk around Plaza de la Catedral

The Plaza de la Catedral is one of the busiest squares in all of Cuba. This one, in particular, is located in the Old Havana neighborhood. It's most well-known for being the very spot where the Cathedral of Havana is located right along its outskirts. For years, this square was a swamp. It was eventually drained and served a few other purposes before becoming the gorgeous and historic square it is today. Along the square, other beautiful buildings are worth exploring.

Best Time To Visit

This square is almost always busy, but if you visit right in the morning, you can manage to avoid the majority of the crowds.

Learn at the Museum of the Revolution

The Museum of the Revolution is another attraction located in Cuba's Old Havana. It's inside the old Presidential Palace, which was home to many of the past Cuban presidents. After the Cuban Revolution ended, this museum came to be. The museum first opened in 1920 and has been a must-visit historic site in Cuba ever since. If you're interested in learning more about Cuba's history and the revolution itself, then there's no better place to do it. Throughout the museum, there are many exhibits, artifacts, and more to help you learn.

You Should Know

Plan on spending at least half the day exploring the Museum of the Revolution to get the best experience possible.

Boat in the Parque Josone

The Parque Josone is a gorgeous park located in Varadero, Cuba, right next to the ocean. It's open 24 hours and is home to restaurants, cafes, bars, swimming pools, and even a lagoon. Of course, the most popular activity here is to rent a pedal boat and go out on the lagoon! This is a great place to spend the afternoon if you don't want to explore museums or markets. It truly is one of the more unique sites in all of Cuba, and therefore shouldn't be missed if you have the time.

You Should Know

There is a small fee to rent a boat, but it's completely worth it.

See art at the Museo Nacional de Bellas Artes

The Museo Nacional de Bellas Artes is a beautiful art museum in Havana, Cuba. It first opened its doors in 1913 and has been a popular attraction for tourists and locals ever since. Inside the museum, there are pieces dating back to the colonial era. The museum mainly focuses on Fine Arts and is filled with many exhibits. Be sure to grab a map when you first enter so that you can plan your time out more wisely. The museum focuses on art from Asia, Europe, America, and Latin America and a whole section dedicated solely to Cuba.

You Should Know

Some of the exhibits here rotate while others are permanent. If you've already been here, there are new parts to see!

Relax on Cayo Jutias

Cayo Jutias is another gorgeous island located right off of mainland Cuba. It's home to a beautiful beach called Cayo Jutias Beach and definitely shouldn't be missed. This beach is a bit less-visited than other nearby beaches, making it the perfect escape. Because this island and beach are so remote and tranquil, it's arguably the best beach in all of Cuba. The sunset here is also too exquisite. Whether you are interested in relaxing or swimming, you'll love spending the day on Cayo Jutias.

You Should Know

To get to Cayo Jutias, you'll have to hop on a boat or drive. Either way works!

Hike through the Sierra Maestra

Sierra Maestra is a gorgeous mountain range in southeast Cuba. You truly can't miss it no matter where you are in this part of the country. The highest part of the mountain stands at 6,476 feet and is called Pico Turquino. One of the best ways to explore the mountain is to go on a hike. There are quite a few different trails on Sierra Maestra, so no matter your age level, you can hike at least a little bit of it to get the experience. If you go up high enough, you can get some of the best views of the country.

You Should Know

Be sure to pack water, snacks, and wear strong hiking shoes when going on this hike.

Explore Vinales Valley

The Vinales Valley is one of the most scenic and breathtaking spots in all of Cuba. It's located near one of the country's mountain ranges and is an area that absolutely must be explored if you have the time. Truly, this part of the country looks like something straight out of a movie. Almost everywhere you look is another gorgeous view. Traditionally, this area is known for being where a lot of the country's tobacco is grown.

You Should Know

The best way to explore this part of the country is by car.
Cuba Tour Packages
Because of Cuba's location, it truly is a beautiful time to visit, no matter the time of year. It's located just south of Florida and gets an abundance of sunshine every month. Of course, you can plan your Cuba tour to avoid as much precipitation as possible if you wish.
Spring and Fall - September to November and March to May - Shoulder Season

The shoulder seasons for Cuba are during the spring and fall seasons. This means these times are perfect times to visit because of the weather, and they aren't as busy as the peak season in the winter. The average high temperature in the spring is 83°F, and in the fall, the average high temperature is 85°F.

Summer - June to August - Low Season

Unlike many other top vacation spots in the Northern Hemisphere, the low season in Cuba is the summer. The average high during this time of year can reach up to 89°F and this time of year also sees quite a bit of rain. However, the lack of visitors means that you might be able to find accommodations a bit lower during this time of year.

Winter - December to February - High Season

The winter is the most popular time of year to visit Cuba because it's known as the "dry season," meaning that it sees the least amount of precipitation. The average high temperature during this time is 79°F. Accommodation prices will be at their highest during this time of year, unfortunately.
Cuba Tours Frequently Asked Questions
What are Cuba Tours?

Cuba tours are the perfect way to get acquainted with this country if you aren't the type of person who likes to plan every part of the itinerary. On a Cuba tour, you'll have your itinerary planned out, from most of your meals to even your transportation from place to place. Your only job is to enjoy the adventure in Cuba!

What's included on a Cuba Tour?

Cuba tours include most meals, accommodations, and transportation, which is why it's an excellent option for those who don't like to plan out the gritty details of travel. The main draw is that Cuba tours include access to a tour director who will be with you and your tour group every step of the way. Throughout your Cuba tour, your director may also enlist the help of other local tour guides to help give you and your tour mates a more personable and local experience. If you have any questions, your tour guide is always there to help.

What's the best Cuba Tour?

Because every Cuba tour is so different, there isn't one that is better than another. You'll have to research to find which one suits your needs the best. For instance, is there a specific place in Cuba you need to have on your travel itinerary? Then try to find a tour that offers that spot as an itinerary destination! You'll also want to take into account other pieces of information. These may include your budget, vacation length, etc. Be sure to do all possible research to find the best tour for you and your Cuban experience!

How much do Cuba Tours cost?

On average, Cuba tours cost around $300 per day, though depending on the time of year, you may be able to find a tour for less or more per day. It varies depending on the tour operator, stops on the itinerary, and tour length. Luckily, by booking through Affordable Tours, you can save up to 40% off on these tours versus if you were to book them elsewhere.
Reviews for Cuba Tours and Vacations
Cuba tour was EXCEPTIONAL!!!
Timothy P
We travel many times per year and we will say that this is the first time everything worked to perfection. The tour principals (including the bus driver) were exceptional. They kept everything on time and because everyone respected them, this was the first time we had experienced all guests were on time for every event on the tour. It was also the first for everyone on the tour meeting and revisiting each guest every day. Not one person was left out or took themselves out of the group.
Patricia H
Fantastic trip.
Rebecca D
Departure
Lengths
Styles
Specialities
Price
How It Works
Vacationing has never been easier or cheaper with the help of a dedicated travel consultant from AffordableTours.com
1. Free Quote
Find your perfect trip on our website and simply request a free quote. Need to speak to a live person? Call us 7 days a week at 1-800-935-2620. No robots here!
2. Dedicated Travel Consultant
Your personal travel consultant will reach out and be your point of contact for your entire travel experience from start to finish. Did we mention you'll be working with an award winning team? Sweet!
3. Lowest Price Guaranteed
Because we're one of the largest sellers of travel, we're able to give you a discount on your vacation package. No one beats our prices!
4. Stress Free Travel
Knowing you got the best deal, all that's left is for you to pack your bags and enjoy your vacation!