As a country that regularly tops bucket lists, Iceland woos visitors with a cinematic landscape. With dozens of active volcanoes, bubbling geysers, crystalline ice caves, and front-row seats to the Northern Lights, it's no surprise that the "Land of Fire and Ice" is one of the hottest travel destinations in the world. With tour operator volume buys plus our low everyday prices you can save up to 40% versus assembling the same itinerary on your own! Book your Iceland tour today with AffordableTours.com, your discounted tour headquarters. View Iceland Tour Deals and Discounts
Iceland Travel Guide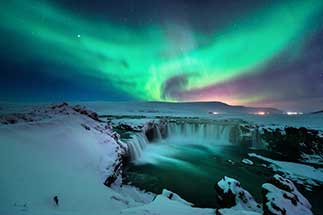 Showing 1 - 20 Tours
Tour Itinerary
Days
Operator
Quality
Style
Starts
Ends
Price



6 Day Affordable Iceland with Northern Lights Pursuit - Saturday Departure

24 reviews
06

Days

Gate1

First Class

Escorted
Reykjavik
Reykjavik
Iceland
$1,449View Tour

Best Price Guaranteed

Book With Flexibility

Iceland including the Blue Lagoon

12 reviews
06

Days

Trafalgar

First Class

Escorted
1 - Light

5+ years old
50
Reykjavik
Reykjavik
Iceland
$3,127View Tour

Best Price Guaranteed

Book With Flexibility

Gems of Iceland with Northern Lights 2024

16 reviews
06

Days

Globus

First Class

Escorted
1 - Light

8+ years old
44
Reykjavik
Reykjavik
Iceland
$2,999View Tour

Best Price Guaranteed

Book With Flexibility

2024 Northern Lights Quest of Iceland - 6 Days/5 Nights

5 reviews
06

Days

CIE

First Class

Escorted
Reykjavik
Reykjavik
Iceland
$2,845View Tour

Best Price Guaranteed

Book With Flexibility

Gems of Iceland with Whale Watching 2024

06

Days

Globus

First Class

Escorted
Reykjavik
Reykjavik
Iceland
$3,369View Tour

Best Price Guaranteed

Book With Flexibility




Iceland Northern Lights & Golden Circle

4 reviews
05

Days

G Adventures

Budget

Escorted
3 - Explorer

12+ years old
14
Reykjavik
Reykjavik
Iceland
$1,529View Tour

Best Price Guaranteed

Book With Flexibility

Scenic Iceland & the Northern Lights - Classic Group, Winter

4 reviews
07

Days

Insight Vacations

First Class

Escorted
5+ years old
40
Reykjavik
Reykjavik
Iceland
$4,088View Tour

Best Price Guaranteed

Book With Flexibility

Scenic Iceland & the Northern Lights - Small Group, Winter

07

Days

Insight Vacations

First Class

Escorted
5+ years old
24
Reykjavik
Reykjavik
Iceland
$5,549View Tour

Best Price Guaranteed

Book With Flexibility

Three Days in Iceland: Reykjavik & Snæfellsnes Peninsula

03

Days

G Adventures

First Class

Escorted
3 - Explorer

12+ years old
16
Reykjavik
Reykjavik
Iceland
$674View Tour

Best Price Guaranteed

Book With Flexibility

Iceland Adventure: Northern Lights & Snæfellsnes Peninsula

07

Days

G Adventures

First Class

Escorted
3 - Explorer

12+ years old
16
Reykjavik
Reykjavik
Iceland
$2,251View Tour

Best Price Guaranteed

Book With Flexibility

Six Days in Iceland

06

Days

Intrepid

First Class

Escorted
2 - Classic

18 - 39 years old
16
Reykjavik
Reykjavik
Iceland
$1,246View Tour

Book With Flexibility




Premium Iceland in Winter

4 reviews
08

Days

Intrepid

First Class

Escorted
2 - Classic

15+ years old
12
Reykjavik
Reykjavik
Iceland
$4,284View Tour

Book With Flexibility




Northern Lights Escape

4 reviews
06

Days

Intrepid

Budget

Escorted
2 - Classic

15+ years old
12
Reykjavik
Reykjavik
Iceland
$1,849View Tour

Book With Flexibility




6 Day Affordable Iceland with Northern Lights Pursuit - Wednesday Departure

12 reviews
06

Days

Gate1

First Class

Escorted
Reykjavik
Reykjavik
Iceland
$1,429View Tour

Best Price Guaranteed

Book With Flexibility

7 Day Reykjavik Vacation (Boston) - 7 Day Reykjavik Vacation (Saturday Departure, Boston) -Fosshotel Baron

07

Days

Gate1

First Class

Escorted
Reykjavik
Reykjavik
Iceland
$989View Tour

Best Price Guaranteed

Book With Flexibility

5 Day Iceland's Northern Lights (Washington D.C.) - 5 Day Iceland's Northern Lights (Sunday Departure, Washington D.C.) -Plan C

05

Days

Gate1

First Class

Escorted
Reykjavik
Reykjavik
Iceland
$959View Tour

Best Price Guaranteed

Book With Flexibility

Iceland's Classic Northern Lights

05

Days

Intrepid

First Class

Escorted
2 - Classic

15+ years old
12
Reykjavik
Reykjavik
Iceland
$2,415View Tour

Book With Flexibility




6 Day Affordable Iceland with Northern Lights Pursuit - Monday Departure

30 reviews
06

Days

Gate1

First Class

Escorted
Reykjavik
Reykjavik
Iceland
$1,449View Tour

Best Price Guaranteed

Book With Flexibility

7 Day Reykjavik Vacation (Saturday Departure, New York) -Fosshotel Baron

07

Days

Gate1

First Class

Independent
Reykjavik
Reykjavik
Iceland
$1,099View Tour

Best Price Guaranteed

Book With Flexibility

7 Day Reykjavik Vacation (Tuesday Departure, New York) -Fosshotel Reykjavik

07

Days

Gate1

First Class

Independent
Reykjavik
Reykjavik
Iceland
$1,159View Tour

Best Price Guaranteed

Book With Flexibility
Iceland Travel Guide
Iceland Tours Highlights
Explore Reykjavik, the northernmost capital in the world, a lively city with many museums, galleries, restaurants, shows, and concerts.
Marvel at the awe-inspiring glacier-capped volcanos, sheer basalt cliffs, and lava fields of the Snæfellsnes peninsula.
Get active in Akureyri which has some of Iceland's best hiking trails as well as skiing, rafting, caving, and horseback riding.
Admire the spectacular natural beauty of Siglufjörður, a historic fishing town close to the Arctic circle.
Soothe your tired muscles in the naturally warm waters of the Myvatn Nature Baths, an Icelandic hot spring near the magnificent Lake Myvatn.
Come face-to-face with puffins and look out for herds of wild reindeer in the remote Eastfjords region.
Discover the mighty Vatnajökullglacier located in a staggeringly rich landscape with active volcanoes and incredible rock formations.
Climb to the top of the Skogafoss waterfall for breathtaking views of Iceland's southern coastline.
Sample local specialties like smoked puffin, wild goose, and if you're up to it, putrefied shark, washed down with one of many prize-winning Icelandic beers.
Iceland Tours Travel Tips
There are direct affordable flights to Iceland from major US hubs. Look out for deals from Icelandair and WOW Air. Prices can drop to $99 one-way.
Driving is the best way to explore Iceland's majestic beauty. But don't get caught up in the logistics. Book an escorted Iceland tour to see all the top attractions.
Gas is imported into Iceland and can be extremely expensive, so if you're planning to drive, factor this into your budget.
Pack for all four seasons because Iceland has some of the most dynamic weather anywhere in the world. Don't forget a thermal base layer, swimsuit, rain jacket, and hiking boots.
Credit cards are widely accepted, even at remote gas stations, but make sure your card has a chip and pin.
English is widely spoken around Iceland, but learning a few phrases of Icelandic is a great way to make friends with the locals, or at least invite a chuckle at your pronunciation.
In the summer months, the 20+ hours of daylight and the enthralling landscape will tempt you to pack in a lot of sightseeing into one day, but it can be exhausting if you don't keep track of time.
Always use experienced guides to experience the glaciers safely.
Iceland Tours Things To Do
Take a Dip in the Blue Lagoon

Pricey? Yes. Touristy? You bet. But Iceland's world-famous geothermal spa, the Blue Lagoon, is popular for a reason. The ethereal blue waters contrast starkly with the surrounding black lava fields, and the roiling clouds of steam make it a dreamy setting for a few hours of relaxation. The mineral-rich waters can do wonders for your skin. And if you're in the mood for some pampering, there's a world-class spa onsite with a range of treatments on offer.

You Should Know

The Blue Lagoon is located near the airport, about 35 minutes from Reykjavik. It's open year-round and the water temperature is maintained at a perfect 39C (102F). As Iceland's most popular attraction, the Blue Lagoon does sell out every day. Pre-booking is required. In the busy tourist season, you may need to book weeks in advance.

See the Northern Lights

Marooned at the top of the world, on the edge of the Arctic Circle, Iceland is one of the remotest places on the planet, which makes it one of the best places to see the Aurora Borealis (Northern Lights). This otherworldly display of colorful, dancing lights occurs when particles from the sun become trapped in the earth's magnetic field. The sight of unbelievable colors moving across the Arctic sky in a celestial ballet is sure to remain imprinted on your memory forever.

Best Time To Visit

Peak Northern Lights viewing season is September to March when the long, dark nights extend for up to 20 hours a day. A full moon can drown out the lights and spoil the show, so plan your Northern Lights hunt accordingly. The display is brighter and stronger close to the spring and autumn equinoxes on March 21 and September 21, respectively.

Discover the Beautiful Snæfellsnes Peninsula

Extending 55 miles into the Atlantic Ocean on Iceland's west coast, the Snæfellsnes peninsula is the perfect place to immerse yourself in Icelandic scenery and culture. Towering basalt cliffs formed by ancient lava, natural mineral springs heated by geothermal energy, golden sand beaches with resident seal colonies, and tranquil fishing villages with colorful wooden houses make the peninsula a feast for the eyes. You'll find yourself reaching for your camera at every turn.

Best Time To Visit

The summer months will reward you with nearly constant daylight and pleasant weather. But visiting in the winter gives you the chance to see the landscape draped in snow and to catch a glimpse of the Northern Lights.

Marvel at the Skogafoss Waterfall

Fed by two glaciers, the Skogafoss waterfall is a magnificent veil of water that plummets nearly 200 feet, enveloping visitors in clouds of spray. Legend has it that a Viking named Thrasi hid a chest of gold under the falls. One young man almost succeeded in retrieving it, they say, but came away with only the ring of the chest handle, which now decorates the door of the church in Skogar. The river below the falls is rich in salmon and is a popular spot for local fishermen in the summer.

You Should Know

Skogafoss is about a two-hour drive from Reykjavik. There is no entrance fee to visit the falls (it's free). You can climb to the top of the falls for stunning views, but the nearly 500 steps can be quite steep in places.

Hike the Vatnajökull Glacier

The mighty Vatnajökullglacier is 3,000 square miles of jagged mountains, deep crevasses, and giant icebergs floating in glacial lagoons. The majestic scenery is best explored on a guided hike where you'll have a chance to see the glacial sculptures up close and experience the raw power of this natural wonder.

You Should Know

There are hikes to suit every fitness level, including fairly easy walks. The guides will provide ice crampons to attach to your hiking boots. You should wear warm, waterproof clothing and hiking boots that have a thick sole and cover your ankles. The crampons cannot be attached to normal shoes and hiking boots may be available to rent. The price of the hiking tour typically includes the services of an expert guide and safety equipment (helmet, crampons, ice axe).

Explore the Eastfjords

Don't fancy elbowing your way through a crowd to glimpse a famous waterfall? Ditch the popular Golden Circle and Ring Road routes and head to the Eastfjords instead. This relatively undiscovered part of Iceland has a fairytale-like atmosphere. It's a treasure trove of spectacular scenery with snow-capped mountains and cascading waterfalls. The tranquil and picturesque village of Seyðisfjörður, with its multicolored wooden houses, will charm you with its relaxed atmosphere and artistic vibe.

Best Time To Visit

Summer is the best season to go to the Eastfjords. You can arrive in Seyðisfjörður on a ferry that sails the majestic 17-km fjord. If you're planning to stay overnight, book accommodation well in advance.

Visit Lake Myvatn

This shallow lake, surrounded by wetlands, is one of Iceland's most ecologically diverse areas. The jagged lava rocks are home to an abundance of birdlife, especially in the summer months when migratory birds come calling. Visit Krafla Caldera, a beautiful crater lake, or stroll the Hofdi Lakeside Walk, which presents a dramatically different landscape of forested areas and lush pastures.

You Should Know

Myvatn means midge in Iceland, referring to the small flying insects (midges or Icelandic black flies) that infest the area in the warmer months. But that doesn't mean you have to miss out on the unique beauty of the area. Just come prepared with insect repellant and a protective net for your face.

Get Close to Nature in Siglufjörður

It is Iceland's northernmost town with a population of less than 1,500. The small fishing village of Siglufjörður is an area of spectacular natural beauty. The mountains and fjords create a majestic backdrop for an endless stream of outdoor activities, including golfing, swimming, hiking, and skiing. The town also has a flourishing cultural scene with museums, galleries, workshops, and a variety of restaurants.

You Should Know

Siglufjörður sits on the Troll Peninsula, Iceland's best-kept ski secret. Imagine ski runs stripped of restaurants, boundary ropes, and other skiers. And you can go heli-skiing long after the season is over in the Rockies and the Alps. The area has many steep runs to challenge experienced skiers, but it's not suitable for beginners.
Iceland Tour Packages
Summer has the best conditions to tour almost any place or attraction in Iceland. However, the winter also has its charms. Despite that the average temperatures in the winter are around 32F in the south and 14F in the north, there are still a lot of perks to visiting Iceland in the offseason.
Summer - July to August - Best Season

The best and most popular time to visit Iceland is in the summer, when the sun rises at 3 a.m. and sets around midnight, giving you 20+ hours of daylight. The weather is moderate with average temperatures in the 50s and 60s. July and August are peak tourist season, so be prepared for crowds at the popular attractions if you visit during these months.

Winter - October to March - Good Season

In the winter season, which extends from October to March, the days are short and precipitation peaks, with the southern and western parts of the island receiving the maximum rainfall. However, despite the country's name, Icelandic winters are not bitterly cold owing to the warming influence of the North Atlantic currents. But December has excellent conditions for viewing the Northern Lights if that's on your bucket list. You can also make major savings on airfare, accommodation, and activities in the offseason and the crowds are much thinner at popular attractions.
Iceland Tours Frequently Asked Questions
What are Iceland tours?

Iceland tours are escorted group holidays that give you the chance to see all that the country has to offer without getting caught up in the logistics of arranging accommodation and transportation. It's a great value vacation, keeping in mind that accommodation and gas in Iceland can be quite expensive. You don't have to bother with driving or risk getting lost. All you have to do is sit back and soak in the panorama unfolding before you. What's more, Iceland tours give you the chance to meet and enjoy the company of other like-minded travelers.

What's included on Iceland tours?

Land-only packages include accommodation, transportation, most meals, and sightseeing at many top attractions in Iceland. Air-inclusive packages include all this plus round-trip airfare from a US hub. An escorted Iceland tour includes the services of an experienced tour guide who will give you tons of interesting information about the places you're visiting. They will also be on hand to help with suggestions for optional activities and restaurant recommendations, etc.

What's the best Iceland tour?

Iceland will look very different depending on what time of the year you're visiting. You can come back again in a different season and see a completely new country. If the Northern Lights are a big attraction for you, these are best viewed in the dark winter months. If you want the benefit of long days and moderate weather, then a summer Iceland tour is your best bet.

How much do Iceland tours cost?

The cost of Iceland tours is heavily season-dependent. In the summer, you can expect to pay around $300 per person per day. In the winter, you might be able to snag a bargain at $100 per person per day. To see the incredible diversity of the island, we recommend a 9- to 11-day Iceland tour.
Learn More About Iceland Tours

It's Time For a Wellness Vacation

Wellness Tours and Why They Are Growing in Popularity Wellness is a selling point for so many companies, and when it comes to feeling good; you want to be one of the many taking advantage of them. Wellness tours are one of the newest types of tours on the market, and they are offering the…


Review: Fire & Ice With Contiki- The Best Way For Young People To Vacation

Hot springs, sprouting geysers and crashing waterfalls. Explore the best of Iceland's natural beauty on Fire & Ice with Contiki.


9 Popular Places You've Probably Been Pronouncing Wrong

When experiencing a new part of the world, making an effort to take part in the customs, language and traditions is much appreciated by the locals. Whether you're discussing world events with a friend or about to embark on an adventure to a new country, it's always a good idea to make sure you are…

Review: Gems Of Iceland With Globus

By: Margaret Schroeder, Content Specialist Going to Iceland was really a dream come true, and I was lucky enough to experience it on their Gems Of Iceland with Globus. This is a quick tour, but if Mother Nature lets you, you can see a lot in a short amount of time.


Here Are The Healthiest Countries In The World

One of the best parts of traveling is living and emulating the cultures of the country you are exploring. So, while you are discovering all the wonders of the world, or dipping your toes in every sea, you're also fully immersed in different cultures and lifestyles. A comprehensive study was done, researching living standards, based…
Reviews for Iceland Tours and Vacations
Best trip ever!
Patricia S
Very Nice Experience!
Celia S
Insight Vacations is a reputable company with a great formula for success. This is our fifth trip with them. We know what to expect and we are always very pleased with our trips.
Ellen S
Departure
Lengths
Styles
Specialities
Price
How It Works
Vacationing has never been easier or cheaper with the help of a dedicated travel consultant from AffordableTours.com
1. Free Quote
Find your perfect trip on our website and simply request a free quote. Need to speak to a live person? Call us 7 days a week at 1-800-935-2620. No robots here!
2. Dedicated Travel Consultant
Your personal travel consultant will reach out and be your point of contact for your entire travel experience from start to finish. Did we mention you'll be working with an award winning team? Sweet!
3. Lowest Price Guaranteed
Because we're one of the largest sellers of travel, we're able to give you a discount on your vacation package. No one beats our prices!
4. Stress Free Travel
Knowing you got the best deal, all that's left is for you to pack your bags and enjoy your vacation!