Sri Lanka Tours & Vacation Packages 2023/2024
Save up to 40% on Sri Lanka Tours & Vacation Packages 2023/2024
Sri Lanka Travel Guide
If any island country can provide you with a lot to explore in a small package, it is Sri Lanka. Formerly known as Ceylon until 1972, the small island, which is found in the Indian Ocean, is one that depicts stunning beauty and genuine and friendly warmth. Here is where traders from all over the world once ventured to establish ports at places, such as Galle and Colombo. The first, traders from Portugal and the Netherlands came for the spices on the island followed by the British who arrived in Sri Lanka for its tea. Traveling a circuit of attractions in Sri Lanka is a once-in-a-lifetime opportunity. With tour operator volume buys plus our low everyday prices you can save up to 40% versus assembling the same itinerary on your own! Book your Sri Lanka tour today with AffordableTours.com, your discounted tour headquarters. View Sri Lanka Tour Deals and Discounts
Sri Lanka Travel Guide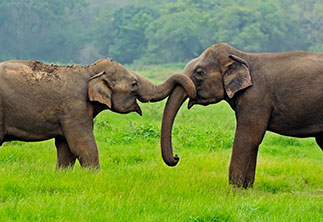 Showing 1 - 20 Tours
Tour Itinerary
Days
Operator
Quality
Style
Starts
Ends
Price



Sri Lanka & Maldives Adventure

3 reviews
14

Days

G Adventures

Budget

Escorted
2 - Classic

12+ years old
15
Negombo
Male
Maldives, Sri Lanka
$3,299View Tour

Best Price Guaranteed

Book With Flexibility




14 Day Treasures of Sri Lanka - Sunday Departure

9 reviews
14

Days

Gate1

First Class

Escorted
1 - Light

Colombo
Colombo
Sri Lanka
$2,649View Tour

Best Price Guaranteed

Book With Flexibility

Classical Sri Lanka - Classic Group

08

Days

Insight Vacations

First Class

Escorted
Colombo
Colombo
Sri Lanka
$2,788View Tour

Best Price Guaranteed

Book With Flexibility

Classical Sri Lanka - Small Group

08

Days

Insight Vacations

First Class

Escorted
1 - Light

5+ years old
24
Colombo
Colombo
Sri Lanka
$3,397View Tour

Best Price Guaranteed

Book With Flexibility

Sri Lanka Encompassed

1 reviews
14

Days

G Adventures

First Class

Escorted
2 - Classic

12+ years old
15
Colombo
Mirissa
Sri Lanka
$1,949View Tour

Best Price Guaranteed

Book With Flexibility

Sri Lanka: Spice Gardens & Seasides

12

Days

G Adventures

Budget

Escorted
2 - Classic

18 - 39 years old
18
Negombo
Hikkaduwa Beach
Sri Lanka
$1,299View Tour

Best Price Guaranteed

Book With Flexibility

Discover Kerala & Sri Lanka: Islands & Ruins

18

Days

G Adventures

Budget

Escorted
3 - Explorer

18 - 39 years old
15
Kochi
Hikkaduwa Beach
India, Sri Lanka
$1,999View Tour

Best Price Guaranteed

Book With Flexibility

Discover India & Sri Lanka: Plantations & Pink Cities

32

Days

G Adventures

Budget

Escorted
3 - Explorer

18 - 39 years old
18
New Delhi
Hikkaduwa Beach
India, Sri Lanka
$3,449View Tour

Best Price Guaranteed

Book With Flexibility

Sri Lanka with Maldives Cruise: Spice Gardens & Seasides

18

Days

G Adventures

First Class

Escorted
2 - Classic

18 - 39 years old
8
Negombo
Male
Maldives, Sri Lanka
$3,199View Tour

Best Price Guaranteed

Book With Flexibility




Sri Lanka Express

1 reviews
08

Days

G Adventures

Budget

Escorted
1 - Light

12+ years old
15
Negombo
Udawalawe
Sri Lanka
$1,199View Tour

Best Price Guaranteed

Book With Flexibility




Best of Sri Lanka

1 reviews
15

Days

Intrepid

Budget

Escorted
3 - Explorer

15+ years old
12
Negombo
Colombo
Sri Lanka
$2,475View Tour

Book With Flexibility

14 Day Treasures of Sri Lanka - Wednesday Departure

9 reviews
14

Days

Discovery By Gate1

First Class

Escorted
2 - Classic

8+ years old
22
Colombo
Colombo
Sri Lanka
$2,449View Tour

Best Price Guaranteed

Book With Flexibility




Cycle Sri Lanka

14

Days

Intrepid

Budget

Escorted
3 - Explorer

14+ years old
16
Negombo
Colombo
Sri Lanka
$2,410View Tour

Book With Flexibility




Classic Sri Lanka

08

Days

Intrepid

Budget

Escorted
2 - Classic

15+ years old
12
Negombo
Colombo
Sri Lanka
$1,865View Tour

Book With Flexibility

Sri Lanka: Hike, Bike & Kayak

10

Days

Intrepid

Budget

Guided/Hosted
4 - Active

15+ years old
12
Negombo
Colombo
Sri Lanka
$2,160View Tour

Book With Flexibility




Sri Lanka Family Holiday

3 reviews
12

Days

Intrepid

Budget

Guided/Hosted
3 - Explorer

5+ years old
16
Negombo
Colombo
Sri Lanka
$1,481View Tour

Book With Flexibility




Premium Sri Lanka

14

Days

Intrepid

First Class

Escorted
Negombo
Colombo
Sri Lanka
$4,097View Tour

Book With Flexibility




Simply Sri Lanka

08

Days

Intrepid

Budget

Guided/Hosted
2 - Classic

15+ years old
16
Negombo
Colombo
Sri Lanka
$784View Tour

Book With Flexibility




Sri Lanka Real Food Adventure

3 reviews
12

Days

Intrepid

Budget

Escorted
2 - Classic

15+ years old
12
Negombo
Colombo
Sri Lanka
$2,690View Tour

Book With Flexibility




Sri Lanka Explorer

3 reviews
12

Days

Intrepid

Budget

Escorted
2 - Classic

15+ years old
12
Negombo
Colombo
Sri Lanka
$2,071View Tour

Book With Flexibility
Sri Lanka Travel Guide
Sri Lanka Tours Highlights
Spot leopards in Sri Lanka's Yala National Park.
Encounter a herd of elephants in a remote park, such as Gal Oya.
See well over 400 species of birds that make their home on the island.
See seven kinds of turtles, as they make their nests in Sri Lankan sands.
Whale watch and dolphin watch on the warm and inviting coastal shores of the country.
Visit gloriously preserved Hindu and Buddhist temples.
Gaze over the beautiful tea plantations that have been part of Sri Lanka's landscape since the arrival of the British.
Marvel at the wildlife and rock formations in the island's ancient forests.
Enjoy water sports, such as swimming, snorkeling, or diving.
Visit the bustling capital of Colombo and explore both new and old attractions.
Sri Lanka Tours Travel Tips
The Sri Lankan rupee (LKR) is the main form of currency.
People in Sri Lanka speak Sinhala, Tamil, and English. However, English is widely spoken, so you don't need to stress about not being able to speak Sinhala or Tamil.
While the country can be more costly than nearby destinations, it offers budget pricing when compared to traveling in the West.
Guided tours, such as safaris, are a popular choice among first-time trip-goers.
The people are truly affectionate and friendly, so you will feel welcome right away.
4G is readily available in Sri Lanka, and pay-as-you-go credit makes getting the signal easy and affordable.
Rowdy partying is frowned upon in Sri Lanka, where nights are quiet and people start their days early.
Family-run guesthouses are more the norm than hostels.
When traveling, make sure you wear closed-toed footwear that cushions the feet and provides a good tread - you will be doing a lot of walking.
Besides walking, you can go from place to place in a tuk-tuk, a colorful three-wheeled vehicle that is seen often in places like Colombo.
Keep your travel documents in easy reach, or on your person.
Share your tour itinerary with friends and family so they know where you are while you are away.
Sri Lanka Tours Things To Do
Colombo

Once known as the "Garden City of the East," Colombo is now a capital that sprawls over a large area - one that is experiencing a building boom and continually expanding. This site is often the beginning or ending destination on a Sri Lanka tour. The crowded and traffic-clogged Galle Road, for example, features several new hotels.

Best Time To Visit

Because Colombo is on the southwest coast of the main island, it is better to visit the city from October to February, when the monsoon weather primarily hits the eastern and northern parts of the island.

You Should Know

Lake Beira is a 160-acre lake that sits in the capital city's center. During the Dutch, Portuguese, and British colonial periods, the lake was used to transport goods inside and outside the city. Completed in 1997, the city's two World Trade Center Towers are the most recognized skyscrapers and landmarks on the city's skyline. Cricket is Sri Lanka's most popular sport and is frequently played at the beaches and in the parks of Colombo. Sri Lanka was the winner of the World Cup for Soccer in 1996.

The Cultural Triangle - Kandy

Located in the central and eastern part of Sri Lanka, Kandy is the island nation's second-largest city. It once was one of three great Sihalese capitals. Kandy, Polonnaruwa, and Anuradhapura all form what is known as the Cultural Triangle, an area that is the heart of the Island's ancient history.

Best Time To Visit

Because Kandy is located in the central and east part of Sri Lanka, you will be less likely to be pelted with rain from May to September, when sunnier and drier weather is the norm.

You Should Know

One of the highlights of any tour of Kandy is the Temple of the Tooth, known to hold a relic of the tooth of Buddha. A UNESCO World Heritage site, Kandy was the last capital of the kings of Sri Lanka. Monks at the temple conduct daily worship at dawn, at noon, and in the evening.

Anuradhapura

Another one of the ancient cities of Sri Lanka's Cultural Triangle, Anuradhapura goes back to the fourth century B.C. when it was a secular and spiritual capital for over 1,000 years. During its height, the city was home to a population of 10,000+ monks. Many of its dagobas (shrines for sacred relics) and monasteries can still be seen today.

Best Time To Visit

Anuradhapura is located in a north-central province in Sri Lanka. Therefore, it is best to visit the ancient attraction from May to September, or when there is less chance of a rain shower.

You Should Know

Private tours of Anuradhapura often take visitors to dozens of religious sites, including the three largest stupas in Sri Lanka. The Sri Maha Bodhi represents the southern branch and sacred fig of a tree under which it is said Buddha received enlightenment. The scenery and sites at Anuradhapura offer people a great opportunity to take pictures.

Sigiriya

These palace ruins are located in the heart of Sri Lanka between the towns of Habarane and Dambulla and sit on a sprawling rocky plateau about 1,213 feet (370 meters) above sea level. The rock plateau was formed from the magma of an extinct volcano and rises 200 meters (about 656 feet) above the jungle scenery.

Best Time To Visit

Visit Sigiriya, also known as "Little Rock," when it is drier, or from May to September

You Should Know

This attraction is highly popular in Sri Lanka, with some travel experts believing that Sigiriya is visited more than any other site. The destination, which was formerly the site of a city and forest, was built in the fifth century by King Kasayapa. Sitting on a large rock column, the palace was abandoned after the ruler's death and used as a Buddhist monastery. You can explore archaeological remains and gardens at the site. To see an amazing view at the top, you need to scale the landmark's 1,200 steps.

Peradeniya Royal Botanical Gardens - Kandy

This attraction is noted as being the largest botanical garden in Sri Lanka. The gardens, which sit at an elevation of 1,509 miles or 460 meters above sea level, are bounded on three sides by the Mahaweli River, which is the longest river in Sri Lanka.

Best Time To Visit

Travel to the Peradeniya Royal Botanical Gardens is best when you go during the drier part of the year, or from May to September.

You Should Know

The gardens boast an astounding array of trees and plants and features giant fruit bats that fly and hang from the trees at the site. You can also see monkeys up-close. Visit the orchid house with its stunning display of flowers or walk around the garden's shimmering lakes. About 2 million travelers visit the gardens yearly.

Tea Country - Central and Southern Sri Lanka

Part of your Sri Lanka tour may include a trip to tea country. Because Sri Lanka is the world's fourth-largest producer of tea, you may find a tour of a plantation to be both interesting and informative. During the 1860s, the first tea plantations were established in Kandy. Today, most of the plantations sit in the scenic south and central portions of the country, where contoured rows of tea plants cover the hillsides.

Best Time To Visit

Because Sri Lanka's tea area is located on the southern slopes of the country, you are less likely to get caught in monsoon from October to February.

You Should Know

When you visit a tea plantation, you will see skillful workers deftly plucking the best or most flavorful parts of each tea bush. After the tea buds and leaves are picked, they are sent to a nearby factory for processing. If you elect to go on this type of excursion, you will typically get to visit a tea factory to gain further insights into the tea-producing process.

Yala National Park

Sitting in the south-east corner of Sri Lanka, the Yala National Park is the most popular national park in the county. The park, which is the second-largest national park in Sri Lanka, is separated into five blocks. Two of the blocks, Kumana and Ruhuna, are often explored on guided safaris. The landscape of the park, which highlights wetlands, woodlands, and savannah, is home to a variety of animals including the Sri Lankan elephant, the sloth bear, the rare wild buffalo, crocodiles, and over 200 types of birds.

Best Time To Visit

Visit the park from October to February, or the area's drier time.

You Should Know

An enigmatic animal, the leopard is found in high concentrations in Yala National Park. The cat, which is iconic to the park, makes spotting it a challenge. Due to its secretive nature, the top park predator can evade notice, unless you are accompanied by a skilled and knowledgeable guide and a little bit of luck.

Tangalle

While one part of a Sri Lanka tour involves immersing yourself in culture and history, the other half is for relaxing on the beach or enjoying water sport activities. This is where Tangalle becomes a part of your Sri Lankan journey. Visitors enjoy their days sunning on the beach or exploring the area's verdant interior. Tangalle features some of the island's best beaches and resorts.

Best Time To Visit

Plan your journey to Sri Lankan's southern coast from October to February, so you don't get hit by the monsoon rains, prevalent from May to September.

You Should Know

Tangalle is a nesting ground for Loggerhead, Green, Hawksbill, and Leatherback turtles. Water sports enthusiasts visit Tangalle to surf and dive. You can also whale watch if you like.

Galle Fort

The atmosphere of the town of Galle will take you back to another time and place. That is because the town is packed with fascinating sites that give you more insight into the island's colonial past. The city's and fort's walls, and everything within them, have been proclaimed a UNESCO World Heritage site.

Best Time To Visit

Take a trip to Galle Fort from October to February, when you can see the sights with less worry about rain.

You Should Know

Galle Fort is home to a Victorian lighthouse which is maintained by the country's Ports Authority. The oldest light station in Sri Lanka, the Galle Lighthouse was first built in 1848. It stands 25.5 meters or 87 feet high and was first illuminated with electricity in 1939. It derives its light source from mains power.
Sri Lanka Tour Packages
While tour advisors may tell you that you can take Sri Lanka tours year-round, you should still plan your trip so you avoid rainy weather. The peak season falls between December to April. However, certain parts of the island experience more rain at certain periods than others.
For example, if you travel from May to September, it is better to head towards attractions that lie along the east coast or in the northern regions, which experience fewer showers during these months. On the other hand, you want to head west or south from October to February, when the monsoon season begins in the north and east.
For the most part, temperatures remain steady throughout the year and average about 78 degrees Fahrenheit during the day. Expect the temperature to be about 10 degrees cooler in the country's highlands.
Sri Lanka Tours Frequently Asked Questions
What are Sri Lanka Tours?

Sri Lanka tours are unique tours that take visitors to diverse historical, religious, and natural sites in Sri Lanka. Many of the tours begin and/or end in the vibrant city of Colombia. You can also experience the country's ancient culture when you travel to one or more of the ancient cities in the area's Golden Triangle. Yala National Park is yet another place of interest, as it features Safari tours. The national park is well known for its high concentration of leopards.

What Is Included in a Sri Lanka Tour?

When you take a guided tour of Sri Lanka, you will be accompanied by a knowledgeable, English-speaking tour guide. The tours include the cost of some meals, the price of admission to most attractions, and transport. Hotel and airport transfer fees are normally included in the tour price.

What is the Best Sri Lanka Tour?

The best Sri Lanka tour is the tour that meets all your criteria with respect to cost, attractions, and your availability for travel. Make your travel plans through an experienced travel representative to receive the best Sri Lanka tour for what you can afford to spend.

What Is the Cost of a Sri Lanka Tour

The price you pay to take a Sri Lanka tour will depend on when you plan to go, the length of the stay, and what you plan to see. If you take an all-inclusive luxury tour of the island, the price begins at $6,050 per person for 13 days.
Learn More About Sri Lanka Tours

Top Culinary Destinations Around The World

Finding exceptional flavors should not be hard to do, so we have put together some of the top culinary destinations around the world. However, if you've not traveled much then you may not know where to go for all the amazing food. Learning a bit more about these areas, what they offer, their different tastes,…
Reviews for Sri Lanka Tours and Vacations
Gate 1 Discovery Tours trip to Sri Lanka was incredible. Great hotels and meals, diverse sites, many animals and terrific beaches. A very interesting country.
Frank Z
Gate 1 Discovery Tour was more than we expected, hotels were excellent, attraction entrance fees were all included. Couldn't be more pleased!
Janice P
excellent trip. sri lanka is the new up and coming place. safe and very friendly people. affordable tours was excellent. good job by gate1
Andrew N
Departure
Lengths
Styles
Specialities
Price
How It Works
Vacationing has never been easier or cheaper with the help of a dedicated travel consultant from AffordableTours.com
1. Free Quote
Find your perfect trip on our website and simply request a free quote. Need to speak to a live person? Call us 7 days a week at 1-800-935-2620. No robots here!
2. Dedicated Travel Consultant
Your personal travel consultant will reach out and be your point of contact for your entire travel experience from start to finish. Did we mention you'll be working with an award winning team? Sweet!
3. Lowest Price Guaranteed
Because we're one of the largest sellers of travel, we're able to give you a discount on your vacation package. No one beats our prices!
4. Stress Free Travel
Knowing you got the best deal, all that's left is for you to pack your bags and enjoy your vacation!