When most people think about taking a South American tour vacation, they think of Argentina, Costa Rica, or Brazil. But there's plenty to do and see in the second smallest country on the South American continent: Uruguay. Bordering Argentina and Brazil, Uruguay offers bleached sand beaches, wineries, the vibrant and historic capital of Montevideo, and lush green terrain spread out in low hills and flowing plains. From famous city landmarks to small-town quaintness to outdoor adventures, Uruguay is the perfect place to revel in the best South America has to offer in a small and relaxed yet dynamic and lively atmosphere. Break from the hordes that crowd tours to Argentina and the like and book your next tour to captivating Uruguay. When it comes to an interesting and spectacular place to tour, this country proves that size, indeed, does not matter. With tour operator volume buys plus our low everyday prices you can save up to 40% versus assembling the same itinerary on your own! Book your Uruguay tour today with AffordableTours.com, your discounted tour headquarters. View Uruguay Tour Deals and Discounts
Uruguay Travel Guide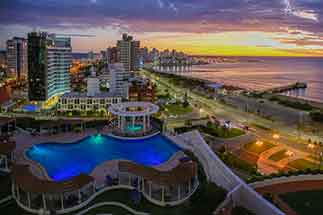 Showing 1 - 8 Tours
Tour Itinerary
Days
Operator
Quality
Style
Starts
Ends
Price



Best Argentina, Uruguay & Brazil

10

Days

Intrepid

Budget

Guided/Hosted
2 - Classic

15+ years old
16
Buenos Aires
Rio de Janeiro
Argentina, Brazil, Uruguay
$2,384View Tour

Book With Flexibility




Buenos Aires to Rio De Janeiro: Falls & Footy

17

Days

G Adventures

Budget

Escorted
3 - Explorer

18 - 39 years old
18
Buenos Aires
Rio de Janeiro
Argentina, Brazil, Uruguay
$2,634View Tour

Best Price Guaranteed

Book With Flexibility




Bolivia to Brazil: Highlands & Coastlines

31

Days

G Adventures

Budget

Escorted
2 - Classic

18 - 39 years old
18
La Paz
Rio de Janeiro
Argentina, Bolivia, Brazil, Chile, Uruguay
$4,461View Tour

Best Price Guaranteed

Book With Flexibility

Lima to Rio: Coast to Coast - Inca Trail

51

Days

G Adventures

Budget

Escorted
4 - Active

18 - 39 years old
18
Lima
Rio de Janeiro
Argentina, Bolivia, Brazil, Chile, Peru, Uruguay
$6,799View Tour

Best Price Guaranteed

Book With Flexibility

Lima to Rio: Coast to Coast - Lares Trek

51

Days

G Adventures

Budget

Escorted
4 - Active

18 - 39 years old
18
Lima
Rio de Janeiro
Argentina, Bolivia, Brazil, Chile, Peru, Uruguay
$6,799View Tour

Best Price Guaranteed

Book With Flexibility

Lima to Rio: Coast to Coast - Cusco Stay

51

Days

G Adventures

Budget

Escorted
4 - Active

18 - 39 years old
18
Lima
Rio de Janeiro
Argentina, Bolivia, Brazil, Chile, Peru, Uruguay
$6,799View Tour

Best Price Guaranteed

Book With Flexibility




Buenos Aires to Rio Explorer

17

Days

Intrepid

Budget

Guided/Hosted
2 - Classic

15+ years old
16
Buenos Aires
Rio de Janeiro
Argentina, Brazil, Uruguay
$3,149View Tour

Book With Flexibility

Epic South America

39

Days

Intrepid

First Class

Escorted
3 - Explorer

18 - 29 years old
16
Lima
Rio de Janeiro
Argentina, Bolivia, Brazil, Chile, Peru, Uruguay
$6,835View Tour

Book With Flexibility
Uruguay Travel Guide
Uruguay Tours Highlights
Walk the cobblestone streets of the colonial town of Colonia del Sacramento.
Sample a wide range of Uruguayan wines such as the soft, elegant red wine Tannat in the best vineyards in the country.
Ride bikes through the laid-back, history-rich capital of Montevideo.
Relax on the beautiful beaches of the resort town of Punta del Este.
Picnic under ombu trees, the national tree of Uruguay.
Take a ferry ride to Buenos Aires.
Marvel at old and new architectural styles—such as the stunning Old World architecture of the Teatro Solis—when you walk through the Plaza Independencia in Montevideo.
Enjoy surfing, swimming, midnight dinners, and late parties on the fishing village-turned-beach resort town of Jose Ignacio.
Uruguay Tours Travel Tips
Pack accordingly: seasons in Uruguay are not the seasons in the U.S.: the country's summer extends between November and February, and the coldest months are July and August.
Late is normal in Uruguay: dinnertime is typically around 11 p.m., and most restaurants don't really get going until after 9 p.m.
Get the best prices for an array of Uruguayan products at various street markets, found throughout the country but most particularly in Montevideo.
While English is spoken, communication with locals can be somewhat difficult; it could be helpful to know some basic Spanish terms and phrases.
Some restaurants and bars are closed on Sundays, and shops close early on this day of the week.
The currency in Uruguay is the peso.
Uruguay Tours Things To Do
Colonia Del Sacramento

Forget the frenetic movement of some major South American cities like Buenos Aires: Colonia del Sacramento offers all the relaxation you might be looking for. Take in the laid-back town while you walk the cobblestone streets, find a quiet spot on the beach, or climb to the top of the El Faro Lighthouse for a stunning view of the ocean, beaches, and town. Visit the Museo Municipal to get a history of this beautiful town, see the oldest church in Uruguay (the Iglesia Matríz), and stroll the old harbor Puerto Viejo.

Best Time To Visit

Since it's perhaps best known for its beaches, you should visit Colonia del Sacramento would be during Uruguay's summer—November to February.

You Should Know

Save money and pay the admission to the lighthouse in Uruguayan pesos if possible. Two-hour city tours are available. Take the opportunity to watch the sunset as the sun slips into the waters of the Rio de la Plata.

Carmelo

Wine tasting is one of the top things you can do on an Uruguayan tour, and one of the favorite spots for this activity is Carmelo. It is closest to the top wine-producing regions in the small country. Try Uruguay's signature wine, Tannat, a soft red wine. Among the top-rated wineries in Carmelo are Bodega Boutique El Legado, Bodega Familia Irurtia, and Bodega Campo Tinto. Try a glass or try a bottle! Enjoy the wine with some snacks or even gourmet dinners.

Best Time To Visit

The most comfortable temperatures in Carmelo are found in late December to February; any time between November and May is most recommended. The time of year for the least precipitation is January – March.

You Should Know

The busiest time of year to tour Carmelo is January; you'll find the least crowds in June. While it's most known for its wineries, you can still do lots of outdoor activities in Carmelo, including horseback riding, canoeing, or fishing.

Punta del Este

From the country's top museums to whale- and sea lion-watching, including Punta del Este on your Uruguayan tour gives you the best of all worlds in this vibrant country. The Casapueblo once served as the workshop of Uruguayan artist Carlos Páez Vilaró; it is now a hotel and museum offering an art gallery, unique architecture, and a not-to-be-missed view of the Atlantic Ocean. The Ralli Museum provides exposure to the best in Latin American art. Hop on a boat tour and have an opportunity to see sea lions and whales that visit the area every summer.

Best Time To Visit

Year-round, though the summer months of November – February are best if you wish to take that boat tour or a fishing trip.

You Should Know

Punta del Este is home to many renowned fashion boutiques. Huge fireworks celebrations can be witnessed along the coast of Puna del Este in late December and early January. The summer serves as host to many music festivals, covering all sorts of tastes from jazz to rock

Montevideo Carnival

Running several weeks during the summer months (January-March), the Uruguayan Carnival in Montevideo has been known to put other carnivals in major South American cities to shame. Marked by a street performance of drummers and dancers known as the Candombe, the festivities contain parodies, shows, floats, dance parades, balloons, singers, comedians, and many other performers. From the more than 2,000 drums that can be heard at once during the Desfile de Llamadas to the ensembles competing on various stages throughout the city, this is an Uruguayan traditional spectacle not to be missed.

Best Time To Visit

The Carnival runs from mid-January into March.

You Should Know

These festivities are the longest in the world, covering more than 50 days. The Carnival in Montevideo rivals carnivals found in bigger cities, such as Rio de Janeiro. Murga is a music genre used in the Carnival; this form of entertainment uses satire to comment on cultural, political, and societal issues.

Famous Landmarks in Montevideo

Take a walking tour through the country's capital and marvel at the architectural styles, such as art deco and colonial. Take in the distinctive Palacio Salvo (Salvo Palace) that was once the tallest building in Latin America, visit the second-largest theatre in South America in the Teatro Solis, shop the market stalls and eat at one of the restaurants at the famous Mercado del Puerto, or experience the "Old City" Ciudad Vieja, filled with antique shops, cafes, and museums.

Best Time To Visit

Guests can visit throughout the year, although July and August are coldest; best times are from November through May.

You Should Know

The Museo Andes 1972 features videos, photos, and actual objects recovered from the crash of Uruguayan Air Force Flight 571, which was carrying a high school group of rugby players when it crashed into the Andes Mountains. The story was made famous in the film Alive. The small museum inside the Salvo Palace addresses the history and cultural aspects of the tango, for which Uruguay is known. Montevideo is home to many parks, such as Park Prado and Park Rodo, which give you the opportunity to enjoy outdoor sports activities, see outdoor shows, or visit lakes.

Cabo Polonia

This rather obscure village offers visitors who love to hike a chance to do just that; it is not accessible by any roads: you either walk through dunes or ride 4x4's to get to it. See South America at its most raw. You can walk the beaches, Sur or Calavera (the latter better for swimming), visit craft shops and restaurants, or visit the lighthouse where you could see sea lions on the rocks surrounding the structure.

Best Time To Visit

Year-round; summer is best for those who enjoy the warmer weather, but some say the hamlet has a "surreal" feel in the winter that is not to be missed.

You Should Know

If you do choose to visit in the country's winter months, many establishments are closed. Many areas of the hamlet have no electricity or running water. The village is named after a Spanish ship, El Polonio, which sank in 1735.

Ferry Ride to Buenos Aires

If you just can't resist the pull of a large city and crowds, then you could opt to include a ferry ride to Buenos Aires, Argentina and spend time there. You might stroll the city square of Plaza de Mayo housing the Government House and The City Hall; visit Palmero Park; eat lunch in Puerto Madero; take in the famous opera house Teatro Colon; snap pictures of the ornate tombs at Recoleta Cemetery; and enjoy tango shows at restaurants in the Calle Defensa.

Best Time To Visit

Temperatures are at their mildest from October to March, though summer days in December – February could get hot. Spring is the best time of year to visit Buenos Aires.

You Should Know

At least a three-day stay in Buenos Aires is recommended; this is not a city you can simply rush through. Bring cash; ATM fees are exorbitant. Ice cream shops are abundant in Buenos Aires. Vegetarians beware: restaurants in Argentina offer mainly meat dishes, such as beef and steak.
Uruguay Tour Packages
Since Uruguay has so much to offer as far as beaches, parks, wineries, and outdoor sports opportunities, the best time to visit might be during its summer: November through February. March to May could offer cooler weather and the beauty of fall season, so that might be the best time to stroll cities and historic towns.
Autumn & Winter - September to November/December to February

May to August are Uruguay's fall/winter season, with the coldest weather felt in July and August. Average daily temperatures fall below 62 degrees Fahrenheit between May-August. This time of year also tends to be cloudier.

Spring & Summer - March to May/June to August

Uruguay's spring and summer extend from about October to May. Warm weather, with daily high temperatures above 76 degrees Fahrenheit, is experienced from early December to mid-March. The wetter season in Uruguay is between October and April.
Uruguay Tours Frequently Asked Questions
What is a Uruguay Tour?

A Uruguay Tour is essentially a multi-day tour of major attractions, cities, and towns in this small South American country. This is typically a 7-9 night tour that travels by motorcoach around each destination. You will spend your time exploring Uruguayan culture and history, visiting beaches and parks, and dining on well-known local cuisine such as the chivito (cooked beef steak), matambre (stuffed meat roll), and grilled morcilla (sausage), as well as drinks such as Grappa Miel or Yerba Maté.

What's Included on a Uruguay Tour?

A Uruguay Tour generally includes hotel accommodations (including taxes and services charges), guided tours, and airport transfers. Some activities and meals might be included; some days, for instance, only breakfast might be included, whereas other days could include all meals. Airfare is not typically included.

How Much Does a Uruguay Tour Cost?

Dependent largely on the length of your trip, a Uruguay Tour can cost roughly between $1,275 and $2,700 per person, though some tours could be over $3,000 per person. Airfare prices vary but, depending on departure site, could range from $900 – nearly $1,300 per person. U.S. citizens must have a passport to travel to Uruguay; the price of a Uruguay Tour does not include the cost of purchasing or updating a passport.

What is the Best Uruguay Tour to Take?

The best Uruguay Tour to take depends on your particular interests; for example, you might choose a tour that focuses on Montevideo and cultural visits such as historic Colonia, while other tours might give you more time on beaches and at wineries. For a first tour, you might choose one that gives you at least one day at each major destination, such as the capital, a few vineyards, and Punta del Este.
Learn More About Uruguay Tours
Newly Recognized UNESCO Sites

UNESCO stands for the United Nations Educational, Scientific and Cultural Organization. They preserve pieces of culture and land, as well as buildings by marking them as historic sites. This year, 2021, there have been newly added and newly recognized UNESCO sites to the list. The list is already full of hundreds of sites, and if you're interested in history and culture then visiting these sites is important. Here are the newly added sites.
Reviews for Uruguay Tours and Vacations
This trip was super Excellent, just perfect with nothing to worry or complain. I will higyhly recommend it to others. It was byond our expectation, service, timeimgs, sight scene, food, hotels, transportation etc----fablous-fablous fablous
Shail R
I LOVED THE DAYS "OFF" WHERE INSTEAD OF OPTIONAL TOURS WE HAD THE TIME TO VISIT MUSEUMS, ART GALLERIES AND HOT SECTIONS OF THE DIFFERENT CITIES. I WAS SURPRISED THAT NOBODY ELSE TOOK THIS OPPORTUNITY AND WENT TO OPTIONAL=MORE OF THE SAME= EXCURSIONS. I BOOKED 2 EXTRA TOURS BY GRAY TOURS AS THEY WERE CHEAPER OR MORE INTERESTING THAN OFFERED BY GLOBUS.
Pieter V
The tour was well organized; accommodations were very good; tour director was very accommodating. The hotel in Rio was nice but was not in a convenient location.
James T
Departure
Lengths
Styles
Specialities
Price
How It Works
Vacationing has never been easier or cheaper with the help of a dedicated travel consultant from AffordableTours.com
1. Free Quote
Find your perfect trip on our website and simply request a free quote. Need to speak to a live person? Call us 7 days a week at 1-800-935-2620. No robots here!
2. Dedicated Travel Consultant
Your personal travel consultant will reach out and be your point of contact for your entire travel experience from start to finish. Did we mention you'll be working with an award winning team? Sweet!
3. Lowest Price Guaranteed
Because we're one of the largest sellers of travel, we're able to give you a discount on your vacation package. No one beats our prices!
4. Stress Free Travel
Knowing you got the best deal, all that's left is for you to pack your bags and enjoy your vacation!