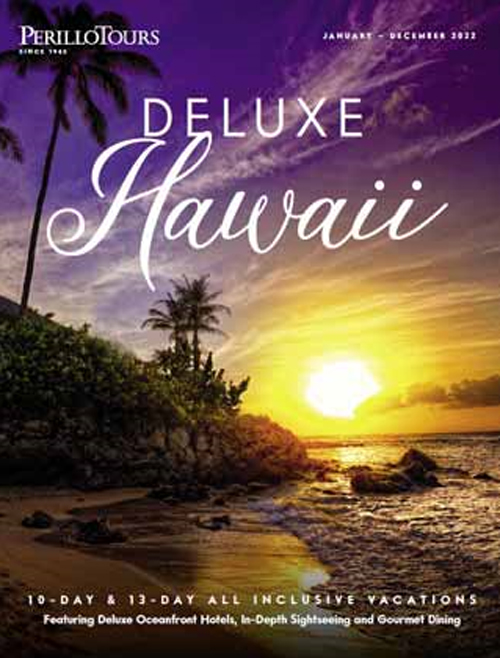 Guaranteed Low Prices on Perillo Vacations - Hawaii
NEW! 2023 Now Open for Sale! Perillo Tours has been hosting Hawaii vacations for over 25 years and have perfected it. Perillo is famous for having everything included in one simple price; oceanfront deluxe hotels, meals, inter-island flights, sightseeing, authentic Hawaiian luaus and most importantly Hawaii's best tour guides.
Escorted Tour
AffordableTours.com offers escorted tours to all of your favorite countries around the world. Escorted tours normally include hotel stays, transportation, most meals, sightseeing and cultural activities. They are led by a tour director who will be with your group from the beginning to end of the tour and they handle all of the logistics, check ins, attraction tickets and local guides that are included on your trip. People that enjoy escorted tours are travelers who don't have time or the knowhow to plan an all-encompassing, multiday overseas trip, people who travel in luxury or like to save money, and people who like to see the must-see sites while also experiencing the local culture. Escorted tours range in group size, pace, and age, so there is an escorted tour for every type of traveler. From solo travelers to groups of friends, to multi-generational families and adventure seekers, we have the escorted tour for you!
Tour Itinerary
Days
Operator
Quality
Style
Starts
Ends
Price

Perillos Ultimate Hawaii July 7 ONLY 2024

09

Days

Perillo

First Class

Escorted
Kailua-Kona, HI
Maui, HI
United States
$6,150View Tour

Best Price Guaranteed

Perillo Tours Hawaii New Years Celebration 2023

10

Days

Perillo

First Class

Escorted
Oahu, HI
Kauai, HI
United States
$5,895View Tour

Best Price Guaranteed

10 Day Three Islander 2024

14 reviews
10

Days

Perillo

First Class

Escorted
Oahu, HI
Kauai, HI
United States
$5,750View Tour

Best Price Guaranteed

Perillos Ultimate Hawaii 2024

13

Days

Perillo

First Class

Escorted
Kailua-Kona, HI
Oahu, HI
United States
$8,990View Tour

Best Price Guaranteed

13 Day Four Islander 2024

13

Days

Perillo

First Class

Escorted
Honolulu, HI
Big Island, HI
United States
$7,450View Tour

Best Price Guaranteed