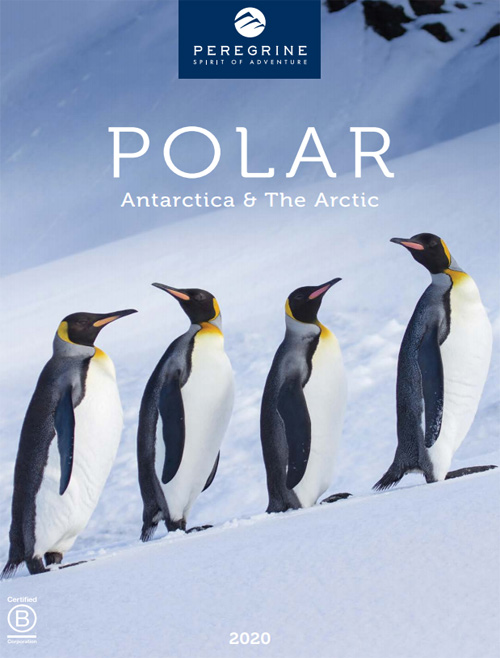 Guaranteed Low Prices on Peregrine Vacations - Polar
NEW! 2020 Now Open for Sale! Follow in the footsteps of the world's greatest explorers on a once-in-a-lifetime polar expedition. Led by expert guides aboard purpose-built ships, Peregrine polar adventures take you from the 'everyday' to the ends of the Earth, to places where you can witness nature in all its raw and powerful glory.
Small Ship Cruising
Small ship cruises take travelers to destinations that big ships cannot visit due to size restrictions, such as to the exotic Galapagos Islands, small ports along the Mediterranean and Adriatic and island hopping in Greece to name a few. Small ships are able to maneuver in small coves and channels, and can dock at more intimate ports, making for a fascinating travel experience. Small ship cruising is also perfect for travelers who want to visit bigger destinations, but want more personalized, one on one service onboard. While small ships might not feature the same activities on board, they do offer a relaxed and intimate experience for cruisers.
Tour Itinerary
Days
Operator
Quality
Style
Starts
Ends
Price

Spitsbergen Highlights

07

Days

Peregrine

First Class

Small Ship Cruising
1 - Light

8+ years old
132
Oslo
Oslo
Norway
$4,890View Tour

Antarctic Express - Fly the Drake from Punta Arenas

08

Days

Peregrine

First Class

Small Ship Cruising
1 - Light

8+ years old
132
Punta Arenas
Punta Arenas
Antarctica, Chile
$10,196View Tour

Greenland Adventure by Sea, Land & Air

09

Days

Peregrine

First Class

Small Ship Cruising
1 - Light

8+ years old
200
Reykjavik
Reykjavik
Greenland, Iceland
$9,490View Tour

Canadian Arctic Express: The Heart of the Northwest Passage

09

Days

Peregrine

First Class

Small Ship Cruising
1 - Light

8+ years old
200
Toronto
Toronto
Canada
$8,990View Tour

Antarctic Explorer from Ushuaia 10 day

10

Days

Peregrine

First Class

Small Ship Cruising
1 - Light

8+ years old
199
Ushuaia
Ushuaia
Antarctica, Argentina
$9,916View Tour

Discover Antarctica

10

Days

Peregrine

First Class

Small Ship Cruising
2 - Classic

8+ years old
200
Ushuaia
Ushuaia
Antarctica, Argentina
$7,642View Tour

Introduction to Spitsbergen

10

Days

Peregrine

First Class

Small Ship Cruising
1 - Light

8+ years old
176
Oslo
Oslo
Norway
$7,390View Tour

Antarctic Whale Journey

10

Days

Peregrine

First Class

Small Ship Cruising
2 - Classic

8+ years old
200
Ushuaia
Ushuaia
Antarctica, Argentina
$5,795View Tour

Antarctic Express - Crossing the Circle from Punta Arenas

11

Days

Peregrine

First Class

Small Ship Cruising
1 - Light

8+ years old
132
Punta Arenas
Punta Arenas
Antarctica, Chile
$17,995View Tour

Antarctic Explorer: From Buenos Aires 11 day

11

Days

Peregrine

First Class

Small Ship Cruising
1 - Light

8+ years old
199
Buenos Aires
Buenos Aires
Antarctica, Argentina
$10,866View Tour

New Year in Antarctica

11

Days

Peregrine

First Class

Small Ship Cruising
2 - Classic

8+ years old
200
Ushuaia
Ushuaia
Antarctica, Argentina
$9,990View Tour

Christmas in Antarctica

11

Days

Peregrine

First Class

Small Ship Cruising
2 - Classic

8+ years old
200
Ushuaia
Ushuaia
Antarctica, Argentina
$9,742View Tour

Antarctic Explorer from Ushuaia 11 day

11

Days

Peregrine

First Class

Small Ship Cruising
1 - Light

8+ years old
189
Ushuaia
Ushuaia
Antarctica, Argentina
$7,495View Tour

Best of Antarctica

11

Days

Peregrine

First Class

Small Ship Cruising
2 - Classic

8+ years old
200
Ushuaia
Ushuaia
Antarctica, Argentina
$5,795View Tour

Best of Antarctica from Punta Arenas

11

Days

Peregrine

First Class

Small Ship Cruising
1 - Light

8+ years old
200
Punta Arenas
Ushuaia
Antarctica, Argentina, Chile
$5,795View Tour

Canadian Remote Arctic: Northwest Passage to Ellesmere & Axel Heiberg Islands

12

Days

Peregrine

First Class

Small Ship Cruising
1 - Light

8+ years old
200
Toronto
Toronto
Canada
$11,990View Tour

Antarctic Explorer from Ushuaia 12 day

12

Days

Peregrine

First Class

Small Ship Cruising
1 - Light

8+ years old
176
Ushuaia
Ushuaia
Antarctica, Argentina
$8,995View Tour

Spitsbergen Explorer

12

Days

Peregrine

First Class

Small Ship Cruising
1 - Light

8+ years old
132
Oslo
Oslo
Norway
$7,067View Tour

North Pole: Journey to the Top of the World

14

Days

Peregrine

First Class

Small Ship Cruising
1 - Light

8+ years old
128
Helsinki
Helsinki
Finland, Russia
$32,990View Tour

Antarctic Eclipse

14

Days

Peregrine

First Class

Small Ship Cruising
1 - Light

8+ years old
200
Ushuaia
Ushuaia
Antarctica, Argentina, South Georgia and Sandwich
$11,995View Tour

Journey to the Antarctic Circle

14

Days

Peregrine

First Class

Small Ship Cruising
2 - Classic

8+ years old
200
Ushuaia
Ushuaia
Antarctica, Argentina
$10,995View Tour

Spitsbergen in Depth (Ocean Adventurer)

14

Days

Peregrine

First Class

Small Ship Cruising
1 - Light

8+ years old
132
Oslo
Oslo
Norway
$9,890View Tour

Crossing the Antarctic Circle from Ushuaia

14

Days

Peregrine

First Class

Small Ship Cruising
1 - Light

8+ years old
189
Ushuaia
Ushuaia
Antarctica, Argentina
$8,995View Tour

East Greenland and Iceland Northern Lights (World Explorer)

14

Days

Peregrine

First Class

Small Ship Cruising
1 - Light

8+ years old
176
Reykjavik
Reykjavik
Greenland, Iceland
$7,495View Tour

Exploring Spitsbergen via the Faroes and Jan Mayen

14

Days

Peregrine

First Class

Small Ship Cruising
1 - Light

8+ years old
132
Aberdeen
Longyearbyen
Norway, Scotland
$4,995View Tour

Spitsbergen, East Greenland and Iceland - Northbound

15

Days

Peregrine

First Class

Small Ship Cruising
1 - Light

8+ years old
176
Reykjavik
Oslo
Greenland, Iceland, Norway
$10,590View Tour

Spitsbergen, East Greenland and Iceland - Southbound

15

Days

Peregrine

First Class

Small Ship Cruising
1 - Light

8+ years old
176
Oslo
Reykjavik
Greenland, Iceland, Norway
$10,590View Tour

Essential Greenland: Southern Coasts and Disko Bay

15

Days

Peregrine

First Class

Small Ship Cruising
1 - Light

8+ years old
132
Reykjavik
Reykjavik
Greenland, Iceland
$9,790View Tour

South Georgia and Antarctic Peninsula from Ushuaia

16

Days

Peregrine

First Class

Small Ship Cruising
1 - Light

8+ years old
176
Ushuaia
Ushuaia
Antarctica, Argentina, South Georgia and Sandwich
$14,995View Tour

Jewels of the Russian Arctic: Franz Josef Land and Novaya Zemlya

16

Days

Peregrine

First Class

Small Ship Cruising
1 - Light

8+ years old
132
Helsinki
Helsinki
Finland, Russia
$11,990View Tour

Northwest Passage: In the Footsteps of Franklin

17

Days

Peregrine

First Class

Small Ship Cruising
1 - Light

8+ years old
200
Toronto
Toronto
Canada, Greenland
$17,390View Tour

Northwest Passage: Epic High Arctic

17

Days

Peregrine

First Class

Small Ship Cruising
1 - Light

8+ years old
200
Toronto
Toronto
Canada, Greenland
$17,390View Tour

Highlights of South Georgia and the Antarctic Peninsula

18

Days

Peregrine

First Class

Small Ship Cruising
1 - Light

8+ years old
200
Ushuaia
Ushuaia
Antarctica, Argentina, South Georgia and Sandwich
$14,995View Tour

Spitsbergen, Jan Mayen, Greenland and Iceland

18

Days

Peregrine

First Class

Small Ship Cruising
1 - Light

8+ years old
132
Oslo
Reykjavik
Greenland, Iceland, Norway
$11,590View Tour

Best of the Western Arctic: Canada and Greenland

20

Days

Peregrine

First Class

Small Ship Cruising
1 - Light

8+ years old
132
Reykjavik
Reykjavik
Canada, Greenland, Iceland
$13,690View Tour

Antarctic Peninsula, Falkland Islands & South Georgia from Ushuaia

20

Days

Peregrine

First Class

Small Ship Cruising
1 - Light

8+ years old
132
Ushuaia
Ushuaia
Antarctica, Argentina, Falkland Islands, South Georgia and Sandwich
$13,495View Tour

Christmas & New Year in Antarctica, South Georgia & Falklands

21

Days

Peregrine

First Class

Small Ship Cruising
1 - Light

8+ years old
200
Ushuaia
Ushuaia
Antarctica, Argentina, Falkland Islands, South Georgia and Sandwich
$16,995View Tour

Antarctica, South Georgia and Falklands Explorer

21

Days

Peregrine

First Class

Small Ship Cruising
2 - Classic

8+ years old
200
Ushuaia
Ushuaia
Antarctica, Argentina, Falkland Islands, South Georgia and Sandwich
$15,992View Tour

Antarctica, South Georgia and Falklands Odyssey

21

Days

Peregrine

First Class

Small Ship Cruising
2 - Classic

8+ years old
200
Ushuaia
Puerto Madryn
Antarctica, Argentina, Falkland Islands, South Georgia and Sandwich
$14,392View Tour

Russian High Arctic Odyssey

22

Days

Peregrine

First Class

Small Ship Cruising
1 - Light

8+ years old
132
Helsinki
Helsinki
Finland, Russia
$16,990View Tour

Crossing the Circle via Falklands & South Georgia from Ushuaia

23

Days

Peregrine

First Class

Small Ship Cruising
1 - Light

8+ years old
199
Ushuaia
Ushuaia
Antarctica, Argentina, Falkland Islands, South Georgia and Sandwich
$21,671View Tour