Formerly known as Burma, Myanmar is an unexplored beauty of Southeast Asia. This historic country was banned for tourists for a long time, which is why as soon as the Government of Myanmar decided to open its doors for tourism, tourists from around the world flocked to Myanmar to witness the ancient Buddhist history and the natural beauty that is abundantly visible in this country. The cultural shock that you will experience in Myanmar will be huge because of its completely diverse way of life but be assured that this culture shock will be well compensated by the friendly and welcoming nature of the people of Myanmar. With tour operator volume buys plus our low everyday prices you can save up to 40% versus assembling the same itinerary on your own! Book your Myanmar tour today with AffordableTours.com, your discounted tour headquarters. View Myanmar Tour Deals and Discounts
Myanmar Travel Guide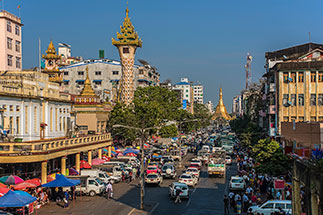 Showing 1 - 20 Tours
Sorry, we were unable to find a tour for you.
If you've not chosen a criteria, then please do so; otherwise you need to broaden your search criteria to find matches.
Myanmar Travel Guide
Myanmar Tours Highlights
Discover the cultural heritage and colorful architecture of Yangon.
Get mesmerized by the view of Floating Gardens while traveling in the long tail boats in Inle Lake.
You can not resist but admire the magnificent Buddha relics inside the limestone caves of Pindaya.
Go trekking into the hills and meet the friendly tribesman wearing colorful dresses.
Take a walk on the world's longest wooden footbridge.
Relax on clean and beautiful beaches of Ngapali.
Visit the monasteries of Mandalay and befriend young Buddhist monks.
Myanmar Tours Travel Tips
Myanmar has recently opened up for tourists, so there is currently a huge inflow of travelers visiting the country and the government is continuously working on the reforms to ensure that their stay in Myanmar is a comfortable one, but you can expect some incidents of mismanagement which will be resolved over time.
There are some eleven airlines in Myanmar that provide a great range of options to travelers but at the same are a matter of concern for first-time travelers who are not sure which one is better of all. As a rule of thumb, you can go for the airline which has the biggest fleet because that decreases the chance of cancellations in case an aircraft has malfunctioned
You should always drink bottled water in Myanmar as it may not be safe for you to drink tap water and at the same time avoid buying ice from local shops as it may also have been made from tap water.
Burmese people don't really expect you to give them a tip but a small tip is always considered as a good gesture and the workers will really appreciate it.
Although you can always go for a bargain if you think that the prices of something are really high, it will usually not be the case as prices in Myanmar are relatively cheap, and it's better to just go with the asking prices.
Myanmar is a dominantly Buddhist country and it is always expected from tourists to respect the Buddhist culture and sentiments of the people. Especially while visiting the temples you should make sure that you abide by all the rules and that you are not disrespectful to the image of Buddha in any way.
Myanmar Kyat is the official currency and if you are bringing US Dollars, GB Pound, Euro, or any other currency, you should make sure that you get them converted into Myanmar Kyat at the airport or any bank. You can also use ATM to withdraw Myanmar Kyat, which are widely available in all major cities.
Myanmar Tours Things To Do
Yangon

At first, Yangon seems like any other big city in Southeast Asia that you would use as an entry to other more extravagantly exotic cities. But once you visit this city your perception of Yangon will change immediately and you would want to spend more time in the city. This city makes its mark on the map as an old Buddhist civilization and visits to Mohinga and Shwedagon Pagoda will make you realize that city has a feeling like no other.

Best Time To Visit

Considering the fact that monsoon can make your trip to Yangon a memorable one but at the same time you have to be careful of the many troubles that it can bring for your trip and should choose to visit during the dry season that starts somewhere during November and ends in February.

You Should Know

Shwedagon Pagoda is undoubtedly the most beautiful and tallest Pagoda in Myanmar but if you are looking for some quiet time and would like to visit a Pagoda that is not so crowded by the tourists, Maha Wizaya Pagoda, which is located right across the pedestrian crossing of Shwedagon Pagoda, is a really nice place to enjoy the quietness.

Mount Popa

Popa which means flower in Sanskrit is what this Mountain named after because of the many flowers that you can purchase as a form of offering at the temple. The temple is constructed at the base of Mount Popa and it is the main tourist attraction. The peak of the mountain is different than the spot where the Buddhist temple is located and your visit to Mount Popa would basically be about visiting the temple which has a lot of significance in Buddhist culture.

Best Time To Visit

The road leading to Mount Popa is a little difficult and driving there during the monsoon could be risky so it is advisable to visit Mount Popa when the monsoon season is over and the weather is considerably dry.

You Should Know

This site is located at a distance of around 50 km from the city of Bagan. It usually takes around 90 km due to the bad conditions of the road. Your transportation will usually drop you at a village on the base of the mountain where you can easily find a lot of shops to buy some snacks. There is a 3.5 km walk to the temple which can take about an hour but you can also hop on a bike and get there easily.

Bagan

The stupas in the city of Bagan are so captivating that you wouldn't want to leave the city ever. This city is well known for having the densest of Buddhist temples anywhere in the world. Some of these temples are almost a thousand years old and you will be amazed to see how well preserved they are even after so long. These temples provide a very romantic sight because of the way they have aged over time.

Best Time To Visit

Bagan has very hot summers and it can get really hard for you to maneuver around the city in such heat if you are traveling during the summers. Therefore, you should visit around the months of December and January when the weather is not a hindrance in your tour.

You Should Know

UNESCO had added Bagan to its list of World Heritage Sites because of its rich history and ancient Buddhist temples. These temples are so bright and huge that you will just be spending your first few hours in the city trying to let that overwhelming feeling to sink in. The Shwesandaw Pagoda is the tallest Pagoda in Myanmar which is a must-visit for everyone traveling to Bagan.

Inle Lake

Inle Lake is one of the most sought after tourist destination in Myanmar. This place is what will diversify your experience in Myanmar because of its beautiful landscape and a very romantic vibe to it. This place will be a great escape for you if you are looking for a break to admire nature. Inle Lake is the natural beauty of Myanmar at its best. You can take a long-tail boat along the river and enjoy the evening like never before.

Best Time To Visit

This is the place that you would not want to visit during the heavy rainfall of the monsoon season and the best time to enjoy your day by the lake would be during dry sunny days of October to February.

You Should Know

This trip will be one of those that you will remember forever; therefore you should plan it wisely before starting your Myanmar Tour. There are different boats to choose from and if you are traveling privately you should choose a smaller boat.

Ngapali Beach

Ngapali Beach is located on the western coast of Myanmar and is one of the most secluded and quiet beaches in Southeast Asia. With most of the travelers choosing to go to Thailand for an Asian beach experience, Ngapali Beach is your best spot for a more private beach time. This beach has shiny blue water and clean white sand. And along with the natural beauty that this place has on plate, you can also get a comfortable stay in one of the luxurious resorts built around the beach.

Best Time To Visit

October to May is the best time to this beach because during these months the weather is not very hot and the rainy season has passed so you won't have trouble finding a hotel or flight to and from the beach.

You Should Know

Hotel rooms in Ngapali have to be booked in advance and you might have to book a room way before your trip starts but it will be well worth it, because the beach experience that you will have at Ngapali is second to none. There are some local seafood restaurants around the beach that provide delicious fish to satisfy your hunger.

Kalaw

Kalaw is a beautiful hill station in Myanmar, which is often a starting point for you if you are planning to trek to Inle Lake. But this eye-catching hill station is an amazing experience on its own. You can take a bike ride into the mountains exploring the ancient Buddhist tribes or find a relaxing spot where you have a beautiful view of the horizon and enjoy your cup of tea.

Best Time To Visit

The best time to tour Kalaw is from February to April because the weather is warm and the heavy rainfall has not started yet. But if you are visiting from February to April then you should be prepared for some precipitation.

You Should Know

Kalaw is a hilly area and if you are visiting this attraction then you must be doing some trekking, so before you make your mind to visit Kalaw make sure that you are well prepared for the hike, along with your hiking gear and water bottles. There is an elephant valley nearby where you can learn how to take care of an elephant and spend some time with them, you cannot ride them though.

Mandalay

Mandalay is the city that the majority of the travelers are not considering when they are planning their Myanmar tour. But the city is home to some of the most beautiful Buddhist temples and due to the reason that there is very little tourism in the city, you can actually go there to socialize with the locals and learn more about the everyday life of Burmese people.

Best Time To Visit

Rainfall has a great impact on tourism in Myanmar, which is why the peak season for tourists visiting Mandalay, like most of the Burmese cities, is also during the dry season starting from November and running through February.

You Should Know

This city is the former Royal Capital of Myanmar and most of the Pagodas that you see in this city hold significant importance for the Royal dynasties. When on your visit to Mandalay make sure that you visit Mandalay hill which has a spectacular view of the entire city from the top of it.
Myanmar Tour Packages
Myanmar witnesses a lot of rainfall in its summer season and that has made its peak season for tourists to lie around the time when there is little to no rainfall. Most of the tours to Myanmar take place during the dry season that starts from October and lasts till February. Winters in Myanmar are not very cold and provide very pleasant weather for the tourists to enjoy the view of shining Pagodas.
Myanmar Tours Frequently Asked Questions
What are Myanmar Tours?

Myanmar tours are tours that take you to various adventures around the country and provide you with an opportunity to explore the centuries-old Buddhist temples and traditions that the locals have still kept alive. On a Myanmar tour, you will have an excellent chance to take dive into the lives of nomadic tribes that are settled in the beautiful green-capped mountains.

What's Included in a Myanmar Tour?

Your tour to Myanmar will, in most cases, include the basic facilities like food, accommodation, and transport. The amenities included in a tour vary from case to case and some tours even include airfare to and from the country.

What's the Best Myanmar Tour?

Best is different for each individual and the only way to answer the question is by answering, what makes a tour best for YOU? There are several factors that make a tour good or bad, which are different for each individual and it totally depends on you to choose the best Myanmar tour for yourself. Some of the most liked tours are offered by Intrepid Travels, Legend Travel Group, Greenwood Tourism Co, and EMH Tours and Travel Group.

How Much Do Myanmar Tours Cost?

Usually, Myanmar tours cost somewhere in between $300 and $6000 with the duration of around 2 to 14 days. There are also many expensive tours to Myanmar but it all depends on your budget and for how long do you wish to stay in the country.
Learn More About Myanmar Tours

Top Culinary Destinations Around The World

Finding exceptional flavors should not be hard to do, so we have put together some of the top culinary destinations around the world. However, if you've not traveled much then you may not know where to go for all the amazing food. Learning a bit more about these areas, what they offer, their different tastes,…
Reviews for Myanmar Tours and Vacations
Exalent trip we are so pleased with the service we will call you to plan the next trip
Shakuntala S
Exalent trip we are so pleased with the service we will call you to plan the next trip
Shakuntala S
The guide provided wonderful experiences and activities. However with one day exception, there was not enough "on your own" time. The days were very long, as the group was together from 8 am until 8-9 pm, after group had dinner together.
Theresa B
Departure
Lengths
Styles
Specialities
Price
How It Works
Vacationing has never been easier or cheaper with the help of a dedicated travel consultant from AffordableTours.com
1. Free Quote
Find your perfect trip on our website and simply request a free quote. Need to speak to a live person? Call us 7 days a week at 1-800-935-2620. No robots here!
2. Dedicated Travel Consultant
Your personal travel consultant will reach out and be your point of contact for your entire travel experience from start to finish. Did we mention you'll be working with an award winning team? Sweet!
3. Lowest Price Guaranteed
Because we're one of the largest sellers of travel, we're able to give you a discount on your vacation package. No one beats our prices!
4. Stress Free Travel
Knowing you got the best deal, all that's left is for you to pack your bags and enjoy your vacation!