Explore Africa Tours July 2023
Africa is truly one of the greatest continents to visit because it's so diverse and filled with great outdoor adventures waiting to be had. You can go from being in the middle of the desert in one part of the country to learning how to surf in the other - there aren't many places on Earth that you can do that! On an Africa tour, you'll have something fun to do in every country that you visit. With tour operator volume buys plus our low everyday prices you can save up to 40% versus assembling the same itinerary on your own! Book your Africa tour today with AffordableTours.com, your discounted tour headquarters. View Africa Tour Deals and Discounts
Africa Travel Guide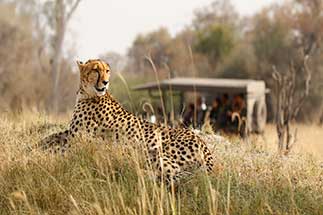 Showing 1 - 20 Tours
Sorry, we were unable to find a tour for you.
If you've not chosen a criteria, then please do so; otherwise you need to broaden your search criteria to find matches.
Africa Travel Guide
Africa Tours Highlights
Take a trip to South Africa to see Penguins.
Visit Luxor Temple.
Cruise along the Nile River.
See the pyramids in Egypt.
Explore the beautiful Hell's Gate National Park.
Experience Victoria Falls, one of the most beautiful waterfalls on Earth.
See the iconic Tigray Churches in Ethiopia.
Hike Table Mountain in Cape Town.
Learn how to surf in Morocco.
Explore Chefchaouen, the Blue City in Morocco.
Go on an authentic African safari.
Visit the ruins in Zimbabwe.
Africa Tours Travel Tips
Be sure to learn some key phrases before your trip for the countries that you're planning on visiting, but keep in mind that the majority of citizens here also know how to speak English.
Don't carry around more cash than you'll need in a day to be safe. Also, make sure you carry cash on you in addition to a credit card, because not every place will accept it.
If there are certain toiletry items that you like from your home country, make sure you bring them with you. You most likely won't be able to get them in Africa. Yes, this includes your favorite toothpaste if you can't live without it!
Prepare ahead of time when you're crossing borders. Make sure you pay attention to visa requirements for every country in Africa because they can vary. Sometimes you might spend a bit longer along the border than initially thought.
Prepare to be outdoors a lot because many of Africa's best spots to adventure through is outside! Bring sunscreen, a hat, and wear comfortable walking shoes.
Africa Tours Things To Do
Explore Hell's Gate National Park

Hell's Gate National Park is an absolute must-visit in Kenya, Africa. It's right near Nairobi and Lake Naivasha. It's genuinely one of the most unique places to visit in Africa and was officially established in 1984. In addition to its gorgeous scenery, Hell's Gate National Park is home to diverse wildlife, which is what it's most well-known for. There's a vast bird population here. This is the perfect place to go if you want to experience nature in Africa.

You Should Know

It is possible to reach Hell's Gate National Park by public transportation. You can take a bus from Kenya and then hop on a taxi if you'd like! Otherwise, you'll have to take a car.

Visit Luxor Temple

Luxor Temple is an ancient temple located in Egypt. It's right next to the Nile River and dates back to 1400 BCE. If you want to experience Egypt's history first-hand, this is the place to go. The temple was initially built for Egyptians to celebrate the Opet Festival, and Ramses II and Amenhotep III built it. This temple is massive and is filled with tons of statues, ruins, and more that you won't want to miss out on.

Best Time To Visit

Make sure you get to Luxor Temple bright and early to avoid all of the crowds.

Experience Victoria Falls

Victoria Falls is one of the world's biggest waterfalls, and it just so happens to be located right along Zambia's Zambezi River! It's right near Zimbabwe's border and is 355 feet tall, and it's also extensive. It truly is a sight to behold when visiting Africa. The waterfall was unfortunately shrunk to just a trickle during 2019 but has started to recover since. Of course, this is a historic site, though it was not discovered until the 19th century. No matter your age, you'll love marveling at Victoria Falls.

You Should Know

Be careful when visiting, because you'll be near cliff faces.

See the pyramids in Egypt

If you visit Africa without at least seeing the pyramids in Egypt, then you'll surely regret it! They date back thousands of years ago and are truly a sight to behold. If you're feeling up to it, you can even pay to climb the inside of them, though this isn't an experience for those who don't like tight spaces. It's best to visit the pyramids in Egypt with a tour guide, so if you're already on an Africa tour, then you're in luck. You'll be able to dive in and learn all about their history, architecture, and more.

You Should Know

Make sure you wear comfortable walking shoes when visiting, or you'll regret it.

Cruise along the Nile River

The Nile River is the biggest in Africa and goes on for 4,132 miles, leading to the Mediterranean Sea. It's genuinely a must-visit if you're taking a trip to Africa, at least to see it in all of its glory. One of the best ways to experience the Nile River is by going on a short cruise along with it. There are many types of cruises, ranging in price, but they're all equally great. Some of them are at night, and some are during the day, so do your research to make sure you find one that's great for you.

You Should Know

If you plan on going on a cruise, book well in advance.

See the Tigray Churches

The Tigray Churches are genuinely exceptional, though keep in mind that the only way to get there is by hiking. There are more than 100 different churches in this area of Ethiopia, all of which are covered by the many rocks! These date back over 1000 years ago. For a long time, many people didn't even know about the churches except for the locals. Though it's a bit more well-known now, it still isn't constantly visited because of the hike you have to do to get there.

You Should Know

This isn't a hike for first-time hikers. It's best to visit this site if you've had some experience before.

Explore Chefchaouen

Chefchaouen is what's famously known as the blue city in Morocco. It's a popular spot to visit to take a photo because the entire city is gorgeous. It dates back a few hundred years and has quaint cobbled roads, dungeons, fortresses, markets, and more. The word "Chefchaouen" means "blue pearl" in English, which the city truly is. Some of the best spots to visit here include Chefchaouen Medina, the Grand Mosque, and the Place El Haouta.

You Should Know

The temperature here can get relatively high depending on the time of year, so plan your trip wisely! Also, dress appropriately for the weather.

Hike Table Mountain

Table Mountain is a gorgeous mountain located in Cape Town, South Africa. It got its name because the top of the mountain is flat and provides one of the best views of Cape Town from up above! The best way to see this view is by hiking up the side of Table Mountain. The hike itself is relatively short, actually, only about 1.3 miles to the top. If you want a more scenic trip or aren't interested in hiking, there's also an option to take a cable car to the top.

You Should Know

If you plan on hiking, make sure to bring snacks and water because it takes approximately 2 hours to hike each way.

Take a trip to South Africa to see penguins

South Africa is one of the most-visited spots in Africa because it's home to Cape Town. It's also the most southern country on the whole continent. Though it's filled with great places to visit, it's also home to amazing penguins! The best spot to see the penguins is in Cape Town. The penguins here are often referred to as Cape penguins and can be found along the water. They are adorable, and it's great to see them in their natural habitat.

You Should Know

If you go to see the penguins, make sure that you let them be. Don't go up and touch them - instead, keep your distance and take a few photos (without flash) if you'd like to capture the moment.
Africa Tour Packages
Africa is truly remarkable, no matter the time of year. However, some parts of the year are a lot hotter, especially during the summer in the deserts. That's why it might be wise to plan your Africa tour around the hotter months unless you don't mind the warm weather!
The most popular time to visit Africa is during the summer (though the summer months in Africa are from November to January).
The least amount of people visit in the winter.
Shoulder seasons include fall and spring.
Spring and Fall - September to November and March to April - Shoulder Season

The shoulder seasons are often considered a great time to visit if you want to avoid the crowds and the heat. The average temperature is approximately 60°F in the spring, while the fall is around 65°F.

Winter - May to August - High Season

The winter season in Africa is the least-busy time to visit. Because of that, you'll find that accommodation prices tend to be a bit lower. The average temperature during this time is approximately 55°F, which is quite cool for Africa.

Summer - December to February - Low Season

The summer is the most popular time to visit, with average temperatures ranging from 77°F to 85°F, and sometimes even higher depending on the day and if it's a dry part of the season.
Africa Tours Frequently Asked Questions
What are Africa Tours?

Africa tours are the perfect adventure for travelers who don't want to worry about the little things. All of your itinerary will be figured out for you, including your transportation, meals, and more. You'll even have a tour director who will be with you every step of the way in case you ever need help.

What's included on an Africa Tour?

Africa tours include access to a tour guide who will keep you on track during your trip. You'll also most likely have some local tour guides throughout the way, giving you a more local perspective on some of the places you visit. Accommodation, meals, and transportation will also mostly be taken care of for you throughout the trip as well. Of course, this varies from tour to tour, so make sure you do your research.

What's the best Africa Tour?

Every Africa tour is entirely different, so there isn't one that is better than another. It's essential to do your research to see what one is best for you. There are different tour operators, various itinerary stops, different prices, and different lengths, so you'll have to consider all of this when booking your tour.

How much do Africa Tours cost?

Africa tours vary in price. Some cost as little as $90 per day, while others will cost a lot more than that. It depends on a lot of factors. Luckily, by booking through Affordable Tours, you can rest assured that you're saving up to 40% more than you would by booking the same tour elsewhere.
Departure
Lengths
Styles
Specialities
Price
How It Works
Vacationing has never been easier or cheaper with the help of a dedicated travel consultant from AffordableTours.com
1. Free Quote
Find your perfect trip on our website and simply request a free quote. Need to speak to a live person? Call us 7 days a week at 1-800-935-2620. No robots here!
2. Dedicated Travel Consultant
Your personal travel consultant will reach out and be your point of contact for your entire travel experience from start to finish. Did we mention you'll be working with an award winning team? Sweet!
3. Lowest Price Guaranteed
Because we're one of the largest sellers of travel, we're able to give you a discount on your vacation package. No one beats our prices!
4. Stress Free Travel
Knowing you got the best deal, all that's left is for you to pack your bags and enjoy your vacation!