Antarctica Tours 1 to 4 Days 2024/2025
Save up to 40% on Antarctica Tours 1 to 4 Days 2024/2025
Antarctica Travel Guide
Explore Antarctica Tours 1 to 4 Days 2024/2025
Antarctica is truly one of the most underrated continents, though it's often overlooked for being a spot that's too expensive to visit, unfortunately. However, it's filled with unique outdoor spaces that you honestly won't want to miss and exquisite wildlife, unlike any other place in the world. If you're lucky enough to be going on an Antarctica tour, you're in for an enjoyable time! With tour operator volume buys plus our low everyday prices you can save up to 40% versus assembling the same itinerary on your own! Book your Antarctica tour today with AffordableTours.com, your discounted tour headquarters. View Antarctica Tour Deals and Discounts
Antarctica Travel Guide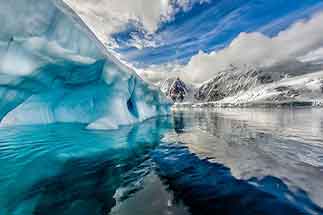 Showing 1 - 20 Tours
Sorry, we were unable to find a tour for you.
If you've not chosen a criteria, then please do so; otherwise you need to broaden your search criteria to find matches.
Antarctica Travel Guide
Antarctica Tours Highlights
See Blood Falls, one of the most unique waterfalls on Earth.
Scuba dive in Antarctica's waters.
Ice camp through the night in low temperatures.
Go on a beautiful hike towards the South Pole in Antarctica.
Kayak on the water and maybe even see some whales!
Take part in a polar plunge, an old tradition in Antarctica!
Visit a research station and learn all about the continent.
Go snowshoeing through Antarctica's beautiful wilderness.
Take a quick trip to Deception Island, home to a volcano.
Antarctica Tours Travel Tips
Make sure to bring sunscreen for your trip to Antarctica. Even though it's very snowy and cold, you can still quickly get sunburnt during your visit.
Don't forget your camera. You're going to witness some of the most beautiful landscapes and wildlife on Earth.
Pack all the layers that you can fit in your suitcase because you're going to want them. It gets quite cold in Antarctica no matter the time of year, so you'll want to be prepared for it.
Prepare to be outside… a lot. The majority of must-visit spots in Antarctica are outside.
Plan your trip to Antarctica wisely, because depending on the time you visit, you might not get a lot of sunlight. This is something to keep in mind when you book your Antarctica tour. It would be unfortunate if it were dark out the majority of the time you went!
Antarctica Tours Things To Do
See Blood Falls

Blood Falls is truly one of the most exciting spots to visit in Antarctica, which is best visited by boat. It gets its name because it's a waterfall that happens to be a shockingly-bright red color, similar to blood. However, the red color is thought to come from iron. This is one of the biggest waterfalls in all of Antarctica, which is reason enough to go and visit it. If you were to compare it to a building, it's just about five stories tall. Plus, it runs right over a glacier down below, which only adds to the beauty.

You Should Know

Blood Falls is best visited during the months where there is lots of sunlight.

Ice camp through the night

If you're up for an adventure, then you absolutely must try ice camping. Though it might make you immediately feel chilly, it's quite a fun experience. During the night, you'll have access to a hot sleeping bag. While you fall asleep, you'll see the gorgeous sky and all of its stars. Luckily, if you aren't the type of person who wants to lay on the ice through the night, there are other ways to participate in ice camping. You could opt to stay in a tented shelter for the night instead.

You Should Know

This isn't the best excursion to participate in with younger children, unfortunately.

Scuba dive in Antarctica's waters

Though scuba diving is one of the activities that you can only participate in, if you've been trained on how to do so in another place, there aren't many places to learn how to do this on the continent, unfortunately. Learn before you come if you're interested in doing this! Scuba diving in Antarctica is so unique and unlike scuba diving in any other place on earth. The waters here are a lot clearer than they are elsewhere in the world, which will genuinely give you the experience of seeing sea life!

You Should Know

If you want to participate in scuba diving, purchase access ahead of time.

Hike towards the South Pole

Hiking towards the South Pole is an excellent experience if you love getting outdoors. Keep in mind that it's a bit harder to hike here because the weather is a lot colder, so it won't be hiking elsewhere in warmer temperatures. If you don't want to do this sort of trek alone, don't worry. Many operators will allow you to do this with a group to be with other people who know what they're doing.

You Should Know

Make sure you have all essential hiking gear when participating in hikes like this.

Take part in a polar plunge

Polar plunges are genuinely something that sounds like something you'd probably never want to do, but being with other people who participate will make you not want to miss out on the fun! Essentially, you jump right into freezing cold water and then get right out. On your Antarctica Tour, this is one of the things that you'll want to try to participate in at least once. Many people in Antarctica even see it as a rite of passage, and you won't want to let the locals down.

You Should Know

Keep in mind that doing something like this can be a shock to your body.

Kayak on the water

Kayaking is one of the other great outdoor adventures in Antarctica that, luckily, is a bit easier to do if you've never done it before. This is also one of the best ways to experience wildlife if you don't want to go scuba diving. Often, you can even find whales! This excursion is great for all ages, as long as you are old enough to be able to kayak on your own. Some of them are relatively short, while others can be a lot longer, so do your research before booking this adventure.

You Should Know

You'll want to book this type of adventure ahead of time just to be safe.

Take a trip to Deception Island

This is another unique spot to visit in Antarctica - it's a volcano located on an island! It's considered to be an active volcano still and actually erupted as recently as 1970. It's possible that it could erupt again sometime soon. Similar to Blood Falls, the best way to get to Deception Island is by boat. You can hop on a short sightseeing cruise to go out and see the island from afar. It is an active volcano, so, unfortunately, it's safest to see it from afar.

You Should Know

It can get quite cold out on the water, so make sure you wear lots of layers.

Go snowshoeing

Snowshoeing, similar to kayaking, is an excellent excursion in Antarctica that you'll be able to do even if you've never done it before. It is quite cold to do this sort of activity though, so dress accordingly and comfortably, because you'll be on your feet for a while. This excursion is also great for older children as well and is a perfect way to go outside and see more of the continent that you wouldn't be able to see otherwise. This type of excursion is also best done with a guide!

Best Time To Visit

If you plan on snowshoeing, you'll want to do it during a time that it's bright outside.

Visit a research station

There are many different research stations throughout Antarctica, which are actually a great way to learn more about the continent, its habitat, its wildlife, and more. A lot of these were set up by different governments so that they could perform research on the continent. Luckily, many of the research stations are actually relatively easy to visit by those taking a trip to Antarctica. These tours are often personalized, so you'll get many of your questions answered during your visit.

You Should Know

Not all research stations accept visitors, so make sure you do your research ahead of time.
Antarctica Tour Packages
Because of Antarctica's location, there are times of the year that are better to visit, like the summer. The most popular time to visit Antarctica is during the summer because there's lots of sunlight. There are also times of the year that are a bit more expensive, which is something to keep in mind when booking your Antarctica tour.
Summer - December to February - High Season

Antarctica's summer season is the most popular time to visit, but the summer season is from December to February because of its location. This time of year has the most daylight. The average temperature tends to be around -15°F.

Spring and Fall - September to November and March to May - Shoulder Season

The spring and fall seasons of the year are a great time to visit because it's not super busy, but there's still a decent amount of sunlight. You'll find that the temperature tends to be around -50°F during this time of year.

Winter - June to August - Low Season

The winter months aren't a popular time to visit because of the lack of sunlight. The days tend to be long and dark, and the average temperature is generally around -60°F. Of course, this can change depending on the day.
Antarctica Tours Frequently Asked Questions
What are Antarctica tours?

Antarctica tours are the best way to visit the continent if you're not the biggest fan of planning out your itinerary, transportation, meals, and more. Truly, this experience will have most of the small details figured out for you, so all you have to do is be ready for an adventure! This is a great way to travel, no matter your age.

What's the best Antarctica tour?

No Antarctica tour is better than another. You'll have to consider your budget, vacation lengths, and possible spots you'd like to visit when doing your research. This way, you can find the tour that's best for you and your needs! If you need help, be sure to call one of our experts.

How much do Antarctica tours cost?

Each Antarctica tour has a different cost, but you'll find that it's generally over $100 a day because it's quite an expensive place to visit. Of course, it can depend on the type of year that you visit as well. Luckily, you can rest assured that you'll be saving up to 40% off the price that you'd pay if you were to book elsewhere.
Departure
Lengths
Styles
Specialities
Price
How It Works
Vacationing has never been easier or cheaper with the help of a dedicated travel consultant from AffordableTours.com
1. Free Quote
Find your perfect trip on our website and simply request a free quote. Need to speak to a live person? Call us 7 days a week at 1-800-935-2620. No robots here!
2. Dedicated Travel Consultant
Your personal travel consultant will reach out and be your point of contact for your entire travel experience from start to finish. Did we mention you'll be working with an award winning team? Sweet!
3. Lowest Price Guaranteed
Because we're one of the largest sellers of travel, we're able to give you a discount on your vacation package. No one beats our prices!
4. Stress Free Travel
Knowing you got the best deal, all that's left is for you to pack your bags and enjoy your vacation!