Explore Scandinavia Rail Tours 2024/2025
Scandinavia is one of Europe's most breathtaking areas. This subregion consists of Northern European countries, including Norway, Finland, Sweden, and Denmark. It's filled with beautiful natural scenery (including the iconic Northern Lights) and historic cities, palaces, and towns. If you're taking a Scandinavia tour, you're in for a real treat! With tour operator volume buys plus our low everyday prices you can save up to 40% versus assembling the same itinerary on your own! Book your Scandinavia tour today with AffordableTours.com, your discounted tour headquarters. View Scandinavia Tour Deals and Discounts
Scandinavia Travel Guide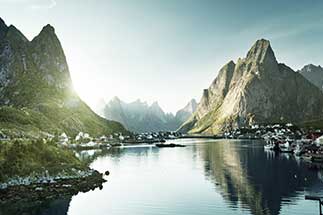 Showing 1 - 20 Tours
Sorry, we were unable to find a tour for you.
If you've not chosen a criteria, then please do so; otherwise you need to broaden your search criteria to find matches.
Scandinavia Travel Guide
Scandinavia Tours Highlights
Hop on a scenic fjords cruise in at least one Scandinavian country.
Walk through Nyhavn in Copenhagen.
Go to the interactive ABBA The Museum in Stockholm.
Have fun, and go on amusement rides at Tivoli Gardens.
Pay a visit to Lapland and see Santa Claus's Village.
See the Northern Lights.
Learn history at the Vasa Museum.
Go inside the Helsinki Cathedral.
Check out the scenic Trolltunga rock formation in Norway.
Visit the 17th-century royal Drottningholm Palace.
See the iconic The Little Mermaid statue.
Take a photo of Øresund Bridge.
Scandinavia Tours Travel Tips
Everyone dreams of seeing the Northern Lights when visiting Scandinavia, though they're best seen during winter. Plan your trip wisely if seeing the Northern Lights is your goal when you visit!
The majority of people in Scandinavia do speak English, though if you have the time, try to learn basic phrases to prepare just in case you need it.
Though Scandinavia is known for being extremely expensive, it doesn't have to be. Since you'll be with a Scandinavia tour guide, they will help you figure out how to stretch your money as best as possible while visiting.
Every country in Scandinavia uses a different currency. While debit and credit cards are widely accepted, try to take out at least a little bit of money in each country's currency if you want to purchase something from a cash-only place.
No matter what time your trip to Scandinavia is, be sure to pack layers and waterproof clothes. The weather in Scandinavia is known for changing quickly, and it's best to be prepared for all scenarios.
Scandinavia Tours Things To Do
See the Northern Lights

The Northern Lights, also commonly referred to as the Auroras, are the most beautiful natural lights you can see in the entire world. They are mostly only seen in places with higher latitudes, so Scandinavia is the perfect place to see them. They are a natural phenomenon caused by solar winds mixing with the atmosphere of our planet. Once they mix and begin to release energy, the Northern Lights can be seen! One of the best ways to see the Northern Lights is on a Scandinavia Tour because a tour guide can help you locate them.

Best Time To Visit

The best time to see the Northern Lights is from October to February, the winter months in Scandinavia. Some of the best spots to witness them include Finnish Lapland, Abisko National Park in Sweden, and North Cape in Norway.

Walk through Nyhavn

Nyhavn is a beautiful waterfront part of Copenhagen home to beautiful townhouses dating back to the 17th century. These residences are in bright colors, which only add to the atmosphere. A canal goes straight through Nyhavn, so one way to experience this area instead of walking is to hop on a canal tour. In addition to multiple residences, there are also many restaurants, cafes, and shops in this area that are worth visiting. One of Nyhavn's most famous residents was Hans Christian Andersen, who wrote The Little Mermaid and The Princess and the Pea. Be sure to see the outside of his house; he lived in number 20!

You Should Know

Nyhavn means New Harbour in Danish, though you'll commonly hear people only refer to it by its Danish name. This area is always quite busy, but you can beat most of the crowds if you come right in the morning.

Visit Drottningholm Palace

Drottningholm Palace is a 17th-century royal residence that is home to the current ruling family of Sweden. It's located on an island and is one of the most famous palaces to visit in the whole country because of its breathtaking architecture. This palace was named to the UNESCO World Heritage Site list and is filled with places for visitors to explore. Some of the best places to explore here include the Reception Halls, the Drottningholm Palace Park, the Royal Chapel, and the Chinese Pavilion.

You Should Know

Cell phones must be turned off while exploring the castle's interior. Though you can go inside and tour around on your own, you can also take a 45-minute guided tour.

Hop on a scenic fjords cruise

Scandinavia is home to countless beautiful fjords which can be found in every Scandinavian country. Essentially, a fjord is a narrow body of water, almost like a river, that goes between cliffs. Often, these are created by glaciers. The best way to explore the fjords is to hop on a fjords cruise. The amount of time these cruises take varies, as does price, but it's worth jumping on at least one of these cruises to experience Scandinavia's nature firsthand. These scenic fjord cruises are completely family-friendly as well.

You Should Know

You'll want to pack layers for your cruise. Even if it's a warm day, it can be a bit cooler on the boat!

Go to ABBA The Museum

ABBA was a popular Swedish pop band that started back in 1972. They formed right in Stockholm and consisted of Agnetha, Bjorn, Benny, and Anni-Frid, hence the ABBA band name. They are most popularly known for being the inspiration for all of the music used in Mamma Mia! The museum first opened in 2013 and is entirely interactive. You can see their costumes, performances, and relics from their time in the spotlight throughout it. Even if you aren't a fan of ABBA, you will be by the end of your museum visit.

You Should Know

After you visit the museum, you can grab discounted lunch at the Pop House Restaurant. Students receive a special discount when purchasing tickets, but only if they are buying online in advance.

Check out the scenic Trolltunga rock formation

Trolltunga is a breathtaking rock formation and mountain in Norway's Vestland. There's a rock cliff that looks out over the fjord below, offering one of the most picturesque sights in the whole country. It's up 3,600 feet in elevation, so it's not for those afraid of heights. It is quite challenging to get up to Trolltunga. You have to go on a 17.3-mile hike, which takes about 7 to 10 hours round trip. It's not a super easy hike either, but it is exceptionally well-marked. If you are more of a new hiker, you can try to do this hike with a tour guide.

You Should Know

You'll want to bring sturdy hiking boots for your hike. The terrain here changes throughout the hike, so it's best to be prepared.

Pay a visit to the Lapland

Lapland is a beautiful part of northern Finland. It's as far north as you can go, so it's often referred to as the North Pole and is home to the famous Santa Claus Village. In Lapland, you can find fun ski resorts, snow-filled trails, and gorgeous scenery. The most popular place to visit in Lapland is Rovaniemi, though Ivalo and Levi are also lovely. Lapland is also one of the best places in Finland to see the Northern Lights. Though it's most popular during the winter months, you can visit Lapland any time of the year and have a blast.

You Should Know

Lapland is exceptionally kid-friendly. For an enjoyable time, take the Santa Claus Express Night Train from Helsinki right to Rovaniemi!

Have fun at Tivoli Gardens

The Tivoli Gardens is an amusement park located right in the middle of Copenhagen. It opened in 1843 and is one of the world's oldest amusement parks. Famous visitors of the past include both Walt Disney and Hans Christian Andersen. The Vertigo ride is the most popular here. It was voted as the best ride in Europe in 2014. The Demon is also a fun ride to go on, which is a virtual reality rollercoaster. If you get hungry during your visit, head over to one of the many restaurants. There are many diverse options, as they have everything from American restaurants to spots to get local Danish food.

You Should Know

Plan on spending at least three hours at Tivoli Gardens, especially if you plan on going on rides.

Go inside the Helsinki Cathedral

The Helsinki Cathedral was completed in 1852. It's architecturally magnificent and was built to honor Finland's Grand Duke. The cathedral stands at 205-feet tall and is a beautiful white color with green and gold ornaments throughout. Some of the must-see spots in the church include the church towers and the organ. The church is entirely free to enter between opening hours every day. There are also free guided tours if you'd like to learn more about the Helsinki Cathedral history and architecture.

You Should Know

There is a cafe that is open during the summer months if you'd like to grab a bite to eat during your visit. It's located in the crypt.

Learn history at the Vasa Museum

The Vasa Museum is a museum dedicated to maritime. It's located in Stockholm and opened in the spring of 1990. It's most famous for holding an epic ship from the 17th-century sunk in 1628 after being damaged. This Vasa ship is the only one of its kind ever to be salvaged. Many other exhibits and artifacts throughout the museum are worth exploring as well. No matter your age, you're sure to have fun and learn something new when visiting the Vasa Museum.

You Should Know

There are audio guides and guided tours available at this museum to help you get the most of your experience.
Scandinavia Tour Packages
Truthfully, the best time to visit beautiful Scandinavia is any time of the year. It's filled with great outdoor and indoor activities, no matter what season it is. However, you can make your experience more worthwhile and plan if you know a particular activity you'd like to do. For example, if you want to see the Northern Lights, you probably don't want to visit in the middle of the summer.
Spring and Fall - October to November and March to April - Shoulder Season

If you want to visit during the shoulder season months when the weather is nice, but it's not overly-crowded, you will have a great trip. The spring and autumn months in Scandinavian countries tends to be around 60°F.

Summer - May to September - High Season

Summer is the busiest time to visit the Scandinavian countries because of the warm weather. During this time, the high is usually around 80°F, with averages closer to 73°F. Prices will be at their highest during this time because of how many people try to visit.

Winter - December to February - Low Season

Winter is Scandinavia's low season because everything shuts down for the most part during the winter months. However, it's the best time to see the Northern Lights, so it's a bit of a give and take situation. This is also the best time to go if you want to do outdoor sports (like skiing and snowboarding) and experience the lowest accommodation prices. Weather can be quite cold; up north, it can get as cold as -10°F on some days, but averages typically anywhere between 5°F to 20°F depending on where you are.
Scandinavia Tours Frequently Asked Questions
What are Scandinavia tours?

Scandinavia tours are the best way to get introduced to the many countries that make up this highly-visited region in Northern Europe. You'll stop off at cultural cities like Copenhagen, Stockholm, Helsinki, and more. Be sure to see the beautiful nature that this region is home to, from the mountains to the fjords. By the end of your trip, you'll have completely fallen in love with Scandinavia.

What's included on a Scandinavia tour?

It can be hard trying to plan a tour of your own; that's why a Scandinavia tour is a great option. It takes all the hassle out of travel planning. All the research has been done for you; all you have to do is pack your bag and get ready to go on an adventure.

What's the best Scandinavia tour?

If you're ready to go out and explore a new place, try incredible new food, and adventure in breathtaking scenery, then you can't go wrong with any of the Scandinavia tours. No tour is necessarily better than the other, because it entirely depends on what you'd like to explore. Some of the tours will visit bigger cities while others will stop at towns and other outdoor places. Make sure you do your research to find the best tour for you!

How much do Scandinavia tours cost?

Scandinavia tours vary in price. Some cost as low as $200 a day, but they go up in price depending on the places they stop and the length of the tour. By booking through Affordable Tours, you can guarantee that you'll be purchasing at a discounted price, however. You can save up to 40% on Scandinavia tours!
Departure
Lengths
Styles
Specialities
Price
How It Works
Vacationing has never been easier or cheaper with the help of a dedicated travel consultant from AffordableTours.com
1. Free Quote
Find your perfect trip on our website and simply request a free quote. Need to speak to a live person? Call us 7 days a week at 1-800-935-2620. No robots here!
2. Dedicated Travel Consultant
Your personal travel consultant will reach out and be your point of contact for your entire travel experience from start to finish. Did we mention you'll be working with an award winning team? Sweet!
3. Lowest Price Guaranteed
Because we're one of the largest sellers of travel, we're able to give you a discount on your vacation package. No one beats our prices!
4. Stress Free Travel
Knowing you got the best deal, all that's left is for you to pack your bags and enjoy your vacation!