Dates & Prices
Start Date
End Date
Offers
Brochure
Land Price
Our Price
Quote
Oct 03, 2020
Oct 26, 2020
Call Us

$7,965

Get Our Price
Get Quote
Oct 10, 2020
Nov 02, 2020
Call Us

$7,665

Get Our Price
Get Quote
Oct 17, 2020
Nov 09, 2020
Call Us

$7,740

Get Our Price
Get Quote
Oct 24, 2020
Nov 16, 2020
Call Us

$7,665

Get Our Price
Get Quote
Oct 31, 2020
Nov 23, 2020
Call Us

$7,665

Get Our Price
Get Quote
Nov 07, 2020
Nov 30, 2020
Call Us

$7,665

Get Our Price
Get Quote
Nov 21, 2020
Dec 14, 2020
Call Us

$7,665

Get Our Price
Get Quote
Dec 05, 2020
Dec 28, 2020
Call Us

$7,965

Get Our Price
Get Quote
Mar 06, 2021
Mar 29, 2021
Call Us

$7,680

Get Our Price
Get Quote
Mar 20, 2021
Apr 12, 2021
Call Us

$7,680

Get Our Price
Get Quote
Mar 27, 2021
Apr 19, 2021
Call Us

$7,680

Get Our Price
Get Quote
Apr 03, 2021
Apr 26, 2021
Call Us

$7,680

Get Our Price
Get Quote
Apr 10, 2021
May 03, 2021
Call Us

$7,680

Get Our Price
Get Quote
Apr 17, 2021
May 10, 2021
Call Us

$7,680

Get Our Price
Get Quote
May 01, 2021
May 24, 2021
Call Us

$8,285

Get Our Price
Get Quote
May 08, 2021
May 31, 2021
Call Us

$8,285

Get Our Price
Get Quote
May 22, 2021
Jun 14, 2021
Call Us

$8,285

Get Our Price
Get Quote
Jun 05, 2021
Jun 28, 2021
Call Us

$8,285

Get Our Price
Get Quote
Jun 12, 2021
Jul 05, 2021
Call Us

$8,285

Get Our Price
Get Quote
Jun 19, 2021
Jul 12, 2021
Call Us

$8,285

Get Our Price
Get Quote
Jun 26, 2021
Jul 19, 2021
Call Us

$8,285

Get Our Price
Get Quote
Jul 03, 2021
Jul 26, 2021
Call Us

$8,285

Get Our Price
Get Quote
Jul 10, 2021
Aug 02, 2021
Call Us

$8,285

Get Our Price
Get Quote
Jul 17, 2021
Aug 09, 2021
Call Us

$8,285

Get Our Price
Get Quote
Jul 24, 2021
Aug 16, 2021
Call Us

$8,285

Get Our Price
Get Quote
Jul 31, 2021
Aug 23, 2021
Call Us

$8,285

Get Our Price
Get Quote
Aug 07, 2021
Aug 30, 2021
Call Us

$8,285

Get Our Price
Get Quote
Aug 14, 2021
Sep 06, 2021
Call Us

$7,980

Get Our Price
Get Quote
Aug 21, 2021
Sep 13, 2021
Call Us

$7,980

Get Our Price
Get Quote
Aug 28, 2021
Sep 20, 2021
Call Us

$7,980

Get Our Price
Get Quote
Sep 04, 2021
Sep 27, 2021
Call Us

$7,980

Get Our Price
Get Quote
Sep 11, 2021
Oct 04, 2021
Call Us

$7,980

Get Our Price
Get Quote
Sep 18, 2021
Oct 11, 2021
Call Us

$7,980

Get Our Price
Get Quote
Sep 25, 2021
Oct 18, 2021
Call Us

$7,980

Get Our Price
Get Quote
Oct 02, 2021
Oct 25, 2021
Call Us

$7,980

Get Our Price
Get Quote
Oct 09, 2021
Nov 01, 2021
Call Us

$7,980

Get Our Price
Get Quote
Oct 16, 2021
Nov 08, 2021
Call Us

$7,980

Get Our Price
Get Quote
Oct 23, 2021
Nov 15, 2021
Call Us

$7,980

Get Our Price
Get Quote
Oct 30, 2021
Nov 22, 2021
Call Us

$7,980

Get Our Price
Get Quote
Nov 06, 2021
Nov 29, 2021
Call Us

$7,980

Get Our Price
Get Quote
Nov 13, 2021
Dec 06, 2021
Call Us

$7,680

Get Our Price
Get Quote
Nov 20, 2021
Dec 13, 2021
Call Us

$7,680

Get Our Price
Get Quote
Nov 27, 2021
Dec 20, 2021
Call Us

$7,680

Get Our Price
Get Quote
Dec 04, 2021
Dec 27, 2021
Call Us

$7,680

Get Our Price
Get Quote
Dec 11, 2021
Jan 03, 2022
Call Us

$7,680

Get Our Price
Get Quote
Dec 18, 2021
Jan 10, 2022
Call Us

$7,680

Get Our Price
Get Quote
Jan 01, 2022
Jan 24, 2022
Call Us

$7,550

Get Our Price
Get Quote
Jan 08, 2022
Jan 31, 2022
Call Us

$7,550

Get Our Price
Get Quote
Jan 15, 2022
Feb 07, 2022
Call Us

$7,550

Get Our Price
Get Quote
Jan 29, 2022
Feb 21, 2022
Call Us

$7,550

Get Our Price
Get Quote
Feb 12, 2022
Mar 07, 2022
Call Us

$7,550

Get Our Price
Get Quote
Feb 19, 2022
Mar 14, 2022
Call Us

$7,550

Get Our Price
Get Quote
Feb 26, 2022
Mar 21, 2022
Call Us

$7,550

Get Our Price
Get Quote
Mar 05, 2022
Mar 28, 2022
Call Us

$7,550

Get Our Price
Get Quote
Mar 12, 2022
Apr 04, 2022
Call Us

$7,550

Get Our Price
Get Quote
Mar 26, 2022
Apr 18, 2022
Call Us

$7,550

Get Our Price
Get Quote
Apr 02, 2022
Apr 25, 2022
Call Us

$7,550

Get Our Price
Get Quote
Apr 09, 2022
May 02, 2022
Call Us

$7,550

Get Our Price
Get Quote
Apr 16, 2022
May 09, 2022
Call Us

$7,550

Get Our Price
Get Quote
Apr 30, 2022
May 23, 2022
Call Us

$7,550

Get Our Price
Get Quote
May 07, 2022
May 30, 2022
Call Us

$7,550

Get Our Price
Get Quote
May 21, 2022
Jun 13, 2022
Call Us

$7,550

Get Our Price
Get Quote
Jun 04, 2022
Jun 27, 2022
Call Us

$7,550

Get Our Price
Get Quote
Jun 11, 2022
Jul 04, 2022
Call Us

$7,550

Get Our Price
Get Quote
Jun 18, 2022
Jul 11, 2022
Call Us

$7,550

Get Our Price
Get Quote
Jun 25, 2022
Jul 18, 2022
Call Us

$7,550

Get Our Price
Get Quote
Jul 02, 2022
Jul 25, 2022
Call Us

$7,550

Get Our Price
Get Quote
Jul 09, 2022
Aug 01, 2022
Call Us

$7,550

Get Our Price
Get Quote
Jul 16, 2022
Aug 08, 2022
Call Us

$7,550

Get Our Price
Get Quote
Jul 23, 2022
Aug 15, 2022
Call Us

$7,550

Get Our Price
Get Quote
Jul 30, 2022
Aug 22, 2022
Call Us

$7,550

Get Our Price
Get Quote
Aug 06, 2022
Aug 29, 2022
Call Us

$7,550

Get Our Price
Get Quote
Aug 13, 2022
Sep 05, 2022
Call Us

$7,550

Get Our Price
Get Quote
Aug 20, 2022
Sep 12, 2022
Call Us

$7,550

Get Our Price
Get Quote
Aug 27, 2022
Sep 19, 2022
Call Us

$7,550

Get Our Price
Get Quote
Sep 03, 2022
Sep 26, 2022
Call Us

$7,550

Get Our Price
Get Quote
Sep 10, 2022
Oct 03, 2022
Call Us

$7,550

Get Our Price
Get Quote
Sep 17, 2022
Oct 10, 2022
Call Us

$7,550

Get Our Price
Get Quote
Sep 24, 2022
Oct 17, 2022
Call Us

$7,550

Get Our Price
Get Quote
Oct 01, 2022
Oct 24, 2022
Call Us

$7,550

Get Our Price
Get Quote
Oct 08, 2022
Oct 31, 2022
Call Us

$7,550

Get Our Price
Get Quote
Oct 15, 2022
Nov 07, 2022
Call Us

$7,550

Get Our Price
Get Quote
Oct 22, 2022
Nov 14, 2022
Call Us

$7,550

Get Our Price
Get Quote
Oct 29, 2022
Nov 21, 2022
Call Us

$7,550

Get Our Price
Get Quote
Nov 05, 2022
Nov 28, 2022
Call Us

$7,550

Get Our Price
Get Quote
Nov 12, 2022
Dec 05, 2022
Call Us

$7,550

Get Our Price
Get Quote
Nov 19, 2022
Dec 12, 2022
Call Us

$7,550

Get Our Price
Get Quote
Nov 26, 2022
Dec 19, 2022
Call Us

$7,550

Get Our Price
Get Quote
Dec 03, 2022
Dec 26, 2022
Call Us

$7,550

Get Our Price
Get Quote
Dec 10, 2022
Jan 02, 2023
Call Us

$7,550

Get Our Price
Get Quote
Dec 17, 2022
Jan 09, 2023
Call Us

$7,550

Get Our Price
Get Quote
Call or submit a quote for award-winning value and service!
Cities Visited
Amazon Jungle, Cusco, Floreana Island, Galapagos, Isabela Island, La Paz, Lake Titicaca, Lima, Ollantaytambo, Puno, Quito, Sacred Valley, San Cristobal, Santa Cruz Island
Tour Itinerary
Visit South America and travel to the Galapagos Islands, Peru, Ecuador, and Bolivia. Amazing wildlife, both on land and underwater, is the drawcard of the remote Galapagos Islands. Discover unique creatures, as well as the island's outstanding natural beauty, by foot, boat and bike. Back on the mainland, enjoy the delights of Peru - from the tough but rewarding Inca Trail to the joy of interacting with friendly locals and experiencing cities full of colour, energy and passion.
Day 1: Quito
Bienvenidos! Welcome to Quito, Ecuador. Your adventure begins with a welcome meeting at 2 pm. Please look for a note in the hotel lobby or ask reception where it will take place. If you can't arrange a flight that will arrive in time, you may wish to arrive a day early so you're able to attend. We'll be happy to book additional accommodation for you (subject to availability). If you're going to be late, please inform the hotel reception. We'll be collecting your insurance details and next of kin information at this meeting, so please ensure you have all these details to provide to your leader. Quito is one of the most attractive cities in South America, sitting at an altitude of 2,850 metres with a view of Volcan Pichincha on the horizon. On day 1 there is a city tour to show the beautiful Colonial style buildings and help you explore the nooks and crannies of cosy Old Town. We'll be back in Quito at the end of the trip, giving you a chance to further experience the city. Notes: Due to the high altitude of many of places we visit, the air is thinner and some people can suffer altitude sickness, regardless of age, gender or fitness. Please see the 'Is This Trip Right For You?' and 'Health' sections in the trip notes for more information.Optional Activities in Quito:Quito is an incredible city with loads to see and do. This trip doesn't include much time in Quito, so a few extra days to explore it is recommended. Great activities are available through our local office – just email [email protected] before departing or, once you're in Quito, give our office a call +593 9 94014877 and they will happily assist you.Urban Adventures: If you are interested in any of the Urban Adventures listed you will need to contact Urban Adventures directly. Contact information for Quito can be found here: http://www.urbanadventures.com/contact-usCity Tour & The Equator Line, an in-depth half-day city tour, including a trip to the equator line to see how it feels to be in the middle of the world, literally. If you're short on time You can choose to do just the city tour or Equator line (we've listed separate prices below)Otavalo Market, a full day tour of the biggest Indian market in South America in the northern town of Otavalo, full of local handicrafts to take home for your friends, and the Cotacachi leather market.Cotopaxi Volcano, for something more active, head out to the 5,897 metre high Cotopaxi Volcano – drop by the National Park museum, then hike for around 2 hours and visit the picturesque Limpiopungo Lagoon.Quilotoa Lagoon, if you're into lagoons, maybe take a full day trip to the stunning Quilotoa Lagoon. Early in the morning, drive 3 hours south through the local communities and Andes views of the Avenue of Volcanoes. Then hike (2 hours return) to the beautiful Quilotoa volcano crater lagoon, before returning to Quito. Something more chill is a full day at the Papallacta Hot Springs – take a scenic drive, reaching heights of 4,150 metres, and then relax in springs with views to the towering Antisana Volcano.Cloud Forest, maybe get in touch with the region's incredible nature with a shared services trip to the Cloud Forest – take a guided hike through a reserve on the edge of the Choco Bio-region, one of the most bio-diverse places in the world, and get acquainted with the exuberant vegetation, bird life, and the fascinating adaptations to life in this special environment.Papallacta-Something more chill is a full day at the Papallacta Hot Springs – take a scenic drive, reaching heights of 4,150 metres, and then relax in springs with views to the towering Antisana Volcano.Please note, the prices listed below include entrance fees, however these are paid separately by you during the tour. Some tours require a minimum of 2 passengers to operate.(Please note prices listed are subject to change)
Day 2: Isla San Cristobal, Galapagos
Early morning Transfer to Quito airport (approximately 1 hour) for our flight to San Cristobal Island, Galapagos (approx 3.5 hrs). Departure time will be between 8.20am and 10.30am depending on flight schedule time. Welcome to San Cristobal, Galapagos Islands. The Galapagos National Institute has introduced a Transit Control Card. This card has a cost of US$20 and it must be purchased by every person travelling to the Galapagos Islands. You will need to purchase this card upon arrival to the domestic airport on day 2, prior to checking in to your Galapagos flight. Our flight will stop once in Guayaquil to pick up more passenger's (approx 3.5 hours total). Upon arrival we will need to go through immigration and pay the Galapagos National Park entrance fee of US$100 in cash (small bills please). Please note that this trip is a combination trip, therefore there may be some passenger's joing the trip in the Galapagos. We transfer from the airport to the hotel (approximately 15 minutes) Soon after we head out together to the Interpretation Center. Learn about the history of the 'Enchanted Islands' and the conservation projects which seek to preserve the unique Galapagos wildlife. Next, make our way to Frigatebird Hill (Cerro Tijeretas), which is located two kilometres from the Interpretation Center, southwest of Isla San Cristobal. It's quite a climb to the top, but well worth the amazing views of the bay. From here you can also see Kicker Rock, an eroded volcanic formation protruding from the sea which has become an emblem of the island. Soon after, travel to La Loberia where you'll put on snorkelling gear for the first time and go for a swim with sea lions, and maybe even some sea turtles. Continue back to town. Tonight you may wish to head out with the group and enjoy some of the fresh seafood available.
Day 3: Isla San Cristobal, Galapagos
Today begins with a short boat ride to Leon Dormido (approx 45 mins) or Isla Lobos, observing along the way the abundant marine life that Galapagos is renowned for. On the way we might be able to spot nesting frigates and blue-footed boobies and/or might swim/snorkel with playful young sea lions. Here we can snorkel keeping an eye out below for sea turtles, manta rays and maybe the odd harmless Galapagos shark, to name a few. This snorkeling is in open sea, on occasion the currents can be quite strong so it's particularly important you are a confident swimmer for this activity. If you have any concerns, please ensure you speak with your leader. Included lunch today is a packed box lunch on board the boat! Unfortunately it is against National Park rules to eat on the beach. Later head we will head to the interpretation Center. Learn about the history of the 'Enchanted Islands' and the conservation projects which seek to preserve the unique Galapagos wildlife. Next, make our way to Frigatebird Hill (Cerro Tijeretas), which is located two kilometres from the Interpretation Center, southwest of Isla San Cristobal. It's quite a climb to the top, but well worth the amazing views of the bay. From here you can also see Kicker Rock, an eroded volcanic formation protruding from the sea which has become an emblem of the island. We'll return to town in the late afternoon/early evening.
Day 4: Isla Floreana/Isla Isabela, Galapagos
Take an early morning boat ride today towards Floreana Island, which should take about 2.5 hours. Along the way keep your eyes peeled for wildlife such as dolphins and whales.On arrival to the island, snorkel in the clear blue waters and then break for lunch. Afterwards venture to a black sand beach which belongs to the Witmers, decedents of some of the first settlers on the Galapagos. The town here, Puerto Velasco Ibarra, has about 150 residents and an intriguing history involving deaths, disappearances and murders. Later in the afternoon, wave goodbye to Floreana and continue to Isabela Island (approximately 2 hours) From Isabela Port it's a short transfer to the hotel where we will spend the night (approximately 15 minutes)
Day 5: Isla Isabela, Galapagos
Start your second day on Isla Isabela with a short bus ride (approximately 15 minutes) to the Giant Tortoise Breeding Center where you'll observe giant tortoises in all stages of development. The centre has almost a thousand giant tortoises training for life on their own. After our visit we take a short bus ride (approximately 15 minutes) to a brackish lagoon where we will be able to observe flamingos.In the afternoon after an informative visit, board a small pangas for Tintoreras or Shark Alley. On our way we will go along the coast line in the hope to spot blue-footed boobies and the famous Galapagos penguin who is home on the western part of the arquipelago. On arrival, hop off for a short walk on this isolated islet and popular iguana nesting site that's home to hundreds of marine iguanas. Snorkel in a calm inlet with colourful fish and winding underground lava tubes. This area is frequented by green sea turtles that like to rest on the calm, sandy bottom.Late afternoon, return to town in search of your own sandy resting spot and enjoy your first Isabela sunset, arguably the most beautiful of all the islands.
Day 6: Isla Isabela, Galapagos
Start your last day on Isla Isabela by heading towards the Sierra Negra Volcano (approximately 45 minutes by bus), one of the most active volcanoes in the Galapagos and the second largest crater in the world. Weather permitting, take a challenging hike of around 17 kilometres up the rocky mountain, which takes between five and six hours. After the hike, make your way back to town in the late afternoon for some free time to curl up with a book or venture down to the water for a relaxing swim before dinner. Unfortunately, recycling isn't available on Isabela, so please take your plastic rubbish with you.
Day 7: Isla Santa Cruz, Galapagos
Today begins nice an early at about 5 am. Take a boat transfer to Santa Cruz at approximately 6 am. Upon arrival transfer to Puerto Ayora to have breakfast. After breakfast head to the Charles Darwin Research Station. This is a great opportunity to learn more about conservation efforts to preserve the unique ecosystems of the Galapagos. You can even get close to giant tortoises which are being raised for the repopulation program. Next, head to a restaurant that offers a typical Eduadorian lunch package, simply referred to as 'Menu'. Usually this consists of a fresh juice, basic entrée (usually a soup) as well as a main meal. These lunch deals are very popular throughout Ecuador so it's a great way to eat like a local.In the afternoon visit the higher part of the islands to observe the giant tortoise roaming in its natural habitat. Afterwards visit a locally owned Sugar cane farm. Here the farmers will show us the process in which sugar cane is processed and turned into alcohol. Take the opportunity to try some!
Day 8: Isla Santa Cruz, Galapagos
This morning we will hike approximately 3.5kms to Tortuga Bay beach where we will head out on a kayak excursion in a protected bay. Along the way, keep an eye out for eagle rays, sea turtles and blue-footed boobies. Later head back to Puerto Ayora.In the afternoon have free time to further explore the town. Tonight, enjoy an included group dinner.
Day 9: Isla Santa Cruz, Galapagos/ Quito
We say goodbye to the Galapagos today and take a flight back to Quito (Please note the flight will make a stop in Guayaquil)You'll arrive back to Quito later afternoon. Perhaps head out for a final group dinner.
Day 10: Lima
You'll need to book a flight from Quito to Lima for today. Please note this is not included in the tour price. Bienvenidos! Welcome to Peru. Your adventure begins with a welcome meeting at 2 pm on Day 1. Please look for a note in the hotel lobby or ask the hotel reception where it will take place. Enjoy a walking tour of downtown Lima, including the city's historical centre. Flanked by streets of ornate colonial mansions, palaces and churches, Plaza Mayor is the best place to start any exploration of Lima. Take a walk through the old streets to get a feel for colonial life. If you arrive early, we recommend you take a walk around Miraflores. Go from Central Park (Parque Kennedy) to LarcoMar via Larco Avenue. Alternatively go to Parque del Amor (Love's Park) for a nice view of Lima's beaches. Other great things to see and do include a tour to Pachacamac (around 30 km from downtown Lima), the Museo de la Nacion and the Gold Museum. Limenos (Lima's residents) are friendly and there are plenty of great restaurants and cafes to sample ceviche, a local seafood speciality. Notes: This trip visits places that are at high altitude, and as a result some people can suffer from altitude sickness, regardless of age or physical health. Please see the 'Health' section of the trip notes for more important information on this.
Day 11-12: Amazon Jungle
null
Day 13: Cuzco
Fly from Puerto Maldonado to Cuzco, the true heart and soul of Peru (approximately 35 minutes). Spend a little time acclimatising to the high altitude (3,450 m) and then head out on an orientation walk with your tour leader. You'll visit the facade of Qoricancha temple, the local San Pedro market, the main square, past the 12 Angled Stone, Regocijo Square and San Blas Square. Finally you'll visit the Chocolate museum where there will be an opportunity to sample a hot chocolate made from local cacao beans. This might be a good opportunity to purchase some gifts or souvenirs. There's a small store where you'll find various handicrafts and a variety of artisanal chocolate products. Tonight is free, perhaps head out for dinner your fellow travellers. Your leader will be able to recommend some good place sot eat!
Day 14: Sacred Valley / Ollantaytambo
Head to Ollantaytambo, visiting a local community en route. When you arrive in Ollantaytambo you'll see it's a magnificent example of Incan urban planning. It's one of the few places where the Incas defeated the Spanish. Ollantaytambo's archaeological site is located to the east of the Plaza de Armas. The upper terraces of this site offer great photo opportunities of the squared grid town below. Visit Hearts Cafe for a bite to eat – it's part of a project supported by the Intrepid Foundation and the coffee there is excellent.
Day 15: Inca Trail, Inca Quarry trail or Train option
During the next four days, you'll do one of the following, depending on what you've arranged:Route 1: Hike the Classic Inca Trail;Route 2: Hike the Inca Quarry Trail;Route 3: Take the train to Aguas Calientes, after staying in Cuzco for two extra days.While away from Cuzco, the bulk of your luggage will be stored at your hotel. If you're hiking the Inca Trail or the Inca Quarry Trail, the evening before you leave Cuzco you'll receive a small duffle bag to carry your clothes in for the next four days (5 kg maximum). Your team of porters will carry these bags for you, together with the food and equipment for the trail. Please note that you won't have access to these items until the end of each day, as the porters will always be ahead of the group. If you're travelling to Aguas Calientes by train, you'll be able to leave most of your luggage at the hotel in Cuzco and only travel with the necessary items during the excursion by train.Route 1: Classic Inca TrailTravel by minivan to the 82 km marker and meet your crew of local porters, cook and guide. The first day includes uphill trekking to the campsite (located 3,100 m above sea level). On the way you'll see the Inca sites of Ollantaytambo, Huillca Raccay and Llactapata, and catch incredible views of the snow-capped Veronica Peak. In the evening, unwind at the campsite with a nourishing meal.Notes: The Inca Trail is within the abilities of most reasonably fit people, but please come prepared, as the trail is 45 km long and often steep. Each day's journey generally consists of 7 hours of walking (uphill and downhill) with stops for snacks and lunch. Trekking usually begins at 7 am (except on the fourth morning) and you reach the campsite around 5 pm. Accommodation on the trek is camping (three nights). Double tents (twin-share) and inflatable camping mats will be provided. The porters will set up the tents while the cook prepares meals.Route 2: Inca Quarry trailMake an early start today and drive to Choquequilla, a small ceremonial place where Incas worshipped the moon. Drive to the starting point of the trek, Rafq'a, and meet the horsemen who join us on the hike. After an hour's walk, reach the small community of Socma. Carry on to the Perolniyoc cascade lookout, an opportunity to stop for photos and a food break. Continue to the campsite (3,700 m above sea level). You should reach the campsite around lunchtime. After lunch, set off to explore the Q'orimarca archaeological site, which once served as a checkpoint to the Incas.Notes: The Inca Quarry trail is within the abilities of most reasonably fit people. The hike is 26 km long in total and its highest pass is at 4,450 meters above sea level. Throughout the trek, horses will carry your gear and camping equipment. The first two nights are spent camping, and on the third night you'll stay at a simple hotel. Double tents (twin-share) and inflatable camping mats will be provided. The porters will set up the tents while the cook prepares meals.Route 3: TrainAfter spending the night in Ollantaytambo, leave around 9.30 am and take a short drive to the town of Pisac, which is well known for its market. Here you'll have the opportunity to shop for souvenirs and perhaps try some local Empanadas. Arrive back in Cuzco in the afternoon, where your leader will take you to the San Pedro Market in order to buy some things for a picnic tomorrow. In the late afternoon, you'll have an option to visit the Choco Museum and try some exquisite artisanal chocolate that's prepared in-house from cacao beans. Be sure to sample some of the delicious hot chocolate.Notes: The included lunch and dinner on this day is for people trekking the Inca or Inca Quarry trail only. Travellers taking the train option spend the night at a hotel in Cuzco.
Day 16: Inca Trail / Inca Quarry trail / Train
Route 1: Classic Inca TrailThis is the most challenging day of the trek as you ascend a long steep path (approximately 5 hours) to reach the highest point of the trail. Colloquially known as 'Dead Woman's Pass', Warmiwanusca sits at a height of 4,200 metres above sea level, giving amazing views of the valley below. The group will then descend to the campsite in the Pacaymayo Valley at 3,650 metres.Route 2: Inca Quarry trailThis is the most challenging and rewarding day of the hike. A three-hour walk takes you to the top of the first pass of Puccaqasa (approximately 4,370 m high). After enjoying picturesque views of the valley, it's a short walk before stopping for lunch. Afterwards, make the two-hour hike to Kuychicassa, the highest pass of the trek at 4,450 meters. From here, descend to the sacred site the Incas called Intipunku (Sun Gate), with views of the Nevado Veronica mountain. Head to the campsite, only a stone's throw away at Choquetacarpo.Route 3: TrainToday, take a taxi to Tambomachay, an archaeological site just outside of Cuzco. From here you'll take a short downhill walk (1–3 hours) back to Cuzco. On the way, stop to admire some of the archaeological sites including Puka Pukara, Qinqu Quenqo and Saksaywaman. Arrive back in Cuzco in the afternoon and enjoy some free time to go shopping, or perhaps visit Merida, Mendivil and Olave art galleries and workshops. Your tour leader will be able to give you some suggestions.Notes: The included lunch and dinner on this day is for people trekking the Inca or Inca Quarry trail only. Travellers on the train option spend the night at a hotel in Cuzco.
Day 17: Inca Trail / Inca Quarry trail/ Train
Route 1: Classic Inca TrailStart the day with a climb through the Pacaymayo Valley to Runkuracay pass (3,980 m). Enjoy beautiful views of the snow-capped mountain of Cordillera Vilcabamba before descending to the ruins of Sayacmarca (approximately 2–3 hours). Continue over the trail's third pass to the ruins of Phuyupatamarca (3,850 m), also known as the 'Town Above the Clouds'. Start the descent down the Inca steps to the final night's campsite by the Winay Wayna archaeological site (approximately 2 hours).Route 2: Inca Quarry trailToday's hike is all downhill. The first stop is the incomplete Kachiqata Inca Quarry trail, where the Incas were intercepted by the Spanish. Around midday, your trek comes to an end. Explore the cobbled streets of Ollantaytambo before taking the short train journey to Aguas Calientes. This is where you'll meet up with the travellers in your group who didn't hike. Visiting the natural hot springs in town is a recommended way to spend the late afternoon. Spend the night in a comfortable hotel before tomorrow's visit to Machu Picchu.Route 3: TrainAfter a drive to Ollantaytambo (approximately 1.5 hours), catch a train through the winding Urubamba Valley to Aguas Calientes (also approximately 1.5 hours). The city is nestled in the cloud forest at the foot of Machu Picchu. For those who want a sneak peak, there is time to visit Machu Picchu independently before a guided tour the following day (dependent on ticket availability). Notes: The included lunch on this day is for people trekking the Inca or Inca Quarry trail only. Travellers on the train option spend the night at a hotel in Aguas Calientes (also known as Machu Picchu town)
Day 18: Inca Trail / Inca Quarry trail Train (Machu Picchu)
Route 1: Classic Inca TrailThis is the final and most spectacular leg of the trek to Machu Picchu. The day starts before dawn, with breakfast at 4.30 am. Say farewell to the porters as they descend to the train station and begin hiking by 5.30 am. Walk to Intipunku, aka the Sun Gate (approximately 2.5 hours). Weather permitting, enjoy unforgettable views over Machu Picchu, 'Lost City of the Incas', as the sun rises (and before it's crawling with visitors).Route 2: Inca Quarry trailDepending on weather conditions, take a bus at 5.30 am along the winding road to Machu Picchu (approximately 30 minutes). At Machu Picchu, join up with the travellers in your group who hiked the Classic Inca Trail. If the skies are clear, enjoy a spectacular sunrise over the ancient city from the Sun Gate before going on a guided walk around the ruins.Route 3: TrainTake an early bus up to Machu Picchu at 5.30 am. The city was built around 1440 AD as a country retreat for Incan nobility, but there's evidence that the land had been a sacred Incan site for much longer. Take a guided tour around the ruins of temples, palaces and living quarters, and enjoy free time afterwards to wander around on your own before the group returns to Cuzco.For all routes: After taking advantage of the seemingly endless photo opportunities, it's time to return to Cuzco for a well-deserved shower and a Pisco sour. Your evening is then free for the last night of your adventure.Notes: Due to Intrepid's internal safety policy, our leaders are specifically prohibited from recommending or assisting with booking trips to the mountaintop ruins of Wayna Picchu.
Day 19: Cuzco
Enjoy free time to relax, shop and explore more of Cuzco's sights. Perhaps rest you weary legs at a cafe on Plaza de Armas or head to the San Pedro Market where you will find vegetables, meats, local cheeses (which you should certainly try), local chocolates, herbal medicines and many local handicrafts. It's a great place to purchase some souvenirs. The market is also a place where many locals go to eat 'mystery soups'. Some may be just chicken; however, the most popular amongst the locals are usually the more unusual ones like frog soups or soups that contains nose to tail of various animals.For those who can't get enough active adventure, why not try mountain biking in the hills that surround Cuzco?
Day 20: Puno
Travel by local bus through the dramatic scenery of the high altiplano to Puno, located on the shores of Lake Titicaca (approximately 6 hours). You'll be at an altitude of 3,820 metres. There will be a couple of stops along the way to pick up and drop off passengers. Take in glorious views of the seemingly endless water stretching into the horizon. This place is a melting pot of Aymara and Quechuan Indian culture and traditional Andean customs, and it wears its traditions on its sleeve. If you're lucky your trip will coincide with one of the many cultural festivals here.
Day 21: Lake Titicaca Homestay
Embark on a tour of the lake by slow motor boat, stopping off to visit the Titinos floating islands. The Titinos originally built their islands to isolate themselves from rival tribes. The islands are built from many layers of totora reeds that grow in the shallows of the lake. To get a closer look at daily life in the Lake Titicaca region, you'll be welcomed into local homes for an overnight stay with the community. Make the most of your visit by helping your host family with their daily activities or trying to chat in the local language, Quechua. A game of soccer is also a great way to make local friends.Notes: Your homestay tonight is a mud brick house. Rooms have beds and many blankets, and there are shared drop-toilets but no showers.
Day 22: Puno
This morning after breakfast you'll board the boat again and head to Taquile Island (approximately 1 hour). Here, the tradition of knitting is strictly a male domain, and women do the spinning. It's a great place to pick up some high quality, locally knitted goods. An uphill trek (approximately 1 hour) brings you to the main area of the island. After the visit, you will descend about 500 steps back to our boat. Then travel back to Puno by boat (approximately 3 hours).Puno is the hometown of Kusimayo, a terrific local organisation that works towards improving the living condition of children and adults affected by poverty and malnutrition in this part of the world you have now come to know so well. Take a look at this short video for more information on this wonderful project: https://vimeo.com/154422813Kusimayo is supported by the Intrepid Foundation which means you can donate to this project and your donation will be match dollar for dollar by the Intrepid Group. Please donate through our website: http://www.theintrepidfoundation.org/projects/kusimayo/
Day 23: La Paz
Travel by comfortable local bus to Desaguadero and cross the border into Bolivia. After border formalities at the Peruvian migration office, you'll walk across a bridge to the Bolivian side, submit your passport at the Bolivian migration office, then board the bus again. Head for La Paz, and after 30 minutes or so there's another stop where your documents will be checked by authorities. The journey to La Paz takes about 5 hours (don't forget that Bolivia's timezone is 1–2 hours ahead of Peru!). When you arrive, you might feel like you're on top of the world at around 3,600 metres above sea level. Discover the colonial architecture and browse the markets – you'll see this town is a interesting mixture of the indigenous and modern.
Day 24: La Paz
Your trip comes to an end after breakfast this morning.There isn't a huge amount of time included in Bolivia on this itinerary. If you wish to further explore this wonderful country and perhaps head out to Uyuni to see the Salt Flats, then check out the 'Bolivian Salt Flats' Short Break Adventure (GGAU) The full itinerary can be viewed on our website.
Isla San Cristobal- Snorkeling in La Loberia (1.5 Hours)
San Cristobal - Excursion to Leon Dormido or Lobos Islands
Isla San Cristobal - Interpretation Center (45 minutes)
Isla San Cristobal - Cerro Tijeretas View Point (1 Hour)
Floreana - Snorkeling
Isla Isabela -Tintoreras or Shark Alley (2.5 Hours)
Isla Isabela - Flamingo lagoon visit (30 Minutes)
Isla Isabela - Giant Tortoise Breeding Centre (1 Hour)
Isla Isabela- Sierra Negra Volcano Hike (5-6 Hours)
Kayaking - Isla Isabela
Santa Cruz Highlands Visit (3 Hours)
Isla Santa Cruz - Tortuga Bay walk
Lima - Leader-led walking tour
Amazon Jungle - Jungle activities
Cusco - Orientation Walk
Cusco - Chocolate Museum Visit & Hot Chocolate
Sacred Valley - Community visit & lunch
Machu Picchu - Entrance and guided tour
Lake Titicaca - Boat tour & Homestay
Meals
21 Breakfast(s) Included
11 Lunch(es) Included
7 Dinner(s) Included

Style: Original

Camping (with basic facilities) (3 nights), Homestay (1 night), Hotel (17 nights), Jungle Lodge (2 nights)
Question: How many suitcases can I take with me on my trip?
Each person is allowed one "check-in," and one "carry-on." Remember to take all valuables with you as "carry-on", because electronic equipment, cameras, laptops, jewelry, business documents and money are not covered by the airlines' liability, so always carry them aboard with you.
Question: Is Airfare Included in the Price?
Airfare from your point of origin to and from the trip is not included in the land price.
Similar Tours Other Travelers Liked
The trip was both both educational and exciting. I very much enjoyed the sights and culture.
The itinerary was just as I expected! The guide was very good as were the accomodations
Intrepid did such a great job. I never had to worry about where I was supposed to be and it felt so good not to worry about a thing but just to enjoy myself. Our guide was extremely knowledgeable about culture and history.
Taiwan people very friendly. Accommodation were centrally located and easily accessible. Did extra activities then in brochure which was greatly.
Larus our tour guide did an excellent job and was very attentive to our needs. He is very knowledgeable and has a great sense of humor.
Our guide Tarang chandola was exceptional. Courteous, knowledgeable, organized, polite, professional and went above and beyond taking care of our needs and requests offen anticipating what that might be. He made sure we all had the best possible time and offered suggestions to meet the needs of everyone on the tour. This made the trip even more enjoyable.
AffordableTours.com® does not itself offer, service or administer the Travel Packages, and the ultimate terms and conditions of any Travel Package made available via the Site Offerings (including the prices quoted in connection with same) will be determined by the applicable Third-Party Travel Service Provider. AffordableTours.com® does not represent or warrant that the Price Quotes are accurate, up-to-date or free of error, or that same will be honored by the applicable Third-Party Travel Service Providers. All Price Quotes, Travel Package availability, Travel Package details/itinerary and other Content are subject to change without notice. All travel details published by and through the Site Offerings should be confirmed directly with the applicable Third-Party Travel Service Provider prior to making any travel plans. Reliance on any information made available to you by and through the Site Offerings is solely at your own risk.
How It Works
Vacationing has never been easier or cheaper with the help of a dedicated travel consultant from AffordableTours.com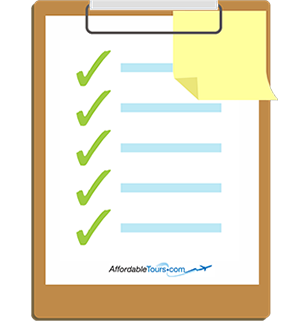 Find your perfect trip on our website and simply request a free quote. Need to speak to a live person? Call us 7 days a week at 1-800-935-2620. No robots here!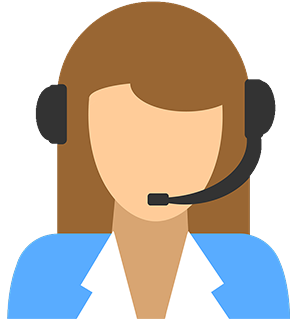 Your personal travel consultant will reach out and be your point of contact for your entire travel experience from start to finish. Did we mention you'll be working with an award winning team? Sweet!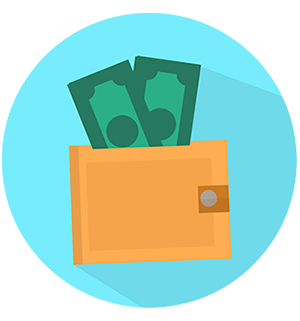 Because we're one of the largest sellers of travel, we're able to give you a discount on your vacation package. No one beats our prices!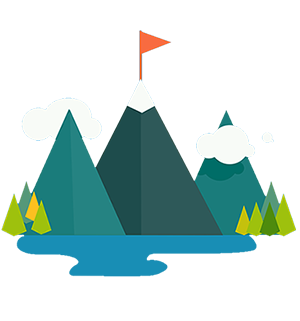 Knowing you got the best deal, all that's left is for you to pack your bags and enjoy your vacation!