Dates & Prices
Start Date
End Date
Offers
Brochure
Land Price
Our Price
Quote
Nov 06, 2020
Dec 12, 2020
Call Us

$2,760

Get Our Price
Get Quote
Dec 16, 2020
Jan 21, 2021
Call Us

$2,315

Get Our Price
Get Quote
Jan 06, 2021
Feb 11, 2021
Call Us

$2,575

Get Our Price
Get Quote
Mar 12, 2021
Apr 17, 2021
Call Us

$2,475

Get Our Price
Get Quote
Mar 19, 2021
Apr 24, 2021
Call Us

$2,475

Get Our Price
Get Quote
Jun 04, 2021
Jul 10, 2021
Call Us

$2,385

Get Our Price
Get Quote
Jul 02, 2021
Aug 07, 2021
Call Us

$2,385

Get Our Price
Get Quote
Jul 23, 2021
Aug 28, 2021
Call Us

$2,385

Get Our Price
Get Quote
Aug 06, 2021
Sep 11, 2021
Call Us

$2,385

Get Our Price
Get Quote
Aug 20, 2021
Sep 25, 2021
Call Us

$2,385

Get Our Price
Get Quote
Sep 03, 2021
Oct 09, 2021
Call Us

$2,385

Get Our Price
Get Quote
Sep 24, 2021
Oct 30, 2021
Call Us

$2,475

Get Our Price
Get Quote
Oct 08, 2021
Nov 13, 2021
Call Us

$2,475

Get Our Price
Get Quote
Oct 15, 2021
Nov 20, 2021
Call Us

$2,475

Get Our Price
Get Quote
Oct 20, 2021
Nov 25, 2021
Call Us

$2,475

Get Our Price
Get Quote
Oct 22, 2021
Nov 27, 2021
Call Us

$2,475

Get Our Price
Get Quote
Oct 29, 2021
Dec 04, 2021
Call Us

$2,575

Get Our Price
Get Quote
Nov 05, 2021
Dec 11, 2021
Call Us

$2,575

Get Our Price
Get Quote
Nov 19, 2021
Dec 25, 2021
Call Us

$2,575

Get Our Price
Get Quote
Nov 26, 2021
Jan 01, 2022
Call Us

$2,575

Get Our Price
Get Quote
Dec 02, 2021
Jan 07, 2022
Call Us

$2,575

Get Our Price
Get Quote
Dec 08, 2021
Jan 13, 2022
Call Us

$2,575

Get Our Price
Get Quote
Mar 11, 2022
Apr 16, 2022
Call Us

$2,315

Get Our Price
Get Quote
Mar 18, 2022
Apr 23, 2022
Call Us

$2,315

Get Our Price
Get Quote
Jun 03, 2022
Jul 09, 2022
Call Us

$2,315

Get Our Price
Get Quote
Jul 01, 2022
Aug 06, 2022
Call Us

$2,315

Get Our Price
Get Quote
Jul 22, 2022
Aug 27, 2022
Call Us

$2,315

Get Our Price
Get Quote
Aug 05, 2022
Sep 10, 2022
Call Us

$2,315

Get Our Price
Get Quote
Aug 19, 2022
Sep 24, 2022
Call Us

$2,315

Get Our Price
Get Quote
Sep 02, 2022
Oct 08, 2022
Call Us

$2,315

Get Our Price
Get Quote
Sep 23, 2022
Oct 29, 2022
Call Us

$2,315

Get Our Price
Get Quote
Oct 07, 2022
Nov 12, 2022
Call Us

$2,315

Get Our Price
Get Quote
Oct 14, 2022
Nov 19, 2022
Call Us

$2,315

Get Our Price
Get Quote
Oct 19, 2022
Nov 24, 2022
Call Us

$2,315

Get Our Price
Get Quote
Oct 21, 2022
Nov 10, 2022
Call Us

$2,315

Get Our Price
Get Quote
Oct 28, 2022
Dec 03, 2022
Call Us

$2,315

Get Our Price
Get Quote
Nov 04, 2022
Dec 10, 2022
Call Us

$2,315

Get Our Price
Get Quote
Nov 18, 2022
Dec 24, 2022
Call Us

$2,315

Get Our Price
Get Quote
Nov 25, 2022
Dec 31, 2022
Call Us

$2,315

Get Our Price
Get Quote
Dec 01, 2022
Jan 06, 2023
Call Us

$2,315

Get Our Price
Get Quote
Dec 07, 2022
Jan 12, 2023
Call Us

$2,315

Get Our Price
Get Quote
Call or submit a quote for award-winning value and service!
Tour Itinerary
Travel to the far-flung corners of India on this epic Lonely Planet Experience, powered by Intrepid. In the north, ride camels through Jaisalmer's desert, lose yourself in the electric bazaars of Jodhpur, witness pilgrims performing ancient ceremonies on the ghats of Varanasi and marvel at the iconic Taj Mahal in Agra. Then bask in the tropical southern climate, cruise along the Kerala Backwaters, come face-to-face with local customs in small rural towns, and laze on the gorgeous beaches of Goa - India's idyllic holiday destination. Enjoy the freedom to be immersed in the diverse cultures of colourful, chaotic and enchanting India on this small-group adventure.
Day 1: Delhi
Namaste and welcome to Delhi! Your adventure begins with a welcome meeting at 6 pm. If you arrive in Delhi with time to spare before the meeting, consider finding your feet with an Urban Adventure. The Hidden Gems of Delhi tour offers something a little different from the standard itinerary, taking you to sights most tourists never see.
Day 2: Delhi – Overnight Train
This morning set off by metro to Old Delhi to explore on a walking tour. Experience the chaos of an Indian traffic jam as you inch your way through the streets around Chandni Chowk marketplace in a traditional cycle rickshaw. Visit the Jama Masjid, Delhi's oldest mosque, then stop by the Sheeshganj Gurudwara (Sikh Temple) to learn about the religion. Tonight, transfer to the railway station and board a 19-hour overnight train to Jaisalmer. Local vendors will board the train at various stops to sell snacks, but it's advised that you bring some of your own food for the journey too.
Day 3: Thar Desert
If there are no delays, you should arrive into Jaisalmer around midday. Pack a small overnight bag, leaving the rest of your luggage at a hotel, then drive by jeep to the Thar Desert. Meet your guides and climb on the back of a camel, then set off through the desert for the 3-hour ride to the camping ground. Your guides will get a campfire going and cook a traditional Rajasthani dinner while you relax and watch the sunset. Spend the night stargazing and sharing stories in this incredible setting.
Day 4: Jaisalmer
Rise early to enjoy the sunrise over the sand dunes then eat a simple breakfast. Ride back to the edge of the desert by camel (approximately 90 minutes) and return to the city by private vehicle. On arrival, choose whether to relax or join the group on an optional trip to the Jaisalmer Folklore Museum. This small museum displays a private family collection of printing blocks, musical instruments, religious artefacts and decorations which offer insights into the cultural heritage of Jaisalmer.
Day 5: Jaisalmer
Enjoy a free day to explore Jaisalmer. The city's eponymous fort holds twisting alleys with markets where you can wander for hours. You can also find a series of Jain temples dating from the 15th and 16th centuries within the walls of the fort, and it's easy to spend a few hours admiring their elaborate carvings. The opulent havelis (traditional Indian mansions) found throughout the city make another fine place to spend some time admiring the desert architecture.
Day 6: Jodhpur
This morning take a private bus to the railway station and then a 6-hour train ride across the desert to the blue city of Jodhpur. Enjoy a guided walk to explore the sights, including a visit to one of the oldest markets in India – the Sadar Bazaar. Here you can haggle over Bollywood soundtracks, bangles, leather shoes and colourful saris, or simply soak up the energy of a typical Indian market. Jodhpur is home to some of the best lassis in India, so make sure you try one while you're here.
Day 7: Jodhpur
Today you have the option to visit the colossal Mehrangarh Fort, one of the largest in India. The fort is still run by the Jodhpur royal family. If you choose to visit, you can explore the palaces, galleries and artillery inside the fortress walls and admire great views over the city. If you'd prefer to see a more down to earth kind of Rajasthani life, it is also possible to spend today touring nearby Bishnoi villages. Spending time in these villages offers a glimpse into rural Rajasthani life and the chance to learn about the rich cultural traditions of the people who live there.
Day 8: Udaipur
This morning take an auto rickshaw to the bus station and board a local bus for an 8-hour journey to Udaipur. This romantic city is set amid the Aravalli Hills and curls around Lake Pichola, a man-made lake created in the 14th century. On arrival, take a guided walk to get your bearings. Explore twisting alleyways filled with shops and bazaars selling things like silver jewellery, shoes, bags, leather goods and miniature paintings.
Day 9: Udaipur
Enjoy a free day to explore the sights of Udaipur. Perhaps take a short boat ride on the famous Lake Pichola (seasonal) and see the palaces of Jag Mandir and Jag Niwas rise out of the water and their own reflections. Otherwise, you could tour the lakeside City Palace complex, the largest palace in Rajasthan, where you can check out vivid murals and royal antiques. Alternatively, learn the secrets behind making the perfect Indian thali during a half-day cooking class.
Day 10: Udaipur
Take another free day in this beautiful city. Maybe you'd like to visit Sajjan Garh (Monsoon Palace), a 19th-century palace perched on a hill overlooking Lake Pichola. Named after Maharana Sajjan Singh of the Mewar Dynasty, Sajjan Garh offers ridiculously great views of the city below. Or perhaps you're more inclined to visit the nearby village of Shilpgram, an ethnographic museum and arts hubs where traditional crafts are sold, and artists perform. Your Lonely Planet app will definitely be of use today! This afternoon, meet the group back at your accommodation and head out to enjoy a concert that combines seven traditional Rajasthani folk dances.
Day 11: Pushkar
Transfer to the station and travel by train for around 7 hours to the city of Ajmer. Hop in a private vehicle for a 45-minute drive to your hotel in Pushkar. One of the India's holiest towns and a market centre for the surrounding villages, Pushkar is a great place to immerse yourself in Hindu traditions. On arrival, head out to explore the town on a walking tour, wandering through the main bazaar along the way. Finish with a walk around Pushkar Lake and past the bustling ghats and temples, observing the devout as they worship at the holy waters.
Day 12: Pushkar
Today in Pushkar is free for you to do as you please. Early morning risers can choose to hike up the hill to the Savitri Temple for sunrise views over the town. If the chai man is there, enjoy a steaming cup of tea at the top for breakfast. Later in the day, maybe pay a visit to the colourful Brahma Temple, which is dedicated to the Hindu god. If you've planned your tour to coincide with the Pushkar Camel Fair (which changes each year), today will mainly be set aside to experience one of India's most famous festivals.
Day 13: Jaipur
Return to Ajmer and travel by local bus to Jaipur (approximately 4 hours). On arrival take an auto rickshaw to your hotel, then head out to explore Rajasthan's capital on a guided walking tour. This tour includes a visit to the market and the beehive-like Palace of the Winds (Hawa Mahal), built in 1799 so that women of the royal family could observe street festivities without being seen by the public. Your evening is free, so perhaps ask your leader to point out the best place to grab dal baati (dal served with wheat rolls).
Day 14: Jaipur
Enjoy a free day in Jaipur, with plenty of optional activities to choose from to fill your day. For many travellers, an optional hot air balloon experience is one of the highlights of Jaipur. If you'd prefer to stay grounded (but still like expansive views) the Amber Fort is both an excellent example of Rajput architecture and a great place from which to see the surrounding area. Or maybe get among the crowds in the city's bazaars to shop for artisan goods and semi-precious stones. For a true local experience, tonight you could immerse yourself in Bollywood with a movie at a classic cinema.
Day 15: Abhaneri
Head to Abhaneri by private vehicle (approximately 2 hours). This rural town provides a lovely detour from the bigger cities in Rajasthan. Visit the Chand Baori, a 20-metre-deep stepwell where water was collected and locals used to gather to escape the heat. Built in the late ninth century, the baori is a mind-bending feat of construction. Next visit another jewel of Abhaneri, the Harshat Mata Temple. This temple, which is now mostly ruins, was first constructed between the seventh and eighth centuries and dedicated to the goddess of happiness and joy.
Day 16: Fatehpur Sikri – Agra
Head east by private transport for the 2–3-hour journey to Agra, via Fatehpur Sikri. Rich in Mughal heritage, Agra is a city of gardens, temples and open rooftops. On arrival visit the Taj Mahal, a white marble mausoleum built by Emperor Shah Jahan as a memorial to his wife Mumtaz. One of the New Seven Wonders of the World, the Taj Mahal attracts over three million visitors each year, so be prepared for crowds. The rest of the day is free for you to explore. If you're after a cool drink or a light meal, maybe head to Sheroes Hangout. This cafe is staffed by survivors of acid attacks and is located 10 minutes' walk from the Taj.
Day 17: Agra – Overnight Train
Enjoy a free day before boarding the train this evening. Early risers might want to head back to the Taj Mahal for a very memorable sunrise. While you're here, be sure to visit the spectacular Red Fort on the banks of the Yamuna River. Built in 1565 by Emperor Akbar, the fort was originally designed to be a military structure. If you have extra time, you may like to continue onto Akbar's Mausoleum to pay your respects to the great emperor. In the evening, board a 12-hour overnight train to Varanasi (Third Class AC).
Day 18: Varanasi
On arrival in Varanasi this morning transfer by auto rickshaw to your hotel. Head out on a guided walk around the Old City, following your leader through the narrow alleyways. The rest of your day is free with to do as you please. This evening, there are two options you should consider, both centred around the holy Ganges. The first is a sunset cruise along the river which allows you to observe life from a unique perspective in the fading light of day. If you'd prefer to stay on land, you could watch local priests perform a ganga aarti (fire ceremony) at the Dashashwamedh Ghat.
Day 19: Varanasi
Enjoy a free day to explore this holy city. We highly recommend starting very early and take an optional sunrise boat trip along the Ganges, passing pilgrims bathing and praying along the colourful ghats. Alternatively, head out to the ghats on foot to watch the dhobi-wallahs (clothes washers) drying clothes along the riverbank. You could even continue your stroll to the sinking Vishnu temple near the Manikarnika Ghat. Perhaps ask you leader about how to visit Sarnath, about ten kilometres outside of the city, where Gautama Buddha is said to have given his first speech after finding enlightenment.
Day 20: Varanasi – Overnight Train
In the morning, you have some free time to explore more of Varanasi. Perhaps visit the Vishwanath Temple, or simply grab some chaat and watch the world go by. If you're craving a little peace and quiet before you board another overnight train, consider heading to the Kriti Gallery to check out some contemporary work by local artists. In the afternoon, board the overnight train for a 15-hour journey to Delhi.
Day 21: Delhi
Arrive in Delhi in the late morning and hop in a taxi to the hotel. The rest of the day is free for you to relax or explore the city at your own pace. The Home Cooked Delhi tour, which sees you visiting a local's home for a leisurely meal, is a great way to immerse yourself in the city while still relaxing. Tonight, maybe get together with your group and head out for some dinner – your local leader will have plenty of recommendations.
Day 22: Trivandrum
Enjoy a free morning in Delhi before transferring to the airport for an included flight bound for Trivandrum. Please note that this flight is most likely unaccompanied, however you'll be met in Trivandrum and transferred to your hotel by a local representative. Tonight, there is another group briefing at 6 pm, where you'll meet your new travel pals and group leader who'll join you for the next stage of your journey. Afterwards, take a walk around Trivandrum and perhaps join an optional group dinner – your group leader will know of some delicious spots to eat at.
Day 23: Varkala
In the morning, head up the coast by private vehicle for around 2 hours to the town of Varkala. Once settled into your hotel, use the free time to explore the Keralan coast, which is home to some of India's best beaches. Soaring cliffs protect Varkala's sandy bay and, depending on the time of year, dolphins can be spotted from high up on the rocks. In the evening, maybe head into town to one of the numerous restaurants serving fresh, local seafood caught right off the coast.
Day 24: Varkala
Enjoy a free day in Varkala. This is a great place to sit back and relax, but if you want to get active there are plenty of water activities on offer, such as surfing and windsurfing. Even though this is a popular destination for Indian tourists, the beaches are quiet and pretty laidback. Today is also the perfect time to check your Lonely Planet app and see what else is popular around the area. Take the rest of the day to relax, beachside or otherwise, before the rest of South India beckons.
Day 25: Kerala Backwaters
This morning, take a 3-hour train journey along the Keralan coastline to Alappuzha (Alleppey). Once an important trading port and now renowned for the annual Snake Boat race in August, Alappuzha is the starting point for most journeys into the backwaters. An auto rickshaw will take you from the train station to the boat boarding point. Explore the Keralan Backwaters in a pole boat before heading to an island village for an overnight homestay with a local family. Your guide will take you on a walk around the village and introduce you to the community.
Day 26: Kochi
In the morning, cross the backwaters by private boat back to Alappuzha. You'll then take a 2-hour local bus to Kochi, arriving around midday (12 pm). Once arrived, go for a walk around the Fort Kochi area, where you'll be staying for the next two nights. In the early evening, there's the option to attend a classic Kathakali dance performance – a snapshot into traditional cultures of the region.
Day 27: Kochi
Today, head to the Mattancherry part of Fort Cochin to explore the old Jewish quarter, synagogue and Dutch Palace (Kochi Palace) on a guided walking tour. The tour takes around three hours, with the rest of the day free to do as you wish. Afterwards, why not join an Urban Adventure day tour, such as Aromas of Kochi, to get more of an in-depth look into this city and its cuisine. Visit urbanadventures.com/destination/kochi-tours for more information, and check with your local leader in advance if you'd like to book one of these trips.
Day 28: Periyar
This morning, get ready for a day of travel as you head by private vehicle to Periyar National Park (approximately 7–8 hours). After checking in to your hotel, head out on a tour of a local spice farm, sampling cardamom, pepper, clove, cinnamon, nutmeg and vanilla. Afterwards, enjoy a relaxed evening around your accommodation, perhaps settling in for an early night.
Day 29: Periyar
After breakfast, enjoy a free day with an optional walk around Periyar National Park. Encounters with animals in the wild are never guaranteed, and this is more of a jungle walk than an animal-spotting tour, but do keep an eye out for tiger tracks, spotted deer, Indian elephants or gaur – the world's largest species of buffalo. In the afternoon, unwind with an optional ayurvedic massage or just relax in your scenic setting.
Day 30: Madurai
In the morning, take a local bus to Madurai (approximately 4–5 hours). This buzzing city is crammed full of bazaars, pilgrims and cycle rickshaws. After a walking tour to see the sights, perhaps visit the Sri Meenakshi Temple. This ancient temple is still in use and features a labyrinth of lamplit corridors leading to shrines.
Day 31: Madurai – Overnight Train
Today is a free day in Madurai. Perhaps head to the Gandhi Museum to learn about the man who fought for India's independence or wander through the 1000 pillars of Aayiram Kaal Mandapam. This is also a great opportunity to haggle with vendors at the bazaars and the tailors' market. Keep in mind that this evening, you'll take an overnight sleeper train to Mysore. The journey is approximately 14 hours, so you may want to bring some extra snacks.
Day 32: Mysore
On arrival, transfer to your hotel in Mysore. Mysore is an easygoing town with a pleasant climate. Go on a walk with your group, checking out the ornate Mysore Palace along the way. There's also the option to visit the Keshava Temple in Somnathpur, which is a stunning example of Hoysala architecture. The temple is a 1-hour drive out of town.
Day 33: Mysore – Overnight Train
Today is a free day in Mysore, with plenty of optional activities to keep you busy. If you've seen all you need to in town, perhaps explore the countryside surrounding Mysore. Climb up Chamundi Hill to the Sri Chamundeswari Temple at the top, which is dedicated to the goddess Durga. At around 7 pm tonight, meet up with your group and board a 10-hour overnight train to Hampi.
Day 34: Hampi
In the morning, arrive in Hampi and cross the river to your guesthouse by canoe. Hampi is a temple town situated on the banks of the Tungabhadra River. Once you're settled in, make an optional visit to the architectural masterpiece of Vittala Temple. This 16th-century temple contains mandapas (pillared pavilions), a pool, a palace and the popular stone chariot, which according to Hindu mythology was the vehicle of the Lord Vishnu.
Day 35: Hampi - Overnight train
After breakfast, explore the ruins of the Vijayanagar Empire and the huge boulders on the outskirts of town. In the early evening, drive for around 3 hours by private vehicle to Hubli, where you'll board a 9-hour overnight train to Goa.
Day 36: Goa
Once your train arrives in Goa, head to the hotel and check in. Brimming with Portuguese influences and known for the sandy beaches lining its coast, Goa is a fascinating region in India's south-west. The day is free to do what you like. Perhaps relax on the beach, sip a cocktail at a local bar or go for a city walk. Tonight, why not get together with your travel crew for a beachside dinner – Goa is definitely cause for celebration.
Day 37: Goa
There are no activities planned for the final day and you're able to depart the accommodation at any time. Goa is a great place to end the trip – if you can, we recommend staying on for a couple of nights to relax and explore. If you would like to spend more time in Goa, we'll be happy to organise additional accommodation (subject to availability).
Delhi - Leader-led Old Delhi walking & rickshaw tour
Delhi - Jama Masjid
Delhi - Sheeshganj Gurudwara (Sikh Temple)
Jaisalmer - Leader-led walking tour
Jaisalmer - Camel safari & overnight desert camp
Jodhpur - City walk
Udaipur - Leader-led walking tour
Pushkar - Leader-led walking tour
Jaipur - Leader-led walking & market tour
Abhaneri - Stepwells & Harshat Mata Temple
Varanasi - Leader-led Old City walking tour
Kerala Backwaters - Pole boat ride
Guided village walk backwaters
Kochi - Leader-led Fort Kochi walking tour
Periyar - Spice plantation visit
Madurai - Leader-led walking tour
Mysore - City walk
Meals
4 Breakfast(s) Included
1 Lunch(es) Included
2 Dinner(s) Included

Style: Basix

Camping (with basic facilities) (1 night), Guesthouse (5 nights), Heritage Property (2 nights), Homestay (1 night), Hotel (18 nights), Overnight sleeper train (6 nights)
Question: How many suitcases can I take with me on my trip?
Each person is allowed one "check-in," and one "carry-on." Remember to take all valuables with you as "carry-on", because electronic equipment, cameras, laptops, jewelry, business documents and money are not covered by the airlines' liability, so always carry them aboard with you.
Question: Is Airfare Included in the Price?
Airfare from your point of origin to and from the trip is not included in the land price.
Similar Tours Other Travelers Liked
The trip was both both educational and exciting. I very much enjoyed the sights and culture.
The itinerary was just as I expected! The guide was very good as were the accomodations
Intrepid did such a great job. I never had to worry about where I was supposed to be and it felt so good not to worry about a thing but just to enjoy myself. Our guide was extremely knowledgeable about culture and history.
Taiwan people very friendly. Accommodation were centrally located and easily accessible. Did extra activities then in brochure which was greatly.
Larus our tour guide did an excellent job and was very attentive to our needs. He is very knowledgeable and has a great sense of humor.
Our guide Tarang chandola was exceptional. Courteous, knowledgeable, organized, polite, professional and went above and beyond taking care of our needs and requests offen anticipating what that might be. He made sure we all had the best possible time and offered suggestions to meet the needs of everyone on the tour. This made the trip even more enjoyable.
AffordableTours.com® does not itself offer, service or administer the Travel Packages, and the ultimate terms and conditions of any Travel Package made available via the Site Offerings (including the prices quoted in connection with same) will be determined by the applicable Third-Party Travel Service Provider. AffordableTours.com® does not represent or warrant that the Price Quotes are accurate, up-to-date or free of error, or that same will be honored by the applicable Third-Party Travel Service Providers. All Price Quotes, Travel Package availability, Travel Package details/itinerary and other Content are subject to change without notice. All travel details published by and through the Site Offerings should be confirmed directly with the applicable Third-Party Travel Service Provider prior to making any travel plans. Reliance on any information made available to you by and through the Site Offerings is solely at your own risk.
How It Works
Vacationing has never been easier or cheaper with the help of a dedicated travel consultant from AffordableTours.com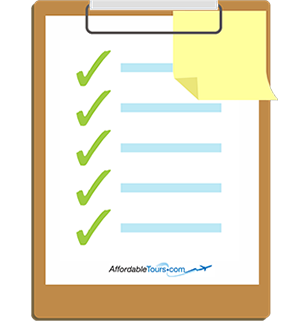 Find your perfect trip on our website and simply request a free quote. Need to speak to a live person? Call us 7 days a week at 1-800-935-2620. No robots here!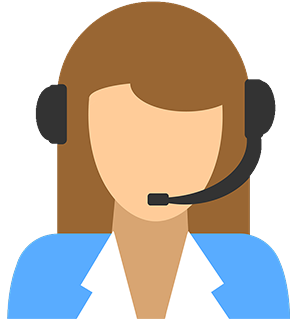 Your personal travel consultant will reach out and be your point of contact for your entire travel experience from start to finish. Did we mention you'll be working with an award winning team? Sweet!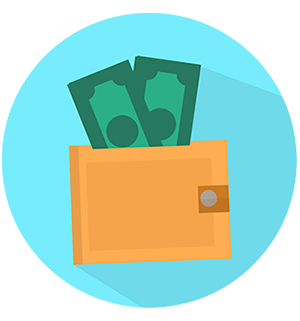 Because we're one of the largest sellers of travel, we're able to give you a discount on your vacation package. No one beats our prices!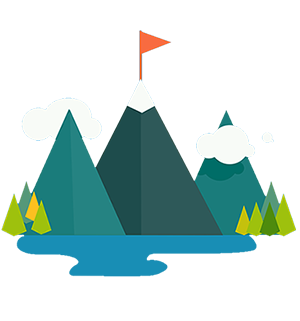 Knowing you got the best deal, all that's left is for you to pack your bags and enjoy your vacation!