Dates & Prices
Start Date
End Date
Offers
Brochure
Land Price
Our Price
Quote
Nov 01, 2020
Nov 05, 2020
Call Us

$377

Get Our Price
Get Quote
Nov 04, 2020
Nov 08, 2020
Call Us

$377

Get Our Price
Get Quote
Nov 06, 2020
Nov 10, 2020
Call Us

$377

Get Our Price
Get Quote
Nov 08, 2020
Nov 12, 2020
Call Us

$377

Get Our Price
Get Quote
Nov 11, 2020
Nov 15, 2020
Call Us

$377

Get Our Price
Get Quote
Nov 13, 2020
Nov 17, 2020
Call Us

$377

Get Our Price
Get Quote
Nov 15, 2020
Nov 19, 2020
Call Us

$377

Get Our Price
Get Quote
Nov 18, 2020
Nov 22, 2020
Call Us

$377

Get Our Price
Get Quote
Nov 20, 2020
Nov 24, 2020
Call Us

$377

Get Our Price
Get Quote
Nov 22, 2020
Nov 26, 2020
Call Us

$377

Get Our Price
Get Quote
Nov 25, 2020
Nov 29, 2020
Call Us

$377

Get Our Price
Get Quote
Nov 27, 2020
Dec 01, 2020
Call Us

$377

Get Our Price
Get Quote
Nov 29, 2020
Dec 03, 2020
Call Us

$377

Get Our Price
Get Quote
Dec 02, 2020
Dec 06, 2020
Call Us

$377

Get Our Price
Get Quote
Dec 04, 2020
Dec 08, 2020
Call Us

$377

Get Our Price
Get Quote
Dec 06, 2020
Dec 10, 2020
Call Us

$377

Get Our Price
Get Quote
Dec 09, 2020
Dec 13, 2020
Call Us

$377

Get Our Price
Get Quote
Dec 11, 2020
Dec 15, 2020
Call Us

$377

Get Our Price
Get Quote
Dec 13, 2020
Dec 17, 2020
Call Us

$377

Get Our Price
Get Quote
Dec 16, 2020
Dec 20, 2020
Call Us

$377

Get Our Price
Get Quote
Dec 18, 2020
Dec 22, 2020
Call Us

$377

Get Our Price
Get Quote
Dec 20, 2020
Dec 24, 2020
Call Us

$377

Get Our Price
Get Quote
Dec 23, 2020
Dec 27, 2020
Call Us

$377

Get Our Price
Get Quote
Dec 25, 2020
Dec 29, 2020
Call Us

$377

Get Our Price
Get Quote
Dec 27, 2020
Dec 31, 2020
Call Us

$377

Get Our Price
Get Quote
Dec 30, 2020
Jan 03, 2021
Call Us

$377

Get Our Price
Get Quote
Jan 01, 2021
Jan 05, 2021
Call Us

$327

Get Our Price
Get Quote
Jan 03, 2021
Jan 07, 2021
Call Us

$327

Get Our Price
Get Quote
Jan 06, 2021
Jan 10, 2021
Call Us

$327

Get Our Price
Get Quote
Jan 08, 2021
Jan 12, 2021
Call Us

$327

Get Our Price
Get Quote
Jan 10, 2021
Jan 14, 2021
Call Us

$327

Get Our Price
Get Quote
Jan 13, 2021
Jan 17, 2021
Call Us

$327

Get Our Price
Get Quote
Jan 15, 2021
Jan 19, 2021
Call Us

$327

Get Our Price
Get Quote
Jan 17, 2021
Jan 21, 2021
Call Us

$327

Get Our Price
Get Quote
Jan 20, 2021
Jan 24, 2021
Call Us

$327

Get Our Price
Get Quote
Jan 22, 2021
Jan 26, 2021
Call Us

$327

Get Our Price
Get Quote
Jan 24, 2021
Jan 28, 2021
Call Us

$327

Get Our Price
Get Quote
Jan 27, 2021
Jan 31, 2021
Call Us

$327

Get Our Price
Get Quote
Jan 29, 2021
Feb 02, 2021
Call Us

$327

Get Our Price
Get Quote
Jan 31, 2021
Feb 04, 2021
Call Us

$327

Get Our Price
Get Quote
Feb 03, 2021
Feb 07, 2021
Call Us

$327

Get Our Price
Get Quote
Feb 05, 2021
Feb 09, 2021
Call Us

$327

Get Our Price
Get Quote
Feb 07, 2021
Feb 11, 2021
Call Us

$327

Get Our Price
Get Quote
Feb 17, 2021
Feb 21, 2021
Call Us

$327

Get Our Price
Get Quote
Feb 19, 2021
Feb 23, 2021
Call Us

$327

Get Our Price
Get Quote
Feb 21, 2021
Feb 25, 2021
Call Us

$327

Get Our Price
Get Quote
Feb 24, 2021
Feb 28, 2021
Call Us

$327

Get Our Price
Get Quote
Feb 26, 2021
Mar 02, 2021
Call Us

$327

Get Our Price
Get Quote
Feb 28, 2021
Mar 04, 2021
Call Us

$327

Get Our Price
Get Quote
Mar 03, 2021
Mar 07, 2021
Call Us

$327

Get Our Price
Get Quote
Mar 05, 2021
Mar 09, 2021
Call Us

$327

Get Our Price
Get Quote
Mar 07, 2021
Mar 11, 2021
Call Us

$327

Get Our Price
Get Quote
Mar 10, 2021
Mar 14, 2021
Call Us

$327

Get Our Price
Get Quote
Mar 12, 2021
Mar 16, 2021
Call Us

$327

Get Our Price
Get Quote
Mar 14, 2021
Mar 18, 2021
Call Us

$327

Get Our Price
Get Quote
Mar 17, 2021
Mar 21, 2021
Call Us

$327

Get Our Price
Get Quote
Mar 19, 2021
Mar 23, 2021
Call Us

$327

Get Our Price
Get Quote
Mar 21, 2021
Mar 25, 2021
Call Us

$327

Get Our Price
Get Quote
Mar 24, 2021
Mar 28, 2021
Call Us

$327

Get Our Price
Get Quote
Mar 26, 2021
Mar 30, 2021
Call Us

$327

Get Our Price
Get Quote
Mar 28, 2021
Apr 01, 2021
Call Us

$327

Get Our Price
Get Quote
Mar 31, 2021
Apr 04, 2021
Call Us

$327

Get Our Price
Get Quote
Apr 02, 2021
Apr 06, 2021
Call Us

$327

Get Our Price
Get Quote
Apr 04, 2021
Apr 08, 2021
Call Us

$327

Get Our Price
Get Quote
Apr 07, 2021
Apr 11, 2021
Call Us

$327

Get Our Price
Get Quote
Apr 09, 2021
Apr 13, 2021
Call Us

$327

Get Our Price
Get Quote
Apr 11, 2021
Apr 15, 2021
Call Us

$327

Get Our Price
Get Quote
Apr 14, 2021
Apr 18, 2021
Call Us

$327

Get Our Price
Get Quote
Apr 16, 2021
Apr 20, 2021
Call Us

$327

Get Our Price
Get Quote
Apr 18, 2021
Apr 22, 2021
Call Us

$327

Get Our Price
Get Quote
Apr 21, 2021
Apr 25, 2021
Call Us

$327

Get Our Price
Get Quote
Apr 23, 2021
Apr 27, 2021
Call Us

$327

Get Our Price
Get Quote
Apr 25, 2021
Apr 29, 2021
Call Us

$327

Get Our Price
Get Quote
Apr 28, 2021
May 02, 2021
Call Us

$327

Get Our Price
Get Quote
Apr 30, 2021
May 04, 2021
Call Us

$327

Get Our Price
Get Quote
May 02, 2021
May 06, 2021
Call Us

$327

Get Our Price
Get Quote
May 05, 2021
May 09, 2021
Call Us

$327

Get Our Price
Get Quote
May 07, 2021
May 11, 2021
Call Us

$327

Get Our Price
Get Quote
May 09, 2021
May 13, 2021
Call Us

$327

Get Our Price
Get Quote
May 12, 2021
May 16, 2021
Call Us

$327

Get Our Price
Get Quote
May 14, 2021
May 18, 2021
Call Us

$327

Get Our Price
Get Quote
May 16, 2021
May 20, 2021
Call Us

$327

Get Our Price
Get Quote
May 19, 2021
May 23, 2021
Call Us

$327

Get Our Price
Get Quote
May 21, 2021
May 25, 2021
Call Us

$327

Get Our Price
Get Quote
May 23, 2021
May 27, 2021
Call Us

$327

Get Our Price
Get Quote
May 26, 2021
May 30, 2021
Call Us

$327

Get Our Price
Get Quote
May 28, 2021
Jun 01, 2021
Call Us

$327

Get Our Price
Get Quote
May 30, 2021
Jun 03, 2021
Call Us

$327

Get Our Price
Get Quote
Jun 02, 2021
Jun 06, 2021
Call Us

$327

Get Our Price
Get Quote
Jun 04, 2021
Jun 08, 2021
Call Us

$327

Get Our Price
Get Quote
Jun 06, 2021
Jun 10, 2021
Call Us

$327

Get Our Price
Get Quote
Jun 09, 2021
Jun 13, 2021
Call Us

$327

Get Our Price
Get Quote
Jun 11, 2021
Jun 15, 2021
Call Us

$327

Get Our Price
Get Quote
Jun 13, 2021
Jun 17, 2021
Call Us

$327

Get Our Price
Get Quote
Jun 16, 2021
Jun 20, 2021
Call Us

$327

Get Our Price
Get Quote
Jun 18, 2021
Jun 22, 2021
Call Us

$327

Get Our Price
Get Quote
Jun 20, 2021
Jun 24, 2021
Call Us

$327

Get Our Price
Get Quote
Jun 23, 2021
Jun 27, 2021
Call Us

$327

Get Our Price
Get Quote
Jun 25, 2021
Jun 29, 2021
Call Us

$327

Get Our Price
Get Quote
Jun 27, 2021
Jul 01, 2021
Call Us

$327

Get Our Price
Get Quote
Jun 30, 2021
Jul 04, 2021
Call Us

$327

Get Our Price
Get Quote
Jul 02, 2021
Jul 06, 2021
Call Us

$327

Get Our Price
Get Quote
Jul 04, 2021
Jul 08, 2021
Call Us

$327

Get Our Price
Get Quote
Jul 07, 2021
Jul 11, 2021
Call Us

$327

Get Our Price
Get Quote
Jul 09, 2021
Jul 13, 2021
Call Us

$327

Get Our Price
Get Quote
Jul 11, 2021
Jul 15, 2021
Call Us

$327

Get Our Price
Get Quote
Jul 14, 2021
Jul 18, 2021
Call Us

$327

Get Our Price
Get Quote
Jul 16, 2021
Jul 20, 2021
Call Us

$327

Get Our Price
Get Quote
Jul 18, 2021
Jul 22, 2021
Call Us

$327

Get Our Price
Get Quote
Jul 21, 2021
Jul 25, 2021
Call Us

$327

Get Our Price
Get Quote
Jul 23, 2021
Jul 27, 2021
Call Us

$327

Get Our Price
Get Quote
Jul 25, 2021
Jul 29, 2021
Call Us

$327

Get Our Price
Get Quote
Jul 28, 2021
Aug 01, 2021
Call Us

$327

Get Our Price
Get Quote
Jul 30, 2021
Aug 03, 2021
Call Us

$327

Get Our Price
Get Quote
Aug 01, 2021
Aug 05, 2021
Call Us

$327

Get Our Price
Get Quote
Aug 04, 2021
Aug 08, 2021
Call Us

$327

Get Our Price
Get Quote
Aug 06, 2021
Aug 10, 2021
Call Us

$327

Get Our Price
Get Quote
Aug 08, 2021
Aug 12, 2021
Call Us

$327

Get Our Price
Get Quote
Aug 11, 2021
Aug 15, 2021
Call Us

$327

Get Our Price
Get Quote
Aug 13, 2021
Aug 17, 2021
Call Us

$327

Get Our Price
Get Quote
Aug 15, 2021
Aug 19, 2021
Call Us

$327

Get Our Price
Get Quote
Aug 18, 2021
Aug 22, 2021
Call Us

$327

Get Our Price
Get Quote
Aug 20, 2021
Aug 24, 2021
Call Us

$327

Get Our Price
Get Quote
Aug 22, 2021
Aug 26, 2021
Call Us

$327

Get Our Price
Get Quote
Aug 25, 2021
Aug 29, 2021
Call Us

$327

Get Our Price
Get Quote
Aug 27, 2021
Aug 31, 2021
Call Us

$327

Get Our Price
Get Quote
Aug 29, 2021
Sep 02, 2021
Call Us

$327

Get Our Price
Get Quote
Sep 01, 2021
Sep 05, 2021
Call Us

$327

Get Our Price
Get Quote
Sep 03, 2021
Sep 07, 2021
Call Us

$327

Get Our Price
Get Quote
Sep 05, 2021
Sep 09, 2021
Call Us

$327

Get Our Price
Get Quote
Sep 08, 2021
Sep 12, 2021
Call Us

$327

Get Our Price
Get Quote
Sep 10, 2021
Sep 14, 2021
Call Us

$327

Get Our Price
Get Quote
Sep 12, 2021
Sep 16, 2021
Call Us

$327

Get Our Price
Get Quote
Sep 15, 2021
Sep 19, 2021
Call Us

$327

Get Our Price
Get Quote
Sep 17, 2021
Sep 21, 2021
Call Us

$327

Get Our Price
Get Quote
Sep 19, 2021
Sep 23, 2021
Call Us

$327

Get Our Price
Get Quote
Sep 22, 2021
Sep 26, 2021
Call Us

$327

Get Our Price
Get Quote
Sep 24, 2021
Sep 28, 2021
Call Us

$327

Get Our Price
Get Quote
Sep 26, 2021
Sep 30, 2021
Call Us

$327

Get Our Price
Get Quote
Sep 29, 2021
Oct 03, 2021
Call Us

$327

Get Our Price
Get Quote
Oct 01, 2021
Oct 05, 2021
Call Us

$327

Get Our Price
Get Quote
Oct 03, 2021
Oct 07, 2021
Call Us

$327

Get Our Price
Get Quote
Oct 06, 2021
Oct 10, 2021
Call Us

$327

Get Our Price
Get Quote
Oct 08, 2021
Oct 12, 2021
Call Us

$327

Get Our Price
Get Quote
Oct 10, 2021
Oct 14, 2021
Call Us

$327

Get Our Price
Get Quote
Oct 13, 2021
Oct 17, 2021
Call Us

$327

Get Our Price
Get Quote
Oct 15, 2021
Oct 19, 2021
Call Us

$327

Get Our Price
Get Quote
Oct 17, 2021
Oct 21, 2021
Call Us

$327

Get Our Price
Get Quote
Oct 20, 2021
Oct 24, 2021
Call Us

$327

Get Our Price
Get Quote
Oct 22, 2021
Oct 26, 2021
Call Us

$327

Get Our Price
Get Quote
Oct 24, 2021
Oct 28, 2021
Call Us

$327

Get Our Price
Get Quote
Oct 27, 2021
Oct 31, 2021
Call Us

$327

Get Our Price
Get Quote
Oct 29, 2021
Nov 02, 2021
Call Us

$327

Get Our Price
Get Quote
Oct 31, 2021
Nov 04, 2021
Call Us

$327

Get Our Price
Get Quote
Nov 03, 2021
Nov 07, 2021
Call Us

$327

Get Our Price
Get Quote
Nov 05, 2021
Nov 09, 2021
Call Us

$327

Get Our Price
Get Quote
Nov 07, 2021
Nov 11, 2021
Call Us

$327

Get Our Price
Get Quote
Nov 10, 2021
Nov 14, 2021
Call Us

$327

Get Our Price
Get Quote
Nov 12, 2021
Nov 16, 2021
Call Us

$327

Get Our Price
Get Quote
Nov 14, 2021
Nov 18, 2021
Call Us

$327

Get Our Price
Get Quote
Nov 17, 2021
Nov 21, 2021
Call Us

$327

Get Our Price
Get Quote
Nov 19, 2021
Nov 23, 2021
Call Us

$327

Get Our Price
Get Quote
Nov 21, 2021
Nov 25, 2021
Call Us

$327

Get Our Price
Get Quote
Nov 24, 2021
Nov 28, 2021
Call Us

$327

Get Our Price
Get Quote
Nov 26, 2021
Nov 30, 2021
Call Us

$327

Get Our Price
Get Quote
Nov 28, 2021
Dec 02, 2021
Call Us

$327

Get Our Price
Get Quote
Dec 01, 2021
Dec 05, 2021
Call Us

$327

Get Our Price
Get Quote
Dec 03, 2021
Dec 07, 2021
Call Us

$327

Get Our Price
Get Quote
Dec 05, 2021
Dec 09, 2021
Call Us

$327

Get Our Price
Get Quote
Dec 08, 2021
Dec 12, 2021
Call Us

$327

Get Our Price
Get Quote
Dec 10, 2021
Dec 14, 2021
Call Us

$327

Get Our Price
Get Quote
Dec 12, 2021
Dec 16, 2021
Call Us

$327

Get Our Price
Get Quote
Dec 15, 2021
Dec 19, 2021
Call Us

$327

Get Our Price
Get Quote
Dec 17, 2021
Dec 21, 2021
Call Us

$327

Get Our Price
Get Quote
Dec 19, 2021
Dec 23, 2021
Call Us

$327

Get Our Price
Get Quote
Dec 22, 2021
Dec 26, 2021
Call Us

$327

Get Our Price
Get Quote
Dec 24, 2021
Dec 28, 2021
Call Us

$327

Get Our Price
Get Quote
Dec 26, 2021
Dec 30, 2021
Call Us

$327

Get Our Price
Get Quote
Dec 29, 2021
Jan 02, 2022
Call Us

$327

Get Our Price
Get Quote
Dec 31, 2021
Jan 04, 2022
Call Us

$327

Get Our Price
Get Quote
Jan 02, 2022
Jan 06, 2022
Call Us

$327

Get Our Price
Get Quote
Jan 05, 2022
Jan 09, 2022
Call Us

$327

Get Our Price
Get Quote
Jan 07, 2022
Jan 11, 2022
Call Us

$327

Get Our Price
Get Quote
Jan 09, 2022
Jan 13, 2022
Call Us

$327

Get Our Price
Get Quote
Jan 12, 2022
Jan 16, 2022
Call Us

$327

Get Our Price
Get Quote
Jan 14, 2022
Jan 18, 2022
Call Us

$327

Get Our Price
Get Quote
Jan 16, 2022
Jan 20, 2022
Call Us

$327

Get Our Price
Get Quote
Jan 19, 2022
Jan 23, 2022
Call Us

$327

Get Our Price
Get Quote
Jan 21, 2022
Jan 25, 2022
Call Us

$327

Get Our Price
Get Quote
Jan 23, 2022
Jan 27, 2022
Call Us

$327

Get Our Price
Get Quote
Jan 26, 2022
Jan 30, 2022
Call Us

$327

Get Our Price
Get Quote
Jan 28, 2022
Feb 01, 2022
Call Us

$327

Get Our Price
Get Quote
Jan 30, 2022
Feb 03, 2022
Call Us

$327

Get Our Price
Get Quote
Feb 02, 2022
Feb 06, 2022
Call Us

$327

Get Our Price
Get Quote
Feb 04, 2022
Feb 08, 2022
Call Us

$327

Get Our Price
Get Quote
Feb 06, 2022
Feb 10, 2022
Call Us

$327

Get Our Price
Get Quote
Feb 09, 2022
Feb 13, 2022
Call Us

$327

Get Our Price
Get Quote
Feb 11, 2022
Feb 15, 2022
Call Us

$327

Get Our Price
Get Quote
Feb 13, 2022
Feb 17, 2022
Call Us

$327

Get Our Price
Get Quote
Feb 16, 2022
Feb 20, 2022
Call Us

$327

Get Our Price
Get Quote
Feb 18, 2022
Feb 22, 2022
Call Us

$327

Get Our Price
Get Quote
Feb 20, 2022
Feb 24, 2022
Call Us

$327

Get Our Price
Get Quote
Feb 23, 2022
Feb 27, 2022
Call Us

$327

Get Our Price
Get Quote
Feb 25, 2022
Mar 01, 2022
Call Us

$327

Get Our Price
Get Quote
Feb 27, 2022
Mar 03, 2022
Call Us

$327

Get Our Price
Get Quote
Mar 02, 2022
Mar 06, 2022
Call Us

$327

Get Our Price
Get Quote
Mar 04, 2022
Mar 08, 2022
Call Us

$327

Get Our Price
Get Quote
Mar 06, 2022
Mar 10, 2022
Call Us

$327

Get Our Price
Get Quote
Mar 09, 2022
Mar 13, 2022
Call Us

$327

Get Our Price
Get Quote
Mar 11, 2022
Mar 15, 2022
Call Us

$327

Get Our Price
Get Quote
Mar 13, 2022
Mar 17, 2022
Call Us

$327

Get Our Price
Get Quote
Mar 16, 2022
Mar 20, 2022
Call Us

$327

Get Our Price
Get Quote
Mar 18, 2022
Mar 22, 2022
Call Us

$327

Get Our Price
Get Quote
Mar 20, 2022
Mar 24, 2022
Call Us

$327

Get Our Price
Get Quote
Mar 23, 2022
Mar 27, 2022
Call Us

$327

Get Our Price
Get Quote
Mar 25, 2022
Mar 29, 2022
Call Us

$327

Get Our Price
Get Quote
Mar 27, 2022
Mar 31, 2022
Call Us

$327

Get Our Price
Get Quote
Mar 30, 2022
Apr 03, 2022
Call Us

$327

Get Our Price
Get Quote
Apr 01, 2022
Apr 05, 2022
Call Us

$327

Get Our Price
Get Quote
Apr 03, 2022
Apr 07, 2022
Call Us

$327

Get Our Price
Get Quote
Apr 06, 2022
Apr 10, 2022
Call Us

$327

Get Our Price
Get Quote
Apr 08, 2022
Apr 12, 2022
Call Us

$327

Get Our Price
Get Quote
Apr 10, 2022
Apr 14, 2022
Call Us

$327

Get Our Price
Get Quote
Apr 13, 2022
Apr 17, 2022
Call Us

$327

Get Our Price
Get Quote
Apr 15, 2022
Apr 19, 2022
Call Us

$327

Get Our Price
Get Quote
Apr 17, 2022
Apr 21, 2022
Call Us

$327

Get Our Price
Get Quote
Apr 20, 2022
Apr 24, 2022
Call Us

$327

Get Our Price
Get Quote
Apr 22, 2022
Apr 26, 2022
Call Us

$327

Get Our Price
Get Quote
Apr 24, 2022
Apr 28, 2022
Call Us

$327

Get Our Price
Get Quote
Apr 27, 2022
May 01, 2022
Call Us

$327

Get Our Price
Get Quote
Apr 29, 2022
May 03, 2022
Call Us

$327

Get Our Price
Get Quote
May 01, 2022
May 05, 2022
Call Us

$327

Get Our Price
Get Quote
May 04, 2022
May 08, 2022
Call Us

$327

Get Our Price
Get Quote
May 06, 2022
May 10, 2022
Call Us

$327

Get Our Price
Get Quote
May 08, 2022
May 12, 2022
Call Us

$327

Get Our Price
Get Quote
May 11, 2022
May 15, 2022
Call Us

$327

Get Our Price
Get Quote
May 13, 2022
May 17, 2022
Call Us

$327

Get Our Price
Get Quote
May 15, 2022
May 19, 2022
Call Us

$327

Get Our Price
Get Quote
May 18, 2022
May 22, 2022
Call Us

$327

Get Our Price
Get Quote
May 20, 2022
May 24, 2022
Call Us

$327

Get Our Price
Get Quote
May 22, 2022
May 26, 2022
Call Us

$327

Get Our Price
Get Quote
May 25, 2022
May 29, 2022
Call Us

$327

Get Our Price
Get Quote
May 27, 2022
May 31, 2022
Call Us

$327

Get Our Price
Get Quote
May 29, 2022
Jun 02, 2022
Call Us

$327

Get Our Price
Get Quote
Jun 01, 2022
Jun 05, 2022
Call Us

$327

Get Our Price
Get Quote
Jun 03, 2022
Jun 07, 2022
Call Us

$327

Get Our Price
Get Quote
Jun 05, 2022
Jun 09, 2022
Call Us

$327

Get Our Price
Get Quote
Jun 08, 2022
Jun 12, 2022
Call Us

$327

Get Our Price
Get Quote
Jun 10, 2022
Jun 14, 2022
Call Us

$327

Get Our Price
Get Quote
Jun 12, 2022
Jun 16, 2022
Call Us

$327

Get Our Price
Get Quote
Jun 15, 2022
Jun 19, 2022
Call Us

$327

Get Our Price
Get Quote
Jun 17, 2022
Jun 21, 2022
Call Us

$327

Get Our Price
Get Quote
Jun 19, 2022
Jun 23, 2022
Call Us

$327

Get Our Price
Get Quote
Jun 22, 2022
Jun 26, 2022
Call Us

$327

Get Our Price
Get Quote
Jun 24, 2022
Jun 28, 2022
Call Us

$327

Get Our Price
Get Quote
Jun 26, 2022
Jun 30, 2022
Call Us

$327

Get Our Price
Get Quote
Jun 29, 2022
Jul 03, 2022
Call Us

$327

Get Our Price
Get Quote
Jul 01, 2022
Jul 05, 2022
Call Us

$327

Get Our Price
Get Quote
Jul 03, 2022
Jul 07, 2022
Call Us

$327

Get Our Price
Get Quote
Jul 06, 2022
Jul 10, 2022
Call Us

$327

Get Our Price
Get Quote
Jul 08, 2022
Jul 12, 2022
Call Us

$327

Get Our Price
Get Quote
Jul 10, 2022
Jul 14, 2022
Call Us

$327

Get Our Price
Get Quote
Jul 13, 2022
Jul 17, 2022
Call Us

$327

Get Our Price
Get Quote
Jul 15, 2022
Jul 19, 2022
Call Us

$327

Get Our Price
Get Quote
Jul 17, 2022
Jul 21, 2022
Call Us

$327

Get Our Price
Get Quote
Jul 20, 2022
Jul 24, 2022
Call Us

$327

Get Our Price
Get Quote
Jul 22, 2022
Jul 26, 2022
Call Us

$327

Get Our Price
Get Quote
Jul 24, 2022
Jul 28, 2022
Call Us

$327

Get Our Price
Get Quote
Jul 27, 2022
Jul 31, 2022
Call Us

$327

Get Our Price
Get Quote
Jul 29, 2022
Aug 02, 2022
Call Us

$327

Get Our Price
Get Quote
Jul 31, 2022
Aug 04, 2022
Call Us

$327

Get Our Price
Get Quote
Aug 03, 2022
Aug 07, 2022
Call Us

$327

Get Our Price
Get Quote
Aug 05, 2022
Aug 09, 2022
Call Us

$327

Get Our Price
Get Quote
Aug 07, 2022
Aug 11, 2022
Call Us

$327

Get Our Price
Get Quote
Aug 10, 2022
Aug 14, 2022
Call Us

$327

Get Our Price
Get Quote
Aug 12, 2022
Aug 16, 2022
Call Us

$327

Get Our Price
Get Quote
Aug 14, 2022
Aug 18, 2022
Call Us

$327

Get Our Price
Get Quote
Aug 17, 2022
Aug 21, 2022
Call Us

$327

Get Our Price
Get Quote
Aug 19, 2022
Aug 23, 2022
Call Us

$327

Get Our Price
Get Quote
Aug 21, 2022
Aug 25, 2022
Call Us

$327

Get Our Price
Get Quote
Aug 24, 2022
Aug 28, 2022
Call Us

$327

Get Our Price
Get Quote
Aug 26, 2022
Aug 30, 2022
Call Us

$327

Get Our Price
Get Quote
Aug 28, 2022
Sep 01, 2022
Call Us

$327

Get Our Price
Get Quote
Aug 31, 2022
Sep 04, 2022
Call Us

$327

Get Our Price
Get Quote
Sep 02, 2022
Sep 06, 2022
Call Us

$327

Get Our Price
Get Quote
Sep 04, 2022
Sep 08, 2022
Call Us

$327

Get Our Price
Get Quote
Sep 07, 2022
Sep 11, 2022
Call Us

$327

Get Our Price
Get Quote
Sep 09, 2022
Sep 13, 2022
Call Us

$327

Get Our Price
Get Quote
Sep 11, 2022
Sep 15, 2022
Call Us

$327

Get Our Price
Get Quote
Sep 14, 2022
Sep 18, 2022
Call Us

$327

Get Our Price
Get Quote
Sep 16, 2022
Sep 20, 2022
Call Us

$327

Get Our Price
Get Quote
Sep 18, 2022
Sep 22, 2022
Call Us

$327

Get Our Price
Get Quote
Sep 21, 2022
Sep 25, 2022
Call Us

$327

Get Our Price
Get Quote
Sep 23, 2022
Sep 27, 2022
Call Us

$327

Get Our Price
Get Quote
Sep 25, 2022
Sep 29, 2022
Call Us

$327

Get Our Price
Get Quote
Sep 28, 2022
Oct 02, 2022
Call Us

$327

Get Our Price
Get Quote
Sep 30, 2022
Oct 04, 2022
Call Us

$327

Get Our Price
Get Quote
Oct 02, 2022
Oct 06, 2022
Call Us

$327

Get Our Price
Get Quote
Oct 05, 2022
Oct 09, 2022
Call Us

$327

Get Our Price
Get Quote
Oct 07, 2022
Oct 11, 2022
Call Us

$327

Get Our Price
Get Quote
Oct 09, 2022
Oct 13, 2022
Call Us

$327

Get Our Price
Get Quote
Oct 12, 2022
Oct 16, 2022
Call Us

$327

Get Our Price
Get Quote
Oct 14, 2022
Oct 18, 2022
Call Us

$327

Get Our Price
Get Quote
Oct 16, 2022
Oct 20, 2022
Call Us

$327

Get Our Price
Get Quote
Oct 19, 2022
Oct 23, 2022
Call Us

$327

Get Our Price
Get Quote
Oct 21, 2022
Oct 25, 2022
Call Us

$327

Get Our Price
Get Quote
Oct 23, 2022
Oct 27, 2022
Call Us

$327

Get Our Price
Get Quote
Oct 26, 2022
Oct 30, 2022
Call Us

$327

Get Our Price
Get Quote
Oct 28, 2022
Nov 01, 2022
Call Us

$327

Get Our Price
Get Quote
Oct 30, 2022
Nov 03, 2022
Call Us

$327

Get Our Price
Get Quote
Nov 02, 2022
Nov 06, 2022
Call Us

$327

Get Our Price
Get Quote
Nov 04, 2022
Nov 08, 2022
Call Us

$327

Get Our Price
Get Quote
Nov 06, 2022
Nov 10, 2022
Call Us

$327

Get Our Price
Get Quote
Nov 09, 2022
Nov 13, 2022
Call Us

$327

Get Our Price
Get Quote
Nov 11, 2022
Nov 15, 2022
Call Us

$327

Get Our Price
Get Quote
Nov 13, 2022
Nov 17, 2022
Call Us

$327

Get Our Price
Get Quote
Nov 16, 2022
Nov 20, 2022
Call Us

$327

Get Our Price
Get Quote
Nov 18, 2022
Nov 22, 2022
Call Us

$327

Get Our Price
Get Quote
Nov 20, 2022
Nov 24, 2022
Call Us

$327

Get Our Price
Get Quote
Nov 23, 2022
Nov 27, 2022
Call Us

$327

Get Our Price
Get Quote
Nov 25, 2022
Nov 29, 2022
Call Us

$327

Get Our Price
Get Quote
Nov 27, 2022
Dec 01, 2022
Call Us

$327

Get Our Price
Get Quote
Nov 30, 2022
Dec 04, 2022
Call Us

$327

Get Our Price
Get Quote
Dec 02, 2022
Dec 06, 2022
Call Us

$327

Get Our Price
Get Quote
Dec 04, 2022
Dec 08, 2022
Call Us

$327

Get Our Price
Get Quote
Dec 07, 2022
Dec 11, 2022
Call Us

$327

Get Our Price
Get Quote
Dec 09, 2022
Dec 13, 2022
Call Us

$327

Get Our Price
Get Quote
Dec 11, 2022
Dec 15, 2022
Call Us

$327

Get Our Price
Get Quote
Dec 14, 2022
Dec 18, 2022
Call Us

$327

Get Our Price
Get Quote
Dec 16, 2022
Dec 20, 2022
Call Us

$327

Get Our Price
Get Quote
Dec 18, 2022
Dec 22, 2022
Call Us

$327

Get Our Price
Get Quote
Dec 21, 2022
Dec 25, 2022
Call Us

$327

Get Our Price
Get Quote
Dec 23, 2022
Dec 27, 2022
Call Us

$327

Get Our Price
Get Quote
Dec 25, 2022
Dec 29, 2022
Call Us

$327

Get Our Price
Get Quote
Dec 28, 2022
Jan 01, 2023
Call Us

$327

Get Our Price
Get Quote
Dec 30, 2022
Jan 03, 2023
Call Us

$327

Get Our Price
Get Quote
Call or submit a quote for award-winning value and service!
Tour Itinerary
Northwest Vietnam is a captivating mix of dramatic mountainscapes, crisp fresh air and colourfully-clothed hilltribes. Set on the slopes of a beautiful emerald green valley, Sapa is the heart of this unique piece of Vietnam. Travel to this peaceful land and meet resplendently dressed ethnic minorities at the local market, visit neighbouring villages and hike through iridescent rice terraces, witnessing how the current of life has bubbled along here for centuries. This five-day trekking adventure is full of opportunities to be immersed in traditional hilltribe culture and cuisine, while relishing the striking landscapes of Sapa and its surrounds.
Day 1: Hanoi
Xin chao! Welcome to Vietnam. A welcome pack containing a welcome letter, your trip itinerary, a Sapa information sheet and feedback card will be waiting for you at your hotel. Please ask your hotel's reception for the Intrepid welcome pack upon arrival. In any free time, dive into the barrage of bikes, boulevards and bustling life that characterise Hanoi. Take time to explore the French colonial architecture that decorates the tangled laneways, indulge in a decadent Vietnamese coffee while people-watching from street-side cafes, or step back in time on an exploration of the Old Quarter. This evening you will be picked up by your local guide from your Joining Point Hotel (see below), or from an alternate hotel located in Hanoi's Old Quarter (advised prior to departure), between 6.30pm-7pm. Your guide will first take you for an included dinner and to explain more about the Sapa region. After dinner, you'll be transferred to the train station, where your guide you will give you your tickets for the return train journey. Say farewell to your local guide before you board the overnight sleeper train bound for Lao Cai (departing approximately 9.30pm, approximately 8 hours journey time). The train journey is unaccompanied, and you may be sharing with locals or other travellers.
Day 2: Sapa Trek
You'll be met on arrival into Lao Cai in the early morning (approximately 6.00 am) by a local driver. Your driver will be picking up several other passengers travelling on to Sapa. Transfer to Sapa by minibus (approximately 1 hour), passing through dramatic scenery along the way. You have a free morning to relax and explore this fascinating hillside town. If the weather is feeling generous, enjoy unhindered views out towards the giant staircase of rice terraces that cascade down the side of the mountains. Otherwise, delight in the enigmatic mists that often shroud the Sapa hillsides.In the afternoon, begin a guided 2-3 hour moderate trek down to the hilltribe villages of Cat Cat, often taking a paved path and passing a waterfall. The villages are home to the H'mong people who originated from China about 300 years ago. The H'mong people are easily recognisable by their dark-blue or black clothing. The dye is made from the indigo plant, which is native to the area. H'mong women wear long aprons with embroidered waist-coats and have their hair rolled up into a turban-like hat, while the men wear a black skullcap. You are likely to encounter local H'mong traders, who are often described as persistent and aggressive in their sales techniques. Please respect that this approach is usually the result of the competitive nature of business, and only purchase items if you wish too. In the late afternoon, return to Sapa to spend the night in a hotel.
Day 3: Sapa Trek
This morning after storing your main luggage at your Sapa hotel, set off on a six hour guided trek (approximately 12 - 15 kilometres). Pass along buffalo paths and trails, as well as through several hilltribe villages and resident minority groups such as Red Zao and Tay people. This is a spectacular walk, winding through stunning scenery and elegant rice paddy terraces. Be sure to watch your footing here as there can be uneven slopes, muddy patches, and rocky inclines. The idyllic countryside scenes are like something out of a storybook, and you will encounter some of the friendliest people you could ever hope to meet. Stop for lunch along the way, and finally spend the night in the home of a H'Mong family in Ta Van Mong Village. Perhaps take some time to explore the village after you arrive, wandering down to see the locals paddling in the Muong Hoa River and the Hmong guys cruising around on their motorbikes. You'll enjoy an included meal of delicious Vietnamese dishes for dinner tonight, prepared by your hosts.
Day 4: Sapa/Overnight Train
After a hearty, energy-giving early breakfast, set off on a 2-3 hour walk to Su Pan Village. Today's trek is shorter, but the scenery is still beautiful. Take the road to Giang Ta Chai village of the Red Dzao minority via the paths between terraces and through bamboo forests. Walk past waterfalls where buffalo might cool themselves from the heat and cross a suspension bridge. Be sure to take it all in and make the most of the last of your time in these incredible surroundings. Cross Muong Hoa River, then head up to the mountain to visit the last village of the trek – Su Pan. Maybe grab a quick bowl of pho before meeting up with your vehicle for the 30 minute drive back to Sapa. Arriving in Sapa, you have a free afternoon to explore the town. Maybe get a massage to sooth trek-tired muscles, check out the local market selling produce, herbal remedies, and (very fresh) meats, pick up any Hilltribe crafts you might have had your eye on, or sit back with a drink while you look over the misty mountains. You will be picked up from your Sapa hotel between 5-5.30 pm today by a local driver. You'll then be transferred back to the to the Lao Cai train station this afternoon (approximately 1 hour). You will have some free time for an optional dinner before you board the overnight train to Hanoi. Boarding commences approximately 7.30pm for an 8.30 pm departure (journey time approximately 8 hours).
Day 5: Hanoi
Your adventure ends upon arrival at Hanoi train station in the early morning (around 5am). The rest of the day is free for you to soak up the grace of this dynamic city that's the epitome of modern Vietnam.
Meals
2 Breakfast(s) Included
1 Lunch(es) Included
2 Dinner(s) Included

Style: Original

Homestay (1 night), Hotel (1 night), Overnight sleeper train (2 nights)
Question: How many suitcases can I take with me on my trip?
Each person is allowed one "check-in," and one "carry-on." Remember to take all valuables with you as "carry-on", because electronic equipment, cameras, laptops, jewelry, business documents and money are not covered by the airlines' liability, so always carry them aboard with you.
Question: Is Airfare Included in the Price?
Airfare from your point of origin to and from the trip is not included in the land price.
Similar Tours Other Travelers Liked
The trip was both both educational and exciting. I very much enjoyed the sights and culture.
The itinerary was just as I expected! The guide was very good as were the accomodations
Intrepid did such a great job. I never had to worry about where I was supposed to be and it felt so good not to worry about a thing but just to enjoy myself. Our guide was extremely knowledgeable about culture and history.
Taiwan people very friendly. Accommodation were centrally located and easily accessible. Did extra activities then in brochure which was greatly.
Larus our tour guide did an excellent job and was very attentive to our needs. He is very knowledgeable and has a great sense of humor.
Our guide Tarang chandola was exceptional. Courteous, knowledgeable, organized, polite, professional and went above and beyond taking care of our needs and requests offen anticipating what that might be. He made sure we all had the best possible time and offered suggestions to meet the needs of everyone on the tour. This made the trip even more enjoyable.
AffordableTours.com® does not itself offer, service or administer the Travel Packages, and the ultimate terms and conditions of any Travel Package made available via the Site Offerings (including the prices quoted in connection with same) will be determined by the applicable Third-Party Travel Service Provider. AffordableTours.com® does not represent or warrant that the Price Quotes are accurate, up-to-date or free of error, or that same will be honored by the applicable Third-Party Travel Service Providers. All Price Quotes, Travel Package availability, Travel Package details/itinerary and other Content are subject to change without notice. All travel details published by and through the Site Offerings should be confirmed directly with the applicable Third-Party Travel Service Provider prior to making any travel plans. Reliance on any information made available to you by and through the Site Offerings is solely at your own risk.
How It Works
Vacationing has never been easier or cheaper with the help of a dedicated travel consultant from AffordableTours.com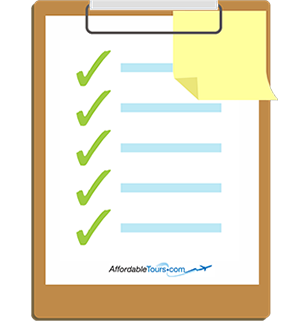 Find your perfect trip on our website and simply request a free quote. Need to speak to a live person? Call us 7 days a week at 1-800-935-2620. No robots here!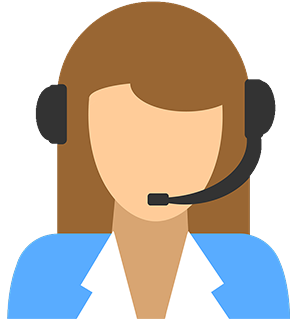 Your personal travel consultant will reach out and be your point of contact for your entire travel experience from start to finish. Did we mention you'll be working with an award winning team? Sweet!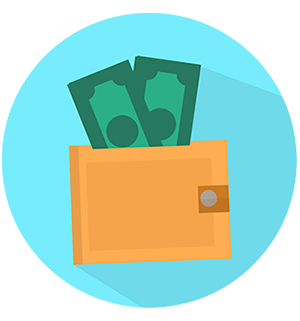 Because we're one of the largest sellers of travel, we're able to give you a discount on your vacation package. No one beats our prices!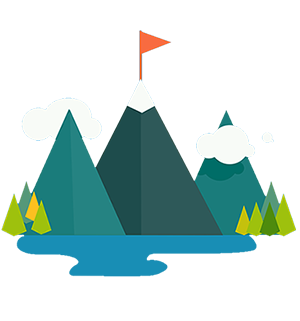 Knowing you got the best deal, all that's left is for you to pack your bags and enjoy your vacation!