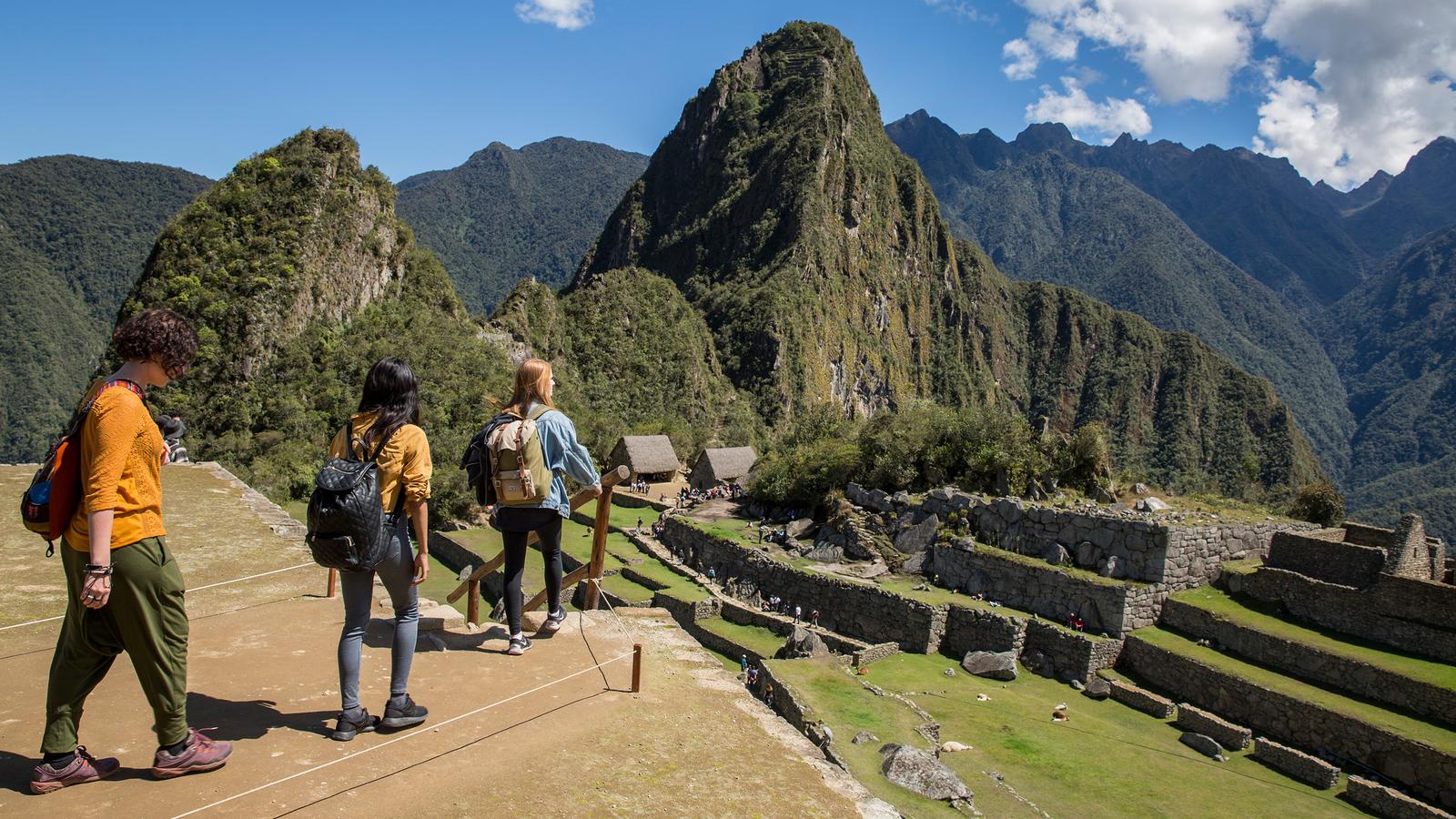 Peru Family Journey: Machu Picchu to the Amazon
Why Pay Retail?
Call us for a quick quote!
Dates & Prices
Start Date
End Date
Offers
Brochure
Land Price
Our Price
Quote
Friday,
Jun 30, 2023
Sunday,
Jul 09, 2023
Call Us

$3,499

Get Lower Price
Get Quote
Friday,
Jul 21, 2023
Sunday,
Jul 30, 2023
Call Us

$3,499

Get Lower Price
Get Quote
Friday,
Aug 18, 2023
Sunday,
Aug 27, 2023
Call Us

$3,499

Get Lower Price
Get Quote
Friday,
Dec 22, 2023
Sunday,
Dec 31, 2023
Call Us

$3,799

Get Lower Price
Get Quote
Friday,
Mar 15, 2024
Sunday,
Mar 24, 2024
Call Us

$3,499

Get Lower Price
Get Quote
Friday,
Jun 28, 2024
Sunday,
Jul 07, 2024
Call Us

$3,499

Get Lower Price
Get Quote
Friday,
Jul 05, 2024
Sunday,
Jul 14, 2024
Call Us

$3,499

Get Lower Price
Get Quote
Friday,
Jul 19, 2024
Sunday,
Jul 28, 2024
Call Us

$3,499

Get Lower Price
Get Quote
Friday,
Aug 02, 2024
Sunday,
Aug 11, 2024
Call Us

$3,499

Get Lower Price
Get Quote
Friday,
Dec 20, 2024
Sunday,
Dec 29, 2024
Call Us

$3,799

Get Lower Price
Get Quote
Call or submit a quote to get our Low Prices!
Book With Flexibility
Peace of Mind
Book by December 31, 2023 for travel through December 31, 2023, and you may change or rebook up to 45 days before your trip. Restrictions apply.
Change Destination / Vacation
Change to a different destination or vacation.
Change Dates
Choose new departure dates if your plans change.
Great Service
Award-winning service, low prices, client satisfaction
Tour Itinerary
Venture into mysterious Machu Picchu, exploring Inca ruins and hiking the surrounding slopes in search of stunning views, Visit a women's weaving cooperative and a community-run restaurant to experience Andean culture, Discover the biodiversity of the Peruvian Amazon, exploring rainforest trails, oxbow lakes, and treetop canopies, Learn about the constellations of the Southern Hemisphere while peering through telescopes at the Cusco Planetarium.
Day 1

Lima

Arrive in time to meet your fellow travelers for a welcome gathering this evening. Your arrival transfer is included.
Transport:
Activity: Your opportunity to meet your CEO and fellow travellers, and learn more about your tour. Opt to join the group for a local meal afterwards. Don't forget to see the notice in the lobby (or ask reception) for the official time and place to meet up with the group.
Accommodation: Hotel Antigua Miraflores (or similar)


Day 2

Lima/Sacred Valley of the Inca

Board an early flight to Cusco, the gateway to Peru's Inca heartland. Take in spectacular Andean scenery as we drive north into Urubamba Valley—also known as the Sacred Valley of the Incas. Arrive at Piuray Lake, an azure oasis framed by snowcapped peaks. Enjoy a lakeside lunch and opt to go paddleboarding or kayaking, soaking up the mountain views. Continue to your hotel and settle in before dinner.
Transport: Look! Up in the sky! It's a bird! It's a plane! It's... yup, it is a plane, actually.
Transport: Settle in and scan the scenery from the convenience of a private vehicle.
Activity: Make your first stop in the Andes to have a picnic lunch and take in the snow-capped mountains. Choose to relax after lunch, breathe in the fresh air or opt to go out for a kayak, explore on a stand-up paddleboard, or on a CEO-led walk to point out local flora and fauna.
Transport: Settle in and scan the scenery from the convenience of a private vehicle.
Accommodation: Hotel Mabey Urubamba (or similar)

Meals: Breakfast Lunch

Day 3

Sacred Valley of the Inca

Begin the day with a visit to a G Adventures-supported women's weaving cooperative, where we'll observe traditional weaving and dying techniques and meet some of the weavers. Next, test your Spanish skills as you bargain with vendors at the famed Pisac Market—a wonderland of colorful Quechua handicrafts. Break for a farm-to-table lunch at the G Adventures-supported Parwa Community Restaurant, tasting Peruvian dishes while learning how this resident-run restaurant helps fund community projects. In the afternoon, opt to relax at our hotel or visit the Inca ruins of Moray and the salt pans of Maras.
Transport: Settle in and scan the scenery from the convenience of a private vehicle.
Activity: Visit the Ccaccaccollo community centre which G Adventures travellers' donations helped create in 2005, thereby enabling local women to sell traditional textiles to travellers. See local weaving and dyeing techniques used to create garments and souvenirs, and learn how the Planeterra weaving co-operative has impacted the community and those who visit it. This includes the purchase of alpacas to provide a steady supply of wool, looms, and sewing machines as well as several training courses on production, sales and small business management.
Activity: Contribute to sustainable tourism in Huchuy Qosqo, a small village of 65 families in the Sacred Valley, by eating at the Parwa Community Restaurant. Learn how the resident-run restaurant was kickstarted by G Adventures and the Multilateral Investment Fund, to become a successful farm-to-table program that boosts the local economy and several spin-off microenterprises.
Accommodation: Hotel Mabey Urubamba (or similar)

Meals: Breakfast Lunch

Day 4

Sacred Valley of the Inca/Aguas Calientes

Explore the former Inca stronghold of Ollantaytambo, stepping back in time amid ancient terraces, storehouses, and an enormous temple-fortress. Then hop aboard a train for the journey through the Urubamba Valley to the end of the line: Aguas Calientes, a frontier town nestled beneath Machu Picchu. The afternoon is free for optional excursions, including a visit to a butterfly farm or to the nearby hot springs.
Transport: Settle in and scan the scenery from the convenience of a private vehicle.
Activity: Tour the town and fortress of Ollantaytambo with a local guide. Take a step back in time at this Inca archaeological site; it still shows signs of its former glory, including agricultural terraces, a Temple Hill, and storehouses. Learn how the area, overlooking the Urubamba River Valley, was an important stronghold during warfare between the Spanish and Incas.
Transport: Climb aboard, take a seat, and enjoy the ride.
Free Time: Enjoy free time to explore Aguas Calientes, opt to visit the hot springs for which the town was named or a nearby waterfall.

Meals: Breakfast

Day 5

Machu Picchu

Rise and shine! After a light breakfast, head to Machu Picchu to see the citadel in the early morning light, before the crowds arrive. Spend the morning exploring the ruins with our guides and pondering the mysteries of this "lost" city of the Inca, forgotten at the Spanish conquest and rediscovered in 1911 by Hiram Bingham with support from National Geographic. This afternoon, return by train to Ollantaytambo and transfer to Cusco.
Transport: Climb aboard, grab a seat, and enjoy the ride.
Activity: Set off with the local guide to explore Machu Picchu, the Lost City of the Incas. Learn about the history and gain insights into this massive mountaintop citadel while wandering through ancient dwellings, stone temples and along sculpted terraces. Feel the energy of this 15th-century site, now both a UNESCO World Heritage site and voted one of the new Seven Wonders of the World in a worldwide internet poll.
Transport: Climb aboard, take a seat, and enjoy the ride.
Transport: Settle in and scan the scenery from the convenience of a private vehicle.
Accommodation: Taypikala Hotel Cusco (or similar)

Meals: Breakfast

Day 6

Cusco

Set out to explore the beautiful streets and plazas of Cusco, once lavishly adorned with Inca gold that was stolen by the Spanish during the conquest. Visit the sprawling San Pedro Market, where you'll find everything from pickled snakes to savory tamales, and visit the Machu Picchu Museum to see an array of Inca artifacts that were discovered at Machu Picchu. Later, enjoy a star-filled evening at the Cusco Planetarium, learning about the importance of astronomy to the ancient Inca and peering at the glittering night sky through high-powered telescopes.
Activity: Set off on foot to explore the Plaza de Armas (main square) and discover the vast history of this Incan city. Take in the sights while learning about the Spanish conquest, archaeology, and other historical facts about Cusco. Finally, wander the food and shop stalls in San Pedro Market where all of your senses will come to life. Pick up some souvenirs, from magnets to Pachamama dolls, and try local street fares like salchipapas (fried sausages and potatoes), or empanadas at this authentically Peruvian market.
Activity: Get an in-depth look at Inca history and learn more about Hiram Bingham, the American archaeologist and explorer that discovered Machu Picchu. The museum holds the largest collection of Inca artifacts excavated from Machu Picchu. Your guide will point out items of interest so you walk away feeling like an explorer yourself.
Free Time: Enjoy free time to explore opt to visit museums, participate in a chocolate workshop, or people watch in a café on the main square.
Activity: Look to the night sky for a different view of the city. Explore the Cusco Planetarium surrounded by the serene nature of the Llaullipata Ecological Reserve. Enjoy a presentation on the southern sky, contemporary astronomy, and the ancient Incas' relationship with the cosmos. Check out the on-site museum and use the telescopes to admire the stars (weather-permitting).
Accommodation: Taypikala Hotel Cusco Nat GEO (or similar)

Meals: Breakfast

Day 7

Cusco/Tambopata National Reserve

Today, we set out to discover a wilder side of Peru! Catch a morning flight to Puerto Maldonado, then continue by motorized canoe along the Tambopata River to our jungle lodge in the Amazon rainforest. Have lunch on board the boat and keep an eye out for wildlife and birds along the way. Upon arrival, settle into your thatched lodging, situated near Tambopata National Reserve—a biodiversity hotspot. In the afternoon, join a naturalist guide to seek out the wildlife of the rainforest—from colorful butterflies to huge spiders—and learn the uses for medicinal and other forest plant resources through traditional techniques.
Transport: Look! Up in the sky! It's a bird! It's a plane! It's... yup, it is a plane, actually.
Transport: Climb in and move swiftly through the water to the next stop.
Activity: Get the lowdown on local flora and fauna, and grab a flashlight to discover what's living around lodge grounds. Receive help from the talented, expert naturalist guide to locate heaps of hidden creatures! Keep an eye out for snakes, tarantulas, owls, and poison dart frogs, just to name a few.
Accommodation: Tambopata G Lodge (or similar)

Meals: Breakfast Lunch Dinner

Day 8

Tambopata National Reserve

Grab your binoculars and head out with naturalist guides to explore the rainforest's complex ecosystems. Search the forest canopy where colorful toucans, boisterous howler monkeys, and sloths may be spotted. Hike to an oxbow lake, and paddle dugout canoes to glimpse river otters, turtles, and, if we're lucky, an anaconda or two! This evening we'll venture out in a motorized canoe to spot the jungle's elusive nocturnal species. If we're lucky we'll spot caimans, the smaller cousins of alligators, hiding along the muddy banks.
Activity: Enjoy visits to oxbow lakes to learn about the jungle and its inhabitants. Be introduced to the area's rich flora and fauna by expert naturalist guides, who can teach extensive uses for medicinal and other forest plant resources through traditional techniques. Be prepared to go early morning or evening to avoid the heat of midday. Enjoy a leisurely pace - the trip requires some walking, but nothing too strenuous.
Free Time: Take time to relax during the mid-day heat or go for a swim in the river.
Activity: Head out after dark by motorized canoe to search for caimans on the river banks. Enjoy a lesson on caimans from the expert guide. Take advantage of the keen eyes of the expert naturalist guides - they are truly spectacular at spotting these elusive smaller cousins of alligators hiding on the muddy banks.
Accommodation: Tambopata G Lodge (or similar)

Meals: Breakfast Lunch Dinner

Day 9

Tambopata National Reserve/Lima

Enjoy a final breakfast at our lodge, then board a motorized canoe and return upriver to Puerto Maldonado. Fly to Lima and check in to our hotel. This evening, celebrate our adventure at the farewell dinner.
Transport: Climb in and move swiftly through the water to the next stop.
Transport: Look! Up in the sky! It's a bird! It's a plane! It's... yup, it is a plane, actually.
Accommodation: Hotel Antigua Miraflores (or similar)

Meals: Breakfast Dinner

Day 10

Lima

Depart at any time.
Activity: Not ready to leave? Your CEO can help with travel arrangements to extend your adventure.

Meals: Breakfast
Meals:
9 breakfasts, 4 lunches, 3 dinners
Transportation:
Private van, plane, train, boat
Inclusions
Your Journeys Highlight Moment: Cusco Planetarium, Cusco Your G for Good Moment: Ccaccaccollo Community and Women's Weaving Co-op visit, Ccaccaccollo Your G for Good Moment: Parwa Community Restaurant the Sacred Valley, Lamay Your Welcome Moment: Welcome Meeting - Meet Your CEO and Group Your Family Journeys Moment: Piuray Lake Picnic, Piuray Lake. Arrival transfer. Sacred Valley tour including Ollantaytambo ruins. Guided tour of Machu Picchu. San Pedro Market visit. Machu Picchu Museum visit. Three-day (2 nts) excursion to an Amazon rainforest lodge. Internal flights. All transport between destinations and to/from included activities.
Health and Safety Protocols for G Adventures Tours
Travel with Confidence
Your safety, as well as the safety of employees and partners, has always been G Adventures top priority, which is why new physical distancing and cleaning measures have been put in place on all of the tours. New Travel with Confidence policy features new health and safety procedures from the moment you arrive to the moment you leave, without taking away from having the time of your life. The policy will evolve as time goes on and as G Adventures continues to monitor local public health recommendations, but what won't change is the commitment to keeping you safe as you explore big, beautiful world.
Before you join us
Global Connection Officers
GCOs (the people who answer when you call us) are available 24/7 to help with any questions you have prior to your trip, so you can feel confident and safe before leaving. No matter what time of day, they're there to respond to you — even at 3AM. They'll be up to date on local regulations and restrictions and can guide you through your travel process as smoothly as possible. And if you don't feel well before travelling, there's the Book with Confidence policy that helps you reschedule your trip for when you do, which they can help you with too (terms & conditions apply). If you book flights with us and there are any changes, rest assured that the team will support you by making new arrangements on your behalf.
Smaller groups
Groups have always been small. This offers security, access, camaraderie, and a connection with your destination you won't get by travelling on bus tours or on your own. The average group size is 12, ensuring travellers can engage with each other without being squeezed together like sardines — and that was before physical distancing became a reality. Plus, if you have 8 or more friends you'd like to adventure with, you can reserve the entire trip!
My own room
If you're joining one of the small group tours on your own, good on ya! If you are a solo traveller sharing a room with someone, G Adventures will do their best to ensure they will be your roommate for the entire journey to support distancing efforts. G Adventures has 'My Own Rooms' available as an extra option for tours (pending availability), and they'll be offering more of these at more affordable prices to make it even easier to have a bit more space.
When you arrive
Chief Experience Officers
CEOs are responsible for ensuring you have the time of your life while keeping you as safe as possible. Here's how they're ready to do that:
They're trained in First Aid, CPR, and other safety protocols
They're supported 24/7 by the field staff in offices around the world who are well-equipped to handle emergencies
They can help you find local clinics if you're feeling sick
They'll receive new training to ensure they are up to date on all health and safety policies during these evolving times
They have extensive local knowledge to proactively help you navigate wherever you're travelling
Their local knowledge allows for greater flexibility when it comes to knowing the best time to visit certain highlights to avoid crowds whenever possible and suggesting the restaurants with the strictest hygiene practices or those where you can reserve your own table or room in advance
They'll wear face masks when necessary based on local guidelines and recommendations
You & your fellow travellers
Travellers' safety and wellbeing is G Adventures biggest concern. If you're not feeling well before your departure, G Adventures has a Book with Confidence policy that provides you with flexibility and freedom to delay leaving until you're back to 100% healthy (terms & conditions apply). If you have a fever or any other symptoms on tour, you may be required to have a doctor clear you before rejoining us. All travellers are requested to bring face coverings, whether they're buffs, face masks or bandanas (extra style points encouraged). G Adventures makes every effort to have hand sanitizer available, but recommend bringing your own.
While on tour
Planes, trains, automobiles and more
Small private transport vehicles
Every surface in G Adventures well-kept fleet of private vehicles will get at least one daily deep cleaning
Each traveller will have a daily assigned seat
Hand-sanitizer will be required every time you board the vehicle
Facial coverings will be recommended while on-board
Boats
Every surface will get at least one daily deep cleaning
High-traffic areas will receive more frequent cleaning
Hand-sanitizer or hand washing will be required every time you board the boat, as well as before and after meals
To support physical distancing, meals may have assigned seating and there will be assigned slots for activities and rooming
Facial coverings will be recommended and welcomed on-board
Your crew is trained in health and safety measures (including food handling) and all cooking staff will follow up-to-date advice from health authorities
Local transportation
Use of local transportation will be limited wherever possible. Please reference the Trip Details for each individual tour for specifics
If local transportation is used, precautions will be followed in adherence to local health and safety regulations to keep travellers safe and sound.
Where you'll be staying safe
G Adventures has always carefully selected accommodation partners for high standards and local roots. Travelling in small groups means that the stay is in smaller hotels too, with fewer guests — which means less daily contact with others outside your group in public spaces. Now G Adventures is working with accommodation partners to optimize their health, safety and cleanliness procedures, as well as creating additional measures for physical distancing. Here are some of the things G Adventures is working on to help keep you safe:
Daily deep cleaning and disinfecting of all surface areas inside your room with extra cleaning on light switches, door handles, TV remotes, and thermostats
No hotel staff will enter your room after it has been cleaned
Increased frequency of cleaning and disinfecting of all public restrooms and all surfaces in public areas. This might include the closure of public spaces such as gyms, bars, restaurants, and meeting rooms for periods throughout the day
Wherever possible, groups will stay on the lower floors to limit elevator use
Hotels will implement social distancing protocols in line with local regulations
This is just the beginning of commitments to keeping you sleeping safe and sound. G Adventures will continue to evolve and roll-out these and additional policies as needed.
A good & safe place to eat
G Adventures has always carefully selected food service partners and worked closely with them to ensure they are meeting health, safety, and cleanliness standards with their facilities, staff training, and food preparation and delivery. Wherever possible, G Adventures will reserve separate tables or private rooms at the restaurants visited on the trip, opt for more "al fresco" opportunities when it is possible (gotta love that fresh air!), and ensure breakfasts can be "grab and go" boxes, while avoiding family style or self-serve buffets for meals. G Adventures wants you to feel comfortable and safe as you savour every last bite.
Activities
You've always had freedom and flexibility to do your own thing on tours with optional activities and experiences. Now, you'll still have those options with added measures to keep you healthy and safe. All equipment for activities on tour, including hiking poles, camping supplies, life jackets, snorkels, etc., will be cleaned thoroughly at least once a day and disinfected between use. When travellers are responsible for putting up their own tents on camping itineraries, you will be given the supplies required to disinfect your gear. G Adventures will also do their best to make activities and highlights stops happen during non-peak hours, so you can have fun and feel safe no matter what you're doing.
Before you leave
A healthy goodbye
If you're not feeling well at the end of your tour for any reason, let your CEO know and they can help get you access to medical care and support. Because we want you to head home after a life-changing experience feeling just as good (let's be honest, way better) than when you left.
Hotels (7 nts), Amazon Lodge (2 nts)
Question: Is there a minimun kids age?
Yes. The minimum age on this trip is 6 years old. All travelers under age 18 must be accompanied by an adult.
Question: How many suitcases can I take with me on my trip?
Each person is allowed one "check-in," and one "carry-on." Remember to take all valuables with you as "carry-on", because electronic equipment, cameras, laptops, jewelry, business documents and money are not covered by the airlines' liability, so always carry them aboard with you.
Question: Is Airfare Included in the Price?
Airfare from your point of origin to and from the trip is not included in the land price.
G-Adventures is very good. I highly recommend their trips.
I have booked with affordable tours before with other agents but Maya Keith is absolutely the best. She was patient in answering all our question especially as it related to travel in Europe when there is war in Ukraine
This was one of the best trips we have ever taken. Our guide was so polite, helpful and informative. The fact that there were fewer tourists made it all the better.
This was my 8th tour with this operator and I have a 9th scheduled. Obviously I am happy with this operator.
It was a great tour and are guides were very knowledgeable.
A Gadventures tour is a great affordable way to see the country and get the opportunity to meet and interact with the local people
It was a dream vacation.Thank you.
The G-Adventures travel guides were excellent
All 100% perfect, nothing to be done better
The G Adventures tour was fantastic.
Very satisfied with tour, enjoyed it very much.
I liked the variety of activities and the chance to opt out without undue pressure. I met some really fun people on this tour.
Everyone connected with the tour went above and beyond. The tour was more than I ever dreamt!
Our CEO Solofo for this trip is fantastic. He is patient and very nice. He went extra ways to help me and other members. I really enjoy this trip because of him! He is an excellent CEO. I definitely will recommend to other friends about him. Pls let him know that we really enjoy his introduction. He is also very informative and knowledgeable. In a word, he is excellent!
Great trip at a reasonable price.
AffordableTours.com® does not itself offer, service or administer the Travel Packages, and the ultimate terms and conditions of any Travel Package made available via the Site Offerings (including the prices quoted in connection with same) will be determined by the applicable Third-Party Travel Service Provider. AffordableTours.com® does not represent or warrant that the Price Quotes are accurate, up-to-date or free of error, or that same will be honored by the applicable Third-Party Travel Service Providers. All Price Quotes, Travel Package availability, Travel Package details/itinerary and other Content are subject to change without notice. All travel details published by and through the Site Offerings should be confirmed directly with the applicable Third-Party Travel Service Provider prior to making any travel plans. Reliance on any information made available to you by and through the Site Offerings is solely at your own risk.
How It Works
Vacationing has never been easier or cheaper with the help of a dedicated travel consultant from AffordableTours.com
1. Free Quote
Find your perfect trip on our website and simply request a free quote. Need to speak to a live person? Call us 7 days a week at 1-800-935-2620. No robots here!
2. Dedicated Travel Consultant
Your personal travel consultant will reach out and be your point of contact for your entire travel experience from start to finish. Did we mention you'll be working with an award winning team? Sweet!
3. Lowest Price Guaranteed
Because we're one of the largest sellers of travel, we're able to give you a discount on your vacation package. No one beats our prices!
4. Stress Free Travel
Knowing you got the best deal, all that's left is for you to pack your bags and enjoy your vacation!