Dates & Prices
Start Date
End Date
Offers
Brochure
Land Price
Our Price
Quote
Apr 27, 2021
May 22, 2021
Call Us

$5,240

Get Our Price
Get Quote
May 04, 2021
May 29, 2021
Call Us

$5,240

Get Our Price
Get Quote
May 11, 2021
Jun 05, 2021
Call Us

$5,240

Get Our Price
Get Quote
May 25, 2021
Jun 19, 2021
Call Us

$5,240

Get Our Price
Get Quote
Sep 17, 2021
Oct 12, 2021
Call Us

$5,240

Get Our Price
Get Quote
Oct 05, 2021
Oct 30, 2021
Call Us

$5,240

Get Our Price
Get Quote
Apr 22, 2022
May 17, 2022
Call Us

$5,240

Get Our Price
Get Quote
May 10, 2022
Jun 04, 2022
Call Us

$5,240

Get Our Price
Get Quote
May 27, 2022
Jun 21, 2022
Call Us

$5,240

Get Our Price
Get Quote
Jun 14, 2022
Jul 09, 2022
Call Us

$5,240

Get Our Price
Get Quote
Aug 16, 2022
Sep 10, 2022
Call Us

$5,240

Get Our Price
Get Quote
Sep 02, 2022
Sep 27, 2022
Call Us

$5,240

Get Our Price
Get Quote
Sep 09, 2022
Oct 04, 2022
Call Us

$5,240

Get Our Price
Get Quote
Sep 20, 2022
Oct 15, 2022
Call Us

$5,240

Get Our Price
Get Quote
Oct 04, 2022
Oct 29, 2022
Call Us

$5,240

Get Our Price
Get Quote
Call or submit a quote for award-winning value and service!
Tour Itinerary
Be entranced by the beauty and the wonder of Central Asia on this overland journey from the capital of Kyrgyzstan through the heartland of Uzbekistan to the forgotten yet futuristic Ashgabat. Take in the tranquil landscape of Son-Kol Lake, watch for wild boar and deer around Chychkan Gorge, hike up the sacred Sulumain-too Mountain in historic Osh, and get your fill of mosques and museums in Samarkand. Venture into the mysterious Turkmenistan, camp out by the 'gate of hell', and explore Ashgabat with architectures from a scifi movie. Abounding with ancient culture, divine natural beauty, intriguing relics, and welcoming people, this is a journey that will leave you eager to discover more of Central Asia.
Day 1

Bishkek

Welcome to Kyrgyzstan! Your adventure begins with a welcome meeting at 6 pm on Day 1. Please look for a note in the hotel lobby or ask reception where it will take place. If you're going to be late, please inform the hotel reception. We'll be collecting your insurance details and next of kin information at this meeting, so please ensure you have all these details to provide to your leader.
Meals: Dinner

Day 2

Bishkek

Take a trip down memory lane today with a city tour showcasing the country's fascinating history. The centre of the city is Ala-too Square, which was known as Lenin Square in Soviet times. Lenin used to stand in his concrete overcoat in the middle of this square, proudly gesturing towards the mountains. A great place  for a wander is Dubovy (Oak) Park, where you'll find a few open-air cafes. The century-old oaks here and all along Freedom Avenue make Bishkek one of the greenest cities in Central Asia. In the afternoon, you'll have some free time to further explore Bishkek. Quite the contrast to the relaxed quiet streets, square and parks in the city center, Osh Market is noisy, crowded, and a perfect peek into local life. You'll find all kinds of things on sale here from spices and fruits to clothes and carpets. Get together with your travel mates and enjoy an optional final dinner together tonight to celebrate a great journey through Kazakhstan and Kyrgyzstan.
Meals: Breakfast

Day 3

Don Aryk - Issyk Kul - Kochkor

Drive 60 km to the 11th-century Burana tower, an ancient minaret from the Silk Road period. In the nearby village of Don Aryk, visit a local home. Reflecting the important role horses have played in the traditional Kyrgyz nomadic life style, the country is famous for at least four types of horse games such as odarysh or wrestling, tiyin-enish, where riders try to pick up coins at full gallop and kok buru or buzkashi, a type of goat-snatching polo. We'll take the chance here to watch the how the locals play some of these horse sports here and enjoy a tasty lunch with the family. Continue to Issyk Kul lake – the second largest alpine lake in the world. This beauty is one of the biggest natural water reservoirs in the world, at 170 km long and 70 km wide. A combination of extreme depth, thermal activity and mild salinity means the lake never freezes. Next, continue to Kochkor. Explore a small local market in the centre of the village, and, depending on our arrival time, a local co-op that provides training for local women in traditional handicrafts.
Meals: Breakfast, Dinner

Day 4

Son-Kol

Make the 130 km drive to Son-Köl, one of the largest lakes in the country. This beautiful alpine lake is considered a sacred place for many Kyrgyz people as well as one of the best summer pastures for nomadic herders. In the middle of the summer, you'll see nomadic herdsmen and their families watching over goats, sheep, and horses. Enjoy exploring your surroundings for the rest of the day. There are many beautiful lake trails to hike along. Alternatively you may be able to visit some ancient petroglyphs in the local area, or visit a nomad camp for a first-hand look at nomadic life. Simply sit and take in this beautiful corner of the world. Tonight we stay in yurts set up along the lake shore. Made of felt and tarpaulins on a round frame, yurts are the traditional dwellings of the Kyrgyz people. Sleeping arrangements are on a multi-share, mixed-gender basis with mattresses on the floor. It can get very chilly in the evenings, so there's a stove for heating and plenty of blankets. There are no bathroom facilities inside the yurts, so outdoor toilets are to be expected. Those daring enough for an invigorating morning splash can use the lake nearby. All meals are included during our stay here.
Meals: Breakfast, Dinner

Day 5

Kyzyl-Oi

Today you travel along gravel roads to the tiny village of Kyzyl-Oi squeezed between the mountains. On our way, we will pass large coal deposits and travel along the Kökömeren river which feeds into the Syr Darya - one the major rivers of Central Asia that used to fill the Aral Sea. Enjoy a picnic lunch on the banks of the river in the shade of the trees and use your free time to explore the village once we arrive. 
Meals: Breakfast, Dinner

Day 6

Suusamyr Valley - Chychkan - Kok-Bel

A full day of driving though big, beautiful landscapes today. As the roads in Kyrgyzstan see little regular maintenance, even short distances on a map can take hours. The road crosses the Suusamyr Valley – a high steppe plateau situated at around 2,200 metres above sea level. The mountainous, lush surroundings are often photogenically dotted with yurts. We then follow the Chychkan river that cuts through the Tien Shan range. Stop here for a while and soak up the amazing scenery. You will arrive at tonight's accommodation in Kok-Bel sometime in the early evening. 
Meals: Breakfast, Dinner

Day 7

Osh

After breakfast, get ready for another all-day journey to the second-largest city in Kyrgystan – Osh. Located in the Fergana Valley in the south of the country, Osh is often referred to as the 'Capital of the South'. With a history that dates to the 500 BC. Stop en route at Uzgen, an ancient trading town and handicrafts center on the Silk Road. Although much of the ancient city has been destroyed, a minaret and three mosques that have survived to this day remain important examples of medieval Central Asian architecture.
Meals: Breakfast, Dinner

Day 8

Osh

Rise and shine for a visit to the only World Heritage Site in Kyrgystan – Sulaiman-Too Sacred Mountain, also known as Solomon's Throne. For centuries Silk Road travellers have sought out the mountain's caves and their petroglyphs in the belief that they would be blessed with longevity. Visit the National Historical & Archaeological Museum Complex. In the afternoon, enjoy some free time. Perhaps visit the Jayma Bazaar, where you might pick up an interesting souvenir or two. Or maybe take a self-guided tour of the remnants of Osh's soviet past with a walk to the giant Lenin statue in the city square. The many murals praising the Soviet Union also give an idea of just how deeply these ties went.
Meals: Breakfast, Dinner

Day 9

KGZ/UZB border crossing - Andijan - Tashkent

This morning we drive to Kyrgyz – Uzbek border which is just outside of the city. After passing through the border (approx. 1-2 hours), we meet farewell our Kyrgyz guide, meet our new Uzbek guide and transfer to Andijan. From here we take a local train to Tashkent (approx. 5.5 hrs). Arrive at our Tashkent hotel in the evening.
Meals: Breakfast

Day 10

Tashkent

Begin your introduction to Uzbekistan by exploring the capital today. Our sightseeing today in Tashkent will include a visit to State History Museum, the Abdul Khasim Medrassah with its hujra cells used as metalwork craft workshops to produce jewellery and other goods, and the Khast Imom Complex. After lunch, lose yourself in the exciting Chorsu Bazaar, browsing traditional wooden cradles, handmade musical instruments, and the extensive vegetable and spice markets.
Meals: Breakfast

Day 11

Samarkand

Transfer to the station for the high speed train to fabled Samarkand (approx 2 hours). This city is located at the very centre of the ancient Silk Road. Enjoy some free time in the city on arrival, saving some of the key sights for our tour tomorrow. Maybe inspect the remains of the remarkable medieval observatory developed by Ulug Beg, Tamerlane's (Amir Timur) brilliant astronomer grandson. These days, only half of the below-ground semi-circular track can be seen, but there is an the excellent small museum close by. Or visit the Afrosiab Museum with its fine collection of treasures unearthed from the site, including world famous 10th century frescoes.
Meals: Breakfast

Day 12

Samarkand

Be blown away by the sights you'll take in today. First, the great central square of Samarkand, the Registan. Then, Guri-Amir, where Tamerlane is buried, and finally the enormous Bibi-Khanum Mosque. Then we drive to Konigil village in the outskirts of the city for a special lunch with a family who have been making paper by traditional methods as long as they can remember. After lunch we'll learn about this unique way of paper making from mulberry. Returning to Samarkand, visit the impressive Shak-i-Zinda ensemble of mausoleums. This unusual necropolis has monuments from the 14th and 15th centuries, reflecting the development of the monumental art and architecture of the Timurid dynasty and is photo worthy at every turn. 
Meals: Breakfast, Dinner

Day 13

Samarkand - Shahrisabz - Bukhara

Continue tracing the Silk Road towards Bukhara. One of the most important portions of this ancient route connects these two major cities of the area and takes us through the town of Shahrisabz - the home town of revered national hero Tamerlane. Sadly, Shakhrisabz has recently lost much of its authentic flavour through over enthusiastic restoration works. We make a stop here, visiting the legendery Ak Saray Palace, Dor-ut Tilovat Memorial Complex, Dorus Saodat Complex and Kok-Gumbaz Mosque. Then we'll continue to Bukhara where we we stay for the night.
Meals: Breakfast

Day 14

Bukhara

Today, we'll enjoy a full day of sightseeing in beautiful Bukhara. First, you'll visit the lovely Sitora-i Mohi Khosa, once the summer residence of the last Emir. Designed by Russian architects, it has lavish interiors decoratedwith traditional filigree plaster, mirrored surfaces and delicate floral wall paintings by local artisans. Then to the peaceful 16th century Chor Bakr necropolis, where you'll enjoy the simplicity of the Khonako-Medressa  & Mosque complex that is typical of Bukharian style. In the afternoon, visit the Ark Fortress and Kalon Mosque, the symb of Bukhara, then to one of Central Asia's oldest and most exquisite structures, the 10th century Ismail Samani Mausoleum, whose superb decorative brickwork has survived 1,000 years of rugged history. From here it is only a short distance to the Lyabi-Haus area. After dinner, there's time to wander the small craft studios tucked into the ancient nearby madrassas and trading domes.
Meals: Breakfast

Day 15

Gijduvan - Bukhara

Historically, Gijduvan was one of the caravan stops on the way to Bukhara. Ulugbek, the famous astronomer ruler of Samarkand and grandson of Tamerlane, built a medrassah here, just next to the grave of a Sufi saint. The town gained further fame as a centre of glazed pottery production. Visit the private studio of a local ceramic artist, meet the family and watch them at work. Later you can have some free time to explore this small town. For lunch we recommend the juicy kebabs of Gijduvan that are famous throughout Uzbekistan. On your way back, stop to see a minaret from the late 12th century in Vobkent.
Meals: Breakfast

Day 16

Tashkent

Enjoy some free time for your own optional sightseeing in Bukhara. In the afternoon, take a fast train back to Tashkent followed by an optional farewell dinner with your fellow travellers.
Meals: Breakfast

Day 17

Tashkent

There are no activities planned for the final day and you are able to depart the accommodation at any time.
Meals: Breakfast

Day 18

Khiva

Take morning flight to Urgench (90 mins) and transfer to colourful Khiva (45 mins). Many global powers have laid claim to this city over the centuries, from khans to Silk Road traders and the Soviet Union. Get acquainted with Khiva on a tour of this walled-city. See the incredible blue-tiled Kalta Minor Minaret and the Mohammed Amin Khan Madressa. Explore the Kuhna Ark, the "citadel within a citadel" which once housed the Khan and his family in the 17th century, then get a good look at this attractive city from the Ak-sheikh Baba Observatory. Finally, visit the Pahlavon Mahmud Mausoleum, a complex constructed in honour of the famous 13th-century poet, craftsman and fighter. A popular pilgrimage site, the mint-coloured dome that tops the main mausoleum is stunning. Spend the rest of the day as you wish. Maybe ask your leader where to grab the best plov (rice, meat, and carrots). The city is a photographer's delight, particularly in the evenings when the sun begins to set and fading light glints off turquoise tiles, so make sure you have your phone or camera ready to snap some pictures.
Meals: Breakfast

Day 19

Khiva

Khiva is particularly magic at dawn when the streets are empty. Later, you leader will guide you through some of the city's other impressive monuments and buildings. Visit the towering Islom Hoja Minaret, the tallest building in Khiva. Explore Juma Mosque, the roof of which is propped up by 212 wooden columns and designed to let in sunlight. If you want a peek at Uzbek luxury, look no further than the Tosh-Hovli Palace, which was built in the first half of the 19th century. Wander through elaborately decorated courtyards connected by labyrinthian corridors. The rest of the afternoon is yours to relax.
Meals: Breakfast

Day 20

Konye-Urgench - Darvaza

Say goodbye to Uzbekistan and cross the border into Turkmenistan at Khodjeyli (Xo'jayli). Meet the new leader who will be your key to local secrets, food and highlights for the rest of your journey. From the border, make a 1.5-hour drive to the World Heritage-listed Konye-Urgench. Once a centre of the Islamic world, it suffered destruction at the hands of Genghis Khan and the Timurid dynasty and fell into decay until the 20th century. But it still has tonnes of monuments from the 11th to 16th centuries, including a mosque, mausoleum and the 60-metre-high Gutlug Timur Minaret. Continue your journey with a 4-hour drive by 4WD to Darvaza Crater. This astounding 70-metre-wide hole in the Karakum Desert is permanently aflame. Soviet oil prospectors started drilling in 1971 expecting to find oil, and the ground collapsed to form the crater. Worried about the gas released into the air, they deliberately set the crater on fire to burn off the excess, expecting it to last a few weeks. As you'll see today, they were wrong, and the crater has been burning ever since. Watch the sunset over the 'Door to Hell' from your nearby camp, and enjoy a Turkmenistan-style barbecue for dinner. 
Meals: Breakfast, Dinner

Day 21

Yerbent - Ashgabat

Hit the sand again in the 4WD, making the 4-hour drive to Ashgabat with a stop along the way at the tiny settlement of Yerbent. The community here live primarily in yurts that are tucked between the sand dunes. Check out the local monument that pays tribute to the group of socialists that died in the Basmachi Revolt in 1931, then continue to Ashgabat. Little is left of the original Russian Imperial city as most of it was destroyed in a massive earthquake in 1948, and today the city centre is a bizarre mix of futuristic and outrageous public buildings. Get a sense of Ashgabat old and new with a tour that takes in both the ancient settlement of Nisa and the National Museum of Turkmenistan. Enjoy a free afternoon in this mind-bending city. Look out for the ornate, golden telephone booths, screens broadcasting official ceremonies on a loop and imposing statues of the president.
Meals: Breakfast

Day 22

Ashgabat

Take a full day to wrap your head around this desert city on an immersive guided tour taking in the four pointed minarets atop the Ertugrul Gazi Mosque and the the extravagant Independence Monument. This sculpted park is filled with statues of Turkmen heroes (and controversial politicians) that line paths that lead to a golden dome and a (surprise!) massive minaret. From this lavish ode to Turkmen identity, continue to the Neutrality Arch, which despite its name has a provocative history. Then travel outside of the city to the Turkmenbashy Ruhi Mosque, the mausoleum of former Turkmen leader Saparmurat Niyazov, before heading further out of town to the ruins of Anau. The crumbling remains of the medieval mosque still attract the devout, who come to pray and make offerings. After a day full of sightseeing, maybe spend the evening relaxing at your hotel.
Meals: Breakfast

Day 23

Mary

Rise and shine for the 5-hour drive to Mary (pronounced 'Mah-rih'). The somewhat ostentatious displays of wealth in the city can be traced to the long-running gas and cotton industries. Stop en route for lunch and to roam through the ruins of Abiverd. This fascinating archaeological site was an important trading town from 652 AD until the 12th century, and you can still see ancient shards of pottery scattered on the ground. Arrive in Mary in the afternoon and settle into your hotel.
Meals: Breakfast, Dinner

Day 24

Merv - Mary

Take a 40-minute drive to Merv, also known as Margiana or Margush, and enjoy some time to explore Turkmenistan's most recognised site. This sprawling World Heritage site is home to numerous walled structures from various periods spread across a 1200-hectare area. See impressive columns smoothed by wind and time at the Greater Kizkala and walk hills that were once the fortress walls of Erk Kala. While not the most impressive visually, Gyaur Kala dates to 400 BC and has a fascinating history. Spend some time exploring these relics of grand empires and then return to Mary for a free afternoon. Maybe visit the Mary Regional Museum. Housed in a palace of white marble, the museum features archaeological displays and exhibitions on traditional Turkmen life and culture.
Meals: Breakfast

Day 25

Ashgabat

Glittering Ashgabat awaits your return today, so make the 5-hour return drive to the City of White Marble. Enjoy a free afternoon to spend as you wish before an optional final night dinner with your group.
Meals: Breakfast

Day 26

Ashgabat

There are no activities planned for the final day and you are able to depart the hotel at any time.
Meals: Breakfast
Bishkek - City Tour
Shamsy Valley - Burana tower
Don Aryk - Local home visit & horsemanship demonstration
Kochkor - Market
Kochkor - Women's Felt Co-op
Uzgen - Uzgen Minaret & Complex
Osh - Sulaiman-Too Mountain
Osh - National Historical and Archaeological Museum Complex
Tashkent - Chorsu Bazaar
Tashkent - Khast Imom Complex & Moyie Mubarek Library Museum
Tashkent - History Museum of the People of Uzbekistan
Samarkand - Bibi-Khanym Mosque
Samarkand - Gur-e-Amir Mausoleum
Samarkand - Shakh-I-Zinda
Samarkand - Registan
Samarkand - Paper making workshop & home cooked lunch
Shakhrisabz - Ak Saray Palace
Shakhrisabz - Kok-Gumbaz Mosque
Shakhrisabz - Dor-ut Tilovat Memorial Complex
Shakhrisabz - Dorus Saodat Complex
Bukhara - Ismail Samani Mausoleum
Bukhara - Sitorai Mohi Hosa Palace
Bukhara - Chor-Bakr Necropolis
Bukhara - Ark Fortress
Bukhara - Kalon Mosque
Vobkent - Minaret
Gijduvan - Ceramics workshop
Khiva - Pahlavon Mahmud Mausoleum
Khiva - Kuhna Ark
Khiva - Islom Hoja Minaret & Medressa
Khiva - Juma Mosque
Khiva - Tosh-Hovli Palace
Darvaza - "Door to Hell" Crater
Konye-Urgench - City tour
Yerbent - Village visit
Ashgabat - National Museum of Turkmenistan
Ashgabat - Nisa ruins
Ashgabat - Anau ruins
Ashgabat - Independence Monument
Ashgabat - Neutrality Arch
Ashgabat - Turkmenbashy Ruhi Mosque & Family Mausoleum of the First President of Turkmenistan
Ashgabat - Ertugrul Gazi Mosque
Merv - Big & Small Kizkala
Merv - Erk Kala & Gayur Kala
Merv - Sultan Sanjar Mausoleum
Meals
25 Breakfast(s) Included
7 Lunch(es) Included
7 Dinner(s) Included

Style: Original

Guesthouse/Homestay (3 night), Hotel (20 nights), Yurt/Camp (2 nights)
Question: How many suitcases can I take with me on my trip?
Each person is allowed one "check-in," and one "carry-on." Remember to take all valuables with you as "carry-on", because electronic equipment, cameras, laptops, jewelry, business documents and money are not covered by the airlines' liability, so always carry them aboard with you.
Question: Is Airfare Included in the Price?
Airfare from your point of origin to and from the trip is not included in the land price.
Similar Tours Other Travelers Liked
The trip was both both educational and exciting. I very much enjoyed the sights and culture.
The itinerary was just as I expected! The guide was very good as were the accomodations
Intrepid did such a great job. I never had to worry about where I was supposed to be and it felt so good not to worry about a thing but just to enjoy myself. Our guide was extremely knowledgeable about culture and history.
Taiwan people very friendly. Accommodation were centrally located and easily accessible. Did extra activities then in brochure which was greatly.
Larus our tour guide did an excellent job and was very attentive to our needs. He is very knowledgeable and has a great sense of humor.
Our guide Tarang chandola was exceptional. Courteous, knowledgeable, organized, polite, professional and went above and beyond taking care of our needs and requests offen anticipating what that might be. He made sure we all had the best possible time and offered suggestions to meet the needs of everyone on the tour. This made the trip even more enjoyable.
AffordableTours.com® does not itself offer, service or administer the Travel Packages, and the ultimate terms and conditions of any Travel Package made available via the Site Offerings (including the prices quoted in connection with same) will be determined by the applicable Third-Party Travel Service Provider. AffordableTours.com® does not represent or warrant that the Price Quotes are accurate, up-to-date or free of error, or that same will be honored by the applicable Third-Party Travel Service Providers. All Price Quotes, Travel Package availability, Travel Package details/itinerary and other Content are subject to change without notice. All travel details published by and through the Site Offerings should be confirmed directly with the applicable Third-Party Travel Service Provider prior to making any travel plans. Reliance on any information made available to you by and through the Site Offerings is solely at your own risk.
How It Works
Vacationing has never been easier or cheaper with the help of a dedicated travel consultant from AffordableTours.com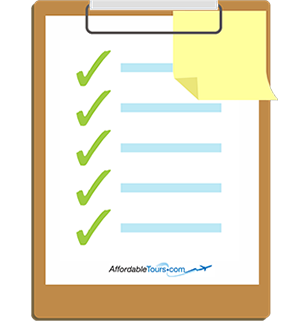 Find your perfect trip on our website and simply request a free quote. Need to speak to a live person? Call us 7 days a week at 1-800-935-2620. No robots here!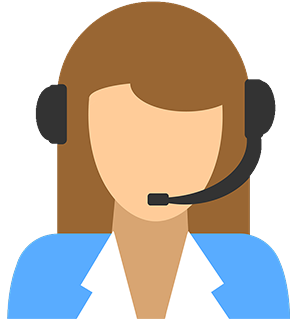 Your personal travel consultant will reach out and be your point of contact for your entire travel experience from start to finish. Did we mention you'll be working with an award winning team? Sweet!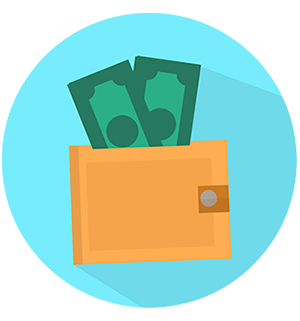 Because we're one of the largest sellers of travel, we're able to give you a discount on your vacation package. No one beats our prices!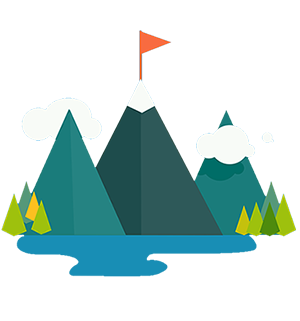 Knowing you got the best deal, all that's left is for you to pack your bags and enjoy your vacation!