Uzbekistan Tours & Vacation Packages 2024/2025
Save up to 40% on Uzbekistan Tours & Vacation Packages 2024/2025
Uzbekistan Travel Guide
Whether you are looking to tour through the blue-tiled mosques of Bukhara or travel to the remote regions of Karakalpakstan, Uzbekistan has everything that you could want in an incredible travel destination. Located in central Asia, Uzbekistan is known for its incredible mosques, mausoleums, and other historic sites that are linked to the Silk Road (the ancient trade route between China and the Mediterranean). There are also plenty of incredible architecturally diverse sites all through this amazing country. Why would you want to travel anywhere else? Uzbekistan is an extremely friendly country with very welcoming people who are ready to give you lasting memories. With tour operator volume buys plus our low everyday prices you can save up to 40% versus assembling the same itinerary on your own! Book your Uzbekistan tour today with AffordableTours.com, your discounted tour headquarters. View Uzbekistan Tour Deals and Discounts
Uzbekistan Travel Guide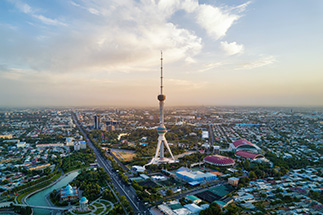 Showing 1 - 20 Tours
Tour Itinerary
Days
Operator
Quality
Style
Starts
Ends
Price



Tashkent to Ashgabat

10

Days

Intrepid

Budget

Escorted
3 - Explorer

15+ years old
12
Tashkent
Ashgabat
Turkmenistan, Uzbekistan
$2,746View Tour

Book With Flexibility

12 Day Discover Uzbekistan - Tuesday Departure

12

Days

Discovery By Gate1

First Class

Escorted
22
Tashkent
Tashkent
Uzbekistan
$2,149View Tour

Best Price Guaranteed

Book With Flexibility

The Five Stans of the Silk Road

2 reviews
26

Days

G Adventures

First Class

Escorted
3 - Explorer

12+ years old
20
Bishkek
Ashgabat
Kazakhstan, Kyrgyzstan, Tajikistan, Turkmenistan, Uzbekistan
$4,999View Tour

Best Price Guaranteed

Book With Flexibility




Bishkek to Ashgabat

26

Days

Intrepid

Budget

Escorted
3 - Explorer

15+ years old
12
Bishkek
Ashgabat
Kyrgyzstan, Turkmenistan, Uzbekistan
$6,315View Tour

Book With Flexibility

Central Asia: Five Stans Express

24

Days

Intrepid

First Class

Escorted
3 - Explorer

15+ years old
12
Ashgabat
Bishkek
Kazakhstan, Kyrgyzstan, Tajikistan, Turkmenistan, Uzbekistan
$6,415View Tour

Book With Flexibility




Best of Uzbekistan and Turkmenistan

13

Days

G Adventures

Budget

Escorted
3 - Explorer

12+ years old
16
Tashkent
Ashgabat
Turkmenistan, Uzbekistan
$2,209View Tour

Best Price Guaranteed

Book With Flexibility

Multi-Stan Adventure - Bishkek to Tashkent

1 reviews
23

Days

G Adventures

First Class

Escorted
3 - Explorer

12+ years old
20
Bishkek
Tashkent
Kazakhstan, Kyrgyzstan, Tajikistan, Uzbekistan
$4,249View Tour

Best Price Guaranteed

Book With Flexibility




Highlights of Uzbekistan

2 reviews
10

Days

G Adventures

First Class

Escorted
2 - Classic

12+ years old
16
Tashkent
Tashkent
Uzbekistan
$1,486View Tour

Best Price Guaranteed

Book With Flexibility




12 Day Discover Uzbekistan - Sunday Departure

1 reviews
12

Days

Gate1

First Class

Escorted
1 - Light

8+ years old
22
Tashkent
Tashkent
Uzbekistan
$1,849View Tour

Best Price Guaranteed

Book With Flexibility

Best of Kyrgyzstan and Tajikistan

3 reviews
14

Days

G Adventures

First Class

Escorted
3 - Explorer

12+ years old
20
Bishkek
Tashkent
Kazakhstan, Kyrgyzstan, Tajikistan, Uzbekistan
$2,799View Tour

Best Price Guaranteed

Book With Flexibility

Nur-Sultan (Astana) to Tashkent

30

Days

Intrepid

First Class

Escorted
3 - Explorer

16+ years old
12
Astana
Tashkent
Kazakhstan, Kyrgyzstan, Uzbekistan
$6,980View Tour

Book With Flexibility




Uzbekistan Adventure

09

Days

Intrepid

Budget

Escorted
3 - Explorer

15+ years old
16
Tashkent
Tashkent
Uzbekistan
$1,700View Tour

Book With Flexibility




Uzbekistan & Turkmenistan Adventure

18

Days

Intrepid

Budget

Escorted
3 - Explorer

15+ years old
12
Tashkent
Ashgabat
Turkmenistan, Uzbekistan
$4,294View Tour

Book With Flexibility




Central Asia Explorer

17

Days

Intrepid

Budget

Escorted
3 - Explorer

15+ years old
12
Bishkek
Tashkent
Kyrgyzstan, Uzbekistan
$3,735View Tour

Book With Flexibility

Premium Uzbekistan

10

Days

Intrepid

First Class

Escorted
2 - Classic

15+ years old
12
Tashkent
Tashkent
Uzbekistan
$2,675View Tour

Book With Flexibility




12 Day Discover Uzbekistan - Thursday Departure

12

Days

Gate1

First Class

Escorted
22
Tashkent
Tashkent
Uzbekistan
$1,999View Tour

Best Price Guaranteed

Book With Flexibility




12 Day Discover Uzbekistan - Tuesday Departure

2 reviews
12

Days

Gate1

First Class

Escorted
22
Tashkent
Tashkent
Uzbekistan
$2,149View Tour

Best Price Guaranteed

Book With Flexibility




12 Day Discover Uzbekistan - Tuesday Departure

2 reviews
12

Days

Gate1

First Class

Escorted
Tashkent
Samarkand
Uzbekistan
$2,199View Tour

Best Price Guaranteed

Book With Flexibility

12 Day Discover Uzbekistan - Thursday Departure

12

Days

Discovery By Gate1

First Class

Escorted
1 - Light

22
Tashkent
Tashkent
Uzbekistan
$1,999View Tour

Best Price Guaranteed

Book With Flexibility

12 Day Discover Uzbekistan - Tuesday Departure

12

Days

Discovery By Gate1

First Class

Escorted
22
Tashkent
Samarkand
Uzbekistan
$2,199View Tour

Best Price Guaranteed

Book With Flexibility
Uzbekistan Travel Guide
Uzbekistan Tours Highlights
Enjoy some of the most unique and delicious food in Central Asia.
Connect with some of the locals at a desert yurt community and enjoy spending a night under the stars in your own Yurt experience.
Marvel at the incredible tilework that the various mosques have to offer.
Visit and learn about the chashma complex, which holds the ruins of Alexander the Great's fortress.
Visit one of the few holy springs that are believed to heal diseases.
Have a nice cooling swim in Aidarkul Lake and see the beautiful shoreline.
Wander through the Tashkent Bazar and spend the day browsing and shopping through the thousands of stalls that are available.
Visit some of the incredible craft workshops in Bukhara where there are skilled artisans creating knives, carpets, and gold silk embroidery.
Uzbekistan Tours Travel Tips
Avoid discussing politics in public. Uzbekistan has long been a Soviet state and some political views will differ from yours a lot. We suggest keeping political views to yourself.
Be sure to apply for a Visa before traveling, as many areas of the world are expected to have one before being admitted into Uzbekistan.
Make sure to have exchanged your currency to the Uzbek SUM prior to arriving in Uzbekistan.
Have a spare backpack strictly for your cash. If you are exchanging your cash in Uzbekistan, then sometimes they will give you all the money in 1,000UZS notes, which can add up to about 3KG of cash.
Learn to enjoy Plov, a Central Asian dish that consists of fried rice in lamb fat, meat, and different veggies. It might not sound that great but it is actually quite delicious!
Alcohol is widely available and can be taken through border crossings with no worries.
Uzbekistan is the largest wine producer in Central Asia, so make sure to try a few of their local vintages.
We suggest learning a little bit of Russian before traveling, which will help you out a lot (even just learning useful phrases).
Uzbekistan Tours Things To Do
Visit the Chorsu Bazaar

While in Uzbekistan, you need to take the time to visit one of the oldest markets in the country: the Chorsu Bazaar. The bazaar has been running since the times of the Silk Road, but more modern buildings have been added to replace the older buildings as time has gone on. The merchants call out for potential buyers to have a look at the plethora of goods that they have readily available. There is everything here from cheap food and fresh fruit to souvenirs and even trinkets and treasures. Your only problem will be finding just a few items among the thousands of things being offered.

Best Time To Visit

We suggest visiting during the early morning before the bazaar gets too crowded. You also have a better chance at finding some incredible items before anyone else has a chance to snatch them up.

Explore the Mountains of Chimgan

While the heat in the desert might be a lot for some to handle, the mountain ranges in Uzbekistan often have temperatures well below the average summer norms. We suggest taking the time out to explore one of the most beautiful mountain ranges in the world: the Chimgan Mountains. The surrounding area is perfect for hiking and mountain biking, while the summits are often incredible places to ski! You will be able to take stock of a wide variety of incredible flora and fauna while in these picturesque hills.

Best Time To Visit

We suggest visiting the mountain ranges in the later morning into early evening. You will want to make this a full day adventure and will want to be back in your rooms before night falls.

The Samanid Mausoleum

Often regarded as one of the most beautiful mausoleums in the country, the Samanid Mausoleum has some absolutely incredible architectural ingenuity. It is considered to be one of the best works of architecture in Central Asia and has intense intricacy in its many features. It is the resting place of Ismail Samani, who was a highly influential emir of the Samanid dynasty. However, what makes it the most unique is that it predates everything else that is still standing in Uzbekistan. This incredible architectural masterpiece looks fairly new but has the oldest history around.

You Should Know

This is considered to be a religious high point in Uzbekistan, and as such, you will be expected to act with grace and dignity while within its walls. Be sure to dress modestly and keep your voices low to respect those who are worshipping in this area.

Visit the Site of Lake Aral

Notice how we aren't referring to its waters at all? That's because there isn't any water anymore! Lake Aral used to be the largest freshwater lake in the world; however, the booming cotton industry and other farming operations ended up completely draining it into nothing more than a small pond. When visiting the area where the lake used to be, you will see a variety of ships dotting the horizon that sank many years ago, and due to the draining of the lake, are visible once again. It looks more like a ship graveyard than anything else, but it is an amazing site to see.

You Should Know

Dress accordingly while you are here, as the lake resides in the desert area. Be sure to bring plenty of water with you, and dress in cool and comfortable clothing.

Ugam-Chatkal National Park

The Ugam-Chatkal National Park is the largest national park in Uzbekistan. This national park looks less like it belongs in a desert nation and more like something you would find in the hills of Switzerland. The rolling verdant hills and the high mountain valleys are remarkable, and everything looks so picturesque. When visiting here you will see what the true beauty of Inner Asia looks like. You will be greeted by a variety of local birds and animals and will be able to spot a wide variety of flowers that call the park home.

Best Time To Visit

The park is quite large, so we suggest getting an early morning start so that you can see everything there is to see in this amazing dwelling.

Visit the Silk Road Tea house

The Silk Road Tea House is a family-owned restaurant located in the heart of Bukhara and is something that you won't want to miss out on while you are here. The owner and his family have been trading spices and making tea for well over 600 years, with many of the spices being brought in from Saudi Arabia, Iran, and India via the Silk Road. These spices were incorporated into their wide variety of teas, and they are a well-known business in Bukhara and other parts of Uzbekistan.

You Should Know

The restaurant is a great representation of true Bukharian hospitality, and they take pride in their incredible offerings. Be sure to indulge in as much as you can on the menu!

Browse Through the Woodcarvings of Khiva

While you are in Khiva, you will be amazed at the amount of handcrafted wooden items that you will find almost everywhere you look. The people of Khiva are known for their amazing woodworking skills and have created some of the most incredible wood carving pieces around the world. You will see carved pillars, doors of madrasahs, palaces and houses that all date back to ancient times all adorned with intricate woodwork items.

You Should Know

If you are saving up for the perfect souvenir, then we suggest waiting until you visit Khiva. You will be able to find local vendors selling some of their hand carved items, and you will definitely want to make one of them part of your own personal collection.

Enjoy the View at Charvak Reservoir

The Charvak reservoir, en route to Chimgan, is something that you will really want to stop and admire. You will be able to take time and relax by the brilliant blue waters and even wade around or sunbathe. However, if you are looking for something with a little bit more of an adrenaline rush, then we suggest paragliding around the area. You can take to the skies and enjoy an aerial view of the reservoir while trying to count the tents that dot the shore with people grilling and relaxing on the beach.

Best Time To Visit

Due to weather, the warmer seasons are the only times that paragliding is available. This means the best time is from early May to late October.
Uzbekistan Tour Packages
The best time to visit Uzbekistan tends to be in the spring and autumn (April to May and September to early November). The weather tends to be warm and dry, and you are able to enjoy the heat of the desert region without it being uncomfortable.
If you do choose to visit during the summer months, then you can be sure to expect very high temperatures, and heat warnings on most of the days. However, in the winter, you can expect cold temperatures, which may also not be something you are looking for during your travels.
Depending on the weather you are hoping for, any time of the year would be a good time to visit, but Spring and Autumn look the most promising.
Uzbekistan Tours Frequently Asked Questions
What is an Uzbekistan Tour?

A Uzbekistan tour is the absolute best way to see as much of this gorgeous country as you possibly can, in a short period of time. Our tours are fully immersive, offering you some of the best tours that you can find anywhere, and will give you the chance to see the country in a way that you just can't do on your own. The tour has many inclusions and some specific tours that are only available to our patrons, giving you the absolute best experience.

What is Included on an Uzbekistan Tour?

Our tours offer you a wide variety of options other than just excursions. Booking a Uzbekistan tour with us means that you are also getting access to some of the most exciting opportunities around. You will have the chance to experience an overnight stay in a yurt, visit a plethora of shrines and mosques, and walking tours of many historic and ancient sites throughout the country.

What is the Best Uzbekistan Tour?

The best Uzbekistan tour is entirely up to you and what you are hoping to see during your travels. Most of our tours that travel to Uzbekistan also visit a few other areas as well, so you have a chance to see more than just one country in the area. Many tours hit Uzbekistan and 1 other country, such as Turkmenistan; however, there is one tour available that will take you to each "stan" along the Silk Road. That is why we say that the best tour is entirely up to you! If you need any assistance in choosing which tour would be the right one for you, any one of our professional agents would be more than willing to help you out.

How Much Does an Uzbekistan Tour Cost?

Once again, the cost of an Uzbekistan tour completely depends on the tour that you are looking to book and the length of time that you wish to be traveling. If you book one of our cheaper tours, at $1146, you will have an incredible 10-day tour booked viewing all of the highlights of Uzbekistan. However, a more expensive tour of The Five Stans of the Silk Road will cost you $3569 but will have you traveling for 26 days! Our agents are ready to help you decide which tour is best for you, so pick up the phone and give us a call.
Reviews for Uzbekistan Tours and Vacations
The tour was somewhat more active than I anticipated. It was a full tour, well worth taking.
Theodore A
The guide in Kyrgyzstan, Liza is very professional and enthusiastic!
Wai Ling C
I didn't like that I joined a tour that had already been going for 2 weeks. That was not stated in the description. The first group had already bonded and I always felt that I was an outsider. CEO, however, Nika, was very attentive
Patricia C
Departure
Lengths
Styles
Specialities
Price
How It Works
Vacationing has never been easier or cheaper with the help of a dedicated travel consultant from AffordableTours.com
1. Free Quote
Find your perfect trip on our website and simply request a free quote. Need to speak to a live person? Call us 7 days a week at 1-800-935-2620. No robots here!
2. Dedicated Travel Consultant
Your personal travel consultant will reach out and be your point of contact for your entire travel experience from start to finish. Did we mention you'll be working with an award winning team? Sweet!
3. Lowest Price Guaranteed
Because we're one of the largest sellers of travel, we're able to give you a discount on your vacation package. No one beats our prices!
4. Stress Free Travel
Knowing you got the best deal, all that's left is for you to pack your bags and enjoy your vacation!