Explore the culture-rich country of Argentina to discover one of South America's favorite travel destinations. Argentina offers a very diverse experience when traveling around the country – from a major metropolis like the capital, Buenos Aires, to the untouched landscapes in the Patagonia region. Argentina is a favorite destination for culinary delights and immersing in the world of Tango. Argentina Tours provides the best experiences for visiting all of the unique parts of the country. With tour operator volume buys plus our low everyday prices you can save up to 40% versus assembling the same itinerary on your own! Book your Argentina tour today with AffordableTours.com, your discounted tour headquarters. View Argentina Tour Deals and Discounts
Argentina Travel Guide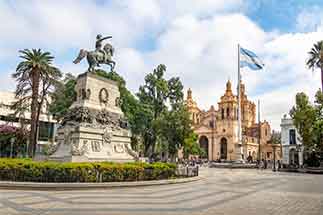 Showing 1 - 20 Tours
Tour Itinerary
Days
Operator
Quality
Style
Starts
Ends
Price

Brazil & Argentina Escape 2024 - Small Group

1 reviews
09

Days

Globus

First Class

Escorted
2 - Classic

20
Rio de Janeiro
Buenos Aires
Argentina, Brazil
$2,191View Tour

Best Price Guaranteed

Book With Flexibility




13 Day Classic Brazil, Argentina & Chile

13

Days

Gate1

First Class

Escorted
Rio de Janeiro
Santiago
Argentina, Brazil, Chile
$2,949View Tour

Best Price Guaranteed

Book With Flexibility




15 Day Kaleidoscope of South America

15

Days

Gate1

First Class

Escorted
Santiago
Rio de Janeiro
Argentina, Brazil, Chile
$4,899View Tour

Best Price Guaranteed

Book With Flexibility

Independent Rio de Janeiro and Iguassu Falls with Brazil's Amazon 2024

09

Days

Globus

First Class

Independent
8+ years old
Manaus
Iguassu Falls
Argentina, Brazil
$2,599View Tour

Best Price Guaranteed

Book With Flexibility

South America Revealed

20 reviews
16

Days

Trafalgar

First Class

Escorted
Rio de Janeiro
Lima
Argentina, Brazil, Peru
$7,278View Tour

Best Price Guaranteed

Book With Flexibility

South American Odyssey with Amazon & Peru 2024 - Small Group

8 reviews
26

Days

Globus

First Class

Escorted
2 - Classic

20
Manaus
Lima
Argentina, Brazil, Chile, Peru
$10,848View Tour

Best Price Guaranteed

Book With Flexibility

South America Discovery

4 reviews
14

Days

Costsaver

Budget

Escorted
Rio de Janeiro
Cusco
Argentina, Brazil, Peru
$3,750View Tour

Best Price Guaranteed

Book With Flexibility

Wonders of Patagonia

8 reviews
10

Days

Trafalgar

First Class

Escorted
Buenos Aires
Santiago
Argentina, Chile
$6,344View Tour

Best Price Guaranteed

Book With Flexibility

La Paz to Buenos Aires: Andes & the Atacama Desert

15

Days

G Adventures

Budget

Escorted
2 - Classic

18 - 39 years old
18
La Paz
Buenos Aires
Argentina, Bolivia, Chile
$1,754View Tour

Best Price Guaranteed

Book With Flexibility

Independent Brazil, Argentina & Chile 2024

12

Days

Globus

First Class

Independent
8+ years old
Rio de Janeiro
Santiago
Argentina, Chile
$2,819View Tour

Best Price Guaranteed

Book With Flexibility

South American Odyssey 2024 - Small Group

22 reviews
15

Days

Globus

First Class

Escorted
2 - Classic

20
Rio de Janeiro
Santiago
Argentina, Brazil, Chile
$6,517View Tour

Best Price Guaranteed

Book With Flexibility

Spirit of South America 2024 - Small Group

46 reviews
15

Days

Globus

First Class

Escorted
2 - Classic

Rio de Janeiro
Lima
Argentina, Brazil, Peru
$6,621View Tour

Best Price Guaranteed

Book With Flexibility

Independent Rio de Janeiro and Iguassu Falls 2024

2 reviews
06

Days

Globus

First Class

Independent
8+ years old
Rio de Janeiro
Iguassu Falls
Argentina, Brazil
$1,479View Tour

Best Price Guaranteed

Book With Flexibility

Independent Brazil, Argentina, & Peru 2024

16

Days

Globus

First Class

Independent
8+ years old
Rio de Janeiro
Lima
Argentina, Peru
$4,279View Tour

Best Price Guaranteed

Book With Flexibility




10 Day Classic Brazil & Argentina - Monday Departure

9 reviews
10

Days

Gate1

First Class

Escorted
Rio de Janeiro
Buenos Aires
Argentina, Brazil
$1,749View Tour

Best Price Guaranteed

Book With Flexibility

Brazil & Argentina Escape with Santiago 2024 - Small Group

6 reviews
12

Days

Globus

First Class

Escorted
1 - Light

20
Rio de Janeiro
Santiago
Argentina, Brazil, Chile
$2,838View Tour

Best Price Guaranteed

Book With Flexibility

Brazil, Argentina & Chile Unveiled 2024

2 reviews
12

Days

Cosmos

Budget

Escorted
3 - Explorer

Rio de Janeiro
Santiago
Argentina, Brazil, Chile
$3,085View Tour

Best Price Guaranteed

Book With Flexibility

Independent Buenos Aires City Stay 2024

04

Days

Globus

First Class

Independent
8+ years old
Buenos Aires
Buenos Aires
Argentina
$939View Tour

Best Price Guaranteed

Book With Flexibility

Brazil, Argentina & Chile Unveiled with Peru 2024

20

Days

Cosmos

Budget

Escorted
3 - Explorer

Rio de Janeiro
Lima
Argentina, Brazil, Chile, Peru
$5,237View Tour

Best Price Guaranteed

Book With Flexibility

South American Odyssey with Easter Island 2024 - Small Group

4 reviews
19

Days

Globus

First Class

Escorted
2 - Classic

20
Rio de Janeiro
Santiago
Argentina, Brazil, Chile
$8,850View Tour

Best Price Guaranteed

Book With Flexibility
Argentina Travel Guide
Argentina Tours Highlights
Go sightseeing in Plaza de Mayo
Walk the colorful streets in the La Boca neighborhood
Grab a dance partner and visit a famous Tango club to learn how to dance Tango
Shop in the historical Mercado San Telmo to find some delectable Argentine dishes
Explore the fantastic architecture inside Recoleta cemetery to discover some of Argentina's most famous and impactful people
Take a cooking class to learn how to make signature Argentine empanadas
Ride Horses at an Argentine Estancia
Taste delicious wine from Argentina's Malbec region when you visit one of the many wineries
Hike to the top of Cerro Campanario to see one of the best viewpoints in the world
See and hear the thundering water of the Iguassu Falls
Explore the scenic natural sights within Argentina's Patagonia region
Argentina Tours Travel Tips
Most people speak only Spanish, so knowing a few words and phrases helps navigate the country. Some of the busy tourist areas, hotels, and guides speak English to assist you.
Bring a jacket. Argentina has varied weather patterns – one day, it might be warm and sunny, and the next day cool and rainy. Be sure to check the weather before heading out every day.
Make sure you're prepared for some of the high elevation destinations in Argentina. Elevation sickness is common, but there are many ways to remedy the illness, so you still have a chance to explore these regions.
Use cash. Most places outside of Buenos Aires and other developed cities predominantly use the Argentine Pesos. Street vendors and markets also strictly use cash.
Avoid flashy clothing and jewelry when traveling around Argentina to not attract unwanted attention.
Argentina Tours Things To Do
Go sightseeing in Plaza de Mayo

Plaza de Mayo is the most important square in Buenos Aires. It's a political and historical center surrounded by many of the notable landmarks in the city. It's a must-visit for tourists to access the top attractions and learn about the country's origins. Plaza de Mayo is named for the May Pyramid in the center of the plaza – it commemorates the May Revolution from 1884 when Argentina gained independence. Notable buildings surround the plaza, including Casa Rosada, Buenos Aires City Hall, Metropolitan Cathedral, and Cabildo.

Best Time To Visit

Visit during the day to see a lot of the local life surrounding the plaza. It's a popular public gathering place and a hub for transportation with access to the metro trains. In addition to sightseeing, there are several shops and restaurants around the square.

Walk the colorful streets in the La Boca neighborhood

The colorful streets of La Boca are one of the most visited areas in Buenos Aires. It's one of the first settled areas established off of the port, but today attracts tourists from all over to experience its culture and history. La Boca is approximately a four-block radius filled with beautifully painted streets and buildings by local artists. Take a walk around to admire the artistic nature of the neighborhood. The streets are lined with vendors selling paintings, handicrafts, and souvenirs. It's considered the birthplace of the famous tango dance, so there are always street performers dancing.

Best Time To Visit

La Boca is a daytime destination for enjoying the local atmosphere of art and dance. It's often included on walking and photo tours. It's not recommended for tourists to visit at night.

Explore the unique architecture inside Recoleta cemetery to discover some of Argentina's most famous and impactful people

Cemeteries aren't typically must-see attractions for tourists, but Recoleta Cemetery ranks among the most beautiful cemeteries in the entire world. The cemetery serves as a burial site for many of the most notable figures in Argentina's history while showcasing incredible design and architecture. Recoleta Cemetery was established in 1822 and now holds over 4,000 graves. Many of the graves feature artistically designed tombs, statues, monuments, and more. The graves are organized as city blocks to make it walkable for visitors.

You Should Know

There are many impressive tombs to see in the cemetery, including all of the past Argentina presidents, military figures, cultural icons, and the most famous, Eva Perón. A walking tour is the best way to explore the cemetery as there are no directions to the notable tomb sites.

Shop in the historical Mercado San Telmo to find some delectable Argentine dishes

Browse the stalls of Mercado San Telmo to taste the fresh Argentine flavors or shop locally made handicrafts. Established in 1897, the famous market is the oldest and largest market in Buenos Aires. Mercado San Telmo is located in a building designed in an Italian architecture style and recognized as a National Historic Monument. The building houses various vendors and stalls selling meats, fish, fruits, vegetables, antique items, jewelry, clothing, and souvenirs. The market is a popular tourist destination for eating local food favorites like empanadas or shopping fresh produce.

Best Time To Visit

Mercado San Telmo is open daily but visit on Sunday to explore the outdoor Sunday market adjacent to the building. You'll have a lot more variety of things to eat and shop between the indoor and outdoor shopping spaces.

Grab a dance partner and visit a famous Tango club to learn how to dance Tango

Tango is a world-renowned dance style that originated in Argentina. Buenos Aires, the capital, is known as the birthplace of the tango, so it's a popular tourist activity to learn (or watch) the sensual dance. You'll discover the tango everywhere in Argentina, from street performers to major dance events showcasing the world's best dancers. There are many local tango clubs in Buenos Aires to learn how to dance the tango or dance the night away to live tango music.

You Should Know

Plan to tango at some point during your visit to Argentina – a lot of the nightlife centers around Tango dancing, or you'll find a lot of local classes for learning beginner moves before stepping out onto the dance floor.

See and hear the thundering water of the Iguassu Falls

Follow the flow of the Iguazu River to reach the border of Argentina and Brazil, where the river flows into the Iguassu Falls, the world's largest waterfall. The roaring sound of the water and the mist rising from the bottom is a must-see sight to experience. Iguassu Falls consists of 275 individual falls, most of which are on Argentina's side. The falls range in height and flow, with the largest reaching an elevation of 82 meters.

You Should Know

Visitors can view the falls from either Argentina or Brazil. When traveling in Argentina, the falls are accessible via the Iguazú National Park, a UNESCO World Heritage Site. In addition to hiking, there are also helicopter tours for an aerial perspective of the falls.

Hike to the top of Cerro Campanario to see one of the best viewpoints in the world

Views from atop Cerro Campanario are among the most beautiful sights in the world. Ascend to the summit over 1000 meters above sea level for an impressive view of the diverse landscapes of Parque Nacional Nahuel Huapi. Cerro Campanario has panoramic views of snow-capped mountains of the Andes Mountains, blue lakes, and lush forested areas. Visitors can enjoy taking photos or sightseeing from the observation platform. There is also a café at the summit to grab a bite while taking in the views.

You Should Know

Cerro Campanario is a popular day trip activity for visitors in Bariloche. Buses take visitors to the foothills, which has two options for reaching the top: hiking or cable car.

Explore the scenic natural sights within Argentina's Patagonia region

The mostly uninhabited region of Patagonia makes it the perfect place to experience the rich natural landscape of Argentina. Patagonia is a popular destination for adventure travelers seeking a unique outdoor experience in the vast region. Patagonia is a region of South America's southern tip, covering over one million square kilometers of Argentina and Chile. It's known for its preserved diverse landscapes – Andes Mountains, glaciers, deserts, lakes, fjords, etc. Some of the popular points of interest include Perito Moreno Glacier, Tierra del Fuego, and the Valdés Peninsula.

You Should Know

Favorite things to do in Patagonia include hiking, camping, backpacking, whale watching, and cruises. It's also the starting point for journeys to Antarctica. It has an abundance of wildlife and flora for the best natural scenery in Argentina.

Ride Horses at an Argentine Estancia

An Argentine "estancia" is a ranch where locals raise cattle, farm, and now host tourist groups for getting an intimate glimpse into the rural lifestyle in Argentina. One of the popular activities to do at the estancia experiences is riding horses through a picturesque landscape. There are lots of Argentine estancias located in the Patagonia region where land is abundant, and farming remains a local way of life. The family-owned ranches provide an entire itinerary for visitors such as petting the animals, riding horses, and eating meals prepared with the local-grown produce.

You Should Know

Visiting an Argentine Estancia is a unique experience to interact with local farmers in Argentina while getting to know their way of life. Many estancias receive lots of visitors and provide tourist activities and showcasing typical farming techniques and routines.
Argentina Tour Packages
The best time to visit Argentina is during the spring or the fall seasons. Keep in mind that Argentina is in the southern hemisphere, so its seasons are reversed. In general, Argentina has a temperate climate, remaining cool and dry year-round. However, it's a large country and features a variety of temperature differences depending on the region. The southern Andes region is the coldest due to the high elevations, while the northern region is the hottest, especially during the summer.
Spring – October to December – Best Season

The best time to visit Argentina is during the spring. It avoids the extreme temperatures found during the summer or winter, giving tourists a more moderate climate to enjoy for their trip. Spring is the most beautiful time in the country when the flowers bloom – it's the best time to explore the great natural sights.

Summer – January to March – Low Season

Many travelers avoid visiting Argentina during the summer because of the hot weather, especially in the north. Temperatures average between 90°F-100°F, so outdoor activities are unfavorable.

Fall – April to June – Best Season

Fall is an alternative season to visit in Argentina. It's an off-peak season, so travel prices are better and popular destinations less crowded during the Fall. One of the most popular things to do during the Fall is to explore the wine region – Fall is harvest time for the grapes for producing fresh wine.

Winter – July to September – Peak Season

Winter in Argentina is the summer travel season in the US, Europe, and Asia, where many travelers come from. Although it's the coldest season, it remains a popular time to visit.
Argentina Tours Frequently Asked Questions
What are Argentina Tours?

Argentina Tours provides an incredible experience from a local perspective to get to know Argentina. Argentina is a popular travel destination when visiting South America, and the variety of tours help highlight the best in the country. Experience the culture, history, and beautiful nature when you visit Argentina!

What's included in Argentina Tours?

Argentina Tours takes visitors across the top destinations in South America. Plan a vacation to Brazil, Argentina, Chile, and Peru to see the diversity of the continent. Tour stops in Argentina can be combined with other neighboring countries to see famous landmarks like Casa Rosada, the Iguazu Waterfalls, Patagonia, or to begin the cruise to Antarctica.

Where should you go in Argentina?

Argentina is a vast country with a lot of well-known destinations. It's a country ideal for all travelers, from cultural tourism to adventure travelers to a couple's retreat. Some of the must-visit destinations in Argentina include Buenos Aires, Patagonia, the Iguazú National Park, and the Malbec Wine Region.

What can I do on my free day in Argentina?

Many of the Argentina Tours allow you to spend a free day in Buenos Aires, where you have plenty of options to explore the capital city. It's one of the biggest cities in Latin America and is known for its dance, food, history, and more. Explore some of the walking tours to discover the city from a local perspective or take a day trip outside of the city to places like the estancias to explore the country's natural side.
Learn More About Argentina Tours

Why Argentina Is Everybody's Favorite Destination

Argentina is so diverse, it instantly becomes a favorite vacation destination for anyone and everyone that travels to it.


Review: Patagonian Grand Adventure With Trafalgar

By: Lucy Fernandez, Vice-President In my life, I have been privileged to be able to travel to many places wonderful and experience, if only for a few days at a time, a sampling of the different environments and cultures that make our world so fascinating. In November, my sister and I completed the Patagonian Grand Adventure…


Top 5 Destinations For Adult Solo Travelers

Adult travelers know how they prefer to see the world. They want to spend a little longer in intriguing destinations, focus on the history, culture and locals of the city, and require an emphasis on comfort and stress free planning.
Reviews for Argentina Tours and Vacations
Guide was very professional and daily schedule very relaxing and not heavy
Daniel L
We thoroughly enjoyed our small group tour in South America with Globus. Everything was well organized, and the small group size made it much easier to move around. Our tour director communicated well with us and ensure that everything went smoothly. Local guides were very knowledgeable as well.
Denise K
The tour guides and drivers were true professionals and they went to great lengths to assure everyone's safety and well being. The itineraries were. beautifully planned and the entire experience exceeded our expectations.
Gary H
Departure
Lengths
Styles
Specialities
Price
How It Works
Vacationing has never been easier or cheaper with the help of a dedicated travel consultant from AffordableTours.com
1. Free Quote
Find your perfect trip on our website and simply request a free quote. Need to speak to a live person? Call us 7 days a week at 1-800-935-2620. No robots here!
2. Dedicated Travel Consultant
Your personal travel consultant will reach out and be your point of contact for your entire travel experience from start to finish. Did we mention you'll be working with an award winning team? Sweet!
3. Lowest Price Guaranteed
Because we're one of the largest sellers of travel, we're able to give you a discount on your vacation package. No one beats our prices!
4. Stress Free Travel
Knowing you got the best deal, all that's left is for you to pack your bags and enjoy your vacation!