Colombia is one of South America's most beautiful countries. It's famous for many things, from the cuisine to the beaches to the overall cultural – you'll get a chance to experience all of it and more on a Colombia tour. Dive into the rich Colombian heritage as you visit some of the country's popular travel destinations, including Bogotá, Cartagena, Medellin, and Santa Marta. The tours provide an incredible opportunity to get to know the best in Colombia. With tour operator volume buys plus our low everyday prices you can save up to 40% versus assembling the same itinerary on your own! Book your Colombia tour today with AffordableTours.com, your discounted tour headquarters. View Colombia Tour Deals and Discounts
Colombia Travel Guide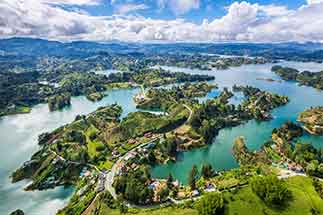 Showing 1 - 20 Tours
Tour Itinerary
Days
Operator
Quality
Style
Starts
Ends
Price

Jewels of Colombia 2024 - Small Group

09

Days

Globus

First Class

Tour & Cruise
Bogota
Cartagena
Colombia
$3,559View Tour

Best Price Guaranteed

Book With Flexibility




Colombia Express

09

Days

G Adventures

Budget

Escorted
2 - Classic

12+ years old
16
Bogota
Cartagena
Colombia
$2,107View Tour

Best Price Guaranteed

Book With Flexibility




8 Day Classic Colombia - 8 Day Classic Colombia

6 reviews
08

Days

Gate1

First Class

Escorted
Medellín
Bogota
Colombia
$1,399View Tour

Best Price Guaranteed

Book With Flexibility

Independent Magical Colombia 2024

08

Days

Globus

First Class

Independent
8+ years old
Bogota
Cartagena
Colombia
$2,059View Tour

Best Price Guaranteed

Book With Flexibility

Independent Magical Colombia with Medellin 2024

10

Days

Globus

First Class

Independent
8+ years old
Bogota
Medellín
Colombia
$2,579View Tour

Best Price Guaranteed

Book With Flexibility

Jewels of Colombia with Peru and Machu Picchu 2024 - Small Group

16

Days

Globus

First Class

Small Ship Cruising
Bogota
Lima
Colombia, Peru
$6,658View Tour

Best Price Guaranteed

Book With Flexibility

Jewels of Colombia with Peru and Machu Picchu 2025 - Small Group

16

Days

Globus

First Class

Small Ship Cruising
Bogota
Lima
Colombia, Peru
$7,071View Tour

Best Price Guaranteed

Book With Flexibility

Jewels of Colombia 2025 - Small Group

09

Days

Globus

First Class

Tour & Cruise
Bogota
Cartagena
Colombia
$3,729View Tour

Best Price Guaranteed

Book With Flexibility

Independent Magical Colombia 2025

08

Days

Globus

First Class

Independent
8+ years old
Bogota
Cartagena
Colombia
$2,179View Tour

Best Price Guaranteed

Book With Flexibility

Independent Magical Colombia with Medellín 2025

10

Days

Globus

First Class

Independent
8+ years old
Bogota
Medellín
Colombia
$2,739View Tour

Best Price Guaranteed

Book With Flexibility

Colombia Journey

3 reviews
09

Days

National Geographic

First Class

Escorted
3 - Explorer

12+ years old
15
Bogota
Cartagena
Colombia
$3,099View Tour

Best Price Guaranteed

Book With Flexibility

Explore Colombia

10

Days

Intrepid

Budget

Guided/Hosted
3 - Explorer

15+ years old
12
Cartagena
Bogota
Colombia
$1,960View Tour

Book With Flexibility

Colombian Culture, Caribbean & Lost City

22

Days

G Adventures

First Class

Escorted
4 - Active

12+ years old
16
Bogota
Santa Marta
Colombia
$4,657View Tour

Best Price Guaranteed

Book With Flexibility

Caribbean Adventure: the Lost City trek & Medellín

12

Days

G Adventures

First Class

Escorted
5 - Challenging

18 - 39 years old
16
Cartagena
Medellín
Colombia
$1,434View Tour

Best Price Guaranteed

Book With Flexibility

Colombia - Lost City Trekking

07

Days

G Adventures

First Class

Escorted
5 - Challenging

12+ years old
16
Santa Marta
Santa Marta
Colombia
$764View Tour

Best Price Guaranteed

Book With Flexibility

Classic Colombia

1 reviews
16

Days

G Adventures

Budget

Escorted
3 - Explorer

12+ years old
16
Bogota
Santa Marta
Colombia
$3,909View Tour

Best Price Guaranteed

Book With Flexibility

Colombia's Caribbean Coast & Lost City

1 reviews
14

Days

G Adventures

First Class

Escorted
4 - Active

12+ years old
16
Cartagena
Santa Marta
Colombia
$2,634View Tour

Best Price Guaranteed

Book With Flexibility

Caribbean Colombia Express

3 reviews
08

Days

G Adventures

Budget

Escorted
3 - Explorer

12+ years old
16
Cartagena
Santa Marta
Colombia
$1,826View Tour

Best Price Guaranteed

Book With Flexibility




11 Day Kaleidoscope of Colombia

11

Days

Gate1

First Class

Escorted
Bogota
Cartagena
Colombia
$2,149View Tour

Best Price Guaranteed

Book With Flexibility




Cafe Colombia

2 reviews
09

Days

Intrepid

Budget

Guided/Hosted
3 - Explorer

15+ years old
12
Bogota
Cartagena
Colombia
$2,120View Tour

Book With Flexibility
Colombia Travel Guide
Colombia Tours Highlights
Take a walking tour around La Candelaria to learn about the rich history in Bogotá.
Start your sightseeing journey in Plaza Bolivar to explore the center of Colombia's capital.
Ride to the top of Monserrate for views overlooking all of Bogotá
Enjoy the scenic views from atop La Piedra in Guatapé.
Explore Comuna 13 to see some of the best graffiti artworks in Medellin
Taste the best coffee in the world grown locally in the Coffee Triangle
Step inside the old city walls in Cartagena to find unique shopping boutiques and restaurants.
Spend the day hiking to the picturesque Cabo San Juan in the Tayrona National Park.
Visit the local museums in Bogota and Medellin to learn about Botero, one of Colombia's most famous artists with public works displayed in the major cities.
Colombia Tours Travel Tips
Spanish is the official language in Colombia. Most people only speak Spanish, so you'll need it to communicate and navigate, especially outside of the main tourist areas.
Colombia has a bad reputation for traveling, especially in major cities like Bogotá and Medellin, but it's actually a fantastic place to travel! Use caution, just like any other destination, and avoid carrying valuables in busy areas.
Take official taxis or Uber when getting around the major cities. You can easily spot a cab, and make sure that they use the meter to avoid a common scam over overcharging when arriving at your destination.
Colombia has a vibrant cuisine – be sure to try authentic Colombia coffee and the famous Bandeja Paisa.
Most street vendors and local attractions only accept cash, so always carry some Colombian pesos with you.
Colombia Tours Things To Do
Take a walking tour around La Candelaria to learn about the rich history of Bogotá

La Candelaria is the most popular tourist area in Bogotá, a historical neighborhood in downtown. It's a place to discover Colombia's culture and history – it's characterized by Spanish colonial-style architecture where you'll find many of the top local sightseeing destinations. Take a walk down the cobblestone street of Calle del Embudo, lined with colorful buildings and graffiti, or visit some cultural venues like Botero Museum, Gold Museum, and Luis Angel Arango Library.

You Should Know

Walking tours are the best way to experience La Candelaria not only to see the sights but learn a lot about the city's history.

Start your sightseeing journey in Plaza Bolivar to explore the center of Colombia's capital

Plaza Bolivar is a must-visit attraction in Bogotá. It's the main square in the capital and one of the most popular gathering places. It's a place for sightseeing, people watching, or enjoying the local atmosphere. The square was established in the 16th Century as a public gathering space for entertainment and public markets. It was renamed in the 19th Century and now prominently features a Simón Bolívar statue in the center.

You Should Know

Many notable buildings surround Plaza Bolivar, including the oldest cathedral in Colombia, Liévano Palace, Palace of Justice, and the National Capitol. It's an excellent place for photography to capture the large plaza.

Best Time To Visit

Visit Plaza Bolivar during the day when there's lots of activity going on. It's a popular tourist destination where you'll see street performers, vendors, and more. It's also a fun place to be during the holidays when the plaza showcases holiday decorations and events.

Ride to the top of Monserrate for views overlooking all of Bogotá

For the best viewpoint in Bogotá, visit Monserrate, a mountain overlooking the capital. The mountain is visible from all around Bogotá but ascending to the top reveals the scale of the city. Monserrate has an elevation of over 3,000 meters. It features a famous 17th Century white church at the summit and various restaurants and souvenir vendors to support the peak's tourism. It's open daily to ride (or hike) to the top to see the incredible views. The neighboring Guadalupe Hill is visible in the distance to see the Our Lady of Guadalupe statue. The hilltop is another frequently visited destination.

You Should Know

There are several ways to reach the top of Monserrate. Visitors can ride to the top in the cable car or funicular. There is also a hiking trail established, which extends over 2km – it's most popular for pilgrimages to the church.

Best Time To Visit

Bogotá frequently has overcasts, so try to plan your visit on a clear day for the best views. Many people like to go to see the sunset.

Taste the best coffee in the world grown locally in the Coffee Triangle

Colombia is famous for its coffee – considered by some to be the world's best. The strong and fresh tasting coffee comes from the Coffee Triangle, the primary coffee-growing region. If you're a fan of coffee or want to experience a rural side of Colombia, you'll greatly enjoy the region. Coffee Triangle is a region known to have the best coffee-growing conditions in the world. Various coffee production farms are dotted throughout the region, which welcomes tourists to immerse themselves in the world of coffee.

You Should Know

There are several destinations outside of the major cities in the region to explore. Visit the Colombian National Coffee Park – an amusement park with more than two dozen rides, visit the Museum of Culture Coffee to see the coffee production process from start to finish – and even taste some of the freshly produced coffee.

Explore Comuna 13 to see some of the best graffiti artworks in Medellin

The graffiti-covered streets of Comuna 13 make it one of the most visited areas in Medellin. The community emerged from a dark past to now serve as a destination for tourists to learn more about Colombia's beauty and transformation. Campo Valdez was once Medellín's most dangerous neighborhood. Within a few years, it was completely transformed into a tourist hotspot to see the colorful graffiti covering the walls and buildings, exploring the local cafes and galleries, and watching street performers.

You Should Know

Comuna 13 is very tourist-friendly – feel free to interact with the locals to learn about the neighborhood's history and how it came to be what it is today. You can access Comuna 13 by the airlift and navigate the neighborhood via electrical staircases. It has a high elevation, so it provides incredible views of the city.

Enjoy the scenic views from atop La Piedra in Guatapé

La Piedra, which translates to rock, is a national monument in Colombia and a popular day trip destination from Medellín. There's a long-lasting dispute over who can claim the rock – it's located on the border of Guatapé and Peñol - but one thing for sure is that it's the main driver for tourists to the area. La Piedra appears to protrude from the Earth at more than 200 meters above the ground. Visitors can climb the 649 steps of the zig-zagged staircase to reach the observation site at the summit. It provides incredible views of the reservoir and small islands within it. It also has a viewing tower for an even better view and a store.

You Should Know

While La Piedra is a favorite tourist spot, don't forget to check out the town of Guatapé. It's a beautiful small town to look at traditional Colombia. The colorful buildings are great for shopping souvenirs or tasting a delicious bandeja paisa meal after your climb.

Step inside the old city walls in Cartagena to find unique shopping boutiques and restaurants

Cartagena's Old City is the most charming part of the city, where most tourists visualize the coastal destination. Old City is the main downtown district filled with colorful colonial architecture and balconies overlooking the narrow streets. It's a cultural hub and romantic area for discovering Cartagena. The old city wall remains, which surrounds the entire old city. Visitors can climb onto the wall to enjoy stunning views of the ocean and Modern Cartagena. Explore some of the popular attractions like Puerta del Reloj, the main gate entering the old city; Castillo San Felipe de Barajas, a massive fortress; or some of the numerous museums, galleries, and boutique shops lining the streets.

You Should Know

Old City is a popular place to stay in Cartagena to access historical attractions and the beaches.

Best Time To Visit

You can visit the Old City at any time! In the day, it's a bustling tourist area where you'll see lots of local tours and street vendors selling food or souvenirs. At night, it becomes a vibrant nightlife area with lots of bars and clubs to check out.

Spend the day hiking to the picturesque Cabo San Juan in the Tayrona National Park

Tayrona National Park is the second-most visited national park in Colombia. It runs along the Caribbean coast, established in 1969 for protecting one of the country's most biodiverse regions. It's the perfect outdoor adventure for sightseeing, recreation, and relaxing on the beach. The park covers approximately 150 square kilometers of land and 30 square kilometers of sea. There are more than 100 animal species, 300 bird species, and hundreds of marine life creatures. Cabo San Juan and La Piscina are two of the most popular points of interest in the park, where tourists can follow hiking trails leading to them. Camping is also permitted in the park.

You Should Know

All visitors must undergo an onsite medical screening check before entering the park in case of bug bites, allergies, or injury.

Best Time To Visit

Be sure to arrive at the park early to have enough time to explore. It takes at least three hours to hike to the beach and will take the same hiking back to the entrance before it closes. You can opt for a return trip on a boat or via horseback ride.
Colombia Tour Packages
Any time of the year is a great time to visit Colombia, but keep in mind that its diverse landscape and unique position give it quite a varied climate in different regions. Colombia has two main seasons – the dry season and the rainy season. While the weather fluctuates depend on where you travel, it's a general rule of thumb to remember. Colombia is cooler in the higher elevations, like in Bogotá, and hotter in the northern coastal destinations like Cartagena.
Dry Season – December to March, July to Sept – Best Season

Colombia's peak travel season is during the dry season, namely December to March. It's Colombia's holiday season with many public holidays and events, so many locals take vacations to enjoy the great weather. The dry season has warm and sunny days.

Rainy Season – April and May, October and November – Low season

The rainy season is when you'll be able to find lower rates for traveling to Colombia. The rainy season is characterized by daily rain showers, although the rain only lasts for a few hours, so you can still make the most of your trip if you're traveling at this time. The rainforest region tends to always be rainy, so it shouldn't be a factor when planning your trip.
Colombia Tours Frequently Asked Questions
What are Colombia Tours?

Colombia tours offer the best travel to Colombia with tours visiting top destinations. Pick a tour to discover the incredible South American destination for immersive experiences in the culture, history, and natural beauty. Colombia is a combination of major metropolises and pure nature – the tours take travelers to see it all!

Where do Colombia Tours go?

Colombia tours take visitors to the best tourist destinations for getting to know authentic Colombia. Visit the capital, Bogotá, to see the famous Plaza Botero or views from Monserrate. Travel to Medellin to explore the artfully decorated neighborhood of Comuna 13 or take a day trip to La Piedra rock attraction. Take a trip to the Caribbean coastal city of Cartagena to explore the historic Old City or relax on the world's most scenic beaches.

Is it safe to travel to Colombia?

Many people hesitate to travel to Colombia because of its reputation, but Colombia has experienced a significant revival into one of the world's most fun travel destinations. There are still areas of caution, especially in the big cities, but use good judgment, and you'll be accompanied by local guides to show you how to have a fun, safe trip to Colombia.

How much do Colombia Tours cost?

Colombia is a very budget-friendly travel destination with options ranging from luxury travel to backpacking. You can find five-day tours traveling to multiple cities for less than $500 USD if you're looking for a vast experience, or spend more time in each destination to connect with the locals. Colombia Tours are designed to fit all budgets with the best prices online!
Learn More About Colombia Tours
Reviews for Colombia Tours and Vacations
No complaints whatsoever, this was a fantastic trip and worth much more than what I paid. The administrative staff was so professional to deal with and accommodated my requests.
Katherine C
I had an amazing time during this trip. The tour director is a very friendly, very organized, very accomodating, person who anticipated other's needs and knew how to resolved issues. Great locations, Great hotels, Great tours. Hotels staff were accomodating and very friendly. The food were good all around. Over all, it was an excellent trip.
Martine M
My thirds time in Colombia and we had a blast!
Sergey B
Departure
Lengths
Styles
Specialities
Price
How It Works
Vacationing has never been easier or cheaper with the help of a dedicated travel consultant from AffordableTours.com
1. Free Quote
Find your perfect trip on our website and simply request a free quote. Need to speak to a live person? Call us 7 days a week at 1-800-935-2620. No robots here!
2. Dedicated Travel Consultant
Your personal travel consultant will reach out and be your point of contact for your entire travel experience from start to finish. Did we mention you'll be working with an award winning team? Sweet!
3. Lowest Price Guaranteed
Because we're one of the largest sellers of travel, we're able to give you a discount on your vacation package. No one beats our prices!
4. Stress Free Travel
Knowing you got the best deal, all that's left is for you to pack your bags and enjoy your vacation!