Slovenia Tours & Vacation Packages 2023/2024
Save up to 40% on Slovenia Tours & Vacation Packages 2023/2024
Slovenia Travel Guide
Slovenia literally has the word "Love" in the meaning of its name, and this is actually what happens to you when you first visit Slovenia, you fall in love with it. During your first-ever visit to this beautiful land full of high white-capped peaks, clear blue rivers, and an amazing natural landscape, you will feel like you have just entered Paradise. It is hard to believe your eyes when you see those magnificent mountains and realize the fact that how accurately they have been placed there to make this view possible. Slovenia is located in central Europe and you can easily get there from any European country. Most people even do cycling tours from Austria and Italy to visit Slovenia. With tour operator volume buys plus our low everyday prices you can save up to 40% versus assembling the same itinerary on your own! Book your Slovenia tour today with AffordableTours.com, your discounted tour headquarters. View Slovenia Tour Deals and Discounts
Slovenia Travel Guide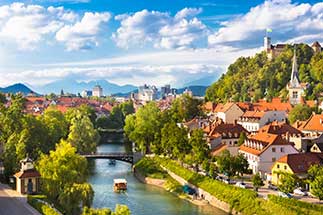 Showing 1 - 20 Tours
Tour Itinerary
Days
Operator
Quality
Style
Starts
Ends
Price



The Croatian 2023

50 reviews
11

Days

Globus

First Class

Escorted
Zagreb
Dubrovnik
Croatia, Slovenia
$2,929View Tour

Best Price Guaranteed

Book With Flexibility

Country Roads of Croatia - Classic Group

14

Days

Insight Vacations

First Class

Escorted
5+ years old
40
Zagreb
Dubrovnik
Croatia, Slovenia
$3,892View Tour

Best Price Guaranteed

Book With Flexibility

Best of Croatia and Slovenia

12 reviews
11

Days

Trafalgar

First Class

Escorted
Zagreb
Dubrovnik
Croatia, Slovenia
$2,605View Tour

Best Price Guaranteed

Book With Flexibility

Croatia & Albania Escape 2023

09

Days

Globus

First Class

Escorted
Zagreb
Tirana
Albania, Croatia, Slovenia
$1,499View Tour

Best Price Guaranteed

Book With Flexibility




Venice, Slovenia, Croatia & Montenegro 2023

10 reviews
11

Days

Cosmos

Budget

Escorted
3 - Explorer

Venice
Dubrovnik
Croatia, Italy, Montenegro, Slovenia
$1,869View Tour

Best Price Guaranteed

Book With Flexibility




12 Day Albania, Montenegro, Croatia & Slovenia - Saturday Departure

12 reviews
12

Days

Gate1

First Class

Escorted
3 - Explorer

8+ years old
42
Tirana
Venice
Albania, Croatia, Italy, Montenegro, Slovenia
$1,899View Tour

Best Price Guaranteed

Book With Flexibility




12 Day Albania, Montenegro, Croatia & Slovenia - Thursday Departure

12

Days

Gate1

First Class

Escorted
Tirana
Venice
Albania, Croatia, Italy, Montenegro, Slovenia
$1,849View Tour

Best Price Guaranteed

Book With Flexibility




The Croatian 2023 - Small Group

4 reviews
11

Days

Globus

First Class

Escorted
Zagreb
Dubrovnik
Croatia, Slovenia
$3,499View Tour

Best Price Guaranteed

Book With Flexibility




14 Day Croatia, Bosnia & Slovenia with Venice - Monday Departure

14

Days

Gate1

First Class

Escorted
Zagreb
Venice
Bosnia, Croatia, Italy, Montenegro, Slovenia
$3,199View Tour

Best Price Guaranteed

Book With Flexibility




Scenic Slovenia & Croatia 2023

28 reviews
08

Days

Cosmos

Budget

Escorted
3 - Explorer

Ljubljana
Ljubljana
Croatia, Slovenia
$1,759View Tour

Best Price Guaranteed

Book With Flexibility




12 Day Albania, Montenegro, Croatia & Slovenia - Tuesday Departure

12

Days

Gate1

First Class

Escorted
Tirana
Venice
Albania, Croatia, Italy, Montenegro, Slovenia
$1,899View Tour

Best Price Guaranteed

Book With Flexibility

Highlights of Eastern Europe

90 reviews
17

Days

Trafalgar

First Class

Escorted
Vienna
Vienna
Austria, Croatia, Czech Republic, Germany, Hungary, Poland, Slovakia, Slovenia
$3,325View Tour

Best Price Guaranteed

Book With Flexibility

12 Day Serbia, Croatia & Slovenia - Wednesday Departure

1 reviews
12

Days

Gate1

First Class

Escorted
Belgrade
Dubrovnik
Croatia, Serbia, Slovenia
$1,999View Tour

Best Price Guaranteed

Book With Flexibility




10 Day Croatia & Slovenia - Sunday Departure

2 reviews
10

Days

Gate1

First Class

Escorted
Zagreb
Dubrovnik
Croatia, Slovenia
$1,999View Tour

Best Price Guaranteed

Book With Flexibility

Eastern Capitals & Dalmatian Riviera - Classic Group

14

Days

Insight Vacations

First Class

Escorted
5+ years old
40
Vienna
Dubrovnik
Austria, Bosnia, Croatia, Slovenia
$3,850View Tour

Best Price Guaranteed

Book With Flexibility




9 Day Christmas Markets of Budapest, Ljubljana & Vienna - Thursday Departure

09

Days

Gate1

First Class

Escorted
Budapest
Vienna
Austria, Hungary, Slovenia
$1,299View Tour

Best Price Guaranteed

Book With Flexibility

The Croatian 2024

50 reviews
11

Days

Globus

First Class

Escorted
Zagreb
Dubrovnik
Croatia, Slovenia
$2,999View Tour

Best Price Guaranteed

Book With Flexibility

12 Day Serbia, Croatia & Slovenia

1 reviews
12

Days

Gate1

First Class

Escorted
Belgrade
Dubrovnik
Croatia, Serbia, Slovenia
$2,199View Tour

Best Price Guaranteed

Book With Flexibility

The Croatian 2024 - Small Group

4 reviews
11

Days

Globus

First Class

Escorted
Zagreb
Dubrovnik
Croatia, Slovenia
$3,599View Tour

Best Price Guaranteed

Book With Flexibility

Country Roads of Croatia - Small Group

14

Days

Insight Vacations

First Class

Escorted
5+ years old
24
Zagreb
Dubrovnik
Croatia, Slovenia
$4,875View Tour

Best Price Guaranteed

Book With Flexibility
Slovenia Travel Guide
Slovenia Tours Highlights
Go for a hike in the incredible mountains of Slovenia.
Take a cycle tour to Soca River and enjoy the view of the Alps that come your way.
Explore the glacier lakes of Slovenia and feel yourself being absorbed into the exquisite landscape of this country.
Take food tasting tours in Slovenian cities and discover what Slovenian cuisine is all about.
Go for an expedition in the Alps to witness the huge waterfalls, which are the hidden gems of these Alps.
Take a stroll in the streets of Ljubljana and learn about the history and culture of this central European country.
Live in a wooden cottage on lush green fields at the base of a mountain.
Slovenia Tours Travel Tips
Slovenia's national language is Slovenian but it is also an English speaking country and if you are visiting from any English speaking country or if you know how to speak English then you will blend in with locals very easily.
Euro is widely accepted in Slovenia and if you are bringing Euro, then you don't need to get it converted but if you are bringing some other currency with you, then it is better that you get it converted into Euro. But you can also use an ATM in Slovenia and get Euro from there.
Slovenia is a member of the Schengen Agreement and if you have a passport that does not let you travel to Slovenia, visa-free, then you should apply for a Schengen Visa and it will open the gates of all the Schengen member states for you, including Slovenia.
In Slovenia, you have an option to do hitchhiking around the country and travel for free, and at the same time meet and travel with the locals.
This alpine country is easily accessible from any other European country, so if you are planning to visit Slovenia from any of its neighboring countries then you should be aware that there are many buses and trains that go to Slovenia.
Slovenia is relatively an expensive country as compared to its peers in Europe.
If you are a fan of Italian or Austrian cuisine, then you are going to love Slovenian cuisine, because the cuisine of this country is heavily influenced by that of its neighbors.
Slovenia Tours Things To Do
Ljubljana

This is the largest city and capital of Slovenia. It is a city with no tourist attractions but still, a lot of travelers come to visit Ljubljana just to enjoy the city itself. This city is a perfect example of European cities, where you can just go for a stroll in the streets and witness the culture and way of life of the locals.

Best Time To Visit

The city hosts a number of events in the summers, including music festivals and children's workshops. Furthermore, weather in the summers is also very pleasant and it a lot of tourists choose to visit Ljubljana in the summers, hence, it is considered that the best Time To Visit Slovenia is in the summers.

You Should Know

The airport is just 30 km away from the city center; therefore, if you are taking a taxi from the airport then it will hardly take 20 minutes for you to reach the city center, only if you are lucky enough to encounter no traffic at all. The city has excellent public transport so you will be able to take a tour of the city easily via one of the 26 buses that run in the city.

Bled

This is an attraction that anyone visiting Slovenia must-see. This destination has scenery that is delightful to the eye, on another level. You will already be mesmerized on your way to this attraction because of the views that you will witness in your way. This town also acts as an entry point to the Triglav National Park, which is filled with opportunities for outdoor activities.

Best Time To Visit

The best time to tour this town is during midsummer because you will need the sun to help you see the natural landscape of this town. Also, the winters are very cold and for someone coming from a hotter country, the weather in the winters might not be bearable.

You Should Know

This town has a very famous church that is located on an island in the center of a lake that has clear blue water. This picturesque church definitely deserves a visit and don't forget to take your camera with you because after looking at the scene, you will definitely be tempted to take a picture or two.

Kranjska Gora

Kranjska Gora is a famous tourist destination in the Julian Alps. This place has so many activities to offer that once you visit this place it is guaranteed that you would want to spend more time here. If you are adventurous then this place has everything that you can think of to make your trip memorable. And it's not only just about the activities, but this attraction also has a lot of charming spots where you can relax and admire the natural beauty.

Best Time To Visit

Most of the people visit Kranjska Gora when the winter is about to start because that is the season of snowfall. Snowsports are also at their peak during the winters. But if you're looking for a perfect view to spend some quiet time then summers is the best season.

You Should Know

If you are visiting in the summers and there is no snow then it is highly recommended that you go for a trek into the mountains that have Emerald blue lake and waterfalls running through them. Or if you are looking for some private time at this place then you can also set up a table for yourself by the lake and enjoy your lunch in these mountains all by yourself.

Sôca

Sôca is a region located in the Alps of Slovenia. This region is full of eye-catching sceneries due to its numerous valleys and gorges. You will be amazed to see how captivating nature is in this region. The vista of this region will be printed in your mind in such a way that you will want to stay in this valley forever. The valleys in this region have waterfalls, suspension bridges, and rivers with turquoise blue water.

Best Time To Visit

The best time to tour this region is during spring or autumn because it's not cold during that time and there is a very little chance of rainfall. Spring season enhances the views in the Sôca valley, manifolds.

You Should Know

The valley begins from the Julian Alps and ends in Italy where it is known as Isonzo. This valley has many attraction spots and places to stay. When visiting the Sôca region it is highly recommended that you at least spend a couple of nights here, as a single night might not be sufficient to explore this region.

Vintgar Gorge

This gorge has about 1.6 kilometers of crisscross wooden boardwalks along the river, which makes it one of the most magical places to visit in Slovenia. This gorge is very accessible and you can easily visit this gorge with your family. This is a very nice tourist attraction in Slovenia to have fun without paying a lot of money. But that is the beauty of nature, isn't it? That you don't have to pay a whole lot of money to enjoy it.

Best Time To Visit

You should visit this gorge during the spring season. You should plan to visit this gorge either during the morning or during the evening because the afternoon is surely not the time to go there. Tourists usually flock to this destination during the day time and you might not be able to enjoy the fullest in all of that rush.

You Should Know

This place costs you around €10 per person to go inside, which is nothing as compared to what this beautiful landscape has to offer. It is just a 10 minutes drive from the town of Bled. The hours of operation of this gorge are from 7 am to 7 pm.

Trenta

Trenta is a tiny settlement in the town of Bovec in Slovenia. This settlement is one of the many settlements that are quiet and away from the rush of urban cities. Settlements like these are usually crowded by tourists due to their scenic natural landmarks. The good thing about Trenta is that this settlement doesn't have that much of an inflow of tourists as compared to other settlements in Slovenia that offer such attractive landscapes.

Best Time To Visit

June to August is considered the best time to Trenta because the weather is pleasant during those days and you can expect a little rainfall as well that will add to the already beautiful scenes.

You Should Know

This valley is located near the Italian border, so Trenta offers you views from Slovenia and Italy together. There are a number of activities that you can take part in, such as, cliff diving, trekking, and swimming in the Sôca river. This valley is considered as the source of the Sôca River as-well.

Alpe Adria

The trail of Alpe Adria is considered a paradise for hikers. The hike on this trail is very long but it has been divided into multiple stages, each stage stretching to about 20 kilometers. Each stage on this trail takes about 6 hours to complete. After the completion of each stage you will reach a spot where you can stay the night. This trail is specially designed for those who want to test their limits.

Best Time To Visit

The weather in the winters could get really cold which is why it is recommended that you visit this trail only in the summers.

You Should Know

This hike has been designed in such a way that you will feel like walking in the mountains and it is quite easy if you don't want to hike for too long. The total stages of this trail are around 43, each one taking around 6 hours to complete, therefore, if you are planning to trek all the 43 stages, then you should make your mind accordingly and don't forget to pack your hiking gear with you when leaving for this beautiful trail.
Slovenia Tour Packages
The weather in Slovenia is very cold during the winters. Most of the natural landscapes in Slovenia are covered in snow during the winters, which is an obstacle in the visibility of these beautiful mountains, rivers, and valleys. The peak season in Slovenia starts in mid-summer because the summers are very warm and pleasant in Slovenia. Due to this, most of the festivals also take place during the summers and this is the reason why summers are considered as the best time to visit Slovenia.
Slovenia Tours Frequently Asked Questions
What are Slovenia Tours?

Slovenia Tours are tour packages that visit this central European country. The main idea behind these tours is to provide an opportunity for foreign travelers to come and visit this country without wasting any time on managing how the tour would go on. Because most of these travelers are not aware of the places that should be visited or how to get there. Hence, these tours are a convenient way to witness this beautiful alpine country.

What's Included in a Slovenia Tour?

To fulfill the concept of a convenient tour to Slovenia, tour companies offer facilities such as meals, lodging, and transportation with the tour package, so you can concentrate only on enjoying the moment rather than being worried about all the logistics.

What's the Best Slovenia Tour?

By far the most top-rated Slovenia Tour providers are Intrepid Travels, Nature Trips, The Nature Adventures, and Fiore Tours. Although these tours have high ratings and good reviews by the tourists but still, saying that these are the best tours would be a little biased because it totally depends on one's experiences during the tour that makes it best for them.

How Much Do Slovenia Tours Cost?

Slovenia tours cost somewhere in the range of $200 and $1500. These prices can vary according to the time of your travel and the length of your stay.
Reviews for Slovenia Tours and Vacations
Insight Tours always live up to my expectations.
Lilla W
Our tour director was excellent. She won the hearts of all 18 tour members. Our main bus driver was one of the best drivers we ever had.
Maria R
Outstanding tour, with awesome and very knowledgeable Tour Director. The hotels were always clean and comfortable with very pleasant staff. Food was plentiful, always delicious and reflective of the popular dishes of the country, I definitely recommend this tour.
Wilawan K
Departure
Lengths
Styles
Specialities
Price
How It Works
Vacationing has never been easier or cheaper with the help of a dedicated travel consultant from AffordableTours.com
1. Free Quote
Find your perfect trip on our website and simply request a free quote. Need to speak to a live person? Call us 7 days a week at 1-800-935-2620. No robots here!
2. Dedicated Travel Consultant
Your personal travel consultant will reach out and be your point of contact for your entire travel experience from start to finish. Did we mention you'll be working with an award winning team? Sweet!
3. Lowest Price Guaranteed
Because we're one of the largest sellers of travel, we're able to give you a discount on your vacation package. No one beats our prices!
4. Stress Free Travel
Knowing you got the best deal, all that's left is for you to pack your bags and enjoy your vacation!