Jordan represents an Arab nation that lies on the Jordan River's east bank. It is home to seaside resorts, ancient landmarks, and nature reserves. The best-known attraction in Jordan is Petra, which was the Nabatean capital around 300 B.C. The site, which is set inside a narrow valley, features temples, monuments, and tombs that have been carved into rose cliffs of sandstone. As a result, the attraction is also known as the "Rose City." Besides sites in Jordan and Petra, Jordan tours also extend to surrounding attractions, including the salty lake known as the Dead Sea, located at the end of the Jordan River. With tour operator volume buys plus our low everyday prices you can save up to 40% versus assembling the same itinerary on your own! Book your Jordan tour today with AffordableTours.com, your discounted tour headquarters. View Jordan Tour Deals and Discounts
Jordan Travel Guide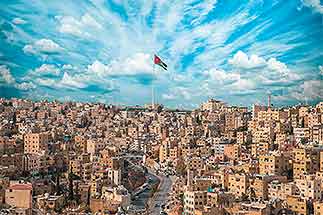 Showing 1 - 20 Tours
Sorry, we were unable to find a tour for you.
If you've not chosen a criteria, then please do so; otherwise you need to broaden your search criteria to find matches.
Jordan Travel Guide
Jordan Tours Highlights
See the surrounding and passing scenery from a comfortably appointed private vehicle.
Visit Jerash, which features some of the most well-preserved Roman buildings outside of Italy.
View soaring hillside temples and explore spacious public squares.
Discover the remarkable healing qualities of the Dead Sea.
Visit the site of Jesus' baptism, accompanied by a local guide, as a side trip.
Enjoy a mud bath at a Dead Sea resort.
Relax at signature hotels during your trip.
Visit the Crusader castle at Karak.
Climb to the summit of Mt. Nebo, where you can see stunning views of Israel's countryside. (Mt. Nebo is said to be the site of Moses' death.)
Explore the long history of Madaba on a guided tour
Jordan Tours Travel Tips
You will find that Jordan is a fairly compact country with respect to touring. Therefore, it takes about 5 hours to drive from Amman, Jordan, in the north, and reach Wadi Rum in the south. Most of the popular stops are about 2 hours apart. If you want to see all of Jordan's highlighted sites, it will take about 12 days.
The best times to see Jordan are from March to May, which is the peak season, or October and November, the second busiest season. In the winter, the temperatures can be unbearably cold and summers can be miserably hot. In fact, in the winter, some places receive snow.
In the cities and towns, dress conservatively and wear lightweight clothing that covers the legs and arms. You can wear Western beachwear at Dead Sea resorts.
Wear hiking boots with a good tread, even if you plan not to do much hiking. Many of the terrains tend to be rocky, especially around Wadi Rum and Petra.
The currency of Jordan is the Jordan dinar. While you have access to ATMs in larger cities, such as Amman, take cash to smaller places for tips, snacks, and taxis.
Although English is widely spoken in tourist areas, it helps to know some polite phrases in Arabic, such as "hello" (mer-ha-ba) and "thank you" (shok-ran).
Jordan Tours Things To Do
Amman

Most Jordan tours begin in the capital and largest city of Amman, a modern metropolis that features ancient ruins. While exploring the city, you will become acquainted with Middle Eastern or Jordanian cuisine, especially Falafel, which combines ground chickpeas with various spices before the ingredients are fried into mini patties. It is one of the commonest light meals or snacks in Jordan.

Best Time To Visit

Usually, you will experience the best weather in March through May or October. October is often sunny and you run into fewer crowds.

You Should Know

Amman has a lot of landmarks that you can explore. For example, at the top of the Jabal al-Qala hill, you will find the pillars of the famed Roman temple of Hercules as well as the Umayyad Palace, which was built in the eighth century. The palace is known for its beautiful dome. At another location, the city's ancient Roman theater can hold as many as 6,000 people. The stone amphitheater, which was constructed during the second century, is sometimes used for local events.

Petra

If you have not explored many archeological sites during your travels, Petra will inspire you to see more sites of this type. Located in the southwest desert of Jordan, Petra dates back to around 300 B.C. At that time, it served as the capital of the Nabatean Kingdom. The site is entered through Al Siq, a narrow rock portal and canyon. Once you enter the attraction, you will see why Petra has been named the "Rose City." Its tombs and temples are hewn into cliffs of pink sandstone.

Best Time To Visit

Petra receives a lot of visitors during the year. However, the crowds taper off in June or November, or when it starts to get hotter or cooler. However, if you want to go when the temperatures are milder, plan a visit from March to May.

You Should Know

Perhaps the most famous Petra landmark is the 45-meter or 148-foot high Al Khazneh temple, whose façade shows off an ornate Greek design. The building is called "The Treasury." Some of the other popular monuments include the triumphal arch, the amphitheater, Pharaoh's Castle, and the monastery.

Madaba

Located an hour's drive from Amman, Madaba features some true hidden gems, especially when it comes to Byzantine mosaics. One of the places where you can make this discovery is inside the Greek Orthodox Saint George's Church. Once you enter the sanctuary, you will see it – a Byzantine mosaic that depicts the oldest map of Palestine. However, the geographic work of art also highlights places, such as the Dead Sea, Nile Delta, Gaza, and Jerusalem.

Best Time To Visit

Plan a visit when the crowds are fewer or the weather is pleasanter, such as March, April, May, or October.

You Should Know

Madaba is designed so you can see many attractions in one day. Therefore, once you explore the city, you can also extend your Jordan tour to the city's outer boundaries. The shop, Carpet City, in Madaba, is a busy place – proof why Jordan is a long-established maker of rugs and carpeting. The oldest mosaic is found at the city's Archeological Park I while Archeological Park II mainly highlights ancient ruins, including the popular "Burnt Palace." The Burnt Palace was once a residential estate but was later destroyed by an earthquake and fire.

Mt. Nebo

One of the highlights of a visit to Mt. Nebo are the panoramas you can see from the hill's viewing platform. From this point, you can see the Dead Sea, the River Jordan, the city of Jericho, or West Bank, and Bethlehem – a great way to see these sights from afar.

Best Time To Visit

Whenever you go—low or high season—begin early in the morning. The site opens at 7:00 am in the morning during the low season and even earlier during the high season. If you want to get an early start, this is the place to visit. Normally, Jordan tours combine a journey to Mt. Nebo with a visit to Madaba and Kurak Castle – a typical and popular day trip.

You Should Know

Mount Nebo is the place where Moses was allowed a view of the Promised Land. He is said to be buried on the hill. However, the location is not specified.

Jerash

Some tours of Jordan start out in Jerash before they proceed to Amman. Jerash is known for its well-preserved Roman ruins, and the city has been inhabited since the Bronze Age. The ruins in Jerash lie outside the modern section and include Hadrian's Arch, which dates back to the second century.

Best Time To Visit

March through May and October and November offer pleasant weather and fewer crowds.

You Should Know

The main draw for tourists in Jerash is seeing the tall colonnades that line the site's avenues and the ceremonial gates – impressive Roman structures that will awe and amaze you. The Jerash Archeological Museum also showcases artifacts that were excavated at the ruins site.

Wadi Rum

Wadi Rum is a Bedouin desert and valley – one that represents the stunning beauty of nature through rocks and sand. While its summer heat can be extreme, Wadi Rum's winters can be frigidly cold. Therefore, travel in the spring or fall is a better option. Most Jordan tours add this site to trips that include Petra or Aqaba on their itineraries. Seeing the sunlight up over the area's siqs (canyons) is truly an amazing sight.

Best Time To Visit

Because Wadi Rum sees temperature extremes in the summer and winter, it is best to plan a trip in the spring or fall.

You Should Know

Besides its stunning desert terrain, Wadi Rum features an estimated 25,000 rock carvings (petroglyphs), 154 archeological sites, and 20,000 inscriptions, dating back to the formation of the alphabet. Stay at the Wadi Rum camp - the Bubble Luxotel, which features "bubbles" (luxury tents that allow you to star-gaze) for overnight stays.

Aqaba

A port city that leads you away, for a while, from prehistoric ruins and rock carvings, Aqaba sits on the Gulf of Aqaba next to the Red Sea. The city's beach resorts are popular venues for anyone who enjoys water sports, especially windsurfing and scuba diving.

Best Time To Visit

Because Aqaba is a seaside port, you can visit it when it's warmer to cool off or in the late spring when there are fewer crowds.

You Should Know

Just south of the city, Aqaba Marine Park features a 4-mile (7K) shoreline) where beach-goers can observe marine and fish life and the sea's coral reefs. This is also the best area to enjoy Aqaba's beaches. Outdoor spots for picnics, or soccer or volleyball play, are also featured. The Yamanieh coral reef in the marine park is a popular dive site.

Dead Sea

Also called the Salt Sea, the Dead Sea is a landlocked salt lake that sits between Jordan and Israel in Southwest Asia. The southern half of the lake's western shore is part of Israel while its eastern shore sits in Jordan. The Dead Sea receives most of its water from the Jordan River, which flows southward into the lake. The sea is home to various resorts where visitors partake in the healing properties of the lake.

Best Time To Visit

According to travel advisors, July and August can be very hot, so it is best to visit the Dead Sea from March to May or in November. The area is heavily visited during September and October.

You Should Know

The Dead Sea is the lowest point on the planet. Its surface falls at 1,388 feet or 423 meters below sea level. It also is one of the saltiest bodies of water, being 10 times saltier than seawater. You can easily float on top of the surface, which makes it a relaxing place to lie back and float after a day of sight-seeing and traveling.
Jordan Tour Packages
Even though Jordan does not seem very large compared to other countries, the temperatures and climates do vary by region. The closer to the coast the less severe the heat is, compared to the desert regions in the country. However, you will find the most moderate temperatures during the spring and the fall months.
Summer - June to September - Good Season

If you want to take part in one of the Jordan tours online, when you go is just as important as where you choose to visit. Generally, if you take a tour during the summer, you should find a location where you can easily cool off, as the temperatures can get pretty hot. Because you need to dress conservatively in Jordan (covering the arms and legs), you can feel pretty miserable if you want to hike or do some major sightseeing in July or August.

Spring/Fall - March to May/October to November - Best Season

If you want to go when the temperatures are more pleasant, you should plan a trip from March to May or opt to travel in October or November. Should you visit a Dead Sea beach or resort, it is best to plan a trip in the spring or in November. Most people visit the Dead Sea area in September and October. Should you plan to visit the desert of Wadi Rum, make sure you go at a time when you won't have to experience the desert's intense cold or heat. Generally, it is best to visit the area in April or October. October is usually a good time, as the nighttime temperatures are milder. The time you visit depends greatly on your itinerary and the climate in the area during a specific period. Keep in mind that there will be more tourists at this time.
Jordan Tours Frequently Asked Questions
What are Jordan Tours?

Jordan tours usually cover most of the cities and sites along the King's Highway in Jordan. Popular attractions included Madaba, Amman, the capital city, the ancient tombs and temples of Petra, the Dead Sea, Aqaba, and the desert valley of Wadi Rum.

What's Included in a Jordan Tour?

Taking a tour of Jordan includes private transport to each of your destinations, the cost of admittance for attractions, and a tour guide. Airport and hotel transfers are included as well as some meals (usually breakfast).

What's the Best Jordan Tour?

The best tour to Jordan is the one that meets your criteria with respect to accommodations, trip length, and amenities. Speak to a professional travel representative so you can find the ideal tour to meet your travel budget.

How Much Do Jordan Tours Cost?

The price you pay for a Jordan tour will hinge on whether you go during the low or high season and what your itinerary features. Generally, the cost for a Jordan tour that lasts 7 days is around $580 per person.
Reviews for Jordan Tours and Vacations
Jordan was perfectly safe and a marvelous experience
Pamela H
Gate 1 tour managers, drivers, & airport staff are very professional, friendly & knowledgeable. Accommodations are very nice. Meals are very good. I will definitely purchase another tour from Gate 1.
Evelyn Yin Mui K
Gate 1 tour managers, drivers, & airport staff are very professional, friendly & knowledgeable. Accommodations are very nice. Meals are very good. I will definitely purchase another tour from Gate 1.
Evelyn Yin Mui K
Departure
Lengths
Styles
Specialities
Price
How It Works
Vacationing has never been easier or cheaper with the help of a dedicated travel consultant from AffordableTours.com
1. Free Quote
Find your perfect trip on our website and simply request a free quote. Need to speak to a live person? Call us 7 days a week at 1-800-935-2620. No robots here!
2. Dedicated Travel Consultant
Your personal travel consultant will reach out and be your point of contact for your entire travel experience from start to finish. Did we mention you'll be working with an award winning team? Sweet!
3. Lowest Price Guaranteed
Because we're one of the largest sellers of travel, we're able to give you a discount on your vacation package. No one beats our prices!
4. Stress Free Travel
Knowing you got the best deal, all that's left is for you to pack your bags and enjoy your vacation!