Romania Tour and Cruise 2024/2025
Save up to 40% on Romania Tour and Cruise 2024/2025
Romania Travel Guide
Located in southeastern Europe, Romania is best known for the forested area of Transylvania, surrounded by the Carpathian Mountain range. You can see fortresses and old historic churches in towns that date back to medieval times, such as Sighisoara. One of the town's main attractions is Bran Castle, which is associated with the legend of Dracula. Another popular site is Palatul Parlamentului, a massive Communist-period government facility in the capital of Bucharest. Most Romania tours start in Bucharest and are accompanied by a knowledgeable, English-speaking tour guide. Not only can you learn more about Romania's culture and history, but you can also see some wonderful natural sites, such as the Bicaz Gorges. Religious landmarks, fairytale castles, and legendary structures will provide an excellent and memorable tour experience. With tour operator volume buys plus our low everyday prices you can save up to 40% versus assembling the same itinerary on your own! Book your Romania tour today with AffordableTours.com, your discounted tour headquarters. View Romania Tour Deals and Discounts
Romania Travel Guide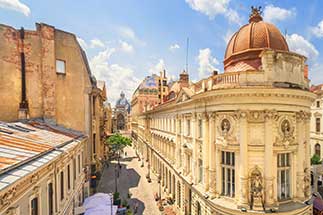 Showing 1 - 20 Tours
Sorry, we were unable to find a tour for you.
If you've not chosen a criteria, then please do so; otherwise you need to broaden your search criteria to find matches.
Romania Travel Guide
Romania Tours Highlights
Begin your tour in the capital of Bucharest, one of the most vibrant cities in Eastern Europe.
Embark on an excursion through the beautiful mountains of the Carpathians.
Visit the famous Romanian fortress, Peles Castle.
Tour Dracula's Castle, discovering its hidden legends.
Enjoy a walking tour of the historical town of Brasov.
Hike through Romania's stunning Bicaz Gorges.
Go underground to visit the Praid Salt Mine.
Learn more about the Painted Monasteries on a guided tour.
See the historical town of Sighisoara, which is a listed UNESCO heritage site.
See one of the best examples of a well-preserved Transylvanian medieval town, Sibiu.
Romania Tours Travel Tips
Comfortable hiking or walking shoes are a must on this travel adventure. Because you will be treading over rocky terrain and cobblestones, you need sturdy, close-toed footwear.
Try to arrive early in the city where you begin your journey. That way you can acclimate yourself to your new environment and get used to the difference in time zones.
Tours to Romania often take place between April and October.
Peak travel times for a Romania tour are between June and August, or during the summer.
If you wish to avoid crowds, a trip planned in the spring or fall is best. Temperatures are pleasant during these periods and average around 68 degrees Fahrenheit.
To have access to the Internet, carry a universal plug adapter.
Wear conservative clothes in the summer, choosing lightweight long-sleeved blouses and shirts, and summer-friendly slacks and skirts.
Keep documents, such as your passport, close to you, so you can access them immediately.
Share your travel itinerary with friends and family so they can easily find and contact you, if necessary.
Romania Tours Things To Do
Bucharest, Romania

Known as the largest city and capital in Romania, Bucharest is the ideal location to start a Romania tour, as it features interesting contrasts of the new and old. One of the city's major attractions is the Palace of the Parliament, which was built in the 1980s when the Communist dictator and president, Nicolae Ceausescu, ruled.

Best Time To Visit

Choose to see Bucharest during the shoulder season of spring or autumn, when temperatures are pleasanter and crowds are fewer.

You Should Know

Resembling the Arch of Triumph in Paris, the city's Triumphal Arch was constructed in 1935. In fact, from the beginning of the twentieth century until about 1930, Bucharest was known as Little Paris. Residents, at the time, wore French-styled clothes and spoke French as well. Today, many music artists call Bucharest home, as it serves as the hub for many of the world's recording companies.

Constanta

Sitting on the shore of the Black Sea, Constanta is a city whose history goes back over 2,000 years. You can learn more about this city's illuminating past by viewing exhibits at the National History and Archaeology Museum in Constanta.

Best Time To Visit

A trip in the spring or fall will be less expensive, and the crowds will be fewer.

You Should Know

The Roman Mosaics building, which sits across the way from Constanta's National History and Archaeology Museum, displays an ancient tile floor that was created in the fourth century A.D. The minaret of the Great Mahmudiye Mosque can be seen on the city's skyline. One of the church's highlights is its stunning Persian rug.

Bran Castle

No tour of Romania is considered complete without a visit to Bran Castle – a stronghold that holds the legend of Dracula. The Transylvanian castle, which is about 15 miles southwest of Brasov, is a well-known landmark and monument in Romania. Count Dracula, to whom the castle's legends are based, first appeared in Irish writer Bram Stoker's novel, "Dracula," written in 1897. The Dracula myth comes from people's beliefs in vampires and ghosts in Transylvania during the period.

Best Time To Visit

See the Bran Castle from March to May or from September to November, when the crowds subside.

You Should Know

The writer of the "Dracula" novel, Bram Stoker, never set foot in Romania. He was able to depict Dracula's Castle from an illustration in the book, "Transylvania: Its Product and People," which was written by Charles Boner and published in London by Longmans in 1865.

Sighisoara

With its colorful buildings, pedestrian-friendly Old Town, and fascinating historical sites, Sighisoara, which is also a UNESCO World Heritage site, is a delight. Located in Transylvania, the town's history spans all the way back to the twelfth century. At that time, the king of Hungary was pleading for the Saxons to migrate to the area to defend its borders. The Saxon settlement led to the building of this fortified and fairytale city.

Best Time To Visit

Avoid summer crowds and opt to see Sighisoara in the spring or fall.

You Should Know

The town features some excellent museums, dedicated to Sighisoara's history, one of which is located in the town's clock tower. Climb up to the top of the tower to see the city from up high. A torture museum is also located next door. The colorful facades of the buildings make it a joy to stroll through and around Old Town. The site is also the birthplace of Vlad III, also called Vlad the Impaler, or Vlad Dracula. Vlad's father ruled nearby Wallachia. However, during Vlad's birth, his father was exiled in Transylvania.

Hasmas National Park – Bicaz Gorges

Standing tall in Hasmas National Park, the Bicaz Gorges are 1,000-foot Jurassic limestone rocks that create one of the most spectacular road passes in the world. The road, Cheile Bicazului, is a popular scenic drive in the park.

Best Time To Visit

Visit the Bicaz Gorges and Hasmas National Park in the spring or autumn, so you have more time to appreciate the scenery.

You Should Know

If you like to kayak or fly-fish, you will want to visit Red Lake (Lacul Rosu) in the park. A landslide, in 1837, created the beautiful lake. Hikers also like trekking around the body of water. You can see a unique view of Romania's Eastern Carpathian Mountains when you drive through the Bicaz Gorges.

Praid Salt Mine

Located in the village of Praid, the Praid Salt Mine is one of the country's most famous mines. The mine's microclimate produces an average temperature of about 16 degrees Celsius or 61 degrees Fahrenheit. The mine is rich in the pale-blue gas, ozone, and is noted for its healing salts.

Best Time To Visit

You can go anytime to the Praid Salt Mine. However, to experience fewer crowds, go during the shoulder seasons of spring or autumn.

You Should Know

The air in the mine is known to treat chronic sinusitis, pulmonary emphysema, chronic bronchitis, and chronic kidney disease. Mine treatments include climatotherapy and speleotherapy, which involve inhaling the mine's air. The practice of sports play is also encouraged in the mine. While in Praid, you can also visit the biggest saltwater lido in the country. People use the pool to find relief for rheumatism or related disorders.

Brasov

The Gateway to Transylvania, the medieval city of Brasov is the most-visited city in Romania. People like the romantic and relaxing mood of Brasov, which features the narrow streets of cobblestone and thirteenth-century architecture. When sightseeing, start at the Piata Sfatului square, which actually has an "arc" design. Home to rainbow and ornate facades, the "square" is an ideal place to people-watch or take a peaceful stroll.

Best Time To Visit

Visit Brasov during the shoulder season of fall or spring. If you visit during the early morning hours, you will have the public space all to yourself.

You Should Know

Perched on the Tampa Mountain is the name of Brasov in white letters. To get to the top of the incline, you can either take a cable car or one of two walking trails. It takes about an hour to reach the summit if you hike. Make sure you are wearing comfortable and sturdy hiking boots.

Sibiu

Known as the "City with Eyes," Sibiu is a well-loved tourist attraction, drawing interest from both foreign and domestic travelers. The city is known for its gastronomical specialties, history, and its iconic houses "with eyes," which gave the city its nickname. The city has been named by Forbes as the eighth-most idyllic city to live worldwide.

Best Time To Visit

Add Sibiu to your travel itinerary for a fall or spring trip.

You Should Know

Stairs divide the Upper Town and Lower Town of Sibiu. Historically, the wealthy Saxons lived in Sibiu's city center on the upper tier while the peasants lived in the lower section in colorful and small houses. Another must-see attraction - the Orthodox Cathedral in Sibiu features grand frescoes and murals covering its interior walls.

Peles Castle

Set in the Carpathian Mountains, close to the town of Sinaia, Peles Castle sits along a medieval path that connects Wallachia and Transylvania. It was built between 1873 and 1914 for King Carol I. The castle covers 3,400 feet and features 170 rooms.

Best Time To Visit

See the castle during the spring or autumn.

You Should Know

The structure features paintings, furniture, gold, silver, stained glass, and tapestries. The rooms in the palace and castle are lavishly detailed. One of the distinguished rooms in the castle is the Hall of Honor, which was finished in 1911. The hall spans three floors. The walls in this section feature carved woodwork made of exotic woods and walnut while alabaster sculptures, bas-reliefs, and stained-glass panels round out the section's interior amenities.
Romania Tour Packages
The best time to visit Romania is from May to September when the temperatures are perfect for both sightseeing the city attractions and spending the day relaxing at the Black Sea beaches.
Spring/Autumn - March to May/September to November

If you want to visit Romania, the most pleasant time to travel is from March through May, or from September through November. While traveling is frequent during the summer months, the milder temperatures and lower prices of spring and fall often induce travelers to see Romania outside the peak season.

Summer - June to August

If you wish to go on a family vacation, you are better off visiting Romania in the summer, even though it is more crowded and expensive. While your trip may be higher-priced, you will also be rewarded with sunny days and beach-friendly temperatures. This will allow you to swim, snorkel, or scuba drive in warmer waters.

Winter - December to February

However, you could visit Romania in the winter when its towns host the Christmas markets. During this time, you will find that cities like Bucharest are magical and fun to visit. It is always exciting to see the towns and cities decorated and aglow with Christmas wreaths and lights.
Romania Tours Frequently Asked Questions
What Is in a Romania Tour?

Romania tours allow travelers to explore the traditions, history, and foods of Romania as well as the country's natural sites. Romania escorted tours last from 7 days to as long as 21+ days and include interesting and exciting activities each day of the trip.

What Is Included in a Romania Tour?

Whether you arrange a private or group tour, you will be escorted by a knowledgeable and English-speaking tour guide. All-inclusive packages feature a personal guide, some meals, prices for attractions, and airport and hotel transfers.

What is the Best Romania Tour Experience?

The best Romania tour is the tour that meets your travel interests, availability for travel, and budget. Therefore, you should plan your trip with an experienced Romania tour representative – someone who is familiar with the sights and attractions of Romania who can guide you in the right direction.

How Much Do Romania Tours Cost?

A Romania tour package that covers a week's travel usually is about $525 per person. Be sure, when you plan your trip, to inquire about unpublished discounts and check the differences in pricing for shoulder season and peak season travel.
Learn More About Romania Tours
Reviews for Romania Tours and Vacations
The Gate 1 Discovery tours are very good and well worth the extra cost. We had only 16 participants on the trip and everyone got along well. They used the large bus and everyone had their own seat if they wanted it. The hotels on trip were above average.
Albert O
Outstanding tour. Very happy with the experience.
Jennifer H
My trip was incredible! Everything ran smoothly and was very organized. We traveled to nine countries and saw so many things. Even though the pace was fast, I feel like I saw the areas that we visited. Our Tour Director, was fantastic and knew the area and the history well. He was incredibly professional, and I cannot say enough positive things about this trip. Our group was filled with well-traveled people from all over the world, which I really enjoyed as well. Our bus driver was phenomenal, and I always felt safe in all the places we went.
Ansley W
Departure
Lengths
Styles
Specialities
Price
How It Works
Vacationing has never been easier or cheaper with the help of a dedicated travel consultant from AffordableTours.com
1. Free Quote
Find your perfect trip on our website and simply request a free quote. Need to speak to a live person? Call us 7 days a week at 1-800-935-2620. No robots here!
2. Dedicated Travel Consultant
Your personal travel consultant will reach out and be your point of contact for your entire travel experience from start to finish. Did we mention you'll be working with an award winning team? Sweet!
3. Lowest Price Guaranteed
Because we're one of the largest sellers of travel, we're able to give you a discount on your vacation package. No one beats our prices!
4. Stress Free Travel
Knowing you got the best deal, all that's left is for you to pack your bags and enjoy your vacation!