Benvenuto! An Italy tour is the best way to experience your next vacation to Italy. Whether you want to trace history in Rome, taste wines in Tuscany, shop in Milan, drive the scenic Amalfi Coast, or explore the canals of Venice, we have all the Italy tours for you. On your Italy tour, visit some of Italy's most popular cities with a dedicated tour director to manage all your included travel plans and meet local tour guides in each city to get intimate knowledge of every site you visit. With tour operator volume buys plus our low everyday prices you can save up to 40% versus assembling the same itinerary on your own! Book your Italy tour today with AffordableTours.com, your discounted tour headquarters. View Italy Tour Deals and Discounts
Italy Travel Guide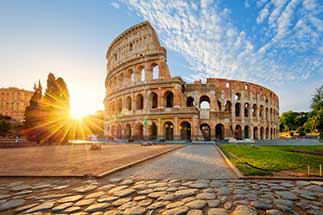 Showing 1 - 20 Tours
Tour Itinerary
Days
Operator
Quality
Style
Starts
Ends
Price

Jewels of Italy

172 reviews
07

Days

Costsaver

Budget

Escorted
1 - Light

Rome
Venice
Italy
$1,113View Tour

Best Price Guaranteed

Book With Flexibility

Best of Italy

688 reviews
13

Days

Trafalgar

First Class

Escorted
Rome
Rome
Italy
$2,925View Tour

Best Price Guaranteed

Book With Flexibility

Independent Rome & Florence City Stay 2024

06

Days

Globus

First Class

Independent
8+ years old
Rome
Florence
Italy
$1,049View Tour

Best Price Guaranteed

Book With Flexibility

Southern Italy Escape 2024

17 reviews
09

Days

Globus

First Class

Escorted
1 - Light

8+ years old
44
Sorrento
Naples
Italy
$1,599View Tour

Best Price Guaranteed

Book With Flexibility

Italian Scene

124 reviews
10

Days

Costsaver

Budget

Escorted
Rome
Rome
Italy
$1,615View Tour

Best Price Guaranteed

Book With Flexibility

Independent Rome, Florence & Venice City Stay 2024

2 reviews
08

Days

Globus

First Class

Independent
1 - Light

8+ years old
Rome
Venice
Italy
$1,599View Tour

Best Price Guaranteed

Book With Flexibility

Italian Holiday

164 reviews
07

Days

Trafalgar

First Class

Escorted
Rome
Rome
Italy
$1,615View Tour

Best Price Guaranteed

Book With Flexibility

Independent Rome City Stay 2024

04

Days

Globus

First Class

Independent
1 - Light

8+ years old
Rome
Rome
Italy
$699View Tour

Best Price Guaranteed

Book With Flexibility

Bella Italia Escape 2024

15 reviews
09

Days

Globus

First Class

Escorted
Venice
Sorrento
Italy
$2,099View Tour

Best Price Guaranteed

Book With Flexibility

Vesuvius Tour 2024

6 reviews
10

Days

Perillo

First Class

Escorted
1 - Light

8+ years old
40
Rome
Florence
Italy
$3,295View Tour

Best Price Guaranteed

Italian Escape 2024

42 reviews
07

Days

Globus

First Class

Escorted
Rome
Venice
Italy
$1,849View Tour

Best Price Guaranteed

Book With Flexibility

European Escape with London 2024

9 reviews
10

Days

Globus

First Class

Escorted
Rome
London
England, France, Italy, Switzerland
$2,349View Tour

Best Price Guaranteed

Book With Flexibility

European Escape 2024

30 reviews
09

Days

Globus

First Class

Escorted
Rome
Paris
France, Italy, Switzerland
$2,029View Tour

Best Price Guaranteed

Book With Flexibility

Sicilian Escape with Malta 2024

10

Days

Globus

First Class

Escorted
Palermo
St. Julian's
Italy, Malta
$1,999View Tour

Best Price Guaranteed

Book With Flexibility

Sicilian Escape 2024

51 reviews
07

Days

Globus

First Class

Escorted
Palermo
Taormina
Italy
$1,339View Tour

Best Price Guaranteed

Book With Flexibility

Local Living Italy—Amalfi Coast Winter

15 reviews
07

Days

G Adventures

Budget

Escorted
3 - Explorer

12+ years old
16
Naples
Naples
Italy
$1,899View Tour

Best Price Guaranteed

Book With Flexibility

European Traveler

63 reviews
10

Days

Trafalgar

First Class

Escorted
London
Rome
England, France, Italy, Switzerland
$2,284View Tour

Best Price Guaranteed

Book With Flexibility

European Whirl with Eurostar™ Extension

3 reviews
15

Days

Trafalgar

First Class

Escorted
London
London
Austria, Belgium, England, France, Germany, Italy, Netherlands, Switzerland
$3,591View Tour

Best Price Guaranteed

Book With Flexibility

Great Italian Cities

164 reviews
10

Days

Trafalgar

First Class

Escorted
Rome
Venice
Italy
$2,018View Tour

Best Price Guaranteed

Book With Flexibility

European Whirl End Paris

36 reviews
14

Days

Trafalgar

First Class

Escorted
London
Paris
Austria, Belgium, England, France, Germany, Italy, Netherlands, Switzerland
$3,195View Tour

Best Price Guaranteed

Book With Flexibility
Italy Travel Guide
Italy Tours Highlights
Step back in time at the Colosseum.
Throw a coin in the Trevi Fountain.
Take a picture with the Leaning Tower Of Pisa.
Take a Gondola ride in Venice.
Cruise the Amalfi Coast.
Visit the Vatican and Sistine Chapel.
See countless works of art like the David, The Last Supper, and the Mona Lisa.
Take a rowboat tour though the Blue Grotto in Capri.
People watch in St. Mark's Square in Venice.
Drink wine in Tuscany.
Walk around the Cinque Terre.
Admire the architecture of the Duomo di Milano.
Relax in the Italian Lake District.
Italy Tours Travel Tips
Wear sturdy shoes and be prepared for cobbled streets and lots of stairs.
Hotel rooms are smaller than found in America, and there might not be an elevator.
Italy is very serious about their food. Plan to spend a lot of time eating meals, sometimes a few hours. It can be considered rude to rush. Some places will charge a per person cover charge.
Lots of restaurants and stores shut down for 'riposo' from about 1pm-4pm. Italians like to have a break in the middle of the day. Plan ahead if you were wanting to eat or shop during this time.
Cars in Italy are very small, and the roads are very narrow. Make sure your luggage will fit. Trains are a popular way to travel.
Visit famous sites early in the morning to beat the crowds.
Since Italy is a popular travel destination, keep your valuables close to you. Some people prefer to keep their cash, cards, and passport in a travel pouch under their clothes. Leave expensive jewelry and watches at home and don't accept any 'free gifts' from merchants.
Italians drink espresso at the end of meals, never during. Cappuccinos are only for breakfast.
Italy Tours Things To Do
Visit the Vatican and Sistine Chapel

The Vatican Museums located in the Vatican City in Rome offer a look at the immense art collection amassed by popes thought out the years. There are around 20,000 pieces of Roman sculptures and other mostly Renaissances masterpieces on display. Next door is the Sistine Chapel, whose ceiling was famously painted by Michelangelo. This is the site of the papal conclave, which is how they select a new pope. St. Peter's Basilica is also next door and most visitors like to see all three sites.

Best Time to Visit

The Vatican and the Sistine Chapel are 2 of the most visited attractions in Italy and the world. First thing in the morning is your best bet. The line for both places can get very long, we suggest joining a tour that allows you to bypass the line and cut to the front.

You Should Know

There is a strict dress code to enter the Sistine Chapel and St Peter's Basilica. Your knees and shoulders must be covered. You can't take pictures everywhere. In the Vatican, there are many places you can snap photos, but you can't in the Sistine Chapel. Since the Sistine Chapel is a place of worship, they ask you to be respectful and not speak while inside

Throw a Coin in the Trevi Fountain

Standing over 26 meters high, the Trevi Fountain is the largest Baroque fountain in Rome and has appeared in several notable movies. The streets convene and mark the final point of Aqua Virgo, which was one of the earliest aqueducts in Rome. The name of the fountain translates to Three Street Fountain.

Best Time to Visit

Travelers should see the fountain twice, once in the daylight and once at night. Both are spectacular. Crowds are hard to avoid but plan to visit right after sunrise for the best view.

You Should Know

Legend says, throw a coin over your left shoulder and you'll return to Italy! The money thrown in the fountain is donated to a Catholic charity. The water is not safe to drink and you are not allowed to sit on the edge of the fountain or touch the water.

Take a Picture at the Leaning Tower of Pisa

This free-standing bell tower is known for its 4 degree lean because of its unstable foundation. Built-in the 12 th century, the lean got worse and by 1990, the tilt was nearly 6 degrees. Restoration work from 1993- 2001 reduced the tilt to a little less than 4 degrees. Located in Pisa, Italy, this one of the most recognizable structures in the world.

You Should Know

Because the tower was declared stable for the next 200 years, you can still climb the 251 steps to the top of the tower. The word Pisa is a Greek word meaning "marshy land."

Step Back in Time at the Colosseum

Construction of this huge oval amphitheater began in year 72 and was completed in 80. Holding up to 80,000 people, it was used for gladiatorial contests and was the largest building at the time. Sometimes, water was flooded into the arena so naval reenactments could be performed. In the area, there is a vast underground structure of tunnels, which is still visible today. It is located just east of the Roman Forum and is a very popular tourist destination.

Best Time to Visit

Lots of people like to see it both at night and the day, to get a different experience. Either time you choose, we suggest going on a tour in order to skip the line. The Colosseum is open every day except Christmas Day and New Year's Day. Since this is a top attraction, there are going to be crowds whenever you go. Plan ahead and give yourself enough time. Winter months might have somewhat fewer crowds, especially on non-holiday weekdays.

Walk Around Cinque Terre

Located on the northwest coast of Italy, Cinque Terre is made up of five villages and is listed as a UNESCO World Heritage Site. The five villages are also connected by numerous hiking trails, and this allows for easy travel between all of Cinque Terre. Just be sure to pack comfortable shoes, and a light backpack for the scenic walks in each village.

You Should Know

There is no car access once you are inside the five villages. Don't be alarmed, there is a local train called The Cinque Terre Express, that runs from La Spezia through the coast and the boarding pass is only a few Euros.

Admire the Duomo Di Milano

The Milan Cathedral is located in Milan and is the largest church in Italy. It took nearly 6 centuries to complete. Full of beautiful colorful stained glass windows and a huge marble staircase, it houses the second largest organ in all of Europe. For a great view of the city, climb to the roof to admire the magnificent buildings surrounding the cathedral and the Pizza del Duomo below.

Best Time to Visit

This top attraction will be crowded, so make sure you go with a tour group or buy your tickets ahead of time. For beautiful colors, we suggest going right before sundown. If it is a clear sunny day, you might be able to see the Alps.

You Should Know

Like other Italian churches, you must have shoulders and knees covered. Bring a light scarf to wear as a shawl during the summer months.

Take a Rowboat through the Blue Grotto

The Blue Grotto is located on the island of Capri. It is a beautiful sea cave that sunlight passes through and creates a blue reflection that illuminates the cavity. The sight is breathtaking and this crystal clear water attraction is one of Capri's most famous places.

Best Time to Visit

The Blue Grotto is usually closed during the winter and can also close at the last minute due to weather conditions. Summer months are peak tourist season, so the wait times won't be as long in the Spring and Fall. No matter what time of the year you go, aim to get to the Grotto between noon and 2 pm because the reflections are the strongest. If it is an overcast day, we suggest saving the Blue Grotto for a sunny day on your trip. Keep in mind that you might have to wait for your turn to enter.

Take a Gondola Ride in Venice

Riding a gondola is one of the top activities in all of Italy. This traditional form of transportation is the best way to get around the 100 small islands in the Adriatic Sea. As you glide down the canals in Venice, the gondolier will sing to you in Italian to really set the mood.

You Should Know

The Grand Canal is the most popular spot for gondola rides. A gondola ride can be just as beautiful at night.

Explore the Ruins of Pompeii

One of the most famous volcano eruptions, Mount Vesuvius exploded in year 79 and covered the small town of Pompeii. You can explore the archaeological ruins for an inside look into the history and how they lived their day to day life. Pompeii is located 14 miles from Naples, south of Mount Vesuvius. A walking tour is the best way to see this very well preserved ancient town.

Best Time to Visit

The winter and spring will have the least amount of crowds. Holiday weekends will bring out more travelers than usual.

Eat Wonderful Italian Food

Travel to the place where pizza was born and dine on an authentic pie. Neapolitan pizza usually just consists of crust, mozzarella cheese, and tomatoes. Pasta is also a dish all travelers must try. From hearty lasagna to creamy risotto, you won't leave Italy hungry. Let's not forget about another important aspect of an Italian meal, the wine! Tuscany produces some of the world's best wine and it's great to pair with any Italian meal.

You Should Know

Italians like to have a break in the middle of the day so lots of restaurants shut down for 'riposo' from about 1 pm-4 pm.
Italy Tour Packages
The best time to visit Italy is anytime. With so much to see, do, eat, and hear, there is somewhere for everyone throughout the year. But, depending on where and what region you're visiting, you can definitely optimize your experience based on what you're looking for.
The most popular time to visit is during the Summer – the weather is warm but the crowds are big.
The quietest time to visit is during the winter months.
Ski birds will want to visit from December to March.
Spring – March to May – Good Season

The average high in Rome during this time is 62F and the average low is 40F. It's still a little cold for most crowds but this is an optimal time to do exactly what you want in the central and southern regions like Rome or Naples.

Summer – June to August – High Season

The average high in Rome in the summer is 83F and the average low is 58F. You'll notice it can get a little chilly at night so you'll want to bring layers. Summer is the peak season so you'll see a lot of big crowds and long lines. However, if you're traveling with one of our travel partners, you won't have to worry as your dedicated travel director will have tickets to the most popular attractions and you'll be able to skip the line in most cases (inclusions are itinerary specific).

Fall – September to November – Good Season

The average high in the capital city is 82F and 58F low. Fall is a great time to visit as the crowds are starting to thin and you'll get more of the city to yourself. Popular attractions won't be as crowded and waits won't be too long. It does rain a bit more in the Fall so you'll want to be ready with an umbrella or poncho.

Winter – December to February – Low Season

The average high in Rome during the Winter is 56F and 38F low. The only people here during this time are skiers looking to hit the slopes in the Italian Alps. It's cold and often wet, and most major attractions close early or are on short winter hours. Although the crowds tend to be really low during this time, the Christmas markets tend to be really popular and draw crowds.
Italy Tours Frequently Asked Questions
Learn More About Italy Tours

It's Time For a Wellness Vacation

Wellness Tours and Why They Are Growing in Popularity Wellness is a selling point for so many companies, and when it comes to feeling good; you want to be one of the many taking advantage of them. Wellness tours are one of the newest types of tours on the market, and they are offering the…


Six Tricks To Eating While Traveling The World

Food is one of the many ways we explore and learn from different cultures. These 6 tricks will help you start eating your way around the world.


5 Unique Ways Coffee is Served Around The World

If you love coffee and want to find new flavors to add to your favorite caffeinated drink, here are five unique ways coffee is served around the world.
Reviews for Italy Tours and Vacations
I have been with several Cosmos tours and will continue with Cosmos.
Lan N
We had a wonderful trip. Great service.
Nancee S
Attractions
Departure
Lengths
Styles
Specialities
Price
How It Works
Vacationing has never been easier or cheaper with the help of a dedicated travel consultant from AffordableTours.com
1. Free Quote
Find your perfect trip on our website and simply request a free quote. Need to speak to a live person? Call us 7 days a week at 1-800-935-2620. No robots here!
2. Dedicated Travel Consultant
Your personal travel consultant will reach out and be your point of contact for your entire travel experience from start to finish. Did we mention you'll be working with an award winning team? Sweet!
3. Lowest Price Guaranteed
Because we're one of the largest sellers of travel, we're able to give you a discount on your vacation package. No one beats our prices!
4. Stress Free Travel
Knowing you got the best deal, all that's left is for you to pack your bags and enjoy your vacation!