South Korea Tours & Vacation Packages 2023/2024
Save up to 40% on South Korea Tours & Vacation Packages 2023/2024
South Korea Travel Guide
South Korea tours provide a true adventure to anyone who wants to explore the culture and history of the country. Your journey usually begins in the capital city of Seoul, where you may spend as many as 5 days viewing the various sights and attractions. Other major stops include attractions, such as Gyeongju, Busan, and Jeju Island. An experienced English-speaking guide will escort you on excursions and trip activities. Luxury accommodations and admission costs are included in South Korea tour costs. With tour operator volume buys plus our low everyday prices you can save up to 40% versus assembling the same itinerary on your own! Book your South Korea tour today with AffordableTours.com, your discounted tour headquarters. View South Korea Tour Deals and Discounts
South Korea Travel Guide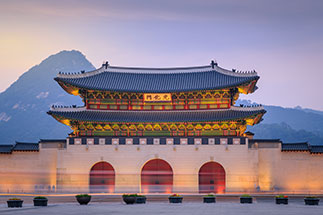 Showing 1 - 9 Tours
Tour Itinerary
Days
Operator
Quality
Style
Starts
Ends
Price

Best of South Korea

6 reviews
08

Days

G Adventures

Budget

Escorted
2 - Classic

12+ years old
16
Seoul
Seoul
South Korea
$2,421View Tour

Best Price Guaranteed

Book With Flexibility

South Korea Highlights

09

Days

Intrepid

First Class

Escorted
3 - Explorer

15+ years old
12
Seoul
Seoul
South Korea
$2,669View Tour

Book With Flexibility




South Korea Real Food Adventure

1 reviews
08

Days

Intrepid

Budget

Escorted
3 - Explorer

15+ years old
12
Seoul
Seoul
South Korea
$2,704View Tour

Book With Flexibility

Cruising the Land of the Rising Sun - Northbound 2024

2 reviews
14

Days

Tauck

Deluxe

Small Ship Cruising
Osaka
Tokyo
Japan, South Korea
$15,390View Tour

Book With Flexibility

Cruising the Land of the Rising Sun - Southbound 2024

4 reviews
14

Days

Tauck

Deluxe

Small Ship Cruising
Osaka
Tokyo
Japan, South Korea
$15,390View Tour

Book With Flexibility

2023 South Korea & Japan: Cultural Legacies

11

Days

Abercrombie Kent

Luxury

Escorted
1 - Light

18
Seoul
Tokyo
Japan, South Korea
$15,895View Tour

Book With Flexibility

2024 Wonders of Japan Cruise

14

Days

Abercrombie Kent

Luxury

Small Ship Cruising
199
Osaka
Sapporo
Japan, South Korea
$23,495View Tour

Book With Flexibility

2024 South Korea & Japan: Cultural Legacies

11

Days

Abercrombie Kent

Luxury

Escorted
18
Seoul
Tokyo
Japan, South Korea
$18,495View Tour

Book With Flexibility

Korea Discovery

08

Days

Alexander Roberts

First Class

Guided/Hosted
1 - Light

Seoul
Seoul
South Korea
$6,599View Tour

Best Price Guaranteed
South Korea Travel Guide
South Korea Tours Highlights
Take a street food tour of the Gwangjang markets in the capital of Seoul, indulging in bite-sized samplings and savoring Korean barbecue.
See the scenic side of South Korea during a hike up Seoraksan Mountain.
Explore Suncheon, known as the ecological capital of South Korea.
See village life up-close and spend the night in a hanok, a traditional Korean house, first built in the fourteenth century.
Visit Gyeongbok Palace, a royal palace of the Joseon dynasty.
Immerse yourself in village life, participating in activities unique to the area.
Spend time in Sokcho, which is the gateway to the Seoraksan National Park.
Visit the Sea Life Aquarium at Haeundae Beach in Busan.
Travel to Jeju Island and visit the crater lake at the summit of the former active volcano, Hallasan Mountain.
South Korea Tours Travel Tips
South Koreans do not like confrontation. Any loud talking may be misconstrued. However, yelling in restaurants is okay – as long as you are trying to get your waiter's attention. You don't want to yell if you are complaining about the service.
Locals frown on anyone who eats on the subway.
Pack conservative clothes – both men and women should wear long sleeves. Also, women should refrain from showing their collarbones.
Besides temples, you also have to take off your shoes when you enter tea houses or traditional style restaurants. If you need to sit on the floor, you will need to remove your shoes.
Restaurants provide chopsticks made of metal instead of wood. Generally, it is considered impolite to use a fork. Metal chopsticks can be slippery, so keep this in mind if you already know how to use the wooden kind.
It is almost impossible, in Korea, to find a public trash can. Instead, public trash piles are available to get rid of trash.
South Korea Tours Things To Do
Changdeokgung Palace – Seoul, Korea

Changdeokgung Palace is a royal villa that was built after the construction of Gyeongbok Palace in 1405. The was an estate of Joseon kings and is the best-preserved of the 5 remaining palaces. The site features a garden in the rear, a family residence, and a public area.

Best Time To Visit

According to U.S. News and World Travel, the best time to see Seoul and its sites, such as the Changdeokgung Palace, is from March to May or September to November. During these times, the travel costs are lower and the daily average high temperature is around the mid-70s on the Fahrenheit scale.

You Should Know

The rear garden at the palace is also known as a "place of rest for the kings." It features a large tree that is over 300 years old, a pavilion, and a small pond. The site is considered a place that represents the beauty of Korea.

Bukchon Hanok Village – Seoul

Sitting in the middle of Gyeongbok Palace, Changdeokgung Palace, and the Jongmyo Shrine, Bukchon Hanok Village features hundreds of hanoks, or traditional Korean houses, all of which date back to Korea's Joseon Dynasty.

Best Time To Visit

Visit during the spring when the temperatures are cooler and you can see the cherry blossom blooms (around the end of March or the first of April).

You Should Know

Many hanoks in South Kore, function as guest houses, cultural centers, tea houses, and traditional style restaurants. They provide an insight into Korean life that goes back as far as 600 years.

Insa-dong - Art Street – Seoul

Insa-dong ("dong" meaning neighborhood) is a neighborhood within the Jongno-gu district of Seoul. The main street in the "dong" is Isadong-gil. Insa-dong's art street, located in the heart of the city, features Korean arts, crafts, and antiques for public sale. One main street is found in Insa-dong, flanked by alleys on either side. Galleries, traditional restaurants, tea houses, and cafes line the alleys. Chains, like Starbucks, maintain the ambiance by featuring signs in Korean Hangeui rather than English.

Best Time To Visit

Mark a visit on your calendar to Insa-dong in either the spring or fall. That is when the South Korea tour prices are lower and so are the temperatures.

You Should Know

The walker-friendly main street and alleys sell traditional goods, such as handmade hanji paper and pottery. You can also visit Tapgol Park, which features a large stone pagoda. The Hakgojae gallery highlights modern art in its displays.

Gwangjang Market - Seoul

Known as one of Seoul's oldest street markets, Guangjang Market represents a high level of activity with its 5,000 shops and stalls selling clothing and food. Originally established in 1905, the market is popular for its vintage clothing, home furnishings, and traditional foods.

Best Time To Visit

You can visit the market at just about any time. However, if you go on a South Korea tour, it is best to visit the attraction during the spring or fall when travel prices are lower.

You Should Know

The market features hanbok (traditional Korean apparel), silk, and home furnishings, such as bedding. The market is popular among young people for its vintage clothing arcade, which attracts many Korean celebrities as well. The market is also famous for its Mung-bean pancake.

Lotte World Tower Seoul Sky Observatory

This tower is the tallest structure in South Korea and the world's fifth tallest building. The Seoul Sky Observatory spans floors 117 -123 of the building. The Sky Deck in the building is recorded in the Guinness World Record as being the highest glass-floored deck in the world.

Best Time To Visit

You can visit the attraction at any time. However, a visit during the early spring or fall is less crowded.

You Should Know

Two story-high glass windows allow visitors to see a beautiful and uninterrupted view of Seoul both day and night. The 123-story skyscraper opened to the public on April 11, 2017.

Suncheon

Located in the South Jeolla Province of South Korea, Suncheon is a scenic industrial and agricultural city that is home to about 250,000 people. Located close to Suncheon Bay, the city features attractions, such as castles, mountains, and the Suncheon Bay Ecological Park.

Best Time To Visit

Visit Suncheon from March to May or from September to November, when you can see the sights at reduced rates.

You Should Know

Nagan Castle, home of the yearly Namdo Food Festival, is the last Joseon castle remaining in the South Jeolla Province. The festival features sampling stalls that offer area delicacies, such as Mokpo Nakji (octopus) and Yeomso-tteokgalbi (grilled marinaded goat meat). The Suncheon Bay Ecological Park is the fifth largest tideland in the world. Birders love the park, as it is home to a large variety of birds.

Sokcho

Located in Gangwon-do province, Sokcho is a popular hub and city for tourists, as it is also the gateway to Seoraksan National Park. Two of the area's lakes, Cheongchoho and Yeongrangho, were created by the Sea of Japan.

Best Time To Visit

Pack your travel bags for a trip to Sokcho when it is less crowded and South Korea tour prices are lower – during the spring or fall. Many people like to go during the fall when the leaves of the trees change color in Seoraksan National Park.

You Should Know

Seoraksan National Park is about 7 miles from Sokcho. The park is vast. Therefore, if you wish to hike and fully appreciate the sites, it is best to stay a couple of days. The park is home to the Sinheungsa Temple complex and Aallack Temple.

Sea Life Aquarium – Haeundae Beach – Busan

Located at Haeundae Beach in Busan, Sea Life Aquarium highlights a large display of fish and marine animals. The main tank at the aquarium holds 3,000,000 liters of water, and marine life can be viewed from a 260-foot underwater tunnel or through acrylic windows.

Best Time To Visit

Plan a visit to the aquarium during the spring or fall when there are fewer crowds.

You Should Know

The aquarium maintains 40 exhibits, which include marine animals, such as sea jellies piranha, sea otters, and penguins. A touch tank is used for a close-up look at marine life.

Jeju Island

Jeju Island, located in Jeju province in the South Korean Straits, is known for its volcanic terrain and beach resorts. The island's landscape is made up of cave-like lava tubes and craters. Now a dormant volcano, Hallasan Mountain, on the isle, invites hiking enthusiasts to its summit.

Best Time To Visit

Visit Jeju Island during the spring or fall to take advantage of lower travel prices and fewer crowds.

You Should Know

The top of Hallasan Mountain features a crater lake and Gwaneumsa Temple. The Manjanggul Cave, which was created hundreds of years ago when Hallasan Mountain was an active volcano, is part of the Geomunoreum Lava Tube System.
South Korea Tour Packages
While South Korea invites visitors about any time of the year, the best times to see the country and its sites is during the shoulder seasons of March through May or September to November. During these times, the crowds taper off and the temperatures are mild and pleasant. The average high, during the day, is about 75-degrees Fahrenheit.
If you wish to go when the cherry trees bloom, you should travel, ideally, toward the end of March or during the first part of April. It just depends on the city. Because blooms wilt approximately 15 days from blooming, you need to plan ahead when taking this type of trip.
Usually, it is best to begin from the south of the country, or at Jeju Island first, and work your way north, based on the pattern of the blooms. At Jeju Island, the trees start flowering around March 20. The island is one of the best locations in South Korea to see the flowers in bloom.
South Korea Tours Frequently Asked Questions
What are South Korea Tours?

South Korea tours can take one of the various forms, depending on where and when you decide to travel. For example, some South Korea tours are themed excursions, such as the Cherry Blossom tours, which only take place during the late part of March or early April in the spring. In most instances, tours begin in Seoul and stay in the city for several days so visitors can see several attractions before moving on to other cities, such as Busan.

What's Included in a South Korea Tour?

South Korea tours include the admission prices for sites as well as accommodations, airport transfers, and a tour guide on escorted journeys. In some instances, travelers receive free vouchers for meals at restaurants.

What's the Best South Korea Tour?

The best South Korea tour is a trip package that highlights popular attractions and cultural activities that fall within your budget. To schedule a customized South Korea tour, you need to speak to a travel representative about the current offerings. By planning far enough ahead, you can receive discounts, which will reduce your overall cost.

How Much Do South Korea Tours Cost?

What you will pay for South Korea tours will depend how long you wish to travel, the itinerary, accommodations, and your availability. A South Korea tour that covers 11 days will cost about $9,200 per person. This type of South Korea tour includes luxury accommodations and a full schedule of daily excursions.
Learn More About South Korea Tours

9 Popular Places You've Probably Been Pronouncing Wrong

When experiencing a new part of the world, making an effort to take part in the customs, language and traditions is much appreciated by the locals. Whether you're discussing world events with a friend or about to embark on an adventure to a new country, it's always a good idea to make sure you are…


4 Reasons Why Intrepid Has The Best Tours For Foodies

Intrepid's food trips have been designed with one thing in mind – to help you experience the best local food on the planet. Each Food Adventure is filled with cultural exploration, historic highlights and plenty of grassroots travel. They're just seasoned to perfection – food travel at its best! Since you're traveling with the experts at…
Reviews for South Korea Tours and Vacations
This was my first aboard trip as a solo female traveler. I was scared to go by myself in which I wanted to look for a company who can help me. Affordable tours were able to answer all my questions and concerns. The trip was through intrepid travel and I absolutely loved it.
Emily A
Guides were good, especially Gin.
Joseph L
Excellent Trip of South Korea.
Jayamadhavan S
Departure
Lengths
Styles
Specialities
Price
How It Works
Vacationing has never been easier or cheaper with the help of a dedicated travel consultant from AffordableTours.com
1. Free Quote
Find your perfect trip on our website and simply request a free quote. Need to speak to a live person? Call us 7 days a week at 1-800-935-2620. No robots here!
2. Dedicated Travel Consultant
Your personal travel consultant will reach out and be your point of contact for your entire travel experience from start to finish. Did we mention you'll be working with an award winning team? Sweet!
3. Lowest Price Guaranteed
Because we're one of the largest sellers of travel, we're able to give you a discount on your vacation package. No one beats our prices!
4. Stress Free Travel
Knowing you got the best deal, all that's left is for you to pack your bags and enjoy your vacation!