Zambia is known to be the place to green emerald national parks along with plentiful elephants, crocodiles, and wild populations. Zambia offers a lot of tours and vacations as they solely consist of safari. It is a place where people can enjoy wildlife who loves to explore the wild creation. It has an amazing and impressive waterfall called Victoria Falls. People can have fun while experiencing bungee jumping, river surfing, and so on. With tour operator volume buys plus our low everyday prices you can save up to 40% versus assembling the same itinerary on your own! Book your Zambia tour today with AffordableTours.com, your discounted tour headquarters. View Zambia Tour Deals and Discounts
Zambia Travel Guide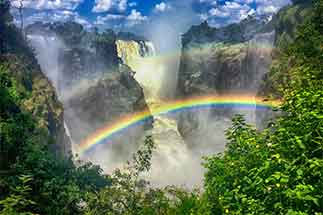 Showing 1 - 20 Tours
Tour Itinerary
Days
Operator
Quality
Style
Starts
Ends
Price

Botswana and Falls Overland: Wildlife Walks & Safari Drives

08

Days

G Adventures

Budget

Escorted
3 - Explorer

18 - 39 years old
22
Johannesburg
Victoria Falls
Botswana, South Africa, Zambia, Zimbabwe
$1,119View Tour

Best Price Guaranteed

Book With Flexibility

Serengeti to Victoria Falls Overland: Night Stars & Spices

20

Days

G Adventures

Budget

Escorted
4 - Active

18 - 39 years old
22
Nairobi
Victoria Falls
Kenya, Malawi, Tanzania, Zambia, Zimbabwe
$2,624View Tour

Best Price Guaranteed

Book With Flexibility

Kruger, Falls & Zimbabwe: Mineral Pools & National Parks

2 reviews
08

Days

G Adventures

Budget

Escorted
4 - Active

18 - 39 years old
22
Victoria Falls
Johannesburg
South Africa, Zambia, Zimbabwe
$1,159View Tour

Best Price Guaranteed

Book With Flexibility

Serengeti, Falls & Cape Town Overland: Sunsets & Safaris

40

Days

G Adventures

First Class

Escorted
3 - Explorer

18 - 39 years old
22
Nairobi
Cape Town
Botswana, Kenya, Malawi, Namibia, South Africa, Tanzania, Zambia, Zimbabwe
$6,199View Tour

Best Price Guaranteed

Book With Flexibility

Cape Town to the Serengeti: Deserts & Wilderness

40

Days

G Adventures

Budget

Escorted
3 - Explorer

18 - 39 years old
22
Cape Town
Nairobi
Botswana, Kenya, Malawi, Namibia, South Africa, Tanzania, Zambia, Zimbabwe
$5,079View Tour

Best Price Guaranteed

Book With Flexibility

Victoria Falls & Serengeti Overland: Lakes & Landos

20

Days

G Adventures

Budget

Escorted
4 - Active

18 - 39 years old
22
Victoria Falls
Nairobi
Kenya, Malawi, Tanzania, Zambia, Zimbabwe
$2,511View Tour

Best Price Guaranteed

Book With Flexibility




Nairobi to Joburg Overland: Craters & Camping

1 reviews
27

Days

G Adventures

Budget

Escorted
3 - Explorer

18 - 39 years old
22
Nairobi
Johannesburg
Kenya, Malawi, South Africa, Tanzania, Zambia, Zimbabwe
$3,749View Tour

Best Price Guaranteed

Book With Flexibility




Johannesburg to Nairobi Overland: Waterfalls & Beaches

27

Days

G Adventures

Budget

Escorted
3 - Explorer

18 - 39 years old
22
Johannesburg
Nairobi
Botswana, Kenya, Malawi, South Africa, Tanzania, Zambia, Zimbabwe
$3,561View Tour

Best Price Guaranteed

Book With Flexibility

Ultimate Africa: Safari Drives & the Savannah

55

Days

G Adventures

First Class

Escorted
4 - Active

18 - 39 years old
22
Cape Town
Nairobi
Botswana, Kenya, Malawi, Namibia, South Africa, Tanzania, Uganda, Zambia, Zimbabwe
$7,959View Tour

Best Price Guaranteed

Book With Flexibility




Johannesburg to Kenya

37

Days

Intrepid

Budget

Guided/Hosted
2 - Classic

15+ years old
22
Johannesburg
Nairobi
Botswana, Kenya, Malawi, South Africa, Tanzania, Zambia, Zimbabwe
$7,244View Tour

Book With Flexibility

Africa Encompassed Southbound

63

Days

Intrepid

Budget

Escorted
3 - Explorer

15+ years old
22
Nairobi
Cape Town
Botswana, Kenya, Malawi, Namibia, Rwanda, South Africa, Tanzania, Uganda, Zambia, Zimbabwe
$12,894View Tour

Book With Flexibility

Johannesburg to Zanzibar

29

Days

Intrepid

Budget

Guided/Hosted
2 - Classic

15+ years old
22
Johannesburg
Stone Town
Botswana, Malawi, South Africa, Tanzania, Zambia, Zimbabwe
$4,798View Tour

Book With Flexibility




Johannesburg to Gorillas

52

Days

Intrepid

Budget

Guided/Hosted
3 - Explorer

15+ years old
22
Johannesburg
Nairobi
Botswana, Kenya, Malawi, South Africa, Tanzania, Uganda, Zambia, Zimbabwe
$12,060View Tour

Book With Flexibility




Cape Town to Zanzibar

40

Days

Intrepid

Budget

Escorted
2 - Classic

15+ years old
22
Cape Town
Stone Town
Botswana, Malawi, Namibia, South Africa, Tanzania, Zambia, Zimbabwe
$5,580View Tour

Book With Flexibility




Africa Encompassed Northbound

64

Days

Intrepid

Budget

Escorted
3 - Explorer

15+ years old
22
Cape Town
Nairobi
Botswana, Kenya, Malawi, Namibia, Rwanda, South Africa, Tanzania, Uganda, Zambia, Zimbabwe
$13,885View Tour

Book With Flexibility




Kenya to Cape Town

48

Days

Intrepid

Budget

Escorted
2 - Classic

15+ years old
22
Nairobi
Cape Town
Botswana, Kenya, Malawi, Namibia, South Africa, Tanzania, Zambia, Zimbabwe
$7,848View Tour

Book With Flexibility




Vic Falls to Gorillas

1 reviews
43

Days

Intrepid

Budget

Guided/Hosted
3 - Explorer

15+ years old
22
Victoria Falls
Nairobi
Kenya, Malawi, Tanzania, Uganda, Zambia, Zimbabwe
$10,140View Tour

Book With Flexibility




Gorillas to Vic Falls

42

Days

Intrepid

Budget

Guided/Hosted
3 - Explorer

15+ years old
22
Nairobi
Victoria Falls
Kenya, Rwanda, Tanzania, Uganda, Zambia, Zimbabwe
$8,866View Tour

Book With Flexibility




Stone Town to Vic Falls

16

Days

Intrepid

Budget

Guided/Hosted
2 - Classic

8+ years old
22
Stone Town
Victoria Falls
Malawi, Tanzania, Zambia, Zimbabwe
$2,465View Tour

Book With Flexibility




Zanzibar to Vic Falls

19

Days

Intrepid

Budget

Guided/Hosted
2 - Classic

15+ years old
22
Stone Town
Victoria Falls
Malawi, Tanzania, Zambia, Zimbabwe
$2,886View Tour

Book With Flexibility
Zambia Travel Guide
Zambia Tours Highlights
While traveling to Zambia people may experience an amazing variety of wildlife as a reward.
Zambia tour provides deep adventure in the form of wild animals together with prey and predators. At night time they can have a bonfire sharing stories related to their personal experiences.
Zambia tour provides settlement in the form of luxury suite, signature canvas, and so on.
It consists of a number of activities which include river dives, bungee jumping, fishing, multiple games, birding, and a visit to a safari.
You can visit great destination places which include Livingstone, Mosi-oa-tunya, South Luangwa, and other great places to visit.
You will be impressed by the amazing location of Zambia where people can enjoy the best time of their lives.
South Luangwa offers a great way to admire small creatures and flora of the hedge. After having a safari trip people will have an amazing brunch at their camps where people can have rest.
In lower Zambia, after having a safari walk you will be able to have fun at Victoria Falls.
You can have your own choice for dinner place which include private islands, extended dining tents, and private garland.
Zambia Tours Travel Tips
Zambian Kwacha is the currency of Zambia where the dollar is also accepted at many places and hotels. If people are thinking of paying payment via credit cards they must be known by the fact that high commissions are taken at Victoria Falls. It is better to take cash along in order to have no difficulty at wild place where may be credit payments are not allowed.
At restaurants you are meant to provide some charges for having some kind of service, their standard charge is almost 10 percent.
Tipping in Zambia is totally different for everyone but we recommend you to have at least ten dollars per day per person.
Zambia climate varies so the average temperature in summer is 17 degrees Celsius to 31 degrees Celsius and the average temperature in winters varies from 9 degrees to 23 degrees and the rainy season is between April to November. So, the best time to visit Zambia is between June and November but the guider can guide in the best way according to climate changes.
For visiting safari you must pack cotton or linen loose-fitting clothes but for evening jackets and sweaters must be kept because of the changes in climate. A raincoat must be kept if you go there in the rainy season.
While going on a games adventure try to wear dark color clothes such as brown, olive in order to avoid dust.
If you're a person who likes to visit Zambia in the rainy season try to take thick or coverable clothes along with you and don't forget to bring raincoats.
If you are taking an international flight there is a restriction of 12kgs luggage per person in soft bags. People who visit Zambia must have a valid passport no less than six months before departure.
Zambia Tours Things To Do
Livingstone

One of the chillest towns of Zambia is Livingstone. It is an amazing viewpoint to witness the Zambian side of the world's wonder, Victoria Falls. It is an adventurous spot to enjoy the scenes of Victoria Falls and perform various adventurous activities that are offered in this town. Livingstone is considered a paradise for backpackers from around the world.

Best Time To Visit

If you are planning to visit Livingstone then the best time is during the dry season which usually starts in July and lasts until October because of the rainfall that can affect your tour in Zambia. Livingstone is considered an attraction where you can do a lot of outdoor activities which would otherwise not be possible during the yearly rainfall season.

You Should Know

If you are in Livingstone the best place to visit is the Royal Livingstone hotel which gives you accessibility and a feeling of this historic and colonial city that is unmatchable to any other city in Zambia. This city is famous as the adventure capital of Zambia because of the many activities that you can participate in, along the Zambezi River. You can also visit this historic Victoria Falls Bridge which is the best place to enjoy the view of Victoria Falls.

Siavonga

Siavonga is the second biggest sightseeing location in the southern territory of Zambia. Usually, it is alluded to as the Rivera of Zambia due to the gloriousness of Lake Kariba. Siavonga is known to be one of the world's best tourist goals particularly for those who would adore encountering the amazing platter that nature should offer. This town has various different attractions for sightseers like dusk travels, fishing, cultural town visits among others. The wonderful landscape of Siavonga is something that is difficult to erase from memory when it is seen.

Best Time To Visit

The finest time to visit Siavonga, in Zambia, is from January until December when you will have a charming hot temperature and none to average rainfall.

You Should Know

The lake Kariba in Siavonga is known to be domestic to distinctive species of animals that incorporate mammals, fish, and birds. The most fascinating of the Siavonga is likely the close by Kariba Dam by the British colonial organization that ruled both southern and northern Rhodesia (presently Zimbabwe and Zambia separately) in the 1950s. Numerous places by the oceanfront offer vessel endeavors. There's too a booze voyage offered here, for all those seeking out for a youthful and sparkling nightfall voyage.

Ndola City

This city in Zambia's Copperbelt Province is known as Ndola City. The city's Copperbelt Museum investigates the historical backdrop of the region's copper-mining industry. Close by, the Mupapa Slave Tree is a monster unit mahogany tree that was the site of a slave market in the nineteenth century. East of the city, Lake Chilengwa is at the lower part of a huge indented pit. Toward the south, Nsobe Game Camp is home to giraffes, zebras, and impala.

Best Time To Visit

Humidity and temperatures combine to make this season feel warm. Highs range from 83°F (28.3°C) and 78.9°F (26.1°C) with colder temperatures in the later months. Rain is rare with 1 to 7 days of significant precipitation per month. Fall is the slowest for tourism, which makes it a great time for those who are looking for good deals.

You Should Know

Ndola is a beautiful and peaceful place. It's very easy to immigrate to Zambia there a few requirements needed of which you are likely to qualify for the houses from like $400 a month just depend on the location. It is not a bush but has shops like ShopRite, furnishing world, etc. The roads in town are fairly good and housing is as good as any town with variety from big mansions through moderate ones.

Chingola

Chingola was discovered in 1943, later than most other Copperbelt towns. Chingola was built to service the newly-opened Nchanga. Chingola is one of the best and most picturesque towns in Zambia.

Best Time To Visit

June through August is the best time to travel to this place. The center year months have an entirely agreeable climate with high temperatures that are bearable. These months see minimal precipitation with around 0 days of precipitation for each month. June – August is the second busiest season for the travel industry in Chingola, so dwelling and different facilities may cost marginally more.

You Should Know

It's the district of Zambia where the Nchanga Mines Open workings lie in an arc 11 km long around the west and north of the town, covering nearly 30 km⊃2. The deepest part of the pit is 400 m lower than the surrounding plateau. It's also the 5th most developed city. "Five Mile Rock", about 8 kilometers from Chingola on the right-hand side of the road to Kitwe, is also a popular landmark.

Nsumbu National Park

Laying on the southern shores of Lake Tanganyika in the northernmost tip of Zambia, Nsumbu National Park covers a region of a little more than 2000 square kilometers. It incorporates 100kms of the most immaculate shores of this huge lake. Its magnificence goes from sandy seashores, vertical bluffs, rough bays, and regular sounds to the tough slopes and profound valleys of the inside. The Lufubu River winds its way through the Park and fills Lake Tanganyika.

Best Time To Visit

The most well-known opportunity to visit Nsumbu National Park is during the wet season—from November to April—when the Park is in excellent condition.

You Should Know

The Park is analyzed from west to east by the sizeable and lasting Lufubu River, which additionally differentiates the eastern limit of the Park up to the waterway's release into Lake Tanganyika. Nkamba and Chisala Rivers are vaporous and more modest than the Lufubu, emptying out Tondwa Badland into Nkamba and Sumbu Bays separately, the previous through an appealing valley with plentiful natural life.

South Luangwa National Park

It is a place in Zambia which is extended in between the rising mountains where people enjoy walking Safari; people can enjoy the wild creation there. It consists of numbers of animals like buffalo, elephant, hippo population, and many more. It is known to be a place where wild creatures dwell in abundance. If you're planning to visit South Luangwa National Park you can enjoy their wonderful destinations like personal game activities, remote tented camps, wide-open air convenience, and so on.

Best Time To Visit

The best time to travel to South Luangwa National Park is during the dry season which will be between July to October as the wild creation emerges in the dry season as the wildlife can be easily seen. While in wet season no wild creation can be seen because many parks would be shut down due to heavy rain and it will be very challenging to visit national parks. In the dry season, there are no mosquitoes so you might be saved from fever. Many people can enjoy without any fear of having malaria. But if you're a person who wants to have fun with fewer tourists so the best time visit the park is during the wet season because fewer tourists come to visit there. There must be some lovely newborn wild creation spotted. In the wet season bird watching is the best thing to watch.

You Should Know

This city is one of the best places to take the wildlife safari and see the wildlife from a distance that it looks so unreal you won't even believe your own eyes. You should go on a mountain bike tour of the city which is the best way to forget about everything else and blend in with the natural beauty of this city.
Zambia Tour Packages
The weather of Zambia varies between hot and cold. The dry season of Zambia is the best and wonderful time to visit it because of the cobalt blue sky. People can visit Victoria Falls and a safari together at that time, but people who visit in January and February can visit it on their own choice after the camps are closed. People have an excellent chance to visit safari and Victoria Falls in the dry season because in the wet season it will be very daring because of heavy rain and people might avoid going to the parks in heavy rain so the best time to visit is in the dry season between April to November.
Zambia Tours Frequently Asked Questions
What are Zambia Tours?

These tours are a feasible way to travel to the African state of Zambia. These tours are specifically designed in such a way that you can visit all the attractions of Zambia in a very short span of time. The tours offered for this country are very organized and very well guided. It becomes really hard to take a tour of Zambia without the help of a professional tour guide.

What's included in a Zambia Tour?

Most of the tours that visit Zambia include food, transportation, tour guide and accommodation for each person taking the tour. In some cases the tour operator may also bear the expense of entertainment. You can have an option of choosing various facilities for a certain price that you will have to pay for each person.

What's the Best Zambia Tour?

It is really hard to decide which tour is the best and the best way to tell is by looking at various facilities and destinations that are being offered by the tour operator. Because choosing the best Zambia tour is solely dependent on personal preferences, one facility or destination might be better for someone and other might be better for someone else. Some of the recommended tours are Sigo adventures, Little Roz tours and Across Africa tours.

How Much Does a Zambia Tour Cost?

Most of these tours cost somewhere in between $400 to $2000. The prices can vary from one operator to another and also the services that are included in your package.
Reviews for Zambia Tours and Vacations
Tour was well organized and truly enjoyed it.
Linda N
We were very impressed with Tauck - everything that was promised plus some nice surprise extras. The tour Director was outstanding and every staff person we encountered was friendly and helpful. Our expectations were exceeded for amount of wildlife seen, quality of accommodations and, with a few minor exceptions, the quality of food and included beverages.
William S
The trip to South Africa was a once in a lifetime experience! The magnificent animals living in their own environment brought smiles each morning when we would drive out on the day's safari. The people were all warm and friendly, and sincerely wanted to know where each of us came from. The beautiful Wine region, Table Mountain, and so much more. And the delicious food that was cooked to perfections each day at the different camps, left me speechless. I went home with a variety of soup recipes from each camp!. The sad part is the length of the flights that get you to this fabulous country. It is a shame that it is not closer..
Betsy H
Departure
Lengths
Styles
Specialities
Price
How It Works
Vacationing has never been easier or cheaper with the help of a dedicated travel consultant from AffordableTours.com
1. Free Quote
Find your perfect trip on our website and simply request a free quote. Need to speak to a live person? Call us 7 days a week at 1-800-935-2620. No robots here!
2. Dedicated Travel Consultant
Your personal travel consultant will reach out and be your point of contact for your entire travel experience from start to finish. Did we mention you'll be working with an award winning team? Sweet!
3. Lowest Price Guaranteed
Because we're one of the largest sellers of travel, we're able to give you a discount on your vacation package. No one beats our prices!
4. Stress Free Travel
Knowing you got the best deal, all that's left is for you to pack your bags and enjoy your vacation!