Cambodia Tours 1 to 4 Days 2024/2025
Save up to 40% on Cambodia Tours 1 to 4 Days 2024/2025
Cambodia Travel Guide
Cambodia is a beautiful country filled with incredible history, culture, and natural National Parks and islands. When visiting Southeast Asia, Cambodia absolutely shouldn't be overlooked and should be at the top of your must-visit list. If you're lucky enough to be going on a Cambodia Tour, you're in for a real fun time! With tour operator volume buys plus our low everyday prices you can save up to 40% versus assembling the same itinerary on your own! Book your Cambodia tour today with AffordableTours.com, your discounted tour headquarters. View Cambodia Tour Deals and Discounts
Cambodia Travel Guide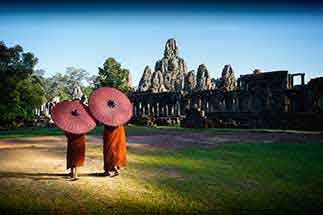 Cambodia Travel Guide
Cambodia Tours Highlights
See the iconic Independence Monument.
Experience visiting the picturesque Preah Neak Poun.
Walk around the historic Angkor Wat.
Shop for souvenirs and goodies at the Central Market.
Witness ancient carvings at Kbal Spean.
See the beautiful Royal Palace.
Visit the Bayon Temple.
Explore the National Museum of Cambodia.
Hike at the scenic Kaoh Tonsay.
Visit the Tuol Sleng Genocide Museum.
Learn at the Cambodia Landmine Museum.
Relax at the beautiful Otres Beach.
Visit the historic Wat Phnom.
Cambodia Tours Travel Tips
Don't rely on the buses or public transportation, because they tend to always run late in Cambodia (and the rest of Asia) unfortunately! Luckily, on a Cambodia tour, your tour guide will be aware of this.
Because Cambodia is in Asia, it's smart always to bring cash. Some places do accept credit cards, but hefty fees usually are involved. It's safest just to get some money in case.
Steer clear of drinking tap water anywhere in Cambodia. It's safer to purchase water bottles from the local convenience store instead because the tap water isn't the safest.
The weather in Cambodia is known for being quite humid, no matter the time of year, but especially in the summer. Keep this in mind when packing. Don't bring that heavy-duty jacket or chunky sweater because you won't need it!
You'll want to try street food when visiting Cambodia. To know how safe a street food vendor is, judge based on how many people are in line and how busy the place is! Generally speaking, if a stall is busy, it usually relatively safe. Always ask your guide if you're unsure.
Cambodia Tours Things To Do
Walk around Angkor Wat

Angkor Wat is one of the top Hindu temples that you absolutely must visit when you visit Cambodia on tour. It's one of the most significant Hindu temples in Cambodia as it covers just over 400 acres of land and dates back to the 12th century. Though Angkor Wat was thriving for quite a long time, historians have discovered that it was abandoned sometime during the 15th century for unknown reasons. It's possible that it was due to hurricanes or other natural disasters. The temple itself is dedicated to Vishnu.

You Should Know

The temple opens right at 5 a.m. - if you want to avoid crowds, plan on waking up early to experience Angkor Wat!

See the Independence Monument

The Independence Monument is one of the most important monuments in all of Cambodia. It was built back in 1962 and was created to memorialize Cambodian Independence from France, which happened in 1953. It's only about 121 feet tall but is an important landmark for Cambodia's history. This monument is located right in the city center of Phnom Penh and was built by Vann Molyvann. Though there isn't much to do at the landmark, it's still fun to come and see this beautifully architectural landmark in the middle of the city.

You Should Know

Because this is an outdoor city landmark, you can visit the Independence Monument at any hour of the day.

Experience Preah Neak Pean

The Preah Neak Poan is an absolute must-visit Buddhist Temple in Cambodia. It was built in the 12th century by Jayavarman VII. The temple itself is located next to pools, which make it extremely unique. One of the must-see landmarks in the Preah Neak Poun is the only remaining statue of four, which is rather interesting to look at. It even has its own legend, so make sure to ask your tour guide for more information or do some research! One of the pools here was even once used in old rituals for purification.

You Should Know

Because some of the Preah Neak Poun is underwater due to flooding, you can only visit a small corner of the complex. Plan on your visit taking around 30 minutes or so.

Shop at Central Market

The Central Market in Phnom Penh, Cambodia, is a unique landmark to visit in the country! It's a huge shopping market located inside an Art Deco building that was built in 1937. Though it's only one floor, it has a beautiful dome shape (one of the largest in Asia!) and other interesting architectural features. This is the largest market in all of Phnom Penh and is also one of Asia's largest markets in general. This is a great spot to come and shop for local crafts, goods, and souvenirs. Even if you don't plan on purchasing anything, it's fun just walking around the market itself.

Best Time To Visit

To avoid crowds, visit right when the market opens. Though it will most likely still be busy, it won't be as crowded as it is later in the day.

See carvings at Kbal Spean

Kbal Spean is a must-visit archaeological site in Cambodia right outside of Siem Reap. It's right next to a beautiful river, called the Stung Kbal Spean River. However, the real star of the show is the many carvings in the rocks here! Though these carvings are ancient, they weren't even discovered until 1969. The carvings are mainly of different Hindu deities, and some of them even have the river rushing over them, so you'll have to look closely to make sure you don't miss them.

You Should Know

To get to the carvings, you have to hike up a path to get to the carvings. Make sure you wear comfortable walking shoes and bring water.

Visit Bayon Temple

The Bayon Temple is located in Siem Reap and was built in the 12th century. It's a Khmer Temple in Siem Reap and was built for King Jayavarman VII, one of the Buddhist kings. It's right next to Angkor Thom. It was once considered to be the main city center of Angkor Thom. Some of the best parts of the temple that you must experience include the architecture, the many smiling faces, and the carvings.

You Should Know

While at Bayon Temple, be sure to take the time to visit the other nearby temples of Angkor Wat.

Explore the National Museum of Cambodia

The National Museum of Cambodia is a must-visit if you're interested in learning more about the country's history. It's located in Phnom Penh and is one of the most-visited museums in the country due to its large size compared to Cambodia's other museums. Inside the museum, there are many different exhibits, some of which are permanent and others rotating. Make sure you grab a map when you enter the museum so that you can plan your time out wisely. Some of the past exhibits include Histories of the Future, New Khmer Architecture and Japan, and the Adornment for Deity and Human.

You Should Know

The museum is located right next to the Royal Palace, so you could easily visit both in one day.

See the Royal Palace

The Royal Palace is a royal residence located right in Phnom Penh across the street from the National Museum of Cambodia. It was built in the late 19th century and is where the King of Cambodia resides. The building itself is architecturally magnificent, which is reason enough to go and see it! There are also extensive gorgeous grounds, statues, and temples that surround the palace. This isn't only a popular tourist site; in fact, many locals can be found here often.

You Should Know

The Royal Palace is always busy, so make sure that you visit early in the morning if you don't want to experience the crowds.

Hike Kaoh Tonsay

Kaoh Tonsay is an island in Cambodia, right near Thailand. In English, Kaoh Tonsay translates to Rabbit Island, and it only covers around 494 acres. This little island is best reached by boat from the mainland but is a popular spot for relaxing and hiking. There's a beautiful track that goes around the island. It's a moderate track, so if you're new to hiking, you'll most likely be okay with this hike as long as you wear comfortable footwear. It takes anywhere from 2 to 3 hours, depending on how many times you stop to soak in the beautiful views that the island gives!

You Should Know

The hike is not best-suited for younger children. Families should stick to the beaches unless you have older kids.
Cambodia Tour Packages
Though most people opt to visit Cambodia during the warm summer months, it's a beautiful country no matter what time of year it is. Make sure you do your research before booking your Cambodia tour because it can get quite hot during some parts of the year!
Spring and Fall - September to November and March to May - Shoulder Season

The shoulder season is seen as the best time to visit if you want good weather but don't like crowds! The temperature averages about 92°F during the spring, while the fall averages closer to 84°F.

Summer - June to August - High Season

The majority of people visit Cambodia during the summer, so you'll have to pay a bit more for accommodation, which will be harder to come by. This is also the most crowded time of year for visiting the more prominent landmarks, like Angkor Wat, which is something to keep in mind. The average temperature is approximately 86°F.

Winter - December to February - Low Season

The least amount of people visit during the winter, even though Cambodia's winter weather is similar to the other months. It averages around 82°F, and prices will be a bit lower for accommodations because of the country's lack of visitors.
Cambodia Tours Frequently Asked Questions
What are Cambodia tours?

If you are the kind of traveler who doesn't like to worry about what to do every day and how to get from point A to point B, then Cambodia tours are perfect for you. These comprehensive tours are the ideal introduction to Cambodia and will bring you to all of the best spots with a tour director and multiple guides with you the entire time. This is perfect for all ages and interests.

What's included on a Cambodia tour?

On your Cambodia tour, you'll have access to a tour director who will be in charge of your group. This director will organize your itinerary and transportation and be your point of knowledge throughout the tour. You'll have transportation, meals, and hotels mostly covered throughout your stay, but it varies from tour to tour, so make sure you do your research before booking to make sure.

What's the best Cambodia tour?

Each Cambodia tour is so different, so it depends. Some of the tours will spend more time in ancient places like Angkor Wat, while others may spend more time outdoors in nature or larger cities. It depends on what kind of tour you're interested in and what you want to see during your Cambodia tour.

How much do Cambodia tours cost?

Every Cambodia tour has a different price; some start at as little as $90 a day while others can cost upwards of $160 per day. This is why research is essential! It depends on the tour operator, the stops along the tour, what's included, and the tour's length. Luckily, by booking through Affordable Tours, you can save up to 40% off the tour than to book elsewhere.
Learn More About Cambodia Tours
Reviews for Cambodia Tours and Vacations
Everything was excellent
Cindy P
Excellent tour and both Thailand and Vietnam tour managers were exceptional super organized, caring and very informative on every different activity and tour of different towns! The best tour managers we have taken from Gate1 tours!
Doris C
Excellent tour and both Thailand and Vietnam tour managers were exceptional super organized, caring and very informative on every different activity and tour of different towns! The best tour managers we have taken from Gate1 tours!
Doris C
Departure
Lengths
Styles
Specialities
Price
How It Works
Vacationing has never been easier or cheaper with the help of a dedicated travel consultant from AffordableTours.com
1. Free Quote
Find your perfect trip on our website and simply request a free quote. Need to speak to a live person? Call us 7 days a week at 1-800-935-2620. No robots here!
2. Dedicated Travel Consultant
Your personal travel consultant will reach out and be your point of contact for your entire travel experience from start to finish. Did we mention you'll be working with an award winning team? Sweet!
3. Lowest Price Guaranteed
Because we're one of the largest sellers of travel, we're able to give you a discount on your vacation package. No one beats our prices!
4. Stress Free Travel
Knowing you got the best deal, all that's left is for you to pack your bags and enjoy your vacation!