Egypt Independent Vacation 2024/2025
Save up to 40% on Egypt Independent Vacation 2024/2025
Egypt Travel Guide
While Egypt is most well known for its pyramids, it's home to a lot more than that. The country is filled with great tombs, museums, temples, and other natural habitats that should be explored by everyone visiting Egypt. Arguably, one of the best ways to explore the country is by going on a tour. With tour operator volume buys plus our low everyday prices you can save up to 40% versus assembling the same itinerary on your own! Book your Egypt tour today with AffordableTours.com, your discounted tour headquarters. View Egypt Tour Deals and Discounts
Egypt Travel Guide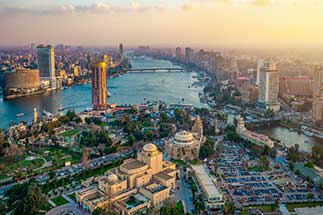 Egypt Travel Guide
Egypt Tours Highlights
See the iconic Great Sphinx of Giza.
Support locals and shop for crafts at Khan el-Khalili.
Learn history at The Egyptian Museum.
Explore the beautiful Valley of the Kings.
See Luxor Temple.
Go inside the Giza Necropolis.
Walk around the ruins of Karnak.
Dive at the Ras Mohamed Nature Reserve.
Explore the beautiful Temple of Horus at Edfu.
Visit the Mosque of Muhammad Ali.
Relax at the tranquil Naama Bay.
See the royal tombs at the Valley of the Queens.
Egypt Tours Travel Tips
Don't bother trying to drink tap water in Egypt; it's not the safest and has lots of chlorine. It's sufficient for teeth brushing but be sure to purchase bottled water for drinking.
This country is scorching and humid because the majority of Egypt is just desert! Prepare for this by drinking lots of water and dress appropriately. Also, remember to pack your sunscreen and consider bringing a hat to protect your face and skin.
Egypt is not an unsafe country, but it's safe to explore the country on an organized tour. By researching Egypt tours on Affordable Tours already, you're making the best first step possible!
Make sure to exchange some of your currency for Egyptian Pounds. While many places will accept your credit card, it's safest always to make sure to have some local currency just in case while traveling.
Keep in mind that there is nothing genuinely free in Egypt, including taking pictures at places like the pyramids. If you're caught taking photos, you may be asked to donate a small bit of money to the owner.
Egypt Tours Things To Do
Explore the beautiful Valley of the Kings

The Valley of the Kings is a gorgeous Necropolis referred to as the Valley of the Gates of the Kings by the locals. It dates back to the 11th century BC and is a series of tombs cut out of rock from the New Kingdom. The tombs were used for 500 years in total, and they're located in Luxor. There are said to be around 60 different tombs in total in this valley, all of whom are, as the name suggests, kings of Egypt. The Valley of Kings is most well-known for holding the tomb of Tutankhamun.

You Should Know

Plan on spending at least the whole day at the Valley of the Kings because of how big the area is to explore.

Walk around the ruins of Karnak

Karnak is an area that is filled with temples from Theban city. Many ancient writings refer to the ruins in Karnak as the "Chosen of Places." Inside, there is an abundance of ruins and tombs, even though not a whole lot remains, unfortunately. Throughout Karnak, you can find ruins of old churches, palaces, gardens, and even houses. Try to find a map online to make the most of your trip so that you can at least get somewhat of an idea of what you're seeing and searching for in Karnak.

You Should Know

Karnak can get quite busy, so plan on getting there early to avoid the crowds.

Learn at The Egyptian Museum

The Egyptian Museum is a historical and cultural heritage museum located in Cairo, Egypt. It first opened in the 19th century and is filled with exhibits and antiques dating back to Egypt's ancient times. Inside the museum, there are more than 120,000 different artifacts on display. You can find different stones, kitchen items, coffins, and mummies inside. Make sure to grab a map at the museum entrance to get the most out of your visit.

You Should Know

You will need to spend at least a half-day exploring The Egyptian Museum because it is so big.

See the Great Sphinx of Giza

The Great Sphinx of Giza is one of the most impressive monuments and landmarks in all of Egypt. It is located in the middle of the Al Giza Desert in Giza and is more commonly referred to briefly as the Sphinx. It's a monument made out of sandstone that features a statue with a human head but a lion's body. If you plan on seeing only one thing during your Egypt tour, make sure that it's the iconic Great Sphinx of Giza. It's one landmark you'll never forget.

You Should Know

The nose of the sphinx is broken/lost and has been since the 15th century or earlier. Historians don't know for sure!

See Luxor Temple

Luxor Temple dates back to 1400 BC and is one of Egypt's most impressive and visited temples. It's located right along the Nile River's east bank and is known in Egyptian as "the southern sanctuary." This temple was initially built during the New Kingdom as a place of worship for those who wish to pray to Egyptian gods. In particular, this temple was said to be dedicated to none other than Amon-Ra, he's said to be the king of the gods.

Best Time To Visit

If you want to avoid the crowds, visit right when it opens at 6 a.m.

Dive at the Ras Mohamed Nature Reserve

The Ras Mohamed Nature Reserve is a beautiful national park located in Egypt. It's right on the Sinai Peninsula and offers breathtaking views of the Gulf of Aqaba and the Gulf of Suez. No matter where you look, you'll enjoy great views. One of the best activities in the Ras Mohamed Nature Reserve is diving! This is arguably the most excellent way to experience the underwater aquatic life in this area of Egypt. If you haven't been diving before, don't worry. You can take lessons right in Egypt too!

You Should Know

Because the Ras Mohammed National Park is so large, you'll want to take at least a whole day to explore it!

Explore The Temple of Horus at Edfu

The Temple of Horus at Edfu is a must-visit temple in Edfu, Egypt. This Egyptian temple, in particular, is located near the Nile River's west bank and was named after the Egyptian god Horus. It's built out of sandstone and stands at around 118 feet. It's one of the finest examples of Ancient Egyptian architecture and was said to have been built around 237 BC on top of older ruins that once stood in the very same place around 200 years before that.

You Should Know

Horus, the god that the temple was named after, represents power and has a symbol of a falcon.

Go inside the Giza Necropolis

The Giza Necropolis is home to the iconic pyramids that everyone knows they must visit while visiting Egypt. Of course, they're located right in Giza, near the Sphinx, which should also be visited in Egypt. The pyramids include the Great Pyramid of Giza, the Pyramid of Menkaure, and the Pyramid of Khafre. You can also take the time to go inside the different pyramids for a fee, but keep in mind that they are not for claustrophobic travelers because the passageways are incredibly tiny.

You Should Know

You may get charged for taking photos of the pyramids here, so make sure you travel with some of the local currency when visiting.

Support locals at Khan el-Khalili

Khan El-Khalili is a must-visit local bazaar in Cairo, Egypt. This famous bazaar is the perfect spot to visit if you're interested in mingling with locals and purchasing local arts and crafts that you won't be able to get elsewhere. You can't get a better souvenir anywhere else! Even if you don't plan on purchasing anything, it's worth walking around Khan el-Khalili and at least seeing what's on offer. This bazaar dates back to the 14th century under the reign of Sultan Barquq.

Best Time To Visit

Visit the bazaar in the morning to avoid crowds.
Egypt Tour Packages
Egypt is a must-visit destination during all seasons, so there isn't a best time to visit! Of course, you can plan your trip around the busiest times to visit if you'd like to avoid most tourists during your trip. The most popular time to visit Egypt is during the wintertime, and the less popular is in the summer.
Spring and Fall - September to November and March to May - Shoulder Season

The spring and fall seasons are the shoulder seasons in Egypt, which means that the weather is still great, but it won't be as busy as the peak seasons. During the spring, the average high temperature is around 85°F, while in the fall, the average high temperature is around 87°F.

Summer - June to August - Low Season

The summer is the least popular time to visit Egypt so you can find accommodation prices at the lowest prices possible during this season. The average high temperature in the summer is 96°F.

Winter - December to February - High Season

The majority of people visit Egypt during the winter because the weather isn't as terrible as it is during the spring. Because this is a popular time to visit, accommodation prices will, unfortunately, be at their highest. The average high temperature during this time is 67°F.
Egypt Tours Frequently Asked Questions
What are Egypt Tours?

Egypt tours are the perfect way to travel for travelers who don't like to plan out all their trips' nitty-gritty details. Honestly, all you have to do is pack your bag and get ready for the adventure of a lifetime when going on an Egypt tour. All the transportation, accommodation, and meals of your trip will be planned out for you!

What's included on an Egypt Tour?

Egypt tours include a tour director who will be with you throughout your tour. Your director will help you along your travels and answer any questions that you may have regarding the tour or the country itself. Your tour guide will also possibly enlist other local tour guides to help enhance your Egypt tour experience. Also, Egypt tours include transportation, meals, and accommodations. All of your itineraries will be planned out for you. Most days will consist of morning excursions with your tour group, and then you can do what you'd like during the afternoon.

What's the best Egypt Tour?

No Egypt tour is better than another because they're all so different. So, it's hard to say what the best tour for Egypt is! It truly depends on what you're interested in. How long would you like your vacation to be? What's your budget? Are there certain places in Egypt that you must-see during your visit? These are all critical questions to ask yourself when planning your trip and booking your Egypt tour. If you find that you're struggling to find the tour that is best for you, then give one of our tour experts a call. They'll be happy to help you find the tour of your dreams so that you can have a memorable experience!

How much do Egypt Tours cost?

All Egypt tours have a different cost because they vary so much in length and stops along the way. Each tour operator may also have additional fees associated with their tours. You'll find that some tours cost as little as $90 a day while others cost closer to $200 a day. Make sure you do your research when booking your tour.
Learn More About Egypt Tours
Reviews for Egypt Tours and Vacations
Trafalgar did a great job with getting us safely from arrival to departure. There was a tour manager all the way to make sure we knew where to go in the airport. The itinerary wasn't jam-packed. It provided us with some relaxing time as well. I'd hope that Abu Simbel would be integrated into the itinerary because it was quite pricey for an optional tour. Throughout the tour, we felt safe and well informed as to what we can and cannot take pictures of.
Daryl S
I had the best time on my trip! Absolutely enjoyed the Nile River Cruise and the Guide provided for my trip
Deanna C
This was a great tour that ran very organized and our agent took care of all the pre-trip details.
Dennis S
Departure
Lengths
Styles
Specialities
Price
How It Works
Vacationing has never been easier or cheaper with the help of a dedicated travel consultant from AffordableTours.com
1. Free Quote
Find your perfect trip on our website and simply request a free quote. Need to speak to a live person? Call us 7 days a week at 1-800-935-2620. No robots here!
2. Dedicated Travel Consultant
Your personal travel consultant will reach out and be your point of contact for your entire travel experience from start to finish. Did we mention you'll be working with an award winning team? Sweet!
3. Lowest Price Guaranteed
Because we're one of the largest sellers of travel, we're able to give you a discount on your vacation package. No one beats our prices!
4. Stress Free Travel
Knowing you got the best deal, all that's left is for you to pack your bags and enjoy your vacation!